College Basketball Nation:

Dan Mavraides
March, 17, 2011
3/17/11
5:33
PM ET
TAMPA, Fla. -- Kentucky freshman
Brandon Knight
missed the first seven shots he took against Princeton in Thursday's East Regional second-round game at St. Pete Times Forum.


But Knight made the shot that mattered the most for Kentucky, scoring a scooping bank shot with two seconds left to play in the No. 4-seeded Wildcats'
59-57 victory
over No. 13 seed Princeton.
Knight, a point guard from Ft. Lauderdale, Fla., finished with two points on 1-for-8 shooting.
Turning point
: Princeton, the Ivy League co-champion, had a 44-39 lead with about 12 minutes to play. But the Wildcats scored on their next three possessions. Freshman
Doron Lamb
's bank shot gave the Cats a 45-44 lead with 9:49 to go.
Player of the game
: For all the attention Kentucky's fabulous freshmen are getting, senior forward
Josh Harrellson
continues to come up big in the postseason. Harrellson scored 15 points on 7-for-8 shooting and grabbed 10 rebounds for a double-double. He also had four steals and one blocked shot.
Key stat
: 3-for-14. The Tigers shot 3-for-14 on 3-pointers, including 1-for-7 in the second half.
Miscellaneous
: Kentucky junior
Darius Miller
scored 17 points, but only two in the second half. He had 15 points in the first half on 5-for-8 shooting. Freshman forward
Terrence Jones
added 10 points on 4-for-8 shooting. Guard
Dan Mavraides
led the Tigers with 14 points.
What's next
: Kentucky advances to Saturday's third round and will play No. 5 seed West Virginia in the East Regional. The Mountaineers upset UK 73-66 in the Elite Eight last season. Princeton finished the season with a 25-7 record.
March, 12, 2011
3/12/11
9:03
PM ET
By
David Albright
| ESPN.com
NEW HAVEN, Conn. -- Maybe there's something to this Tiger blood thing.
How else do you explain designing a last-second play for a 39-percent shooter who was 3-for-13 in the game with a trip to the NCAA tournament on the line?
Princeton coach Sydney Johnson did exactly that and guard
Douglas Davis
did his part too. Davis took an inbounds pass from
Dan Mavraides
and buried a jumper from the left side at the buzzer to give the Tigers a
63-62 win
over Harvard in Saturday's Ivy League playoff at Yale's John J. Lee Amphitheater.
"I didn't really know what was going on when the ball went in," Mavraides said. "I think I might have blanked out and the next thing I knew I was on the ground screaming. It was a great feeling. When it went in, it was like my life flashing before my eyes except it was my four years here, from the worst team in Princeton history all the way to this."
With the win, Princeton (25-6) gets a 24th trip to the NCAA tournament while Harvard (23-6), which was looking for its first NCAA trip since 1946, now has to wait until Sunday evening to find out if its season will continue with an at-large bid.
[+] Enlarge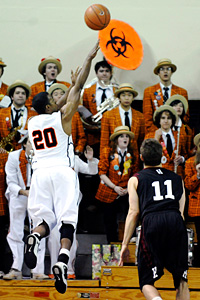 AP Photo/Jessica HillDouglas Davis' last-second, off-balance shot sends the Tigers to the Big Dance.
Davis finished with a team-high 15 points for Princeton, which had three other players in double figures. But all anybody will remember is that final shot by the junior from Philadelphia.
"It was the designed play and it was basically a read for Dan [Mavraides] and it was a good read," Davis said after the game, with the recently cut down net draped around his neck. "I was able to get open and he made a good pass. I knew I had a little bit of time to dribble and get some space.
"I got a good screen from
Will Barrett
. At first I thought they were going to deny me the ball, but then I was able to get open. I took a couple of dribbles and was able to fade. It felt good and went in. I fell on the ground and that was the worst decision I've ever made because everybody just jumped on me."
Davis, who had hit game-winning shots in high school but nothing like the magnitude of this one, had the good (or bad) fortune to have Saturday's heroics and instant crushing celebration take place right in front of the Princeton student section.
And while Davis was occupied with his frenzied classmates, referees Earl Walton (of recent Big East Tournament infamy), Paul Faia and Louie Andrakakos were over at the scorers' table to ensure the shot got off before the triple-zero red light.
It did and the neutral-site celebration resumed -- at least for one half of the gym.
"The ending was a dagger," Harvard coach Tommy Amaker said. "Your heart just sinks. But it was a special afternoon for our league, a great game and a great crowd."
After the game was well over and the on-court celebration had subsided, Amaker's counterpart sounded more relieved than anything.
"I think Harvard is really, really good and I want to give credit to them, but I do think we're in a different place because there's an expectation to win here," Johnson said. "And that's a different responsibility. These guys have been carrying so much weight so I'm just so pleased for them to be able to finalize that dream. It's been a grind and a big challenge."
Johnson and Princeton get about 24 hours to enjoy this win before finding out what the next challenge will be. And in that time, it's likely that Davis' buzzer-beater will be replayed over and over again.
And although Johnson was much happier with his result compared to Amaker's, the Princeton coach was just as satisfied that his Tigers did exactly what they planned to do on that last-second shot.
"It looked true, it was a perfect pass, great execution and the right shot," Johnson said. "I was just ready to shake hands either way. We would have been crushed, there's no doubt, if that shot didn't fall down. But that's exactly what we wanted and we've got to be able to live with that. You understand that if you execute and you battle, you've got to be able to live with the results.
"There's no win promised to anyone."
But there is another game promised to Princeton in next week's NCAA tournament, thanks to some last-second heroics -- with just maybe a little Tiger blood mixed in for good measure.
March, 8, 2011
3/08/11
11:06
PM ET
PHILADELPHIA -- The Ivy League proudly refers to itself as the Ancient Eight, comfortable in its status as a relic and an antique in an age when newer is always equal to better.
This is a place where things are done a certain way because they've always been done a certain way. Change is welcome, but only when it is incorporated into the honored traditions of the past.
So while the rest of the country stages its conference showcases, bringing the early madness to March with Champ Week, the Ivy League doles out its automatic bid to the NCAA tournament the old-fashioned way: to the regular-season winner.
And when there is a tie, the old league reverts to the age-old rules of the playground: one game, winner take all.
It is archaic, perhaps, but is it really so wrong?
When there is only the hope of one bid -- and the Ivy has never received an at-large -- is it more fair to let the team that grinds it out over 14 games represent your league or the Johnny-come-lately who gets hot or catches lightning in a bottle for 72 hours?
"I think it's a good way to do it,'' Princeton coach Sydney Johnson said. "That's the way it was when I played and that's the way it was before and I appreciate that. I think it's the right way to go about it.''
Johnson, some would argue, could afford to be gracious. Thanks to a
70-58 win
over rival Penn on Tuesday night, his Tigers now have a 50/50 chance of winning that single ticket.
Princeton will face Harvard at 4 p.m. ET on Saturday in a one-game playoff to decide who is in the NCAA tournament and who is not.
But those reared in the world of the Ivy League understand that this is how it works and appreciate that this is probably how it ought to work.
"Is the glass half full or half empty?" Penn coach Jerome Allen said. "If I'm in first place, I feel pretty good about it, but sitting here like we are, I'd love the chance to keep on playing. But that's the law of the land. We had an opportunity to extend our season. We had 14 chances and it didn't happen.''
On Saturday, most of the talk will center around Harvard. Until it beat Princeton on Saturday, the Crimson had never won even a piece of an Ivy League championship. The school's one and only NCAA tournament appearance came in 1946.
Hey, the school has only been around for 375 years.
Yet Princeton's share of the title and chance to play for a March bid is every bit as newsworthy. Occasional fans consider the Tigers the elitist league's elite, but in reality, it has been Princeton which has fallen back among the pack in recent years.
It's been six years since the Tigers won a share of the crown, which on the scale of Harvard isn't much but to Princeton fans is an eternity.
The drought chased out one of its own. Former player Joe Scott left as the Tigers head coach for Denver before the posse could catch him.
As the university so often does, it turned to one of its own to replace him, handing the keys over to Johnson.
In his first year, he went 6-23.
"It was pretty lonely,'' he said. "It was very different than what people were accustomed to at Princeton.''
Different, too, than what Johnson was accustomed to. He won two Ivy titles as a player, going 14-0 in his senior season.
He has drawn on his own experiences and his own sense of pride to push his players, sometimes coaxing them and sometimes shaming them. On Saturday, when Harvard beat the Tigers to win a part of the Ivy crown, Johnson made his players stay on the court and endure the court storming.
He wanted them to understand what it feels like when you don't give your all, when you are outhustled and outworked as he thought his Tigers were on Saturday.
"It was painful, real painful,'' senior
Dan Mavraides
said. "I hope they didn't have a camera on me because I got pretty emotional.''
Johnson went back to that well against Penn. The Tigers led the game 15-4 and then trailed 23-19 at the half. Just under a minute in, the Quakers extended that to 27-19.
Johnson called timeout. He huddled privately with his coaches and when one of them, former player Brian Earl, told him "they just aren't playing hard enough," Johnson delivered that message to the team.
At first it was patient and then it was straight firebrand, an insistence that the Tigers were simply being too passive, that they weren't playing hard enough.
In the 15 minutes prior to Johnson's critical timeout, the Tigers scored four points.
In the 15 minutes after, they scored 37.
Senior
Kareem Maddox
internalized the message the best. He had two points at halftime and 23 by game's end. His post dominance forced Penn to sag inside, and once the defense committed, the deft passer found his shooters outside.
The Tigers hit an astounding 14 of their 18 field goals in the second half.
"Several people talked to me at halftime and told me I wasn't being as aggressive as I normally was,'' Maddox said. "I didn't really realize it.''
And now the challenge is to find the intensity for one more game.
Johnson played in a playoff game in his own career. In 1996, the Tigers beat Penn 63-56 in overtime.
They would go on to beat UCLA in the first round of the NCAA tournament in what would be Pete Carril's last year.
"To be the coach here, it's a huge responsibility,'' Johnson said. "It's not just a job when you're coaching your alma mater. In some cases, it's where you met your wife like I did. It's about your best friends and you put a lot of love into it. It's a real challenge, but I wouldn't have it any other way.''
Johnson knows the history.
He's lived the history.
And he appreciates the history.