College Basketball Nation:

Daniel Edozie
March, 27, 2014
Mar 27
6:55
PM ET
NEW YORK -- They call the
NCAA tournament
the Big Dance, and the
Connecticut Huskies
danced their way onto the Madison Square Garden floor Thursday.
It was a brand-new floor -- the NCAA installs its own court at each tournament site -- but everything else looked familiar to the Huskies, who played here twice earlier this season and 13 times in the past four years.
No wonder No. 7 seed UConn looked so comfortable as it prepared for its noon 50-minute open practice, with several players shimmying on the sidelines before the team was introduced.
[+] Enlarge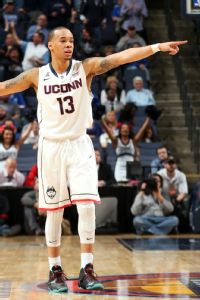 Joe Murphy/Getty ImagesShabazz Napier and the Huskies believe they will have a home-court advantage Friday versus Iowa State.
"I told the guys, this came full circle," Connecticut coach Kevin Ollie said. "I know we came down here and played in the 2K Classic and won that Classic. But to come down here this time, and our guys not able to play in the last Big East tournament that was here last year, it's all full circle."
It's UConn's 17th trip to the Sweet 16, but this one is extra special. The Huskies were
banned from the NCAA tournament
last season because of poor academic performance and ruled ineligible for the Big East tournament as well.
It's also extra special because these will be the first NCAA tournament games at Madison Square Garden since 1961.
Star guard
Shabazz Napier
, one of several Huskies who elected to stay at UConn despite the postseason ban, admitted Thursday he couldn't bring himself to watch a single game of the 2013 tourney.
A huge fishing fan, Napier consoled himself by watching shows such as "River Monsters" on Animal Planet instead. "I didn't want to watch [the tournament] because I felt like if I did, I would be aggravated or annoyed," he said.
Napier has been one of the best shows in college basketball this season. A likely first-team All-American, the 6-foot-1 senior leads Connecticut in scoring (17.8 PPG), rebounding (5.9 RPG), assists (4.9 APG) and steals (1.8 SPG), and he has a penchant for making plays when it counts.
He hit a game-winning buzzer-beater against Florida in early December, scored nine of his 24 points in overtime in UConn's win over No. 10 seed St. Joseph's to open this tournament, and followed that up with 25 points in a victory over second-seeded Villanova two days later.
Napier also scored 20 and 27 points in the Huskies' 2K Classic wins over Boston College and Indiana here back in November, and he believes his team has a definite advantage Friday night against No. 3 seed
Iowa State
, despite being the lower seed.
"The thing that would help us is our great fan base coming down and supporting us, like they always do," Napier said. "When we are down and when we're up, they are still cheering. They give us the support, they give us that sixth man that we need to push us forward."
Teammate
Ryan Boatright
believes UConn's familiarity with the Garden will be a big plus, too.
"It just feels like a second home to us," Boatright said. "If you've never played here before, it's definitely a different feeling -- the background, the rims ... the whole crowd is dark, just the court is lit up. Everything is different than playing in a regular college stadium."
It is expected to be a heavily pro-Huskies crowd, with the Connecticut campus just 135 miles away. UConn has always drawn well at the Garden, making this historic ticket even hotter than it already would have been.
The Metro-North commuter railroad is adding an extra express train from New Haven, Conn., to Grand Central Terminal on Friday afternoon, and extra cars to other trains departing New Haven for New York as well (and vice versa at the end of the night).
As of late Thursday afternoon, the cheapest single ticket available on StubHub for Friday's regional semifinal doubleheader (also featuring Virginia versus Michigan State) was $594.05 -- for a bar-stool seat no less.
Ollie and Iowa State coach Fred Hoiberg, good friends and former teammates with the Chicago Bulls, have both played at the Garden many times.
"It's special. I can't say it's not," said Ollie, who later called it "the greatest arena alive for basketball."
The Garden was the first thing Hoiberg brought up in his pregame news conference.
"I'll start out just by saying how excited our team is to be out here in New York City," he said. "Our guys get the opportunity to play at Madison Square Garden. I'll never forget my first time here when the announcer comes on and says, 'Welcome to Madison Square Garden, the world's most famous arena.'"
Iowa State is used to playing in front of large crowds -- the Cyclones were ranked No. 22 in Division I home attendance this season, averaging 13,393 fans per game. But Ames, Iowa, is more than 1,000 miles away, and the Cyclones have played at the Garden only three times in school history, the last being an 84-81 loss to Rutgers in the semifinals of the 2004 NIT.
Heck, Iowa State forward
Dustin Hogue
, a native of nearby Yonkers, N.Y., had never even set foot in the Garden before Thursday's open practice.
Hoiberg admitted some concern. "To come out and experience this is just awesome for our guys," he said. "[But] you try to get the 'wow' factor out of the way as quickly as possible, so they can focus on the task at hand."
The Cyclones did look a little more like tourists than the Huskies did when they walked on the floor two hours later. Hogue asked someone to take a picture of him at center court. Reserve forward
Daniel Edozie
pointed up at the giant overhead scoreboard in apparent glee.
But Hoiberg sounded confident that come Friday night, his team will be good to go.
"That's been my message to them -- enjoy this day, in a very casual setting to go out there and get used to the shooting background and the rims," he said. "Then tomorrow it's all about business.
"Once that thing goes up tomorrow at 7:27, our guys will be ready to play."
March, 22, 2014
Mar 22
7:09
PM ET
SAN ANTONIO -- According to the venerable RPI metric, the Big 12 had the best conference in college basketball this season. As a result, the league put seven teams into the NCAA tournament, more than any other conference.
But whether the Big 12 was really deserving of its top-dog status will largely be determined by the two games Sunday in San Antonio.
[+] Enlarge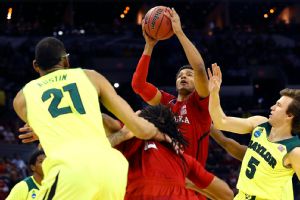 Ronald Martinez/Getty ImagesBaylor's athletic defense will have its hands full with Doug McDermott and Creighton.
First in the West Region, sixth-seeded Baylor will face off against the likely national player of the year in Creighton's
Doug McDermott
. Then in the East, No. 3 seed Iowa State will take on one of college basketball's bluebloods in North Carolina.
"We know that postseason is important for every conference," Bears coach Scott Drew said. "Statistically, we were the No. 1 conference in the country. But now postseason it's a new season."
It's also an opportunity for the Big 12 to confirm its distinction in two high-profile matchups. Especially following a lackluster start to the tournament elsewhere for the conference.
As a 5 seed, Oklahoma was knocked off by North Dakota State in overtime. Oklahoma State and Kansas State both fell in their 8-9 seed games to Gonzaga and Kentucky, respectively. Even regular-season champ Kansas struggled against No. 15 seed Eastern Kentucky, and even trailed with less than nine minutes to go in the second half.
But in San Antonio, the Big 12's two hottest teams delivered two impressive performances in the second round.
The Bears, who had won six in a row before falling to Iowa State in the Big 12 tournament championship game, dominated No. 11 seed Nebraska from the opening tip. Baylor held the Cornhuskers to just 23 percent shooting in the first half to build a double-digit lead, then cruised to a comfortable 74-60 victory.
"We're really confident right now," Baylor point guard
Kenny Chery
said. "All these guys in the locker room, no matter what we've been through this year, we feel like we're as good as any team in the country. We feel like we can play with anybody."
The Cyclones are feeling the same way, having reeled off five wins in a row.
While other high seeds struggled in their first tournament games across the country, Iowa State continued its hot shooting. In a 93-75 smoking of North Carolina Central, the Cyclones knocked down almost 64 percent of their field goals and 53 percent of their 3-pointers.
The win, however, came at a price, as
Georges Niang
suffered a tournament-ending foot fracture during the second half.
"

It was a grind to get through (the Big 12), but it helps prepare you for the moment that we're in for now. Our conference all year has been great.

"

-- Iowa State coach Fred Hoiberg
"Obviously, that's a very big loss for our team with the way that we use him and utilize his skill set to take advantage of a lot of mismatches," Iowa State coach Fred Hoiberg said. "Not only that, but just his enthusiasm and the way he helps keep guys together and fight through adversity -- it's a tremendous loss for this basketball team."
But even without Niang, the Cyclones still retain enough firepower, including Big 12 Player of the Year
Melvin Ejim
and All-Big 12 point guard
DeAndre Kane
, to slip past the Tar Heels and make a deep run in the East Region.
"This is still a confident group," Hoiberg said. "And we're playing a very good stretch of basketball right now."
To keep the stretch going against the Tar Heels, the Cyclones will have to figure out how they'll replace one of their top players in less than 48 hours. Hoiberg said Saturday he wasn't sure yet without Niang -- who at 6-foot-7 with range could play inside and outside -- whether he'd go small or go big. Either way, the Cyclones will need sophomore guard
Naz Long
, freshman guard
Matt Thomas
and junior forward
Daniel Edozie
to all play bigger roles Sunday, especially helping out on the glass against North Carolina, which secured 21 offensive rebounds to hold off Providence in the second round.
"People asked me how are you going to replace him? Who are you going to replace him with?" Hoiberg said. "And you can't just do it with one guy. It's going to be by committee. And everybody's got to be ready to go out there and contribute."
Baylor, meanwhile, will need a dogged team effort defensively to contain McDermott, who scored 30 points and grabbed 12 rebounds in Creighton's second-round win over Louisiana-Lafayette. The Bears, and their rangy zone defense, frustrated Nebraska. But nobody lately has been able to slow McDermott, who has scored at least 22 points in his last 14 games.
"He can score in multiple ways, whether it be shooting or getting to the basket," Baylor forward
Royce O'Neale
said. "So we just have to be prepared for it."
But both Big 12 coaches said the Big 12 season has prepared their players for such a pair of tough third-round matchups.
"It was a grind to get through, but it helps prepare you for the moment that we're in for now," Hoiberg said. "Our conference all year has been great."
By punching tickets to the Sweet Sixteen, the Bears and Cyclones would validate just that.
March, 14, 2014
Mar 14
11:49
PM ET
KANSAS CITY -- As
Melvin Ejim
,
DeAndre Kane
and a bandaged
Georges Niang
-- he took an elbow to the right eye -- walked off the podium, each player gave Fred Hoiberg a fist bump minutes after they'd punched Kansas in the mouth.
On Friday night, the Good
Iowa State Cyclones
showed up. That's the group that might deserve a space in the Final Four of your office pool bracket. That's the team that can turn the basketball court into a canvas with strokes of beautiful basketball that paint the picture of a program with a ceiling that keeps getting higher.
That's also the squad that's not always fortunate enough to see its three best players excel and avoid foul trouble on the same night. That's when the Unpredictable Iowa State Cyclones arrive. That's the team that lost four of five in January.
In the Sprint Center, however,
Iowa State outplayed Kansas during a 94-83 win
in the Big 12 tournament semifinals Friday to set up the program's second conference tournament title game appearance, and first since the Cyclones won the championship in 2000.
[+] Enlarge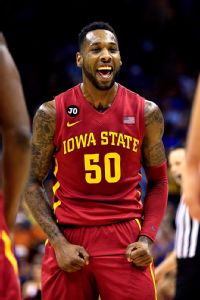 Jamie Squire/Getty ImagesDeAndre Kane and Iowa State had plenty to smile about after knocking off KU to advance to the Big 12 championship game.
At the final buzzer, the Cyclones weren't sure whom they'd face, but they knew how they'd reached Saturday's finale. This vital trio of talent -- Kane, Ejim and Niang -- had pushed the program into the title game.
"I think every day we play, we bring it," Ejim said. "The chance of us three playing well is increasing and when guys that come off the bench, like
Dustin [Hogue]
, are playing well,
Monte [Morris]
is playing,
Daniel [Edozie]
comes off and gives us some vital minutes, it shows how versatile this team is, how many weapons we have and how hard we are to beat when we're all clicking. We're doing a real good job and we're really rolling right now, and I think that it's just going to continue to go in that direction."
With simple layups, Niang (game-high 25 points) hammered a Kansas interior defense that needs injured center
Joel Embiid
to return soon. Kane (20 points, six rebounds, six assists, two steals, 5-for-6 from the 3-point line) allowed the shots to come while the Jayhawks were conflicted by matchups against players who can all shoot and slash. Ejim, the Big 12 player of the year, had a quiet 19 points, five rebounds and two steals.
"We like the run and gun," Kane said. "We like to get up and down the court. Anybody can bring it up."
In all, the threesome collected 64 points. And they were also responsible for a defensive effort that limited
Andrew Wiggins
to a 7-for-21 outing and contained the Jayhawks to a 4-for-15 effort from the 3-point line.
It wasn't just Ejim, Niang and Kane, though. It rarely is.
Morris and Hogue finished with double figures. And it's always easier to win when you hit 11 3-pointers. The Cyclones scored 1.25 points per possession against the Jayhawks and they outscored them 41-18 outside the paint, according to ESPN Stats & Info.
Ejim, Niang and Kane, however, were the conductors of the ensemble.
When that happens, Hilton Magic happens. Even in Kansas City.
"Well obviously, we play through those guys," Hoiberg said. "They're all guys that are capable of handling the load on the offensive end. All of them can create a mismatch out there. And I'll tell you the thing I've been most impressed with is that they recognize mismatches out there on the floor."
But talk to any Iowa State fan and they'll tell you about their fears and nightmares. They'll tell you what they've seen. They'll talk about the times this season that the trio became a duo or an individual to the detriment of the program.
During that Jan. 13 loss to Kansas, Niang (4-for-20) went missing. Five days later, Kane went 3-for-12 in a loss to Texas. Ejim went 3-for-14 in a loss to Baylor in early March.
And those are just examples from some of the losses. There's a distinct difference in Iowa State's performances when only one of those leaders struggles.
And there's an elevation that's displayed when they're all flowing.
"I think we're very good going forward when all three of us make great contributions," said Niang, who sported a Band-Aid over his right eye after Kansas guard
Brannen Greene
accidentally elbowed him in the second half.
That was clear Friday. On that day, the Jayhawks couldn't touch them.
And the truth is that few teams will Saturday or beyond if this continues.
It's the "if" part, however, that worries the Cyclones faithful.