College Basketball Nation:

Daniel Ochefu
April, 18, 2014
Apr 18
10:00
AM ET
Conference realignment played tricks with time.
We saw dozens of changes to collegiate basketball's conference structure in the past five years. As they happened, it felt too fast to catalog -- too cluttered among the theories and contingencies and rumors of the periphery. But
after
deals were finalized and publicly announced, it took years for schools to leave their former leagues -- for this chaotic mess slowly to morph into some recognizable form. The process became tectonic.
Conference realignment was fast and slow at the same time. It was
super
weird.
Take the old Big East. In September of 2011, Syracuse, Pitt and Notre Dame announced they would leave the old Big East for the ACC. Between then and now, the "old" Big East has seen 14 schools announce departures for other conferences and 15 new schools join. It saw seven of its founding members leave and take the name, $10 million from league coffers, and rights to Madison Square Garden with it. It rebranded itself as the American. It had a pretty stellar first season. One of its flagship schools (UConn) won the national title in its conference's first year of existence. And it still isn't done realigning: This summer, Louisville leaves for the ACC.
The
new
Big East skipped this process. In December of 2012, the Catholic schools decided to break off from the now-American. On March 5, 2013, they learned they controlled the Big East marks and records grab-bag. On March 15, ESPN reported that Butler, Xavier and Creighton would join the new conference. On March 20, the new conference, with its new TV deal, was announced. In June, it became official.
Unlike nearly every other entity in college basketball, realignment's creation of the "reconfigured" Big East felt fast because it actually was fast.
Just 13 months after it was announced, the Big East already has one season in the books. How did that go?
[+] Enlarge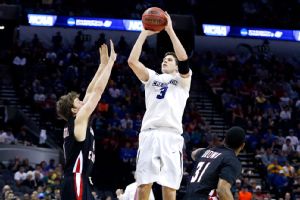 Kevin Jairaj/USA TODAY SportsCreighton's Doug McDermott was the best player in the new Big East this year, but who will be the face of the league next year?
What we saw this season:
Doug McDermott
. That ring any bells?
There's no official count here, but it's safe to say we've never written as many words about any player as we've written about McDermott. That is by far the least impressive of his statistics. The most impressive: McDermott finished his career fifth all-time in scoring, with 3,150 points. One could go further here -- could rattle off the list of mind-bending statistics McDermott accomplished this season. But we did that so much this season we have very little left to say. It's probably better if you
just go to his Basketball-Reference page and see for yourself
. It's the same feeling you get when you look at Barry Bonds' numbers, minus a mental image of a gigantic head.
Anyway: After two seasons of genius in the Missouri Valley, McDermott's brilliance got a full and proper airing in the Big East this season. From the numbers to the moments -- including two demolitions of Villanova that rank among the greatest 80 minutes of offensive basketball we've ever seen -- he didn't disappoint.
What we expect next season:
Of course, there were other noteworthy stories in the Big East last season. Not least of which was the return of Villanova to the ranks of the elite.
Save for those two free Creighton clinics, Jay Wright's team was among the nation's best defensive groups for most of the season. The Wildcats finished the regular season 29-3, with losses to the Bluejays and Syracuse. Their third-round defeat to UConn was disappointing, though less so in hindsight, but either way the immediate future is very bright. The Wildcats return four starters from last season's team (
Ryan Arcidiacono
,
Darrun Hilliard II
,
JayVaughn Pinkston
and
Daniel Ochefu
) and promising rising sophomore
Josh Hart
, who posted a 126.8 offensive rating this season, looks primed to take a bigger role. Oh, and there are two top-100 players (forward
Mikal Bridges
and guard
Phil Booth
) arriving, arguably giving Wright even more depth and versatility to play with even without star senior
James Bell
.
For these reasons, Villanova could not look like a more surefire Big East favorite. There are others. McDermott is gone; Creighton will take an obvious step back.
Bryce Cotton
, who averaged nearly 40 minutes a game (almost all of them thrilling, too) has graduated from Providence and left a big spiritual hole in Ed Cooley's lineup. Georgetown has a top-10 recruiting class on the way -- and, man, did it need one -- but John Thompson III may still be a year away from title contention. Xavier is intriguing,
but Semaj Christon needs more help
. (
Update
: Christon declared for the NBA draft, so nevermind that.) St. John's is intriguing, but also probably super frustrating. And Marquette lost Buzz Williams to Virginia Tech. It hired Duke associate head coach Steve Wojciechowski to replace him.
It was that last move that caused some to wonder about the fate of the reconfigured Big East. Did Williams decide that a league without football wasn't the place to be? Maybe, maybe not; his move probably had just as much to do with personal and individual reasons as anything else. But the question is nonetheless in the air: Can the new Big East survive? How good will this conference be? Its first season was dominated by one of the game's greatest-ever offensive players. Next season it'll have its work cut out.
July, 23, 2012
7/23/12
10:00
AM ET
Editor's note: ESPN.com's Summer Shootaround series catches up on the offseason storylines for each conference. For more on the Big East, click here:
1.
Unsteady rudder:
The Big East is prepping to lose two of its most iconic members, has no commissioner and needs to negotiate a new television contract to continue to prosper.
Other than those developments this offseason, Mrs. Lincoln liked the play very much, thanks for asking.
Unrest and unease has been a near-universal theme in college athletics lately, but nowhere is the footing quite so slippery as in the Big East. After making football-centric decisions, the league did finally manage to make some sound basketball decisions, adding Temple and Memphis to the ever-swelling conference, but that doesn't mean everything is stable.
The Big East is in the market for both a new commissioner and a new television contract. Making the right choice in both instances will be critical.
John Marinatto was a good man who cared deeply for the Big East, but lacked the CEO chops needed to succeed and flourish in today's world of college athletics. The new commissioner will have to be equal parts visionary and diplomat, able to predict the future and placate the membership, both existing and new.
And the league bravely -- or foolishly -- turned down a deal a year ago, prompting the unease that led to the departures of Syracuse, West Virginia and Pittsburgh. The bidding starts again in the fall and while that will be centered mainly around football, basketball's livelihood will be tied to the deal as well.
Neither a new commissioner nor a new TV deal will settle the unsteady league for good but the right choices will go a long way.
2.
The Syracuse and Pittsburgh farewell tour:
This will be the end of the line for one of the founding members in the Big East, with
Syracuse announcing it negotiated its way out of the league a year earlier than the bylaws allowed
;
Pittsburgh soon followed suit
. With a $7.5 million buyout paving the way for each school, they'll both jump to the ACC in 2013.
Fortunately -- and probably not coincidentally -- the Big East scheduled two Georgetown-Syracuse games this season, guaranteeing us at least two more versions of one of the sport's best rivalries.
[+] Enlarge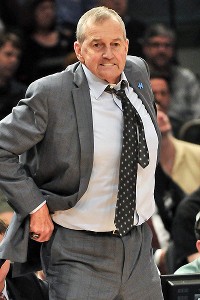 Cal Sport Media/AP ImagesJim Calhoun's Huskies are among the 15 teams banned from postseason play because of poor classroom performance.
Unfortunately, with Connecticut's APR troubles (see below) and postseason ban, the Huskies and Orange -- the leads in 2009's six-overtime play -- will never meet in the Big East tournament again.
Chances are this won't be a nostalgic last run through the conference. Folks aren't happy with Syracuse and Pitt's decisions to bolt and it will probably be an awkward tango to the finish line.
3.
UConn's postseason ban:
Despite appeals and arguing from UConn, the NCAA has decided to stick with its APR standards, rendering the Huskies ineligible for postseason play. And since the league doesn't want its automatic bid to go to a team that can't participate in the NCAA tournament, UConn won't be in New York for the Big East tournament, either.
That's a hefty blow to the Huskies, of course, but a big one to the conference as well. Sitting just a quick car ride away from Madison Square Garden, UConn is a big draw for the tournament in March (though no one travels quite like the Orange-loving Syracuse fans).
4.
Return engagement?
A year ago, Louisville served as the beggars at the feast, the surprise member at the Final Four party. They survived as much as they won, overcoming a laundry list of injuries to key players, to make their way to lifting the Big East tournament trophy and followed that up with a trip to New Orleans.
This year people expect the Cardinals to thrive as well as survive, all the way to Atlanta and a Final Four return engagement.
The rationale is simple: Louisville returns everyone to the lineup save Preston Knowles and inserts George Mason transfer Luke Hancock to fill that role. (That is, after Hancock recovers from shoulder surgery. Not everything has changed in Louisville).
But Rick Pitino knows a thing or two about trying to get back to the Final Four, having walked down Expectation Highway with Kentucky in 1996 and 1997, and realizes what he's up against.
"This past year at Louisville, we didn't expect to go but now we have high expectations to go and do it," Pitino told ESPN.com's Andy Katz. "I think this time will be tougher than it was at Kentucky. At Kentucky, it was totally unexpected, but this time it will be expected. It's hard to have a Final Four that will be expected."
5.
Will order be restored?
Even now, a good three months after the season ended, the final Big East standings don't look right. There, near the bottom of the barrel are Pittsburgh and Villanova, tied with identical 5-13 records of misery in the conference.
So the important question: Were those failures a blip on the screen or the beginning of something a little more long-term?
All signs point to some quick healing for Pitt, which welcomes touted freshman
Steven Adams
and Central Michigan transfer
Trey Zeigler
to go with returning players
Tray Woodall
,
Talib Zanna
and
Dante Taylor
. Last year's troubles were hard to decipher, so it's tough to imagine a repeat.
Villanova's situation isn't quite so crystal clear. The Wildcats were a debacle all year and from that mess,
Maalik Wayns
and
Dominic Cheek
, the team's two leading scorers, left early. That could be addition by subtraction if the two didn't want to be around anymore but those are still mighty shoes to fill.
Jay Wright has two top-100 recruits in
Ryan Arcidiacono
and
Daniel Ochefu
, plus Wake Forest transfer
Tony Chennault
,
JayVaughn Pinkston
and
Mouphtaou Yarou
. That's a good foundation to build on but whether Rome can be rebuilt in a season remains to be seen.