College Basketball Nation:

Dante Taylor
July, 23, 2012
7/23/12
10:00
AM ET
Editor's note: ESPN.com's Summer Shootaround series catches up on the offseason storylines for each conference. For more on the Big East, click here:
1.
Unsteady rudder:
The Big East is prepping to lose two of its most iconic members, has no commissioner and needs to negotiate a new television contract to continue to prosper.
Other than those developments this offseason, Mrs. Lincoln liked the play very much, thanks for asking.
Unrest and unease has been a near-universal theme in college athletics lately, but nowhere is the footing quite so slippery as in the Big East. After making football-centric decisions, the league did finally manage to make some sound basketball decisions, adding Temple and Memphis to the ever-swelling conference, but that doesn't mean everything is stable.
The Big East is in the market for both a new commissioner and a new television contract. Making the right choice in both instances will be critical.
John Marinatto was a good man who cared deeply for the Big East, but lacked the CEO chops needed to succeed and flourish in today's world of college athletics. The new commissioner will have to be equal parts visionary and diplomat, able to predict the future and placate the membership, both existing and new.
And the league bravely -- or foolishly -- turned down a deal a year ago, prompting the unease that led to the departures of Syracuse, West Virginia and Pittsburgh. The bidding starts again in the fall and while that will be centered mainly around football, basketball's livelihood will be tied to the deal as well.
Neither a new commissioner nor a new TV deal will settle the unsteady league for good but the right choices will go a long way.
2.
The Syracuse and Pittsburgh farewell tour:
This will be the end of the line for one of the founding members in the Big East, with
Syracuse announcing it negotiated its way out of the league a year earlier than the bylaws allowed
;
Pittsburgh soon followed suit
. With a $7.5 million buyout paving the way for each school, they'll both jump to the ACC in 2013.
Fortunately -- and probably not coincidentally -- the Big East scheduled two Georgetown-Syracuse games this season, guaranteeing us at least two more versions of one of the sport's best rivalries.
[+] Enlarge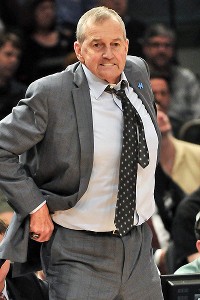 Cal Sport Media/AP ImagesJim Calhoun's Huskies are among the 15 teams banned from postseason play because of poor classroom performance.
Unfortunately, with Connecticut's APR troubles (see below) and postseason ban, the Huskies and Orange -- the leads in 2009's six-overtime play -- will never meet in the Big East tournament again.
Chances are this won't be a nostalgic last run through the conference. Folks aren't happy with Syracuse and Pitt's decisions to bolt and it will probably be an awkward tango to the finish line.
3.
UConn's postseason ban:
Despite appeals and arguing from UConn, the NCAA has decided to stick with its APR standards, rendering the Huskies ineligible for postseason play. And since the league doesn't want its automatic bid to go to a team that can't participate in the NCAA tournament, UConn won't be in New York for the Big East tournament, either.
That's a hefty blow to the Huskies, of course, but a big one to the conference as well. Sitting just a quick car ride away from Madison Square Garden, UConn is a big draw for the tournament in March (though no one travels quite like the Orange-loving Syracuse fans).
4.
Return engagement?
A year ago, Louisville served as the beggars at the feast, the surprise member at the Final Four party. They survived as much as they won, overcoming a laundry list of injuries to key players, to make their way to lifting the Big East tournament trophy and followed that up with a trip to New Orleans.
This year people expect the Cardinals to thrive as well as survive, all the way to Atlanta and a Final Four return engagement.
The rationale is simple: Louisville returns everyone to the lineup save Preston Knowles and inserts George Mason transfer Luke Hancock to fill that role. (That is, after Hancock recovers from shoulder surgery. Not everything has changed in Louisville).
But Rick Pitino knows a thing or two about trying to get back to the Final Four, having walked down Expectation Highway with Kentucky in 1996 and 1997, and realizes what he's up against.
"This past year at Louisville, we didn't expect to go but now we have high expectations to go and do it," Pitino told ESPN.com's Andy Katz. "I think this time will be tougher than it was at Kentucky. At Kentucky, it was totally unexpected, but this time it will be expected. It's hard to have a Final Four that will be expected."
5.
Will order be restored?
Even now, a good three months after the season ended, the final Big East standings don't look right. There, near the bottom of the barrel are Pittsburgh and Villanova, tied with identical 5-13 records of misery in the conference.
So the important question: Were those failures a blip on the screen or the beginning of something a little more long-term?
All signs point to some quick healing for Pitt, which welcomes touted freshman
Steven Adams
and Central Michigan transfer
Trey Zeigler
to go with returning players
Tray Woodall
,
Talib Zanna
and
Dante Taylor
. Last year's troubles were hard to decipher, so it's tough to imagine a repeat.
Villanova's situation isn't quite so crystal clear. The Wildcats were a debacle all year and from that mess,
Maalik Wayns
and
Dominic Cheek
, the team's two leading scorers, left early. That could be addition by subtraction if the two didn't want to be around anymore but those are still mighty shoes to fill.
Jay Wright has two top-100 recruits in
Ryan Arcidiacono
and
Daniel Ochefu
, plus Wake Forest transfer
Tony Chennault
,
JayVaughn Pinkston
and
Mouphtaou Yarou
. That's a good foundation to build on but whether Rome can be rebuilt in a season remains to be seen.
November, 8, 2010
11/08/10
11:33
PM ET
PITTSBURGH -- Pitt coach Jamie Dixon and his staff were analyzing the game tape, rewinding missed layups, failed 3-point closeouts, and looking for warts to clean up.
The Steelers were playing the Bengals on Monday Night Football and while the rest of the city's sports fans had probably moved on to the hometown football team, the coaching staff was stuck pausing the Panthers'
83-75
season-opening win over Rhode Island.
And there is a reason Dixon was in midseason postgame form. The Panthers are the Big East favorite, a Final Four contender and got pushed to its final few possessions against a fringe Atlantic 10 contender.
[+] Enlarge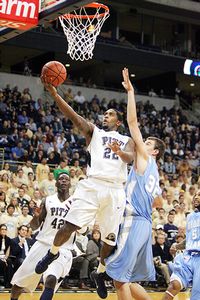 Charles LeClaire/US PresswireBrad Wanamaker led No. 4 Pitt with 24 points in a season-opening victory over Rhode Island.
Dixon did discuss how few teams would open with such a high-quality opponent and the reality is this game was just what he needed for his team on Nov. 8. Sure, there are other quality openers Friday like Syracuse hosting Northern Iowa, Georgetown going to Old Dominion and Seton Hall playing at Temple. But in tournaments like the 2K Sports Classic benefiting Coaches vs. Cancer, there are few first-round games as difficult as playing a pressing team like the Rams.
"There's a reason why teams don't want to play them, especially on Nov. 8, because of how well they play and how well they're coached,'' Dixon said. "It was a good win, a quality win.''
What Dixon discovered about his Panthers is that he has three quality closers in seniors
Gilbert Brown
and
Brad Wanamaker
and junior
Ashton Gibbs
. Gibbs and Wanamaker scored seven of the nine points in a 9-0 run that turned an eight-point deficit into a one-point lead heading into halftime.
Wanamaker got to the free throw line and converted on multiple trips in the final three minutes, as did Brown and Gibbs to close out the pesky Rams. Wanamaker finished with 24 points, Gibbs 22 and Brown 10, the only three players in double figures for the Panthers, something that will likely be common all season. The Final Four contender two seasons ago was interior-based with DeJuan Blair and Sam Young. This squad will be guard-oriented.
"We're always up for a challenge,'' Gibbs said. "That's what coach expects of us. Those are the type of players we recruit. We all need to keep taking on those challenges and playing hard and executing. It doesn't matter what we're ranked. We need to come out every game hungry.''
The Panthers were playing shorthanded with starting forward
Nasir Robinson
out with a right knee injury following a meniscus tear. Robinson said earlier Monday that he was hopeful he could return for the game against Maryland on Nov. 18 at Madison Square Garden. But that might be wishful thinking since he hasn't practiced yet.
In his place, Dixon discovered that he has a hidden gem in redshirt freshman
Talib Zanna
, who started for Robinson. Zanna was efficient in scoring nine points and grabbing 11 boards in 20 minutes.
"I came out and did what I do best, grabbed some rebounds for my team," Zanna said.
The more-heralded
Dante Taylor
was in foul trouble (three in 12 minutes) and
Gary McGhee
couldn't convert some putbacks and wasn't as much of a factor with four points and six boards. If the Panthers are going to be a serious player for a Final Four berth, then the post must develop prior to the Big East.
Dixon and the players agreed that this game felt more like February than November. The intensity and atmosphere at times rivaled a game from the middle of the season. As expected this early, the quality of play wasn't great and that's why Dixon and the staff were watching the game tape just minutes after the final buzzer. The Panthers don't have time to be idle, playing Illinois-Chicago in game No. 2 of the CVC on Wednesday before a game against North Florida on Saturday. Then it's off to New York for Maryland and either Texas or Illinois.
The heart of the Panthers' nonconference strength of schedule will include Rhode Island, the two games in New York and then Tennessee in the SEC/Big East Invitational in the new Consol Energy Center in downtown Pittsburgh. The Vols lost an exhibition game Monday night to Division II University of Indianapolis. Pitt better hope that Tennessee cures its preseason ills so that game will matter for power-rating purposes and a possible No. 1 seed come March, especially since the only nonconference road trip is to MSG.
But for now, Dixon and his group of players will breathe easy after avoiding an opening upset.
"We played a very good team, a team that presses two-and-a-half weeks into the season,'' Dixon said. "We took on the challenge and it'll be a quality win later on in the season.''