College Basketball Nation:

Darius Morris
November, 11, 2011
11/11/11
3:29
PM ET
It's not hard to name the biggest hole in Michigan's lineup this season: point guard. Darius Morris's decision to leave for the NBA in the spring cost Michigan its primary ballhandler and assist man, and few guards in the nation were better than Morris at setting up teammates. Morris dropped a dime on -- get this --
44.3 percent of his possessions
, the third-highest mark in all of college hoops. Point guards like that are hard to find.
[+] Enlarge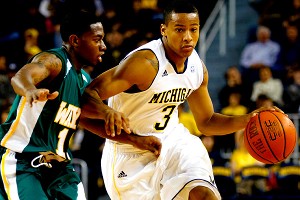 Rick Osentoski/US PRESSWIREMichigan coach John Beilein has named freshman Trey Burke his starting point guard.
Initially, it looked like
Stu Douglass
would take over the majority of the point guard responsibilities for Michigan. But then freshman
Trey Burke
came along. Burke is the reigning Mr. Basketball in Ohio, a former teammate of
Jared Sullinger
's at Columbus Northland High School, and, as of tonight, a first-year starter for the
Michigan Wolverines
. Why? Michigan coach John Beilein loves what he sees from Burke, and he's decided there's no reason to wait to give Burke a shot at running his team. From
WolverinesNation's Chantel Jennings
:
"He really feels good out there," Beilein said of Burke. "He's a point guard who's really done a great job, his whole life, of running the team."

[...] "He wouldn't be in that lineup if I didn't see every day that he's ready to do the best he can do," Beilein said. "Then we continue to nurture him through it."
Beilein said he plans to use Douglass as a sixth man, allowing him to "hunt shots" without having to worry as much about getting his teammates involved in the flow of the game.
This is an intriguing move. The point guard is always an important role --
duh, Eamonn
-- but the position is especially important in Beilein's stretchy 3-point-reliant offense. With Morris gone, it seemed Michigan was bound to struggle with that spot for portions of the season. But if Burke is as good as Beilein seems to think -- if he's already ready to take the reins -- then Morris's departure will be minimized at the same time Michigan's chances of a season befitting their No. 18 preseason ranking are maximized.
Can Burke be the new
Aaron Craft
? If he's even marginally as good as Ohio State's freshman point guard was last season the Wolverines are in much better place than previously anticipated.
June, 20, 2011
6/20/11
11:06
AM ET
Ten months ago, the
Michigan Wolverines
looked hopeless. John Beilein's team -- one that had just lost its two best players (DeShawn Sims and Manny Harris) from a massively disappointing 15-17 season -- was spending its August in Belgium, where it was blown out in convincing fashion in exhibitions against so-so Belgian opponents.
The losses, combined with the apparent down year ahead, were
enough to cause some to at least pose the questions some Michigan fans were already considering
: Was Beilein the right coach to bring Michigan back? After three years, were the Wolverines really better off? Was it maybe, just maybe, time to place the esteemed coach on the hot seat?
[+] Enlarge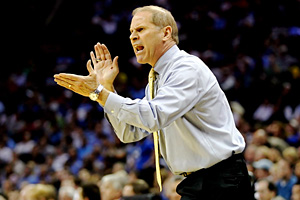 Kevin C. Cox/Getty ImagesJohn Beilein has his Michigan Wolverines headed on an upward trajectory.
Ten months later, the question seems downright ridiculous.
During the 2010-11 season, Beilein transformed an unheralded batch of tweener players -- 6-foot-5 sharspshooter
Zack Novak
often found himself playing power forward -- into a dangerous team that annihilated Tennessee in the NCAA tournament and was one buzzer-beating floater away from taking
Duke to overtime in the next round
.
Darius Morris
, who launched that near-miss in March, capped his breakout sophomore season with a decision to dive fully into the NBA draft waters;
he's considered an early second-round pick
and has impressed scouts with his size and composure at the point guard spot.
Had Morris decided to stay in school for another season, Michigan would have been the popular pick to challenge Ohio State for the Big Ten title in 2011-12. Without him, Michigan is still an intriguing team.
Tim Hardaway Jr.
had a promising freshman year, as did the team's lone true frontcourt presence, forward
Jordan Morgan
. Novak is back for his senior season, as is guard
Stu Douglass
, who should help anchor the point guard position in the wake of Morris' leap.
Perhaps most importantly, though, Beilein's recruiting is yielding more promising results than at any time during his tenure with the Wolverines. He has lined up three solid players in the 2011 class, and his 2012 haul already includes two four-star,
top-100 forwards in Nik Stauskas and Glenn Robinson Jr.
(And yes, in case you're wondering, Robinson is the son of former NBA star Glenn "Big Dog" Robinson; Michigan currently leads the way in the all-important "sons of 1990s NBA stars also named after their fathers." It is the humble opinion of this writer that
Glen Rice Jr. should transfer to Michigan
and complete the trifecta. I'm kidding, but only sort of.)
Even if Michigan doesn't contend for a Big Ten title next season -- and what's to say Beilein won't exceed expectations again? -- the overall trajectory here is undeniably positive. Beilein has instilled his system to
produce an efficient offensive unit that relies on his trademark brand of long-range shooting
and versatile floor-spreaders. His current players are more talented than anyone thought. And the talent arriving on campus in the next few seasons only portends future success.
There has to be a lesson somewhere in here. Forget about Belgium? Ignore exhibitions at all costs? Don't put a coach on the hot seat in late summer? Whatever it is, Beilein has made it stick. Suddenly, with minimal warning, his program is in much better shape than anyone would have assumed merely 10 months ago. As perceptual turnarounds go, this one's up there.
May, 4, 2011
5/04/11
1:01
PM ET
Late last night, Draft Express's
Jonathan Givony tweeted something
that caught most Michigan fans, not to mention most college hoops and draft observers, off guard:
Darius Morris has decided to keep his name in the draft and will not be returning to Michigan, according to a source close to the situation.
According to a news release
from Michigan's athletics communication staff
, that decision is now official:
University of Michigan sophomore guard Darius Morris (Los Angeles, Calif./Windward HS) has decided to forego the remainder of his college eligibility and remain as an early entry for the 2011 NBA Draft.

"There have been long discussions with my family, friends and my Michigan coaches," said Morris. "After gathering all the information possible, I have decided to stay in the NBA Draft and pursue my dream of playing professional basketball."
Here we were,
describing
how surprising
Terrence Jennings
and
Iman Shumpert
's decisions were. But this might be the most surprising early entry decision of them all.
It's not that Morris isn't very talented. He is. What makes this so surprising how quickly Morris made the transition that put him in this position. In the course of a few months, Morris has gone from "unknown sophomore guard on a seemingly bad team" to "quietly impressive, efficient player that could be a year away from a huge leap" to "
just-this-close Duke dropper
" to "potential NBA prospect." That path takes some players years. It took Morris exactly 35 games.
To say this metamorphosis flies in the face of what many expected is an understatement. The Michigan guard raised eyebrows the minute he declared for the 2011 NBA draft. Curious bemusement greeted the decision: "Oh, he's just testing the waters. No chance he actually stays in, right?" At that point, Morris was widely considered a second-round pick. He's improved that stock in recent weeks; Morris currently listed as a first-round bubble pick by ESPN's Chad Ford,
ranked No. 32 on Ford's list

of NBA prospects.
Still, just Tuesday
Ford wrote a column

giving advice to the still-undecided underclassmen based on what he's hearing from NBA scouts. His advice to Morris? Go back to school.
There may be something to Morris' potential decision. After all, he was as good a distributor as there was in college hoops last season.
Morris ranked third in the nation
in assist rate, became Michigan's all-time single-season leader in assists, and notched only the third triple-double in the school's history in the process. Dude can play.
The problem is that the evolution, or at least its accompanying perception, appears to have happened even faster in Morris' world. If he continues on this path, he should be an NBA guard in at least some capacity. But it's hard to say he couldn't have used another, even more impressive year in school on the way to lottery status in the summer of 2012.
That was the hope of revitalized Michigan fans everywhere. Instead, the Wolverines will lose their best player and primary ballhandler, and while there is still young talent in this backcourt -- most notably
Tim Hardaway Jr.
, who exceeded all expectations in his freshman season -- Morris' departure does rob John Beilein's team of momentum after 2011's surprising run to the second round of the NCAA tournament.
Ultimately, it's another surprising decision from a player many expected to return for another season. Will others follow Morris' lead? How many seemingly borderline players will this overstocked draft retain?
In any case, if the best advice you can give to a college player considering the NBA leap is to sell high, then Morris' decision to leave after a strong sophomore year makes sense. But it's hard to imagine he couldn't have sold much higher in just a year's time.
March, 28, 2011
3/28/11
2:36
PM ET
The NCAA tournament had plenty of excitement when it came down to crunch time. Let's look back at some of the memorable late-possession moments from the first two weeks:
In the East:
Luke Hancock's 3-pointer with 21 seconds left capped a George Mason comeback win over Villanova in the second round.
Brandon Knight's driving layup with two seconds remaining gave Kentucky a two-point win over Princeton in the second round.
Darius Johnson-Odom's 3-pointer with 27 seconds left helped push Marquette past Syracuse in the second round.
Washington's meltdown against North Carolina in the final few possessions that prevented the Huskies from tying the Tar Heels at the end of regulation in the third round.
Knight's 15-foot shot that sent Kentucky past Ohio State in the Sweet 16.
In the West:
Tennessee quit on the game in the second half and lost by 30 to Michigan.
Duke's Kyrie Irving made his only field goal against Michigan with 32 seconds left as he gave the Blue Devils a lead before the Wolverines' Darius Morris missed a game-tying runner at the buzzer.
Arizona's Derrick Williams blocked a potential game-tying bucket by Memphis in the final seconds.
Williams converted a three-point play with 9.6 seconds remaining to upset Texas after the Longhorns committed a five-second violation on an inbounds play.
Temple's Juan Fernandez nailed an off-balance 18-foot shot to beat Penn State in the second round after Talor Battle hit a game-tying 3-pointer with 12.2 seconds left.
In the Southwest:
Down by two to Louisville, Morehead State's Demonte Harper went for the win and got it with a 3-pointer with 4.2 second left to beat the Cardinals in the second round.
VCU's Bradford Burgess converted a layup off an inbounds pass with 7.1 seconds left in overtime to knock off Florida State in the Sweet 16.
And in the Southeast:
Butler beat Old Dominion on a layup by Matt Howard at the buzzer.
Butler beat Pitt after Nasir Robinson fouled Howard on a rebound off a missed free-throw at the buzzer when the game was tied. Howard hits a free throw to win the third-round game.
And in the First Four:
UNC Asheville's Matt Dickey hit a 3-pointer with 10.5 seconds left that sent the game against Arkansas-Little Rock into overtime before Asheville won.
March, 20, 2011
3/20/11
5:34
PM ET
CHARLOTTE, N.C. -- Duke got
Kyrie Irving
back this weekend here in Charlotte and Irving delivered with a bank shot to give the Blue Devils a critical three-point lead late in the game against Michigan.


But having Irving on the court, as much as that makes a difference for the Blue Devils at both ends of the court, doesn't mean Duke is going to cruise in the NCAA tournament.
Michigan pushed Duke to the final possession, but
Darius Morris
couldn't convert a runner in the lane to tie the game and the Wolverines fell
73-71
to the Blue Devils on Sunday afternoon in a West region third-round game at the Time Warner Cable Arena.
Duke got a bit too passive against Michigan's changing defense, which included a sprinkling of the 1-3-1, and Michigan made plays late, especially from
Tim Hardaway Jr.
, with a mid-range shot and a 3-pointer to cut Duke's lead to one point with 90 seconds left.
Nolan Smith
made 1 of 2 free throws to give Duke the lead at 73-71 to set up Morris' final shot.
Key stat:
Smith was sensational earlier in the game, finishing with 24 points and making 6 of 7 free throws.
Turning point:
Michigan going to its changing defense was a difference for the Wolverines. Duke had a shot-clock violation during the run. Great call by Michigan to keep Duke off balance.
What's next:
Duke moves on to play the winner of Arizona-Texas in the West region Sweet 16 in Anaheim. Michigan moves on to be a serious threat to win the Big Ten in 2012.
March, 20, 2011
3/20/11
8:04
AM ET
CHARLOTTE, N.C. -- The unspoken secret about the sudden revival of Michigan basketball was John Beilein's bold move to make major changes on his coaching staff in the offseason.
The semantics of whether Jerry Dunn and John Mahoney were forced out or left on their own volition is debatable. Beilein said they chose to pursue other opportunities when they left last season. Multiple sources will tell you otherwise. But the reasoning is now irrelevant -- along with why Mike Jackson made the decision to leave Michigan for rival Purdue.
[+] Enlarge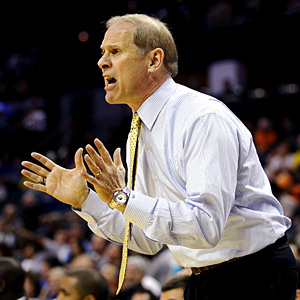 Kevin C. Cox/Getty ImagesJohn Beilein's wholesale change of his coaching staff may be the reason behind Michigan's sudden revival.
Beilein has always been lauded for his attention to detail in his coaching and his ability to continue to grow as a coach and make adjustments in style of play, from experimenting with a 1-3-1, to designing more offensive sets for 3-pointers, to various looks at his myriad of stops from LeMoyne College to Canisius to Richmond to West Virginia to Michigan.
But the staff change may have been his boldest and brightest. The decision to promote Jeff Meyer from an administrative position to an assistant, and, more importantly, adding Michigan natives Bacari Alexander and LaVall Jordan as assistants helped changed the direction of the program. The impact of freshmen
Tim Hardaway Jr.
and
Jon Horford
and even more reps for sophomore
Darius Morris
and redshirt freshman
Jordan Morgan
also contributed.
"The best way to describe what happened is that it's the dawn of new era,'' Alexander said. "The elevation of coach Meyer and the addition of me and coach Jordan with the new players, it was like we all got to Ann Arbor together. This isn't a knock against the previous regime, but there was a natural transition with two guys from the state of Michigan and players that I had recruited [at Western Michigan] and we've all embraced this as a partnership.''
In his second season, Beilein got the Wolverines to the NCAA tournament for the first time since 1998. But then Michigan went south. In the fall of 2009, the Wolverines were a top-20 preseason pick but floundered and finished 15-17, 7-11 in the Big Ten.
Beilein had to do something to redirect the program. He might not have known how successful these moves were going to be at the time, but they have proven to be invaluable. After a 1-6 start in Big Ten play, the Wolverines hit a hot streak that not only led to an improbable tourney appearance but also a No. 8 seed. On Friday, they beat Tennessee by 30 points to set up a game against top-ranked Duke on Sunday in Charlotte for a berth in the Sweet 16.
It's not just the in-state connections of Alexander and Jordan that have benefited UM. The more important aspect is that they were both undersized players during their time at Detroit and Butler, respectively.
"Coach Jordan and coach Bacari did a great job with the guards and bigs,'' said junior guard
Stu Douglass
. "Coach [Beilein] knew we needed help in those areas. We're very fortunate to have assistant coaches like that and to have Beilein as our coach.''
Wholesale changes on a staff only three years into a tenure is rather unheard of, especially for a coach as established as Beilein. But the veteran coach is quick to say that he has constantly made adjustments to his style of play at both ends, too.
"I've prided myself on different approaches,'' Beilein said. "In my 35 years of coaching, I've changed things, like the 1-3-1, I just said 'let's do something differently defensively.' We've now added great stuff from Perry Watson at Detroit [where Alexander played] and added a lot of the Butler ideas [where Jordan played].
"It's been a great blend here. We feed off each other's strength.''
Jordan said the different voices have had a positive effect on the Michigan players. That's his read on the situation and it's hard to argue.
"A different voice can help,'' Jordan said. "Coach Beilein is very accepting. That [preseason] trip to Belgium really helped us too. It allowed our staff to connect with the players and to hang with them apart from the game. We grew to trust each other and the credibility with each other was there. It really has worked out.''
Whether Michigan beats Duke or not, there is a fresh vibe with the Wolverines. Alexander said the new motto is "Team Wolverine.'' Call it whatever you want, but the staff changes and the influx of new players, can't be just a coincidence. Beilein didn't script it exactly this way, but it has revitalized his program in a way he probably never imagined.
March, 18, 2011
3/18/11
2:59
PM ET
CHARLOTTE, N.C. -- If this was the last game for Tennessee head coach Bruce Pearl then it was not representative of his career with the Vols.
Tennessee under Pearl has been a consistently disruptive team that put opponents on the defensive and was usually the aggressor.


But the Vols were completely outmatched against Michigan in the second half as the Wolverines ran away with a
75-45 win
. The early fire that the Vols showed off the opening tip soon evaporated as Michigan ran its sets, was the disruptive defensive team and finished well on the break as well as making 3s.
Michigan looked like a team that enjoys playing together and had a purpose for each possession. Tennessee did not. The Vols weren't sulking or displaying poor body language but there just seemed to be a lack of overall fight with the crew. There were a few moments later in the second half after the lead grew to 20-plus. But it was too late.
Key stat
: The Wolverines were shooting over 50 percent and seemed to be an offensive machine throughout most of the latter stages of the first half and into the second. Michigan is starting to resemble the offensive squad that West Virginia had toward the last few seasons under John Beilein. This team went through growing pains last season under Beilein when it missed the tournament. This season it just took some time to get used to the system and once they grasped the concepts the Wolverines were a tough out.
Turning point
: I could go with the start of the second half when the Vols came out flat but I'd say it may have been when AD Mike Hamilton signaled the end of the Pearl era with his comments earlier this week on a Knoxville radio station. The Vols said the right things during the Thursday news conference but it was obvious that they saw the end was near for the staff. The staff couldn't hide its frustration, either.
The good
: Michigan has quite a youth brigade in Tim Hardaway Jr. and
Darius Morris
, two players who fully grasp the Beilein system and are excelling in it at this stage in the season. The role play from
Zack Novak
,
Evan Smotrycz
and
Matt Vogrich
was solid throughout and the Vols couldn't hang with supposedly higher level talent.
The bad
: Tennessee is usually one of the better traveling teams. It was clear that the Vols' fan base was done with this team considering the turnout. Tennessee gave the Vols' fans reason to stay home. If they had driven here then there would have been a reason for reimbursements.
Goodbye
: The end will likely come for Pearl sometime next week and the entire Vols' staff and probably for heralded freshman wing
Tobias Harris
, who is a talent that is probably ready to try the NBA draft.
What's next
: Michigan moves on to the third round to likely play top-seeded Duke, which plays Hampton later Friday afternoon. Duke and Michigan had a regular rivalry going for a spell but that has since been discontinued. Michigan has accomplished plenty so far this season and has nothing to lose going into a game against Duke.
March, 13, 2011
3/13/11
9:34
PM ET
Rapid-fire reactions to the bracket:
Before we get into this, someone please check on Seth Greenberg. Make sure he is in a safe place. I'm mostly joking, but not completely.
Now, if I'm Ohio State coach Thad Matta, I tell the boss this when he returns to Columbus:
[+] Enlarge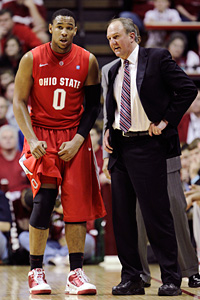 AP Photo/Darron CummingsDespite having their athletic director on the selection committee, many believe Ohio State coach Thad Matta, forward Jared Sullinger and the rest of Buckeyes have the toughest run of any No. 1 seed.
Thanks for nothing.
OSU athletic director Gene Smith was the head of the NCAA tournament selection committee, yet he stuck his own team with what I think is the toughest region in the whole tournament. Earlier Sunday,
I wrote that seven teams
had the most realistic shot at a national title -- and three of them are in the same region. That would be No. 1 seed Ohio State plus No. 2 seed North Carolina and No. 4 seed Kentucky, all in the East.
Two of the seven are in the Southwest Region: Kansas and Notre Dame. Two are in the West: Duke and San Diego State.
And then there is the Southeast, otherwise known as the Jamie Dixon Backrub Regional. I don't see a single major national-title threat in that 16-team grouping, which means terminal underachiever Pittsburgh might finally reach its first Final Four since World War II.
So Matta needs to ask his AD one simple question: Why didn't we get the Pitt treatment?
Instead, here's what Ohio State got: a likely matchup against a coach with Final Four experience in the rounds of 32, 16 and 8.
After the Buckeyes dispatch a play-in-team-to-be-named-later on Friday in Cleveland, they'll face either George Mason or Villanova. Jim Larranaga took the Patriots on one of the all-time Cinderella Final Four runs in 2006, and Jay Wright got the Wildcats there in '09.
In the Sweet 16, Ohio State could face any of three coaches who have been to Final Fours in the past decade: Bob Huggins (West Virginia last year, plus Cincinnati in 1992); Mike Davis (Indiana 2002); or John Calipari (Massachusetts 1996 and Memphis 2008).
And a potential regional final showdown looms with either North Carolina and Roy Williams (six Final Fours, two national titles) or Syracuse and Jim Boeheim (three Final Fours, one national title).
That is not an easy road to Houston.
The committee apparently saved all its mollycoddling for Florida, which drew a mystifying No. 2 seed in the Southeast. Apparently, friends, losing to Jacksonville and Central Florida will actually
help
your seeding as opposed to hurting it. Oh, and a home loss to South Carolina (last in the SEC East) must not hurt the profile either.
The Gators are a good team. The Gators are fully capable of winning that region. But the Gators should be doing it as a No. 4 or 5 seed, in my estimation.
In fact, I think three of the No. 4 seeds (Louisville, Kentucky and Texas) all are more accomplished to date than Florida.
So I'd nominate the Southeast as the section of the bracket most likely to be busted. Pitt and No. 4 seed Wisconsin have a history of great regular seasons and not-so-great NCAA tournaments. Third-seeded BYU looks highly vulnerable after going 3-2 since losing leading rebounder and third-leading scorer Brandon Davies.
(Quick aside: All conjecture to the contrary, losing a player for the tournament apparently didn't matter much after all. BYU still got a No. 3. Georgetown, winless in four games since the broken hand suffered by guard
Chris Wright
, still got a No. 6. Florida State, 3-3 since the loss of leading scorer/rebounder/stealer
Chris Singleton
to a broken foot, still got a No. 10. I believe all three could have been justifiably bumped down at least one more seed line.)
In the Southwest, a potential Kansas-Louisville matchup in San Antonio could be a great one. The Jayhawks are really good -- but check Rick Pitino's record in Sweet 16 games. He's 9-0. But both the Jayhawks and Cardinals have to win two games first to make that matchup happen.
On the other side of that region, I love Notre Dame's chances of reaching a regional final for the first time since 1980 -- although Purdue looms as a potential Indiana battle removed to San Antonio in the Sweet 16.
And in the West, I could see chalk holding to a Duke-San Diego State regional final -- if the Aztecs can finally get around to winning the first NCAA tournament game in school history. There could be some very good regional semifinals there: Duke-Texas and San Diego State taking on a Big East school, be it Connecticut or Cincinnati.
At this moment, give me Ohio State, Duke, Notre Dame and Kansas State to reach the Final Four, with the Fighting Irish winning it all.
And I can't believe I just typed that sentence.
But I'll stick with it at least until tomorrow morning.
Some other random ruminations:
Seeded too high
: Florida, BYU, Georgetown, UCLA.
Seeded too low
: Oakland, Utah State, Xavier, Gonzaga.
Most intriguing first-round games:
UCLA-Michigan State; Oakland-Texas; Butler-Old Dominion; BYU-Wofford.
Individual star-watch games
: Texas shot-blocking freshman
Tristan Thompson
against Oakland shot-blocking senior
Keith Benson
; BYU scoring machine
Jimmer Fredette
against Wofford 20-point-a-game guy
Noah Dahlman
; UCLA forward
Reeves Nelson
against Michigan State forward
Draymond Green
; versatile
Darius Morris
of Michigan against versatile
Scotty Hopson
of Tennessee.
Next up
: Hot anticipation for game times Thursday and Friday, so we can plan our hooky accordingly.
March, 11, 2011
3/11/11
5:08
PM ET
INDIANAPOLIS -- The
Michigan Wolverines
are definitely dancing. Their comeback from a 12-point second-half deficit against Illinois assuredly moves them off the bubble and into the field of 68. Illinois will be in as well, but this probably hurts its seeding.


Star of the game
:
Darius Morris
had 17 points and seven assists for Michigan, but it was freshman Tim Hardaway Jr. who made the biggest shots for the Wolverines. Hardaway's 3-pointer with 1:42 left gave Michigan its first lead since early in the game, and his two free throws in the final minute helped keep them in front. He finished with 16 points.
Turning point
: Down 51-42, Michigan's defense held Illinois without a point for the next five-and-a-half minutes while hitting several timely 3s of their own. By the time the Illini scored again, they were in a dogfight.
Key stat
: Michigan had clutch shooters, hitting 46 percent from 3-point range and 82 percent from the line.
What's next
: The Wolverines will get a third shot at Ohio State tomorrow, and the thin Buckeyes are coming off an overtime game in which
Jared Sullinger
played all 45 minutes. Upset alert is on. Illinois goes home to see what its seeding, destination and opponent will be in the NCAAs Sunday.
December, 20, 2010
12/20/10
8:15
AM ET
Five observations from this past week:
1. National title favorite? Try favorites.
For much of November and December, the
Duke Blue Devils
were rightfully considered the lone true national title favorite, a steamroller of talent trailed by a handful of solid but flawed, potential contenders. That dynamic has changed. We don't have any new details on the status of
Kyrie Irving
's toe, but this week Coach K said Irving would be out "for a long time" and that his players were in the process of becoming a "different team." Couple that ominous-sounding diagnosis with the recent performances of teams like Ohio State and Kansas -- two loaded teams with star freshmen of their own -- and it's clear Duke is no longer head and shoulders above the rest of the field.
2. Something's wrong with Kansas State's offense.
The Wildcats entered the season ranked No. 3 nationally and riding the kind of optimistic wave that tends to wash aside legitimate personnel concerns. When you have so much, why worry about what's missing? Alas, at this point in the season -- on the heels of a 44-point stinker in a loss to Florida on Saturday -- the Wildcats could be missing former point guard Denis Clemente more than anyone would have imagined. K-State has a couple of offensive issues to deal with. One is
Jacob Pullen
's shooting. The other is free throw rate. Last season, Kansas State had the fourth-highest free throw rate in the country. This season, the Wildcats are ranked No. 108 in the country in the stat. It's hard to tease out how much of this is a function of Clemente's absence -- certainly Pullen got more open looks from 3-point range with Clemente pushing the pace and getting into the lane -- and how much is just a slow start by Frank Martin's team thus far. One way or the other, though, the Wildcats have to find a way to get to the line more often. Until they do, that preseason optimism will continue to wane.
3. Michigan will stay out of the Big Ten cellar.
The Wolverines aren't exactly setting the world ablaze, but they're significantly better than the doom and gloom that preceded this season. On Saturday, the Wolverines thoroughly handled the same Oakland team that took Michigan State to the wire and upset Tennessee last week. Michigan's only other "quality" win came at Clemson, but no matter: It's clear from their performance so far that the Wolverines will be plenty competitive in the middle of the Big Ten this season. Michigan's offense isn't great, but the defense is the 17th-best in the country, according to Pomeroy, and sophomore guard
Darius Morris
boasts the second-best assist rate in the country (48.4 percent). Michigan's best-case might be a No. 7 spot in the Big Ten and a fringe bubble case by season's end, but whatever. Compared to where this program seemed to be this offseason, as long as Michigan isn't fending off Iowa, Indiana and Penn State for last-place Big Ten honors, everything else is gravy.
4. Central Florida is an NCAA tournament team.
If the tournament started today, you'd have to include UCF in your tournament bracket. The Knights can claim dominion over the Sunshine State after wins over South Florida, Florida and Miami, the last of which came Saturday in Sunshine, Fla. The UF win looks especially impressive after the Gators' win over Kansas State later at the Orange Bowl Classic. And now that UCF is past those in-state tests, and has few likely nonconference challenges left before league play begins, it can focus on what now looks like a totally realistic Conference USA title campaign. Before this season, the Knights were interesting only because they had the spawn of Michael Jordan on their team. Thanks in large part to the play of
Marcus Jordan
, this team is worth your attention for competitive reasons, too.
5. Kendall Marshall needs more minutes.
Point guard play was one of the main contributors to North Carolina's troubles last season. It has reared its ugly head in 2010-11, too. Only this season, Roy Williams has a ready-made remedy on his bench. That remedy's name is Marshall, who was brilliant in limited action in the Tar Heels' loss to Texas Saturday. He has an intuitive feel for the game, can penetrate against the quickest of defenders, and finds UNC's lanky big men better than either
Dexter Strickland
or
Larry Drew II
. (Marshall's 41.8 percent assist rate would place him among the top 15 in the stat nationally if he had enough possessions to qualify for Pomeroy's list.) Strickland and Drew II have improved, but Marshall is the driver Williams' up-tempo offense needs. Now all Roy has to do is give him the keys.
March, 4, 2010
3/04/10
3:20
PM ET
And being a freshman point guard is even harder.
Concerned with evaluating Michigan's own freshman playcaller, the inconsistent-but-promising
Darius Morris
, UMHoops charted the
performance of 16 froshes charged with leading college teams
in their first years on the job. The result? Unless your name is
John Wall
or
Tommy Mason-Griffin
, you've had a bit of a rough time this season:
There are only three freshmen point guards who are scoring in double figures and two of them play on the same team. There are only four freshmen with a higher assist percentage than turnover percentage. Finally, over half of the top 100 freshmen point guards in the group are shooting under a 50% effective field goal percentage on the year.

The group that I would call successful includes John Wall (UK), Eric Bledsoe (UK), Tommy Mason-Griffin (Oklahoma), and Michael Dixon (Mizzou). In the end, the "average" top 15 freshman point guard has more turnovers than assists, doesn't shoot the ball very well and isn't all that efficient. The average stat line is 21 min, 6.5 ppg, 47.1 eFG, 97.9 Ortg, 20.6 A%, 24.4 TO%. And that's including freshman phenom John Wall, removing him knocks everything down a point or so.
This is not unexpected, because adjusting to college basketball is difficult for every player. Even John Wall, for as good as he's been, has faced rough patches this season. Kentucky's guards have done sporadic things in big games. Tommy Mason-Griffin has been the lone bright spot on a truly disappointing Oklahoma team. There is no quarter for even the best of freshman points; all of them succumb to difficulties sooner or later.
That said, it's something to consider when filling out your bracket. With the exception of truly great freshmen, whether at point guard or not, youth has a way of hounding teams in big games. How will your No. 3 seed's frosh handle the tournament atmosphere? Can you trust the validity of your bracket -- which is vital to your chances of beating that guy three cubes down from you who lets his children fill out his bracket for him -- to an inexperienced bunch? Don't go overboard, but yeah, it's something to keep in mind.