College Basketball Nation:

Darius Theus
March, 23, 2013
3/23/13
2:18
PM ET
AUBURN HILLS, Mich. -- Quick thoughts from fourth-seeded Michigan's
78-53
win over No. 5 seed VCU on Saturday from the Palace of Auburn Hills.


Overview:
Havoc? The only havoc caused in this game Saturday was from Michigan.
The Wolverines took VCU's vaunted "Havoc" press apart with a combination of their own defense -- the Rams press off of made shots and dead-ball situations -- and their ability to break the press. Michigan handled VCU's press with the ease of an elite college team and handed Rams coach Shaka Smart the most lopsided loss of his career.
The Wolverines used their press break, which was fast but patient, to lead to easy transition on the other end and layup after layup along with open 3-pointers. It was a tape teams likely will use for a long time in trying to figure out how to dissect VCU.
Michigan did this with its star point guard,
Trey Burke
, having another off day. Although his scoring returned, Burke had a season-high seven turnovers, but he did find Michigan's shooters and cutters well for seven assists.
Turning point
: There were many, but the stretch Michigan had to open the second half -- in which the Wolverines had three turnovers and a missed shot yet maintained their double-digit lead -- all but signified a poor day for VCU and an eventual run-out for Michigan. It escalated further when VCU guard
Darius Theus
picked up his third foul at the 17:23 mark in the second half.
Key player:
Michigan forward
Mitch McGary
had the best game of his career, providing the interior presence the Wolverines often had lacked this season. McGary played like the guy they anticipated he might be coming out of high school and prep school. He went 10-of-11 from the field with career highs of 21 points and 14 rebounds, taking advantage of a lacking Rams interior.
Key stat:
Before Michigan's walk-ons came in, the Wolverines committed 12 turnovers, exactly the average teams that beat VCU this season had reached. The Wolverines handled the press easily and, save for one stretch early in the second half, never appeared rattled.
Next:
Michigan makes its first Sweet 16 trip since 1994, facing No. 1 seed Kansas or No. 8 seed North Carolina in Arlington, Texas, on Friday.
February, 15, 2013
2/15/13
8:00
AM ET
Another wacky week in the Atlantic 10, another mostly futile attempt to place the lion's share of these teams in something resembling a hierarchy. Let's give it a less wordy shot:

1. Virginia Commonwealth.
For most of the nonconference season, VCU was an elite defensive team. Shaka Smart's constant pressure system worked: It forced opponents into the highest turnover rate in the country -- a distinction it still maintains; Rams opponents cough it up on 29.3 percent of their possessions -- while VCU's all-men-on-deck combination of lightning-quick guards (
Treveon Graham
,
Darius Theus
,
Briante Weber
,
Troy Daniels
,
Rob Brandenberg
) constituted one of the most exciting watches in the sport.
But a weird thing happened on the way to the Atlantic 10: VCU's defense got mediocre. The Rams still force a ton of turnovers, of course, but when they
don't
force turnovers, they don't get stops. VCU's league opponents make 38.0 percent of their 3-pointers and 50.2 percent of their 2s, and have averaged 1.01 points per trip, making VCU's defense the seventh-best in the league. Another weird thing happened: VCU's offense took off. Through nine games, the Rams have the best per-possession offense in the A-10. Talk about a reversal of fortune.
Why put them back at No. 1 this week? Because I think VCU's defense will come back. And if it does,
and
this offensive pace continues, the Rams will be as dangerous as any team in the country.
Also, Thursday night
Juvonte Reddic
did
this
. So you know.
2. Butler.
If power rankings are a balance between a team's long-view work to date and an evaluation of its current performance, you could still make the argument that Butler is the best team in the Atlantic 10. After all, no one else can lay claim to a win as good as Indiana, not to mention Gonzaga at home. (Marquette in Maui wasn't too bad, either). But the Bulldogs, it should be noted, entered Wednesday night's home date against Charlotte with
a conference efficiency margin of only 0.08 points per possession
, tied with La Salle and George Washington for fourth-best in the league. And then they lost to Charlotte at home. I'm not panicking just yet, nor should Butler fans; there is still much to recommend the Bulldogs. But it is not heresy to admit that Butler has struggled in the past two weeks, even as wins over Rhode Island, St. Bonaventure and George Washington masked that fact.
3. Saint Louis.
The Billikens, meanwhile, are headed in the opposite direction: Since back-to-back losses to Temple and Rhode Island on Jan. 12 and Jan. 19, St. Louis has won six in a row in mostly easy fashion, including a 73-58 victory over Butler. Its defense allows the fewest points per trip in the league (0.915), mostly because Saint Louis rarely allows offensive boards. But the schedule only gets tougher from here: versus Charlotte, versus VCU, at Butler, versus Saint Joseph's, at George Washington, at Xavier, versus La Salle. In other words: go time.
4. La Salle.
Were it not for that baffling mid-November home loss to Central Connecticut, the Explorers might well be the subject of some national discussion. Because other than that, the rest of La Salle's losses (at Bucknell, Miami, Charlotte and Xavier, and a 61-60 home loss to Massachusetts) are completely forgivable. Saint Louis has been stifling on the defensive end in conference play, but La Salle is right there with its friends from the Midwest, and perhaps it's time non-A-10-heads sat up and took notice.
5. Massachusetts.
OK, UMass fans: You win. I have officially decided to stop qualifying everything I write about the Minutemen with some version of "Well, their efficiency numbers haven't been very good, so the other shoe could drop any time now." It's not that I didn't like UMass, or something sinister like that; it just felt like fair warning. I'm done now. The bottom line is UMass is the fourth-fastest team in the country -- in this hyper-slow modern college basketball landscape, this is something we should be praising in and of itself -- and that pace, aided by the speed of point guard
Chaz Williams
, allowed the Minutemen to post the A-10's second-ranked efficiency offense performance and fourth-ranked defense prior to Thursday night's game at VCU. The Minutemen were blown out in that game, but that'll happen at VCU. Either way, it's time to start taking Derek Kellogg's team seriously.
6. Charlotte.
On Wednesday night, Charlotte won 71-67 at Butler. I reacted to this in some detail Thursday, so instead of repeating myself,
I'll merely send you there
.
7. Xavier.
For a young team that struggled so much in the nonconference, Xavier sure seems to be headed in the right direction now. Maybe that was bound to happen. Maybe it's a product of the Musketeers' backloaded schedule. All three of Xavier's league losses came on the road; its only real quality A-10 win (La Salle) came at home. The Musketeers go to Dayton on Saturday, and then Rhode Island next week. Those will be tests, sure, but it gets really gully starting Feb. 23, when Xavier closes with -- get this -- VCU, Memphis, UMass, St. Louis and Butler. This is going to be
really
interesting.
8. George Washington.
As mentioned above, the Colonials' league efficiency margin of 0.08 points per trip was, before Wednesday's games, tied for the fourth-best in the league. George Washington hasn't played since. The ceiling is pretty limited here, but Mike Lonergan's team plays defense, and that makes it a very tough out.
9. Temple.
More like TempLOL, am I right? No? Come on, Owls fans. Now might not feel like the time to joke, but I find the hoary old chestnut holds true: "Laughter is the best medicine … for getting over an 84-83 home loss to Duquesne." That actually happened Thursday night; that's a real thing. And it's a perfect summation of this insanely unpredictable, defense-averse Temple team, a team that can now say it beat Syracuse in Madison Square Garden and lost to Duquesne at home. Your guess is as good as mine.
10. Saint Joseph's.
Fun game in Philly this weekend, when Saint Joe's meets La Salle in another Big 5 matchup. At this point, city pride is starting to feel like the best possible outcome for Saint Joe's. It's a really disappointing team.
11. Dayton.
In December, back when we thought Alabama was a top-four SEC team, Dayton's victory in Tuscaloosa seemed to foretell another unpredictable, up-and-down Dayton season. Now it just looks like the latter.
12. Richmond.
The Spiders have been racked by injuries, which is a good explanation for why an offense that played so well on a per-possession basis in the nonconference season has been the A-10's 12th-best to date. The Spiders have struggled on defense all season; without scoring, they're having a tough time.
13. St. Bonaventure.
When they beat Temple and Saint Joe's on the road in late January, the Bonnies seemed to be on the rise. But they've fallen back below .500 since and, despite a valiant effort in a three-point home OT loss to La Salle on Wednesday, are clearly in a rebuilding stage.
14. Rhode Island.
Between a road win at Saint Louis -- still can't figure that one out -- and Wednesday's 75-72 home victory over Dayton, Rhode Island lost six consecutive games. And you know what? It was all positive stuff. Remember, this is a team with a first-year head coach that won seven games in 2011-12. Five of the losses in the recent skid came by single digits. The Rams are playing people tough. It's a weekly refrain in this space, but it's true.
15. Duquesne.
Duquesne! Huge win over Temple on Thursday night, not for any tangible reason -- it's not as though Duquesne is on the bubble -- but for sheer morale. It's not easy to play in a league like this when you're overmatched, and you had better believe knocking off one of the league's annual contenders in its final season in the league, in its own building, had to be incredibly satisfying.
16. Fordham.
Fordham, unfortunately, has had no such fun. Its only two league wins have come over Rhode Island and Duquesne; it has lost its past five games; and on Saturday, Butler comes to town. Ouch.
January, 18, 2013
1/18/13
11:05
AM ET
By
Jeremy Lundblad, ESPN Stats & Information
| ESPN.com

Player of the Night – Trey Burke, Michigan
Burke scored 18 points with nine assists and only one turnover in a road win against a top-10 opponent (Minnesota). Tough to beat that. In fact, only three other players have done it over the past 15 years. They are names you might recognize: T.J. Ford, Ben Gordon, Mike Bibby.

Breakout Game of the Night – Darius Theus, VCU
Theus had a career-best game in VCU's 92-86 overtime win against St. Joseph's. The senior scored a career-high 22 points. Consider that he'd gone 14 straight games without even reaching double digits. Add to that 10 assists and no turnovers. Theus joins Virginia Tech's
Erick Green
as the only players with 20 points, 10 assists and zero turnovers in a game this season.

Freshman of the Night – Joel Bolomboy, Weber State
Bolomboy came off the bench to finish with 13 points, 13 rebounds and five blocks in an 83-70 win against Northern Arizona. That hasn't been done off the bench since SMU's Papa Dia in 2011. But Bolomboy is the only player in at least the past 15 years to have two assists and two steals along with those other numbers. Bolomboy leads the nation with 16.2 rebounds per 40 minutes.

Scorer of the Night – Kevin Van Wijk, Valparaiso
Van Wijk scored a career-high 31 on 13-for-15 from the field, as Valparaiso picked up an 89-88 come-from-behind win against Detroit. The Crusaders trailed by 11 with three minutes to go, but scored the final 12 points of the game to pick up the win.

Stat Sheet Stuffer – Jamal Olasewere, LIU
Olasewere scored 30 and added career highs with 16 rebounds and four blocks, leading LIU Brooklyn to a 79-75 overtime win at Fairleigh Dickinson. He's the first player to reach all of those totals this season, and just the fourth in the past 10 years to do it on the road.
January, 18, 2013
1/18/13
8:00
AM ET
The Atlantic 10 is deep. We've known this would be the case since the summer, when VCU and Butler joined a year early (a year before Temple was set to leave for the Big East), and we're seeing it play out on a nightly basis now that conference play is in full swing. Let's get to the rankings:

1. Virginia Commonwealth
. The Rams got all they could handle and more at home against Saint Joseph's on Thursday night. Frankly, down four with 14 seconds left, they probably
should
have lost the game in regulation. But
Troy Daniels
made a huge 3,
Ronald Roberts
missed the front end of a double bonus, and
Darius Theus
scrambled past a standstill Hawks defense to tie the score at 80 with just 6 seconds remaining. The Hawks, totally gassed, had no chance in overtime, and VCU handled business and came away with the win -- its 12th in a row. And man, are VCU wins -- or, for that matter, losses -- fun to watch.
2. Butler
. Despite the loss of
Rotnei Clarke
to a scary neck injury -- which required a stretcher and a trip to the hospital, but which thankfully turned out to be a neck sprain -- the Bulldogs held on to win at Dayton on Saturday. They followed that up with an easy home victory over Richmond. Now comes the fun part. On Saturday, Brad Stevens and company will host Gonzaga in Hinkle Fieldhouse as the first "College GameDay" location of the season, and the first in Hinkle's 85-year history. Clarke will still be missing, and Butler will have to guard Gonzaga's efficient offense better than it has guarded anyone all season. Thus far, Butler ranks eighth in the conference in points allowed per possession, and first in per-possession scoring. The Bulldogs can really light it up, but they're still getting there on the defensive end.
3. Saint Louis
3a. Temple.
At this point, I'm willing to consider Saint Louis and Temple as essentially equals, power-rankings-wise. The Billikens lost in Philly last Saturday 64-54, but if we're not willing to forgive road losses in the A-10 then I'm going to have to overreact and downvote everybody at least once a week. After all, Temple scored only 52 points in 63 possessions at Xavier just a few days after pushing Kansas to the limit in Allen Fieldhouse. Point is, these two teams appear to be the third- and fourth-best in the league. Or fourth- and third-best, depending on your perspective and/or allegiances. But they're clearly a notch above the rest.
5. Massachusetts.
Last week, I moved up UMass despite my season-long doubts because I watched all 40 minutes of its effort at Saint Louis, and it impressed me. But for a few mistakes down the stretch, and a few heady plays by the Billikens' veterans, Derek Kellogg's team might well have won that game. I see no reason to move UMass down this week. Sure, its 77-73 win at Fordham wasn't pretty, but it was a win, and UMass moved to 2-1 in A-10 play with a home win over Duquesne on Thursday night. I said this last week, and it bears repeating: On a per-possession basis, the Minutemen aren't much to look at. Per KenPom.com, their offense ranks outside the top 130, as does their defense. They don't have one particular statistical trait -- other than pace, where they average 73 possessions a game -- that will impress you. But as much as I lean on tempo-free stats, the Minutemen
are
12-4 without a bad loss to their name. I'm willing to keep them here until those forgettable efficiency stats start to turn into Ls.
6. Saint Joseph's
. At the end of Thursday night's loss at VCU, you could just see it: shoulders sagging, chests heaving, legs cramping -- the Hawks were done. Even the tirelessly wing-flapping Hawk mascot looked to be losing steam. It was that kind of a night, particularly when VCU forced overtime, but win or lose, the first 40 minutes were a valiant effort, and a really positive sign for a team that to date (as we discussed last week) hasn't looked much different from last season's 20-14 group. Perhaps the biggest difference Thursday was the return of
Langston Galloway
's shooting stroke. Last season, Galloway led the A-10 in 3-point field goal percentage at 46.6 percent; this season, he's shooting just 35.6. But he was 5-for-9 Thursday night, a figure that included a number of key buckets. If he can split the difference and just make around 40 percent, and if
Carl Jones
and
C.J. Aiken
can pressure opposing defenses as they pressured the league's best, this team might yet be going places.
7. Charlotte
. The 49ers have begun the A-10 season 3-0, but that was to be expected: Their first three opponents were La Salle (home), Rhode Island (away) and Fordham (home). Indeed, at 15-2, Charlotte's only win over an opponent ranked in the KenPom top 100 is La Salle; no one else is ranked higher than 110. I don't say that as a method of detraction, though; there are real things to like about this team. Through three A-10 games, the 49ers have been the conference's best per-possession defense (allowing just 0.86 points per trip), they've rebounded about 35 percent of their misses this season, and they get to the line frequently on the offensive end. They just turn the ball over too often, and when they don't, don't shoot it particularly well, either. Needless to say, it'll be interesting to see what happens when the 49ers go on the road, beginning Saturday at Richmond.
8. La Salle
. The Explorers toughed out a 72-70 home win over Dayton Wednesday, a game in which neither team carved more than a two-possession margin and which could have gone either way through the final minute. La Salle scored 1.01 points per possession; Dayton scored 0.99. It was that tight. It's the kind of win we might not remember in detail in March, when all of the results are in and we're comparing 30 at-large tournament resumes at a time. But it was a really great home-court stand, especially with a trip to Xavier up next.
9. Xavier
. Should we be giving Xavier credit for its 3-0 league start? Absolutely. The Musketeers did, after all, hold Temple to 52 points on Jan. 10. And, for that matter, they did manage to get out of St. Bonaventure's gym with a 66-64 victory Wednesday. Next up is La Salle on Saturday, and if Xavier scores as it has in its first three games -- at 1.11 points per trip, it currently wields the league's second-most-efficient offense -- the Musketeers could very easily go to 4-0.
10. Dayton
. When Archie Miller first looked at his team's Atlantic 10 schedule, he must have been at least a little exasperated. If he wasn't then, he is now. The Flyers kicked off conference play with a game at VCU, a home loss to Butler, and a trip to LaSalle, where the Explorers held the aforementioned line. Fortunately, it gets easier: Dayton is off until next Wednesday, when it gets Fordham at home, followed by Duquesne.
11. Richmond
. Perhaps the three-point home win over Rhode Island on Jan. 9 wasn't a fluky off night but in fact a sign that this Richmond team just isn't very good after all. At that point, despite their defensive struggles, the Spiders were still playing efficient offense. And sure, they've had to deal with trips to La Salle and Butler. But still, they've scored just 0.91 PPP, and allowed 1.05, in those three games. If Richmond is putting points on the board it at least has a shot, but if it doesn't, the defense isn't nearly good enough to keep the Spiders out of the cellar.
12. George Washington
. The Colonials nearly nipped Temple on Wednesday night, but instead suffered a 55-53 home loss. Simply put, this offense is
bad
: GW has exactly one player (reserve
Dwayne Smith
) whose offensive rating is above 102 (100 is about average). The Colonials rank No. 250 in the country in KenPom's adjusted offensive efficiency ranking. They can guard people, but man do they struggle to score.
13. St. Bonaventure
. The Bonnies are sort of the polar opposite of George Washington: They score pretty well, and get good, efficient scoring from
Demitrius Conger
and
Chris Johnson
, but they've allowed 1.05 points per trip to opposing offenses this season, and that's simply not going to get the job done -- especially considering their early A-10 schedule. After dropping home games to VCU and Xavier, St. Bonaventure now has to tangle with Temple (Saturday) and Saint Joe's (Wednesday) on the road. Ouch.
14. Rhode Island
. The theme of the Rams' season has been their effort. They might not be ready to compete yet, but they are making opponents earn their victories: They nearly got Richmond on the road Jan. 9, and they played Charlotte tight at home Saturday. One guesses their trip to Saint Louis this weekend won't go quite as well.
15. Fordham.
16. Duquesne.
Maybe it's a sign of how tight this league is, or maybe the middle of the league just isn't ruthless at putting bad teams away, but neither of these teams is getting blown out. Fordham tested both UMass and Charlotte (and lost by a combined 10 points); Duquesne lost by eight to Saint Joe's. So, you know, there's that.
December, 19, 2012
12/19/12
9:15
AM ET
With the possible exception of
Ohio State's just-too-close-for-comfort grind
over Winthrop and
Wake Forest's win over Furman
(sorry),
Tuesday night's college hoops results
went mostly according to plan.
Arizona
and
Kansas cruised
at home,
Michigan State toughed out a win at Bowling Green
, NC State got a good challenge from Stanford but
managed to pull away and get a win at home
, and so on. As expected, it was a relatively standard night of college basketball. There were no
Alex Barlow
s to be uncovered here.

Virginia Commonwealth's victory over Western Kentucky fit this theme. The
Hilltoppers came in 8-3 and miles better than they were last season
, but they're still nowhere near VCU's level, and the
Rams handled business at home
. No big deal.
Except that VCU's win produced a handful of eye-popping statistics. To wit:
VCU forced Western Kentucky into 32 turnovers.
The Hilltoppers turned the ball over on 45.7 percent of their possessions.
VCU attempted 66 shots. WKU attempted 42. Typically, when you are take 24 fewer shots than your opponent, your chances of winning tend to decrease. That's just, like, science, man.
Western Kentucky averaged .62 points per possession. Yow.
Those are pretty awesome, but these last three -- which were passed along last night by VCU spokesman Scott Day -- are probably my favorites:
Darius Theus played a grand total of 17 minutes and 8 seconds the win. While Theus was on the court, WKU scored a total of four points. Yes, you read that correctly. Four points.
Theus played 33 defensive possessions Tuesday night. Twenty-one of those ended in a WKU turnover.
A team has posted 20-plus steals against a Division I opponent just eight times in the past two seasons. VCU perpetrated three of those games (against UNC-Wilmington last season and Florida Gulf Coast and Western Kentucky this fall).
So, yeah. Tough night for Western Kentucky. The good news for the Hilltoppers is
T.J. Price
and
Jamal Crook
-- the team's two starting guards and leading scorers -- both missed the game. So it's not like Western Kentucky is
that
bad.
Mostly, VCU is that good. The Rams won't always make their opponents look like a junior-varsity team trying to bring the ball up the floor; really, you have to feel for those WKU backups, facing the lockdown turnover machine that is Darius Theus. But VCU will pretty much always make you cough it up. Tuesday night was just a dramatic reminder.
November, 23, 2012
11/23/12
9:35
PM ET
NASSAU, Bahamas -- A few quick thoughts from Duke's
67-58 victory
over Virginia Commonwealth in the semifinals of the Battle 4 Atlantis tournament:


Overview:
Two weeks into the 2012-13 campaign, Duke coach Mike Krzyzewski already has his squad in midseason -- or dare we say late-season -- form.
Mason Plumlee
scored 17 points and
Seth Curry
added 15 to propel the No. 5 Blue Devils into the championship game of the nation's toughest tournament. Duke entered the Battle 4 Atlantis touting a victory over then-No. 3 Kentucky. But Friday's win against VCU might have been even more impressive.
Most teams have more than one day to prepare for the Rams' full-court, pressure defense. It's tough to simulate in practice and it's a style that teams rarely face at any other point in the season.
Duke, however, hardly seem fazed, as Krzyzewski's squad committed just eight turnovers. The Blue Devils took a 17-15 lead on
Rasheed Sulaimon
's layup midway through the first half and never trailed again. Duke led by as many as 12 points in the second half.
That's not to say VCU didn't have its chances.
The Rams pulled within four points, 54-50, with more than nine minutes remaining. But they went through a stretch in which they missed seven consecutive free throws, including two that came on the front end of one-and-one opportunities.
The physicality of the game made it tough on the offensive end for both teams. At one point in the second half the schools combined for one field goal during an eight-minute stretch -- and that came on a putback of a missed VCU layup.
Duke improved to 5-0. VCU fell to 3-2.
Turning point:
Quinn Cook
's layup with 8:13 remaining extended Duke's four-point lead to six, 56-50. VCU's
Darius Theus
missed a pair of foul shots a few minutes later and the Blue Devils capitalized with a pair of foul shots by Seth Curry that made it 58-50 with 4:58 left. VCU never mounted a serious threat after that.
Star of the game:
Plumlee was a beast on both ends of the court for the Blue Devils. He grabbed 10 rebounds to go along with his 17 points. He was credited with only one block but also altered a slew of shots.
Juvonte Reddic
and
Treveon Graham
each scored 16 points for VCU.
Key stat:
One night after going 13-for-22 from 3-point range in a victory over Memphis, VCU connected on just four of its 20 shots from beyond the arc Friday. VCU shot just 32.8 percent overall.
Miscellaneous:
Curry has a chronic leg injury that often makes it difficult for him to play two days in a row. The senior toughed it out Friday, though, playing 31 minutes to get those 15 points.
Up next:
Duke advances to play Louisville in Saturday's title game. Tipoff is at 9:30 p.m. ET. VCU will take on Missouri in the third-place game at 7.
March, 27, 2011
3/27/11
6:17
PM ET
For two weeks, the refrain has been the same: "VCU is hot and the Rams have a chance to win, but this is going to be a really tough game for them. I'm not sure they can keep it up."
For the fifth straight time, VCU has made the pregame prognostications obsolete. As a result, the Rams are going to the Final Four.
The lessons, as always: (1) Approach your bracket with the utmost, sincere humility. (2) Never doubt this Virginia Commonwealth team.
[+] Enlarge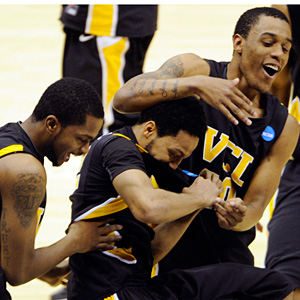 AP Photo/Michael ThomasVirginia Commonwealth players celebrate their stunning 71-61 upset of Kansas in San Antonio.
Facing a No. 1 seed and an overwhelming pro-Kansas crowd in San Antonio on Sunday, the Rams started hot, built a double-digit halftime lead and held off the bigger, stronger Jayhawks
71-61
after Kansas made its inevitable second-half run to cut the lead to two. Kansas was done in by bad defense in the first half and ugly shooting throughout, and with nothing falling down -- free throws included -- Bill Self's team could never truly climb out of the hole dug by VCU's hot shooting in the first half.
You don't have to be a college basketball expert to realize how much of an upset this was. But, wow, what an upset. It practically defies description. Three weeks ago, the Rams -- losers of their final four regular-season conference games -- weren't sure they were going to make the tournament. Now they have a legitimate chance to win the national title.
In other words: The Rams are everything we love about college basketball. VCU
is
the NCAA tournament. And so the magical run rolls on.
Turning point:
KU's second-half run was inevitable. VCU was bound to slow down from 3-point range eventually, and the Jayhawks were able to create plenty of opportunities by owning the offensive boards throughout the game. As Kansas made that run -- cutting the lead to seven points with 15:43 remaining -- VCU coach Shaka Smart was assessed a technical foul by the referee, and all of a sudden, it looked like the Rams were in the midst of a second-half meltdown.
A couple of minutes later, Kansas shrank the gap to two points, and the Jayhawks looked like they were going to storm the Rams for the rest of the second half. Instead, after KU forward
Marcus Morris
made two free throws, the Jayhawks went unusually cold, and -- thanks to a pair of key baskets by
Toby Veal
and
Darius Theus
, and a pair of huge plays from forward
Jamie Skeen
-- VCU rebuilt its lead to double digits and never looked back. The Rams had stared No. 1 in the face and held tall. Meanwhile, Kansas cut the lead to two and proceeded to shoot 6-of-24 afterward, 0-of-10 from 3-point range. That's not standing tall.
Star of the game:
Skeen is the obvious choice here. He had the box score's best line -- 26 points, 10 rebounds, 4-of-7 from 3-point range -- and he made huge plays at the most important times for VCU down the stretch. (These plays ranged from huge shots to heady timeouts, as when Skeen stripped Marcus Morris under the rim and called a timeout to keep a late push by the Jayhawks at bay.) As always, though, VCU point guard
Joey Rodriguez
deserves a nod here, too. His line isn't eye-popping, but his intelligent, poised play at the point is one of the main reasons VCU has been able to maintain its leads against favorites throughout this tournament. Sunday was no different.
Key stat:
Without taking credit away from the Rams -- someone had to make all those first-half 3s, after all -- it's fair to ask whether or not KU's loss deserves the dreaded "choke" label. Whatever you want to call it, Kansas picked a really, really bad time to have its worst shooting game of the season.
According to ESPN Stats and Information, the usually hot-shooting Jayhawks posted season lows in field goal percentage (35.5) and 3-point field goal percentage (9.1), which is about as bad as any team, let alone one that usually drains its open jumpers, can possibly shoot. Nor did it help that Kansas made only 53.6 percent of its free throws. The Jayhawks have always thrived on their ability to drain open shots this season. Needless to say, going 2-of-21 from 3-point range and 15-of-28 from the free throw line is not "thriving" on anything. If the Hawks hadn't dominated the offensive glass so thoroughly, this game would have been another VCU blowout.
Another fun stat:
When VCU hit 12 3s in its second-round win against Georgetown, it was a season high for the Rams. So all they've done since is hit 12 more against Florida State and another 12 today against Kansas. VCU shot just 32.1 percent from 2-point range (9-28), but 48 percent from 3-point range (12-25). Go figure.
History:
Virginia Commonwealth is now one of three teams seeded 11th or lower to make the Final Four (LSU in 1986 and George Mason in 2006 were both 11s). ... The Rams are one of just four double-digit seeds to win a game by double digits in the Sweet 16 or later. ... Shaka Smart is 33. Butler coach Brad Stevens is 34. Both of them combined are younger than UConn coach Jim Calhoun (68).
What's next:
If it feels unfair to call this Kansas season "disappointing" -- the Jayhawks had a great year, won the Big 12 regular-season and conference tournament titles, and finished among the best eight teams in the country -- that's only because this team and its fans had reason to expect so much more. Instead, Kansas ended another season with a loss to a bottom-half seed in the NCAA tournament, with shock and surprise and dismay and disgust.
VCU, meanwhile, will make a historic trip to the Final Four. The Rams will face Butler in the matchup of the two highest combined seed numbers (No. 8, No. 11) to ever meet in a national semifinal (second-highest is 14), and their win ensures that no No. 1 seed will attend the Final Four festivities for the third time since seeding began in 1979.
More than anything, though, VCU's unlikely run to the Final Four merely proves what we always say about the NCAA tournament, and proves it more thoroughly than ever: You never know. That's why we love this tournament, and that's why people will always remember this team.
Even better? VCU's not done yet.