College Basketball Nation:

Darnell Gant
December, 15, 2011
12/15/11
3:35
PM ET
By
Diamond Leung
| ESPN.com
Resident bracketologist Joe Lunardi today selected a 4-4 Washington team to be one of his
First Four Out
of the early-season look at the projected NCAA tournament field, but take one look at the video above and it's clear the Huskies still have room to grow.
They might be inexperienced, but the talent is there with an emerging star in
Terrence Ross
. According to
Grantland
, plays like that one in New York have NBA talent observers talking about his lottery-pick potential.
Spend time around those scouts, as I did at MSG, and you'll quickly learn what they like about him. "He's a special athlete," said one. "Everything comes so easy for him," another opined. "He's just scratching the surface of how good he can be," a third gushed.
That's good news for Washington because the Huskies have lost four of their last five games and are in need of someone to step up. According to the Seattle Times, there also might be a leadership void after Isaiah Thomas left for the NBA.
Ross appears to be maturing into the go-to guy. The only UW player to score in double figures in every game, he banked in a go-ahead jumper with 19 seconds left against Marquette that would have made him the game's hero if not for a last-second three-pointer from the Golden Eagles.

Ross, a soft-spoken sophomore projected as a lottery pick in next year's NBA draft, commands the respect of teammates.

"He hates to lose," [co-captain Darnell] Gant said. His teammates will follow Ross because "he's playing hard and he's not just talking about it. We want to get everybody like that," Gant said.
March, 20, 2011
3/20/11
2:47
PM ET
CHARLOTTE, N.C. -- North Carolina's
John Henson
has emerged as the most imposing and game-changing defensive player in the NCAA tournament.
Henson deflected an inbounds pass from
Justin Holiday
that ended up in the hands of
Dexter Strickland
, forcing Washington to foul and put him at the free-throw line with a one-point lead and 5.4 seconds left.


Henson's deflection prevented Washington from getting off a shot with an attempt to win the game.
Nearly four minutes earlier, Henson blocked a shot by Washington's
Darnell Gant
that resulted in a 3-pointer by
Harrison Barnes
at the other end for a North Carolina four-point lead.
Henson finished with 10 points and 10 rebounds in the
Tar Heels' 86-83 victory
over Washington in an East regional third-round game.
Henson nearly put himself at risk, though, when he almost goaltended a last-second shot by
Isaiah Thomas
.
Still, Henson's presence was the difference for the Tar Heels in the best game so far of the Charlotte regional, matching two teams that love to get up and down the court and don't mind pushing the basketball with little attention to defense -- except for Henson along the back line.
While North Carolina relied on Henson to create opportunities, the Huskies couldn't have made worse decisions at the end of the game. Thomas' last shot was the only time he touched the ball in the final 10 seconds when the Huskies had three chances to score and either take the lead or tie the game.
Inexplicably, Thomas didn't touch the ball as
Venoy Overton
dribbled the length of the court and put up a forced shot with 7.4 seconds remaining. The shot went out of bounds -- fortunately for the Huskies it went off UNC. Then came Holiday's mental mistake of trying to pass OVER Henson when Henson is the tallest player on the court.
After Strickland then converted the two free throws for the three-point lead, Overton again took the ball and threw up an errant shot from near halfcourt with over a second left when he still had time on the drive to pass ahead and get a much better shot or at least find Thomas.
Thomas is Washington's best player and the one you'd want to take a shot in this situation. Or at the very least, Thomas could have created a shot for shooters, which UW had many of during the game like
C.J. Wilcox
or
Terrence Ross
. The Huskies played well on the glass but ultimately couldn't execute down the stretch.
Key stat
: Henson had four blocks and two steals. That's enough for me.
Key player
:
Tyler Zeller
scored 23 and Barnes scored 22 and made buckets when the Tar Heels needed them most.
Shout out
: Washington made shots and the 10 3s that the Huskies converted were a difference in this game and put UNC on its heels.
What's next
: Washington goes home after a nice late run. North Carolina moves on to Newark to play the winner of Syracuse-Marquette.
March, 19, 2011
3/19/11
12:26
AM ET
CHARLOTTE, N.C. -- Washington has proven to be tournament tough under coach Lorenzo Romar.


The Huskies are suddenly the hot team after winning the Pac-10 tournament, and for the second season in a row -- following a much-maligned regular season -- Washington is poised to make a possible run to the Sweet 16. Washington had to travel further than any other team this weekend and pulled off a
68-65 win
over a taller, and what appeared to be a stronger Georgia team.
A year ago, Washington went to San Jose and reached the Sweet 16 in Syracuse. The Huskies haven't always represented the Pac-10 well in the non-conference the past few seasons, but have found the right mix in the postseason to be quite a pest.
Washington looked like it could have been in trouble early against Georgia and had to scrap for a tie game at the half. But the Huskies were able to use their defense to start the break and continued to be the aggressor at the offensive end as Georgia's offense sputtered.
Georgia hung tough in the final few minutes, pushing Washington to the final possession and forcing the Huskies to make free throws.
Star player:
Washington's
Isaiah Thomas
has taken over games in the past month. He took and made the shot to beat Arizona at the buzzer in the Pac-10 tourney final. And it was Thomas who was the difference once again for Washington, making shots to silence Georgia runs and energize the Huskies. He finished with 19 points and seven assists.
Welcome back?
Washington's suspended guard
Venoy Overton
, who missed the Pac-10 tournament for serving alcohol to a minor, gave the Huskies a stable presence off the bench and scored a key basket in the final two minutes to stretch the lead to 10. Romar said that he was going to use Overton (six points, four rebounds) off the bench and it gave the second unit an infusion.
Key stat:
I found it rather odd that Washington was able to win this game despite shooting six more 3s than Georgia. The Bulldogs played smart and kept the game in the half court offensively while the Huskies were jacking up too many shots. A difference for the Huskies ended up being the ability to hang with the Bulldogs on the boards. Washington got spirited rebounding from
Matthew Bryan-Amaning
,
Aziz N'Diaye
and to some extent
Darnell Gant
and
Justin Holiday
. The Husky guards also rebounded well.
What's next:
Washington plays North Carolina in an intriguing third-round game Sunday at 12:15 p.m. at the Time Warner Cable Arena. The Huskies would love to run with the Tar Heels. That's more their game. Sunday's contest has the makings of being similar to the Huskies' close games with Arizona within the past month.
February, 22, 2011
2/22/11
9:11
PM ET
By
Diamond Leung
| ESPN.com
When Arizona's
Derrick Williams
blocked
Darnell Gant
's potential game-winning shot with 0.2 seconds left on Saturday, it was just another remarkable play in a season filled with memorable moments for Williams and the Wildcats.
But should it have counted? Or should goaltending have been called? Both coaches said Tuesday that it was a close call.
"I don't think it was blatant enough to argue," Washington coach Lorenzo Romar said. "I think it could have gone either way.
"When I watched it, you could make a case for both sides."
Said Arizona coach Sean Miller: "It could go either way. I'm the coach at Arizona, so you probably know my answer. I do think that whether you want to count it or not, it was a great individual play by Derrick. It's one thing to see things on a replay; it's a completely different thing to see it in live action. He went right up, quick jump, peak of the shot, blocked it, and I thought it was a great block.
"The thing about the Washington-Arizona game, you can't define it by one play. It was such a great game, and there were so many pivotal plays in the game that changed it from one side to the next, and that just happened to be one of the final ones."
Perhaps Romar's best argument was that there was more time left on the clock after Williams blocked the shot out of bounds. From the
team's website
:
The clock showed 0.2 seconds for the Huskies' final inbounds play, but it appeared at perhaps as much as a full second could have been left. Though Pac-10 officials seemingly consult courtside television monitors during most games as often than the TV announcers do, and had done so multiple times in this one, they didn't this time.

"I asked them to. They didn't want to do it," Romar said.

The lack of a review was significant. A full second, or even, say, 0.7 seconds, would have allowed for a Husky to catch and shoot before time expired, greatly expanding UW's final options to win.
Either way, like Miller said, it was a great play no matter the millimeters and physics involved. Arizona can clinch the Pac-10 title this week because of it, and Williams was very deserving of
the national spotlight
this week.
February, 19, 2011
2/19/11
11:28
PM ET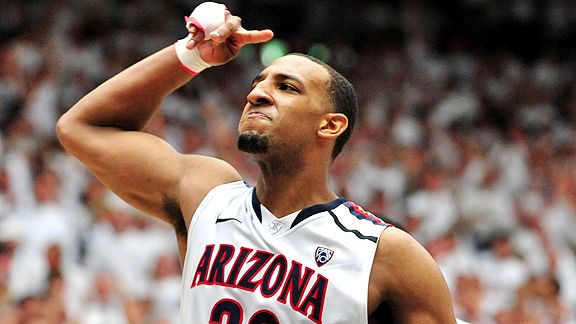 Chris Morrison/US PresswireDerrick Williams and the Wildcats have now won eight straight games.
TUCSON, Ariz. -- There was a duststorm that closed down parts of I-10 between Phoenix and Tucson on Saturday. Inside the frenzied McKale Center, there was a "white out," with fans garbed in white to celebrate Arizona's return to the nation's elite as it squared off with black-clad Washington in a critical Pac-10 matchup.
Surrounded by these maelstroms, there was a monster, too. At least, that's how Washington coach Lorenzo Romar described Arizona forward
Derrick Williams
.
"Derrick Williams was obviously a monster," Romar said.
The description seemed apt. After all, it was Williams' monstrous swat of short jumper from
Darnell Gant
with a single tick left on the clock that put an exclamation point on the Wildcats' thrilling
87-86 victory
. It was Williams' ferocious 26 points and 11 rebounds -- both game highs -- that were the cornerstones of an eighth consecutive victory. The win puts the 13th-ranked Wildcats on the cusp of their first regular-season Pac-10 title since 2005 with four games to play.
That block prevented a seventh and final lead change taking place over the final nine minutes of a chippy, physical game. And it was awfully close to a goaltend.
"Luckily, they didn't call the goaltend," Williams said. "I believe if we were at Washington, they might have called that. Good thing we were at home."
Arizona, unbeaten at home, improved to 23-4 overall and 12-2 in the Pac-10. Washington, the preseason conference favorite, fell to 18-8 and 10-5 in the conference, which is now a two-team race between the Wildcats and UCLA. The Bruins take a 10-3 conference mark to California on Sunday and will play host to Arizona on Feb. 26.
[+] Enlarge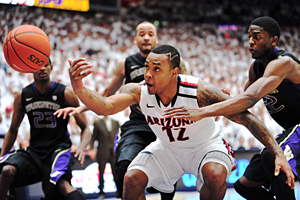 Chris Morrison/US PresswireA bad pass to Lamont Jones at the end of the second half almost cost Arizona the game.
But what most inspired the 14,619 fans who packed the McKale Center was a sense that Williams and coach Sean Miller are leading the Wildcats back under the Klieg lights of the Big Dance. After a 25-year NCAA tournament appearance streak ended last season, Arizona will not only be dancing in March, it likely will do so as a high seed.
Oh, the coach and the players talked the talk of just focusing on the task at hand -- you know, got to win the Pac-10 first -- but everyone knows the program has traveled a vast distance in Miller's second season.
"Going back to last year, we never had any feeling like this," Williams said.
Washington didn't make it easy. It rarely is for the Wildcats, who won a triple-overtime classic at Cal on Feb. 5 and have two other conference wins by a single basket.
Arizona led the entire first half and boosted its lead to 12 early in the second. The Huskies, however, started pushing the pace and making shots -- they got their first tie at 68-68 with 9:14 left -- most particularly
Matthew Bryan-Amaning
, who nearly matched Williams' monstrousness. He scored 18 of his 24 points in the second half, was 12-of-19 from the field, grabbed nine rebounds, dished four assists, blocked six shots and snagged three steals.
But he also got outfoxed in a head-to-head matchup with Williams near the basket late, getting called for traveling with three seconds left.
The Huskies immediately got the ball back, however, when the ensuing inbounds pass from
Solomon Hill
to
Lamont ''MoMo'' Jones
bounced off Jones' leg. Hill said after the game that the turnover was a "miscommunication." The Wildcats were out of timeouts, Miller said, and should have tossed the ball long, instead of doing a quick, short feed.
But that merely set up Williams for his heroics.
"Derrick Williams is just an incredible player," Miller said. "He's such a gamer. He's so clutch."
Miller then gently suggested that the sophomore, who likely will enter the NBA draft this summer, should be ranked among the Wildcats all-time greats.
Of course, many of those greats led the Wildcats to one -- or more -- of their four Final Fours.
While clearly the star, Williams doesn't do it alone. Hill, for one, made the Cats' final basket when he put back an offensive rebound off a blocked shot. In fact, the difference in the game was rebounding, particularly on the offensive glass. In a battle of the Pac-10's top two rebounding teams, Arizona dominated, owning a 35-22 edge, including a 16-6 advantage on the offensive glass.
The rebounding battle also was where both teams seemed to often find offense from each other. The Huskies pushed the Wildcats around in an 85-68 win in Seattle on Jan. 20. The Wildcats, who clearly didn't enjoy the visit to the Emerald City, haven't lost since.
Winning is not new to Arizona. "Everyone in here has seen this before," Miller noted.
Yet these Wildcats might just be a bit scrappier than previous celebrated vintages. They aren't there yet. But they've got a monster and a supporting cast that appears hungry to get there.
September, 16, 2010
9/16/10
10:01
AM ET
By
Diamond Leung
| ESPN.com
Washington lost from its Sweet 16 team forward
Tyreese Breshers
, who the school announced Wednesday was retiring from basketball due to medical reasons.
The reasons were not detailed by the school due to privacy regulations, but Breshers has dealt with injuries leading up to his first year in action as a redshirt freshman and part-time starter last season.
From the
Seattle Times
:
Breshers fractured his shin during his senior year at K.C. Price III High in Los Angeles when he was kicked in the leg. After arriving at Washington in 2008, he underwent surgery in which a rod was inserted through his patella tendon into his shin.

The surgery stabilized the fractured shin, but the rod irritated his knee and forced him to redshirt the 2008-09 season.

Breshers returned last season but his recovery was slower than expected.
Breshers averaged 3 points and 2.6 rebounds, and the Huskies will miss his tough presence that was on display while not feeling 100 percent and still starting 12 games and playing in 34.
On a guard-heavy team, the loss of the 6-7 Breshers potentially creates more playing time for
Darnell Gant
and newcomers Aziz N'Diaye and Desmond Simmons.
"Any time you lose a family member it is tough," Huskies coach Lorenzo Romar said in a statement. "Tyreese was a big part of our program, but his long term well-being is much more important than the game of basketball. We are fortunate that he will be around our program and get his degree from the University of Washington."