College Basketball Nation:

Darrin Horn
February, 5, 2012
2/05/12
1:10
AM ET
Now that's a Saturday of basketball. Take a deep breath, count to 10 and check out yours truly's observations from the evening's games, including the insane Kansas-Missouri finale.
For a recap of this afternoon's games,
click here
.


No. 4 Missouri 74, No. 8 Kansas 71
: This game was easy to scout. Missouri is small and quick and offensively oriented, with four guards and one big man. Kansas is big and strong and built around forward
Thomas Robinson
, the national front-runner for player of the year. How would KU stop Mizzou's spread attack? How would Mizzou keep KU out of the lane? These countervailing dynamics seemed destined to determine the outcome of this game. And to some extent, they did.
But if we learned anything from this one, we learned this: Stylistic assessments tend to fly out the window when it's the final minute in a packed house and things are crazy and it's just a player, the ball, the game on the line and a single-possession deficit. It's hard to overthink this: You either execute or you don't. The Jayhawks didn't execute. That simple. And that's why they lost.
Of course, it's not quite
that
simple. Kansas was not helped by an iffy late charge call on
Tyshawn Taylor
that just as easily could have been a blocking foul on
Michael Dixon
. It resulted in two Missouri free throws and a three-point lead for KU to overcome. Even worse, that call wasn't nearly as egregious as the one against Robinson with 1:43 remaining; that easily could have been a block on Mizzou forward
Steve Moore
, an and-1 bucket for Robinson and a potential six-point swing, given
Marcus Denmon
's huge go-ahead 3 a few seconds later. Kansas fans are not at all happy about this turn of events, and they have every right to their anger.
That said, the Jayhawks would have been in better shape had Taylor made either of his two free throws with 42 seconds remaining. Despite all the late blunders and questionable calls, Kansas had a chance to take the game to overtime on the final possession. Had
Elijah Johnson
decided to shoot the ball when he got his first wide-open look as the clock ticked down, he might have gotten a clean shot. Instead, Johnson hesitated. He missed his chance. The clock expired. Game over.
As always, it's about execution, and in big-time rivalry games in heated buildings, the game is so often about execution in the final minutes. As Kansas was suffering shaky whistles, missed free throws, so-so shots and four turnovers in the final three minutes, Denmon was coolly canning two straight 3s, which turned a 71-65 Kansas lead into a 72-71 Mizzou lead in a matter of 30 seconds. Denmon was brilliant all game. He shot 10-of-16 from the field and was 6-of-9 from 3 en route to a 29-point outing. And that's the difference: Denmon was brilliant
all 40 minutes
. Taylor, Robinson and the Jayhawks were brilliant for about 37 minutes. When the game tightened and crunch time came around, one team consistently executed. The other did not.
For as much as we analyze (and overanalyze) these games, for as much as we talk about styles and matchups and X's and O's, for as much as we'll debate the Robinson charge calls for the next week, when you get to crunch time, that stuff fades away. The game shrinks. It simplifies. Be smart. Get good shots. Play defense. Take care of the ball. Rebound. Make your free throws.
Missouri scored the game's final 11 points. After leading 71-63, Kansas didn't score once.
In the end, the difference between those two sentences wasn't a matter of deep analysis. It wasn't stylistic or strategic. It was so much simpler than that.


Northern Iowa 65, No. 12 Creighton 62
: It's not about what we learned in this game. We didn't learn all that much, save for the fact that Northern Iowa might be a bit better than its paltry Missouri Valley record (6-7) would indicate. But forget the new knowledge; this game was all about a reminder of the old.
That reminder: College hoops is an imperfect, frustrating enterprise. But when college hoops is good, it's better than anything else in the world.
Maybe that's hyperbole. Maybe I am the wrong person to levy such judgments, because I happen to love college basketball more than most. (I admit it.) Still, I defy you to find 60 more purely entertaining seconds than the final minute of Northern Iowa's win over 12th-ranked Creighton. College basketball seems to produce exchanges like this more frequently than other games; every week, it feels like something insane happens. But this ending -- which featured two 3s in the final 15 seconds, both of which came in open play, with no timeouts to stop the insanity -- registered an 11 on the 1-to-10 excitement scale.
I won't recap the entire closing exchange.
You can see the highlights here
, if you haven't seen them already. I've watched five or six times. The moment the shot goes in, well, it's almost perfect, you know? The rush up the floor, the crazy step-back, the swish, the crowd eruption -- this is the fabric of college basketball. Forget provincial rooting interests, alumni loyalty, wonky enthusiasm. The final 15 seconds of Creighton-UNI are why we love this damn game, imperfections and all.


No. 20 Indiana 78, Purdue 61
: With 2:23 left and Indiana leading rival Purdue 65-61, IU point guard
Jordan Hulls
found himself trapped near half-court. Purdue was swarming -- it had been swarming and slapping and clawing at the Hoosiers all evening -- and, rather than risk a turnover, Hulls decided to play it safe. He and his teammates ran to the sideline, with their tenuous, shrinking lead still intact, and regrouped for what was sure to be an arduous finish in front of the Boilermakers' rabid crowd.
Then something strange happened: IU didn't fade away. It didn't suffer its typical frustrating late-game collapse on the road. It didn't bend under Purdue's relentless pressure. Instead, it blew the Mackey Arena doors right off.
Two minutes, 23 seconds later, the Hoosiers' 13-0 run had capped the first non-Penn State Big Ten road win of coach Tom Crean's 3 1/2-year tenure. In 143 seconds, the Hoosiers had gone from "well, here we go again" to their first win over the Boilermakers in their past six tries. For the first Big Ten road fixture this season, or in any of the Crean-era years that preceded it, Indiana looked self-assured and confident, not shaky and timid. The Hoosiers looked eager to go get the win, not anxious to avoid a loss. And so they did.
The game wasn't nearly as one-sided as that scoreline suggests, of course, and for most of the afternoon, even as Indiana built a 33-22 halftime lead, this thing was ugly on both sides. The Boilermakers were unusually scrappy, doing everything they could to make life difficult for
Cody Zeller
,
Christian Watford
and the rest, trapping and slapping and angling for jump ball calls from the official. (These attempts were often fouls, and when they were called as such, Purdue fans frequently flipped out. It was exactly what a home crowd should do. Even better, it often seemed to work.)
For most of the game, the Boilers' staunch defense held strong. The only problem: Purdue couldn't keep up with even a marginal offensive pace. The team committed just three turnovers all game, and its first didn't come until the 5:10 mark of the second half. With possession protection like that, you would have assumed the Boilermakers could have posted better than .90 points per trip. But Matt Painter's team couldn't break down Indiana's man or zone defenses with much regularity, and without a true post presence (an ongoing, irreconcilable issue for this team), Purdue was forced to hoist its typical diet of long 2s and 3s.
Robbie Hummel
& Co. made just five of their 21 3-point field goal attempts. They finished 21-of-71 -- or 29.6 percent -- from the field overall.
So what does it all mean -- that is, beyond the first batch of message-board/water-cooler bragging rights Indiana fans have had in years? It might mean this IU team is making progress in its understanding of how to win on the road. That's a difficult, indefinable quality, something even good teams struggle with each and every season. But if you're the Hoosiers, and you have your sights set on the heights reached in November and December, you have to beat inferior teams on the road in conference play. You have to hold on to those leads. Actually, forget holding on to your lead. Extend it. Sweep the leg. Finish.
The Hoosiers -- for the first time on the road in four Big Ten seasons (against a team not named Penn State, that is), for the first time in six tries against their hated rival -- unleashed their inner Cobra Kai. It wasn't a flawless victory, but it was a victory. For a team that lost so many of these games in 2010 and 2011 and even in 2012, that's a legitimate sign of progress.
One more IU-Purdue note: Guard
Verdell Jones
missed this game, but most of his minutes went to
Victor Oladipo
, and Oladipo responded with 23 points, 8 rebounds, 4 assists and 2 blocks. When Indiana needed buckets, Oladipo always seemed to step in, ready and willing to attack the rim. Impressive performance.
Some other observations from Saturday night's games
:
[+] Enlarge

AP Photo/Mary Ann ChastainTerrence Jones delivers one of Kentucky's eight first-half dunks against South Carolina on Saturday.
September, 6, 2011
9/06/11
7:37
PM ET
By
Diamond Leung
| ESPN.com
South Carolina guard
Bruce Ellington
's college football debut went so well in the Gamecocks' 56-37 win against East Carolina on Saturday that his presence on the team is causing opponents to take notice on their scouting reports.
Before the SEC opener against South Carolina, Georgia football coach Mark Richt noted in his news conference today that the Gamecocks want to get the ball into Ellington's hands.
"He's a very multitalented kid," Richt said.
No kidding. After a year away from football spent toward leading South Carolina in scoring in basketball, Ellington accounted for 73 all-purpose yards, lined up in the wildcat formation, and even made two tackles on special teams and had a
kick return of more than 50 yards called back due to a penalty
. He rushed for 18 yards on two carries, with both runs setting up touchdowns and drawing raves from coach Steve Spurrier for the former high school quarterback who was a finalist for the Mr. Football award in South Carolina.
"We want to get him in there two or three times a game in the wildcat," Spurrier told
The Post and Courier
. "We need to get him the ball more."
Ellington also has spent time practicing as a receiver, according to
ESPN.com SEC writer Edward Aschoff
.
Per NCAA rules, he wasn't allowed to participate in spring football practice, but returned from the summer with his playbook almost memorized, and while he hasn't played football since high school Spurrier admired the 5-foot-9, 197-pound athlete's quickness and called him "a natural."
According to the
Associated Press
, Ellington's dual sport goals are fine with basketball coach Darrin Horn, who saw his starting point guard fight through a bruised calf last season when the Gamecocks won 14 games on the court.
"This is not a football-basketball thing," Horn said. "It's a Bruce Ellington thing and we're going to support him."
August, 10, 2011
8/10/11
9:16
PM ET
By
Diamond Leung
| ESPN.com
South Carolina point guard
Bruce Ellington
is what football recruiters call an "athlete." In other words, he can do a lot of things.
As a basketball player, the 5-foot-9 Ellington started every game as a freshman and led the Gamecocks in scoring, averaging a team-leading 12.8 points. He also led the team in assists, made 3-pointers and minutes played.
This year, Ellington has decided to play football as well and presumably won't be returning to basketball until after the end of the season. He's a 197-pound wide receiver and has the high school credentials that make many believe he can make an impact on the gridiron.
At Berkeley High in Moncks Corner, S.C., he was a finalist for the state's Mr. Football award after piling up 2,878 all-purpose yards and 23 touchdowns as a quarterback while helping the team win a state title. In that game, he rushed for 191 yards and four touchdowns.
Now all he has to do is adjust to the speed of the game, according to
The Post and Courier
.
Veteran cornerback Stephon Gilmore had jokingly warned Ellington all summer that he was "coming for him" once camp opened. Ellington somehow forgot those tongue-in-cheek threats -- until Gilmore decleated Ellington late in the first practice Wednesday, bumping him at the line of scrimmage.

"He wasn't expecting it," [receivers coach Steve] Spurrier Jr. said. "I thought it was great."

...

"I'm ready for it to happen," said Ellington, who could ask his cousin, Clemson running back Andre Ellington, for tips on taking and avoiding contact. "When it happens, it happens. I just know I didn't get hit too much in high school."
South Carolina desperately needs him on the court as well, so coach Darrin Horn has to be hoping for as few bumps and bruises as possible to his top player.
The Gamecocks finished last in the SEC East a year ago with a 14-16 record. Horn brought in top-100 recruits in Anthony Gill and Damien Leonard, and there will be at least some
pressure on Horn for them to perform
.
Until Ellington returns, the Gamecocks will need players to step forward. They can also hope that their preseason top-25 football team plays in a bowl game as soon as possible.
July, 20, 2011
7/20/11
10:27
AM ET
NORTH AUGUSTA, S.C. -- During last week's EYBL Peach Jam, ESPN.com surveyed 15 head coaches on a range of topics. Here are their responses on a topic involving their fellow coaches.

There are five seconds left in a tie game. Your opponent has the ball. What coach would you most worry about diagramming the last play?

Rick Barnes, Texas: Dean Smith. "No question. He was a great situation guy.''

Mark Fox, Georgia: "It's the guy with the best players. I don't care what the play is.''

Darrin Horn, South Carolina: "It's about the players, not the pen. Whoever has the best players wins.''

Ben Howland, UCLA: Tom Izzo, Jim Boeheim or Jim Calhoun. "Those three guys have been through just about every situation you can imagine.''

Bob Huggins, West Virginia: Rick Pitino. "I think he's a pretty good coach but I also think he inspires confidence in his players and that's so important in those end-game situations.''

Tom Izzo, Michigan State: Mike Krzyzewski. "He's been doing this a long time and his track record speaks for itself. Plus he can say, 'Eenie, meenie, miney mo and pick the guy who will beat you.''

Kerry Keating, Santa Clara: Eric Reveno. "He went to Stanford. He has three degrees. One of them has to help him come up with a good endgame play.''

Phil Martelli, Saint Joseph's: The tree of Thad Matta. "Matta, Sean Miller, Chris Mack. They have so many plays that they can cover just about anything.''

Fran McCaffery, Iowa: Tom Izzo. "He runs really good late-game stuff. You have to be concise with your switching and your trapping.''

Josh Pastner, Memphis: John Calipari. "In those situations you have to be quick with your thinking and he really is. He grabs the board and draws up something immediately. It's a gift, really.'' Pastner also named Jeff Van Gundy.

Rick Pitino, Louisville: Dean Smith. "He was a great timeout guy. He lived for that. Plus he had great players. Who do you want, Jordan or Worthy to beat you?"

Mark Turgeon, Maryland: John Beilein. "He's a terrific X's and O's guy.''

Bruce Weber, Illinois: Kevin Stallings. "I coached with him and I know how good he is. I always say he's an offensive genius.''

Roy Williams, North Carolina: Dean Smith. "We practiced it every day. There was nothing we could face that he hadn't practiced, so when it happened you were ready.''

Jay Wright, Villanova: John Beilein. "I know he lives and dies by the 3 but he'd also have an option, a guy driving to the rim. He wouldn't go to a player but to a play.''
July, 20, 2011
7/20/11
10:26
AM ET
NORTH AUGUSTA, S.C. -- During last week's EYBL Peach Jam, ESPN.com surveyed 15 head coaches on a range of topics. Here are their responses on a topic involving their fellow coaches.

Who is the smartest coach in college basketball right now?

Rick Barnes, Texas: "I don't know if I can name one guy.''

Mark Fox, Georgia: Mike Krzyzewski. "He's on a different level than everyone else. Conceptually, philosophically he's just ahead of everyone else.''

Darrin Horn, South Carolina: Tom Izzo. "His consistency and to do what he's done at a place that isn't Kansas or UCLA, with 50 years of amazing tradition, that's just incredible.''

Ben Howland, UCLA: Brad Stevens and Jamie Dixon. "He looks pretty darned smart to do what he's done. And Jamie's winning percentage at Pittsburgh is incredible.''

Bob Huggins, West Virginia: John Calipari. "I cannot understand how he can have all these things going on and still be as good as he is. Who can do that? To be involved in all he's involved in, that's incredible. I don't think anyone realizes what a great job he's done the past two years basically starting over with a new team. And he'll do it again this year and still be good.''

Tom Izzo, Michigan State: Mark Fox. "I watch what he's been able to do with his program and I'm really impressed. His demeanor, the way he runs his program and handles his players. I think he's a really great young coach.''

Kerry Keating, Santa Clara: Jim Calhoun. "Whoever won the last championship has to be the smartest guy because he figured it out. We are all only as good and as smart as our last game. Plus, Coach Calhoun was smart enough to recruit Kemba.''

Phil Martelli, Saint Joseph's: Jim Boeheim. "I don't think people appreciate how well he knows the game. You could ask him the top freshmen right now and he could tell you. He really studies the game.''

Fran McCaffery, Iowa: John Calipari. "He's so innovative, off and on the court.''

Josh Pastner, Memphis: Mike Krzyzewski. "He takes everyone's best shot every night and he never wavers. The teams that they're supposed to beat by a large margin, they beat by a large margin. To be up like that all the time just speaks volumes to the level of motivation he gives that team.''

Rick Pitino, Louisville: Mike Krzyzewski. "He's the most experienced and no matter what the situation, he never panics.''

Mark Turgeon, Maryland: Kevin Stallings. "He's a very intelligent guy and an excellent coach.''

Bruce Weber, Illinois: Tom Izzo and Roy Williams. "They both run competitive programs. They recruit kids that graduate. They win championships and they have good reputations.''

Roy Williams, North Carolina: Mike Montgomery and Mike Krzyzewski. "I think Mike Montgomery is pretty darned sharp and I have no problem saying that I think Mike Krzyzewski is, too.''

Jay Wright, Villanova: Mike Krzyzewski. "He's got it all. He's a great X's and O's coach. He has the personality. He's a great motivator and he develops his players.''
May, 19, 2010
5/19/10
3:36
PM ET
Just how did that happen? After all,
former Ole Miss forward Murphy Holloway
had his requests to transfer to South Carolina (because it's in the SEC) and Clemson (because Clemson may or may not have been recruiting Holloway to transfer before he made his official request) denied by the Rebels' athletic department. But Holloway found a way.
Instead of transferring somewhere and receiving a scholarship immediately,
Holloway has chosen to walk on at South Carolina
, where he will pay in-state tuition for the length of his transfer year before becoming eligible for a hoops scholarship in his junior and senior seasons. It's a loophole, if such an expensive, circuitous route can be called a loophole. Either way, it will get
Murphy Holloway
where he wanted to go -- back to his home state of South Carolina and closer to his apparently ill mother.
The Gamecocks should be grateful for Holloway's enthusiasm. The 6-foot-7 sophomore averaged 7.6 rebounds per game last season, good for fifth-best in the SEC. He also
posted some encouraging tempo-free numbers
, ranking near the top 200 in effective field goal percentage and offensive and defensive rebounding percentage. South Carolina is losing big-time scorer
Devan Downey
, leading rebounder
Dominique Archie
, and
Brandis Raley-Ross
from a team that finished 6-10 in SEC play. South Carolina's recruiting class will fill some of the holes for 2010 --
Darrin Horn landed two very good big-man recruits in Damontre Harris and R.J. Slawson this year
-- and by the time Holloway returns, the Gamecocks could have one of the best front lines in the SEC.
And as for my typical outrage about the way players are treated when they want to transfer? I'll hold off this time. Holloway didn't have the freedom to pursue the ideal route to Gamecock-land, but he managed to do it all the same. That probably counts as a happy ending.
January, 27, 2010
1/27/10
2:48
PM ET
By
ESPN.com staff
| ESPN.com
South Carolina coach Darrin Horn

talks about what beating a team like Kentucky means to his program and how great John Wall is as a player.
January, 27, 2010
1/27/10
1:50
AM ET
After the celebrations finally wound down in Columbia, Dana O'Neil caught up with South Carolina coach Darrin Horn on the phone. Here's Horn in his own words after his Gamecocks'
68-62 win
over No. 1 Kentucky:
On Devan Downey:
"Nothing Devan does surprises me anymore. See it every day. Thing about him, any coach would tell you this, you have confidence he's going to do it because he shows up in practice every day and works so hard."
On the security blanket of having someone like Devan in a game like this:
"Oh, it's huge. You can't win a game like this without a guy like him. He controlled the basketball on the offensive end this game. Everything positive that happened for us in the second half was the result of him controlling the ball, making something happen."
On his frontcourt:
"We've been really close the last two games to doing what we saw tonight, not just winning but playing the way we needed to. We need our bigs to do something. We don't have to have a double-digit scoring, double-digit rebounding guy, but they all did something and contributed. With a guy like Devan, if everyone else does it collectively, you have a chance.
On adjusting this season without Dominique Archie and Mike Holmes:
"We've had to game plan specifically based on what we have for the opponent. We're usually a system team. We're going to do what we do regardless of who we're playing. We can't do that now with our personnel. So we've gone from 'system, system, system' to here's what we have to do to win this game."
On his strategy for John Wall:
"I don't know if we did a lot. He still had 19. We told them we're not going to eliminate anything. They're so good. We wanted to limit their transitions and putbacks. It wasn't about absolute tempo, but to get good shots and that we didn't want them to get quick easy ones."
On the impact of beating No. 1:
"I think it will be a shot in the arm for us. All the things we've been saying -- we've been pointing to the idea that if we do the right things, we can put ourselves in a position to beat anybody. Well, we just beat the No. 1 team in the country. That's anybody.''
January, 27, 2010
1/27/10
12:05
AM ET
Darrin Horn was downright giddy when
Devan Downey
said he was withdrawing from the NBA draft this summer.
And that was before the South Carolina coach lost
Dominique Archie
to a knee injury and Mike Holmes to a broken bone near his eye in November. Holmes was booted from the team just this month for repeated violation of team rules.
Imagine how Horn felt on Tuesday night. The 5-9 Downey, the ultimate David in a big man's sport, took down Goliath practically all by himself. With John Calipari throwing everything and everyone at Downey, the SEC's leading scorer still scored 30 points as
South Carolina stunned No. 1 Kentucky, 68-62
.
And I'll admit it: South Carolina stunned me, too. I didn't think Kentucky would get through this season unscathed. It's just too hard. But after assuming the ring-grabbing demeanor of their coach and unabashedly aiming for that No. 1 ranking, I didn't see the Wildcats surrendering it so quickly. The Cats' hot-potato treatment of the top spot matched Texas' cootie reaction to No. 1, ranked at the top in the afternoon only to lose the same evening.
But I especially didn't see Kentucky losing to a team like South Carolina, a preseason NCAA tourney team that instead rode a three-game losing streak into the meeting with UK and has struggled to regain its footing since losing Archie and Holmes.
But Downey, who so long has been criticized for what he's not (namely tall), showed speed and moves to rival that of
John Wall
and a poise that the Kentucky rookie simply didn't have on Tuesday night. Downey took a lot of shots -- 29 in all -- but he has to. And Calipari and the Wildcats knew Downey had to and still couldn't stop him.
Of course this is as much about Kentucky as it is South Carolina. The Wildcats, who had survived by a whisper five times this season, did not play well from the opening tip. They were disjointed and sloppy. Wall finished with 19, but as the game got close and you kept expecting him to take over, it never happened.
Perhaps more telling, this team of overachieving freshmen were left on an island by their upperclassmen and drowned. The Kentucky newcomers, which includes JUCO transfer
Darnell Dodson
, scored 57 of Kentucky's 62 points.
Patrick Patterson
represented the older generation with the other five.
The guys with experience, the ones presumably more equipped to handle hostile gyms and the newly minted No. 1 ranking, were absentee parents, leaving the kids to figure out everything on their own.
It's been the one question dogging these uber-talented players since the year started: are they savvy enough to handle what comes at them in wave after wave after wave? For 19 games they were, so it's a little foolish to say they'll unravel altogether now.
But things aren't exactly going to get easier for the Wildcats from here. Vanderbilt comes to Rupp Arena on Saturday, followed by Ole Miss, with Tennessee and Mississippi State still looming down the road.
With a small chink in their armor exposed, how Kentucky responds will be monitored closely.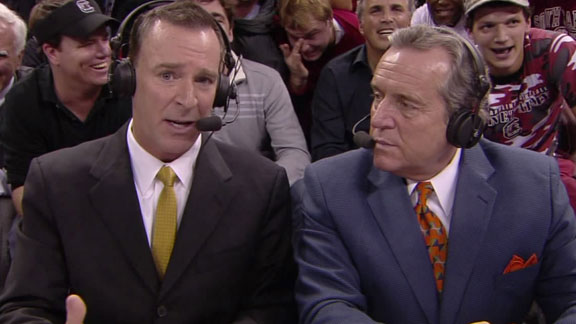 December, 2, 2009
12/02/09
1:34
PM ET
The Big Ten/ACC Challenge will dominate the news cycle in the sport tonight, but there are other significant games that must not be ignored.
Washington State at Gonzaga
: The Cougars won the Great Alaska Shootout and were led by
Klay Thompson
's 43 points in the win over San Diego. Gonzaga, UCLA and others passed on Thompson and it turned out to be a mistake. The Zags are coming off a Maui Invitational win over Cincinnati. The Cougars could be the sleeper team in the Pac-10 if this keeps up. I've been to this game before, and it's an intense rivalry between two schools separated by 70 miles of rolling hills.
Butler at Ball State
: I know it doesn't sound too tough, but the Bulldogs are coming off two losses at the 76 Classic in Anaheim. Going to a MAC gym isn't exactly an easy task for anyone, especially with the Bulldogs desperately needing a win. This will be a big deal for Ball State, but Butler needs this game to stop the bleeding. Butler didn't have a bad loss at the tournament in Anaheim. But this would qualify as a bad loss.
Siena at Georgia Tech
: The Saints desperately need to win this game if they have any chance at an at-large berth. Siena hasn't won a quality nonconference game yet. The Yellow Jackets are hardly the type of team that will gladly bow down. Siena will have to earn this win down to the final seconds if it wants to pull off the upset. The Yellow Jackets' interior may be too tough for the Saints, though.
UNLV at Arizona
: The Runnin' Rebels are fresh off a win over Louisville at home. I had a number of coaches tell me that the UNLV newcomers, notably the freshmen, are much better than projected. Arizona didn't fare all that well in Maui, but the squad is still trying to find itself with so many new parts and a new staff. This would be a huge win for the Wildcats as they seek to be relevant throughout the season.
Cal at New Mexico
:
I wrote about this game in my Daily Word
but I can't emphasize enough how critical this is to the Lobos. If UNM can pull off the upset over Cal, it would signify to the rest of the MWC that the Lobos are a real player for the league title. Cal could use a true road win to improve its national standing. This will be one of the toughest road games it plays all season.
Dayton at Miami (Ohio)
: The RedHawks nearly beat Kentucky. Dayton took out Georgia Tech. This is a dangerous road game for the Flyers. It should be counted as a quality win because of how hard it has been to win in Oxford, Ohio.
Old Dominion at Richmond
: ODU was the preseason favorite to win the Colonial, but the Monarchs didn't pick up a high-profile win over Missouri or Mississippi State in South Padre Island, Texas. Richmond was the sleeper pick in the Atlantic 10 and has won four straight after losing to what now looks like a solid William & Mary team. This is one of those rivalry games that gets no national pub.
Western Kentucky at South Carolina
: The Hilltoppers could use a win like this to improve their stock. South Carolina should count this as a quality win if it can land it. This is a tough game for Darrin Horn, who used to coach at Western Kentucky.
Oklahoma State at Tulsa
:
James Anderson
is on display for Oklahoma State in a rivalry game that gets no national pub. Tulsa has
Jerome Jordan
in the post as its stud. This should count as a quality win for whoever can land the W.
Ole Miss at Arkansas State
: Yet another dangerous road game for a "power six" team with NCAA aspirations. ASU coach John Brady is always crafty and the Rebels won't get out of Arkansas State easily.
Arkansas at Oklahoma
:
Willie Warren
is back for Oklahoma. Arkansas is reeling. But the Sooners need to play a good, sound game after the debacle in the Great Alaska Shootout. The Razorbacks haven't proven they can be consistent.
Rice at Harvard
: Any time an Ivy League team can get a home game against a Conference USA squad, it is significant. And hey, Rice is known as the "Harvard of the South." This game is a natural.
BYU at Utah State
: The Cougars are the favorites in the Mountain West. The Aggies are the top pick in the WAC. The two schools are bitter rivals. This should be good.
San Diego State at San Diego
: The Toreros have better wins so far this season than the Aztecs. Beating San Diego State will only enhance the profile of the WCC. San Diego State needs something positive before it gets into the MWC, and losing to the nearby rival wouldn't help.
Portland State at Portland
: This is the type of game the Pilots must win -- you can't lose to Portland State after knocking off UCLA and Minnesota and getting ranked in the AP Poll. There will be a lot of eyes on this one.
Missouri at Vanderbilt
: The Commodores were just OK in Maui, but are still an NCAA-potential team and could contend for a top three finish in the SEC East. Mizzou is a difficult out no matter where the game is played. This will be a extremely tough game for the Commodores.
Utah at Weber State
: The Utes shocked Illinois in Las Vegas but now come back to reality with a tough, in-state rivalry game. Winning this game would say a lot about the Utes' improvement.
Northern Iowa at Iowa State
: Huge game in the state for both squads. UNI beat BC in the Paradise Jam while Iowa State is projected to be a top six Big 12 school. The Cyclones are in the midst of a major three-game lineup. After this game, theygo to Cal and then host in-state rival Iowa.