College Basketball Nation:

Darrun Hilliard
July, 10, 2014
Jul 10
10:00
AM ET
There is no one correct way to put points on the board. Basketball, and specifically college basketball offense, comes in many flavors, which is a big part of why it's so interesting in the first place.
If you have a big, physical, bruising team, one that dominates the offensive glass and gets easy putbacks around the rim, you don't necessarily need 2005-era Steve Nash running the show. Likewise, for a team full of athletic, penetration-prone wings, spacing is arguably more important than passing. If your players can get to the rim by themselves, why complicate things?
If you're neither of those things -- if your players, and thus your system, aren't the isolate-and-go types -- then you'd better make the most of Dr. Naismith's original ball-advancement mandate. You'd better be able to pass.
Below are three teams likely to be among the best passing outfits in the country in 2014-15 -- and a couple that could rank among the worst. The question is: Can they score anyway?
Teams to watch
Wisconsin
: On one level, the Badgers aren't the most obvious passing exhibition in the country. In 2013-14, for example, they recorded an assist on 50.5 percent of their made field goals. That number ranked 197th in the country. Plenty of much worse overall offenses recorded higher A/FGM stats.
In reality, that has less to do with Wisconsin than it does the way official scorekeepers keep scores. In reality, the entire core of Wisconsin's top-five efficiency offense -- and the swing-motion system Bo Ryan has perfected in more than a decade in Madison -- is defined by passing. If Wisconsin's offense was a book, passing would be its spine.
For example: Last season, 27 percent of the Badgers' possessions ended in what Synergy's scouting data defines as spot-ups. That's an overwhelming number within Wisconsin's offense -- the other leaders in the clubhouse are "isolations" (15 percent), post-ups (11.3 percent), pick-and-rolls (8.3 percent) and transition baskets (8.1 percent). Simply put, you don't create that many spot-ups, and convert them at better than a point per possession, without first creating them with pinpoint movement and timely passing. The swing offense is designed such that, even when an assist
isn't
recorded (as can often be the case on post-ups and isolations), two or three passes probably led to the opportunity in the first place.
Last season, even as Wisconsin increased its tempo, it still turned the ball over on just 12.7 percent of its possessions -- second fewest in the country. This has always been the case under Ryan at Wisconsin; the Badgers simply do not turn the ball over. The 2014-15 version of the Badgers, the one returning almost everyone (including versatile big men
Frank Kaminsky
,
Nigel Hayes
and
Sam Dekker
) from a Final Four run, will have all these characteristics and then some. It might be Ryan's best team yet.
Villanova
: To refresh oneself on the 2013-14
Villanova Wildcats
' offensive statistics is to kick yourself for missing out. For most of the season, defense was the most eye-catching part of Villanova's makeup. Save two demolitions by Creighton's Doug McDermott, the Wildcats were among the best defensive teams in the country. Less heralded was Jay Wright's offense. For whatever reason, it just didn't jump out -- even as it was playing an almost idealistically unselfish, and downright fun, brand of basketball.
Last season, the Wildcats had assists on 60.4 percent of their made field goals. They also shot a ton of 3s -- 44.8 percent of their overall field goals, in fact. This was perfect for Wright's personnel, which was short on true big men. Just one rotation player, center
Daniel Ochefu
, was listed as taller than 6-foot-7. Everyone else in the ostensible frontcourt -- especially
James Bell
,
Darrun Hilliard
and
Josh Hart
-- was carved from the "tweener swingman" mold. These guys guarded and rebounded, sure, but they were also comfortable with the ball in their hands on the perimeter. And so point guard
Ryan Arcidiacono
, the team's leading assist man, found them. The ball was always moving, the shots were always flying.
If you missed it the first time around, don't feel bad: I watched Villanova a lot last season, and I totally missed it, too. The good news is Bell is the only piece departing from a roster that should be just as good on the wing as it was a season ago -- a roster that has long since left the selfish, ugly offense of the 13-19 2011-12 season behind it.
Pittsburgh
: The Panthers are the most intriguing, and maybe the most unlikely, team of the bunch.
For starters, they're losing their best player from a season ago. Lamar Patterson wasn't just one of the nation's best and most versatile scoring threats. He was also a genuinely gifted passer. Patterson found an assist on 30 percent of his possessions, which is great in and of itself. When you consider that he also took nearly 30 percent of his team's shots, it looks genuinely crazy. Unfortunately, he couldn't pass the ball to himself.
Still, though, Jamie Dixon's team has the look.
James Robinson
,
Josh Newkirk
,
Cameron Wright
and even
Durand Johnson
all posted plus-15 percent assist rates (with Robinson at nearly 25 percent and Newkirk at 19), and Pittsburgh might have to be even more pass-reliant after losing offensive rebounding force
Talib Zanna
along the front line. Last season, Pitt ranked seventh in the nation in A/FGM at 62.9 percent. With Patterson gone, a repeat performance is almost a requirement.
Teams that could struggle
Syracuse
: In the past five seasons, the Orange's assists-to-field goals ratio has intermittently declined. In 2009-10, Syracuse baskets were the result of an assist nearly 65 percent of the time, one of the top figures in the country. A year later, that number was 60.5 percent. From there, it went to 56.1 (in 2011-12) to 55.8 (in 2012-13) to 49.1 (in 2013-14). Now the Orange are losing Tyler Ennis, the freshman point guard who accounted for a huge portion of their assists last season. It stands to reason that in 2014-15, Syracuse won't be a particularly productive passing team.
Again, the question is this: Does it matter?
The answer is some version of "probably not." After all, despite a disappointing finish to the season, Syracuse was still a very good team in 2013-14. The Dion Waiters 2011-12 team wasn't a scion of precise passing, but it won 34 games. Two seasons ago, Michael Carter-Williams was arguably the best passer in the country, but the Orange didn't really uncork their potential until they ratcheted up the pressure in their 2-3 zone and crushed otherwise stellar offensive teams.
The makeup of the 2014-15 squad, which will be without workhorse
C.J. Fair
as well as Ennis, is uncertain. But Jim Boeheim's teams are always at their best when turning defensive excellence into easy points on the offensive end, getting a handful of 3s from a lights-out shooter (in this case,
Trevor Cooney
) and pounding the ball to the rim offensively. There's no reason to expect that Syracuse can't do that in 2014-15. This could be a truly bad passing team that is nonetheless quite good at winning basketball games.
San Diego State
: The same goes for San Diego State, albeit in far more extreme fashion.
Last October, the Aztecs looked like the classic off-year reload group; they were seen as a fringe NCAA tournament team at best. Instead, they played stingy, top-10 defense while senior point Xavier Thames had a massive, sustained campaign as the lone offensive centerpiece. The combination was good enough to beat Kansas at Kansas, win 31 games and a Mountain West title and take Arizona to the wire in the NCAA tournament.
Still, what made Thames' season so impressive wasn't just his much-needed scoring. He was also the Aztecs' primary distributor. He also never turned it over; with a usage rate of nearly 29 percent, Thames assisted on 25 percent of his possessions and coughed it up on just 10 percent. (Reminder: He was
really
good.) And even then, the Aztecs got just 39 percent of their field goals via assists. They ranked 350th in Division I.
If there's one thing we learned last season, it's to never undersell a San Diego State team. It might be ugly. But if Steve Fisher's group maintains its defense, it won't have to pass the ball all that well. There's more than one way to put wins on the board.
March, 13, 2014
Mar 13
4:15
PM ET
NEW YORK -- New Big East, same old Madness.
Less than 24 hours into the
2014 Big East tournament
, we've already had two stunning upsets and lost the top seed.
On Wednesday night,
Georgetown was defeated by DePaul
for the first time in 20 years. On Thursday afternoon,
No. 3-ranked Villanova fell to Seton Hall 64-63
on a buzzer-beater by sophomore guard
Sterling Gibbs
.
For
Seton Hall
, it's the first win in school history against a team ranked in the top three in the Associated Press poll. The Pirates had been 0-30 against such teams.
[+] Enlarge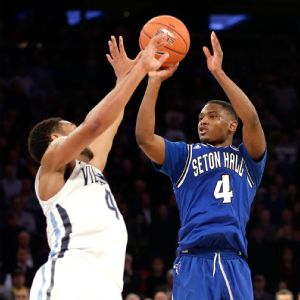 AP Photo/Seth WenigSeton Hall guard Sterling Gibbs proved the new Big East still has the same old flair for the dramatic with his game-winning shot against Villanova.
"It was a great college basketball game," said
Villanova
coach Jay Wright. "They played better. They made the plays at the end."
Seton Hall had just 15 hours to rest and prepare for Villanova following its 51-50 victory over Butler on Wednesday night.
Perhaps the short turnaround helped. Villanova trailed by as many as 15 points in the first half before scoring the final six to make it 34-26 at intermission. The Wildcats shot 7-for-26 (26.9 percent) and missed seven free throws in the first half.
A 16-0 Villanova run fueled by several open-court steals and scores put the Wildcats back in front with just more than eight minutes remaining. But the Pirates did not fold. The game came down to the final minute, when the lead changed hands four times.
Josh Hart
's layup with 41 seconds to play put Villanova up 61-59. Freshman
Jaren Sina
buried a 3-pointer from the corner 20 seconds later to give Seton Hall a 62-61 lead.
Darrun Hilliard
's floater in the lane rolled in with 11 seconds left, pushing the Wildcats back ahead 63-62. And then Gibbs hit the biggest shot of them all -- a step-back jumper from the top of the key as time expired.
"It was supposed to get in my hands, and I was supposed to create a shot for my teammates or create a shot for myself," Gibbs said. "I just stepped back and hit the jumper."
Seton Hall finished the regular season in eighth place in the 10-team Big East but has played nine games decided by a single point this season, going 4-5. The Pirates also have two three-point losses, one in overtime and the other in double overtime.
"One of the referees told me the other night, he said he's never seen a team go through what we've gone through and still come back and play hard every night," said Seton Hall coach Kevin Willard. "I just think it's the character of these guys."
The new Big East now has its first signature moment, and Seton Hall has a berth in the Big East tourney semifinals for the first time since 2001. The Pirates will play either No. 4 seed Providence or No. 5 seed St. John's on Friday.
Seton Hall was swept by St. John's in the regular season, but both losses were by -- you guessed it! -- one point. The Pirates split with the Friars, winning by one in double overtime and then losing by five.
"I really thought if we could get past Butler, we could beat anybody," Willard said. "I was really scared about getting past Butler. It's a tough matchup for us. They defend really well on us, and I thought if we could get past them, we could get some momentum and just keep going."
Villanova, whose three previous losses this season came against ranked teams Syracuse and Creighton (twice), is still
projected to be a No. 1 seed
by ESPN's Joe Lunardi -- as of now. But that could change as the rest of Championship Week unfolds.
"This was not about 1-seeds, 2-seeds," Wright said. "This was about we wanted to come to Madison Square Garden and win the Big East tournament. Winning the Big East tournament would mean much more to us than a 1-seed.
"This is a great tournament. We want to be here until Saturday. I think we're more disappointed about that. The NCAA tournament seedings? My belief is 1, 2, 3 -- it doesn't matter that much. You're going to play great teams."
March, 22, 2013
3/22/13
9:30
PM ET
KANSAS CITY, Mo. --
P.J. Hairston
scored 23 points and
James Michael McAdoo
added 17 to propel North Carolina to a
78-71 victory
over Villanova in the second round of the NCAA tournament at the Sprint Center. Friday's victory marked the 700th career win for Tar Heels coach Roy Williams, whose team advances to play either Kansas or Western Kentucky on Sunday for a berth in the Sweet 16.


North Carolina led by as many as 20 points in the first half, but let Villanova back into the game. The Wildcats took a 45-44 lead on a foul shot by
JayVaughn Pinkston
with 13:40 remaining, but
Reggie Bullock
responded with a 3-pointer on North Carolina's next possession. UNC would never trail again.
It took awhile for North Carolina to close out the game.
Villanova shaved the Tar Heels' lead to 54-50 on a layup by
Mouphtaou Yarou
with 8:31 left, but Hairston responded with a 3-pointer on the other end. Wildcats forward
Darrun Hilliard
countered with a basket to make it 57-52, but another 3-pointer by Bullock extended UNC's lead to 60-52.
Still, Villanova refused to go away. With 2:14 left, Pinkston pulled the Wildcats within a point, 67-66. A 3-pointer from
Marcus Paige
gave UNC a 70-66 advantage before Yarou struck back with a layup to make it a two-point game.
North Carolina refused to fold, however. The Tar Heels made their final seven field goal attempts en route to the victory.
Bullock added 15 points for the Tar Heels. Pinkston scored a team-high 20 for Villanova.
Turning point:
UNC jumped out to a 72-68 lead on a pair of foul shots by Paige with 1:36 left. Villanova then missed its next three field goal attempts, and eventually the Tar Heels made the Wildcats pay. Hairston split a pair of free throws and then scored on a traditional three-point play to make it 76-68 with 42 ticks remaining. Ballgame.
Key player:
North Carolina continues to get solid production from Hairston since the sophomore moved into the starting lineup. His 23 points came on 7-of-11 shooting, and he was 5-of-8 from 3-point range.
Key stat:
North Carolina won despite being out-rebounded 35-23.
Next:
North Carolina will play the Western Kentucky-Kansas winner Sunday. Williams coached at Kansas for 15 years before leaving after the 2002-03 season for North Carolina, his alma mater. He is 0-2 against Kansas, with both losses coming in the NCAA tournament.
February, 24, 2013
2/24/13
1:10
AM ET
A few observations from another intriguing Saturday night of college basketball…


Kentucky stepped up in the most important game of its season.
Prior to Saturday's Missouri-Kentucky matchup, the SEC had already completed multiple exciting games earlier in the day. LSU beat Alabama in triple overtime. Georgia defeated South Carolina in overtime. And Tennessee outplayed Texas A&M in quadruple overtime. But Kentucky and Missouri delivered in the conference's most significant matchup. After losing
Nerlens Noel
to a season-ending knee injury, the Wildcats lost to Tennessee by 30 points. Season over, right? I mean, that team competed like a team that just wanted the season to end. Kentucky didn't do anything that a squad should do when it's trying to convince the selection committee that it's worthy of an NCAA tournament bid. I had no faith in this group. The Wildcats, however, silenced some of their critics with their overtime win against Missouri at Rupp Arena on Saturday. The
90-83 victory
might help UK get into the field of 68 -- and the Cats might have changed the trajectory of their entire season with the gutsy win.
Julius Mays
led the Wildcats (four reached double figures) with 24 points. By the end of the game, he could barely walk. Kentucky had earned that exhaustion. Missouri, meanwhile, earned criticism. More criticism. Once again, the Tigers collapsed on the road. They were up by 13 points in the first half, and then they unraveled. They always do outside Columbia, it seems.
Phil Pressey
's costly turnover with 48 seconds remaining in overtime summed up Mizzou's entire season: talent marred by mistakes and chemistry issues. In the end, a Tigers team comprised of veterans lost to a group of raw youngsters which graduated from high school a year ago. Give Kentucky credit. Doubt the Tigers.


Health will be Florida's top concern in March.
The Gators proved that they're still a high-powered team when they bullied Arkansas
71-54
on Saturday. Florida's loss to Missouri -- and an earlier loss at Arkansas -- sparked questions about Billy Donovan's program, but the Gators have been one of the nation's most dominant teams all season. And their successes outweigh their stumbles. In March, they're not going to run into many teams that can handle their backcourt and
Patric Young
(14 points, 7 rebounds and a block on Saturday). What about their health?
Michael Frazier II
suffered a concussion in the victory over the Razorbacks.
Erik Murphy
tweaked an ankle this week.
Will Yeguete
is out with a knee injury. Donovan's program hasn't been 100 percent in a long time. That's a concern now and as March Madness approaches. A healthy Gators team can contend with any program in the country. There will be less certainty, however, if Florida enters the NCAA tournament at anything less than 100 percent.
[+] Enlarge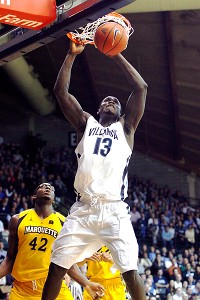 P Photo/H. Rumph JrMouphtaou Yarou throws down a pair of his 10 points in Nova's upset of Marquette.
I don't understand Villanova, but I like its style.
Check Villanova's résumé. Confused? You should be. The Wildcats have been swept by Providence. They have a nonconference loss to Columbia. Alabama beat them by 22 points in the first half of the season. But the Wildcats also have recent victories over Louisville and Syracuse. They're 7-9 against the RPI top 100 but 3-1 against its top 25. Still, the Wildcats had zero guarantees entering Saturday's matchup with a Marquette team that was locked in a three-way tie for first place in the Big East, and they played like a team that recognized its predicament. And I dig that. I mean, don't expect a bid. Take one. And that's what Villanova may have done with Saturday's victory.
Mouphtaou Yarou
finished with 10 points, 7 rebounds, 2 steals and an assist in his final game at The Pavilion. Yarou and his teammates (
Darrun Hilliard
led all scorers with 22 points) fought. Marquette (19 turnovers) made a late push, but it couldn't overcome the Wildcats' lead. Villanova's résumé is not perfect, but you can't tell me that the Wildcats aren't playing like a tourney team right now.


Saint Mary's is doing what it can.
The Gaels entered their home game against Creighton in a bubble situation. Their one problem all year? Gonzaga. The Zags are five steps beyond the rest of the league, and the West Coast Conference doesn't offer any other true quality opponents (BYU is OK, I guess). So Saturday's home game against a Creighton team that looked like a lock for the tourney was crucial for the Gaels. Saint Mary's toyed with the Bluejays in a
74-66 win
. That's what a team in SMC's situation should do. The Gaels can't enhance the WCC in the coming weeks, but they can win convincingly in their toughest remaining matchups. Saturday was a good start. It also proves that the Missouri Valley Conference is not as good as many expected it to be. A few weeks ago, Wichita State's Gregg Marshall told me that the Valley was like a "mini-Big Ten," and I agreed with him. At the time, Indiana State, Creighton, and Wichita State were all tourney teams. Not today. Creighton has struggled on the road in MVC play. The Bluejays could lose to Bradley next week and then stumble in the conference tourney. And now a mid-major conference that appeared to possess three bids could enter Selection Sunday with one lock (Wichita State) and a Creighton team sitting on the bubble.
I believe in Trae Golden and Jarnell Stokes. The duo has fueled Tennessee's five-game winning streak. On Saturday, Golden (32 points) and Stokes (20 points, 16 rebounds) -- along with Jordan McRae (23 points) -- led the Vols to a 93-85 four-overtime road win over Texas A&M. The SEC is a very lukewarm league. Most teams have suffered surprising road losses. Few have compiled impressive runs. But Tennessee is playing its best basketball right now. There are no guarantees in the SEC tourney. The Vols aren't in the dance right now, but they could be in a few weeks.

What a week for Cal. The Bears held off Oregon State for a 60-59 win on Saturday. On Thursday, Justin Cobbs hit a shot in the final seconds to seal his team's two-point victory over Oregon. Cal has won five in row. With three games left, the Bears still in the mix for the Pac-12 title.
February, 23, 2013
2/23/13
8:45
PM ET
By
ESPN.com staff
| ESPN.com
January, 28, 2013
1/28/13
11:24
AM ET

Player of the Weekend – Victor Oladipo, Indiana
Stats generally don't show just how vital Oladipo is to the Hoosiers, but they came close on Sunday. He finished with 21 points, seven rebounds, six steals and three blocks in Indiana's win over Michigan State. He's the only player to reach those totals against a ranked team in the past 15 seasons.

Scorer of the Weekend – Ramon Galloway, La Salle
Three days after his layup propelled La Salle over No. 9 Butler, Galloway scored a career-high 31 points to lead the Explorers over No. 19 VCU. This marks the first time since the 1952 NIT that La Salle has defeated back-to-back ranked opponents.

Breakout Performance of the Weekend – Darrun Hilliard, Villanova
Hilliard posted career highs in points (25), rebounds (seven) and assists (six), as Villanova knocked off Syracuse 75-71 in overtime. He's the first player to reach those totals in a win over a top-5 team since Greivis Vasquez posted a triple-double against North Carolina in 2009. Villanova hasn't had a player reach those levels in any win since Michael Bradley in 2001.

Stat Sheet Stuffer – Tommy Brenton, Stony Brook
Brenton posted Stony Brook's first triple-double since moving to Division I, as the Seawolves beat Maine 79-69. Brenton finished with 15 points, 14 rebounds and 11 assists. Over the past 15 years, only three other players have reached that combination: Siena's Kojo Mensah (2005), Connecticut's Ben Gordon (2003) and Utah's Andre Miller (1998). Brenton is averaging over 8 PPG, 8 RPG and 5 APG. The last three players to do that all wound up in the NBA: Royce White, Evan Turner and Terrence Williams.

Freshman of the Weekend – Phil Forte, Oklahoma State
All it took was a uniform change. Forte, playing his first game wearing No. 13, scored a career-high 26 points off the bench as the Cowboys overcame a 13-point deficit to beat West Virginia 80-66. It was the most points by an Oklahoma State player this season and by a Cowboy off the bench in conference play since Torre Johnson's 26 in 2006 against Baylor.