College Basketball Nation:

Darryl Bryant
January, 28, 2012
1/28/12
7:01
PM ET
So much for a slow Saturday. College basketball fans and pundits alike should know better by now, but we always assume the worst on a supposedly "slow" weekend.
Let's change the rules, based on what we've seen today. If you survey the weekend slate and you can't find any meaningful games and potential upsets that you're overly interested in, that means it's time to call Earl and the crew (everybody has a friend named Earl), stock the fridge and get ready for some good basketball. If this was a lukewarm weekend in college basketball, what qualifies as a great one?


Iowa State 72, No. 5 Kansas 64
Many laughed when Fred Hoiberg began his tenure at Iowa State by recruiting from a pool of players known for their checkered pasts.
Royce White
, who left Minnesota two seasons ago after a tumultuous stay, led the bunch. But Hoiberg looks like a genius right now after the Cyclones handed No. 5 KU its first Big 12 loss of the season. The win snapped both the Jayhawks' 13-game winning streak over Iowa State and their 10-game overall winning streak (they hadn't lost since Dec. 19).
The postgame court-storming was well-deserved for the 'Clones and their fans. Hoiberg has as much job security as any coach in the country based on his legendary career in Ames, which allowed him to pursue so many transfers without worry. In other words, he'd get a mulligan if things didn't work out.
Against Kansas, however, Hoiberg proved that he's more than a risk-taking recruiter. He can coach, too. Iowa State, a squad that suffered an 82-73 loss at Kansas on Jan. 14, led by three points at halftime. But that didn't last. The Jayhawks scored 11 unanswered points early in the second half. The crowd's energy dropped after that KU run, but Iowa State kept fighting, something it had failed to do down the stretch in its earlier loss to the Jayhawks.
White led the charge. With his team leading 56-53 and five minutes to play, he scored the Cyclones' next eight points (three straight layups and a pair of free throws). He entered the game as a 51 percent free throw shooter -- ISU was the Big 12's worst free throw shooting team at 61 percent overall -- but he was 6-for-8 from the charity stripe in the second half. He finished with a team-high 18 points, nine rebounds and five assists, making up for his six turnovers. The team was 25-for-34 from the charity stripe.
So yes, the same Iowa State squad that lost at Drake Nov. 15 looks like an NCAA tournament team right now -- no matter what my colleague Doug Gottlieb might tweet. At 5-3, the Cyclones are off to their best Big 12 start in a dozen years and sure seem like they won't be fading away anytime soon.


No. 4 Syracuse 63, West Virginia 61
It just can't happen. Not in late January with the stakes so high. Not when it's so blatant. Officials in this game missed one of the more obvious and critical goaltending calls of the season. In the final seconds, West Virginia's
Truck Bryant
air-balled a 3-pointer that ended up in
Deniz Kilicli's
hands with his team down by a bucket. Kilicli's layup was swatted away in mid-air by Syracuse's
Baye Keita
, but replays showed what looked like a clear goaltending violation by Keita. Officials never blew their whistles.
West Virginia got the ball back and
Kevin Jones
(20 points, eight rebounds) missed a deep 3-pointer to win the game, but the final outcome might have changed had that crew flagged Keita for goaltending. Now granted, WVU had its chances.
Brandon Triche
(18 points) hit a pair of free throws with a minute and a half to play and the Mountaineers missed four consecutive shots. But the no-call clearly impacted the game.
Syracuse struggled in its third consecutive game without
Fab Melo
. The Orange just haven't looked like the same squad without him and his defensive presence. West Virginia secured an astounding plus-21 (41-20) rebounding edge over the Cuse and had nearly as many offensive boards (19) as the Orange had total. How does that happen? It's not like the Mountaineers are the biggest team in the country. They were just tougher than Syracuse most of the afternoon. And had it not been for that missed goaltending call, West Virginia might have avoided its 13th loss to the Cuse in 14 meetings.


No. 7 Baylor 76, Texas 71
With 4:09 to go, Texas'
Myck Kabongo
hit a 3-pointer as
Pierre Jackson
committed a ridiculous foul to put him on the line for a four-point play opportunity. Texas had been down by 12 points early in the second half, but Kabongo's shot cut Baylor's advantage to just one. Cameras panned to Baylor coach Scott Drew on the sidelines. He had the "I can't believe this is happening at home" look on his face.
Perry Jones
(22 points, 14 rebounds) was far more aggressive than he'd been in some of his efforts, but Baylor couldn't keep the pressure on the Longhorns and nearly blew one at home.
J'Covan Brown
scored 32 points (11-for-22), his third consecutive 30-point effort. But he had way more time to create a better shot than the deep 3-ball he took with 14 seconds on the clock. His team was down by three points in the closing seconds, so I understand why he'd take a deep shot, but he didn't have to shoot it when he did. He had more time on the clock.
Here's where you have to have more question marks about Baylor, though. The Bears are at home. Texas shot 36 percent from the field in the first half and was 1-for-12 from beyond the arc before halftime. Seemed like an opportunity for Baylor to flex its muscle. But it turned into another lukewarm finish for the Bears.


No. 13 Florida 69, No. 16 Mississippi State 57
The Bulldogs just couldn't handle Florida's inside-outside attack.
Patric Young
(12 points, six rebounds) was solid for the Gators, especially after halftime.
Bradley Beal
led the Gators' talented backcourt with 19 points. The nation's leaders in 3-point field goals hit 11 of them as they won their fifth straight and 17th in a row at home.
Arnett Moultrie
was 4-for-10 and scored 12 points for a Bulldogs team that committed 14 turnovers. It was MSU's third SEC road loss of the season. At 5-3 in league play, they'd better find a way to compete away from home. They're certainly talented, but the Bulldogs have really struggled on the road. Thought this one would have been a closer game, but give the Gators credit. They can spread teams out with their guard play and minimize their size disadvantages, a tactic they used to perfection against the Bulldogs.


No. 1 Kentucky 74, LSU 50
The Wildcats are in Beast Mode right now. They're just crushing teams. LSU entered this game following a tight road loss at Mississippi State. But the Wildcats are just a different animal.
Terrence Jones
led all scorers with a season-high 27 points and the Wildcats held LSU to a 1-for-9 clip from the 3-point line. Just two Tigers reached double figures.
Although LSU is only 2-5 in the SEC, you have to wonder how dangerous the Wildcats can be in March when a guy like Jones can explode despite some inconsistency this season. He entered the game averaging 11.6 ppg and he only scored five points against Georgia on Tuesday. But this game was further proof that Kentucky is a "pick your poison" kind of opponent. How do you defend a team with that number of studs? The Wildcats have so many weapons.
Syracuse is deep. Ohio State has balance. But no team in America looks as potent as Kentucky right now.
Some more observations from the afternoon games ...
January, 23, 2012
1/23/12
10:00
AM ET
The best team in the Big East lost this past weekend, but the best team is still the best team. A few other things did change in this week's power rankings, though. Let's take a look:
1. Syracuse:
The Orange finally fell and looked as lousy in defeat as they looked great in 20 victories. But one bad loss on the road without starting center
Fab Melo
does not a bad team make. Syracuse is still easily the best team in the Big East, though the road continues to be unkind with a Monday trip to Cincinnati without Melo.

2. Georgetown:
The winner of the ever-revolving No. 2 slot goes to the Hoyas this week, but not necessarily in convincing fashion. Georgetown shot 3-of-24 in the first half at home against Rutgers and made only 12 field goals on the day, but did end up surviving.
3. Marquette:
The Golden Eagles have yet to see the best of what the conference offers, but give Buzz Williams' team credit: They keep winning while everyone else falters. Marquette has won four in a row.
4. West Virginia:
Fortunately for the Mountaineers, these rankings aren't based on basketball smarts, because
Darryl "Truck" Bryant
's foolish and unnecessary floater against Cincinnati would push WVU to the bottom of the list. As it is, the 'Eers have won three in a row.
5. Cincinnati:
The Bearcats are two-thirds of the way through one of the more difficult conference runs, beating UConn in Storrs and losing to West Virginia in Morgantown in overtime. Now for the big test: Syracuse, ticked after dropping its first game of the season, on Monday.
6. Notre Dame:
Perhaps the Irish should schedule more games against No. 1 teams. Notre Dame upset Syracuse for its eighth win against a top-ranked team. This after losing to Rutgers on the road.
7.
Louisville:
What a difference
Kyle Kuric
makes. Kuric played despite a balky ankle, scoring 21 in a much-needed win for the Cards at Pitt.
8. South Florida:
Quietly, while no one was paying attention, the Bulls are building up their best Big East record to date at 5-2. South Florida has won three in a row and five of the past six. Where did this come from?
9. Connecticut:
The Huskies' troubles continue, with four losses in six games, including to a rebuilding Tennessee team in Knoxville. UConn has a tough upcoming slate, at home versus a confident Notre Dame team and then on the road at Georgetown.
10. Seton Hall:
The Pirates' margin for error is slim, evidenced by back-to-back losses to South Florida and Villanova. Seton Hall remains a dangerous team, capable of beating anyone but equally susceptible to bad losses.
11. Villanova:
Progress comes in baby steps for a Wildcats team trying to find its way, so a home win against Seton Hall and a come-from-behind overtime victory at St. John's counts significantly.
12. Rutgers:
The young Scarlet Knights are going to be in every game. It's just winning them that's difficult. Rutgers gave Georgetown all it could handle but couldn't steal a road win.
13. DePaul:
The struggles continue for the Blue Demons, losers of five in a row and six of seven since league play began. This week could be a good one for DePaul, with young Rutgers and St. John's teams on tap.
14. St. John's:
The troubles also continue to mount for the Red Storm, who are mired in a four-game losing streak with little relief in sight. This week, St. John's hosts West Virginia and then travels to Duke.
15. Providence:
After battling back-to-back ranked teams in Syracuse and Marquette, the Friars enter a three-game run of winnable games. Providence plays at Pitt and South Florida and then hosts Rutgers. Nothing is a gimme when you have one league victory, but at least the Friars will have a chance.
16. Pittsburgh:
What else can be said about the Panthers? With "College GameDay" on campus fueling the energy in the Pete and
Travon Woodall
back in the lineup, Pitt still lost to Louisville. The Panthers host Providence on Wednesday in a Big East battle of the basement.
August, 18, 2011
8/18/11
2:00
PM ET
By
Diamond Leung
| ESPN.com
Thanks to Illinois and West Virginia putting together an exhibition scrimmage at Aviano Air Base in Italy during their preseason tours, we have our first glimpse of what college basketball in 2011-12 will look like.
This wasn't a pick-up game or a Pro-Am showcase. It was two college teams going at it for 20 minutes in five-on-five action with refs, and you can
watch some highlights here
of Illinois winning 47-26 before an estimated crowd of 500.
D.J. Richardson
led the Illini with 11 points, and
Darryl Bryant
and
Kevin Jones
had eight points apiece for the Mountaineers.
But mainly, the two teams got to entertain the troops, and afterward Illinois coach Bruce Weber called it a rewarding experience.
"They're going to battle and they're thanking me for coming to entertain them, to have a fun night of basketball that they don't get to see,"
Weber said
. "It was very inspirational."
The two teams got to scrimmage the airmen as well, and one of them might have actually stolen the show during a dunk contest, according to
Stars and Stripes
.
A team made up of Aviano airmen and dependents served as a warm-up act for both teams by playing them for 10-minute contests. West Virginia won, 25-7, and Illinois came out on top, 26-12.

Players from the two collegiate teams and from Aviano then engaged in a dunk contest. Illinois' Joseph Bertrand and 7-foot-1 center Meyers Leonard advanced to the finals along with Aviano's Douglas Henderson. Henderson was mobbed by his teammates as well as a few collegians after finishing a dunk in the preliminary round that included him throwing the ball off the wall behind the basket.
July, 12, 2011
7/12/11
4:12
PM ET
By
Diamond Leung
| ESPN.com
The easiest way to tell that West Virginia will be a young team next season is by checking
its current roster
, which consists of only four returning players.
There is talent there with seniors
Darryl Bryant
and
Kevin Jones
, who withdrew his name from the NBA draft.
Deniz Kilicli
is back along with
Kevin Noreen
, who didn't play much before needing season-ending knee surgery.
With a lack of experience, there is also the benefit of somewhat of a blank slate. According to what associate head coach Larry Harrison told Metronews Statewide Sportsline, the team's preseason tour of Italy presents an opportunity to go back to playing an old-school style of Bob Huggins basketball.
"We're going to introduce a new style of play," Harrison said. "With the type of players that we have, we're going to try to play like the old Cincinnati teams that we had with the running and trapping and just playing full-court defense. We're going to try to put that in with these 10 days of practice that we have. And then when we take them over to Italy, we're going to play that way and get them used to playing that style. And then come back in October, we'll break it down a lot more and give them a little more time to adjust to our teaching. We're going to throw them into the fire right way because that's the way we want them to get used to playing."
Harrison, who coached under Huggins at Cincinnati from 1989-97, sounded excited. During his eight years there, the Bearcats were 192-71 and won six conference championships. They went to the Final Four and made two trips to the Elite Eight playing in Huggins' aggressive style.
Can a new batch of players help dust off what worked for Cincinnati? When they're not busy sightseeing in Italy, that will be the big question as the Mountaineers get an early start in preparing for the season. Laying the groundwork has already begun for Huggins, as he'll be going back to the basics for what was successful in the past.
February, 19, 2011
2/19/11
3:55
PM ET
By
ESPN.com staff
| ESPN.com
Darryl Bryant
scores 24, leading the Mountaineers to a 72-58 upset of the Irish.
January, 25, 2011
1/25/11
12:52
PM ET
West Virginia coach Bob Huggins was watching tape of Louisville late Monday night and didn't seem too fazed by the latest depletion of his roster.
"We'll be fine," Huggins said by phone from Morgantown. "But the truth of the matter is that they don't give us enough scholarships. The women get 15. We get 13. You get a couple of guys hurt or somebody's sick or don't do what they're supposed to do and now all of a sudden you don't have enough to practice."
The reason the Mountaineers, who were in the Final Four last April, are in such a predicament is that they're down to eight scholarship players.
[+] Enlarge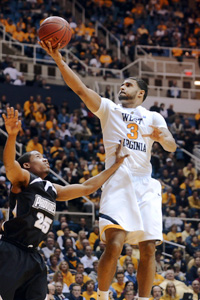 AP Photo/Jeff GentnerCasey Mitchell, WVU's leading scorer, has been suspended indefinitely for a violation of team rules.
The latest issue occurred when Huggins suspended leading scorer
Casey Mitchell
indefinitely for a violation of team rules. Huggins said he couldn't expand on the suspension. But Huggins said the previous issues he's had with Mitchell -- mostly about his inability to be coached and desire to defend -- had nothing to do with this incident.
"He's been practicing hard," Huggins said. "He has some things he has to do [to get off suspension]."
Mitchell had his first double-double of the season in a win over South Florida on Sunday with 13 points and 14 rebounds. The senior has had some breakout games for Huggins this season with 31 points in a win over Vanderbilt in Puerto Rico in November and 28 in a stunning win at Georgetown earlier this month.
The most bizarre exit from the team was from seldom-used sophomore Dan Jennings, who left the bench and the team -- literally -- during the South Florida game Sunday. He got up and just exited the floor. Huggins said Jennings wrote a message on the white board about his goodbye. Huggins said assistant coach Larry Harrison spent time with Jennings on Sunday night discussing the matter but Jennings is no longer on the team.
The reason the Mountaineers have such a short bench is that key members of the freshmen class aren't playing:
Kevin Noreen
had season-ending knee surgery on Jan. 12;
Noah Cottrill
withdrew from classes for the spring semester; Darrious Curry was not medically cleared to play and David Nyarsuk didn't meet NCAA eligibility requirements.
The Mountaineers already lost key members off the Final Four team in then senior Da'Sean Butler and sophomore Devin Ebanks, who left early for the NBA draft.
This leaves West Virginia with a core group of players --
Kevin Jones
,
Joe Mazzulla
,
Darryl Bryant
,
Dalton Pepper
,
John Flowers
,
Jonnie West
,
Cam Thoroughman
and
Deniz Kilicli
-- to try to win enough games to get an NCAA bid.
"We beat Purdue," Huggins said of a recent key win. "We'll be fine."
Huggins said he expects to turn Mazzulla loose on the 3-point line.
"Teams won't see it coming," Huggins said with a hint of sarcasm.
Mazzulla is 1-of-13 on 3s this season.
"We didn't get our freshmen class in here. I had to get Jonnie back [who originally decided not to play this season). Danny decides to walk off the bench and leave the team and now we're down more [with Mitchell]," Huggins said. "But we'll do what we do to win. It's a marathon, not a sprint."
The Mountaineers head to Louisville on Wednesday before going to Cincinnati on Saturday. A home game against Seton Hall is wedged in between another road game at Villanova and then a home game against rival Pitt. The Mountaineers (13-5, 4-2 in Big East) should know soon if they're headed for the bubble or worse over the next month.
November, 22, 2010
11/22/10
12:55
AM ET
SAN JUAN, Puerto Rico -- West Virginia's
Casey Mitchell
did just about everything he could to help the Mountaineers try to beat Minnesota in Sunday night's Puerto Rico Tip-Off final.
Foul problems plagued a number of other players and even seldom-used bench players like freshman
Kevin Noreen
had to step in to provide some hustle and production.
[+] Enlarge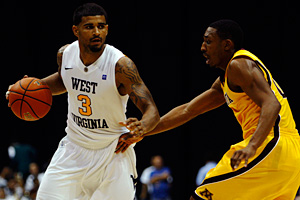 AP Photo/Ricardo ArduengoCasey Mitchell scored 27 points in West Virginia's loss to Minnesota.
It wasn't an ideal scenario -- and no one from WVU felt worse about the
74-70 loss
than point guard
Darryl Bryant
.
In Friday's semifinal win over Vanderbilt, Bryant scored 11 points on 2-of-11 shooting with six assists and one turnover. But against Minnesota, he wasn't just off. He admittedly disappeared. And it cost the Mountaineers dearly as Minnesota lead guard
Al Nolen
scored 17 points, got to the line 12 times (converting 11), and backcourt teammate
Blake Hoffarber
connected on four 3s.
Bryant played just 10 minutes, took (and missed) one shot and finished with more turnovers (3) than points (0) and assists (1).
"I let my team down,'' Bryant said. "We're going to be good regardless of losing this game. But honestly, I didn't show up to play. I let my team down. I was a no-show. We'll get better. This is a long season and it's just the third or fourth game of the season. We're a talented bunch. We just have to pick it up. We will and we'll win.''
The Eers discovered they have a shooter and go-to scorer on the trip in Mitchell. He followed up his 31-point, game-winning-3 performance against Vandy with a 27-point showing against the Gophers. Mitchell, a senior, is no longer waging verbal warfare with West Virginia coach Bob Huggins.
"I'm a senior and I've got nothing to lose, so I'm focused every night,'' Mitchell said. "If my shot doesn't fall, I've got to help my team somewhere else and make the pass to an open man.''
The Mountaineers didn't get special play out of
Kevin Jones
or
John Flowers
on the wing.
Deniz Kilicli
is still a work in progress. Bryant and
Joe Mazzulla
were either erratic or not as productive. The role players --
Cam Thoroughman
,
Dan Jennings
,
Dalton Pepper
and Noreen -- all had their moments of contribution.
But the reality is, West Virginia can only be a Big East contender if Mitchell makes shots, Bryant is locked in, Jones becomes a special talent and the rest of the players hit the boards.
It didn't help on Sunday that the Mountaineers weren't the more physical team and didn't draw fouls. The Gophers went to the line 35 times compared to WVU's 23.
West Virginia wasn't exactly the most physical team here.
"We haven't been this year,'' Huggins said. "Generally we are. As a rule, we haven't been this year.''
And that needs to change for the Mountaineers to reach their potential.
October, 26, 2010
10/26/10
10:02
PM ET
By
Diamond Leung
| ESPN.com
West Virginia senior guards
Casey Mitchell
and
Jonnie West
have been reinstated to the team, giving the Mountaineers two pieces from their Final Four team going into the season, according to the Charleston Daily Mail.
Mitchell was
back with the team
over the weekend after being suspended earlier this month for
violating team rules
.
West, the son of former West Virginia All-American Jerry West, had planned on leaving the team
after graduation
, but the former walk-on
decided to return
for his fifth year with the program while pursuing a master's degree.
The two combined to score 5.4 points per game last season, with Mitchell in line to possibly play more minutes and West a popular presence on the team.
Mitchell, a former national junior college player of the year, should see time in a backcourt that already consists of
Darryl Bryant
and
Joe Mazzulla
.
With Bryant injured during the NCAA tournament, it was Mitchell who started in the Sweet 16 win against Washington. Mazzulla got the nod against Kentucky and came through with a career-high 17 points to help send the Mountaineers to the Final Four.
March, 25, 2010
3/25/10
9:54
PM ET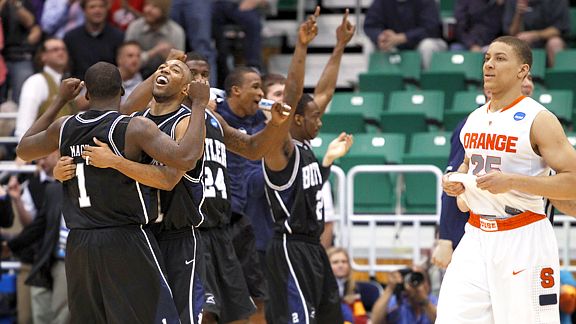 AP Photo/Colin E. BraleyButler celebrates an unexpected victory over Syracuse and Brandon Triche.
Really, it's our own fault. We should have known.
After four days of basketball that gave us a dozen thrilling games, a handful of Cinderellas, and one of the most shocking upsets of all time, we, the college basketball-watching masses, should have taken a long collective look in the mirror and admitted the cold, hard truth: We don't know anything. Instead, we went with what we thought we knew. Syracuse was too good. Butler didn't match up. If any game was ripe for a Sweet 16 upset, it was Saint Mary's-Baylor, or Cornell-Kentucky.
We were wrong. Again.
Butler wasn't blown out. It wasn't exposed by the bigger, badder, more athletic Orange. Quite the opposite: The Bulldogs came out of the gate hot, rode what looked to be a definitive Syracuse run, turned the game around in the last two minutes, and completely altered the look of the 2010 NCAA tournament. Again.
Syracuse will be kicking themselves for the loss, not only because Jim Boeheim's team was clearly the more talented, but also because outside of the first 10 minutes, Butler didn't even play all that well. The Bulldogs shot 40 percent from the field and 25 percent from behind the arc, 10 percentage points worse than their season average. If you had bet Syracuse fans that Butler would make one of every four 3-pointers it shot over that Orange zone, would score 63 points, and would win ... well, I'm betting Syracuse fans take that bet.
Masochist Syracuse partisans -- and guard
Andy Rautins
-- will especially obsess over the final five minutes of the game, when Syracuse had built a four-point lead and looked primed to finally assert its superiority. Then Rautins turned the ball over,
Ronald Nored
hit a 3 to cut the lead to one,
Matt Howard
scored inside, Rautins turned the ball over again,
Willie Veasley
hit a 3, and then bam: 58-54 Butler, just like that. Butler extended its lead to 61-54, and Syracuse never got close enough to pull even again.
It was a brilliant upset, not only because Butler looked the better team for much of the night -- credit Butler's defense, which was ferocious -- but because the Bulldogs flipped the script when it mattered most. They didn't cede to the athletic team running at them on every possession. They didn't shake their heads at what looked to be a focused Syracuse team closing the door down the stretch. They regrouped, made two huge shots and closed out a win that was rightfully theirs. You had to have seen the game to believe it -- and also to realize how unlikely it all seemed.
Tonight's other early game pitted one of the hottest teams in the country, Washington, against a West Virginia team reeling from the loss of its starting point guard and a not particularly pretty performance in a win over Missouri in the second round. West Virginia was still the favored team -- too much talent, too much height -- but the consensus had shifted. Washington could win this thing. West Virginia is vulnerable.
That consensus wasn't anywhere near as codified as Syracuse-over-Butler, but it existed. West Virginia proved it wrong.
Without
Darryl Bryant
, the Mountaineers weren't exactly careful with the ball -- they committed 23 turnovers and looked truly sloppy doing so -- but what West Virginia lacked in care it more than made up for with a smothering 1-3-1 zone defense and a typically prodigious number of offensive rebounds (18, to be exact). Washington was more than happy to help the cause, giving the ball away 22 times; it's an obvious point, but committing 23 turnovers isn't that big of a deal when your opponent gives all but one of them right back.
That said, this turnover thing is a concern for the Mountaineers going forward. West Virginia has won this year thanks to offensive rebounding and low turnover counts. If this is the way WVU will take care of the ball without Truck Bryant, well, that's a problem. Rather than a trend, maybe it was merely a symptom of an intentionally ugly, grind-it-out game with a pressing, harassing team. West Virginia, which will likely play Kentucky in the Elite Eight, won't have time to find out.
The real story from tonight's first session wasn't that West Virginia won ugly, though. It was that Butler won at all. It's official: Doubt Butler -- or any other supposed underdog in this tournament -- at your own peril. We ought to learn our lesson.
March, 25, 2010
3/25/10
9:59
AM ET
SYRACUSE, N.Y. -- A few quick hitters to prepare for Thursday's games: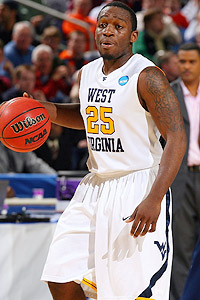 Rick Stewart/Getty ImagesWest Virginia's depth takes a hit without guard Darryl Bryant.
West Virginia will spread the floor without Darryl Bryant in the lineup. Don't be surprised to see plenty of Devin Ebanks and Da'Sean Butler bringing up the ball to jump-start the offense. There were times when Bryant was much more of a two guard.

The Mountaineers may see a lot more zone against Washington. Expect the Huskies to back off of Joe Mazzulla. He can't shoot.

The Mountaineers are trying to figure out how to play and this will hurt their depth. But the Mountaineers do have the depth to cause plenty of problems upfront for Washington.

Washington coach Lorenzo Romar says the Huskies have to rebound against the Mountaineers. They know it's going to be a tussle inside if they're going to win this game.

It's interesting to see the Huskies treated as such underdogs. They don't view themselves as such. They're not a low-major, a mid-major. They're regular Pac-10 tournament contenders.

Kentucky coach John Calipari said late Wednesday night that the media helped fire up his squad. He said the Wildcats got on the bus after being asked questions about the "smart vs. athletes" matchup against Cornell and got fired up. Calipari said he doesn't have to worry about any motivational factors prior to the game.

Here's a crazy thought: If Cornell pulls off the improbable and beats Kentucky, can you imagine where Louis Dale would be in five to 10 years versus John Wall and/or Eric Bledsoe? The beauty of this tournament is that a player like Dale at the point can be an equalizer against NBA-level talent in a one-game situation.

The same could be said of Cornell's Jeff Foote versus Kentucky's DeMarcus Cousins.

Cornell coach Steve Donahue said the Big Red have to get off to a good start. That's a given. The last time the Big Red didn't was at Penn in a stunning loss to the Quakers in the Ivy League. Cornell did get off to a tremendous start against Temple and Wisconsin in the first two rounds of the tournament. The Big Red can't play catchup well, but you don't want to be down by double figures against this controlled team.

I'd be stunned if Cornell didn't release four guards back after a miss to prevent any kind of fast-break opportunities for Kentucky.

Carrier Dome fans booed Kentucky during its practice session Wednesday. Big Blue Nation is expected to be here en masse for the game Thursday night. But the boos were another perfect motivator for Calipari to give him the us vs. them mentality for the game.

Syracuse is not exactly on the way for a number of families from the West Coast to attend the game. The Huskies were able to charter quite nicely with a four-and-a-half hour flight from Seattle. But Quincy Pondexter said his parents had to fly from his hometown of Fresno, Calif., to Florida to Syracuse to get here in time to the game. He said that was the cheapest way to go on short notice.

Washington expects only a smattering of fans at the Carrier Dome. The Huskies have a massive contingent of alumni in the Northwest; not so much on the East Coast.

The Huskies were the dominant team in San Jose last weekend, odd as a No. 11 seed. But now the fan base will be shifted toward the East Coast teams in this regional.

If the Huskies go man, Pondexter may be matched up more often against Kevin Jones than Butler. Pondexter and Butler know each other quite well. They were teammates on the bronze medal-winning World University Games team last summer in Serbia.

I'm interested to see how the Mountaineers try to keep Isaiah Thomas in front of them. Bryant was quicker than Mazzulla, and Thomas has the ability to go past them. Ebanks' length has been a problem for smaller guards, and West Virginia coach Bob Huggins might put the longer Ebanks on the quicker Thomas.

What will be the reaction of the crowd if Cornell has an early lead? It could get really loud in the Carrier Dome if West Virginia and/or Washington fans stick around for the nearly 10 p.m. tip.

Cornell's Ryan Wittman's ability to stick the 3-pointer will be sorely tested by how much either Wall or Bledsoe are in his grill.

What's lost among the four teams is how much these four coaches have won recently. Washington's Romar has been a constant for the most part four of the last six years at or near the top of the Pac-10. Calipari is obviously a winner everywhere he goes. The same is true for Huggins at Cincinnati, Kansas State and West Virginia, and the turnaround by Donahue at Cornell is simply remarkable. No one had the Big Red as an Ivy League factor for decades as Penn and Princeton dominated.

If Cornell were to beat Kentucky, regardless of how experienced and talented the Big Red are this season, it would go down as one of the biggest upsets ever. Sorry, this is still an Ivy League team, even with two potential pros in Wittman and Foote, with no scholarships beating a Kentucky team loaded with at least three lottery to four lock first-round picks and the new favorite to win the NCAA title.

Washington taking out West Virginia would not be much of an upset, if any. The Huskies are playing up to their potential and can match the Mountaineers talent for talent. Forget the seeds here.
March, 24, 2010
3/24/10
11:11
PM ET
Three Things To Watch is a quick preview of the NCAA tournament's second weekend. It is exactly what it says it is.
Thursday's games in Syracuse, N.Y.: No. 11 Washington vs. No. 2 West Virginia, 7:27 p.m. ET and No. 12 Cornell vs. No. 1 Kentucky, 9:57 p.m. ET


Thing One: Box out, Huskies. Box out hard.
In my little daily Saddle Up previews throughout the regular season, one thing was always certain: If West Virginia was playing, we'd be talking about offensive rebounds. The postseason has long since rendered Saddle Up obsolete, but the Mountaineers' still revolve their entire existence around their ability to rebound their relatively frequent misses. West Virginia grabs almost 42 percent of their possible offensive rebounds, the second-best mark in the country. (No. 1, Old Dominion, has since been sent packing.)
Devin Ebanks
,
Wellington Smith
and
Kevin Jones
make it difficult for any team to truly protect their defensive glass.
That trio ought to be doubly scary to Washington, though. The Huskies are No. 96 in the country on the defensive boards. If Washington can miraculously find a way to prevent West Virginia from doing what it's done to pretty much every team the Mountaineers have encountered this year, Washington has a chance. But if those numbers pan out? It doesn't look good.
Thing Two: Turnovers.
Despite the whole
"no true point guard" thing
, West Virginia has been pretty careful with the ball for much of the season. In case you haven't heard, though -- and I'm guessing you have -- putative point guard
Darryl Bryant
is out for the rest of the season with a broken foot. That leaves
Joe Mazzulla
, who came up big in West Virginia's second round win over Missouri, to, ahem, handle much of the point guard responsibilities. Can Washington turn Mazzulla over? If so, they could negate one of West Virginia's main strengths and get more than a few buckets in transition.


Thing Three: Oh, yeah, that other game.
Is it too easy to just say "watch Cornell and Kentucky, because that game's going to be awesome?" Maybe. But that's pretty much all you need to know. Kentucky treated its first two tournament opponents -- one of whom was a middle-of-the-road ACC team -- like No. 16 seeds. Cornell has put on the tournament's best shooting performance and downed two of the nation's best defensive teams in the process. Both teams are eminently enjoyable to watch, one for its sheer athletic talent, the other for its sublime offensive skill. It's going to be a good one.
And it should be pretty easy to figure out: If Cornell can shoot well over Kentucky's athletic and thoroughly underrated perimeter defense -- and manage to keep
Patrick Patterson
and
DeMarcus Cousins
from dominating the offensive glass -- this could go either way. No team shooting as well as the Big Red should ever be discounted, even against a team like Kentucky. This thing could happen. And it should be a really awesome watch.
Bonus bold East Region prediction!:
Cornell stays hot, pushes Kentucky to the wire, and the Cats miss a series of key free throws down the stretch to fall in what many will consider one of the biggest Sweet 16 upsets of all-time. John Calipari is forced to answer semi-unfair free throw-related questions for yet another year. He is decidedly displeased about this fact. Eamonndamus has spoken!
March, 21, 2010
3/21/10
6:40
PM ET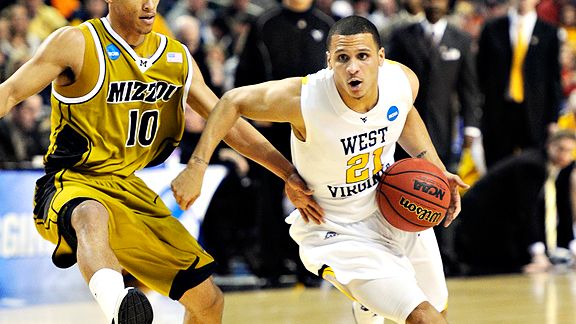 Richard Mackson/US PresswireWVU's Joe Mazzulla led the Mountaineers to a second-round win over Missouri.
BUFFALO, N.Y. -- The lowest point wasn't after he suffered the injury that some suspected could end his collegiate career.
It wasn't when he turned himself into police after being charged with domestic violence.
It wasn't when he was indefinitely suspended from the West Virginia basketball team.
For
Joe Mazzulla
, the lowest point was much subtler.
"I started to really shut out the people around me,'' the WVU point guard said. "I didn't want them in my life because I was so embarrassed. If they had given up on me, I don't know what would have happened. I know I wouldn't be here.''
The much-maligned tandem of Mazzulla and Darryl 'Truck' Bryant ground Missouri's fastest 40 minutes of basketball to a halt, limiting the turnovers and controlling the tempo to
lift WVU to a 68-59 win
.
In the celebratory locker room, Mazzula sat amid a room of guys who buoyed their teammate along through his rough patches. There was also a coach, admittedly flawed himself, who challenged Mazzulla to get stronger.
Mazzulla doesn't know where he'd be without the Mountaineers but there's no question the Mountaineers wouldn't be headed to the Sweet 16 without Mazzulla.
"All we've been hearing about all year is how West Virginia doesn't have any point guards,'' Bryant said. "All I can say is we're winning, we're No. 6 in the country, the No. 2 seed and we're in the Sweet 16. We can't be that bad.''
Challenged by Bob Huggins to stand in the face of the Tigers' pressure, the two players considered the weakest link on the Mountaineers' roster combined to commit only three turnovers, part of a tiny 10-turnover afternoon for West Virginia.
That marks the fewest mistakes a team has made against Mizzou this season and continues an obvious trend: When the Tigers don't draw turnovers, they don't win. WVU, Nebraska (twice) and Baylor all made 13 or fewer mistakes against Missouri. The Tigers were 1-3 in those games.
The Tigers tried frantically to speed the game up, amping their pressure in the final seven minutes and cutting the lead to 56-53.
But they could never entirely take West Virginia out of its game. The Mountaineers inbounded the ball to Da'Sean Butler, who handled the initial trap and then passed to Mazzulla or Bryant to start the offense.
"We talk about his 29 points, but he's the guy who really handled the double-team for us,'' Bob Huggins said of Butler. "And then Truck and Joe both did a good job advancing the ball.''
To earn their coach's high praise, both Mazzulla and Bryant had to take a twisted path. Mazzulla's wounds were both bad luck and bad behavior. He fractured the growth plate in his right shoulder in early December of last season. After learning that surgery only had a 50-50 success rate, decided to hold off on the repair and try to play through it, but within two weeks, he elected to take a medical redshirt.
"By far one of the toughest people we have on this team,'' Butler said. "He's played with one arm the majority of the year. He hasn't complained about it or cried or anything.''
A month after the season ended, Mazzulla was charged with a domestic attack outside of a club in Morgantown. It was Mazzulla's second strike. A year earlier, he and teammate
Cam Thoroughman
were charged at a Pittsburgh Pirates game for getting in a scuffle with a police office and for underage drinking.
"Now that I'm on the other side I can say it; I don't think you can become a man or a woman without making mistakes,'' Mazzulla said. "I regret what I did but I don't regret learning from my mistakes.''
Bryant's challenges were far less overwhelming, but no less trying.
A prolific scorer out of St. Raymond's High School in the Bronx, he has logged plenty of minutes in Huggins' doghouse.
Forced to shoulder much of the point guard duties while Mazzulla recovered, he struggled with scoring while also distributing the basketball and Huggins let him know it. Often.
"He has a way of getting his point across -- in practice, on the court, when you're sleeping, whenever,'' Bryant said. "It took me a long time to get used to it. I talked to Nick Van Exel a lot. He told me I had to learn to let it go in one ear and out the other, but it was hard. There are still times I find myself getting caught up in what he's saying instead of why he's saying it.''
What Huggins said before the Mizzou game, Mazzulla and Bryant agreed couldn't be printed. But compared to the pressure their coach put on them, the Mizzou pressure defense was a walk in the park.
"Everyone sees him on television, where he's yelling 90 percent of the time and coaching 10 percent; in practice it can be completely the opposite but he always has a way of motivating you,'' Mazzulla said. "He'll just throw out little innuendos -- 'You can't do this,' whatever -- during practice. He's really good at getting the most out of you.''
And in return, Mazzulla is getting the most out of his second chance.
February, 4, 2010
2/04/10
1:10
AM ET
By
Diamond Leung
| ESPN.com
Really, West Virginia?
Mountaineer fans have been criticized for
their swearing
, for
their disrespectful chants
, and during Wednesday's win against rival Pitt, they threw things onto the court.
According to the
Charleston Daily Mail
:
With 12:40 remaining, [Darryl] Bryant collided with Pitt's Ashton Gibbs near halfcourt and was called for traveling by Michael Stephens in front of the student section. The students responded with their juvenile chant aimed at Stephens and then followed that with juvenile behavior and threw T-shirts, plastic bottles and other debris onto the court.
"It's annoying," [Da'Sean] Butler said. "It really is, honestly. It shows people watching the game from home or from out of state that we have no class. It gives our team and our state a bad name in general and that's not what we're about as a team and I know that's not what we're about as a state. Why even do that stuff?
West Virginia coach Bob Huggins grabbed a microphone and told fans to cut it out and point out the culprits, adding, "That is stupid."
Still the stupidity continued later in the game, according to the
Pittsburgh Post-Gazette
:
Pitt assistant coach Tom Herrion was struck in the face below his left eye by what those on the Pitt bench said was a quarter. The officials had no choice but to call a technical on West Virginia this time. Initially, Dixon refused to comment about the fan behavior. Later, he said, "[Herrion] is all right. We're not going to make a big deal about it. I don't want one person's actions to reflect on an entire university."
A quarter? Hang onto your spare change and please just stop.