College Basketball Nation:

Dave Bliss
March, 11, 2012
3/11/12
3:03
AM ET
New Mexico's fans have long treated the Lobos basketball program as the professional sports team the state does not have.
They pack the Pit. They talk about UNM all year long. They paint the town red.
And with that comes high expectations.
But the Lobos haven't always had to deal with the pressure from the conference or outside the region -- until this season.
New Mexico was the preseason favorite to win the Mountain West.
The Lobos did, sharing the regular-season crown with San Diego State. SDSU was the top seed in the MWC tournament, but UNM won by beating host UNLV on Friday, then San Diego State on Saturday to cap off the title run.
The state of New Mexico follows this team like the Commonwealth shadows Kentucky. But the Wildcats fans usually have their expectations met. That's not the case from Albuquerque to Alamogordo and all points in between.
"This one is special because we were expected to do it and we did it,'' said New Mexico coach Steve Alford by phone from Las Vegas after the Lobos'
68-59 victory
over the Aztecs at the Thomas & Mack Center. "We won both the league and the conference tournament. We were picked to win it so there was a lot of pressure all year on these guys.''
The Lobos were trying to figure themselves out to start the season without a four-year starting point guard in Dairese Gary. That somewhat accounted for a disheartening home loss to rival New Mexico State on Nov. 16, then a befuddling overtime loss to Santa Clara eight days later in the first round of the 76 Classic in Anaheim, Calif.
[+] Enlarge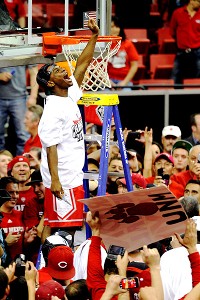 Ethan Miller/Getty ImagesNew Mexico celebrated its Mountain West tournament title by cutting down the nets in Las Vegas.
The Lobos won their next two games and didn't lose again until hosting San Diego State on Jan. 18.
"It just took us a while,'' Alford said. "San Diego State and UNLV both had good nonconference wins so they got all the attention early.''
The Lobos were flying under the radar, yet were racking up wins and split the season series with UNLV and SDSU. They ran out of gas and into two hot home teams in Colorado State and TCU two weeks ago. But that didn't affect this team, which has now won five straight.
The diversity of scoring with
Drew Gordon
,
Kendall Williams
and
Tony Snell
, the addition of
Hugh Greenwood
as a steading force at the point, and a coaching staff that is so secure now in this job has led to a program that is winning consistently.
Alford has now reached the NCAA tournament twice in the past three seasons. The Lobos were a No. 3 seed two years ago, beating Montana before losing to Washington.
The expectation will be on the Lobos to advance at least one round next week. Alford is hoping that the Lobos have earned the right to stay out west. New Mexico can't play in Albuquerque, since it is the host. But UNM could play in Portland. The West regional is in Phoenix if the Lobos were to win two games.
"We're real anxious to see where we'll be,'' Alford said. "We've got really good shooting, we're guarding the ball and we play nine or 10 people. But it will all come down to matchups.''
Alford said he couldn't get over how many Lobos fans turned out in Las Vegas. He expects a similar surge on the road in the NCAA tournament.
Dave Bliss had moderate conference tournament success toward the end of his tenure at UNM. Fran Fraschilla and Ritchie McKay weren't there long enough to establish a tradition. But Alford has now done something the others did not, and that's get in the NCAAs twice in three years.
"It's been unbelievable,'' said Alford, who previously coached Southwest Missouri State (now Missouri State) and Iowa to the NCAA tournament. "I think we'll have a couple thousand people waiting for us at the airport Sunday. We've got such a passionate fan base. We've put a good product on the floor. We've now had a three-week period where we've shot it well and we've guarded. Hopefully we can keep doing that and if we do we have a chance to be successful.''
May, 13, 2011
5/13/11
6:33
PM ET
By
ESPN.com staff
| ESPN.com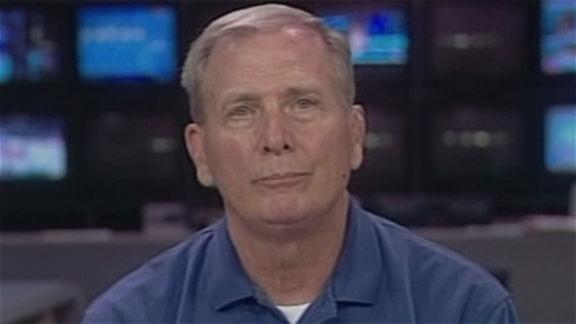 The former head coach at Oklahoma, SMU, New Mexico and Baylor is in trouble in Texas for forgery and improper inducements involving recruits at a private high school. On "Outside the Lines," he responds to the allegations.
May, 9, 2011
5/09/11
1:37
PM ET
Remember when we were ready to give Dave Bliss a second chance? Remember when Bliss
gave a moving sermon at a Dallas church in 2009
, when he admitted that his decision to pay players at Baylor -- and attempt to cover up those payments by framing murdered Baylor player Patrick Dennehy posthumously as a drug dealer, caught on tape in 2003 -- "shamed" his family and "blasphemed" his faith?
Remember when Allen Academy, a Texas high school, hired Bliss as dean of students, athletic director and head men's basketball coach, giving him that long-awaited second chance?
That was a bold choice
. It didn't take long to backfire.
[+] Enlarge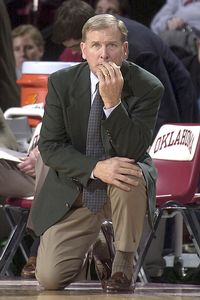 AP Photo/Jerry LaizureDave Bliss reportedly recruited two high-profile transfers who received "improper inducements."
According to the Associated Press
, the Texas Association of Private and Parochial Schools, the state's largest governing body for private high school sports, ruled in November that Bliss recruited two high-profile transfers received "improper inducements" because they were allowed to pay a mere fraction of the $10,000 yearly tuition required of Allen students and their families. The association also ruled that Bliss "forged the signature of the school's headmaster on a transfer form for another player who later decided not to enroll."
For its part, the school "vigorously" disputed that it ever broke any rules. Then, rather than comply with TAPPS's sanctions -- two years of probation and a one-year suspension for Bliss -- Allen Academy simply moved its competitive status to another private school association, the Texas Christian Athletic League. This year, led by the two players whose status was questioned, Allen won the Texas Christian Athletic League's Class 2A state title.
There are, of course, differing accounts here. There's this:
"TAPPS misunderstood why I came here," Bliss said during a recent interview. "Their perception was based on what I'd done before. That's not me now."

But the association's top administrator says the matter is one of the messiest his group has ever dealt with.

"You've heard the cliche 'a can of worms'? This was a can of snakes," said Edd Burleson, the organization's longtime director.
And this from Bliss:
"I have my scarlet letter, and I understand that," he said. "The only thing about it is, from this point forward, I am trying to do the right thing."

But some familiar with Bliss' efforts at Allen Academy don't see him as a changed man.

"He's giving speeches at the Final Four about how he's seen the light, but he's still not doing what you're supposed to do as a Christian," said Kevin Cross, coach at Dobie High School in the Houston suburb of Pasadena, where one of the transfers who received discounted tuition previously played.
And this:
"The thing most people have taken issue with is the fact that Coach Bliss had such baggage, a school gives him a second opportunity and then, instead of laying low for a few years, he went out and tried to bring in these ringers," said Jason Jump, who operates a website devoted to private high school sports in Texas.
None of which makes Bliss look particularly favorable, no matter how inclined you might be to take his side.
Truth is, this stuff is small potatoes. Allegations of recruiting shadiness are no stranger to private or public high school athletics. (Is there a successful private school athletics program in the country that doesn't consistently face criticism, oftentimes unfair, about recruiting and tuition breaks?) Were this a random coach in Texas, few outside the local preps scene would have even noticed.
But this is not a random coach in Texas. This is Dave Bliss, the disgraced former college hoops coach who told his players to say their murdered former teammate was a drug dealer in the hope of avoiding NCAA scrutiny. No matter how pure your motives, when you're trying to come back from that, you better make sure everything is deep-space clean. Don't recruit players from local high schools. Don't give even the appearance of tuition impropriety. Don't forge headmaster's signatures.
Frankly,
don't win
. What good is winning for Bliss now? What's the point of turning the fledgling Allen Academy around so quickly? Why risk any measure of goodwill you fought so publicly to earn?
As with all things Bliss, maybe there is no answer. But if the former Baylor coach was planning on being back in the news so soon, this certainly isn't what he envisioned.
May, 7, 2010
5/07/10
4:04
PM ET
If you thought Dave Bliss' actions at Baylor in 2003 would have kept him out of coaching forever, you were wrong.
Quite the contrary, in fact. Seven years after Bliss resigned from Baylor amid allegations of player payments and his attempt to posthumously frame murdered player Patrick Dennehy as a drug dealer in order to conceal those payments, Bliss is returning to coaching. Allen Academy, Texas' oldest college preparatory school, announced Friday that
Bliss would be taking over
as dean of students, athletic director and boys basketball coach at the school. Bold choice, Allen Academy. Bold choice.
[+] Enlarge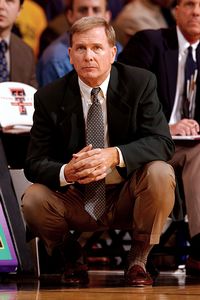 Sean Meyers/Icon SMIThe NCAA sanctioned Dave Bliss with a 10-year "show-cause" penalty in 2005, all but ending his college career.
Bliss has done his best to rehabilitate his image in the past year. The most crucial and public moment came
when Bliss gave a sermon at a suburban Dallas church in July of 2009
, in which he admitted that he "was worse than" all of the rightfully negative things people said about him following his disgraceful behavior at Baylor. Bliss said he "shamed" his family and "blasphemed" his faith. The congregation gave him a standing ovation.
It's hard not to be cynical about someone who behaved so cynically himself, but Bliss seemed sincere in that sermon, and he seems sincere today:
"Having gone through what I went through, some people would think you would miss the money and the fame of Division I coaching," Bliss said during an on-campus interview Friday. "But the part that I really missed was being around young people and being around my players and being on a campus in an educational setting, because that's all I've known for most of my life."
Would I want to be the first person to give Dave Bliss a job again? No. Would I have hired him to be dean of students at a prep school? Uh, no. But seven years have passed, and it was probably only a matter of time until Bliss was able to work again. Someone was bound to hire him. Now it's up to the man himself to make sure Allen Academy -- not to mention anyone who decides to believe Bliss can redeem himself; anyone who convinces himself that even the sleaziest of college basketball coaches is not beyond redemption -- doesn't regret the decision.
February, 17, 2010
2/17/10
3:45
PM ET
Remember Baylor in 2003? Programs don't get much lower.
Former coach Dave Bliss resigned
after doing one of the more morally indefensible things any college coach has ever done: Claiming murdered player Patrick Dennehy was a drug dealer in an attempt to cover up his (Bliss') improper financial payments to players. Bliss was forced out, the school was hit with brutal sanctions (both self-imposed and from the NCAA), and the Bears were in utter programmatic shambles. Baylor basketball barely existed.
[+] Enlarge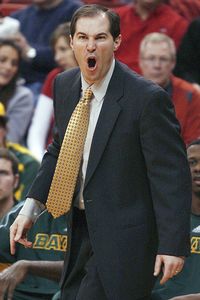 Bruce Thorson/US PresswireScott Drew has led Baylor to three straight 20-win seasons, all while under NCAA probation.
No more: After last night's
88-70 win
over Texas Tech (in which star guard
LaceDarius Dunn
paced the Bears with 30 points), Baylor just secured its third-straight 20-win season. The past is officially past.
Baylor coach Scott Drew tweeted his thanks
to the "players ... crowd ... administration, etc" last night, but obviously he deserves a lion's share of the credit. In seven years, Drew has managed to weather Baylor's sanctions period, recruit talented players like Dunn, install a system that showcases that offensive talent, and get Baylor competitive in the Big 12 and back in the NCAA tournament, and, yes, piece together these 20-win seasons -- Baylor had only three 20-win season in its history before 2003 -- all while under NCAA probation. (The Bears' probation period ends in 2010.)
Drew's decision to take over Baylor in 2003 could have been career suicide. It's been anything but.
Drew hasn't been a perfect citizen at Baylor;
his dalliance with negative recruiting
in 2006 was insanely reckless for a coach under probation, and it made him persona non grata among the Big 12's coaches. But that remains a relatively minor blip on what is otherwise an unqualified success. Seven years ago, it was realistic to think Baylor might never again win 20 games. Thanks to Scott Drew, for better or worse, those days are over.