College Basketball Nation:

David Stockton
March, 12, 2013
3/12/13
3:10
PM ET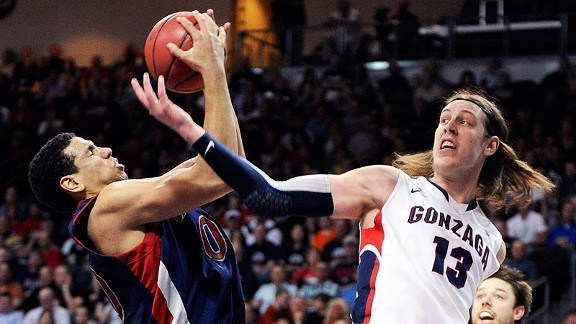 David Becker/Getty ImagesLed by Kelly Olynyk, the Gonzaga Bulldogs are -- and have been -- contenders for the NCAA title.
Honestly, it's like some people can skip an entire decade.
It's like some people went straight from the "aww, what a nice run, Gonzaga sure is cute" Cinderella attitude of 1999 to "wait, Gonzaga is going to be No. 1 seed?" It's like this weird swath of fans didn't see any of the past 13 years, during which the Zags established themselves as the most consistent non-BCS program in the country — a program that earned its stripes by playing anyone anywhere in November and December and routinely dominating its own league. They've won winning 12 conference titles in Mark Few's tenure, combining regular season and conference tournament titles
nine
times and, including this year, gone to 14 straight NCAA tournaments.
Those fans apparently missed all that, and
now they
-- and some media members --
are tweeting at you
.
You hear this sort of stuff a lot about mid-major programs, but never more than at this time of year: "Who have they beaten! They're unproven! Their league isn't that good! They'd be the fifth-best team -- tops-- in [insert my favorite team's conference here]! Herp and derp!"
Usually the origin of this stuff is simple to uncover: Fans want their teams to get in the NCAA tournament, or get that No. 1 seed, and they are willing to use whatever cudgel it takes to make the argument that a mid-major team is undeserving. Or they simply haven't seen a certain team play, and because we humans tend to be visual types, fans don't believe it until they see it (and maybe not even then). But there's also a strain of this attitude that is more difficult to pin down. It's an anti-insurgency thing, a condescension -- you guys are adorable, but the big kids will take it from here.
Everyone loves Cinderella on the first weekend of the tournament. But when she's taking your team's at-large bid, or when she's locking up that fourth No. 1 seed, suddenly everyone's not so in love after all.
Which is why Gonzaga fans should probably brace for impact. The backlash is coming.
In fact, it's already here. You can't swing a jump rope in a circle without finding someone willing to make the case that no, in fact, despite all evidence to the contrary Gonzaga is
not
that good, and no they shouldn't be a No. 1 seed. They're overrated, and they're not going to win the national title. The WCC stinks. My favorite league is better.
Ad infinitum
.
So let's make a few things abundantly clear: Gonzaga is good. Like, really good. They have a legitimate national player of the year candidate in
Kelly Olynyk
, who put up 17.5 points and 7.2 rebounds per game, a 125.7 offensive rating on 29.7 percent usage, and
the highest PER in the country
. Olynyk is joined in the frontcourt by four-year starter
Elias Harris
, who, after ditching American-sized portions (newsflash: we're fat) finally recaptured the form that made him an enticing NBA prospect three years ago. Guard
Kevin Pangos
is one of the nation's best combo ballhandling and shooting threats,
Gary Bell Jr.
is an excellent shooting guard,
Mike Hart
is the platonic ideal of a role player, and the Zags bring
Sam Dower
-- who was ready to start this season were it not for Olynyk's Zeus-like emergence -- and NBA prospect
Przemek Karnowski
off the bench
. Oh, and just for good measure,
David Stockton
now often drops dimes that look way too much like his father's.
All told, the Zags finished their season ranked No. 4 in the country in Ken Pomeroy's adjusted offensive efficiency, No. 13 on the defensive end and No. 4 overall. The
BPI ranks them fifth
.
Massey has them at No. 1
. The
LRMC Bayesian rankings put Gonzaga at No. 2
. The Zags may not have played vintage nonconference schedule, even by their own standards, and they may not have had to plow through the Atlantic 10. But they lost two games all year — one to a scorching-hot Illinois team in November, the other at Butler on a fluky-but-amazing last-second game-winner by
Roosevelt Jones
. (Both Butler and Illinois beat Indiana.)
Oh, and when you go around saying Gonzaga's not getting to the Final Four, or losing on the second weekend of the tournament, or whatever #strongtake you think you're staking out, guess what: Picking a team to lose in the NCAA tournament is the least brave prediction of all time. Of 68 teams, four get to the Final Four. One wins the title. Both of those things are incredibly difficult to do, and rely not only on execution and ability, but also on luck. Oooh, look at you! Picking a team to be one of the 64 that
doesn't
win four single-elimination games in a row! Let's get you a radio show, bro! You're totally crushing it!
Mark Few & Co. may get to the Final Four; they may not. Crazy stuff happens in March. But dismissing Gonzaga as a "pretender" (or whatever) is not only boring and ill-informed, it reeks of insecurity. This isn't college football. We have a single-elimination tournament to settle the matter once and for all. Why fear insurgency? It's what makes the sport fun. And why do you think Gonzaga is an insurgent, anyway? Did you miss the entire last decade? (If so, you've missed a lot, and we need to get you caught up. First things first: Kanye West.)
Seeding is just a number, anyway. If your favorite team is better, let them go prove it. Until then, stop. It doesn't matter what league they play in; the fact that a Gonzaga could exist in the first place is the beauty of college basketball.
Plus: The Zags are really good. They have been for 14 years. It really doesn't have to be that complicated.
February, 13, 2013
2/13/13
4:20
PM ET
As last week's weekly debate ensued -- "Who's No. 1?" -- a multitude of squads were mentioned. Duke, Indiana, Michigan and Miami were all possibilities. And the conversation continues this week with Michigan State's convincing 75-52 win over rival Michigan Tuesday night and the return of
James Southerland
at Syracuse adding both programs to the ongoing discussion.
But Gonzaga, even though the program received two first-place votes in the Associated Press poll, has rarely been touted as a true candidate for No. 1 status.
The Bulldogs may climb, especially with what would be an impressive win at Saint Mary's Thursday night, but there's a greater chance that someone in the Big Ten, Big East or ACC will leapfrog them even if the top 5 stumbles again in the coming weeks.
On paper, it doesn't make much sense.
[+] Enlarge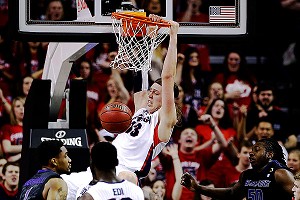 AP Photo/Elaine ThompsonBig man Kelly Olynyk is helping Gonzaga make a case for the nation's No. 1 ranking.
If you were to put center
Kelly Olynyk
in a UCLA or North Carolina or Duke or Michigan uniform, he'd warrant more buzz in the Wooden Award dialogue. Olynyk is ranked first in Ken Pomeroy's offensive ratings (128.8, No. 1 among players who've used at least 28 percent of their respective teams' possessions).
Gonzaga is seventh in the current BPI. The Zags own a plus-17.6 scoring margin against West Coast Conference schools. They're shooting 49.4 percent from the field and committing just 10.7 turnovers per game in conference play, too.
And, they're one of the deepest squads in the country.
From Jim Meehan of the Spokesman-Review
:
It's been a month since Gonzaga held off visiting Saint Mary's 83-78 and here's how things can change in that period of time:

Two Bulldogs who didn't see the court in the first game figure to play a larger role when the WCC men's basketball rivals collide Thursday in Moraga, Calif. Drew Barham and Kyle Dranginis have seen a steady bump in their playing time the last few weeks at the "3" position.

"I think they'll both definitely play," coach Mark Few said. "Saint Mary's likes to play off David (Stockton), Mike (Hart) and Guy (Landry Edi). We'll see if they choose to play off those guys."

The Bulldogs have used a variety of options at the "3." Edi started 13 games, but his playing time has dwindled since the Oklahoma State game. Hart has made 10 starts and been a solid rebounder and defender. He's committed just four turnovers in 380 minutes.

Barham and Dranginis both have started one game. They've provided an offensive boost of late.

"I've been in here working, getting shots up and staying prepared so when people go zone or they help off the "3" or double our bigs, I'll be able to come in and give the team a boost," said Barham, who has hit 9 of 14 3-pointers in Gonzaga's last five games.

Few went with Barham as the starter for Pepperdine because the Waves tend to play zone and sag off the "3." Few started Hart against Loyola Marymount because he anticipated a physical contest that was "going to be about rebounding and getting in the gaps and playing defense."

Dranginis has played double-figure minutes in four of the last five games. He's averaging 5.6 points during that stretch.

"We find out (who is starting) usually the day of the game or the day before," said Hart, who had six rebounds against LMU. "It doesn't matter to any of us. We're all happy contributing any way we can."
How many teams can match that versatility?
Yet, the Zags have a perception problem.
Even though they have wins over Kansas State, Baylor, Oklahoma State and a bizarre loss at Butler, they're not engaged in the week-to-week in-conference wars that most of the top-10 endures.
Saint Mary's is the
only other WCC squad in the BPI's top 50
. Five schools are ranked 140
th
or lower.
No matter how well they play, the Zags just don't have many opportunities to prove to the college basketball world that they're worthy of a No. 1 slot.
I can see the Zags emerging as a true No. 1 contender in the eyes of the public/voters without a lot of chaos at the top. But last week was one of the most tumultuous weeks of the year, and the Zags ended up with a No. 5 ranking in the Associated Press
rankings
.
And I can't say I disagree with that.
Perhaps they're better. Maybe we'll realize that we've made a mistake by failing to grant the Zags more street credit as one of the country's top two or three squads come March.
Right now, however, it's difficult to reward a program that is rumbling through a league with so little competition.
It's a tough situation for the Zags.
They're doing what they're supposed to do. They're doing it well. They're just not doing it against teams that can put up much of a fight.
January, 20, 2013
1/20/13
2:02
AM ET
INDIANAPOLIS -- When they finally cleared the court, after the mayhem had ended and the shock had at least abated if not entirely wore off, the little kids started shooting. It was already after midnight, well past their bedtimes, but their parents weren't looking at their watches and the basket was beckoning.
So the kids scrounged up a few balls and pretended. They launched heaves and 3-pointers beyond their reach, occasionally mixing in a layup with the appropriate marionette arm-up, knee-bent form.
But none of the little mimics could quite duplicate what had just happened on the Hinkle Fieldhouse court.
Could anyone?
Well, yes, maybe one guy.
Maybe Bobby Plump.
Somewhere around its second consecutive trip to the Final Four, Butler stopped being the Milan High of college basketball and grew up into a national program.
And
Roosevelt Jones
does not own the textbook form of the originator of the last-shot miracle. "It's more of a push," is how Indianapolis Star reporter David Woods described Jones' unorthodox approach.
But if this wasn't Hoosiers redux, what was?
Hinkle packed to the point that people were standing around the edges of the upper deck. Gonzaga, the original Cinderella, taking on the team it had passed the glass slipper torch to.
Game all but over after
Alex Barlow
traveled on what should have been, by all accounts, Butler's last chance at a victory.
And then incredibly game won.
With 3.5 ticks on the clock, Jones intercepted
David Stockton
's errant inbounds pass, glanced at the clock, drove to the top of the key, into the lane and launched his very unorthodox textbook floater.
Butler 64, Gonzaga 63
.
For Dana O'Neil's full story, click
here
.
May, 31, 2012
5/31/12
5:00
AM ET
1. The Atlantic 10 will go with 16 games, not 18, in a 16-team conference next season with the addition of Virginia Commonwealth and Butler. The league will go to 14 teams in 2013-14 when Charlotte and Temple leave for Conference USA and the Big East, respectively. Each A-10 team will play the other once with the exception of one rival, which it will play twice. The league has yet to decide the pairings but some are likely set with Xavier-Dayton, Rhode Island-UMass, Richmond-VCU, St. Bonaventure-Duquesne and Saint Louis-Butler, leaving the others to come from some combination of Temple-Saint Joe's-La Salle-Fordham-Charlotte-George Washington. The A-10 will stick with only 12 teams in the conference tournament.
2. Gonzaga hosted Providence transfer
Gerard Coleman
on Wednesday. The 6-foot-4 guard/forward is leaving the Friars after averaging 13.2 points and 5.0 rebounds during his sophomore season in 2011-12. The Zags have had no issue going both national and global of late. The addition of 7-1 Polish big man
Przemek Karnowski
didn't get lot of national attention but it makes the Zags more of a force out West. Gonzaga brings back an experienced crew with
Elias Harris
and
Sam Dower
up front to tutor Karnowski and a backcourt as solid as any in the West with
Kevin Pangos
,
Gary Bell Jr.
, and
David Stockton
. Coleman would be a huge get, adding more experience in practice to push this crew.
3. SEC athletic directors still have to finalize set rivalry pairings, but if they go with the consensus from the coaches, it will be hard to dispute. The obvious ones were Alabama-Auburn, Ole Miss-Mississippi State, LSU-Texas A&M and Missouri-Arkansas. Putting Georgia and South Carolina together makes sense both geographically and on where the programs are presently situated in the conference. That leaves natural rivals Vanderbilt and Tennessee and the league's two top programs, Kentucky and Florida, facing off against each other twice a season. The league will benefit with these pairings if they become official because they will boost the overall power ratings of the top teams, which in turn helps the bottom teams when they play them.
March, 17, 2012
3/17/12
5:14
PM ET
PITTSBURGH -- Quick thoughts from
Ohio State's 73-66 win
over Gonzaga in the third round of the NCAA tournament.
Overview:
No one will ever say Gonzaga is soft. No one will ever say Ohio State is just about
Jared Sullinger
.
Not after this game.


Robert Sacre
and
Elias Harris
gave the Buckeyes' big man all he could handle down low, pushing and shoving Sullinger and outrebounding Ohio State.
Sullinger proved bigger than the Zags' bigs in the end, scoring the critical bucket, but it was really the rest of the Buckeyes who won this game.
Aaron Craft
(17 points),
Deshaun Thomas
(18) and
William Buford
(13) proved the difference-makers as Ohio State returns to the Sweet 16 for the third consecutive time.
A team that played like a chemistry experiment gone awry only a month ago is now a picture of basketball harmony.
Ohio State looked like your typical No. 2 seed against Loyola, cruising to the win, and overcame a Gonzaga team screaming for the upset.
Turning point:
Sullinger couldn't find a lot of breathing room in the second half, not with Sacre glued to his hip. Sullinger, limited by foul trouble in the first half, was stymied by defense in the second, connecting on only three field goals.
But when Ohio State needed its big man most, he turned up.
Sullinger scored what would be the game-winner with 57 seconds left.
He connected on a hard-fought shot from underneath around Sacre, giving the Buckeyes the 66-61 lead, all the cushion Ohio State would need to secure the win.
Key player:
Craft. Sullinger may have played hero but it was the steady hand of Craft that steered the Buckeyes to the Sweet 16. In a game billed as a matchup of point guards, Craft got the edge over
Kevin Pangos
, scoring 17 points -- but more critically, he dished out 10 assists. It was Craft's first career double-double.
Key stat:
Sullinger, limited to just nine minutes in the fist half, still had eight points. Despite playing more in the second, he would connect on just two more field goals thanks to the ferocious defense of Sacre. The Zags, led by Sacre and Harris, outrebounded the Buckeyes, 34-30, which is what kept the game close.
Miscellaneous:
This was the first meeting between Ohio State and Gonzaga. ... John Stockton was on hand to watch his son, David, play for Gonzaga, his alma mater. ... This is the first time in school history OSU has made the Sweet 16 three straight years since expansion in 1979.
Next game:
Ohio State will meet either Cincinnati or Florida State in the Sweet 16 in Boston. This is the Buckeyes' third consecutive regional semifinal appearance. They lost in the Sweet 16 to Kentucky a year ago.
October, 26, 2011
10/26/11
5:00
AM ET
1. Pitt coach Jamie Dixon said senior forward
Nasir Robinson
should be back at practice sometime next week after missing the past few weeks following a torn meniscus in his right knee. Robinson is one of two key seniors for the Panthers. The other is lead guard
Ashton Gibbs
. Dixon said Gibbs has been playing at a high level, making shots, and proving to be the necessary leader for the Panthers. "He'll play in the NBA some day,'' Dixon said of Gibbs.
2. BYU coach Dave Rose said that so far the two players on the Cougars who appear to be ready to take over for Jimmer Fredette's production are wing
Charles Abouo
and big man
Stephen Rogers
. Rose said both have been highly productive so far in practice. But the one player who has the most NBA potential and is starting to be even more assertive is forward
Brandon Davies
. Davies was reinstated to the team in the fall after being dismissed for an honor code violation last February. The Cougars will need the inside-out combination to have a chance to catch Gonzaga in the WCC.
3. Gonzaga coach Mark Few said he might have his best set of big men in his tenure with
Robert Sacre
,
Elias Harris
,
Kelly Olynyk
,
Sam Dower
and
Ryan Spangler
. If
Gary Bell
and
Kevin Pangos
can have as much of an impact as projected and
David Stockton
proves to be a calming presence at the point then the Zags have a shot to be a deep March team. Gonzaga needed to be deeper inside and with more options. It appears they have that this season.
February, 1, 2011
2/01/11
4:08
PM ET
By
Diamond Leung
| ESPN.com
Gonzaga freshman guard
David Stockton
, the son of Hall of Famer John Stockton, has been placed on scholarship, according to
The Spokesman-Review
.
Stockton has played well as a reserve point guard and hit timely shots this season for the Zags, who have seen him compile the second-best assist-to-turnover ratio on the team. He averages 3 points in 11.1 minutes.
The 5-foot-11, 152-pound Stockton might be
youngish-looking
, but has played with a veteran savvy after redshirting last season.
The paper also reported that sophomore guard
Mike Hart
received a scholarship.
"You're very proud that they're part of your team and you're not having to play against them on some other team," center
Robert Sacre
told the paper.