College Basketball Nation:

Davide Curletti
March, 1, 2012
3/01/12
1:30
AM ET
EVANSTON, Ill. -- Was it too much to ask?
Was it too much to hope that just one time -- this time -- would be Northwestern's turn as fate's chosen beneficiary? Was it too much to think that maybe, despite all the reasons to believe the contrary, the Wildcats might just catch a break? Could Northwestern fans, besieged constantly by reminders of their program's historic futility, finally feel the freedom of belief?
The short answer? No.
"It's very tough," Northwestern guard
Drew Crawford
said.
"Disappointing," forward
John Shurna
said. "Kind of a tough way to go out."
Wednesday night was Shurna's senior night, an honor he shared with
Davide Curletti
,
Nick Fruendt
and
Luka Mirkovic
. Shurna & Co. are the school's all-time winningest class, one that also set a school record with three consecutive postseason appearances.
Of course, none of those postseasons has been of the NCAA tournament variety, which is why Wednesday night's game was so much more than a disappointing loss, so much more than an emotional senior night spoiled by a
75-73 defeat
.
Indeed, the game against Ohio State was one of the biggest in Northwestern's history. That title is fresh, because we said the same exact thing in the wake of Feb. 21's home loss to Michigan. And we could say the same again Saturday, when Northwestern travels to Iowa to play its regular-season finale. At this point, every game Northwestern plays is abnormally important for reasons that go beyond conference record or pride or graduating seniors or even a one-year bubble scenario.
Why? You know why: The Wildcats are still searching for their first-ever NCAA tournament bid. This is the only team in a major conference to never visit the NCAA tournament. You have heard about this ignominious distinction more than a few times in the past few weeks (and months and years) because it's impossible to talk about this program without dwelling on its unique, defining story of woe.
Wednesday night was merely another page in that book. At first, the action looked predictable enough. After a quick six minutes of dominant interior play and hot shooting, a focused and freewheeling Ohio State team -- one that looked vastly different from the weekend's home loss to Wisconsin -- had opened an 18-8 lead. By the five-minute mark, the lead was 30-18.
Just before the half, it was all the way up to 39-26, before Shurna made a 3 to cut the deficit to 10, but no matter. Clearly, the Buckeyes were in control.
Ohio State was moving the ball seamlessly against Northwestern's zone, using skip passes and penetration to find easy first looks. Better yet, when the first looks didn't drop, OSU forwards
Jared Sullinger
and
Deshaun Thomas
pounced. Together, they combined for 15 offensive rebounds (and 28 total) and carried the Bucks to an eye-popping offensive rebounding percentage of 62.5 percent.
Northwestern -- for which Shurna, who shoots nearly as many 3s as 2s, counts as an interior player, and a team that plays 6-foot-1 guard
David Sobolewski
in the baseline of its 1-3-1 zone -- had nothing remotely close to an answer.
"They destroyed us on the backboards," Northwestern coach Bill Carmody said.
His team's only answer was hope: hope that enough 3s went down to stay within striking distance, hope that Ohio State caught a few bad bounces, hope that the game was just close enough to steal in the end. Lo and behold, that's exactly what happened. The Wildcats gradually cut OSU's lead throughout the second half, first to six, then to five, then to four.
[+] Enlarge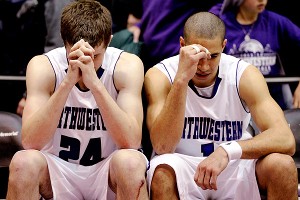 AP Photo/Nam Y. HuhAfter clawing back to tie visiting Ohio State, Northwestern's John Shurna, left, and Drew Crawford suffered another difficult loss.
And although Ohio State seemed to have an answer each and every time -- an
Aaron Craft
3 here, a Sullinger putback there -- the Cats, led by Shurna and a 13-of-27 mark from 3, and aided by said bad bounces (and a huge
JerShon Cobb
steal), found themselves down by three. With the ball. With 16 seconds to play.
You've probably already seen what happened next. Guard
Alex Marcotullio
, against the advice of his better angels, launched what felt like a 30-foot 3. Like all great last-second shots, it seemed to hang in the air forever before splashing through the net and sending Welsh-Ryan Arena into convulsions of euphoria and disbelief.
The only problem: There still were 7 seconds on the scoreboard and Thad Matta called a timeout, and before you could realize it -- before Welsh-Ryan could process what was happening -- Craft was sprinting down the court and heaving the ball ahead to Sullinger, who had established the perfect position to quickly turn and score with his right hand, and now there's 3 seconds left, and Shurna is hoisting a half-court shot that hits the front of the rim and misses, and ... wait.
What just happened?
A cynical fan -- or an out-and-out jerk -- probably would say Northwestern happened. This is what Northwestern does, especially in recent seasons. It takes its fans to the brink, to the point of ecstatic belief, before revealing some fresh new horror.
Frankly, if the aforementioned cynic said this to you, it'd be pretty difficult to disagree.
But while the short answer above might have been "no," it was impossible to talk to Crawford and Shurna after the game and not sense some lack of emotional weight. Both were positive, even upbeat, or at least as upbeat as a human being can be after what they had just seen. (Before shooting the above video, I cursorily asked Shurna, "How's it going?" His response: "Ha. I've been better." Note to self: Never use that phrase on a dreary Monday morning again.)
"Obviously it's tough," Crawford said, "but we played great down toward the end of the game, and we're all proud of our team. I think we're a resilient bunch, and we'll be ready to go on Saturday."
Maybe Shurna and Crawford are used to all the will-they-or-won't-they talk by now. Maybe they've chosen to ignore it. It was surely no surprise that every question, press-room murmur and speculative amateur bracketologism Wednesday night dwelled on whether this team would be the one to finally, mercifully end college basketball's most infamous streak.
It was the first question Matta faced when he sat down for his postgame news conference: Is Northwestern a tournament team?
"Yeah," Matta said. "Oh yeah. ... I know this. I would hate on Selection Sunday to have Northwestern come across, to have to play them."
Shurna was quizzed about how, with so much pressure and bubble speculation compounding in the final week of the season, his team could rebound. ("Gotta win," he said.) Crawford was asked whether Wednesday's loss "proved" anything to the selection committee about Northwestern's makeup.
"I don't think a loss means too much," he said, flashing a better understanding of the selection process than his inquisitor.
The truth is, a loss doesn't mean much, if anything. The good news, however, is this: Other bubble teams lost Wednesday night, too, and in Joe Lunardi's most recent bracket update, the Wildcats were still listed as the last team in the tournament. Nothing is guaranteed, but in Northwestern's case, that's a good thing. The Cats might not be safely in the tournament, the way they would have been had Shurna's final prayer been answered, had Matta and and Craft and Sullinger not so ruthlessly executed their final four-second game winner. But this group isn't obviously out of the field, either.
"Had we won the game, it would have been a great win for us," Crawford said. "But that's not really going to keep us down at all. We're excited to finish this season strong. And it starts in practice tomorrow."
And so another five days -- or 11 days -- of bubble speculation will continue. Can this star-crossed program get it done? Can Shurna go out on something more than disappointment? Can Northwestern fans, against all reason and rationale and evidence to the contrary, dare to believe?
The short answer, at least Wednesday night, was no.
But the long answer? Let's wait and see.
January, 14, 2012
1/14/12
9:12
PM ET
By
Scott Powers, ESPN Chicago
| ESPN.com
EVANSTON, Ill. --
Northwestern
senior
Davide Curletti
doesn't know precisely when he stopped caring whether he started or how many points he scored in a given game, but it happened sometime during the past four years.
Part of that came with Curletti dealing with reality. Northwestern coach Bill Carmody has never seen him as a starter and his job for the Wildcats hasn't been to contribute a double-double like he did as a high school senior. His role has been to be an energy player off the bench, or as Carmody puts it, "the Energizer Bunny."
It's not the most glamorous of roles, but then again, the 6-foot-9, 230-pound Curletti isn't the most glamorous of players. He doesn't outjump opponents for rebounds; he outworks them. He doesn't outmaneuver defenders for buckets; he outthinks them.
[+] Enlarge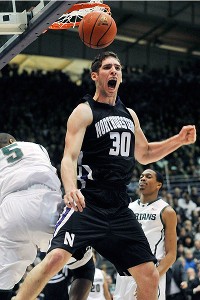 David Banks/US PresswireNorthwestern's Davide Curletti scored 17 points in a rare start on Saturday.
Curletti has embraced that role and been consistent in it. He averaged 2.9 points, 1.7 rebounds and 0.9 rebounds in 11.9 minutes over 91 career games before Saturday, and his numbers this season hadn't been much different. He averaged 3.7 points, 2.7 rebounds and 1.4 assists in 16.8 minutes in his first 16 games.
So no one, not even Curletti, could have predicted his performance on Saturday. Making only the second start of his career, Curletti scored 17 points, grabbed six rebounds, dished out four assists, stole two balls and blocked one shot in 36 minutes while helping Northwestern to
an 81-74 upset
of No. 7
Michigan State
.
Because Curletti has become such a team-first kind of guy throughout his career, he was even careful of how he accepted everyone's praise on Saturday. Although inside he was feeling pretty good about himself, he made sure everyone knew he wanted the win to be about the team's play, not his own.
"It's not about trying to be cocky or anything like that, but it's just that it feels really good and I'm glad it happened," Curletti said. "Obviously, I hope it happens again, but at the same time you got to think beating the No. 7 team out-trumps all of that.
"Last year my best game was against
Wisconsin
where I had a similar game, but we lost. When someone asked me of my favorite game of my career, I said last year's loss to
Ohio State
in the Big Ten tournament. I later realized I didn't even think about Wisconsin. Big wins do really matter in the long run."
Curletti did confirm that Saturday's game leaped that overtime loss to Ohio State and became his No. 1 career highlight. And of all the individual plays Saturday, Curletti will never forget his backdoor cut which led to a wide-open dunk to give Northwestern a 57-50 lead with 12:27 remaining. As he flushed the ball, Northwestern's bench and nearly everyone wearing purple jumped off their seats at Welsh-Ryan Arena.
"It was great," Curletti admitted. "It was really awesome."
So how did Curletti go from being a career role player to a star in one of the program's biggest wins? He claimed he did nothing different.
"It's kind of like you work hard and some games you'll get only one offensive rebound and you'll get maybe two points, but other games, if you stick with it, you'll have a night like this," Curletti said. "For me, coming off the bench, you always have to have energy. That's what I try to do. That's kind of what my role was the last couple years, so that's what I'm just going to keep on doing.
"I like working hard, and I consider myself a hard worker. I feel my best way of contributing on this team is to do that. You always need a guy like that on a team."
You also need stars like Northwestern's
Drew Crawford
and
John Shurna
, and those were the names rolling off Michigan State's tongues leading up to Saturday's game. Afterward, it was all about Curletti. Spartans coach Tom Izzo took a stab at pronouncing Curletti's first name (DAH-vuh-day), but he got his last name perfect.
"Curletti was the difference in the game if you ask me," said Izzo, who had been quite pleased with his big men prior to Saturday's game. "He's the one who snagged those [rebounds] when we had them, and he took them and scored on them. Curletti was a big difference in the game and deserved the play and credit he got. I thought it was a brilliant move by Bill to start him."
Carmody's brilliance actually was a last-second decision. He opted against starting a smaller lineup with Shurna at center and went with Curletti at the 5. Curletti's one and only other start came against Ohio State as a freshman on Feb. 18, 2009. He finished with two rebounds on that day.
When Curletti discovered just before the game he was starting, he didn't jump for joy. He understood he needed to play as he's always played.
"To be honest, it didn't really matter to me," Curletti said. "It has been a while [since I started.] I'm also a senior now. I have to put the team ahead. I can't be nervous. I have to play my game."
And so he did.
March, 11, 2011
3/11/11
5:01
PM ET
INDIANAPOLIS -- When defending Ohio State, you must pick your poison.
You either double-team
Jared Sullinger
in the paint and risk being shot out of the gym by the Buckeyes' array of shooters, or you let the big man operate one-on-one.
[+] Enlarge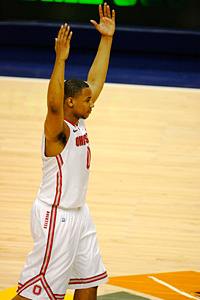 Brian Spurlock/US PresswireOhio State freshman Jared Sullinger came through at the line for the Buckeyes, making 16-of-18 shots.
After watching Ohio State make an NCAA-record 14-of-15 3-pointers Sunday against Wisconsin, Northwestern opted for the latter Friday. It spent most of the afternoon with just one lonely defender watching the freshman strong man.
It almost worked. The underdog Wildcats got the game into overtime, largely by controlling tempo and limiting Ohio State to just 3-of-15 shooting from 3-point range. But Sullinger wouldn't let Ohio State lose, and made Northwestern pay for its defensive decision.
Sullinger used his broad shoulders and ample derriere to muscle for position, and his teammates delivered the ball. The 6-foot-9, 280-pound teenager wore out every big man Bill Carmody had.
He fouled out
Davide Curletti
and
Luka Mirkovic
and drew fouls from
John Shurna
when he was thrust into defend-the-post service. Sullinger had a Kevin Love line: 20 points and 18 rebounds, and he made 16 of 18 free throws to power
Ohio State to a shaky 67-61 victory.
"Gotta make your free throws," Sullinger said. "Free throws are a big part of my game."
At one point he scored nine straight Ohio State points, from late in regulation through the first 2:17 of overtime.
"It's the Big Ten," Sullinger explained. "This is where you've got to be physical. Everyone's going to foul you."
Sullinger said the officials "are going to swallow their whistles," but Northwestern fans would disagree after watching Sullinger's parade to the foul line. The Wildcats were so frustrated that when Mirkovic was called for his fourth foul in overtime, he spiked his mouthpiece to the floor and drew a technical that got him fouled out.
Not the smartest play from a guy at a brainy school.
"You just can't make that showy kind of maneuver," Carmody said. "The ref is not there to interpret whether you did that because you're mad at yourself or at him. He just sees the action."
This was the second time Northwestern had pushed Ohio State to the brink, losing by a point in Evanston, Ill. in late January. In that game, Sullinger scored the winning point on a free throw.
"I can't stand to lose, personally," he said. "If we'd lost this game, I'd probably be punching lockers, throwing stuff around. You've got to hate losing more than you love winning."
Ohio State has lost only twice this season, so Sullinger hasn't had to experience much of that. In large part because he won't let his team lose.
March, 11, 2010
3/11/10
6:59
PM ET
INDIANAPOLIS -- Bill Carmody's motto for years has been simple and straightforward: Make shots.
Those two words appear outside Northwestern's basketball offices and on the T-shirts of those in NU's student section.
[+] Enlarge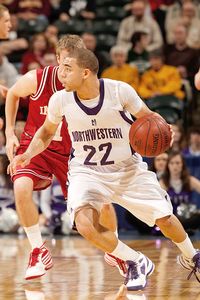 Jonathan Daniel/Getty ImagesNorthwestern's Michael Thompson scored 13 of his 16 points in the second half.
For 32 minutes, Carmody's players didn't follow orders at all. With 7:58 left in Thursday's first-round Big Ten tournament matchup against No. 10 seed Indiana, Northwestern had made 4 of 28 shots from 3-point range.
"At shoot-around today, we made about five percent of our shots," Carmody said. "I thought we got all our misses out of our system, but we didn't."
Junior point guard
Michael Thompson
evidently had enough of the bricks, and sparked Northwestern on a huge second-half run to take control. The seventh-seeded Wildcats went on a 20-5 spurt midway through the second half and recorded a rather comfortable
73-58 win against Indiana
. They outscored IU 37-13 in the final 13 minutes.
Northwestern has won 20 games for the first time in team history and advances to face No. 2 seed Purdue in the quarterfinals Friday (Big Ten Network, 6:30 p.m. ET). Thursday's win likely assures NU of an NIT berth, at the very least.
After scoring only three points in an ugly first half, Thompson exploded for 13 in the final 20 minutes and really provided a lift from beyond the arc (four 3-pointers). The man nicknamed "Juice" didn't have much of it early, but an elbow to the throat from Indiana's Tijan Jobe early in the second half changed that.
Though the elbow wasn't intentional, no foul was called and the 5-9 Thompson let the 7-feet Jobe know about it. Thompson got in Jobe's face and the officials called double technical fouls with Indiana leading 35-29 and 17:08 left.
"He felt like the big guy was trying to bully the little guy," Wildcats guard Jeremy Nash said. "He was like, 'I'm not having it. I'm going to show you how big I can play.'"
Thompson did in the final nine minutes, sparking Northwestern with his shooting and showing emotion rarely displayed.
"That really got me going," he said of the altercation with Jobe. "It gave me a lot more energy to make me want to go out there and play hard. It was just me being small and him trying to move me out the way.
"All my life, I've been small. People [underestimate] me because of my height, but I just try to compete and play as hard as I can."
Northwestern had relied almost exclusively on its starting five for most of the season, but got a huge lift off the bench from guard
Alex Marcotullio
(eight points) and forwards
Davide Curletti
(12 points) and
Mike Capocci
. The Wildcats found other contributors than Thompson and
John Shurna
today.
Indiana (10-21) had no business leading by only three points at the half, after the way Northwestern shot the ball. The Hoosiers built an 8-point lead in the second half but totally fell apart down the stretch, especially with their ball-handling. The rebuilding project continues for Tom Crean.