College Basketball Nation:

Dayton Fliers
February, 12, 2011
2/12/11
8:55
PM ET
It's Feb. 12. In a month and a day, the selection committee will hurriedly select and seed the 2011 NCAA tournament bracket. That means we're right in the thick of bubble season, that special time of year when NCAA tourney hopefuls assess their situations, peek at their remaining schedule, and become very aware of the heightened stakes that accompany them every time they take the floor.
Today's schedule was no different. As we get set for the massive Pitt-Nova slugfest, here's a look at all the bubble-relevant action from the 141 games (!) played as of this writing Saturday.
(Note: To keep an eye on the entire picture, including the handful of bubble games on the docket later this evening,
be sure to check out our bubble-specific results page here
. And I'd be remiss if I didn't mention
ESPN's new college hoops GameCast pages
, which are brand spanking new and thoroughly awesome to boot. Tracking games on the Internet never felt so ...
sexy
.)
[+] Enlarge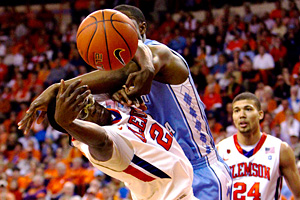 Joshua S. Kelly/US PresswireClemson's loss to North Carolina is a huge blow to the Tigers' hopes for a tournament berth.
No. 21 North Carolina 64, Clemson 62:
Speaking of so-close-yet-so-far, the
Clemson Tigers
very nearly breached the "OK, they probably have to be in now" barrier with this one. Other than its solid record in ACC play, Clemson's bubble résumé doesn't have much to recommend it right now. That's why the Tigers desperately need a marquee win. Those are hard to come by in this year's ACC. Basically, if you lose to North Carolina and Duke, your chances of impressing the committee are left to your performances against Boston College, Florida State, Virginia Tech and ... well, that's pretty much it. In other words, this was Clemson's best chance to get a signature victory. The only other chance will come at Duke March 2; unless something drastic changes, the Tigers will have to shock the Cameron Crazies to play their way into the tournament. This was an all-or-nothing game, and even in a one-possession game, the Tigers came out with nothing. Tough loss.
Boston College 76, Maryland 72:
It might be time for bubble-watchers to bid farewell to the
Maryland Terrapins
. The Terps didn't have much on their résumé before this game, and they certainly don't have much on it afterward. That's a shame, because Maryland has proven itself plenty capable (especially on the defensive end, where they are one of the
most stingy per-possession units in the country
). But that defensive efficiency hasn't led them to any impressive wins, and in an ACC that might only get four or five bids, the Terps are likely going to be left behind. (Meanwhile, Boston College's at-large chances look about the same as they did before this game, which is to say: solid but unspectacular, and very much on the bubble.)
Florida State 63, Virginia 56:
The Seminoles handled business and improved their ACC record to 8-3 with this win, and there's no reason to move them up or down in the bubble picture. The only cause for concern? Forward
Chris Singleton
left the game with a fractured right foot. FSU hopes Singleton can be back in time for the end of the season, but if he isn't, the selection committee could argue that this FSU team isn't the same without him. In the meantime, Leonard Hamilton's team can't afford too many losses while Singleton's foot heals. That dynamic -- how his loss affects the team, and how the team's play affects the committee's perceptions -- will be very intriguing to watch.
UCLA 69, Oregon State 61:
With every Pac-10 win, UCLA's once laughable but suddenly serious at-large tourney chances improve. The Bruins couldn't afford a profile-killing home loss to Oregon State, and though things looked a little hairy at halftime, Ben Howland's team handled its business down the stretch in the second half.
No. 3 Texas 69, Baylor 60:
So close, and yet so far. Baylor very nearly played itself right back into fantastic bubble shape in Austin on Saturday afternoon. Thanks to a furious
LaceDarius Dunn
-led rally, the Bears cut an 18-point lead to three with less than two minutes remaining. Texas held those pesky Bears off, and Baylor left the Frank Erwin Special Events Center without the marquee win it needs to bolster an otherwise questionable bubble case. But the good news is that Baylor seems to be playing its best basketball of the season right now. The Bears are coming off a huge win at Texas A&M last Saturday (as well as a must-win victory over Nebraska this week), and this is the first time we've seen Texas face a legitimate challenge in Big 12 play. (It's also the first time any Big 12 opponent has kept the Longhorns' margin of victory under single digits, which is incredible, really.) If Baylor has figured itself out, and plays like this the rest of the way, it should get plenty of profile-solidifying wins before Selection Sunday.
[+] Enlarge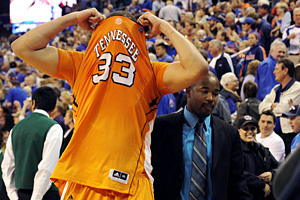 Kim Klement/US PresswireTennessee still has a good chance to make the tournament, but this one-point loss to Florida may come back to haunt the Volunteers.
No. 19 Florida 61, Tennessee 60:
It's a good thing the Gators are so tough in close games. Florida has now played six games decided by one possession or in overtime in SEC play. They've won five. Those close results can be the difference between a lock and a bubble team, and that's why Florida has earned its lock status in Bubble Watches past and future. The 15-10 Volunteers don't share that distinction. Tennessee is still in OK shape -- there's very little chance the committee will overlook all those top-50 RPI wins -- but if things go south, the Vols could regret missing this chance at a big-time road win.
Alabama 74, Ole Miss 64:
Will a home win over Mississippi move the needle for Anthony Grant's impressive Crimson Tide? Doubtful. (The Rebels are decent, but they're hardly a tourney contender.) But it was another win to tack on to that gaudy 8-2 conference record, and, frankly, it was more important that Alabama
not lose
than win, if that makes any sense at all. A loss would have likely doomed Bama to the bubble dustbin. At the very least, a win keeps in the hunt.
Georgia 60, South Carolina 56:
That "can't-afford-to-lose" principle also applies to the Bulldogs, whose bubble rep took a bit of a hit thanks to a home loss to Xavier this week. A win at South Carolina is a so-so result, bubble-wise; it certainly won't seal the Bulldogs' fledgling chances at an at-large bid. But like Alabama above, Georgia's non-loss means UGA fans don't have to start freaking out quite yet.
Temple 75, Dayton 63:
The
Temple Owls
appear to be hitting their stride. Temple was the consensus A-10 favorite to enter the season, and it performed well enough in the nonconference -- a home win over Georgetown looks better every time the Hoyas knock off another top Big East foe -- Fran Dunphy's team dropped a pair of early conference games at Duquesne and Xavier. Since then, Temple has passed every test the Atlantic 10 has thrown at it, including Saturday's game at Dayton. The Flyers are a bit of a bubble hopeful themselves; this win would have done much more for Dayton than it did for Temple. But Dayton missed its shot, and the Owls remain as likely to receive an at-large tourney team as at any other point in the season.
Richmond 64, Saint Louis 52:
Richmond has one of the more inconsistent and confusing tourney résumés of any team in the bubble. That résumé has quality wins (a neutral-court victory over Purdue is especially crucial) and bad losses (to Iona, yuk). In other words, the Spiders have to be very careful against the lower portions of the A-10 over the course of the next month; they can't afford to drop games to struggling but dangerous teams like St. Louis. They didn't Saturday, and that's another step toward earning an at-large bid.
Old Dominion 70, VCU 59:
What will the committee think of VCU? The Rams don't have much of an at-large profile to speak of; they'll likely have to win the Colonial tournament if they want to dance in March. But ODU is more dynamic. The Monarchs have the best nonconference results -- and seemingly the best at-large chances -- of any CAA contender. Will this win seal that status? Does the committee respect a road win at Virginia Commonwealth? If recent history has taught us anything, it should.
George Mason 82, James Madison 68:
Don't look now, but Jim Larranaga's team -- which entered the season looking like a fringe CAA contender -- has won 11 in a row, making them 21-5 overall and 13-2 in one of the more competitive true mid-major conferences in the country. The Patriots didn't prove much in their nonconference slate, but if they keep this league dominance up, they should -- repeat,
should
-- be able to mount a pretty convincing at-large argument. We're certainly impressed. It's up to GMU, whose next two games are at VCU and at Northern Iowa in the BracketBusters, to make sure the committee agrees.
August, 18, 2010
8/18/10
3:09
PM ET
The ESPN.com summer previewing tour continues with Summer Shootaround, our exhaustive August look at key college hoops conferences. We start today with the Atlantic 10, which you can read here, and we'll continue each Monday, Wednesday and Friday until we're good and finished.
In addition to helping out with the Shootarounds, yours truly will be adding some related commentary on this here blog. Today: a best case/worst case look at the A-10. (For more summer previews, check out Insider's Summer Buzz series here, and our blog stuff here.)
CHARLOTTE

Best case:
New coach Alan Major incorporates the talent leftover from ousted Bobby Lutz's 19-12 team -- especially sophomore forward
Chris Braswell
, the country's No. 13-ranked player in defensive rebounding rate in 2009-10 -- and the 49ers improve enough to contend for the A-10 and a spot in the NCAA tournament.
Worst case:
Major needs a year to install his system and cohere the Lutz talent and Charlotte misses the NCAA tournament for the sixth consecutive year.
DAYTON

Best case:
A 2010-11 NCAA tournament appearance shouldn't be the best case for Dayton. It should be the only case. The Flyers dropped a host of close games on their way to an NIT berth (and eventual title) in 2009-10; all told, they were a bit unlucky to miss out. With forward
Chris Wright
back for another season, it'd be a shock to see the 2010-11 Flyers suffer the same fate.
Worst case:
2009-10 all over again. This is an NCAA tournament team. Or, at least, it should be.
DUQUESNE

Best case:
Despite the return of five of Duquesne's top scorers, it's hard to envision the Dukes making the NCAA tournament in 2009-10. A top-six finish in what should be another tough A-10 would be accomplishment enough.
Worst case:
A slip into under-.500 territory keeps Duquesne out of the NIT for the second straight year.
FORDHAM

Best case:
Uh, yeah. Fordham finished last in the 2009-10 A-10, losing their final 21 games and finishing 2-26 in the process. A-10 rookie of the year
Chris Gaston
might get them a couple more wins in 2010-11. That's the most Fordham should hope for, at least in the near term.
Worst case:
That rarest of college hoops indignities: the winless season. Let's hope it's not quite that bad.
GEORGE WASHINGTON

Best case:
GW's group of talented youngsters makes a leap, improves the team's offensive efficiency, helps the Colonials continue their pattern of recent improvement (from 10-18 in 2008-09 to 16-15 last year) and moves them into the top half of the league.
Worst case:
The improvement stops once the Colonials hit the A-10, much as it did in 2009-10, when George Washington racked up an early 11-3 record against inferior non-conference competition.
LA SALLE

Best case:
Intriguingly named sophomore
Aaric Murray
improves on his already impressive interior defense, anchoring a La Salle team to a .500-ish season.
Worst case:
The loss of do-everything senior
Rodney Green
-- who finished No. 8 in the country in percentage of minutes played -- leaves a gap too big for the Explorers to fill, and another cellar year goes by in Philadelphia.
UMASS

Best case:
The heights of Minutemen past are still a ways off, but if UMass can make up for the loss of senior guard
Ricky Harris
with a pair of lanky sophomores (
Terrell Vinson
,
Freddie Riley
) and a couple of talented incoming recruits (guard
Jesse Morgan
, forward
Maxie Esho
), they should improve over last year's ugly 12-20 record.
Worst case:
Harris was unquestionably the team's go-to player -- he ranked eighth in the nation in percentage of possessions used and 11th in percentage of his team's shots -- and unless fellow high-usage guard
Anthony Gurley
becomes much more efficient, the Minutemen are more likely to suffer another sub-standard season.
RHODE ISLAND

Best case:
Featuring the best returner from a potent offensive lineup -- the Rams finished No. 37 in the country in offensive efficiency last season -- in senior forward
Delroy James
, the Rams incorporate new 7-foot-3 project
Blake Vedder
alongside seven-foot center
Will Martell
to dominate A-10 teams on the interior. If so, the Rams compete for the A-10 title again, and you hear from them in March.
Worst case:
Vedder doesn't pan out and guards
Marquis Jones
,
Steve Mejia
, and
Akeem Richmond
can't make up for the backcourt losses of Keith Cochran and Lamonte Ullner, leaving the Rams imbalanced and unable to repeat their 26-win 2009-10 season.
RICHMOND

Best case:
Kevin Anderson
is back. That's great news for a Richmond team that broke out in 2009-10, winning 26 games and making the NCAA tournament for the first time in coach Chris Mooney's tenure. If all goes well, Anderson will star again, and the Spiders will justify their considerable preseason hype with an A-10 title.
Worst case:
The loss of senior guard David Gonzalez, Richmond's most efficient offensive player last season, leaves Anderson exposed in the backcourt. Senior forwards
Justin Harper
and
Dan Geriot
can't make up for the loss of Gonzalez's ability, and the Spiders, instead of surging into the national scene, take a step back into the middle of the A-10 muck.
SAINT BONAVENTURE

Best case:
Andrew Nicholson
goes from being one of the best all-around players you've never heard of -- he was nationally ranked in nearly every efficiency-based stat in 2009-10 -- to one of the best all-around players, period, and St. Bonaventure breaks the 15-win mark for the first time in coach Mark Schmidt's tenure.
Worst case:
Nicholson is great again, but the Bonnies can't find him any scoring help and fail to shore up their already mediocre defense, which allowed 1.014 adjusted points per possession in 2009-10. That would mean another .500-0r-worse season for Schmidt and company.
SAINT JOSEPH'S

Best case:
It all depends on the incoming class.
C.J. Aiken
,
Daryus Quarles
and
Langston Galloway
make up the best class Phil Martelli has had since, well, you know. If all three live up to their hype, St. Joe's could vastly improve on its recent slide into 20-loss territory.
Worst case:
The incoming class takes a year to congeal (as so many do), and the talented youngsters aren't good enough to make up for the loss of leading scorers
Darrin Govens
and
Garrett Williamson
. Either way, St. Joe's should improve, but if this worst case plays out, that improvement won't have anyone recalling the 2003-04 Elite Eight run anytime soon.
SAINT LOUIS

Best case:
Were it not for three late losses to three of the league's best teams (Xavier, Temple, and Rhode Island), Rick Majerus' surprising Billikens would have made the NCAA tournament. With most of that talent returning (and, theoretically, maturing), St. Louis's best case features an Atlantic-10 title.
Worst case:
The 2009-10 Billikens' defense was never a problem. Their No. 190-ranked adjusted offensive efficiency was. If St. Louis doesn't rebound its own misses or get to the free throw-line more frequently than last year, Majerus could have another good-but-not-great season on his hands.
TEMPLE

Best case:
Temple wasn't supposed to win the A-10 title in 2009-10; most thought Fran Dunphy's young team needed a year to grow into the role. Not so much: Temple featured one of the nation's best defenses last season, and with all of the key players returning, that shouldn't change. Best case is another title, but this time, with a few NCAA tournament wins to complement it.
Worst case:
It's hard to envision Temple taking a step back, but if it does, it will have the loss of
Ryan Brooks
' efficient point guard play to thank. For as good as its defense was, Temple can't afford to worsen on offense.
XAVIER

Best case:
The Musketeers lost a lot this offseason. Star guard
Jordan Crawford, one of the country's most exciting scorers, is off to NBA pastures, and anchor forward Jason Love, the team's most efficient offensive player, graduated. If
Jamel McLean
can make up for Love's absence and
Terrell Holloway
can assume some of Crawford's scoring load, Xavier should be able to do what it always does: win in the A-10 and make the NCAA tournament.
Worst case:
This is easier to envision, though not necessarily more likely. Crawford was incredibly high-usage last season -- he took the 12th-highest percentage of his team's shots in the country -- and if Xavier struggles to plug that hole with Holloway and crew, Xavier could break its impressive streak of NCAA tournament runs.