College Basketball Nation:

Dee Davis
January, 11, 2013
1/11/13
8:00
AM ET
This week, my colleague Myron Medcalf described the Atlantic 10 to me as a "beautiful mess." That sounds about right. We know Virginia Commonwealth and Butler are really good. We know Temple and Saint Louis aren't too far behind. But the middle of the league -- from the fifth spot to the 11th or so -- is a gigantic muddle, one that is sure to trade body blows and/or confusing results for the next three months.
So: As much fun as it is to to get lathered up about where your team is or isn't ranked, the bottom line is that these rankings aren't definitive, and they aren't going to be for a while -- we're still just beginning the most enlightening portion of the season (actual intra-A-10 play). But I'm excited to kick things off. You?

1. Virginia Commonwealth.
One thing I remain certain of, at least right now, is that VCU is the best team in this league. That hasn't changed since last Friday. The Rams kicked things off with a solid home win over Dayton on Wednesday, and will road-trip it to St. Bonaventure Saturday.
2. Butler.
VCU's first A-10 win was a somewhat ho-hum home-court stand against an inferior squad; Butler's was a truly impressive road victory over a team (Saint Joseph's) desperate to start turning their thus-far disappointing season around. Butler scored 1.14 points per possession, and held the Hawks to 1.05, in that win. As
I detailed last week
, 2011-12 Butler and 2012-13 Butler couldn't be more stylistically opposite. Last season, the Bulldogs guarded but couldn't throw it in the ocean. This season, their offense is their greatest strength.
3. Saint Louis.
UMass gave Saint Louis just about all it could handle in each team's conference opener Thursday night, but the Billikens held on, breaking open enough space at the end -- helped in part by a really bad (and questionably called) foul on UMass forward
Raphiael Putney
-- to win 70-62. The Billikens are not particularly pretty to watch: They play at the A-10's slowest pace, and they rely on stalwart defense more than any particularly attractive sense of offensive creativity. But they are effective.
4. Temple.
I'll be honest: I did not expect Temple to lose at Xavier on Thursday night. I
definitely
did not expect them to score a mere 52 points in 63 possessions. But I also refuse to overreact to a road loss in conference play, even against a team riding a four-game losing streak. It is never easy to come away with victories in the Cintas Center, and I would imagine more than a few of the teams ranked above Temple in this list will be confronted with that reality before the end of the season.
5. Massachusetts.
This is a huge, huge leap for UMass this week. Why? First of all, because I said so! You're not the king of Dirk! I'm the king of Dirk! Second, because I watched almost all of UMass's loss at Saint Louis on Thursday night, and I came away awfully impressed. The Billikens tend to grind unprepared and sloppy teams into pulp, particularly on their own floor, but the Minutemen were neck-and-neck for about 37 minutes. Plus, they really don't have a bad loss yet. So here they are.
Take heed: This team's per-possession numbers tell a different story. They are not promising. So, yes, I reserve the right to yank them back down to the lower portions of the league at a week's notice. But for now, I'll give a little credit where it's due.
6. Charlotte.
On Wednesday night, La Salle star
Ramon Galloway
went a positively Allen Iverson-esque 7-for-29 at Charlotte. Those 22 misses were the
most by any player in regulation since 2008
. And, sure, while some of that is a bad shooting night, some of it is also the stifling defense the 49ers are playing under coach Alan Major. The 49ers hold opponents to the 10th-lowest effective field goal percentage (41.6 percent) in the country. They will, as Mr. Galloway learned, make you miss. Now, if they can just shape up that ugly offense …
7. La Salle.
Charlotte's defense is going to wreak havoc on plenty of opponents' shooting performances this season, so you can't really punish the Explorers too much for falling short on the road. Still, if this is supposed to be an NCAA tournament team -- and I'm not sure it is, though I've thought the Explorers were a nice sleeper throughout the offseason -- it's going to have to go out and get a few road wins at some point.
8. Saint Joseph's.
I'm trying to not be overly negative about the Hawks, because it isn't their fault they were picked to win the league based on the fact that they returned five starters from last season's team. Bringing back five starters is all well and good, but what people seem to miss when they make obvious picks like that is that a lack of turnover is no guarantee of sudden improvement. Just as often, teams remain what they were. At the end of last season, Saint Joe's finished ranked No. 52 in adjusted offensive efficiency and No. 106 in adjusted defense, per KenPom.com. Through 13 games this season, they are ranked No. 62 on offense and No. 94 on defense. Last year, Saint Joe's finished 20-14. This year, the Hawks are 8-5. Each week it gets harder to locate differences.
9. Dayton.
Dayton was at No. 7 last week, and while the Flyers didn't cover themselves in glory at VCU this week, that's a tall order for most any team. The problem with Dayton right now is turnovers. When Dayton keeps the turnovers low, it has an offense that can compete with the rest of this league. When it coughs the ball up -- which is more often than not -- it is going to struggle. It's that simple.
10. Xavier.
Give credit where it's due: On Wednesday night, despite an injury to point guard
Dee Davis
(which kept him out for much of the game), Xavier held off Temple for a 57-52 home victory. In any of the past five seasons, that might have been the win that sealed Xavier's superiority in the league regular season. This time around, it broke the program's longest losing streak (four games) in 33 years. I still wouldn't want to play at Xavier if I'm an opposing coach, but we have to see more from this young team before it starts climbing.
11. Richmond.
A win is a win, I suppose, but the fact that the Spiders -- for whom offense is a core (OK, only) strength -- barely mustered just 64 points in 63 possessions at home against Rhode Island on Wednesday is slightly disconcerting. Again, Chris Mooney's team held on, 64-61, but if the Spiders are going to be an efficient offense that can't guard anybody, you'd like to see them, oh, I don't know … play well on the offensive end?
12. George Washington.
For all of the nonconference season, George Washington's offense was among the worst -- if not
the
worst -- in the A-10. Its defense was among the 40-or-so best in the country, but offense? Not GW's thing. But in their first A-10 game, the Colonials dropped 78 points in 67 possessions, the highest figure of the A-10 conference season to date. Which is, of course, why we use caution with small sample sizes. But seriously, if this team can manage even a point per trip against decent teams, it'll pick up more than a few wins going forward.
13. St. Bonaventure.
As you just read, the Bonnies were on the losing end of a game in which basically nothing went right. Not only did George Washington's dormant offense come roaring to life, but its typically stout defense held
Chris Johnson
and Co. to just .88 points per trip. And it doesn't get any easier this weekend: On Saturday, VCU comes to town.
14. Rhode Island.
The Rams are not good. But they are better than last year (this is not a high hurdle) and, at the very least, are giving opponents serious tests (a la their near miss at Richmond on Wednesday).
15. Fordham.
This is the first time Fordham has moved out of the wooden spoon position in these rankings all season. That immense honor comes courtesy of a seven-point home win over Duquesne.
16. Duquesne.
Lost to Fordham by seven points.
Verbum sap
.
December, 20, 2012
12/20/12
5:00
AM ET
1. Xavier coach Chris Mack is legitimately concerned about the cramps that forced
Dee Davis
to sit during stretches of Wednesday's loss to Cincinnati and rendered star freshman
Semaj Christon
useless for the Musketeers after 23 minutes. "I'm not a doctor, but this isn't high school anymore, this is big-time Division I basketball,'' Mack said. "They have to take care of their body. They have to hydrate, get the right amount of sleep.'' Not having Davis and Christon at full strength had a dramatic effect in the second half for Xavier. The Musketeers controlled the game in the first half, but were at half-speed in the second and were overrun by the Bearcats.
2. Missouri coach Frank Haith said Wednesday that
Jabari Brown
has proven to have a high basketball IQ. Haith added that Brown is more than just a shooter -- he passes well, moves without the ball and has turned into a quality defender. The Oregon transfer made his debut for the Tigers on Monday against South Carolina State and scored 12 points in 20 minutes (although he did go 1-for-7 on 3s). Brown could prove to be crucial for the Tigers in Saturday's game against Illinois in St. Louis.
3. I've seen the New Mexico-New Mexico State rivalry up close for five years. The Aggies aren't at the level they were under Neil McCarthy in the 1990s. But this is still an intense affair and the Lobos deserve plenty of credit for sweeping a rivalry series in consecutive games, winning on both teams' courts. No other non-conference rivals play home-and-home in the same season on each other's courts in consecutive games as the Lobos and Aggies do. The Lobos are now undefeated along with Arizona, Cincinnati, Duke, Illinois, Michigan, Syracuse and Wyoming. The Cowboys played the weakest schedule of that group, but the start has to be applauded and, barring a collapse, Wyoming will be in the postseason.
November, 21, 2012
11/21/12
11:00
AM ET
Don't be fooled by the name; this is not a new tournament. It is merely a repackaged Anaheim Classic that is no longer leaving naming-rights sponsorship money on the table. This would normally be the part where we criticize soulless corporate sports sponsorship ... but, I mean, it's the Anaheim Classic. Surely we can find a better target for our outrage.
Anyway, let's talk about this basketball tournament, huh?
The basics:
Nov. 22-25, Anaheim Convention Center, Anaheim, Calif.
The set matchups (Nov. 22):
Pacific vs. Xavier, 2 p.m. ET; Drexel vs. Saint Mary's, 4:30 ET; Rice vs. Georgia Tech, 9 ET; Drake vs. Cal, 11:30 ET.
THE FAVORITE
Xavier:
Major caveat alert: I could make a reasonable argument for Saint Mary's, Cal or even a banged-up Drexel, because I'm not really sure there is one clear favorite in this group of teams. But if I have to pick, I suppose I'll take the squad that shut down Butler just one week before Butler beat Marquette and drilled North Carolina in Maui. The transitive property is a fickle siren, but this early in the season it has to mean something.
FIVE PLAYERS TO WATCH
Matthew Dellavedova, Saint Mary's:
The Australian Olympian and four-year senior is the undispusted leader of this Gaels team in ways both measurable and otherwise, and his offensive output will be (as ever) a huge key to his team's chances of getting out of Anaheim with three consecutive wins.
[+] Enlarge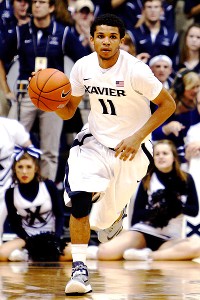 Frank Victores/US PresswireSophomore guard Dee Davis has thus far ably filled holes left by departures at Xavier.
Allen Crabbe, California:
One half of Cal's two-headed returning scoring tandem (the other being fellow guard
Justin Cobbs
), Crabbe is essential to California's hopes of replacing Jorge Guiterrez and Harper Kamp and still making a run at the top of the revamped Pac-12.
Dee Davis, Xavier:
It's early yet, but sophomore guard Davis appears to be just the latest in the Musketeers' long line of starter-minutes-ready young players to emerge after former stars depart. Through three games (including the aforementioned Butler romp) Davis is averaging 15.3 points and 6.7 assists, with a 132.2 offensive rating.
Frantz Massenat, Drexel:
The Dragons suffered a big-time loss this week when guard
Chris Fouch
lost the rest of his season to ankle surgery, but the good news is that Massenat -- a versatile point guard who drives, dishes and shoots with near-equal skill -- remains.
Kammeon Holsey, Georgia Tech:
When Georgia Tech coach Brian Gregory dismissed Glen Rice Jr. in mid-March, he not only made a statement about the importance of attitude and chemistry in his program. He also left Holsey as his only notable returning scorer. Thus far, Holsey has delivered, though this tournament will be the Yellow Jackets' first real test, and we'll see if they'll be more than an ACC punching bag this season.
FIVE BIG QUESTIONS
Is Xavier for real?
The Musketeers were written off at the start of this season, and understandably so -- Tu Holloway and Kenny Frease graduated,
Dez Wells
was (possibly wrongly) kicked out of school,
Mark Lyons
transferred to Arizona, and what remained were guys most hoops fans had never heard of. So the Musketeers were picked to finish ninth -- ninth! -- despite the fact that this program has missed exactly one Sweet 16 (2011) since 2008. When Xavier tossed Butler around in the Musketeers' home opener, the write-offs looked premature. But now, outside of their own building, the young Musketeers have a real chance to prove they're not going anywhere.
Is Cal a Pac-12 contender?
The Pac-12 was bad last season. We've established this ad nauseam (especially for Pac-12 fans, I'm sure) throughout the past 12 months. But for as bad as the league was, on a per-posssesion basis Cal was perfectly respectable (and pretty clearly the best team in its league), even if that respectability didn't always translate into wins. Despite the turnover, would you bet against Mike Montgomery making a run at the top of a still-volatile league this season? I wouldn't.
Does Saint Mary's miss Rob Jones?
Jones was a drastically underrated player last season. Not only was he a versatile scorer, but his rebounding anchored the Gaels on both ends of the floor, particularly on defense, where he posted the nation's 16th-best defensive rebounding rate. Forward
Brad Waldow
is the chief successor to Jones, and will have to have a nice season for Saint Mary's to wrest another West Coast Conference title away from a very good Gonzaga team.
Is Drexel still Drexel?
Bruiser Flint's team was brutally close to an NCAA tournament appearance last season, and had a fair quarrel when all was said and done. With all but one starter returning, and a Virginia Commonwealth-less Colonial Athletic Association, this season was set up as a redemption campaign. It has not gone as planned. The Dragons lost their first two games (to Kent State, which is a bad loss, and Illinois State, which is a good one) and then lost Fouch to a season-ending injury soon thereafter. A title run in Anaheim -- or at least a couple of resume wins, beginning with Saint Mary's -- would be a nice way to get this season back on track.
Who's the upset candidate?
There are some solid teams in this field, but no truly great ones. Which means we could see a few wacky results. That Rice-Georgia Tech game is anyone's guess, and who knows what happens if either of those teams get hot? What if Drake springs an upset on Cal? In a week in which Texas lost to a Division II team and another dude scored 138 points, I'm not discounting any possibilities.
THE PICKS
First round:
Xavier over Pacific; Saint Mary's over Drexel, Georgia Tech over Rice; Cal over Drake.
Semifinals:
Saint Mary's over Xavier; Cal over Georgia Tech.
Championship:
Saint Mary's over Cal.