College Basketball Nation:

Demonte Harper
March, 28, 2011
3/28/11
2:36
PM ET
The NCAA tournament had plenty of excitement when it came down to crunch time. Let's look back at some of the memorable late-possession moments from the first two weeks:
In the East:
Luke Hancock's 3-pointer with 21 seconds left capped a George Mason comeback win over Villanova in the second round.
Brandon Knight's driving layup with two seconds remaining gave Kentucky a two-point win over Princeton in the second round.
Darius Johnson-Odom's 3-pointer with 27 seconds left helped push Marquette past Syracuse in the second round.
Washington's meltdown against North Carolina in the final few possessions that prevented the Huskies from tying the Tar Heels at the end of regulation in the third round.
Knight's 15-foot shot that sent Kentucky past Ohio State in the Sweet 16.
In the West:
Tennessee quit on the game in the second half and lost by 30 to Michigan.
Duke's Kyrie Irving made his only field goal against Michigan with 32 seconds left as he gave the Blue Devils a lead before the Wolverines' Darius Morris missed a game-tying runner at the buzzer.
Arizona's Derrick Williams blocked a potential game-tying bucket by Memphis in the final seconds.
Williams converted a three-point play with 9.6 seconds remaining to upset Texas after the Longhorns committed a five-second violation on an inbounds play.
Temple's Juan Fernandez nailed an off-balance 18-foot shot to beat Penn State in the second round after Talor Battle hit a game-tying 3-pointer with 12.2 seconds left.
In the Southwest:
Down by two to Louisville, Morehead State's Demonte Harper went for the win and got it with a 3-pointer with 4.2 second left to beat the Cardinals in the second round.
VCU's Bradford Burgess converted a layup off an inbounds pass with 7.1 seconds left in overtime to knock off Florida State in the Sweet 16.
And in the Southeast:
Butler beat Old Dominion on a layup by Matt Howard at the buzzer.
Butler beat Pitt after Nasir Robinson fouled Howard on a rebound off a missed free-throw at the buzzer when the game was tied. Howard hits a free throw to win the third-round game.
And in the First Four:
UNC Asheville's Matt Dickey hit a 3-pointer with 10.5 seconds left that sent the game against Arkansas-Little Rock into overtime before Asheville won.
March, 21, 2011
3/21/11
3:11
PM ET
By
Diamond Leung
| ESPN.com
The front of this
Morehead State T-shirt
includes an Eagle and the red feathers of a Cardinal it has just devoured, along with the date and final score, 62-61.
The back of the shirt reads: "YUM! TASTES LIKE VICTORY!"
The Morehead State bookstore is selling the shirt following the team's upset win against Louisville in the opening round of the NCAA tournament, earning bragging rights over the powerhouse program that has the brand-new KFC Yum! Center and Big East affiliation.
With the two schools about a two-hour drive from each other, Morehead State was bound to rub it in the face of Louisville after
Demonte Harper
's game-winning 3-pointer and
Kenneth Faried
's game-ending block on
Mike Marra
.
The win for the Eagles also gave them notoriety as a school and a program. Coach Donnie Tyndall said after the win that an administrator told him that the school received 3,000 applications for admission after the win.
Morehead State eventually lost to Richmond and fell short of the Sweet 16, but the future appears bright.
"I really feel like our program is on solid ground," Tyndall said. "We'll have 10 of our 11 guys will have graduated once these three seniors graduate in May. So we're doing a lot of good things in the community, on the floor, in the classroom. I'm very, very proud of what we've accomplished to this point. I really feel like the sky's the limit in continuing to grow our program.
"Five years ago I don't think anyone would have predicted we'd be 40 minutes away from the Sweet 16."
March, 19, 2011
3/19/11
2:38
AM ET
By
Diamond Leung
| ESPN.com
No. 13 seed Morehead State (25-9) vs. No. 12 seed Richmond (28-7), 5:15 p.m. ET


How they got here:
Both 12th-seeded Richmond and 13th-seeded Morehead State staged comebacks against power-conference teams on Thursday. The Spiders beat Vanderbilt 69-66, with guard
Kevin Anderson
making big shot after big shot and finishing with 25 points. The Eagles defeated Louisville 62-61, with
Demonte Harper
making the game-winning 3-pointer and
Terrance Hill
getting hot from beyond the arc as well, scoring 23 points.
Storyline:
One of these two double-digit seeds will get to go to the Sweet 16. Richmond, which has a history of big upsets, now takes on the role of the favorite. The Spiders lost to Saint Mary's in that position last season and now have a chance to reach the Sweet 16 for the first time since 1988. For Morehead State, it's a chance to make history again with its first trip to a regional semifinal. "This game is really important because Coach [Donnie Tyndall] told us we have a chance to make it to the Sweet 16 before the season even started," Harper said.
Players to watch:
Think Tyndall likes his chances with Harper and star forward
Kenneth Faried
? He called Faried his Gordon Hayward and compared Harper, who has shown his ability to take the last shot, to
Shelvin Mack
of Butler. For Richmond, Anderson proved himself to be a shot-maker against Vanderbilt. Leading scorer
Justin Harper
struggled with his shot, and the Spiders could use a big day from their senior.
What to look for:
Faried is one of the stars of the tournament so far, and he didn't even have a great offensive game against Louisville. But Faried is so dominant a rebounder and such an athletic presence in the middle that he impacts the game in so many ways.
"We know he doesn't give a lot of second shots on the offensive end," Anderson said of the nation's leading rebounder. "It's going to be tough to stop him."
Richmond could try containing Faried with the 6-foot-10 Harper, relying on his ability to shoot from long range. But lest we forget: Anderson will be a tough matchup for Morehead State, as well.
No. 11 seed Gonzaga (25-9) vs. No. 3 seed BYU (31-4), approx. 7:45 p.m. ET


How they got here:
BYU was the only favorite in Denver that did not get upset in the first day of action, as the Cougars dispatched of Wofford with a 74-66 win.
Jimmer Fredette
scored 32 points, and he also got help with
Charles Abouo
,
Noah Hartsock
and
Logan Magnusson
scoring 10 points apiece. Gonzaga dominated St. John's with an 86-71 win in which
Marquise Carter
scored a career-high 24 points and
Steven Gray
and
Elias Harris
also had big nights.
Storyline:
Not since Danny Ainge was leading Brigham Young have the Cougars been in the Sweet 16, and now it's Fredette who will try to take them there 30 years later. BYU has won its first tourney game in each of the past two years, but now wants to make a deeper run. For Gonzaga, the perennial dangerous underdog, the Zags want to continue proving themselves as a team and program to be reckoned with. A win against BYU and the national scoring leader Fredette would be yet another milestone victory.
Players to watch:
Again, look for Fredette to carry the scoring load despite the opponent's best efforts to contain him. And in a game with huge ramifications, expect a big dose of him. But Gonzaga does have the advantage of having 7-foot center
Robert Sacre
to try to exploit a BYU frontcourt missing the post presence of Brandon Davies. Sacre, after helping the Zags dominate St. John's on the glass, indicated he was looking forward to the matchup against BYU. "A little bit, but they still have Jimmer," he said.
What to look for:
While limiting the damage Fredette does is a must, this game could come down to how well Gonzaga can exploit its height advantage with Sacre, along with the 6-5 guard Gray and 6-7 forward Harris, who are both dynamic players.
"They're a very big team," Fredette said. "They got to the offensive glass very well. They get a lot of second-chance opportunities, which gives them a lot of energy."
Gonzaga will have to continue to get good guard play as well from Carter and point guard
Demetri Goodson
in order to slow down Fredette and
Jackson Emery
.
March, 17, 2011
3/17/11
6:29
PM ET
By
Diamond Leung
| ESPN.com
DENVER -- Morehead State coach Donnie Tyndall was having trouble sleeping at 2:30 a.m. when he made the decision. If the Eagles had the ball on the final possession against Louisville, they were going to go for the win.
Faced with that scenario, the way
Demonte Harper
heard Tyndall telling that story in the huddle before the biggest shot of his life, there was no way he wasn't going to take the 3-pointer confidently.
Harper buried the shot at the top of the key with 4.2 seconds left and
Kenneth Faried
blocked
Mike Marra
's jump shot attempt on the other end at the buzzer to lift No. 13-seeded Morehead State to a
62-61 win
on Thursday in the second round of the NCAA tournament, easily the most significant victory in the program's history.
[+] Enlarge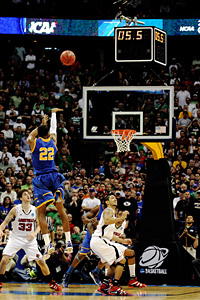 Justin Edmonds/Getty ImagesMorehead State's Demonte Harper watches his game-winning 3-pointer sail toward its target with seconds to play.
A senior who experienced a loss to in-state power Louisville two years ago when the Eagles were a No. 16 seed and the Cardinals had future NBA players all over the floor, Harper saw his shot to make his coach's vision come true.
"Coach said, 'I dreamed about this last night. I know exactly where I'm going to. I'm going to put it right in your hands, Demonte. I don't want you to drive it to the hole. I want you to pull up and win the game off a 3-pointer. I want you to pull up and win the game.'"
The Cardinals used a 9-0 run to take a four-point lead with 1:20 left and the hopes of an upset started to wane. But despite a tough day on offense for Faried (finished with 12 points on 4-of-17 shooting), Morehead State -- which trailed by eight at one point -- delivered the ball to its dreadlocked big man in the post, and he came through with two subsequent free throws to cut the lead.
With Louisville leading scorer
Preston Knowles
knocked out of the game in the second half with a sprained foot, it was left to
Elisha Justice
in crunch time. The freshman had hit a 3-pointer to give Louisville the lead with 2:13 left, but missed the front end of a one-and-one after Faried's free throws gave MSU the ball with 23.8 seconds left.
Harper unleashed his dagger, beating
Peyton Siva
with a crossover and burying the shot. Faried blocked Marra's attempt at the other end, and the school's cheerleaders rushed the court to celebrate. In Tyndall's new reality, he approached a cheering section and repeatedly pumped his fists as his face reddened.
"We played for 40 minutes, and that's what it takes to beat a team like Louisville," Tyndall said.
Morehead State surprised UL by racing off to a 7-0 lead, using a swarming defense to get the Cardinals out of sorts and force them into 10 of their 16 turnovers in the first half. The Eagles'
Terrance Hill
buried a 3-pointer at the halftime buzzer to leave the two teams tied at 33, and it was a sign of things to come.
Hill scored 13 second-half points, repeatedly hitting 3-pointers to bring the Eagles back and keep them within a reasonable distance.
Chris Smith
led Louisville with 17 points, but it wasn't nearly enough.
"I could live with losing last year. They were much better, Cal," Louisville coach Rick Pitino said, referring to last season's first-round loss to Pac-10 champion California. "This is a tough one to lose. This is a tough one."
Pitino's team surprisingly tied for a third-place finish in the Big East in the face of injuries and without returning a single starter. But with Faried gathering 17 rebounds, it was apparent the Cardinals missed leading rebounder
Rakeem Buckles
despite a solid game from
Terrence Jennings
, who blocked four shots and had eight rebounds.
"We are what we are," Pitino said. "We're just too small, and unfortunately it hurt us on the backboard."
And it was Faried, the nation's leading rebounder, who made his 6-foot-8 presence felt at the end of the game. Marra pulled up for a shot, and Faried threw his arms up and said he got all ball.
"This is a dream," Faried said. "Did we just beat Louisville?"
March, 17, 2011
3/17/11
4:23
PM ET
By
Diamond Leung
| ESPN.com
DENVER -- Morehead State pulled off the stunner against Louisville,
winning 62-61
in such an upset that the cheerleaders stormed the court and coach Donnie Tyndall pumped his fists at the crowd.
Demonte Harper
hit the game-winning 3-pointer with 4.2 seconds left, and
Kenneth Faried
blocked a potential
Mike Marra
game-winning attempt at the buzzer.
Terrance Hill
led Morehead State with 23 points, hitting five 3-pointers.


Turning point
: Louisville leading scorer
Preston Knowles
left the game for good with 8:51 left, apparently due to a sprained left ankle. He had his shoes off and left the court in crutches. The Cardinals missed him, especially since it was freshman
Elisha Justice
who was left on the court and missed on the front end of a one-and-one to give Harper the chance for the game winner.
Key player
: Hill was money from beyond the arc, tying his season high with five 3-pointers in six attempts. He also had eight rebounds and three steals, going 6-for-9 from the field overall.
Key stat
: Faried went 4-for-17 from the floor, but made his presence felt with 17 rebounds. The nation's leading rebounder used a couple of those boards to kick out for 3-pointers.
Miscellaneous
:
Terrence Jennings
did a fine job guarding Faried, holding him to four field goals. He also had two straight buckets down the stretch and gave the Cardinals a four-point lead with a dunk with just over a minute left.
Peyton Siva
played with such heart down the stretch, dishing the ball off to Jennings for easy baskets.
What's next
: Morehead State moves on for a chance to play in the winner of the Vanderbilt-Richmond game.