College Basketball Nation:

Dereck Whittenburg
July, 31, 2013
7/31/13
5:00
AM ET
1. The NCAA men's basketball selection committee will make a formal announcement Thursday about the tweaking it did to the bracketing principles for the 2014 tournament during its meeting earlier this month in Park City, Utah. The committee is expected to produce a document that protects the "true seed" -- where a team stands according to the committee's 1-through-68 ranking -- and that doesn't jeopardize that seeding in order to avoid conference or non-conference repeat matchups. Seeding the tournament is probably more important than the final few bids that get the most attention on Selection Sunday, and the committee doesn't want to mess with the true seed. Meanwhile, there were a few other issues addressed. The new number of at-large berths is down to 36 with the split of the Big East and the American Athletic Conference, meaning that there are now 32 automatic qualifiers. But the committee was informed that, technically, the Big East's automatic bid went with the Big East, and the American must get its AQ bid formally approved by the Division I sports-management cabinet, according to a source. But that shouldn't be an issue. The committee also looked at maintaining the same standard for the Final Four of a minimum of 60,000 fans, due to the current demand for tickets (meaning only domes for the Final Four). But it continues to remain highly likely that regional final sites from 2016 and beyond will be basketball arenas only, save the one dome site that will host the Final Four the ensuing year. The committee also had an informal discussion on what it would look like if basketball were a one-semester sport. The calendar was so compressed that to make the season work and to finish in early April was impossible. The change would have been too dramatic. So the committee at least looked at the possibility. There was no movement to change March Madness or the pre-Masters dates of the Final Four.
2. Oregon is waiting for Houston transfer
Joseph Young
to file a waiver to play immediately for the Ducks. Oregon is somewhat confident Young would be approved -- which could give the Ducks a top-tier top seven, with UNLV transfer
Mike Moser
, returning guards
Dominic Artis
,
Johnathan Loyd
,
Damyean Dotson
, forward
Ben Carter
and junior college transfer
Elgin Cook
. Young averaged 18 points a game for Houston. So Oregon could have a much different look if Young can play immediately.
3. NC State continues to respect its past as much as any other program. The Wolfpack went with alum Sidney Lowe after Herb Sendek, but Lowe wasn't able to a build a consistent winner, despite recruiting well. Third-year coach Mark Gottfried isn't afraid to reach back into NC State's past to help forge a future by bringing Wolfpack legend Dereck Whittenburg onto the staff. Whittenburg had been head coach at Fordham and Wagner and, most recently, an ESPN analyst and producer of a documentary, "Survive and Advance," in ESPN's "30 For 30" series. Whittenburg, who has the most famous shot/pass in NC State history, will bring energy to the Wolfpack staff as well as a direct link to the past that current players should and likely will appreciate.
January, 16, 2013
1/16/13
11:27
PM ET
COLLEGE PARK, Md. -- Imitation is the highest form of flattery, except, like a tree in a forest, does the flattery count if the imitator doesn't know what he has copied?
Dereck Whittenburg will never buy a drink or even a seat when his alma mater is around. He showed up Wednesday at NC State's game at Maryland unannounced but was warmly welcomed to a courtside seat anyway.
That's how it goes when you remain part of the most iconic clip in any March Madness highlight reel. It was nearly 30 years ago that Whittenburg launched the air ball that ended up in the hands of Lorenzo Charles, who gave the Wolfpack an improbable national championship against Houston and sent Jim Valvano desperately and wonderfully searching for someone to hug.
But 30 years might as well be 300 to 19-year-olds whose long-term memory must be encapsulated in 140 characters.
And so when
Alex Len
, who dropped in
Pe'Shon Howard
's air ball with 0.9 seconds left, was informed that he had just turned the ironic tables on NC State, making like Charles to Howard's Whittenburg to beat the Wolfpack, the Maryland sophomore was baffled.
"I didn't know that," the Ukrainian-born Len said. "I don't know about that game. I've never heard of it."
Here's hoping he hit Google before hitting his pillow.
Because while neither the Terrapins'
51-50 victory
over NC State nor Len's heroics enter the zip code of Whittenburg/Charles circa 1983 importance, in context of the here and now, this was big for Maryland.
The Terrapins earlier this season won 13 games in a row and earned a collective meh from the basketball cognoscenti. The best win in that run? Stony Brook, RPI 96.
And when Maryland entered ACC play and promptly lost to Florida State and Miami, most figured the Terps were exactly what they appeared -- a fun house mirror of accomplishment.
This game was a show-me game, one to give people a reason to believe there is some meat on the Terps' 14-3 record.
So feel free to criticize the student court-storming -- because hey, college students acting goofy and crazy is unusual and all -- but this was more cathartic than celebratory.
It had been almost three years since the Terrapins beat a ranked team (topping Duke in 2010), and while this does not ink Maryland into the NCAA tournament or even offer the promise of a win in its next game (against North Carolina), it's a step.
And steps right now are huge.
[+] Enlarge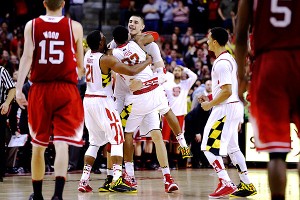 AP Photo/Patrick SemanskyTeammates mob Alex Len, center, after he hit what proved the winning basket with 0.9 seconds left.
"We haven't won a big game here since Greivis [Vasquez] was here," Maryland coach Mark Turgeon said. "I didn't come here to be mediocre and I know the guys didn't come here to be mediocre. I asked them, in fact, before the game, 'Why did you come? Why did you come?' I came here to do great things, and we haven't done a lot of great things since I got here. This is one great thing."
It is one bad, but not lethal, thing for NC State.
Every game is something of a testing ground for the Wolfpack (14-3, 3-1 ACC) this season. Lauded early and heaped with expectation, NC State almost has to prove its value nightly. And so beating Duke became a must-win, and then winning here -- to prove that the team has the maturity to keep its head after a big victory -- was a must-win.
Instead, the Pack go home with a loss during which their usually fluid offense was rendered impotent and they never looked in sync or terribly aggressive.
It will raise some questions -- and some valid ones -- but it certainly doesn't doom NC State.
"They all count as one," coach Mark Gottfried said. "I always say that, and there is a lot of truth to that. I'm not into the whole validating Duke thing. There are going to be teams that will finish near or at the top of this league that are going to lose some road games. We're going to move on from it. I loved our effort, and we're going to pick ourselves up and play on Sunday."
Strangely, Gottfried sounded almost more at ease with the loss than Turgeon did with the win.
Turgeon actually apologized at one point for not sounding more Pollyanna-positive after this victory. He had pointed out, in no particular order, how his team was 0-for-timeouts, failing to execute a single play he drew up during a break, including the final one ("It was supposed to be an up-screen, and they down-screened," he said); how his team remains so bewildered nearly three months in that he can't risk giving players more information than they can handle and so his play calling remains fairly pedestrian; and how his team's offense is anemic and he frankly has no clue why.
But Turgeon is brutally -- refreshingly? -- honest. His young team -- the Terps, now 2-2 in conference, start two freshmen and three sophomores -- is hardly a finished product, and anyone who walked out of the Comcast Center 100 percent convinced that Maryland had arrived isn't paying attention.
Before the month is out, the Terrapins will go to North Carolina, Duke and Florida State, and all this good mojo might evaporate in a hurry.
So Turgeon is searching for signs and steps -- and in this game, he got a few.
"We grew up a little bit," he said. "It was a gut-check. We call it a hugger. There was a lot of hugging in the locker room, and it's nice to have that."
The offense isn't good -- these 51 points come on the heels of 47 points against Miami -- and there are plenty of mistakes to keep Turgeon active in the film session.
There's also this: When it came time to win the game, Howard ran the wrong play, but he drove the ball. Against Florida State and against Kentucky, the Terrapins took jump shots and lost.
And when Howard's ball floated in the air, Len was in the right position.
"My guy had gone over to help a little bit, and I was open," Len said of the first game-winning shot in his basketball life. "I honestly don't remember it. I just grabbed the ball and put it back. Coach told me to go get the ball, so I did."
Whittenburg always joked that his shot was a pass, well designed and perfectly executed.
In the locker room after the game, Howard cracked the exact same joke.
Video evidence, of course, shows the contrary -- that both Charles and Len were in the right place at the right time.
Charles' shot rewrote history.
As for Len's shot? We'll have to see whether it alters the course and confidence for a young Maryland team.
But it's a step.
March, 5, 2010
3/05/10
6:18
PM ET
By
Diamond Leung
| ESPN.com
Gardner-Webb announced this afternoon that it will not retain Rick Scruggs as coach after 15 seasons with the school.
Scruggs, whose team toppled Kentucky in 2007, had a 199-218 record and was let go after the Runnin' Bulldogs were 8-21 this season.
In other coaching news...
Eastern Washington coach Kirk Earlywine on Tuesday received a contract extension for one year after a 9-21 season. He is 32-58 in three seasons and hasn't yet coached a team into the six-team Big Sky tournament, but has a bright spot in guard Glen Dean being chosen as the conference's freshman of the year.
Wagner fired Mike Deane earlier in the week, and the Staten Island Advance has a look at possible candidates, including former coach Dereck Whittenburg who was fired at Fordham, and a mention of Florida assistant Richard Pitino. Yep, that's the son of Rick Pitino.
January, 11, 2010
1/11/10
12:01
PM ET
By the end of January 2009, two coaches -- Mark Gottfried at Alabama and Dennis Felton at Georgia -- had been giving their walking papers and coaches everywhere noted the disturbing trend in college hoops.

So where does that put this season? Two weeks before the anniversaries of Gottfried and Felton's departures, three coaches are out: Glen Miller at Penn, Dereck Whittenburg at Fordham and now Jerry Wainwright at DePaul (Dartmouth's Terry Dunn resigned).

None have been caught in any sort of scandal and none are employed by deep-pocketed state universities with football money to burn, yet all three universities decided they couldn't wait another two months.

It is really strange when you consider that none of them were very good last year. For reasons that are every bit as perplexing as their in-season dismissals are surprising, all three were retained.

What changed: angry boosters, transferring players and most of all mounting losses. Penn was winless when it let go of Miller and it's deep-pocketed alumni were staying away from the Palestra; Fordham was in the Atlantic 10 basement again and star player Jio Fontan decided to pull the plug on his time in the Bronx and DePaul, winless in the Big East regular-season last year, was starting on the same goose-egged foot.

Certainly losing is cause for dismissal in college athletics but firing a coach in season blurs the line between the college and professional game even more. Worse it sends a frightening message to the athletes and puts even more pressure on 18 to 22 year olds to win. And win now or else.

Firing coaches mid-season is more than a dangerous trend. As the numbers show from one January to the next, it's a growing trend.
December, 15, 2009
12/15/09
11:04
AM ET
The news that Penn had dismissed coach Glen Miller before the calendar even flipped to January has left me somehow stunned and not surprised at the same time. Sounds impossible, I know.

I'm stunned simply because it's rare a college program dismisses a coach -- any coach -- before the season is out. It reaffirms the dirty little secret that college athletics like to pretend doesn't exists -- that winning matters most. Yet Miller is the second coach to be forced out before the conference season begins, joining Fordham's Dereck Whittenburg.

That an Ivy League school would make such an unusual move only doubles the wow factor.

But that's how badly things had turned at Penn, which leads to the not surprising part. The Quakers went from conference kings to non-factor after Fran Dunphy crossed the city to Temple, a body blow to a school and an athletics program that prides itself on a rich history of winning.

But Miller's problems went deeper than his 0-7 start. Some of it wasn't his fault. He was a risky hire for Steve Bilsky, an outsider in the parochial city of Philadelphia and the even more parochial world of Penn athletics. With plenty of choices that had either Philly or Quaker ties -- Lafayette coach Fran O'Hanlon, Cornell's Steve Donahue, to name a few -- Bilsky went with a guy from Brown. His rationale wasn't flawed. Miller had made Brown into a contender and with the resources and history at Penn, logic followed that he could do the same in West Philly.

Fans and alums never embraced Miller and he never did much to bridge that gap. Maybe he never could because he simply "wasn't one of them,'' but when Governor Ed Rendell, a regular at the Palestra, is a no-show, you have problems.

The lack of connection and interest doomed Miller as much as the Quakers' poor play, a fact made all the more evident by his decision to tab Jerome Allen as interim coach. Assistant coach John Gallagher has more coaching experience than Allen. He worked at St. Joe's, La Salle and Hartford compared to Allen, who just joined the Penn staff this season. But Allen has all the Penn pedigree that Miller did not. He is a Penn graduate, a former team captain who not only took the Quakers to the NCAA Tournament, he actually helped them win a game there.

Who knows if Allen can salvage this season. He'll have the benefit of a two-week game hiatus to rally his troops. The Quakers don't play again until Dec. 28.

But he certainly will rally the fan base and stir the sagging interest in the program and for now, that will qualify as a win for Penn basketball.