College Basketball Nation:

Derrick Favors
September, 28, 2010
9/28/10
1:04
PM ET
By
Diamond Leung
| ESPN.com
How much would you pay for a mint condition
Bill Self trading card
?
Upper Deck has announced it will release cards of more than 30 current college basketball coaches, including Self, Jim Boeheim, Jim Calhoun, Bob Huggins, Tom Izzo and Tubby Smith.
"This is an exciting venture to have college basketball coaches featured on Upper Deck trading cards," Self said in a statement. "It was always a thrill opening up packs of cards as a youngster to see who you had.
"With the tremendous popularity of men's college basketball today, having college coaches on cards will continue to help grow the game."
The cards will be released in early 2011 as part of Upper Deck's World of Sports 400-card set, featuring players and coaches from a variety of sports and including autograph cards. Other cards in the set include Michael Jordan in his North Carolina uniform and also recent NBA draft picks DeMarcus Cousins and Derrick Favors.
The company has exclusive deals with the Collegiate Licensing Company and the National Association of Basketball coaches.
July, 9, 2010
7/09/10
10:11
AM ET
The prevailing logic goes a little something like this: You sign a really talented player. He plays one year at your school. He goes to the NBA. Other high school talents see that and say, "Hey, I want to be in the NBA too. I should do what that other talented player did!" This effect accentuates when the two players in question play the same position; if a college coach is good at getting, say, point guards drafted in the top five of the NBA draft (sound familiar?) other young point guards are going to assume they'll have similar success. That's just how it works. Sensibly so.
But not, apparently, at Georgia Tech. After one season with the team,
Derrick Favors
went pro and was drafted No. 3 overall. South Atlanta High's
Nick Jacobs, a class of 2011 recruit many in Atlanta call "the next Derrick Favors,"
took a look at Favors' year and said something entirely different: Nope. Not for me.
From the Atlanta Journal-Constitution
:
Jacobs is friends with and has a lot of respect for Favors, as the two teamed together to lead South Atlanta to the state championship two years ago. However, Jacobs would rather be known for his own basketball abilities rather than "the next Derrick Favors."

That's one of the reasons why Jacobs never really explored the option of playing college ball at Georgia Tech, following in the footsteps of Favors. Tech never offered a scholarship. But when the Jackets sent out early feelers to gauge his interest, it was "thanks, but no thanks" from Jacobs.

When asked if his lack of interest in Georgia Tech had to do with escaping the never-ending comparisons to Favors, Jacobs laughed and said, "I think you might have hit the nail on the head."
Jacobs sounds a lot like a little brother desperate to escape the shadow of his successful older sibling. I just want to be me! I just want to find myself! Stop comparing me to him, you guys! I CAN DO STUFF TOO! I'M MY OWN PERSON! (/Runs into room, shuts door, starts blaring
"How Soon Is Now?"
) Hey, we've all been there.
From Georgia Tech's perspective, though ... ouch. That's not exactly how this process is supposed to go. Talent is supposed to lead to more talent; NBA dreams fulfilled are supposed to lead to more NBA dreams. In this case, a talented power forward is ignoring the school because they had a very talented power forward
because that power forward was too successful
. Talk about your all-time backfires.
March, 21, 2010
3/21/10
3:20
PM ET
MILWAUKEE -- Some quick halftime thoughts from a
relatively ugly first half in Milwaukee
:
Georgia Tech hasn't quite dominated in the post the way it should. Gani Lawal had a good half, but counterpart Derrick Favors has been relatively invisible. More drastic is the Yellow Jackets' paucity of offensive rebounds -- Georgia Tech didn't grab a single offensive rebound until there were about four minutes left, and even that rebound was quickly slapped away by Ohio State's defense. Thus far, the combination of Dallas Lauderdale and OSU's athletic guards have been enough to keep the Jackets away from the basket.

[+] Enlarge

Jonathan Daniel/Getty ImagesOhio State's Evan Turner led all scorers with 16 first-half points.

Some of that might have to do with OSU's defense, which starts as a 1-3-1 full-court trap and then switches either to a half-court zone or into man-to-man, based on the calls relayed by OSU's bench to Turner, who then signals the defense with a hand signal. The half-court zone has been effective because it places a defender on the front and help sides of Lawal, making it difficult for him to get good catches in the post. It's also led to some open jumpers for Georgia Tech.

Not that it's mattered -- both teams shot putrid percentages in the first half, especially from beyond the arc. Ohio State made just two of its 11 3s; Georgia Tech went 2-for-8. Georgia Tech has done a good job making things difficult for the Buckeyes' shooters. (Jon Diebler especially has felt pressure coming off high screens.) But there have been plenty of open looks, too. OSU just isn't hitting them.

As I hinted above, this has not been a pretty game. Obviously, the shooting hasn't been great, but we've also had a combined 21 turnovers. Georgia Tech has 12 of them, but still, you have to think the Jackets like this level of ugliness.

In obligatory Evan Turner Watch news, Turner has played better much than his ugly first-round performance, scoring 16 points and adding three steals, two rebounds and two assists. Not to nitpick, but Turner hasn't been his typically efficient self today: Those 16 points came on 6-of-15 shooting, and he has just as many turnovers as assists. So far in this tournament, Turner has been an ineffective shooter; he's at his best when he's driving to the rim, using his perfect footwork, and scoring layups.

Is it just me, but when Ohio State fans do their famous "O-H-I-O" chant, are the O's not completely indistinguishable from the I's? I guess the message still comes across. But it is funny to sit and pretend the Buckeyes' backers are chanting I-H-I-I. (OK, maybe it is just me.)
March, 21, 2010
3/21/10
9:20
AM ET
MILWAUKEE -- We're down to the final two games of what has been a fairly well-played -- and certainly well-organized -- regional this weekend. Sure, it lacked the first-round insanity experienced in other parts of the country, but there's still plenty of time. Let's run it down:
Midwest Region: Ohio State (2) vs. Georgia Tech (10), 2:20 p.m. ET



Key to the game:
Can Ohio State stop Georgia Tech's size? In a way, Ohio State is a much better, more talented version of the
Oklahoma State Cowboys
, who Georgia Tech was able to outlast on Friday. The Jackets' strategy was never a mystery. Paul Hewitt wants his team to get the ball down low to forwards
Gani Lawal
and
Derrick Favors
-- preferably Lawal, if it's a back-to-the-basket situation -- where the Jackets hold a size-plus-talent advantage over just about anyone in the country. Oklahoma State was a guard-oriented team without the size to really stop Georgia Tech down low. The same goes for Ohio State, which, while much more talented on the perimeter, really only ever plays one center at a time and ignores its bench for huge stretches of most games. Does Ohio State change what it's done successfully thus far? Or do the Buckeyes counter the Jackets' size with their offensive versatility on the other end, daring the Jackets to keep up with the likes of
Evan Turner
,
David Lighty
,
William Buford
, and
Jon Diebler
all at once?
Player to watch:
Turner is the obvious choice here. He struggled in the Buckeyes' easy win over UCSB Friday night. Georgia Tech shut down a similarly talented guard in Oklahoma State's
James Anderson
Friday. Do the Jackets get the best of Turner? Or does the guard rebound with a Turner-esque performance?
Who has the edge:
It's a little easy to make too much of Georgia Tech's size, which does present matchup problems for the Buckeyes, but it's also important to remember why Georgia Tech struggled for so much of the season: Size doesn't equal cohesion. The Buckeyes should prove to be too complete for Hewitt's sporadic team.
West Region: Pittsburgh (3) vs. Xavier (6), 4:50 p.m.



Key to the game:
Team defense. Pittsburgh doesn't have any bonafide stars, but they do play a balanced style that forces their opponents to defend all five players at any given time; there are few opportunities to cheat in help-side against the Panthers. Xavier will have to submit a complete, comprehensive defensive performance to keep Pittsburgh from getting too many open, settled looks. The reverse of that is that Pittsburgh will likewise have to play good team defense against Xavier, whose efficient offense starts with
Jordan Crawford,
but can just as easily end with
Terrell Holloway
or
Jason Love
. Xavier wants to push the pace; Pittsburgh wants to slow it down. When Xavier does run, Pitt will have to pick up Crawford in the secondary break immediately, or they'll be on their heels trying to defend a player whose offensive creativity makes that very difficult to do.
Player to watch:
As with Turner above, Crawford is the obvious pick here. As he goes, so goes the Xavier offense. Also keep an eye on Pittsburgh leading scorer
Ashton Gibbs
. Pitt had six scorers in double figures against Oakland Friday; Gibbs was not one of them.
Who has the edge:
Pittsburgh, but only barely. The Panthers are a good enough defensive team to stall Crawford and prevent other players from beating them, and their willingness to control the pace of the game should be enough to slow down Chris Mack's team. But if Crawford gets hot, look out. This one could go either way.
March, 11, 2010
3/11/10
8:16
PM ET
GREENSBORO, N.C. – Some halftime thoughts:


We're halfway to our third straight upset in the ACC tournament first round. The 10th-seeded Tar Heels are outscrapping the seventh-seeded Yellow Jackets, following a trend started by No. 9 Virginia (which beat No. 8 Boston College) and continued by No. 12 Miami (which beat No. 5 Wake Forest).
What the Tar Heels lacked in elegance that half, they made up for in effort. After falling behind 13-7, they went on a 17-0 run that was spurred by an assault on the offensive glass. Carolina outrebounded the Jackets 26-18 for the half behind an energetic half from
John Henson
(four rebounds),
Tyler Zeller
(five) and
Deon Thompson
(five).
In the first half, Georgia Tech got another in a series of sketchy performances from its backcourt.
Brian Oliver
,
Iman Shumpert
and
Mfon Udofia
were a combined 0-for-9 from the field, and Tech was 2-of-11 from 3-point range.
Tech's big men,
Derrick Favors
and
Gani Lawal
, need more shots. They got a combined six in the first half, though they did get to the foul line for eight of Tech's nine free throws in the half.
There are thousands of empty seats in the Greensboro Coliseum, a solid indicator that the Carolina fans have largely given up this team. Those seats normally would be filled with powder blue.
March, 6, 2010
3/06/10
9:04
PM ET
ATLANTA -- Virginia Tech coach Seth Greenberg doesn't care that the Hokies played most of the ACC's better opponents only once this season.


And he doesn't care that the Hokies' RPI rating is worse than each of the six other ACC teams in contention to play in the NCAA tournament, either.
The only thing that matters to Greenberg is that Virginia Tech finished 10-6 in ACC play this season after
beating Georgia Tech 88-82
at Alexander Memorial Coliseum on Saturday.
"To win 10 games in the ACC is really hard," Greenberg said Saturday, shortly after the Hokies improved to 23-7 overall and earned a first-round bye in next week's ACC tournament in Greensboro, N.C. "I don't care what schedule you played. We played the schedule we were given. It's tough to win 10 games."
Ask Georgia Tech coach Paul Hewitt how hard it is to win 10 games in the ACC.
Even during a season in which defending national champion North Carolina limped through one of its worst seasons in history, his team only won seven ACC games during the regular season.
The Yellow Jackets, despite having potential NBA lottery picks
Derrick Favors
and
Gani Lawal
playing in their front court, find themselves firmly on the NCAA tournament bubble heading into next week's ACC tournament. And by finishing 7-9 against ACC opponents, Georgia Tech just gave the NCAA selection committee an excuse to leave it out of the NCAA field.
"I still feel we have a very good shot," Hewitt said, after his team lost for the fifth time in its past seven games. "We have to go to Greensboro and get a couple of wins and see where it falls from there. Thankfully we have a chance to improve it. They're not handing out bids tomorrow, and that's how we have to look at it."
If Selection Sunday were tomorrow, there's a good chance the Yellow Jackets would be excluded. They won only one ACC road game in eight chances, beating North Carolina 73-71 on Zach Peacock's go-ahead shot with 25.7 seconds left after nearly blowing a 20-point lead.
The Yellow Jackets lost at Virginia and Miami, two of the ACC's worst teams. Against NC State, the league's other cellar dwellar, they nearly blew a 16-point lead in the final five minutes before winning by a 73-71 score at home.
Since beating Clemson and Wake Forest in consecutive home games in late January, the Yellow Jackets haven't beaten anybody of consequence. They've beaten four opponents since Jan. 29 and each of them at home: Division II Kennesaw State, NC State, North Carolina and Boston College.
That's hardly the resume of an NCAA-worthy team.
"We're just focusing on getting us back together mentally and physically," Hewitt said.
Hewitt might want to focus on his team's lack of defense. In their past two games, the Yellow Jackets surrendered 91 points in an 11-point loss at Clemson on Tuesday night, and then 88 points to a Hokies that played without junior guard
Dorenzo Hudson
, their second-leading scorer.
Virginia Tech came into the game ranked last in the ACC in 3-point shooting, but went 9-for-17 beyond the 3-point arch against the Yellow Jackets.
"We did not do a great job of defending, but at the same time give Virginia Tech credit," Hewitt said. "They made some big shots."
Junior guard
Malcolm Delaney
made many of them, matching his season-high with 32 points. Tech's defense allowed the Hokies to spread the floor whenever they wanted to, and Delaney worked his magic from there.
"Delaney does a good job of penetrating," Hewitt said. "He did a good job of getting into the paint. He does a great job of drawing fouls. You've got to put good pressure on him and deny him when he gives it up."
Now the pressure is on the Yellow Jackets as they head to Greensboro.
The Hokies are probably in pretty good shape, but Greenberg isn't taking any chances.
"I said before the season we'll win as many games as we can and see what happens," Greenberg said. "We've had the same mindset all season, even when we lost three games in a row. That's been our focus all season -- control what we can control."
March, 6, 2010
3/06/10
7:05
PM ET
If you're a coach presiding over a talented but disappointing team, calling out fans and media on Twitter is never a good idea. It's even less of a good idea if your team fails to back up it on the court.
[+] Enlarge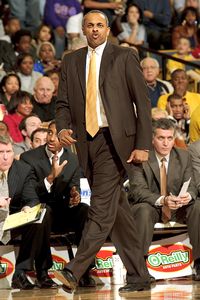 Paul Abell/US PresswireGeorgia Tech and coach Paul Hewitt have lost five of their past seven games.
Such is the lesson learned by Georgia Tech coach Paul Hewitt,
who took to his Twitter account two weeks ago in the hopes of scolding assorted Georgia Tech stakeholders
-- local media, critical fans, and so on -- about "quitting" on this year's decidedly fading Yellow Jackets. After
today's loss to Virginia Tech at home
, those Yellow Jackets have officially gone from potential Sweet 16 team to early tournament flame-out -- if they make the tournament at all.
Hewitt's team is filled with talent, talent that, for whatever reason, hasn't congealed over time. Instead, they seem to be getting worse. Georgia Tech has lost five of its past seven, and uber-talented forwards
Derrick Favors
and
Gani Lawal
haven't developed into the dominant frontcourt attack promised when Favors, a McDonald's All-American and surefire 2010 lottery pick, committed to Hewitt last year.
The next concern, as always, is the NCAA tournament. Joe Lunardi has listed Georgia Tech as a No. 10 seed in his latest bracket, which was drawn up before today's loss. It seems unlikely Georgia Tech would fall out of the tournament merely thanks to today's misfortune; they've been a steady inclusion since the season started, after all, and there are plenty of bubble teams doing their best to keep the field friendly to fading squads like the Yellow Jackets. It probably also helps that the selection committee isn't explicitly valuing in a team's last 12 games as more important than its early season performance, as in past years.
But a bad loss in the ACC tournament will make the selection committee -- and Georgia Tech fans, and Paul Hewitt -- awfully nervous. For good reason.
March, 6, 2010
3/06/10
6:17
PM ET
ATLANTA -- Can you leave a team out a team which finished 10-6 in ACC play?
Can you take a team which finished 7-9?


Those are the questions the NCAA selection committee will face next weekend, after Virginia Tech defeated Georgia Tech 88-80 at Alexander Memorial Coliseum on Saturday.
The victory was enormous for Virginia Tech, which won the game despite not having guard
Dorenzo Hudson
, its second-leading scorer, who sat out with a bruised bone in his right foot. The Hokies finished 10-6 in ACC play, three games better than the Yellow Jackets.
If the Hokies had lost at Georgia Tech, the NCAA selection committee might have been tempted to take the Yellow Jackets over them because of the head-to-head meeting. Georgia Tech also had a better RPI rating and strength-of-schedule ranking coming into the game.
Malcolm Delaney
scored 32 points, his fifth 30-point performance of the season. Junior forward
Jeff Allen
added 17 points, and junior forward
Terrell Bell
had a season-high 14 points. Bell is from nearby Stone Mountain, Ga.
The Hokies led by as many as 16 points in the second half.
Freshman
Derrick Favors
had 18 points and nine rebounds for the Yellow Jackets, who might need to win two games in next week's ACC tournament in Greensboro, N.C., to feel even remotely confident on Selection Sunday.
March, 6, 2010
3/06/10
5:15
PM ET
ATLANTA -- Georgia Tech and Virginia Tech must think today's ACC regular-season finale at Alexander Memorial Coliseum is as important as everybody else believes it is.
Bodies were flying to the floor during the first half. The players were exchanging words walking into the tunnel to their locker rooms at halftime. Hokies coach Seth Greenberg was chirping at officials during his walk off the floor.
Even though the Hokies are playing without junior guard
Dorenzo Hudson
, their second-leading scorer, they have a 45-39 lead over the Yellow Jackets at the half.
Both teams really need to win this game to feel better about their chances of getting an NCAA at-large bid. The Yellow Jackets need a victory here to finish 8-8 in the ACC standings. I still the Yellow Jackets are in OK shape for an at-large bid because of their high-end victories and tougher ACC schedule. But a 7-9 finish would at least give the NCAA selection committee a justifiable reason to keep them out of the 65-team field.
With a win over Georgia Tech, the Hokies would finish 10-6 in the ACC. They played one of the country's softer schedules and played most of the ACC's best teams only once in an unbalanced schedule, but I seriously doubt the NCAA is going to leave out a 10-6 ACC team.
Junior guard
Malcolm Delaney
is once again carry the Hokies, scoring 17 points and dishing out seven assists in the first half. Junior forward
Jeff Allen
has eight points, and
Terrell Bell
of nearby Stone Mountain, Ga., scored seven in the first half.
Forward
Gani Lawal
led Georgia Tech with nine points in the first half, and freshman
Derrick Favors
had six points and four rebounds. Tech's other players basically ignored their low-post stars during the first seven or eight minutes, but the forwards touched the ball more frequently in the final 12 minutes of the half. With Allen sitting out the last four minutes of the half with four fouls, look for Tech to attack the paint early in the second half.
February, 24, 2010
2/24/10
1:37
PM ET
February, 4, 2010
2/04/10
3:59
PM ET
Saddle Up is our nightly preview of the hoops your TV wants you to watch. Oh, come on. You can always record the new "Parks and Recreation." Catch it after the games! Anyway, here's Thursday night's rundown.
No. 19 Georgia Tech at No. 9 Duke, 7 p.m. ET, ESPN2
: Purdue's rivalry showdown with Indiana will be on the main network tonight, but those of you unconcerned with Midwestern hoops provincialism will probably be more interested in this. It's a good one: Georgia Tech toppled Duke back before Duke's road woes were an apparent problem, back when Duke's record matched its gaudy efficiency numbers. Since then, Georgia Tech has become even more confusing: Is this the team that
loses at Virginia
? Or the team that wins
at UNC
? And what does a
tight road loss at Florida State
, followed by an
all-cylinders-pumping home blowout of Wake Forest
really mean? I have no idea. Georgia Tech is an enigma -- a dynamic squad with enough young talent (look no further than freshman
Derrick Favors
here) to compete for the ACC title, but who has put it all together once or twice thus far. Tonight's a legitimate chance for the Jackets to show us who they really are. Win at Duke, and the rest is gravy.
No. 7 Purdue at Indiana, 7 p.m. ET, ESPN
: You've already heard plenty about What It All Means, what the rivalry says about the state of Indiana, and why, despite the Hoosiers' post-Kelvin Sampson morass, this is still a hot ticket in the Midwest. You'll no doubt hear plenty more of it tonight. For now, let's focus on the hoops. Since dropping three in a row to start the Big Ten season, Purdue has rattled off four straight wins. Much has been made of Purdue's lack of a "true" point guard, but the Boilermakers' best quality is that they never turn the ball over;
they're the No. 7 team in the country in that all-important tally
.
Purdue is also more than capable at turning other teams over, and that just so happens to be Indiana's worst quality --
the Hoosiers give the ball away on 22.3 percent of their possessions
. Indiana is not as incapable of upset wins as last year. If the Hoosiers keep turnovers low and make enough shots to keep Purdue within striking distance, they have a chance. And hey, the home crowd never hurts; Indiana is much better in Assembly Hall than it is away from it. Still no one would expect Indiana to win this game, and the numbers back that up. The Boilermakers are tough, physical, and experienced, all qualities IU is still figuring out. This is a great rivalry, to be sure. Whether this year's version will live up to that history is less certain.
Everywhere else
: You would have been forgiven for thinking Tennessee's season was effectively over after the Tyler Smith fiasco; you, me, and everyone else would have been wrong. The Vols are still in the Top 25, still fighting for the SEC title and still a viable NCAA tourney team.
They'll try to keep their surprising run going with a visit to LSU
, which has a chance to prove its not actually the worst major conference team in the country. ... Portland is one of Gonzaga's few fellow contenders in the WCC; pity for the Pilots
they're stuck playing Gonzaga
just after
the Zags dropped their first conference game of the year
. ...
Butler welcomes a surprisingly tough Detroit team to Indianapolis
; the return of former Indiana characters
Eli Holman
(who famously threw a potted plant in Tom Crean's office) and coach Ray McCallum should be interesting. ... Maryland will try to get back to its early ACC form with
a tough road visit to Florida State
. ... How could it possibly get any worse for UNC?
Losing to Virginia Tech and going to 2-5 in the ACC would be a start
. ... Finally, in the Pac-10,
Cal will travel to USC
and attempt to get a game up on Arizona in the conference standings; meanwhile,
Arizona will have a daunting task at Washington
.
January, 20, 2010
1/20/10
9:00
AM ET
The Morning After is our semi-daily recap post. Try not to make it awkward.
No. 18 Georgia Tech 66, No. 16 Clemson 64
: Sometimes size is all you need. That's the prognosis over Georgia Tech's last-second win over Clemson Tuesday night, wherein
Trevor Booker
fouled Zachary Peacock on the arm with three seconds remaining, putting Peacock on the line to hit the game-winning free throws. Booker shouldn't feel too bad; he led Clemson in points (19), rebounds (nine), steals (three) and blocks (two), and in the all-important "impressive breakaway dunk that causes a "SportsCenter" anchor to inexplicably and awesomely reference 'Lost In Translation'" category with one. (Check the highlights
here
if you don't believe me.) In the end, though, the Georgia Tech win came down to size, specifically the size possessed by
Gani Lawal
and
Derrick Favors
. Favors went for 17 and 14, and finally appeared to be breaching his uber-prospect potential -- this was one of those "oh, THAT'S why" games -- and he and Lawal scored a combined 66 percent eFG. Their work on the interior also gave
Georgia Tech a decided offensive rebounding advantage
, and in a tough, somewhat ugly conference game, that was enough to make the difference.
Wichita State 60, No. 22 Northern Iowa 51
: Those of you who tuned in to Purdue-Illinois expecting a raucous Assembly Hall crowd had to feel a little disappointed; every time I dialed up the Big Ten on my remote, the Orange Krush and company were downright demure. Not so in Wichita. There, the Shockers played the streaking
Northern Iowa Panthers
for a shot at the Missouri Valley regular-season crown and, even more importantly, a chance to prove that the MVC isn't just a one-bid league in 2009-10. The Shockers opened up small lead after small lead against UNI, guarding the Panthers all the way out to 25 feet and holding what is usually a good 3-point shooting team (29.9 percent on the season) to a dismal percentage (11.8 percent). Wichita State made the most of its possessions by grabbing offensive rebounds, and Northern Iowa could never erase the deficit.
It's a huge win for the WSU program generally and coach Gregg Marshall specifically, and it gets Wichita State right back in the hunt in the MVC, which is all Marshall and company could ask for Tuesday night. Thanks to some impressive play and a rowdy home crowd, the Shockers got it.
No. 15 Purdue 84, Illinois 78
: This is a held serve, isn't it? Sure, road wins are tough, and road wins at Assembly Hall are tougher, but you would expect a good Purdue team to go into Champaign and beat a mediocre Illinois squad, would you not? That's fair, yes?
OK, so the Boilermakers have had their share of troubles these last three games, but this team is still talented, well-coached, deep (except at point guard, where it's very shallow) and experienced. Methinks the Boilers -- who got back to their efficient ways Tuesday night, scoring 1.12 points per possession (even as they allowed more than a point per possession on the defensive end) -- will be just fine.
No. 8 Tennessee 63, Alabama 56
: Tennessee won for three reasons Tuesday night. One, the Volunteers didn't turn the ball over. Like, at all. Two, the Volunteers got to the free throw line at an extraordinary rate, especially for a road game -- someone should tell the referees in Tuscaloosa what home-court advantage is supposed to mean -- and three,
Wayne Chism
. Chism scored all of his 11 points in the final seven minutes of the game, helping the Volunteers close out another SEC win, this one on the road. The question now is how long Tennessee can keep this up. After all, it's still four scholarship athletes down, including
Tyler Smith
, the Vols' best all-around playmaker before his dismissal. Can Tennessee keep rolling? Hey, it's come this far.
January, 9, 2010
1/09/10
7:32
PM ET
By
Doug Gottlieb
| ESPN.com
Some thoughts from Georgia Tech's upset of Duke:
Few teams have the inside talent of Georgia Tech. That tandem of
Gani Lawal
and
Derrick Favors
proved to be too tough for Duke. For Tech, this win was huge. Plenty of people jumped off the bandwagon after the Yellow Jackets lost to Georgia in Athens. Newsflash: Georgia Tech ALWAYS loses to Georgia in Athens. Even Lethal Weapon Three (the 1990 Final Four team) lost there.
Bobby Cremins never won in Athens, so it was not as bad a loss as some would make you believe. The big key for Georgia Tech was that it used Lawal extensively late in the game. At times the Tech guards have been selfish in clutch situations. In this case, Lawal was the focal point of the offense, which is the right thing to do --
Iman Shumpert
is kind of just "another guy" and Derrick Favors rarely sees the ball at the block.
Tech got some huge free throws from freshman
Mfon Udofia
and "only" turned it over 15 times. It's a good start for the Yellow Jackets as we continue to search for a consistent challenger to Duke for the conference title.
Speaking of the Blue Devils,
Jon Scheyer
continues to seemingly do everything right while
Kyle Singler
struggles. Tech used longer, bigger defenders on Scheyer and that slowed him some, but he still went for 25. Meanwhile, Singler seems to be a little uncomfortable on the perimeter still as his passing is just OK and he does not have the first step to create space for himself. The result is a lot of contested jumpers off stepback moves and the 2-for-13 shooting speaks for itself.
In terms of professional prospects Scheyer is probably not an NBA player, but his Jewish faith allows him to get an Israeli passport and he would be one of the most coveted players EVER for a team like Maccabi Tel Aviv. Singler on the other hand -- and I love his overall offensive repertoire -- is kind of a tweener, but he has 20 more games to show improved guard play.
Nolan Smith
tweaked his ankle today. The Devils are not deep in the backcourt, so an injury would be problematic. By the way, Duke has now lost five of its last seven conference road games and are 0-2 overall on the road this season.
The Blue Devils are still very solid, but they do not have any legit inside scoring with Singler on the wing and they cannot have one of their big three have a bad game offensively if they want to win on the road.