College Basketball Nation:

Derrick Rose
June, 6, 2013
6/06/13
10:30
AM ET
In the weeks leading up to the June 27 NBA draft, we'll be taking a look at the 20 schools that have produced the best pros in the modern draft era (since 1989, when the draft went from seven to two rounds). Click here to read Eamonn Brennan's explanation of the series, which will be featured in the Nation blog each morning as we count down the programs from 20 to 1.
Top Five NBA Draftees Since 1989
Sixth man:
Will Barton
(2012)
The rest:
Elliot Williams
, Robert Dozier,
Joey Dorsey
, Chris Douglas-Roberts, Rodney Carney,
Shawne Williams
,
Antonio Burks
,
Dajuan Wagner
, Cedric Henderson,
David Vaughn
Why they're ranked where they are:
Star power. Guard power. Stard power? Whatever weird phrase you'd like to try to coin to describe it -- and hopefully you can do better than "stard power," yeesh -- Memphis has it, plain and simple. No other team ranked below them in this top 20 can say the same.
Rose was the MVP of the National Basketball Association at the ripe old age of 22, and you surely don't need me to tell you why his inclusion dramatically boosts Memphis' pro pedigree. Rose suffered a major setback with his anterior cruciate ligament tear in the 2012 playoffs, and his standing among Bulls fans was hurt by his inability (or unwillingness, or any of the other motives the city of Chicago ascribed to a dude taking the long view of his sure-to-be-brilliant career, as though this was a bad thing) to come back in time to face the
Miami Heat
in the 2013 stretch run. But Rose is one of the game's brightest young stars and, barring injury, will be an MVP-level player at the point guard spot for the next decade.
The key phrase, of course, is "barring injury." Just ask the top player on the list.
[+] Enlarge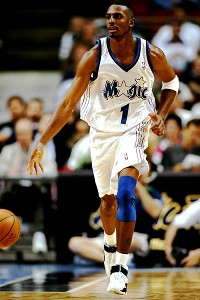 Andy Lyons/AllsportPenny Hardaway was on a Hall of Fame trajectory before a 1997 knee injury; still, he played 14 NBA seasons.
If you're my age, and grew up with Lil' Penny, you probably don't need me to outline why Anfernee Hardaway is on this list, or even why he's No. 1 above Rose. But in case you're too young to remember, Penny Hardaway was the capital-T Truth. A 6-foot-7 point guard who could score and dish and do pretty much anything else, Hardaway blitzed the NBA in his first four seasons, averaging 20.9 points, 7.2 assists, 4.4 rebounds and 1.7 steals per game in his second season, when the
Orlando Magic
won 57 games and knocked the
Michael Jordan
-less Bulls out in the second round of the NBA playoffs. As a young Bulls fan, I remember being horrified by this new world order.
Balance was soon restored to the force
but not before Nike could sell a gazillion pairs of Hardaway's
Air Pennys
, enough to make me the most consistently jealous 10-year-old basketball camp attendee of all time.
Despite the injuries -- chief among them a 1997 knee injury -- that eventually derailed what would have been a surefire Hall of Fame career, Hardaway went on to play 14 seasons in the league. Even if he hadn't, his early brilliance would have been enough. I know what I saw.
The rest of this list, as you might expect, is just sort of blah. Evans gets the nod at No. 3 because he has been a very productive player in his first four seasons, even if he's done so for one of the NBA's worst franchises (Sacramento) and earned a huge heaping of scorn for his seeming unwillingness to get teammates involved. Wright is a name you might best recall thanks to
his mysterious 2010 disappearance and death
, but, before that, the beloved Tiger had a nice 13-season NBA career. Perry did pile together 10 years in the league, but is listed fifth mostly because of that grotesque list of the rest, almost none of which has made any impact in the NBA. (To be fair, one-time uber-prospect Dejuan Wagner would've almost certainly cracked this top 5 had he not been beset by a series of scary medical ailments.)
Why they could be ranked higher:
Because Hardaway was the aforementioned truth? Because Rose is currently the truth? Because you believe Evans is misunderstood or in a bad situation and could be a brilliant player in a system that knew how to use him (or in any system at all, which isn't possible when you fire coaches as frequently as the Kings)? Any of these arguments is permissible, but none is particularly convincing. On the other other hand …
Why they could be ranked lower:
As much as it pains me to say this, we have no idea if Rose is ever going to be Rose again. With the possible exception of
Russell Westbrook
, no player in the NBA -- certainly no star -- relies as much on sheer athletic genius as Rose. He cuts, he bumps, he flies, he finishes, and when he's hitting jumpers, he's basically unguardable. What if all those cuts are a little less crisp? What if he can't do the same things he used to do physically? What does that mean for his career?
We could also argue that Hardaway, for as good as he was, was essentially a six-year player -- from 1993 to 1999 there were few guards in the game not named Michael Jordan as good as Penny. But after Hardaway's body betrayed him, he was a shell of his former self, doomed to wander the NBA wilderness until limping home with a 3.8-points-per-game season in his final year with the Heat. Don't get it twisted: I love me some Penny Hardaway. But he wasn't exactly a pillar of longevity.
Likewise, Evans is arguably trending downward. As a rookie, he averaged 20.1 points per game; he's declined in each subsequent season, from 17.8 to 16.5 to 15.2. These are not the best numbers by which to judge a young player's career, and Evans did shoot his highest field goal percentage (albeit on fewer attempts) in 2012-13. But after four seasons, Evans still lacks a consistent outside jumper, doesn't find teammates as often as he should and has too many character-related questions to project much added upside.
What's ahead?
Barton's career will be interesting to watch. A two-year player under Josh Pastner at Memphis, Barton was criminally underrated (much like the Tigers) in 2011-2012, his final season at the school, in which he finished with a 115.7 offensive rating on 25.6 percent usage. Despite putting up these All-America-level efficiency numbers, the 6-foot-6 guard was passed over until the
Portland Trail Blazers
selected him in the second round. Barton, who had an OK rookie season, has to improve his perimeter skills if he wants to stick as a conventional 3 in the league, but there's no reason he can't be a
Kawhi Leonard
type for the right team one day.
In the meantime, Pastner's program continues to recruit as well as any program in the country.
Adonis Thomas
killed his draft stock with an awful sophomore season, but he has the size and talent to stick in the league.
D.J. Stephens
is a
freak of nature
. Down the line, keep an eye on rising sophomore
Shaq Goodwin
and top freshman small forward
Nick King
.
Final thoughts:
For a program that spent the entire aughts coached by John Calipari, Memphis suffers from a distinct lack of depth when it comes to its pro pedigree since 1989. (Where have you gone, Dajuan Wagner? A nation turns its lonely eyes to you.) But at the top end, the players the Tigers
have
produced are undeniably stellar. Hardaway was a 6-foot-7 to whom God gifted the keys to Magic Johnson's tall-triple-double-machine legacy; only the whims of fate could slow him down. Rose, meanwhile, is still at the dawn of his career and already has one MVP -- in a
LeBron James
-owned league, and during a season in which
Dwight Howard
was insanely good -- under his belt. Even with the ACL tear, the long-term prognosis is pointing toward the Hall of Fame. Evans is divisive even within his own locker room, and his stock has taken a drastic hit, but there's no escaping the fact that he was the first player since James, Jordan and Oscar Robertson to average 20, 5 and 5 in his rookie season. That's still in there, somewhere.
Where Memphis' shot at the top 10 in this list falls apart is in the huge drop between that top three and the rest of its products since 1989. Look for Pastner to change that in the coming years. Until then, No. 15 feels right.
June, 26, 2012
6/26/12
11:00
AM ET
We often hear about the one-and-dones
who don't work out
, but here are 10 players who are flourishing in the NBA after spending just one season in college.
(Editor's Note: For Part 1 of Myron Medcalf's in-depth look at the NBA's minimum age requirement,
click here
.)
Carmelo Anthony, Syracuse:
The forward who led the Orange to the 2003 NCAA title has become a five-time All-Star with the Denver Nuggets and New York Knicks. Anthony was the No. 3 pick in 2003.
Chris Bosh, Georgia Tech:
Drafted one spot behind Anthony in 2003, Bosh has made seven straight NBA All-Star teams. Earlier this month he helped the Miami Heat win the NBA championship.
DeMarcus Cousins, Kentucky:
The enigmatic post player averaged 18.1 points and 11 rebounds in his second season with the Sacramento Kings in 2011-12. Cousins teamed with John Wall to lead Kentucky to the Elite Eight in 2010.
Kevin Durant, Texas:
Durant's Oklahoma City Thunder reached the NBA Finals this season, then lost to the Miami Heat. Still, Durant is regarded as one of the top two or three players in the NBA. He's won three straight scoring titles.
Tyreke Evans, Memphis:
The former standout under John Calipari was named NBA Rookie of the Year in 2010. His production has tapered off slightly the past two seasons, but Evans averaged 16.5 points and 4.5 assists for the Sacramento Kings in 2011-12.
Eric Gordon, Indiana:
A knee injury limited Gordon to just nine games last season with the New Orleans Hornets, but a year earlier he averaged 22.3 points and 4.4 assists for the Los Angeles Clippers. Gordon scored 20.9 points per game during his one season at Indiana in 2007-08.
Kyrie Irving, Duke:
The No. 1 overall pick in the 2011 NBA draft couldn't have had a better rookie season with the Cleveland Cavaliers. Irving, who had played in just 11 games for Duke, won NBA Rookie of the Year honors after averaging 18.5 points and 5.4 assists.
Kevin Love, UCLA:
Love finished sixth in the MVP voting last season after averaging 26 points and 13.3 rebounds. He set a franchise record for most games with more than 30 points in a season. He is one of the top rebounders in the NBA and is known for his outlet passing. Love was the No. 5 overall pick in 2008.
Derrick Rose, Memphis:
Rose, who led Memphis to the 2008 NCAA title game, is regarded as one of the top point guards in the NBA. In 2011 he became the youngest player in history to win the league's MVP award. He was named rookie of the year in 2009.
John Wall, Kentucky:
The No. 1 overall pick of the 2010 NBA draft has averaged 16.3 points and 8.2 assists in his first two professional seasons. Wall is one of the fastest players in the league with the ball in his hands, although he needs to improve his accuracy (41.6 percent) from the field.
May, 5, 2011
5/05/11
8:39
PM ET
By
Diamond Leung
| ESPN.com
Imagine a scenario next season in which the NBA lockout sidelines the players, and former John Calipari players such as John Wall and Derrick Rose head to Kentucky to get in their workouts. They'd be doing the John Wall dance in the streets of Lexington again, right?
That's what Calipari has in mind. He told the
Washington Post
that he told Wall -- the top draft pick in the 2010 NBA draft, who played one season with Kentucky -- that he would be welcomed back to campus to work out, go to summer school, and maybe even practice with the team or serve as a student assistant.
Calipari added that if Wall were to re-enroll at Kentucky -- which one of Wall's representatives, Dwon Clifton, said on Thursday was unlikely but "still a possibility" -- he could practice with the Wildcats as well to stay in basketball shape.

"He can be on the court with us. He can be a student assistant going back to school, you can put him on the court. I'm going to invite all of our guys, John, [Bulls guard and District native Keith] Bogans," he said after watching Rose score 25 points and dish out 10 assists to lead the Bulls to an 86-73 win over the Atlanta Hawks in Game 2 of their Eastern Conference semifinal. "I even said to Derrick, you didn't go there, but if you want, you can come down. But hopefully, there isn't a long stoppage, but if there is, I want to make sure our guys know they can come back with us."
Unlikely? Maybe, but just the thought of having Wall and maybe even the NBA MVP Rose on campus working out at Kentucky would add to the glitz and glamor of the program that Calipari has created.
It's all another example of how Calipari is always thinking ahead. Earlier in the week, he was able to arrange the
Kentucky Combine
to showcase his players to NBA scouts and help them make better decisions since the NCAA's deadline for early entrants to make their decisions is May 8.
So whether or not Wall helping out Kentucky happens, score another one for Calipari.
September, 13, 2010
9/13/10
8:08
PM ET
By
Diamond Leung
| ESPN.com
Sonny Vaccaro, the so-called godfather of grassroots basketball, checked in with
TrueHoop's Henry Abbott
to point out that the Team USA which just won gold at the FIBA World Championships consisted mostly of players who didn't need to play a lot of college basketball to become elite players.
Long a thorn in the side of the NCAA, Vaccaro of course is happy to provide the reminder since some have claimed that it was the culture surrounding the amateur hoops system he created that was in part to blame for Team USA's drop-off in previous years.
"Look at the players on this team!" says Vaccaro. "You can go down the list. The NCAA would tell you that the solution is for players to spend more time playing for a college but these great players spent very little time in college."

World championship MVP Kevin Durant took the road that has been called broken. "Kevin is the youngest of them all," says Vaccaro. "It's not like his year under Coach [Rick] Barnes at Texas made him who he is. He's had these skills forever! He's the same great kid who played for some Washington AAU team a few summers ago."

...

"I get what David Stern is doing. He's a businessman. By forcing kids to go to college, he's delaying paychecks to them, and helping owners decide who should be drafted high," says Vaccaro. "But for the life of me, I can't figure out why the general public thinks the NCAA should have these players."
Judging from the exclamation marks, Vaccaro appears downright giddy regarding the success of one-and-done players like Durant, Derrick Rose (Memphis), Kevin Love (UCLA), and Eric Gordon (Indiana).
Clearly, he doesn't like that players don't have the option of declaring for the NBA draft right out of high school. We get that.
But did college basketball really have as little to do with their pro success as Vaccaro believes? Did these players really not need seasoning in college under Barnes, John Calipari, Ben Howland and Kelvin Sampson to get to where they are now?
August, 25, 2010
8/25/10
2:45
PM ET
You remember the game. Memphis vs. Kansas -- the 2008 national title. With 10.8 seconds remaining in regulation, Derrick Rose made the second of two free throws to put Memphis up by three. Kansas inbounded the ball, and Memphis coach John Calipari did something that would haunt him for the rest of his career: He didn't foul. You know what happens next: Mario Chalmers sinks Mario's Miracle, tying the game and sending it to overtime, where Kansas eventually outlasted the Tigers for Bill Self's first national title.
Calipari has long been criticized for that decision. Calipari has said his team was trying to foul but didn't get it done; he's even criticized himself for allowing Kansas to shoot that three. You have to assume he feels pretty rotten about it.
That's because the conventional wisdom -- forged over the past few years -- says that teams leading by three at the end of games should foul. The thinking is simple: It's harder for a team to make one free throw, miss it, and then grab a rebound and score than it is for that team to come down the court and make a quick, albeit challenged, three point shot.
But is that really true? In what the Harvard Sports Analysis Collective calls the "first comprehensive empirical study of the issue for college basketball,"
the HSAC found that teams in Memphis' situation have just as good a chance of winning if they don't foul as if they do
. I'll let author John Ezekowitz explain:
In the 2009-2010 season, I found 443 instances where a team held the ball down three points during their last possession of a period (either the end of the 2nd half or an overtime period). In 391 of those cases, the team leading did not foul. In 52 cases, the team chose to foul. [...]

Of the 52 teams that committed a foul, six lost the game for a winning percentage of 88.46%. Of the 391 teams that did not foul, 33 lost the game for a winning percentage of 91.56%. Both a two sample t-test of proportion and a Chi-squared test fail to reject the null hypothesis that there is a difference in winning percentage between the two strategies. In this sample, teams that did not foul won slightly more often. For the less statistically inclined, this means that there is no significant difference between the two strategies.
Even if you have no idea what a two-sample t-test of proportion is (I don't know if I got that far in the Statistics 101 class I hurriedly got out of the way during one collegiate summer session; if I did, I wouldn't remember it), John's results are clear. Generally speaking, teams do not gain a significant statistical advantage from fouling while up three. In John's data, those teams actually
lost
slightly more often than teams that did not foul.
There are a few problems with using the words "generally speaking" about this dilemma. For one, not every team's timeframe for preventing that game-tying three -- or that game-tying tip-in -- is the same. The skill of the opposing team also factors in; if the team you're trying to hold off has a particularly dangerous three-point shooter, maybe fouling is a slightly more appropriate strategy. This stuff all matters.
Still, this is an awfully enlightening start. We see this all too often in sports: A strategy sprouts, and whether or not that strategy is right, it becomes codified and accepted as conventional wisdom. In this case, though, we see the conventional wisdom might not matter. If you're up three with a few seconds left, you're usually going to win the game. No matter what you do.
That lack of efficacy might not make most college hoops coaches comfortable, but at the very least, John Calipari should rest easy. Mario's Miracle was just a really, really good shot.
(Hat tip:
Rush The Court
)
June, 8, 2010
6/08/10
7:51
AM ET
Before
last week's Eric Bledsoe
quasi-bombshell, it was fair to say that most college hoops fans weren't all that familiar with the work of the NCAA's Eligibility Center. A week later, few of us are experts on the matter, but thanks in large part to some good explanatory reporting from the Lexington Herald-Leader's Jerry Tipton, we're getting there.
Questions revolve around Bledsoe's suddenly improved high school transcript and some alleged ugliness on the part of his coach in marketing Bledsoe as a prospect, among other potential issues.
Tipton discussed those issues with a private investigator
, who said that Kentucky should have known if Bledsoe had potential red flags on his transcript even if Bledsoe was cleared by the NCAA's Eligibility Center. That way, Kentucky wasn't risking an investigation after Bledsoe had already completed his one-and-done year at the school.
This is a confusing notion for most college hoops fans. Why should a school be held liable for a player's ineligibility if the NCAA's own Eligibility Center cleared that player in the first place? How is
that
fair?
Thing is, it's not. But it happens anyway, because the Eligibility Center just isn't big, agile, or well-endowed enough to catch every potential problem player from the start.
To wit
:
The short answer is that in these cases — "a very small percentage" each year according to the NCAA — new information surfaces that dramatically changes how to judge an incoming freshman's eligibility. Also the initial ruling on a player's eligibility can be preliminary in nature given that the NCAA's Eligibility Center has less than 55 employees charged with judging whether about 90,000 incoming athletes each year can play for college teams. [...]

In explaining the fairness in a player being judged eligible and subsequently ruled ineligible, Wynne noted that the normal preliminary eligibility review can be a cursory look at the two components that determine eligibility: the grade-point average in 16 core courses and the college entrance exam score.

"No red flags and you're off to the next transcript," Wynne said.
In other words, if you don't submit your transcript to the NCAA with a giant red sticker on it that says "I probably don't deserve to get into college! My transcript is really suspicious! You should probably take a look at this thing!", there's a decent chance you're going to get past the NCAA Eligibility Center. And even if you do put that big red sticker on your transcript, it's entirely possible the worst that happens is the NCAA submits you to a follow-up "extensive review" -- which happens each year to hundreds of applicants, one of which was Eric Bledsoe -- and your chances of getting in are still pretty good.
It's a 55-employee center servicing 90,000 applicants each year. You could make the argument that those 55 employees could do a better job. Maybe so. But it's not hard to see why some transcripts slip through the cracks. That's almost 100,000 cracks.
So the NCAA misses some stuff. Then, when new information comes to light, information that might take a year or two to surface, it goes back and judges the eligibility of the player again. Which is why the Derrick Rose-SAT stuff happened at Memphis and why the NCAA can and will investigate what it views as questionable stuff on the part of Bledsoe or anyone else it hears naughty things about, even if those naughty things got past its initial review process.
Which brings us back to the moral of the story, for Kentucky and any other school thinking about signing a recruit with potential red flags: It's on you. (Schools surely already know this, but it's something of a new concept for yours truly, so bear with me.) The Eligibility Center may clear a player, but it assumes no responsibility for being wrong and reserves the right to come after you if it misses something and you benefit. This may seem unfair, but all it asks of member schools is that they assume the consequences for not remaining vigilant about eligibility and admissions.
It's not exactly a radical stance. It's also not the best way to manage eligibility. But, in the immortal and overused words of Brian McNamee,
it is what it is
. It's the only system the NCAA has. Schools better act accordingly.
February, 17, 2010
2/17/10
2:02
PM ET
By
Diamond Leung
| ESPN.com
USC faces the NCAA Infractions Committee this week in Tempe, Ariz., where athletic director Mike Garrett and former coach Tim Floyd are among those expected to defend themselves.
The Los Angeles Times
has a look at what USC could be in for as the NCAA sifts through the O.J. Mayo and Reggie Bush allegations. According to Memphis athletic director R.C. Johnson, who went before the NCAA regarding Derrick Rose:
The hearing "is not 'Law and Order,'" Memphis' Johnson said. "You don't jump up and down at each other. You get your chance to say, 'That's not true,' but you don't ever want to interrupt them while they're talking."
In other words, that vision you have of Jack McCoy grilling someone about Rose's knowledge of equilateral triangles? Doesn't work like that.
January, 5, 2010
1/05/10
10:48
AM ET
The non-college hoops fan typically picks his or her battles. He doesn't follow the entire college hoops season, one game after another, because he doesn't care. He needs big picture. He wants to see who the best college hoops players are, and why, and what chance one of these players will end up on his favorite NBA team. Being an NBA fan as well as a college hoops guy, I understand this impulse, and I have nothing wrong with it (even if you couldn't convince the most stubborn NBA fan that the college hoops game is worth watching for plenty of other reasons, too -- but that's for another argument).
Which brings us, naturally, to
John Wall
.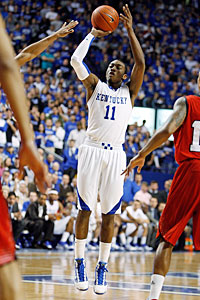 Andy Lyons/Getty ImagesJohn Wall is averaging 17.2 points and 7.3 assists per game for the Wildcats.
Is it any wonder scouts, fans and NBA bloggers are all freaking out about Wall's imminent arrival in the NBA? After all, we college hoops folks only get him for four more months; after that, he becomes the exclusive province of NBA fans for the next, oh, 15 years. And good for them. The big jerks. Let's hope they enjoy him. Because he is really, really good.
But how good? Is Wall the next Derrick Rose? The next Tyreke Evans -- who college fans will be surprised to learn is quite possibly the NBA's best rookie in 2009-10? (Evans was uber-talented in college, but he always looked a little lost in a way that Rose didn't. And he took too many bad outside shots.) Or is Wall -- gasp -- better than both?
That's the consensus that's quickly forming, and it makes sense. After all, Rose is probably more athletic, but was not nearly as far along (and maybe still isn't) in his vision and knowledge of how to run a team from the point guard spot. Under John Calipari, Rose took dribble-drive to a new level, but it required him to be a slasher and attacker more than an NBA-style pick and roll point guard. Evans did much the same, but with a bigger body; he dominated smaller players on drives to the hoop, which appeared to be his main talent in college.
Wall is different. Wall does different things. He can get to the hoop at will, sure, but he is equally capable of running an offense from any position on the floor. He can slow the game down and control it and take it over. Rose is just now starting to do that in the NBA. In college, he was all frenetic motion. Wall seems more ... calm.
And then, of course, he explodes, and no player in the country is better at getting to the rim on the fast break than Wall. He can do everything. That's the point. Rose and Evans are still learning the ropes, still figuring out what it means to be a point guard in the NBA. Wall already seems to know. There isn't a single NBA team in existence that wouldn't be improved from that knowledge.
This is much what Hardwood Paroxsysm's
Matt Moore wrote yesterday
. An NBA guy to the bone, Moore has taken a hard look at the careers of Wall and his point guard predecessors -- which, by the way, all played for Calipari; how crazy is
that?
-- and sees the most in Kentucky's current All-American:
Are the turnover numbers worrisome? Sure, but if you're looking at a prospect, aren't turnovers the one thing you accept because you know you can coach those out? You can't coach them to shoot that much better, or to attack consistently, or how to create for your teammates. You can't coach him to outrun two men on a fastbreak or know when to nail an open jumper or reset the offense. The things you can't teach? Wall knows.
Some of these things were said about both Rose and Evans. Rose's blinding speed was stunning when he went in for a layup. Evans ability to attack with his size was downright terrifying. Rose had confidence, Evans had ferocity. But Wall is somehow the model in-between the two, the hybrid.
There's a million ways this could go badly from here on out. He could struggle against tougher competition (though finding much tougher than Louisville, UConn, Indiana, and UNC is going to be tough). He could wind up with personal or legal trouble (busted last summer for breaking and entering in what could be a harmless prank or a sign of badness and we'll never know which). There are all the usual draft-related nightmares (injury, bad coaching, being drafted by the Clippers). But even with all those things a constant in my mind, I still find myself thinking that this kid is going to do things in the league that we haven't seen in a long damn while. And if you don't take my word for it, read around. Heck, check the most rigorous analysts around.
But having seen what I've seen, I have no choice, even as someone so prone to overhype as I am. I have to stand by my conviction.
I believe in John Wall.
At this point, why wouldn't you?