College Basketball Nation:

DeShawn Sims
July, 1, 2010
7/01/10
2:47
PM ET
It hasn't been the best of offseasons for Michigan coach John Beilein. First the Wolverines lost their two leading scorers in
Manny Harris
and
DeShawn Sims
. Sims was a senior, but Harris' decision to enter the NBA draft especially hurt. Despite his apparent differences with Beilein, Harris was Michigan's most productive player, and his decision to go to the draft was unrewarded when Harris wasn't selected in either round last Thursday night.
[+] Enlarge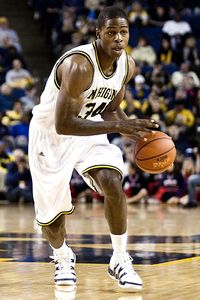 Icon SMIDeShawn Sims averaged 16.8 points and 7.6 rebounds per game last season for the Wolverines, but opted to enter the NBA draft.
Then Beilein lost a huge chunk of his coaching staff. Assistants
Jerry Dunn and Jeff Mahoney left after the season
. Graduate manager Patrick Beilein left for Dartmouth. And
fifth-year assistant Mike Jackson left to take an assistant's position at Purdue
.
Now there's more bad news to deal with:
Laval Lucas-Perry
, a redshirt junior expected to compete for Michigan's starting point guard spot, was bounced from the team thanks to a "violation of team standards," according to a Michigan press release. According to AnnArbor.com, Perry had the team standards "made clear to him on several occasions" and apparently didn't get the picture.
The move comes at a transparently bad time for Beilein and the Wolverines. Perry played in 32 games in 2009-10, starting 22 of them; his loss adds to the stark turnover throughout Michigan's program. That turnover will require Beilein to shift some personnel,
probably resulting in more time
at the shooting guard spot for either sharpshooter
Zack Novak
and
Stu Douglass
.
Fortunately, Beilein does have a pair of top 100 recruits on the way in 2010 --
power forward Evan Smotrycz
and
shooting guard Tim Hardaway Jr
. -- but the recruiting class isn't nearly good enough to make up for Michigan's losses this offseason. If Beilein had the college coach's classic three-year rebuild in mind when he took over at Michigan in 2007, that plan is decidedly behind schedule.
March, 12, 2010
3/12/10
12:49
PM ET
INDIANAPOLIS -- Michigan dictated the tempo early before Ohio State snapped out of its funk with ferocious defense and took total control in the final eight minutes.
Quick thoughts at the
halftime break
:
Early on, Ohio State looked like a team that hasn't played since March 2. The Buckeyes were sloppy with the ball and seemed content to launch uncharacteristic 3-point attempts. How did they turn things around? Great defense, especially on Michigan forward DeShawn Sims, who scored the first eight points for his team before slowing down a bit. The Buckeyes recorded back-to-back steals on a 25-6 run to close the half. Michigan committed nine turnovers, most of them during the major slide.
Michigan appeared more comfortable playing up-tempo in the first 12 minutes, as Sims found his shooting touch and guard Zack Novak attacked the basket with aggression. Sims swished three turnaround jumpers before Ohio State put Evan Turner on him. Manny Harris really needs to get more involved for the Wolverines.
Turner was his typical brilliant self with nine points, but he really got his teammates involved as the half went on. The National Player of the Year front-runner fed Jon Diebler (eight points), David Lighty (seven points) and William Buford (five points), and Ohio State piled up 25 points in the final nine minutes. Turner recorded six assists and is well on his way to another double-double (at least).
March, 12, 2010
3/12/10
10:15
AM ET
INDIANAPOLIS -- Four quarterfinal matchups in the Big Ten tournament are on tap today.
Let's take a quick look at each one.


No. 1 seed Ohio State vs. No. 8 seed Michigan (ESPN, noon ET)
Records:
Ohio State (24-7), Michigan (15-16)
Season series:
The teams split two matchups, with Michigan winning 73-64 in Ann Arbor and Ohio State prevailing 66-55 in Columbus on Feb. 27.
Advancement:
Winner faces Wisconsin or Illinois in Saturday's first semifinal (CBS, 1:40 p.m. ET)
What to watch for Ohio State:
National Player of the Year front-runner
Evan Turner
makes his first appearance in the Big Ten tournament, as Ohio State eyes a possible No. 1 seed in next week's NCAA tournament. The Buckeyes could sneak in to the top line, but only if they win the Big Ten tournament. Turner had 18 points, 11 rebounds and seven assists in the teams' last meeting after sitting out a Jan. 3 game at Michigan with a broken back. Ohio State ranks second in the Big Ten in scoring defense (60.4 ppg) and will try to contain Michigan star forward
DeShawn Sims
with
Dallas Lauderdale
.
What to watch for Michigan:
The Wolverines need a complete performance to beat the surging Buckeyes, and they'll look for big things from guard
Manny Harris
, who looked good in Thursday's first-round win against Iowa (22 points, 9 rebounds). Michigan played stifling defense for most of the Iowa win and needs a similar effort against Turner,
David Lighty
and
William Buford
. The good news is U-M seems to match up decently with Ohio State this year. "We beat them for a whole game, beat them for a half," Wolverines forward
Zack Novak
said Thursday. "They got us for one half this year, so we're confident going in."


No. 4 seed Wisconsin vs. No. 5 seed Illinois (ESPN, 25 minutes after Michigan-Ohio State)
Records:
Wisconsin (23-7), Illinois (18-13)
Season series:
The teams split two meetings, with each squad winning on the other's home floor. Illinois stunned Madison at the Kohl Center on Feb. 9, but Wisconsin surged to a 72-57 rout Sunday in Champaign.
Advancement:
Winner plays Ohio State or Michigan in Saturday's first semifinal.
What to watch for Wisconsin:
The Badgers might be the hottest team in this tournament, having won four consecutive games. It's no secret the surge has coincided with the healthy return of forward
Jon Leuer
, who won Big Ten Player of the Week honors last week. Leuer (14.9 ppg, 5.7 rpg) and forward
Keaton Nankivil
(8.7 ppg, 4.7 rpg) really balance out Wisconsin's offense and will put pressure on Illinois bigs
Mike Tisdale
and
Mike Davis
. The Badgers flustered Illinois star
Demetri McCamey
in Sunday's win and need a similar defensive effort from
Jordan Taylor
.
What to watch for Illinois:
McCamey's sideline confrontation with head coach Bruce Weber generated plenty of national attention, and it will be interesting to see how the mercurial star responds today. Illinois needs its best player to be at his best against a jelling Badgers team. The Illini are only 1-5 since their win in Madison and need to find other ways to score if the outside shots aren't falling. They also must rebound better after Wisconsin crashed the offensive glass well in Sunday's game.


No. 2 seed Purdue vs. No. 7 seed Northwestern (Big Ten Network, 6:30 p.m. ET)
Records:
Purdue (26-4), Northwestern (20-12)
Season series:
Northwestern won the teams' only meeting, 72-64, on Jan. 16, which marked Purdue's last loss with a healthy
Robbie Hummel
.
Advancement:
Winner faces Michigan State or Minnesota in Saturday's second semifinal (CBS, 25 minutes after first semifinal).
What to watch for Purdue:
After a rough start in its first game without Hummel, Purdue rallied last week for two wins. The Boilers need a strong effort today from center
JaJuan Johnson
, who was a nonfactor before fouling out against Northwestern the last time the teams met. Senior guard
Chris Kramer
also had a rough outing in Evanston and needs to be a bigger factor on both ends of the floor. Purdue's suffocating man-to-man defense could be the difference tonight. "Instead of someone picking you up at 21 feet, they pick you up at 90 feet," Northwestern coach Bill Carmody said.
What to watch for Northwestern:
The Wildcats actually match up well against Purdue. They have won two of the teams' last three meetings and choked away a big lead in the only defeat. Standout freshman wing
Drew Crawford
is very banged-up -- he had at least three ice packs on his body after Thursday's win -- so Northwestern needs production from other spots. Point guard
Michael Thompson
stepped up big against Indiana (16 points), but senior guard
Jeremy Nash
and sophomore center
Luka Mirkovic
need stronger performances today.


No. 3 seed Michigan State vs. No. 6 seed Minnesota (Big Ten Network, 25 minutes after Purdue-Northwestern game)
Records:
Michigan State (24-7), Minnesota (19-12)
Season series:
Michigan State won both meetings, but only by a combined eight points. After a 60-53 win in East Lansing, the Spartans needed a huge shot from
Kalin Lucas
to outlast Minnesota, 65-64, on Jan. 23 at Williams Arena.
Advancement:
Winner faces Purdue or Northwestern in Saturday's second semifinal.
What to watch for Michigan State:
The Spartans come off of a strong showing against Michigan on Sunday but will be without junior guard
Chris Allen
, who is suspended for the game. Allen ranks fourth on the team in scoring (9.1 ppg), and his absence will put a bigger burden on starting shooting guard
Durrell Summers
. Michigan State's front line has played better as of late and needs a strong performance against Minnesota bigs
Damian Johnson
,
Ralph Sampson III
and
Colton Iverson
. The Spartans haven't been great defensively this year, but they have held their last six opponents to just 57.2 points per game.
What to watch for Minnesota:
After two blowout wins against bottom feeders, the Gophers can really boost their NCAA tournament hopes with a win today. They paced Michigan State in both games and endured one of several heartbreaking losses in the meeting at The Barn. If seniors Johnson and
Lawrence Westbrook
continue to answer the bell like they did Thursday, and if
Devoe Joseph
builds on a strong performance, Minnesota will be tough to beat. "Last time we played Michigan State we lost by one point," Joseph said, "and we made a lot of mistakes in the last four minutes, so I definitely think we can pull off the upset."
March, 11, 2010
3/11/10
4:26
PM ET
INDIANAPOLIS -- After a scare early in the second half and in the closing minutes, Michigan held off
Cully Payne
and Iowa,
59-52
, to advance to the Big Ten tournament quarterfinals. The Wolverines will face top seed Ohio State on Friday (ESPN, noon ET).
[+] Enlarge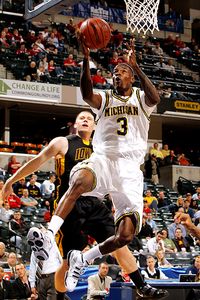 Jonathan Daniel/Getty ImagesManny Harris heads to the hoop for two of his 22 points Thursday.
Michigan got what it needed from its star players, particularly junior guard
Manny Harris
, who played a lot like he did early in the season. Harris was very aggressive on both ends of the court and finished with 22 points, nine rebounds and two assists. Wolverines senior forward
DeShawn Sims
continued to be a load in the low post, racking up 14 points.
Iowa never quit today, which is more than I can say for the Hawkeyes' last two outings -- historically bad losses to rivals Wisconsin (67-40) and Minnesota (88-53). The Hawkeyes carried over the momentum they built late in the first half, thanks to Payne, who scored a career-high 25 points. Iowa cut Michigan's lead to four points before a Sims block led to a
Zack Novak
3-pointer. The Hawkeyes also took advantage of Michigan's sloppiness down the stretch, cutting the lead to five with a chance to get closer.
Payne surpassed his previous career best of 18 early in the second half. But other than promising forward
Aaron Fuller
(10 points, 13 rebounds), Payne didn't get much help from his Iowa teammates.
The Hawkeyes struggled to hang onto the ball, committing 14 turnovers in the loss.
There's a lot of buzz here at Conseco about the future of Iowa third-year head coach Todd Lickliter, which could be addressed in a matter of moments. Lickliter has four years remaining on his contract but owns a 38-58 record at Iowa.
Stay tuned ...
March, 11, 2010
3/11/10
3:25
PM ET
INDIANAPOLIS -- We've reached halftime here at Conseco Fieldhouse, and No. 8 seed Michigan has led the entire way against No. 9 Iowa.


Some quick thoughts:
Michigan's defensive aggression and Iowa's sloppy ball-handling have been the difference so far. The Hawkeyes committed a five-second violation on the game's opening possession and finished the half with eight turnovers. When you're shooting as poorly as Iowa has been lately, you need to take care of the basketball. Michigan has done a nice job of that so far, committing only three giveaways.
Manny Harris hasn't had the season he envisioned, but the Michigan junior guard looks very impressive so far. He's consistently attacking the rim but not taking silly shots, and he's getting his teammates involved. Harris has 12 points and five rebounds.
Iowa guard Cully Payne is almost single-handedly keeping the Hawkeyes in this game. After a slow start, the freshman point guard has scored 13 of Iowa's 23 points, hitting 3 of 5 3-point attempts. He engineered a 12-5 Iowa run to close the half. Payne clearly is the type of player who fits well in Todd Lickliter's system, but he'll need more of his teammates to get hot in the second half.
Michigan is still 3-point happy, but Iowa can't forget about DeShawn Sims down low. Sims, who had double-doubles in both meetings with Iowa this season, has been able to score fairly easily down low and boasts 10 points at the half.
March, 11, 2010
3/11/10
11:35
AM ET
INDIANAPOLIS -- The 2010 Big Ten men's basketball tournament tips off today at Conseco Fieldhouse with three first-round games on tap.
Here's a quick look at the matchups:


No. 8 seed Michigan vs. No. 9 seed Iowa (ESPN2, 2:30 p.m. ET)
Records:
Michigan (14-16), Iowa (10-21)
Season series:
Michigan won both meetings, pounding Iowa 60-46 at Crisler Arena and rallying for a 80-78 overtime victory in Iowa City.
Advancement:
Winner faces No. 1 seed Ohio State in the quarterfinals Friday (ESPN, noon ET)
Three things to watch:
These are the two worst offensive teams in the Big Ten, as Michigan averages just 64.4 points and Iowa puts up 60.8 points. The Hawkeyes shot just 30.9 percent from the field and 16.7 percent from 3-point range (4-for-24) in the game in Ann Arbor, while Michigan had a 14-point first half Sunday against Michigan State. Despite the offensive struggles, the teams found their scoring rhythm in their last meeting, as both shot better than 45 percent from beyond the arc. Don't be surprised if the game comes down to 3-point shooting.
Michigan center DeShawn Sims is a load for most opposing teams, and a smallish Iowa squad will have its hands full with the senior. Sims recorded double-doubles in both meetings with the Hawkeyes this year, including a 27-point, 10-rebound effort in Iowa City. The Hawkeyes will need strong defensive performances from Jarryd Cole and Aaron Fuller today.
Iowa can't afford any sort of hangover effect if it expects to advance in Indy. The Hawkeyes lost their last two regular-season games, to Wisconsin and Minnesota, by a combined 62 points. Iowa endured its worst-ever loss to Wisconsin (67-40). As freshman guard Eric May told The (Cedar Rapids) Gazette, "You've got to Etch A Sketch it and get it out of your system."
No. 7 Northwestern vs. No. 10 Indiana (ESPN2, 25 minutes after Game 1)


Record:
Northwestern (19-12), Indiana (10-20)
Season series:
Northwestern crushed Indiana 78-61 in Evanston on Feb. 7, but the Hoosiers responded with an 88-80 overtime win Saturday at Assembly Hall.
Advancement:
Winner faces No. 2 Purdue in the quarterfinals Friday (Big Ten Network, 6:30 p.m. ET)
Three things to watch:
The matchup features two of the Big Ten's top offensive threats. Northwestern sophomore forward John Shurna was the Big Ten's leading scorer in league games (20.1 ppg). Shurna matched his career high with 31 points and grabbed 12 rebounds in Saturday's loss to IU. Indiana guard Verdell Jones III finished sixth in the Big Ten in scoring for conference games (16.7 ppg). Jones racked up 28 points in the teams' first meeting.
Northwestern needs to put a body on Indiana's Jordan Hulls, Derek Elston and Bobby Capobianco, especially after Saturday's game. All three Hoosiers freshmen recorded career highs in scoring, including 24 points from Hulls on 8 of 12 shooting from long range. Northwestern has struggled defensively away from its home court, and it'll be interesting to see if Wildcats head coach Bill Carmody sticks with the 1-3-1 zone against IU.
Two of the Big Ten's top freshmen will be on display today. Northwestern wing Drew Crawford earned Big Ten Co-Freshman of the Year honors, and Indiana forward Christian Watford also gained consideration for the award. Watford will look to beat up Northwestern in the post, while the Wildcats need a lift from Crawford, who has been fighting injuries during the second half of league play.
No. 6 Minnesota vs. No. 11 Penn State (Big Ten Network, 7:30 p.m. ET)


Records:
Minnesota (18-12), Penn State (11-19)
Season series:
Minnesota won both meetings, but both were close. The Gophers prevailed 75-70 in Williams Arena and beat Penn State 66-64 in State College on
Lawrence Westbrook
's jumper as time expired.
Advancement:
Winner faces No. 3 Michigan State in the quarterfinals Friday (Big Ten Network, approximately 9 p.m. ET)
What to watch:
Minnesota certainly should be on upset alert, as Penn State is playing its best ball right now. The Nittany Lions won three of their final six Big Ten contests and lost the other three by a combined 14 points. Penn State lost 11 Big Ten games by 10 points or fewer, including seven by six points or fewer. Penn State guard Talor Battle averaged 21.5 points in two meetings with the Gophers this year.
Gophers senior forward Damian Johnson will be playing with a chip on his shoulder today. Johnson's exclusion from the All-Big Ten Defensive team drew the ire of both he and head coach Tubby Smith, who called it "a travesty" and said Johnson should have been the league's Defensive Player of the Year. Johnson can showcase his defensive prowess today against Penn State's David Jackson, who has played well lately.
Westbrook can make clutch shots, as he showed last month at Penn State, and everyone at the Big Ten tournament knows what Blake Hoffarber can do when the pressure is on. Minnesota needs both guards to be on target as the Gophers probably need at least two wins this week to make the NCAA field.
February, 17, 2010
2/17/10
12:15
PM ET
Ekpe Udoh
fell a block shy of his second triple-double of the season in Baylor's
88-70 win over Texas Tech
. Udoh finished with 13 points, 11 rebounds and 9 blocks. He would have been just the second Big 12 player with multiple triple-doubles in a season since the conference formed. Colorado's David Harrison had a pair back in 2003. Meanwhile, Baylor clinched its third straight 20-win season with the win. The Bears only had three such seasons before Scott Drew arrived.
North Carolina only put up 51 points in a
loss to Georgia Tech
. That's the fewest points of the Roy Williams era, and the fewest by a Tar Heels team since 48 against Duke in 2002. The Tar Heels shot just 32.2 percent from the field, their lowest since a 2003 win over Akron. North Carolina also had its worst performance from the line (41.7 percent) since 2003. The first half was particularly disastrous, as the Tar Heels nearly had more turnovers (15) than points (21).
Michigan came back from a five-point deficit with just 22 seconds remaining in regulation to notch an overtime
win over Iowa
.
DeShawn Sims
led the charge with six points in the final 15 seconds. Both Sims and
Manny Harris
put up 20-point, 10-rebound games in the win. It's just the third time that Sims and Harris have had a double-double in the same game, and the first time both went for 20 and 10.
Northern Iowa got back to its defensive ways on Tuesday,
clinching its first outright MVC regular-season title
. The Panthers did so by holding Creighton to 52 points and a 37.5 field goal percentage. This came after giving up 68 points in Saturday's loss to Bradley. Northern Iowa is second in the nation in scoring defense, allowing only 55.1 PPG. In conference play, that is down to 53.5 PPG, also second to Princeton. A big part of those low point totals is the fact that Northern Iowa does not send its opponents to the line. Panthers' opponents attempt only 13.8 free throws per game, third fewest in the nation.
Speaking of Princeton, the Tigers improved to 6-1 in the Ivy League with a
58-51 win at Penn
. The 51 points allowed represent just the second time that Princeton has allowed an Ivy opponent to crack 50 points. In seven games, Princeton has held conference opponents to just 46.6 PPG and 35.5 percent from the floor. Princeton is a perfect 5-0 in conference road games, and closes its conference slate with five of seven at home, though a test in Ithaca looms.