College Basketball Nation:

Deuce Bello
May, 29, 2013
5/29/13
5:00
AM ET
1. The SEC is constantly looking for consistency as a league in college basketball; football has never been the issue. Kentucky and Florida are regular national players, but the rest of the league has struggled. One thing it needs is a destination for its conference tournament. Commissioner Mike Slive told reporters at the SEC meetings in Destin, Fla., Tuesday that there was a unanimous vote to put the tournament in one location, with reports calling Nashville, Tenn., the likely destination. Perfect. The SEC needs to grow the tournament in one spot. Nashville can support it locally, and it's close to Vanderbilt, Tennessee and, of course, Kentucky, and not far from Arkansas, if the Hogs were to re-emerge as a player. Nashville is also a destination city in the Southeast. The SEC tournament is slated for Nashville in 2015, '16 and '19; the 2014 edition will be at the Georgia Dome in Atlanta. Putting the tournament back in an NBA/NHL-size arena makes more sense, since it should be more intimate. The Big East had and will continue to have Madison Square Garden. The Pac-12 is trying to make Las Vegas its tourney home. The Big 12 has a good thing going with a rotation of Kansas City. Mo., and Dallas, while the Big Ten is doing it right with Chicago and Indianapolis. The ACC had Greensboro as its home, outside of a few years when the event rotated elsewhere, but that league is changing, so spreading out to the Northeast will work given new membership. But the SEC can't take its show on the road as much. Having one home would definitely help the conference tournament grow.
2. Colorado athletic director Mike Bohn handed in his resignation, and while the football program has struggled, Bohn hit a home run on his basketball hire. Bohn took a chance when he hired Tad Boyle, a former Kansas player, from nearby Northern Colorado. Boyle coached the Bears for four years, reaching the CIT in his final year. The big state schools don't usually look to a lesser-known state school to raise a program's profile -- yet Boyle has turned the Buffs into a major player in the West and in the Pac-12. The Buffs have gone to the NIT semifinals, won a Pac-12 tournament and a game in the NCAA tournament, then got back to the NCAAs last season. Basketball is a happening in Boulder now. The buzz is real. So while Bohn might have had his faults and the football program can be put atop the list, he got basketball right and should be given credit for taking a chance on Boyle. Boyle returned the loyalty by staying in Boulder this past spring when he could have pursued other opportunities.
3. Missouri coach Frank Haith took in Baylor transfer
Deuce Bello
for two years; the guard must sit out a year before playing. The Tigers have found a way to benefit from being in Big 12 territory but playing in the SEC. Missouri can be a home for wayward transfers who don't want to leave the area but can still play in a different conference. It will be interesting to track how often Missouri gets a transfer from the Big 12. Haith has gone with transfers quite a bit since taking over in Columbia two years ago. He'll likely continue on that path, with transfers complementing high school recruits.
October, 18, 2012
10/18/12
11:30
AM ET
Here are five storylines I look forward to following in the Big 12 this season.
What I can't wait to see:
How will Kansas replace Thomas Robinson?

I know the Jayhawks have the goods to make a run at their ninth consecutive Big 12 title.
Jeff Withey
proved his worth in last season's run to the Final Four. He's one of the top interior defenders in America. And he has spent a lot of time working on his mid-range game. He should be a different player this season.
Highly touted recruit
Perry Ellis
joins the fold. I think
Elijah Johnson
can carry the program. And
Ben McLemore
is a projected lottery pick on some boards. Losing Tyshawn Taylor and Thomas Robinson will hurt, but it's not as though Bill Self hasn't replaced top-notch talent in the past.
Robinson, however, was an emotional leader for the team as much as he was its top player a season ago. There were moments in which the Jayhawks appeared to be on the brink of collapse and he simply willed them to a victory. I think that's the one question facing this team. Who's that guy right now? Perhaps it's Withey or Johnson. But someone clearly has to assume that role early, especially with so many young players in the mix. A failure to identify a player in that vital position could prove detrimental in Big 12 play.
What is Oklahoma State's ceiling?
Oklahoma State should challenge Kansas and Baylor for the Big 12 title. "Should" is the key word. But the Cowboys will fulfill their potential only if they find a way to play disciplined basketball, a challenge for the program last season.
It just didn't make sense for a program with this talent (
Le'Bryan Nash
,
Markel Brown
) to struggle the way it did last season (15-18, 7-11 Big 12). Freshman
Marcus Smart
has been listed as one of the top young point guards in America. If he can bring Oklahoma State's talented contributors together and teach them to man up on defense, Travis Ford could have a special year with this program. That, however, is the biggest "if" in the Big 12.
How will Bruce Weber and Bob Huggins fare in the Big 12?
The league welcomes Kansas State's Bruce Weber and West Virginia's Bob Huggins to the mix this season. Both coaches found success in their former leagues (Big Ten and Big East, respectively). And I think they have the talent to make a great first impression (though Huggins coached at Kansas State, so he has been in the Big 12 before) in 2012-13.
Rodney McGruder
and
Jordan Henriquez
give Weber the building blocks for a successful debut. Weber scored solid recruits at Illinois, but he couldn't meet expectations after the program's Final Four run. The expectations at Kansas State should be more modest, which should allow Weber to coach comfortably and challenge for a spot in the top tier of the league.
Huggins might have a sleeper in West Virginia. The Mountaineers are all over the board on preseason projections. But
Deniz Kilicli
and a heap of impact transfers (
Juwan Staten
,
Aaric Murray
and
Matt Humphrey
) form a nucleus that could surprise the conference in 2012-13.
Last place goes to TCU or Texas Tech?
Both teams are hurting. Texas Tech lost Billy Gillispie during a highly publicized offseason mess. And according to players, that's what they wanted. But even with him, Texas Tech's chances of escaping the bottom of the league were slim with only six scholarship players returning from last season's 8-23 squad. Trent Johnson introduces TCU to the league in what could be a very humbling debut. Johnson just doesn't have a lot of talent on the roster. He'll certainly take his lumps early. He already has added some pieces that will be available for the future. But for both TCU and Texas Tech, 2012-13 will be a tough season.
Can Baylor put it all together and upset Kansas?
Baylor is America's "on paper" team. On paper, last season, the Bears looked like national championship contenders with Quincy Miller, Perry Jones and Quincy Acy. They were good. But various challenges throughout the season brought criticism to Waco. Even though they reached the Elite Eight, the Bears didn't seem to come together until March. In 2012-13, Scott Drew has a roster that can challenge Kansas for the Big 12 title. He has one of the best backcourts in America (
Pierre Jackson
,
Brady Heslip
,
Deuce Bello
,
Gary Franklin
and
A.J. Walton
) and he's bringing in one of the top freshmen in the country in
Isaiah Austin
. If he can get this group to play to its strengths, Baylor will be the Jayhawks' toughest challenger for the Big 12 crown. The potential, once again, is very high. But seeing is believing with the Bears.
October, 9, 2012
10/09/12
5:00
AM ET
1. Baylor's backcourt is loaded with
Pierre Jackson
,
Brady Heslip
,
Deuce Bello
,
A.J. Walton
and
Gary Franklin
. The Bears' success will be determined by how quickly the frontcourt develops. Well, Baylor coach Scott Drew said junior
Cory Jefferson
, freshmen
Ricardo Gathers
and heralded recruit
Isaiah Austin
have lived up to their preseason hype. Drew said Gathers has lost 20 pounds while Austin has added 12. He said Gathers is looking more like a Quincy Acy-type force inside. The depth took a hit with a hamstring injury to J'mison Morgan. But Austin is the stud of the group that could be a difference maker.
2. Maryland's Pe'Shon Howard was cleared last week to go full speed after tearing his ACL in his right knee in February. Maryland coach Mark Turgeon said Howard will be full speed. Meanwhile, Turgeon said Michigan transfer Evan Smotrycz has done a tremendous job of leading in workouts, even though he's not eligible to play this season. "He's assumed a leadership role,'' said Turgeon.
3. UCLA announced that guard
Tyler Lamb
is out for the next month while he has his left knee scoped. Official practice starts Friday and the Bruins still don't have an official word on the eligibility of freshmen
Shabazz Muhammad
and
Kyle Anderson
. There is still plenty of time -- a month before the opener against Indiana State. But the Bruins simply cannot afford to get off to a slow start with a game against Georgetown in Brooklyn on Nov. 19 that could derail a proposed showdown with Indiana in the same event. The schedule still has power-rating pops against San Diego State in Anaheim and at Texas as well as a home game against Missouri. But this team needs to build confidence early and losing the depth has suddenly become a serious question. Injuries and eligibility must be cleared up by mid-November at the latest to avoid an early-season crisis.
August, 16, 2012
8/16/12
10:32
AM ET
Editor's note: The art of dunking has brought excitement to the game. It also has created chaos in arenas around the nation and provided plenty of challenges for coaches, says Myron Medcalf.
The 2012-13 season is just a few months away. If you're searching for walking highlight reels, follow these rising (literally) stars. Or, just turn on "SportsCenter" throughout the year. You'll probably see them.
This isn't a comprehensive list, but here are some guys who can really throw down a dunk (in alphabetical order):
Deuce Bello (Baylor)
-- Last season, ESPN captured Bello's behind-the-back, 360 dunk during a shoot at Baylor. Yes, a behind-the-back, 360 dunk. He made it look easy, too. Next season he'll play a lot more, and that extra time should translate to more highlights.
Ryan Boatright (Connecticut)
-- The 6-foot guard doesn't look the part of a high-flier, but Boatright gets up. The second-year Huskies guard is one of the most explosive guards in the country. He can beat defenders with his speed and ballhandling, and he's not afraid to climb and go to the bucket.
Markel Brown (Oklahoma State)
-- Last season, Brown was ejected after earning his second technical foul in a Big 12 game.
His crime?
He stared at a defender after his one-handed alley-oop slam set Stillwater on fire during a matchup against Missouri.
Ramon Galloway (La Salle)
-- The La Salle guard is versatile. He averaged 14.1 ppg for the Explorers and shot 44.2 percent from beyond the arc. But he unveiled another element of his game -- an arsenal of ridiculous dunks --
during an NIT matchup against Minnesota
in March.
Nick Johnson (Arizona)
-- The 6-3 shooting guard created an archive of highlights in high school. He added a few more to his collection last season, his first at Arizona. He's an athletic young star
with surprising bounce
.
James Michael McAdoo (North Carolina)
-- The Tar Heels lost a lot of talent to the NBA this offseason, but McAdoo returned and should be a star. With
Tyler Zeller
and
John Henson
in front of him, McAdoo logged 15.6 minutes per game last season. But the 6-9 spectacle showed flashes of his above-the-rim potential throughout the campaign.
Mason Plumlee (Duke)
-- You know what they say about guys like Plumlee: Big men can't jump. Well, Plumlee
dispels many myths with his leaping ability
and aggressiveness. The 6-11 senior can glide with the best of them. Check out his infamous "three-ball" dunk on YouTube.
[+] Enlarge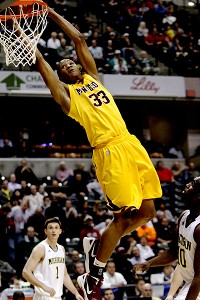 AP Photo/Kiichiro SatoMinnesota's Rodney Williams is worth watching any time he has the ball near the rim.
Marshawn Powell (Arkansas)
-- Last year, Powell
tore his ACL in practice
. Before his injury, the Arkansas star was one of the most athletic players in the country. He's back this season. Look for him to take to the air again.
Andre Roberson (Colorado)
-- Roberson goes to the rim with bad intentions. Colorado's 6-7 wing is always forceful when
he attacks the rim
. He's not limited to dunks, either. But it's definitely an entertaining component within his game.
Victor Rudd (South Florida)
-- I was in Dayton for the First Four when Rudd rocked the rim in South Florida's lopsided win over California in March. The 6-7 forward is a special athlete. Earlier this week, I asked Rudd the feeling he gets when he dunks. "I kind of like that noise," he said. He'll hear it often this season.
Rodney Williams (Minnesota)
-- As a freshman, Williams was listed as a potential NBA draft pick in various mock drafts.
He certainly has NBA-level athleticism
. He can dunk over you. He can glide from the free throw line. He can twirl in midair. When he has the ball with room to fly, you shouldn't blink.
Patric Young (Florida)
-- Young is a 6-9 forward who always goes hard to the rim. His biggest problem last season was the limited touches he received in Florida's guard-heavy offense. But the 247-pound big man tries to rip the rim off whenever he's in position for the dunk.
August, 18, 2011
8/18/11
10:35
AM ET
Our friends at The Mag are previewing one high-profile school per day for their Summer Buzz series. For the sake of all that is synergistic, yours truly will be attempting the same, complementing each comprehensive preview with some analytic fun. Today's subject: Baylor.
In retrospect, there were three real candidates in the contest for 2010-11's Most Disappointing Team. (Believe it or not, there is no ESPY for this. But there should be.) Those candidates were Michigan State, Kansas State and Baylor. To me, the winner is Baylor, and I'm not sure it's even close.
Michigan State was mediocre, but at least the Spartans rallied in time to keep Tom Izzo's NCAA tournament appearances streak alive. Kansas State was massively disappointing on and off the court, but
Jacob Pullen
caught fire late in the season, the Wildcats easily secured a tournament bid, and Frank Martin's team fought to a valiant, prideful end in the second round of the NCAA tournament. Loss or no, Pullen and Co. could walk off the floor with heads held high.
Baylor, on the other hand, never got there. For all the expectations and talent -- the Bears were a popular preseason Final Four pick thanks to the arrival of touted recruit
Perry Jones
and the return of star guard
LaceDarius Dunn
-- Scott Drew's team just never seemed to sort it out.
[+] Enlarge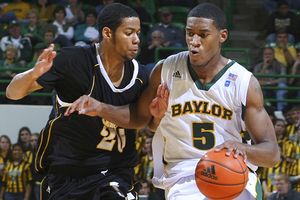 AP Photo/Jerry LarsonPerry Jones (5) averaged 13.9 points and 7.2 rebounds per game last season.
Earlier this year, during the glorious height of Bubble Watch -- my body still hasn't recovered from the circadian disruptions -- my editor Brett and I would frequently get on the phone and hash things out. Who deserved to drop off? Who deserved to stay on? Why or why not? Each week, it seemed, brought some measure of discussion about Baylor. Every week, we kept waiting for the Bears to give us a reason -- besides the general softness of the bubble -- to warrant serious bid consideration. Every week, Baylor disappointed.
It was a weird, frustrating experience. I can only imagine how Baylor fans felt. Eventually, the Bears mercifully dropped off The Watch, finishing 18-13 and underperforming even the most bearish (sorry) analysts' preseason predictions.
Why? Why was a team so talented also so very mediocre? The answer is actually pretty simple: point guard play.
For all of the talent at Baylor last season, the Bears never recovered from the loss of former point guard Tweety Carter, who helped lead the team to the 2010 Elite Eight appearance that so inflated 2011's expectations. With Dunn and forward Ekpe Udoh garnering most of the headlines for that run, Carter's excellent point guard play often went unnoticed. With Dunn back, Jones arriving, and forward
Quincy Acy
preparing to take a larger role, it was assumed that sophomore point guard
A.J. Walton
would be able to pick up right where Carter left off, that the Bears' vaunted high-flying offense would just keep putting points on the board.
That didn't happen. Oh, did it ever not happen. Walton struggled, and that's putting it nicely. He posted one of the highest turnover percentages in the country in 2011, coughing up the ball on 32.1 percent of his possessions. In 2010, Baylor's turnover rate was 20.2 percent -- not great, not bad, right in the meat of the curve.
In 2011, with Walton at the helm, that team turnover rate jumped to 23.4 percent, one of the highest figures in all of college hoops. (Team rank: No. 322. Ouch.) Walton was, to put it bluntly, a turnover machine, and those turnovers contributed in a big way to Baylor's overall offensive mediocrity. Throw in Walton's shaky shooting, and the Bears' offense lost much of its dynamism, especially on the perimeter.
Per Ken Pomeroy, in 2010,
the Bears ranked No. 3 in the country in adjusted offensive efficiency
. In 2011,
they ranked No. 92
. More than anything else, turnovers were the reason.
Of course, it would be unfair to lay all of the blame at Walton's feet. For one, Baylor's defense wasn't nearly as good as it had been the previous season. Most assumed Jones would make up for the loss of Udoh; instead, the touted freshman came along slowly, a prototypically gifted athlete who hadn't quite figured out how to turn his talents into dominance. That was especially true on the defensive end, where Udoh's shot-blocking -- not to mention the presence of 7-foot banger Josh Lomers -- was sorely missed. The drop-off in adjusted defensive efficiency wasn't quite as pronounced as the offensive side, but the Bears suffered a major dip all the same.
Now, as 2012 approaches, how does Baylor avoid a similar fate? Dunn is gone, but Jones and Acy are back, and they're joined by another elite talent in incoming freshman Quincy Miller, the No. 3-ranked power forward in the class of 2011. Deuce Bello, a touted small forward prospect, is also arriving this fall. The Bears will have another supremely long and athletic team, one most experts will pick to contend for the Big 12 title and a spot in the second weekend of the NCAA tournament. But can they get the offense back on track?
Again, the answer is point guard play. A major improvement by Walton in his junior season is one option. But there is another: In April, Baylor inked point guard Pierre Jackson, one of the top junior college players in the country. When asked why he chose Baylor,
Jackson gave his appraisal of the BU personnel to the Magic Valley Times-News
:
"What Baylor has coming back next year - the front line is crazy," said Jackson. "... They got a couple NBA-caliber front-line players and they've got a couple freshmen coming in that are NBA caliber already on a couple mock drafts."

"Baylor needed a point guard pretty bad last year," said Jackson [...]. "I guess I was the perfect guard for that situation."
He's not wrong: Baylor desperately needed a point guard last year. If Jackson is even so-so -- as long as he doesn't cough the ball up too frequently -- he could be the piece that puts Baylor over the top.
Of course, as above, there are other issues. The Bears have to get better defensively. Jones has to turn all that talent -- the dude is 6-foot-11 with silky guard skills, for goodness' sake -- into star-level productivity. Miller and Bello have to be ready to contribute immediately, and Acy has to be even better on the glass.
College hoops is not the place for magic bullets. Things aren't as simple as plugging in one player for the other. There are rarely magic bullets. But Baylor, perhaps more than any team in the country, had a singular, obvious problem in 2011. If Drew can correct it -- whether with Walton or Jackson or some combination therein -- he might have a very scary team on his hands.
If he can't, the Bears are almost sure to improve. But they won't be nearly as good as they should be. Sound familiar?
April, 11, 2011
4/11/11
9:14
PM ET
By
Diamond Leung
| ESPN.com
For the news conference to announce his NBA draft decision, Baylor freshman forward
Perry Jones
III sat in between his parents wearing a T-shirt featuring an image of Michael Jordan.
Jones, the one-and-done-talent who the NCAA ruled ineligible last month, then did the unthinkable. He declared he was
staying in school
.
Bears coach Scott Drew said teammate
Quincy Acy
's jaw dropped, and according to the
Baylor Lariat
, "Jones' teammates then burst into applause, handclaps and high pitched screaming."
The reaction was warranted, as Jones' decision to return to the team next season was simply stunning. Rare is the potential lottery pick who gets penalized by the NCAA and then decides to stick to the system and continue playing college ball.
"The whole college experience with my teammates. That was a big part of this decision," Jones told reporters. "Having fun with them. Just enjoying everything, just enjoying life with them. I do not want to cut that short and just leave out of nowhere. I want to have another good time like I did this year."
The 6-foot-11 Jones averaged 13.9 points and 7.2 rebounds before the NCAA sat him out for the team's loss in the Big 12 tournament and also suspended him for the first five games of next season if he returned to school. The NCAA ruled he and his family received impermissible benefits.
Jones was willing to pay that price for another year to grow in the program, and he'll have plenty of talent around him. Acy,
J'mison Morgan
and top incoming freshman Quincy Miller help him form a strong frontcourt. Baylor is also adding guards in Deuce Bello and Cal transfer Gary Franklin.
Jones' return is an added bonus for Drew, whose team should be highly regarded in the preseason.
"Every year you just see him getting better and better, because he is so full of potential and as long as he keeps that work ethic and keeps that drive to get better, which is God-given as well," Drew told reporters.
October, 11, 2010
10/11/10
8:59
PM ET
By
Diamond Leung
| ESPN.com
The KFC Yum! Center was
officially opened
to the public on Sunday, but in the weeks before the ribbon-cutting ceremony, Louisville coach Rick Pitino was able to give his recruits sneak previews of the place as it neared completion.
How did the recruits react? Well, Pitino could certainly get used to hearing comments like the ones they gave to the
The Courier-Journal
.
"My mouth just dropped," Chane Behanan said. "I was just shocked. It's unbelievable."

"I heard about it, but I had no idea it was that crazy," Deuce Bello said. "I was like, 'Wow.'"
That the Cardinals already have a commitment from Behanan and are very much in the mix for Bello, ESPNU's No. 50-ranked recruit, cannot be solely attributed to the arena.
But giving recruits visions of playing in front of 22,000 in a brand new facility is obviously a strong selling point.
Pitino, of course, fully realizes this and really makes sure that the message sinks in, according to
The Courier-Journal
.
Rick Pitino said he has asked recruits to rate the building on a scale of 1 to 10.

"So far, I've gotten two responses -- 15 and 20 -- and that pretty much sums up this building," Pitino said.
September, 8, 2010
9/08/10
4:50
PM ET
"Finally" is a strange word to use in Louisville's case. After all, it was just 2008-09 that Rick Pitino took a star-laden team to a Big East title, a No. 1 NCAA tournament seed and an Elite Eight finish. Louisville hasn't exactly been dormant.
But the hoops culture in Kentucky is such that it probably feels like ages since the Cardinals were on top. Since last summer, it's been bad news item after bad news item: Pitino was the victim in a federally prosecuted extortion case; the Cardinals faltered in a just-OK 2009-10 campaign; Pitino's involvement in the Karen Sypher mess reached previously unseen levels of humiliation; Kentucky coach John Calipari was nabbing recruits left and right, including former Louisville target Marquis Teague; and the 2010-11 the Cardinals didn't offer much hope for the immediate future.
That's all still true. But as of yesterday, there is more reason for optimism than Louisville fans have had since Earl Clark was prowling the perimeter.
I'm referring, of course,
to the commitment of the No. 32 overall player in the class of 2011, Chane Behanan
, the fourth four-star prospect in Pitino's 2011 recruiting haul. The class was already looking loaded; Pitino previously nabbed the No. 33-ranked Wayne Blackshear and No. 73-ranked Zach Price.
There could be more good news on the way
, too, as
some recruiting experts believe
the No. 4-ranked player in 2011, forward Quincy Miller, and No. 50-ranked Deuce Bello, are both on the verge to committing to Louisville, too.
If both commit, Pitino could make a very legitimate claim on the best recruiting class in 2011. Even if one or neither do, Pitino has already made a major case about the legitimacy of his tenure and coaching going forward. Behanan was the highest-ranked prospect in the state of Kentucky in 2011. He was also recruited by John Calipari at Kentucky. That Pitino landed him instead is just the salve Cardinals fans -- many of whom were rightly worried that Calipari was going to make succeeding at Louisville impossible -- need.
It's been a rough year for those fans. It's been an even rougher one for Rick Pitino. But the good news is that there's good news. Finally.