College Basketball Nation:

Devon Collier
May, 5, 2014
May 5
2:00
PM ET
Few words in the English language are more confused than "unique." Most of the time, the word is used to mean slightly different or unusual.
In fact, unique means one of a kind. If something is unique, it is unlike anything else in the world. How many things are actually unique? Why do we use the word so commonly?
What we're trying to say is that it feels good to have a chance to use the word appropriately.
In a sport full of patterned trajectories and templated tenures, Craig Robinson's six-year run at Oregon State --
which ended Monday
-- was, quite literally, unique. It's right there in the first line of his biography: brother-in-law of President Barack Obama. In the summer of 2008, at the Democratic National Convention, Robinson introduced his sister and future first lady Michelle Obama. He told his own story in his speech. Robinson had been miserable as an investment banker, and his sister encouraged him to rediscover his first love: teaching and coaching.
"And today I'm proud to be the coach of the Oregon State men's basketball team," Robinson continued. "Go Beavs!"
How many coaches get that kind of introduction?
It was a time for unbridled optimism. Robinson's White House ties would usher in a new era of Oregon State basketball. Recruits would flock to Corvallis, Oregon, to play for the president's brother-in-law.
[+] Enlarge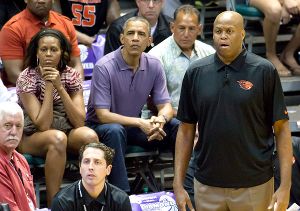 AP Photo/Eugene TannerThe first lady and president were in attendance for Oregon State's game against Akron at the Diamond Head Classic on Dec. 22, 2013, in Honolulu. Former Oregon State coach Craig Robinson is Michelle Obama's brother.
In the meantime, his first season was a legitimate coaching success. Robinson inherited a team that went 0-18 in the Pac-12 and 6-25 overall in 2007-08. A year later, the Beavers were 18-18 with a 7-11 conference record. Their adjusted efficiency ranking jumped from No. 264 to No. 97. It was a major turnaround, a vindication of Robinson's coaching talent. Just two seasons at Brown (with a 30-28 record) left some wondering if the presidential bump was perhaps the
only
reason Robinson was hired. His first season quelled those doubts.
And then the Beavers just never got better. They won more than 18 games just once between 2009 and 2014 (going 21-15 in 2011-12). Forget the NCAA tournament; Robinson never took a team to the NIT. That big
efficiency boost
we just mentioned? Oregon State's metric climbed above 97 only once in the rest of his tenure (No. 94 in 2013). His teams' average
KenPom rank
: 121.7.
In 2012, Robinson made his second appearance at a national convention. He spoke alongside President Obama's sister, Maya Soetoro-Ng -- another of the family introduction/reminder speeches aimed at humanizing politicians. Robinson had more basketball jokes this time. He introduced himself as "Michelle Obama's big brother, father of four and head coach of Oregon State University's men's basketball team" and quickly added: "Any 7-footers out there, give me a call."
"I'm proud of her work to give our children a healthier start in life," Robinson said later, praising the first lady's nutritional initiatives. "And let's face it, Maya: I could use the recruits."
It was a good laugh line, but it wasn't accurate. In 2009, Oregon State had signed
Roberto Nelson
, the No. 17-ranked shooting guard. In 2010, four-star forward
Devon Collier
became the second ESPN 100 addition of Robinson's tenure. In 2012,
Jared Cunningham
became Oregon State's first draft pick in 14 seasons. The 2012 class was deeper and bigger than it appears in retrospect.
When Oregon State fans grew frustrated -- as did notable interested observers, such as
SI's George Dohrmann
(whose book, "Play Their Hearts Out," tracked Nelson's development from a young age) -- it was not because the Beavers lacked talent. Nelson and Collier both were still in the fold in 2013-14. One Pac-12 coach told
ESPN's Jeff Goodman the Beavers had the third-most talent
in the league last fall.
The Beavers just never improved. Whatever individual strides players made, the collective would always seem to fall short. In 2013-14, as Nelson and Collier formed a legitimately interesting group on offense, the Beavers suddenly played the worst defense of Robinson's tenure. (Oregon State allowed 1.10 points per trip in conference play. To be clear, that is not good.) It was strange. After years of offensive criticism, Robinson seemed to have finally put a potential tournament team together and the defense promptly crumbled.
[+] Enlarge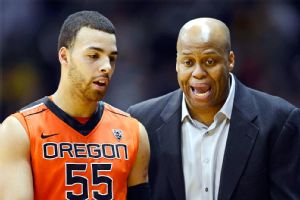 Ron Chenoy/USA TODAY SportsRoberto Nelson averaged 20.7 points per game as a senior this past season for Oregon State.
On March 28, Oregon State athletic director Bob De Carolis issued a letter to fans and boosters touting Robinson's accomplishments and asking for patience and support. He had met with Robinson and made a somewhat reasonable case: "Oregon State has been .500 or better four times since 1991 and he has coached his teams to three of those seasons. … Oregon State has won eight conference games three times since 1993, of which he has had two of those seasons. … Oregon State had four wins against top-50 and six against top-100 NCAA basketball programs this past season, including wins over two teams that advanced to the Sweet 16." The letter had a lot of those bullet points. But the best one was the first:
"He is the fourth-winningest coach in Oregon State history with 94 victories and trails only Hall of Famers Slats Gill, Ralph Miller and Bob Hager," De Carolis wrote.
The gist of De Carolis' point was fair: Oregon State hasn't been good at basketball for a long time, and under Robinson, they were better than the average. When you're touting your coach's status as the fourth-winningest coach in the history of the program and he has 94 total wins at the school, you have a problem with your program.
Robinson's 94 wins were accompanied by 105 losses. Five weeks after the letter,
Eric Moreland
had declared early for the NBA draft,
Hallice Cooke
decided to transfer, and
Challe Barton
chose to stay overseas instead of returning to the program this fall -- all in addition to the losses of leading scorers Nelson, Collier and
Angus Brandt
. So supportive a few weeks ago, De Carolis swallowed Robinson's $4 million buyout Monday.
And so ended Robinson's run at Oregon State. It began with a speech at the Democratic National Convention and continued through three-fourths of his brother-in-law's presidency. It started with one of the most impressive one-season coaching jobs of the past decade and ended with a mass exodus. It took place at a program with little history of success; the boosters eventually had enough anyway.
How's that for one of a kind?
July, 30, 2013
7/30/13
4:59
PM ET
If an indefinite suspension from competition happens when there are no games, does it really happen at all?
That is the philosophical question (I know, but it's late July, give me a break here) that popped to mind Tuesday afternoon, when Oregon State announced indefinite suspensions of forwards
Devon Collier
and
Eric Moreland
for an undisclosed violation of team rules. The short statement from Oregon State coach Craig Robinson arrived via email:
"Senior forward Devon Collier and junior forward Eric Moreland are suspended indefinitely from competition for violation of team rules. They will be allowed to participate with the team in summer workouts and strength/conditioning activities while attending summer school classes."
Which obviously leads to the question: If Collier and Moreland can still attend classes and participate in individual workouts, and they have their suspensions lifted before the start of the 2013-14 season in November -- three months-plus is a long time to be suspended, after all -- were they ever really suspended in the first place? Does that punishment have teeth? Is the public announcement prohibitive enough?
The answers: I don't know! The violation of team rules obviously wasn't disclosed, and Oregon State's only addendum to its announcement statement read as follows: "Oregon State officials will have no further comment at this time." There's no telling what Collier and Moreland did, or what kind of punishment such things usually entails. (And where college kids and minor team violations are concerned, not knowing is usually OK by me.)
That said, if either does end up missing games for Oregon State -- provided those games go beyond the time-tested-coach-approved approach of suspending players for early-season cupcakes -- the impact will be immediately noticeable. Collier is one of the best talents of the Robinson era. Moreland is a 6-foot-10 force on the glass, particularly on the defensive boards, where he pulled down a whopping 27.5 percent of available defensive rebounds last season,
fifth-best in all of college basketball
. Indeed, Moreland might be the biggest concern -- he still has two years of eligibility left at Oregon State, but this is already the second time this year he's been suspended "indefinitely" for
running afoul of Robinson's expectations
.
Chances are, if Collier and Moreland are not in so much trouble as to be totally removed from summertime activities (or outright dismissed from the team), they will be back before Oregon State's schedule gets too hairy. But if they miss more time -- or if these issues, whatever they are, pop up again -- it could be a major blow
in an absolutely pivotal year for Robinson's program
.
December, 13, 2012
12/13/12
11:30
AM ET
By
Jeremy Lundblad, ESPN Stats & Information
| ESPN.com
Player of the Night – Andre Roberson, Colorado
Roberson was an enormous presence in Colorado's 50-43 win over Fresno State, finishing with 17 points and a career-high 20 rebounds.
The last Pac-12 player with a 17-20 game was Leon Powe in 2006. It was Colorado's first 20-rebound effort since Stephane Pelle in 2002, and first in a road game in almost 52 years.
Freshman of the Night – Isaiah Austin, Baylor
Austin scored 23 points and added 17 rebounds in Baylor's 85-68 win over Lamar. He's just the fourth player in Baylor history to reach both of those totals in a game.
Austin's performance puts him alongside a pair of freshman legends. He joins Kevin Durant and Michael Beasley as the only Big 12 freshmen to post at least 23 points and 17 rebounds in a game.
Scorer of the Night – Keith Clanton, UCF
Clanton had one of the most efficient scoring games in recent memory as UCF beat Bethune-Cookman. He went 14-for-15 from the field to finish with 30 points and 13 rebounds.
The last player to attempt at least 15 shots and miss only one was Stephen F. Austin's Matt Kingsley in 2008. The last player to go at least 14-for-15 from the field while collecting 13 rebounds was Washington's Todd MacCulloch in 1998.
Stat Sheet Stuffer – Jerrelle Benimon, Towson
On a night where big men posted some huge double-doubles, Benimon scored 30 points to go with 18 rebounds in Towson's loss to Temple. The transfer from Georgetown is the first player to reach both of those totals since Yale's Greg Mangano last season. The last CAA player to do so was Delaware's Hardin Nana in 2006.
Bench Player of the Night – Devon Collier, Oregon State
Collier led all scorers with 23 points, as the Beavers held off Portland State 79-74. A starter for most of his first two seasons in Corvallis, Collier has exclusively come off the bench in 2012-13. His 14.3 points-per-game average is tied for the fourth-highest among those who've yet to start a game. Northwestern State's
DeQuan Hicks
leads that category with 15.3.
November, 15, 2012
11/15/12
10:01
PM ET
NEW YORK -- Alabama football fans are still smarting from Saturday's loss to Texas A&M. But their basketball team is off to a 3-0 start.


The Crimson Tide defeated Oregon State on Thursday at Madison Square Garden,
65-62
, in the semifinals of the 2K Sports Classic. The Beavers fall to 2-1 on the season. It's a good early-season win for Alabama, on a big stage.
The skinny:
The first half was very tight -- neither team led by more than five points, and there were seven ties and 11 lead changes. Alabama took a 35-32 lead into the locker room, scoring the final four points of the half.
Alabama opened the second half on a 12-2 run, taking a 47-34 lead. The Crimson Tide led by as many as 15, and appeared in control of the game -- until the Beavers came roaring back late. A 17-3 run by Oregon State was capped off by two free throws by junior forward
Devon Collier
that tied the game with 43 seconds remaining.
The biggest shot of the game? That belonged to Alabama sophomore guard
Rodney Cooper
, who drained a 3-pointer with 12.2 seconds left to put the Crimson Tide up 65-62. Oregon State had two more cracks to re-tie it. With 5.2 seconds left, junior guard
Ahmad Starks
turned the ball over after receiving an inbounds pass along the sideline. Then, after a missed Alabama free throw and a timeout, with 2.2 seconds left, junior guard
Roberto Nelson
got the ball, but his half-court heave was off the mark at the buzzer.
Star watch:
Alabama's got some talented guards, and they were the key to this victory. Sophomore
Trevor Lacey
, averaging 19 points per game coming in, scored a team-high 20, and made 4 of his 7 3-point attempts. Junior
Trevor Releford
and Cooper added 12 points apiece.
Collier, a local product, had a game-high 21 points off the bench for Oregon State. Starks, who scored 51 points in the Beavers' first two games of the season, had just three points against the Crimson Tide.
Number crunch:
One thing stands out on the stat sheet above all -- turnovers. Oregon State had 19 of 'em; Alabama had just seven. That's the difference in the game.
What's next:
Alabama will play the winner of the second semifinal between Villanova or Purdue in the championship game, Friday at 7:30 p.m. Oregon State will play the loser of that game at 5 p.m.
July, 17, 2012
7/17/12
1:00
PM ET
Editor's note: ESPN.com's Summer Shootaround series catches up on the offseason storylines for each conference. For more on the Pac-12,
click here
.
Arizona: Nick Johnson
The shooting guard tapered off at the end of his freshman season, when he averaged just 6.1 points in his last seven games. It will be interesting to see if the presence of highly touted freshman Gabe York and Xavier transfer
Mark Lyons
will cause Johnson to step up his game.
[+] Enlarge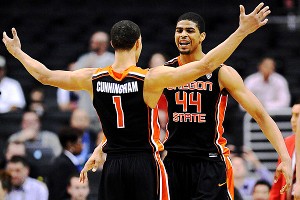 Jayne Kamin-Oncea/US PresswireJunior forward Devon Collier, right, will be heavily leaned on by the Beavers this upcoming season.
Arizona State: Jordan Bachynski
The 7-foot-2 center was a bright spot for the Sun Devils during an otherwise frustrating season in 2011-12. Don't be fooled by his ho-hum statistics (6.0 points; 4.0 rebounds). In Arizona State's last 13 games, Bachynski averaged 10.1 points, 6 boards and 2 blocks. He'll be one of the top post players in the league this season.
California: Richard Solomon
The 6-foot-10, 220-pound forward was averaging 6.8 points and 6.2 rebounds when he was declared academically ineligible after 13 games last season. It was a huge loss for the Golden Bears, who are a much better team when Solomon is anchoring the defense down low.
Colorado: Andre Roberson
The forward ranked third in the nation in rebounding last season with 11.1 boards per game. Most NBA mock drafts predict that Roberson will be a first-round pick next summer. For now, the biggest question is whether Roberson can lead the Buffaloes to the NCAA tournament for the second straight season.
Oregon: Tony Woods
The 6-foot-11, 250-pound Woods put up modest numbers (6.3 points, 3.7 rebounds) after transferring to Eugene last season. Still, the former Wake Forest post player has yet to live up to the lofty expectations that have hovered over him since high school. Oregon will be a different caliber team if Woods takes that "next step" in his final season.
Oregon State: Devon Collier
With
Jared Cunningham
now in the NBA, the spotlight will shine on Collier. The 6-foot-7 forward averaged 13.2 points and 5.3 rebounds as a sophomore last season, when he shot 61.5 percent from the field. He also blocked an average of 1.3 shots per contest.
Stanford: Aaron Bright
The point guard should be full of confidence after averaging 16.8 points and 4.2 assists during Stanford's march to the NIT title. Bright's performance earned him tournament MVP honors. If he plays that way in 2012-13, the Cardinal will be back in the NCAA tournament.
UCLA: Larry Drew
The Bruins' recruiting class has generated a ton of offseason buzz, and rightfully so. But a strong performance by Drew at point guard will be vital if the Bruins hope to be a mainstay in the top 10. Drew was North Carolina's starter before walking out on his team midway through the 2010-11 season.
USC: J.T. Terrell
The shooting guard averaged 11.1 points as a freshman at Wake Forest in 2009-10. He withdrew from school last fall after he was arrested for driving while impaired. Terrell played last season at Peninsula Junior College. Trojans coach Kevin O'Neill said Terrell is one of the most talented players he's ever signed.
Utah: David Foster
The 2009-10 Mountain West Defensive Player of the Year missed all of last season with a broken foot. Foster, a 7-foot-3, 243-pound center, will return this season and try to help the Utes bounce back from the worst season in school history. Foster holds Utah's all-time record for blocked shots with 219.
Washington: Scott Suggs
C.J. Wilcox
and
Abdul Gaddy
are the most recognizable names on the roster. But don't forget about Suggs, a sharpshooter who averaged 7.4 points and shot 45 percent from 3-point range as a junior two years ago. The 6-foot-6 Suggs, who redshirted last season because of a foot injury, could be one of the X factors for the Huskies.
Washington State: Reggie Moore
The Cougars might be decent if Moore can keep his head on straight. The point guard was suspended in January 2011 following his arrest on marijuana-related charges. Last season, he played in all 37 games and averaged 10.2 points and 5.2 assists. Moore is one of the most underrated players in the country at his position. His leadership this season will be key.
March, 9, 2012
3/09/12
11:36
PM ET
LOS ANGELES -- Some thoughts from Arizona's
72-61 victory
over Oregon State in a Pac-12 tournament semifinal Friday:


Overview:
No. 4-seeded Arizona picked a heck of a time to come up with arguably its best half of the season, as it blitzed Oregon State to knock the Beavers out of tournament consideration and keep its hopes alive. After a lull at the end of the first half allowed Oregon State to build a seven-point halftime lead, the Wildcats overwhelmed Oregon State, which felt the effects of playing a third game in three nights.
Is it enough to get the Wildcats, who were the seventh team out in Joe Lunardi's most recent bracket update, in the tourney even with a loss on Saturday? Doubtful, but Arizona has a chance to take its tournament life out of the hands of the committee, which is all it can really ask.
Turning point:
Halftime. Oregon State rolled in the final eight minutes of the first half, holding Arizona to one field goal while ripping off a 20-4 run to take a 34-27 lead. But whatever Arizona coach Sean Miller did to rally the troops during the break apparently worked, as the Wildcats ripped off a 20-3 run to open the second half, turning the seven-point deficit into a 47-37 advantage while holding Oregon State without a field goal for 6:16. Things didn't get much better for the Beavers after that, as Arizona extended its lead to as many as 14 points and was not significantly challenged by Oregon State the rest of the way.
Kyle Fogg
and
Jesse Perry
keyed Arizona's second-half outburst, as Fogg scored 17 of his 22 points in the final 20 minutes while Perry added 10 points and 7 rebounds in the second half to finished with a double-double, compiling 16 points and 11 rebounds.
Key player:
Fogg and Perry carried the way for the Wildcats, but Arizona also got 12 points from
Solomon Hill
. Senior guard
Brendon Lavender
was also crucial in the early stages of Arizona's run, draining a 3-pointer from the top of the key with 15:59 left in the second half to tie the game at 36.
Nick Johnson
's layup on Arizona's next possession put the Wildcats ahead to stay.
Sophomore reserve
Roberto Nelson
was a bright spot for the Beavers, as he scored 19 points to lead the Beavers. He was instrumental in Oregon State's run to end the first half, scoring five points during the rally, and was the only Oregon State player to really get it going in the second half, when he scored 14.
Devon Collier
added 15 points while
Jared Cunningham
added 14, though Cunningham, the Pac-12's leading scorer, struggled in the second half.
Key stat:
After shooting 50 percent from the field in the first half (14-for-28), the Beavers were held to 27.3 percent shooting (9-for-33) in the second half. Arizona was deadly from 3-point range, making 9 of 18 triples.
Miscellaneous:
Cunningham went ice-cold in the second half, only scoring 3 points on 1-of-8 shooting...With the loss, the Beavers will miss the NCAA tournament for the 22nd consecutive season dating back to the 1989-90 season. Oregon State was led then by future NBA All-Star Gary Payton, who sat courtside by former Los Angeles Laker and Oregon State alum A.C. Green for all three of the Beavers' games in the tournament.
What's next:
Arizona gets a chance to qualify automatically for its 26th NCAA tournament in 27 seasons on Saturday, as it will play the Colorado-California winner in the Pac-12 tournament title game at 6 p.m. Oregon State will have to wait to hear its postseason fate, as the Beavers have a chance to be selected to play in the NIT or CBI tournaments.
March, 8, 2012
3/08/12
11:27
PM ET
Oregon State had one of the Pac-12's best nonconference wins.
And it was over a middling, young Texas team in overtime in New Jersey.
But that sort of summed up the Pac-12. The league was light on nonconference wins and when its teams got into league play, beating each other up only enhanced the perception that the conference wasn't worthy of elite status.
Well, heading into Friday night's semifinals, Oregon State has the best win of the Pac-12 tournament too, knocking off top-seeded regular-season champ Washington
86-84
on Thursday at the Staples Center in Los Angeles.
[+] Enlarge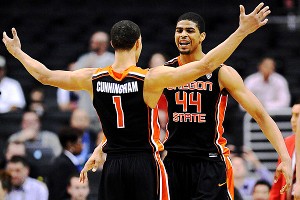 Jayne Kamin-Oncea/US PresswireJared Cunningham and Devon Collier, right, have the chops to take Oregon State to the Pac-12 final.
"It's my best win ever, as a coach or as a player when I was at Princeton,'' Oregon State coach Craig Robinson said late Thursday night by phone. "This team is starting to believe that they're as good as we thought they were. It's really nice to see. This is a watershed moment for these guys. Those guys on Washington are really good.''
The Beavers (19-13) move into the Pac-12 semifinals against Arizona. Oregon State isn't on the bubble. Arizona is probably a reach, or at least third in line for a possible bid among Washington and Cal on the at-large candidacy list.
Washington, even with the Pac-12 regular-season title, must now sweat out Selection Sunday.
The Huskies' nonconference resume has nothing to shout about. The worst home loss -- a blowout to South Dakota State -- might look better now that the Jackrabbits won the Summit League title. But that's still a team from the Summit going into Seattle and cleaning house.
"I'm not in there in the committee,'' UW coach Lorenzo Romar said during the postgame news conference. "I know we haven't won as many games as we should have in nonconference as a league. I would think the Pac-12 champion would be able to find a place in the NCAA tournament. We certainly didn't help ourselves, but I would think we'd be able to find ourselves in there.
"But I am not on the committee. The committee, they're meeting, and we're kind of at the mercy of their decision.''
As for the Beavers, their defense has tightened up in the two Pac-12 tourney games so far, coming back to beat Washington State and Washington on consecutive nights.
The offense is more than capable of beating Arizona and advancing to the title game if
Jared Cunningham
,
Devon Collier
and
Ahmad Starks
make sound decisions.
"These guys are starting to trust each other,'' Robinson said. "We were hoping that we could play well in the first game. The way we started to come out I thought we could win.''
In their one meeting this season, Arizona beat Oregon State in overtime in Tucson. There was a minor scuffle at the end of the game. But there is too much on the line in this one to expect any carryover to Friday.
"I like the fact that we lost to them in overtime,'' Robinson said. "That bodes well for us psychologically. I like our offense. We haven't had trouble scoring in either game. But it will come down to whether or not we defend well.''
Oregon State looked like it had floundered a few weeks ago, losing five in a row. But the Beavers then rallied to sweep a homestand with Utah and Colorado heading into the 8-9 game against the Cougars.
"That gave us some momentum,'' Robinson said. "You sometimes see with veteran teams they'll play well in a tournament, but we're doing it with a bunch of freshmen and sophomores and it took them a little while to figure it all out.''
May, 18, 2011
5/18/11
2:10
PM ET
By
Diamond Leung
| ESPN.com
Oregon State coach Craig Robinson was on late-night television again Tuesday, appearing on BET on The Mo'Nique Show
alongside Bow Wow and Ruben Studdard
. That's one of the perks of being the brother-in-law to President Obama while having a
memoir to promote
.
The BET appearance had sophomore guard
Jared Cunningham
amused and snapping a
photo of his television screen
. It also provided this bit of unintentional comedy: On
The Mo'Nique Show's Facebook page
, it was accidentally promoted that actor Craig Robinson of Hot Tub Time Machine, Pineapple Express, Knocked Up, and Zack and Miri fame would be appearing on the show.
Back to basketball, Robinson is approaching what is shaping up to be a very important year. After three seasons, he hasn't yet led the Beavers to a winning record. His best finish was winning the CBI in his first year to finish .500, and this season was a disappointment for the Beavers.
They managed to knock off eventual Pac-10 champion Arizona in the opening weekend, with Cunningham coming through with
one of college basketball's best dunks of the season
. Still, the team slumped to a ninth-place finish in the league and finished with an 11-20 record.
Cunningham had a breakout season, yet a youthful roster struggled to jell because as he told the
Arizona Republic
, "Last year, some of it was just chemistry. We had a lot of different rotations, and we just weren't used to each other. Now we're a close group."
This coming season, the team will consist of all players that Robinson has recruited himself, including
Ahmad Starks
,
Roberto Nelson
and
Devon Collier
-- rotation members who earned significant minutes in their first year of action.
According to
Inc. Magazine
, Robinson is optimistic.
I'm pretty honest in evaluating myself. As long as I can point to where the issues are and they are correctible, I don't get too down on the team or myself. When you're rebuilding a program, it's not something that's going to happen in one or two years.

When I reevaluate at the end of the year, I ask if we're headed in the right direction. If I'm comfortable with that and we keep doing the fundamental things correctly, we'll get there.
March, 10, 2011
3/10/11
9:28
PM ET
By
Diamond Leung
| ESPN.com
Oregon State capped off its 11-20 season with a 78-69 loss to top-seeded Arizona that saw sophomore big man
Joe Burton
ejected in the Pac-10 tournament quarterfinal.
From
The Associated Press
:
Burton was assessed a flagrant foul and got ejected for elbowing [Kevin] Parrom in the face near the baseline with 10:25 remaining. Burton walked back to his bench claiming he got hit. Arizona fans chanted "Throw him out!" as the referees reviewed the play.

The Beavers trailed by nine when Burton left the court. Parrom scored six of the Wildcats' next nine points, with Williams adding his fifth 3-pointer to extend the lead to 70-56.
The play was the latest in a string of incidents that highlights how much coach Craig Robinson's team needs to mature before it can compete for the top of the Pac-10.
During the Beavers' loss in their regular-season finale to Arizona State, Robinson left himself with only six players after he suspended numerous members of his regular rotation for curfew violations, according to
The Oregonian
.
Freshman guard Roberto Nelson, one of the few who did make bed check Thursday, exploded for a career-high 34 points, evoking memories of his days with his Compton Magic AAU team.

Among the players who were disciplined were usual starting guards Jared Cunningham and Ahmad Starks, starting forward Devon Collier, and key reserves Calvin Haynes and Lathen Wallace.

Nelson quipped, "I'm a boring guy" when a reporter asked him why he wasn't out with everyone else.
According to
The Oregonian
, Burton was also suspended for the team's loss at UCLA last month for breaking a team rule. Burton couldn't play on a day when hundreds of Native American children were invited to see him play and hear him speak afterward.
Robinson has spoken extensively about changing the losing culture of the program. He has brought in talent that has surprised with some wins, but those same players have also racked up bad losses. That talent is still learning, and Robinson has
asked fans for patience
.
They continue to be reminded how long of a road this team will have to travel.
September, 24, 2010
9/24/10
3:32
PM ET
By
Diamond Leung
| ESPN.com
Oregon State coach Craig Robinson will
participate in the National Book Festival
on the National Mall tomorrow, speaking about and signing copies of his memoir, "A Game of Character."
That's just one of the many perks of being brother to the first lady, who along with President Obama are honorary chairs for the event.
But it's away from the Washington scene where Robinson is spreading his own message of hope, as far as the traditionally non-threatening Beavers are concerned.
During a speaking engagement last week near Salem, Ore.,
The Statesman Journal
quoted him as saying, "I'm hoping in two, three years that we're competing at the top of the league on a regular basis."
The road map for Pac-10 respectability seems to have been laid out after Robinson got an early look in workouts at his recruiting class -- one that for the second consecutive year looks very impressive.
Ahmad Starks
could make an immediate impact as a true point guard after being recruited out of Robinson's hometown of Chicago. The Beavers got even more athletic by bringing in 6-foot-8 power forward
Devon Collier
from the Bronx and 6-9 UTEP transfer
Eric Moreland
, who is eligible to play immediately.
The addition of 6-11 post player
Chris Brown
not only gave Robinson more height to work with, but also a way for the member of the First Family to stay on message at that United Way event last week.
"Now it looks like we're a real team when we walk around the airport," Robinson joked. "Before I was always asked if I coached the soccer team."
Hope abounds, as a young Beavers squad coming off a 14-18 season is at least a lot more imposing that it once was.