College Basketball Nation:

DeWayne Dedmon
June, 28, 2013
6/28/13
11:35
AM ET
It's not my job to second-guess the decisions the following players made when they entered the NBA draft without exhausting their collective collegiate eligibility. There are often personal situations tied to these calls.
But the reality is that these athletes were not selected during Thursday night's draft. So perhaps another year in school would have been beneficial. It's also important to note that many undrafted players will earn a slot on an NBA summer league squad or sign a free-agent contract soon, so this doesn't mean that their NBA dreams are finished.
[+] Enlarge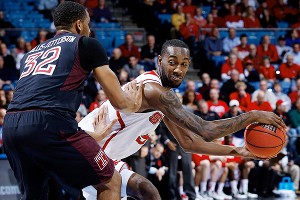 Joe Robbins/Getty ImagesDespite having another stellar season at NC State, C.J. Leslie got passed over in Thursday's draft.
C.J. Leslie (NC State)
-- After leading his team to the Sweet 16 in 2012, Leslie appeared to be a lock for the first round of that summer's NBA draft. He decided to return for his junior season, and his numbers were similar to his stats from 2011-12 (15.1 PPG, 7.4 RPG, 1.2 BPG, 1.0 SPG). He scored 20 points (8-for-12) in NC State's round-of-64 loss to Temple in the NCAA tournament in March. Maybe another year would have allowed Leslie to add some muscle to his 6-foot-9, 200-pound frame, squash concerns about his leadership ability and prove that he can be a high-energy guy every night. Still, many players who were drafted lack his upside. This is stunning.
Phil Pressey (Missouri)
-- Pressey was both brilliant and frustrating in three years at Missouri. On his best days, he was a 6-foot dynamic playmaker who could get to the rim and create offense for the Tigers. On his worst days, he was a turnover machine who made poor choices. His decision to turn pro was certainly surprising. He averaged 3.5 turnovers per game and only made 32 percent of his 3-pointers last season. Both were declines from the season prior. For an undersized point guard with turnover issues and limited shooting ability, one more year in Columbia could have enhanced his pro future.
Adonis Thomas (Memphis)
-- Everyone wants a LeBron James clone. In recent years, the value of the 6-7 wing has skyrocketed. If you're big and you can play on the perimeter a little bit, then the general assumption now is that you have "pro potential." Thomas has pro potential, but his sophomore season was not an affirmation of that. He shot just 40.5 percent from the field and made 29.2 percent of his 3-pointers. It was his first full season after an ankle injury interrupted his freshman campaign, and even though he has all of the physical tools to compete in the NBA, he apparently didn't wow execs in Year 2.
Vander Blue (Marquette)
-- This was a classic case of "instant draft buzz," I think. Blue had a stellar postseason and led Marquette to the Elite Eight. That effort included a 29-point barrage against Butler in the round of 32, but also included a 3-for-15 performance in a 55-39 loss to Syracuse in the regional final. But the perception about his NBA future had shifted dramatically during Marquette's run in the Big Dance. Blue could have entered 2013-14 as a preseason All-American. I wasn't surprised when he entered the draft. I was surprised when he
stayed
in the draft. The 6-4 wing will have to find another way into the league.
Myck Kabongo (Texas)
-- Well, this wasn't the plan. Kabongo, a former McDonald's All American, turned pro following a tumultuous season with the Longhorns. He was suspended for 23 games as a result of an NCAA investigation, but was a standout in the limited time he was available. He averaged 14.6 PPG, 5.0 RPG, 5.5 APG and 2.0 SPG in 2012-13. Pro execs, however, might have had concerns about his character; Kabongo was suspended after he lied to investigators about receiving impermissible benefits. His brief appearances last season did not help his cause. Looking at the current mess in Texas, however, returning might not have been the best move, either.
Dewayne Dedmon (USC)
-- Dedmon had an unconventional journey to Division I basketball. He was a gray shirt and redshirt at Antelope Valley College before joining USC's program. And he redshirted in 2010-11 with the Trojans. The 7-footer is a project. And that's probably why he went undrafted. He hasn't played a lot of organized basketball, so he's still raw. He averaged 6.7 PPG, 7.0 RPG, 2.1 BPG and 1.1 SPG in 2012-13. Solid numbers, but not enough to convince NBA teams to draft him. His size and upside, however, suggest that he'll get a shot somewhere.
B.J. Young (Arkansas)
-- During the 2012-13 season, Young scored 29 points against Arizona State, 25 against Syracuse, 25 against Tennessee and 27 against Missouri. The 6-3 combo guard was an offensive catalyst for the Razorbacks. But shooting concerns only magnified questions about the position he'd play at the next level. He was a 23 percent shooter from beyond the arc last season, and he made just 67 percent of his free throws. Those numbers were probably more significant for NBA execs than his 15.2 PPG average and offensive explosions.
C.J. Aiken (Saint Joseph's)
-- Aiken is an explosive athlete who tortured Atlantic 10 squads with his ability to alter and block shots. But can a 6-9, 201-pound post presence duplicate that in the NBA? And if he can't, can he defend NBA wings? Those were the immediate questions after he decided to enter the draft. Plus, his offense is raw and limited; he shot 25.3 percent from the 3-point line last season, but also averaged 10.4 PPG, 5.6 RPG and 2.6 BPG. He's the kind of young man some NBA team will sign this offseason. He'll get a chance to prove that he's equipped to be an effective defender and offensive contributor at the next level.
Tahj Tate (Delaware State)
-- This might be a case of a player who went undrafted because of the competition he faced and where he played. Or maybe it's a talent thing. Tate earned second-team All-MEAC honors in 2012-13 after averaging 12.8 points a game. Now, the YouTube clips suggest that the 6-4 guard is a great athlete. But he wasn't a great shooter (29 percent from 3-point range), and he actually was a better scorer in 2011-12. Still a head-scratcher on the surface. Again, we don't know his thought process prior to this decision. But he seems like a long shot to crack a pro roster in the near future.
John Taylor (Fresno Pacific)
-- Taylor would not have been the first player drafted from the Division II ranks. But it certainly would have been a surprise, even though Taylor had a phenomenal junior season at Fresno Pacific. The guard led Division II with an average of 27.5 points a game and his team to a 21-9 record. He also earned a national title in junior college. This would not be a shock if Taylor had put up similar numbers at a Division I school, but it's difficult to project a player's ability when he hasn't faced the top competition at the collegiate level. Still, he probably did as much as he could within Division II basketball.
Editor's Note: For Dana O'Neil's piece on the search for Renardo Sidney and the perils of basketball talent gone awry, click here.
November, 21, 2012
11/21/12
1:27
AM ET
LAHAINA, Hawaii -- Here are some observations from the second day of the EA Sports Maui Invitational.
After dominating Mississippi State on Monday, the North Carolina Tar Heels got a rude wake-up call versus Butler on Tuesday. On Monday evening I wrote: "North Carolina has much more talent, but the Bulldogs are scrappy and well-coached. The Tar Heels are more of a finesse team. The physicality of Butler could give the Heels problems." That's exactly what happened. North Carolina was outrebounded 36-27 and Butler beat them to just about every loose ball.

After the game, North Carolina head coach Roy Williams admitted that he had the better players, but Butler and coach Brad Stevens had the better, tougher team. "They were more physical, more assertive and more aggressive," Williams said. "They're really good. Brad's clubs are really intelligent. I like their toughness and their intelligence more than their talent, and I'm not trying to put down their talent. But I love their toughness and their intelligence."

UNC clearly has the talent, but does anyone on this team have the toughness the Heels needs to go deep?

Sixth man P.J. Hairston was, for the second night in a row, the best and toughest Tar Heel on the floor. It might be just a matter of time before Williams puts him in the starting lineup.

Most disappointing was forward James Michael McAdoo. In the tourney-opening blowout against Mississippi State, McAdoo was solid on offense, but had four mind-boggling turnovers, prompting Williams to comment after the game that "we can't throw the basketball around."

On Tuesday night, McAdoo had seven turnovers to go with his 10 points and five rebounds. Williams isn't the only one miffed by the performance of his big man.

Most of the NBA scouts and general managers in the audience savaged McAdoo for his performance the past two games. "He looks good in a basketball uniform," one GM told me. "But after that, I'm not sure what I'm supposed to like. He's a pretty good athlete, but he isn't very skilled and he doesn't go hard all the time. There's not one thing he does that really stands out about his game. He certainly hasn't played like a top-five pick."



[+] Enlarge

AP Photo/Eugene TannerUNC's James Michael McAdoo, here getting blocked by Butler's Andrew Smith, hasn't impressed NBA observers in Maui.

McAdoo is currently ranked No. 6 on our Big Board -- but could be in for a drop if he doesn't start picking it up.

Illinois continued its impressive run in the tournament with an 84-61 win over local underdogs Chaminade on Tuesday. The Illini got balanced scoring -- Brandon Paul scored 13 points, D.J. Richardson had 11 and Joseph Bertrand 14. The Illini are off to a 5-0 start, but they haven't really been tested yet. Butler should give them everything they can handle and will be the favorites to win it all after dominating North Carolina. But don't count out Illinois. The team is playing with a lot more aggressiveness and discipline under new head coach John Groce. It has a terrific backcourt in Richardson, Paul and Abrams and size up front.

A win in the tournament will be a huge boon to the Illini's confidence. They aren't in the same class as Big Ten elite teams such as Indiana, Ohio State, Michigan or Michigan State, but they, along with Wisconsin, Minnesota and Iowa, may be a very tough outs in the league. I won't be surprised if the Big Ten gets eight teams into the NCAA tournament this season.

A number of my tweeps laughed at me Monday when I said that NBA scouts were intrigued by Butler freshman Kellen Dunham. I don't think they are laughing anymore. Dunham bounced back from an awful game versus Marquette and really put the dagger in the Tar Heels in the second half. He ended the game with 17 points and was 5-for-9 from beyond the arc. He's still a little tentative and passed up a few open shots in the game, but his stroke is flat-out pure. Dunham isn't your average mid-major guard. He was ranked as a top-100 player by ESPN and was an NBA camp invitee. Dunham isn't a one-and-done prospect, but as he continues to get stronger and more confident, he could have a future in the pros after his junior or senior years of college.

The Texas debacle continued Tuesday with a 59-53 overtime loss to USC. The good news? The Longhorns didn't get blown out this time and played with more urgency. The bad news? Offensively this team is just a mess. When (or is it if?) the Longhorns get Myck Kabongo back, they'll be better. But I don't think he has the talent alone to turn things around. There just isn't a lot of talent around Kabongo. Sophomore Sheldon McClellan has struggled in Maui, going just 8-for-25 from the field and 1-for-11 from 3. Freshman big man Cameron Ridley was ranked as the eighth-best prospect in the country by ESPN, but he's looked out of shape and overwhelmed in the early going.It could be a long year, Texas fans.

Marquette fans, meanwhile, are hoping they have found a go-to scorer in junior Vander Blue. For the second consecutive game, Blue led the team in scoring with 18 points and three assists versus Mississippi State. Blue has always had the talent, but he has struggled with consistency and aggressiveness in the past. What's different this year? "I'm just playing with a free mind and just playing off my teammates," Blue said. "Junior [Cadougan] is a great guy, and everybody's going to double Davante [Gardner], so that pretty much leaves me open for shots. So I feel like if I'm making those shots, our team is a much better team. I'm not trying to do nothing that we don't do every day in practice." Blue's versatility, toughness athleticism and defense all intrigue NBA scouts. If he can show some offensive prowess as well, he could be a second-round pick.

There was a moment in time when USC big man Dewayne Dedmon was considered a potential NBA prospect. That time has probably passed. Dedmon has the size and athletic ability to be a pro. But he has no feel for the game. That's always a problem, but it's an even bigger problem when you're already 23 years old. Dedmon had 8 points, 8 rebounds and 3 blocks against Texas but was just 3-for-11 from the field.

Butler will face Illinois in the EA Sports Maui Invitational Final on Wednesday at 10 p.m. ET on ESPN. North Carolina will play Chaminade in the consolation game at 7:30 p.m ET on ESPN2.
November, 9, 2012
11/09/12
1:03
AM ET
Finally, some good fortune is starting to fall on the USC basketball team.
The Trojans were informed Thursday that
Omar Oraby
-- a 7-foot-2, 265-pound transfer from Rice -- has been cleared by the NCAA to compete this season. Oraby broke Rice's single-season blocks record last year, but, strangely, played just 11 minutes per game and averaged only six points.
USC coach Kevin O'Neill said Oraby will play a major role for the Trojans.
"The sky is the limit for this guy," O'Neill told ESPN.com Thursday. "He can catch, he can shoot, he can pass and block shots and rebound. He's still developing, but he's a legit player."
USC finished 6-26 last season and set a school record for losses. But that was mainly because the Trojans lost four starters to season-ending injuries.
[+] Enlarge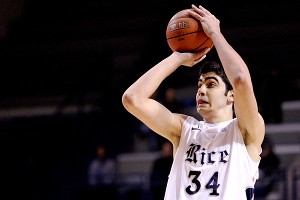 Thomas Campbell/US PresswireRice transfer Omar Oraby should provide USC with another inside presence. Oraby blocked 54 shots for the Owls last season.
This year's team will look completely different. All of the players who were hurt last season are healthy again, and O'Neill signed a handful of transfers who are expected to catapult the Trojans from one of the league's worst teams to one of its best.
No one is ready to say that USC will challenge Arizona and UCLA for the Pac-12 title. But finishing in the upper half of the conference and earning an NCAA tournament berth are realistic goals.
Especially with the addition of Oraby.
"Our team was ecstatic when we gave them the news," O'Neill said. "We've all seen how good he can be at practice. There are times when he's been dominant."
O'Neill said he'll go with a starting frontcourt of
DeWayne Dedmon
and UC-Irvine transfer
Eric Wise
in Friday's season-opener against Coppin State. But he said Oraby will definitely see action.
"He's been working out with us," O'Neill said. "He's up to speed. He could end up starting for us in the near future."
If anything, Oraby provides even more depth to a frontcourt that wasn't hurting for bodies. Besides Oraby, Dedmon and Wise, USC is expected to get major contributions from veterans
Aaron Fuller
and
James Blasczyk
, who is nicked up and probably won't play against Coppin State.
O'Neill said sophomore
Byron Wesley
will be the team's starting small forward Friday while former Wake Forest starter
J.T. Terrell
gets the nod at shooting guard.
Jio Fontan
, who missed all of last season with a torn anterior cruciate ligament, will be the Trojans' point guard and will be backed up by freshman walk-on
Chass Bryan
, who has been the team's biggest surprise during preseason workouts.
"We knew he was coming, but we didn't know how good he was," O'Neill said of the 5-9, 165-pound Bryan. "He didn't have a great senior year of high school, but he's shown us something. We think he's really good."
Bryan's emergence couldn't have come at a better time. Maurice Jones, USC's starting point guard the past two seasons, was declared academically ineligible and transferred to Iowa State. The Trojans are confident in Fontan, but depth was an issue before Bryan became a factor.
After experiencing so much adversity last season, O'Neill was asked if the "basketball Gods" were finally showing some compassion for USC.
"You never want to think that because you don't know what can happen," he said. "But to get two guys late like this that are going to be high in our rotation, we feel pretty lucky."
October, 19, 2011
10/19/11
8:49
PM ET
By
Diamond Leung
| ESPN.com
USC coach Kevin O'Neill has told reporters he
expected the Trojans to be picked 10th in the Pac-12
and called the Trojans without injured point guard
Jio Fontan
a "
rudderless ship
."
According to
ESPN Los Angeles
, the backcourt without Fontan is still a work in progress as it is now expected that
Maurice Jones
will slide over to play point guard rather have freshman
Alexis Moore
be the primary ballhandler.
"Mo's going to play the point," O'Neill said Saturday. "I don't know what it's going to do, but he's going to play the point."
Part of that is Jones, who noticeably talks and acts much more like a leader than he did last season, as a true freshman some 2,000-plus miles away from home in Michigan. And part of that is Moore, who proved over the last two months to be a risky proposition as an immediate starter.

"I just feel like it's too much pressure for him to be the starting point guard," O'Neill said. "He's going to play some point, obviously. And we're running what is probably going to be a two-guard offense, but I just don't want the pressure to be on him.

"I don't think he's ready for that yet."
Moore certainly seems open to it in comments made to the team's website.
"Personally, I like to have the ball in my hands, but we have a great guy in Mo in terms of his playmaking ability, so I also like playing with him and playing off of him," he said. "Any way I can, in terms of whether that's catching a drive-and-kick from him or even setting him up for something like that, I'm happy to do it."
It's expected that Fontan will redshirt, and the Trojans appear to have added to their backcourt as well for next season when former Virginia Tech guard J.T. Terrell, a former top-100 recruit,
committed to transferring to USC
.
But for this season, the injuries will be something the Trojans will have to overcome. Fontan had surgery on a torn anterior cruciate ligament. Forward Curtis Washington is out for the season following surgery on a torn labrum. Another forward,
Dewayne Dedmon
, is working toward playing with a broken hand. And according to the
Daily Trojan
, there are more minor injuries to forward
Aaron Fuller
's dislocated finger and Jones' ankle.
"He has not said a word, and that is what I like about [Fuller]," O'Neill said. "You are not supposed to sit on the side with the sniffles."

Jones has been bothered by a minor ankle injury. He has not been sidelined, but O'Neill stated he might rest Jones at times because he is valuable to the team.

"The crippling injury would be to [Jones]," O'Neill said. "If [he] gets hurt, I am in front of a bus."
October, 13, 2011
10/13/11
9:28
AM ET
1. USC coach Kevin O'Neill was much more optimistic about the return of his heralded newcomer, center DeWayne Dedmon, late Wednesday night. O'Neill said Dedmon will be in a cast for three weeks with a broken right hand, but should get his cast off in time for the Nov. 11 opener against Northridge. "He is going to practice," O'Neill said. "He won't do offense, though." O'Neill said Dedmon will be behind since he needs the preseason practices. "We'll find a way to be good," O'Neill said. "He's going to be an NBA player some day, but he's not even close to being ready." The Trojans are still smarting from losing leading scorer
Jio Fontan
to a knee injury during a summer trip to Brazil.
2. Temple is waiting for Missouri to make up its mind. The Owls are convinced, according to a source with direct knowledge, that they won't know if they have a Big East invitation until Missouri decides if it is staying in the Big 12. That's because the Big East doesn't know how many schools it needs to add until the Big 12 indicates whether it might poach schools from the Big East. The Owls would be a huge get for the Big East in basketball in an attempt to alleviate the loss of Pitt and Syracuse.
3. Steve Alford has elevated the Lobos in a short period at New Mexico. But he hasn't had to deal with the expectations that he'll be faced with this season. The Lobos are the pick to win the Mountain West Conference by the league media. And the Lobos dominated the preseason all-league honors.
Drew Gordon
was tabbed as the preseason POY and guard
Kendall Williams
was a fellow first-team member. Australian guard Hugh Greenwood was selected as the top freshman. The Lobos, though, can't fall flat early. The Thanksgiving weekend 76 Classic in Anaheim is set up for a possible UNM-Villanova final. Anything less than a title game appearance would be a disappointment for UNM.