College Basketball Nation:

Dexter Pittman
June, 13, 2013
6/13/13
10:30
AM ET
In the weeks leading up to the June 27 NBA draft, we'll be taking a look at the 20 schools that have produced the best pros in the modern draft era (since 1989, when the draft went from seven to two rounds). Click here to read Eamonn Brennan's explanation of the series, which will be featured in the Nation blog each morning as we count down the programs from 20 to 1.
Top Five Draftees Since 1989
Sixth man:
Avery Bradley
(2010)
The rest:
Daniel Gibson
, Dexter Pittman, Damion James,
Royal Ivey
,
Jordan Hamilton
,
Cory Joseph
,
P.J. Tucker
,
Chris Owens
,
Chris Mihm
,
Alvin Heggs
, Lance Blanks, Travis Mays, Dexter Cambridge,
B.J. Tyler
,
Terrence Rencher
,
James Thomas
,
Maurice Evans
Why they're ranked where they are
: Kevin. Durant. LaMarcus. Aldridge.
It's not that simple. But the duo carries the most weight and responsibility for the program's NBA legacy and standing in our "Path to the Draft" rankings.
In Durant, Texas is tied to a player who could end his career as one of the top 10 players in NBA history. And with
Tim Duncan
and
Kevin Garnett
likely retiring soon, the next great NBA power forward very well may be Aldridge, who has averaged at least 21 points and 8 rebounds in each of the past three seasons. He's made the last two All-Star games and has evolved into one of the premier players in the NBA.
And he's only 27. Durant is just 24. So the Longhorns' stock will probably rise in the coming years.
It's necessary to mention Durant and Aldridge because the rest of this list is not necessarily pristine when compared to the other teams we've ranked thus far and those we'll unveil in the coming days.
T.J. Ford played eight years but a spinal cord injury interrupted a promising career. Still, he averaged 11.2 points and 5.8 assists per game.
Avery Bradley (9.2 PPG, 1.3 steals per game in 2012-13) could take on a larger role with the
Boston Celtics
or another NBA team in the future.
The
Cleveland Cavaliers
are building a strong post-
LeBron James
lineup. It certainly helps that second-year big man Tristan Thompson (11.7 PPG, 9.4 RPG) looked like a future All-Star this season.
Cavaliers guard Daniel Gibson hasn't been the same player since James left town. But he's just 27, so there's still time to regain that old swagger.
Cory Joseph might have a future with the
San Antonio Spurs
, but it's too early to know. There aren't many 21-year-old point guards logging minutes in the postseason, though.
D.J. Augustin struggled with the
Indiana Pacers
this season, but he had three good years with the
Charlotte Bobcats
. Just five seasons into his career, it wouldn't be prudent to pass judgment on his career yet.
Chris Mihm had a few solid years with the
Los Angeles Lakers
. Maurice Evans gets credit for longevity (nine years).
[+] Enlarge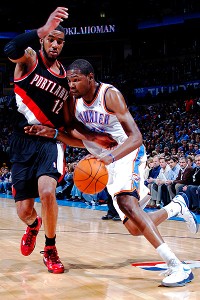 Layne Murdoch/NBAE via Getty Images)Ex-Longhorns Kevin Durant, right, and LaMarcus Aldridge should be NBA stars for years to come.
But Durant and Aldridge clearly anchor this list.
James became
the youngest player in NBA history to score 20,000 points
(28 years old, 17 days) earlier this year. That record could be shattered soon. He has scored 12,258 points and won't turn 25 until September.
The 6-foot-9 wing averaged 28.1 PPG, 7.9 RPG, 4.6 APG, 1.3 BPG and 1.4 SPG this season. He shot 51 percent from the field. And he made 91 percent of his free throws.
Through six seasons, Durant established his place next to James on the game's Mount Rushmore of future Hall of Famers and legends. He commands an
Oklahoma City Thunder
franchise that should remain in the NBA title picture for many years.
There are a lot of lists that utilize a variety of criteria.
We're all about quality. And in our eyes, Durant, Aldridge and a few other noteworthy players are collectively worth more than a team such as Kansas that has produced dozens of NBA products but only one legitimate star since the 1989 NBA draft -- the cutoff for our rankings.
Texas is also top-10 because its best players have a lot of time left. We've already discussed Durant. Aldridge will earn more national recognition for his skills in the coming years. He's a beast. Bradley and Thompson could rise in the next two or three seasons, too.
Yep, the Longhorns belong here.
Why they could be ranked higher:
Durant is a superstar. His presence alone would justify a move up the rankings.
We're measuring teams according to their abilities to produce NBA talent. And Durant has already had an NBA career that tops the pro achievements of entire programs.
And there's so much potential with this group. Aldridge is a young star. Thompson will be.
If these were actual teams that competed against one another, it would be easier to make Texas' case for a higher ranking.
Aldridge and Thompson inside. A bunch of solid guards in the backcourt. And Durant destroying defenders inside and outside.
Makes more sense now, right?
Why they could be ranked lower:
So what's the real difference between Texas (No. 10) and Syracuse (No. 20) and Kansas (No. 14)? The programs owe their rankings, in part, to the presence of superstars. But there was little substance among their respective squads' overall pro legacies.
Durant is a stud. Aldridge could be an All-Star for the next decade.
But Thompson still has a lot to prove.
And this list features multiple players who fizzled once they reached the next level. J'Covan Brown, who left Texas prior to his senior season, isn't even mentioned because he wasn't drafted.
What else can Texas stand on -- other than Aldridge and Durant -- to justify its top-10 status?
What's ahead?:
There's a bright future ahead for Texas. Durant could win a few titles. Aldridge might be the next great NBA power forward. Thompson could be the franchise star along with
Kyrie Irving
in Cleveland. Bradley could blossom, too.
Even guys such as Augustin could improve.
Myck Kabongo
entered this summer's draft. It will be interesting to see how he transitions to the NBA after limited playing time last season due to an NCAA investigation.
Texas is No. 10 right now, but a few years from now, the Longhorns might be even higher.
Final thoughts:
There's intrigue with this group because it features a multitude of current players. Its NBA rep could change soon.
Texas has produced one of the greatest players of this generation and another All-Star who's matured into one of the league's best power forwards. And Thompson, Bradley and others could boost the team's profile soon.
Texas doesn't have dozens of successful NBA players. But the ones who made it are some of the game's most successful performers. We feel like if you have two of the league's top 15 players, you have to be right in the mix.
And there's still room for this program to elevate its NBA profile, too.
May, 25, 2012
5/25/12
10:25
AM ET
Partially inspired by
TrueHoop's excellent HoopIdea series
, College Basketball Nation humbly presents Change the Game, a weekly discussion on the game we love and the ways it could be made better. And nothing is off the table.
Last week, we took a look at the always-controversial block/charge call. This week, Myron Medcalf examines the aspects of the NBA game that have negatively influenced college basketball. On the flip side, Fran Fraschilla takes a look at the good things college basketball coaches and players have picked up from the pro game.
Midway through the third quarter of the Miami Heat's 105-93 victory over the
Indiana Pacers
Thursday night, ESPN analyst Jeff Van Gundy proclaimed that the Pacers had been "iso'd to death by
LeBron James
and
Dwyane Wade
."
Somewhere in America, a college player recognized the individual maneuvering of the NBA all-stars as confirmation of his own offseason growth as a one-on-one threat.
That's just one way that the next level has had an adverse impact on the collegiate level. Too many college squads have abandoned the offensive sets that separate Division I basketball from the NBA and structure the game so that it's executable for amateurs still absorbing the fundamentals. Organized offenses have been replaced by an influx of isolation plays, a direct influence from the next level.
[+] Enlarge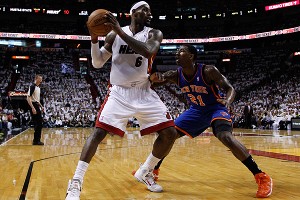 AP Photo/Lynne SladkyIsolation plays like this one for LeBron James of the Miami Heat are the norm in the NBA, but often are ineffective at the college level.
There is only one LeBron James, but that doesn't stop Division I players with a fraction of his ability from attempting to emulate him and other NBA standouts.
Isolation reigns. And that's a problem.
It's an issue because it strips Division I offenses of their fluidity.
The NBA's stars can freestyle because they're elite athletes who don't necessarily need a motion offense to get to the rim. Yes, the NBA offensive sequences occasionally commence with a designed play. But when the ball goes to James, Wade, Kobe, you know what's coming.
Those guys can score against any individual defenders in the world without much assistance from teammates.
Similar attempts at the Division I level, however, tend to involve poor shot selection. Too many plays end with a quick shot, an off-balanced drive or a tough jump shot – plays that only work for a few, special athletes. I don't think that's the goal for most college programs.
But that doesn't stop players from pursuing the one-on-one plays that are the result of next-level thinking. It's a troubling trend.
One coach told me that players accept contested shots as just a natural part of the game. And I think that's attached to the isolation dilemma. There's a sense of drama that comes with luring a defender and driving past him or shooting over him. But it's not always necessary. Open looks come from the offensive sets that are properly executed. Too many college players, however, favor one-on-one scenarios based on what they've watched on TV the previous night.
But that's not the only challenging byproduct of the NBA's influence on the collegiate level.
There is also the issue with versatility. Players rarely sign off on the positions that are listed on their official bios.
Are you a shooting guard?
"Nope, I'm a combo. I can play both guard spots."
Really?
Are you a true center?
"Nah, I can play a little wing, too. I don't like to limit myself."
I understand the mission. More versatility increases NBA potential. But again, most players won't get to that level and they're wasting their time trying to play four positions when they can barely manage one.
There is one Dirk. One
Kevin Garnett
.
But at the college level, a 6-7 center that commits to the position can succeed. The gritty rebounder has a place. The pure point guard is necessary. The sharpshooter off the bench can help his squad win a title.
There is certainly a give-and-take when you have guys who want to make money in the future and coaches who know most of their players need extensive work on the basics before they're ready to earn that paycheck.
But there's nothing wrong with trying to master one role. It always makes sense to add more wrinkles such as expanded shooting range. But the coaches I talk to want their players to focus on the tasks that helped them earn their scholarships.
The NBA has fueled this emphasis on offensive players at the collegiate level. And I think NBA officiating has affected the quick whistles against helpless NCAA defenders trying to stop them.
Breathing on James might prompt a foul call in the NBA's upcoming Eastern Conference Finals. There's this unwritten rule about protecting offensive players. It's really hurt the game.
And that's trickled down to the collegiate level, too.
Defenders don't have many options when refs blow the whistle on the inadvertent contact that's the natural result of two players vying for position in a live game.
I know the rules on fouls.
Per the NCAA rulebook: "A player shall not hold, push, charge, trip or impede the progress of an opponent by extending arm(s), shoulder(s), hip(s) or knee(s) or by bending his or her own body into other than a normal position or by using any unreasonably rough tactics."
But I think NCAA officials should take a hard look at the limitations placed upon collegiate defenders due to foul calls that penalize them for competing.
No, I don't believe a guy has the right to go
Dexter Pittman
on an offensive player and get away with it.
I do, however, believe in fair, physical play that offers offensive and defensive players a true opportunity to engage in competition.
The NBA has lost that. It's a very soft game now.
And the college game has followed its lead with rulings that favor offensive players.
I think the college game has benefited from the pros in a multitude of ways, too. But they're two different platforms. And they should remain separate.
But let's get rid of the derivatives from the NBA that don't help the college game.
March, 11, 2010
3/11/10
10:50
AM ET
KANSAS CITY, Mo. – A few quick hitters before the quarterfinals Thursday:


Texas Tech vs. Kansas, 12:30 p.m. (ET):
The Red Raiders had lost seven in a row before beating Colorado in the first round. Colorado had just put 101 points on the Red Raiders last Saturday in a win at Boulder. So clearly Pat Knight's defensive message got through as the Red Raiders held the Buffaloes to 67 points. But can the Red Raiders pull off the upset of the week by beating top-ranked Kansas? Well, the last time they met, KU stomped on Tech by 26 points. This will be an interesting test for the Jayhawks. This is a game they should win by double figures. If the focus is there, KU should walk to the semifinals. I'd like to see how
Sherron Collins
steps up his leadership role with the postseason now at hand. I don't see how the Red Raiders can keep the KU bigs, notably
Cole Aldrich
off the backboard.


Nebraska vs. Texas A&M, 3 p.m.:
The Huskers pulled the stunner of the first day with a crushing win over Missouri. The Huskers ran with Missouri and sprinted past the Tigers. But will Nebraska be able to get out against Texas A&M? Would they want to do such a thing? The Aggies probably were prepping to face Mizzou in a high-octane affair. That won't be the case now in what could be a grinder of a game. I'm not sure the Aggies would allow Nebraska to shoot over 50 percent the way it did against Missouri. I'm looking forward to seeing how
Brandon Richardson
and
Ryan Anderson
, who went off for the Huskers against Missouri get free against the Aggies.
Donald Sloan
and
B.J. Holmes
for the Aggies are two of the better guards in the conference and
Bryan Davis
' ability to board will prove vital.


Oklahoma State vs. Kansas State, 7 p.m.:
The Cowboys were able to easily beat Oklahoma with a mortal 11 points from
James Anderson
. OSU got quality production out of
Keiton Page
, who went for 24 points and
Obi Muonelo
's 15. The Cowboys also made 11 3s. Oklahoma State was one of three teams to win at Kansas State during the season. So the Cowboys go into this game with a lot of confidence. The more intriguing storyline will be how K-State handles its role as a favored player in the field.
Jacob Pullen
and
Denis Clemente
are coming off a disappointing home loss to Iowa State. There has to be some pride in play to get going on a high note heading into next week.


Texas vs. Baylor, 9:30 p.m.:
This may be the best game of the quarterfinals. It pits two teams that when they play to their potential could be playing in the championship game Saturday night, or, at the very least, the second weekend in the NCAA tournament.
Damion James
went back to being an all-American in the win over Iowa State in the first round with a 28-point, 16-rebound performance. The Longhorns got key play from
Gary Johnson
,
Avery Bradley
and
Jai Lucas
.
J'Covan Brown
only played three minutes as
Justin Mason
got the start at the point. The best news for Texas was the high percentage of shooting from
Dexter Pittman,
finishing 7-of-9 with five boards. Baylor crushed Texas last Saturday 92-77. The key will be whether
LaceDarius Dunn
and
Tweety Carter
can get free against the Longhorns, and who wins the tussles inside between Baylor's
Ekpe Udoh
and
Quincy Acy
and Texas' Pittman and Johnson. This should be an up-and-down affair at the Sprint Center.
February, 9, 2010
2/09/10
11:43
AM ET
After this, we can officially move on. I promise.
There's one stat you have to see, though, and it's this: Last night, Texas' assist leader was center
Dexter Pittman
.
He had two assists. The rest of his team had four
.
If you want to know why Texas is struggling, there it is. The Longhorns committed 17 turnovers last night, but that would be forgivable if they were finding open men on offense and getting easy baskets with ball movement. Of course, they're not doing that, and last night's result was a byproduct -- for all of Texas' supposed depth, they have no one who can run the show, who can make Pittman and
Damion James
' lives easier, who can guide
Avery Bradley
and
Jordan Hamilton
into high-percentage shots. Texas just doesn't have that player.
One potential option is freshman
J'Covan Brown
, who scored 28 points in 32 minutes Monday night. Brown is more of a scorer than a game manager, but he showed flashes of point guard-esque brilliance last night, including wraparound left-handed pass on a screen and roll late in the contest. The Longhorns' primary point guard option throughout the season has been
Dogus Balbay
, but Barnes seems concerned that Balbay can't give the Longhorns any offense, and so doesn't seem all that interested in keeping him on the floor. (This is where I'd assert that with Pittman and Bradley and James in your lineup you don't need your point guard to give you offense, but whatever.)
The bottom line is that the Longhorns have to figure out the point guard position. And fast. Whether it's a scorer like Brown or a "true" point like Balbay -- or whether it's a matter of following Ohio State, Purdue and West Virginia's leads and having your best offensive guard (say, Avery Bradley) bring the ball up -- something needs to change. If it doesn't, and the Longhorns keep posting microscopic assist-to-turnover ratios, this team isn't going anywhere.
February, 9, 2010
2/09/10
2:53
AM ET
AUSTIN, Texas -- Rick Barnes' therapy was to talk.
And talk. And talk some more.
I'm not sure I have ever seen a head coach of Barnes' stature vent in such a calm and therapeutic manner after losing a game of this magnitude.
[+] Enlarge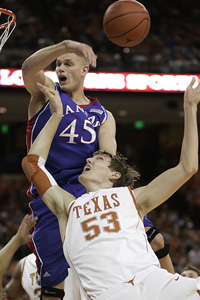 AP Photo/Harry CabluckClint Champman was one of 12 Texas players to see playing time in the Longhorns' loss to Cole Aldrich and Kansas.
Monday night's
80-68
victory by No. 1 Kansas -- the team Texas was supposed to challenge for the conference title and No. 1 seed -- was long over, well past an hour after the final buzzer, and Barnes was still discussing his Longhorns, why they have lost five of seven and how they'll be just fine in due time.
But will they? Is the problem simple enough that the Horns can just fix their issues and start winning again?
"All I can tell you is that we're 19-5 with seven regular-season games left," Barnes said. "How we got to 5-4 is pretty simple. If we had put our young guys out there early, then we wouldn't have won whatever we did in a row [17 straight to get to No. 1 in the polls]. We weren't going to do that. We knew at some point in time we needed to get them out there."
But the problem lies in whom to play, when to play them and for how long.
"If we would all play together," said Barnes, as he zig-zagged from point to point. "We're going to fix this. We'll be where we need to be. I knew there were issues that we were going to have to deal with and one of them was we weren't totally together as a team."
And maybe that's why Barnes is still searching for combinations. He played 12 players against Kansas, still unable to settle on a set rotation. He made a change in the starting lineup, inserting junior
Gary Johnson
for some offensive pop and sitting senior
Justin Mason
because, like
Dogus Balbay
, he had become an offensive liability.
Barnes leaned heavier on freshman
J'Covan Brown
off the bench, who played 32 minutes and scored 28 points. But just when you might get excited about Brown's steal, layup and 3-pointer to get Texas back in the game, he had a traveling call and then a poor shot -- a forced layup in traffic instead of giving up the ball to the hot hand of senior
Damion James
-- that led to Kansas stretching the lead again.
UT's one consistent player is James, who scored 24 points and made all four 3s. Center
Dexter Pittman
was a non-factor offensively, missing four of five shots and scoring three points. He had four blocks but was hardly a force. Freshman
Avery Bradley
had an ordinary game with 1-of-6 shooting, Balbay didn't do anything offensively (zero points and zero assists) and freshman
Jordan Hamilton
, who scored 27 points at Oklahoma State last week, continued to shoot too quickly and missed all six attempts and four 3s.
The Longhorns led 14-8 early in the game, but as soon as Barnes went to the bench, Texas wilted. Center
Clint Chapman
came in and played three minutes and had two turnovers.
Barnes said he had a hard time taking a senior like Mason out of the lineup because of what he has meant to the team. Barnes went back and forth on Brown. He said for all of Brown's positives, there were still too many steps back. Yet, he hinted Brown will start over Balbay when the Longhorns play Nebraska Saturday in Austin.
"When we substitute, we get a couple of guys who get away from the gameplan," Barnes said.
Barnes said Hamilton has to understand how to get in the flow of the game, not to start "jacking up shots every time he gets them and think he has to go one-on-one and take really tough shots." But Hamilton can score points so he tosses him out there in case he can get going again.
"I didn't feel everybody was in it together," Barnes said. "We were playing a lot of people, mixing and matching."
Brown showed he could produce in spurts. Bradley has had his run. Hamilton has been erratic. But Barnes said the reason Texas got picked high was because of those three newcomers.
And of course the expectation that Pittman would be a rock next to James.
"Dexter has to be a force in there," Barnes said. "Damion is trying really hard to do the right things and we tried him on the perimeter. What Dexter has to do is screen across. He can't just get on the block and have the defender walk him across the lane while he stands straight up. He can't do that. We knew they would double him."
Pittman has scored in double-figures only twice in the Big 12 this season.
And yet Barnes kept talking about how the Longhorns are still fine and will get this figured out.
At some point he will have to do what Kansas coach Bill Self did and go with a maximum of eight players. If someone isn't happy about their playing time then so be it. He has to decide to ride the eight and finish strong with them. Time is running out to fix the erratic play.
Texas was No. 1 and now looks lost. The Big 12 title is out of reach now that the Longhorns are four games behind Kansas. So, too, is a No. 1 seed and the advantage of being the top team in Houston in the South Regional.
Barnes is still searching, talking and hoping he can find the answer by thinking aloud. He said he can.
He has to or else the Longhorns won't be playing late into March, let alone early April.
January, 30, 2010
1/30/10
1:33
PM ET
ROSEMONT, Ill. -- Oh, Stats LLC.
You're so polite
:
Syracuse leads the nation in field-goal percentage. DePaul ranks last in that department not only in the Big East, but also among teams that hail from major conferences. What appears to be a major mismatch is on tap Saturday at Allstate Arena when the fourth-ranked Orange try to win their eighth straight as they meet the Blue Demons.
Let me reword that slightly less carefully: Syracuse is one of the elite teams in the country, one or five or six capable of winning the NCAA tournament in two months, and DePaul is ... not. The Blue Demons are less an attraction here than a sideshow; the vibe in Allstate has the same feel as the open practices at NCAA regionals. "Oh, that's
Wes Johnson
. There's Rautins! Let's watch him shoot." Everyone is here to see the Cuse.
The major characters on hand should be obvious: There's Johnson and
Andy Rautins
and
Brandon Triche
and
Scoop Jardine
and on down the line. I'll be interested in watching forward
Arinze Onuaku
, who just so happens to be the Syracuse career leader in field goal percentage. (Who knew?) Onuaku might be the key to Syracuse's NCAA chances -- he's a big man who can bang with the Cole Aldriches and Dexter Pittmans of the world. A matchup with DePaul's 6-foot-11 center
Mac Koshwal
should be the best watch of the game.
Be sure to follow me on Twitter for live updates on this game and others throughout the day, and as always, check back later for some halftime thoughts and postgame up close with the Cuse.
January, 23, 2010
1/23/10
11:28
PM ET
STORRS, Conn. -- Texas' mid-season slump that began with a late win over Texas A&M and has culminated with consecutive losses at Kansas State and Connecticut may force coach Rick Barnes to do something he didn't anticipate weeks ago: cut down the rotation.
[+] Enlarge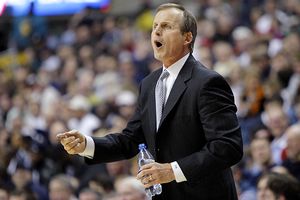 David Butler II/US PresswireTexas coach Rick Barnes said he may need to shorten his bench.
Texas played 12 players in the
88-74
loss to Connecticut as he searched for the right combination.
Center
Dexter Pittman
got into foul trouble (he fouled out in 15 minutes), as did
Dogus Balbay
(four fouls in 19 minutes). But outside of
Gary Johnson
and
Jordan Hamilton
the bench was ineffective.
"I might have to,'' Barnes said of trimming the rotation down. "A lot of guys got a chance but I'm going to have to think long and hard if guys aren't doing it.''
Clint Chapman
,
Matt Hill
,
Alexis Wangmene
all played under 10 minutes and produced four boards and two points. Clearly, Barnes will go with
Jai Lucas
as a backup to Balbay and Johnson and Hamilton have to play because of their talent and productivity. But
J'Covan Brown
was 0-for-5 shooting including 0-for-3 on 3s and offered little in 12 minutes off the bench.
Texas' depth has been a selling point for this squad but it's starting to seem like the rotation is getting unwieldy for a team that needs to focus a bit more when pressured and pushed.
Barnes said he was searching for the right combinations. But he also said
Avery Bradley
can't play 36 minutes a game (he played 29). He said Bradley told him he was as tired as he's ever been after the Kansas State game Monday. He said he has to maximize minutes for James, too, who can't get worked too long. Of course Pittman has to give the Longhorns more than 15 minutes for Texas to be a title contender.
For Texas to be a title team the Longhorns may have to lock in on a rotation of James, Pittman, Bradley, Balbay,
Justin Mason
, Johnson, Hamilton, a bit of Lucas and maybe some Brown. But the latter may have to play in spots.
"We'll be fine if we stay with the right attitude and they want to listen,'' Barnes said.
What upset him more than anything was the Longhorns' lack of offensive execution and their inability to defend on the transition. Barnes said he didn't think the Longhorns' poise was an issue but rather execution.
"We can guard better than that,'' Barnes said. "We've been great defensively for the most part this year.''
Texas won't catch a break at home with Oklahoma State coming off a road win at Kansas State and then Baylor, which nearly clipped Kansas on the road.
"We'll get back on a roll,'' James said. "I know this team. Maybe we needed to get back down to reality. We'll bounce back. I promise you.''
January, 18, 2010
1/18/10
11:56
PM ET
Jacob Pullen
couldn't shoot. Ditto
Denis Clemente
.
And Kansas State still made Texas' first stay at No. 1 a brief one.
If anyone doubts the legitimacy of Frank Martin's Wildcats, the
71-62 win over the Longhorns
ought to put the questions to rest. The new-to-the-spotlight Wildcats were the ones who kept their composure in a frenetic, physical and frequently ugly game. They rode the emotion and the fervor of a home crowd -- fueled by a student section that made a 4 a.m. wakeup call to wait for tickets -- to a first-half lead, and survived when the Longhorns made their run at the start of the second.
Three years ago, K-State earned headlines thanks to megawatt star Michael Beasley. Now the Wildcats are turning heads thanks to coach Frank Martin (see my Dec. 16
feature on him here
) and the play of their entire team.
In a game where buckets were harder to come by than a smile on Martin's face, KState's defense stood taller than UT's. The Longhorns sent wave after wave of players at Kansas State -- 13 of them in all -- and none of them could score. Freshman
Avery Bradley
was the only Longhorn to hit double figures and he had to squeak in with 11 points.
Certainly the Longhorns didn't help their own cause. Tearing a page from the Memphis free-throw handbook, Texas continued its season-long free throw woes by shooting 9-of-22 from the uncharitable stripe and played with a stunning lack of composure in the first half, their frontcourt all but disappearing and the backcourt coughing up the ball time and again.
But some of the Longhorns' problems certainly were due to the Wildcats' efforts. K-State may not have played much prettier than Texas -- they missed 12 free throws and connected on just 1-of-12 from the arc -- but they played harder. With Pullen (who will apparently have to continue to grow his Amish beard) and Clemente all but shut down -- they were a combined 4-of-24 --
Jamar Samuels
and
Curtis Kelly
all all but embarrassed the presumed stronger frontcourt of Texas. Samuels and Kelly combined for 37 points and 20 boards to the 15 and 14 of
Damion James
and
Dexter Pittman
.
James, a legit national player of the year candidate, was all but negated entirely, shooting only 3-of-12 from the floor. Kelly and Samuels were so in his head, the senior missed easy chippies down the stretch that could have made it interesting.
The interesting twist in all of this: K-State will host Kansas on Jan. 30 (the trip to Lawrence doesn't come until March 3) and will not have to travel to Austin.
In other words, the Big 12 championship -- as my colleague
Doug Gottlieb blogged about
Monday morning -- is running through Manhattan this season.
December, 30, 2009
12/30/09
4:17
PM ET
Plenty of good linkage today. Still no good name. New Year's resolution: Name the afternoon linkage post something better than "afternoon linkage." Anyway, right to it:
December, 21, 2009
12/21/09
12:45
PM ET
It's a new day, with a new blog, and two new bloggers. So, for the sake of alleviating the disjointed nature of beginning anew in the middle of an ongoing season, let's go do Five Big College Basketball Things I've noticed thus far. In no particular order:
[+] Enlarge

Matthew Emmons/US PresswireDexter Pittman scored 23 points in Saturday's win over North Carolina.

Texas is really, really good. This is not a surprise, nor should it serve as any sort of newsflash. But after the Longhorns' 102-90 demolition of North Carolina at Jerry Jones' wonder palace Saturday, it's officially time to declare the Longhorns legit. I mean, like, national championship-favorite legit. Before the 2009-10 season began, there was some uncertainty on this matter. Would Dexter Pittman dominate down low? (He has.) Would Damion James harness his talent and run roughshod over smaller, less athletic defenders? (He is.) Would Texas' world-beating recruiting class -- not to mention Florida transfer Jai Lucas -- give Texas an immediate boost? (It has.) Texas is so talented, it made North Carolina look downright normal, and nobody but nobody makes North Carolina look normal.

Also good: John Wall. Am I blowing your mind yet? Is this post the blog equivalent of seeing "Avatar" for the first time? Let me know if you want me to dial back this revolutionary, groundbreaking rhetoric while you recover. So, OK, you're well aware John Wall is good, but even if you'd pored over Wall's voluminous mix-tape library this offseason, you might not have expected him to be this good. But he is. He's better than Derrick Rose was. He's better than Greg Oden. He's better than just about any freshman in recent memory at this stage of the season, and that includes Kevin Durant. (When all is said and done, Durant's season will likely stand up as the better one -- the Texas forward didn't really hit his scary-good stride until conference play began.) But for now, it's fair to call Wall the best player in the country, and if you fully expected that before this year began, you are far wiser than I.

Meanwhile, in Iowa City ... Any Iowa fans in the building? Ha, just kidding. Of course there aren't. Or, if there were, none would admit it. Because the 2009-10 Hawkeyes are one of the worst teams at any major conference school maybe in the past 10 years. You thought Indiana's six-win reclamation project last season was bad? These Hawkeyes lost to those Hoosiers, and in the offseason, coach Todd Lickliter lost three players and gained basically no one. This is not to pick on Iowa. Losing seasons and talent gaps of this magnitude are no fun for anyone. But it is borderline fascinating to watch the Hawkeyes play. It's grotesque.

We're still waiting, Renardo. Renardo Sidney is Mississippi State's best recruit in a generation. He's also yet to play a minute of basketball for the Bulldogs. One of the big offseason stories -- and this is the college basketball offseason, when, provided we're not talking about coaches leaving programs with NCAA probation or coaches being extorted by former lovers, things get pretty quiet -- was Sidney's sudden departure from Southern California and his return home to Mississippi State. Sidney was set to play for USC before the school quietly pulled his scholarship. Now Sidney and lawyer Don Jackson are still battling the NCAA over the Sidney family's financial situation. (Jackson wanted to call a congressional hearing on the matter; his counsel has been, shall we say, less than beneficial.) MSU coach Rick Stansbury took a risk on Sidney. That risk has yet to pay off. And as of right now, it's not looking good.

Sorry, Butler. That was our bad. No, I'm not talking about Saturday's insane, last-second-that-should-or-should-not-have-existed win over Xavier. The Musketeers deserve the apology there. (Uh, sorry, Xavier.) No, Butler -- or at least Butler's fans -- deserve a big ol' "I'm Sorry" from everyone who called them a Final Four team before the season started. Sure, the Bulldogs are good. They're very good. But in the crucial nonconference slate, Butler has been just a teensy bit underwhelming. Its best win is probably the one it got at Hinkle Fieldhouse over Ohio State, but that was an Ohio State team without Evan Turner. A two-point win over UCLA doesn't look all that good, and neither do losses to Clemson and Minnesota, not to mention Saturday's near-loss to a rebuilding Xavier squad. Butler could have locked up a high NCAA tournament seed before conference play ever began. It seems to have squandered that opportunity.
How's that for an arbitrary number of random thoughts? Have some of your own? Don't be shy; add them in the comments.
December, 19, 2009
12/19/09
5:01
PM ET
By
ESPN Stats & Information
| ESPN.com
Both
Damion James
(25 points, 15 rebounds) and
Dexter Pittman
(23 points, 15 rebounds) recorded double-doubles in Texas'
103-90 victory
over North Carolina at Cowboys Stadium. The James performance should have come as no surprise. He now has 41 career double-doubles, which moves him into third all-time at Texas in that category.
Both guys were key on the offensive glass as the Longhorns racked up 29 offensive rebounds, the most they have had in any game this decade. Many led directly to baskets as Texas totaled 103 points against UNC, the most a Tar Heel team has allowed since Maryland scored 112 in 2002.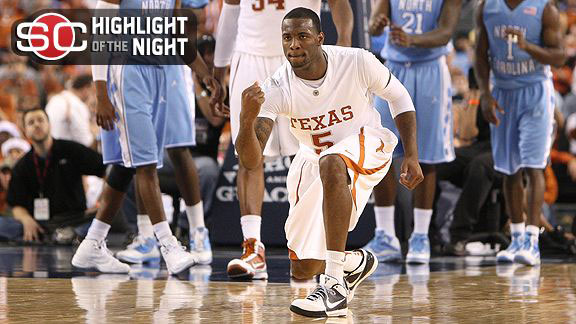 December, 19, 2009
12/19/09
3:12
PM ET
ARLINGTON, Texas - Furious halftime finish here at
Jerry Jones
' humble abode. Texas scores six points in the final 20 seconds to stretch what had been a pretty tight game into a good-sized lead.
Credit rookie
Avery Bradley
for a very un-freshman-like heads-up play to ignite the Texas crowd. After
Damion James
scored on an offensive rebound, Bradley pestered what Carolina figured would be an easy inbounds pass with six seconds left, swiped the ball and scored the layup.
Bradley and fellow Longhorns' frosh
J'Covan Brown
have been sensational, combining for 22 points. The two hooked up on a pretty backdoor pass -- Bradley having the presence of mind to go backdoor and Brown the ability to slice the sweet pass through about three bodies.
I'll be curious to see if North Carolina can withstand the constant wave of Texas players in the second half. Rick Barnes used 13 players in the first half and each made decent contributions. James scored seven in a row at one point, followed by
Gary Johnson
going for a five-point swing on his own. Mix in nine points and six boards for
Dexter Pittman
and the combo of Bradley and Brown and that's a lot to ask of a pretty green Tar Heel team.