College Basketball Nation:

Diamond Head Classic
December, 19, 2013
12/19/13
10:30
AM ET
The last traditional neutral-site tournament, this weekend's Diamond Head Classic in Honolulu, could end up being a memorable event for at least three teams with high hopes.

And all for different reasons in their respective conferences.
Iowa State.
Saint Mary's.
Boise State.
The Cyclones are rolling, undefeated and poised to be a Big 12 title contender with Kansas, Oklahoma State, Baylor and now perhaps Texas.
Saint Mary's suddenly is surging, undefeated, underappreciated and ready to resume being the pest to Gonzaga that the Zags seemingly cannot dismiss in the WCC.
Boise State, which is off its axis after losing at Kentucky and in Boise last week to the Gaels, must find its footing or face a long road to an NCAA tournament bid after making the NCAAs a year ago out of the Mountain West.
The bracket is favorable for the Cyclones, matching Iowa State against George Mason first (Sunday, 5:30 p.m. ET, ESPNU), then an erratic Oregon State or untested Akron.

The other side of the bracket pits Saint Mary's against South Carolina (Sunday, 11 p.m. ET, ESPNU), which has played only a handful of games, while Boise State drew the short straw and has to play a true road game against hometown Hawaii (Monday, 1 a.m. ET, ESPNU).
If the two meet in the semifinals, Boise State must avenge the loss, much in the way Memphis did in beating Oklahoma State after losing to the Cowboys in Stillwater.
If Iowa State gets derailed, the Cyclones will take a hit, but it won't take the luster off the Cyclones' home game against Kansas in early January. Iowa State already has wins over BYU on the road and over Michigan, Iowa and Northern Iowa.

Boise State is yearning for something to put on the shelf for the selection committee. Saint Mary's could use another neutral-site win of note to put it back in play for a spot if it is in the mix in the WCC.
The Beavers boast a prolific scorer in
Roberto Nelson
and could spoil the party and boost the Pac-12's power rating if they could pull off a few upsets.
A win by Mason, Akron, South Carolina or the hometown Warriors would shift the momentum of the event and for the losers who went to paradise looking for a springboard to March.
This event can get swallowed up by Christmas, but it has a chance to be a window again into a legitimate sleeper in Iowa State and a new darling in the Gaels or a much-needed restart for Boise.
December, 20, 2012
12/20/12
3:00
PM ET
My favorite Diamond Head Classic of all time -- 2010 -- was a bit of a disaster. Last year's was OK: Xavier struggled in its post-brawl malaise, and Kansas State and Long Beach State emerged better for the trip. But 2010 had what might be the greatest moment in recent college hoops history: When Mississippi State's Renardo Sidney and Elgin Bailey were caught
slapping each other in the stands on live TV
while watching other teams play in the same tournament. It was hilarious. By the end of the 2010 title game, a not-very-good Butler team was standing with the trophy in their hands, almost like, "Um, I guess we'll take it? You guys are all insane! Can we go back to Indiana now?"
Let's break down this year's Diamond Head Classic.
The basics
: Dec. 22, 23 and 25, 2012, at Stan Sheriff Center, Honolulu, ESPNU/ESPN2/ESPN3
The set matchups
(all times ET): Dec. 22 -- Ole Miss vs. Indiana State, 4 p.m. ET; San Diego State vs. San Francisco, 6 p.m.; Arizona vs. East Tennessee State, 10:30 p.m.; Miami vs. Hawaii, 12:30 a.m.
(
For the full bracket, click here
.)
The favorite
: Arizona. This is pretty obvious: The Wildcats are the No. 4-ranked team in the country, and for good reason -- on Saturday, they beat a very good Florida team at home, thanks in large part to Sean Miller's infusion of veteran savvy (
Solomon Hill
), freshman talent (
Kaleb Tarczewski
,
Brandon Ashley
,
Grant Jerrett
) and great guard play (
Mark Lyons
,
Nick Johnson
). All the pieces are here.
FIVE PLAYERS TO WATCH
[+] Enlarge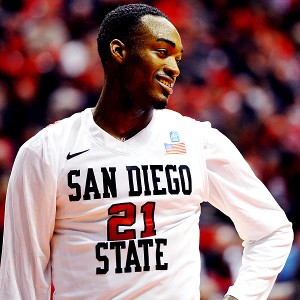 Christopher Hanewinckel/USA TODAY SportsSDSU's Jamaal Franklin is averaging 18.6 points, 9.7 rebounds, 3.1 assists, 1.7 steals and 1.2 blocks.
Mark Lyons, guard, Arizona
: As stated just above, it is a little bit difficult to narrow Arizona down to just one player to watch -- the Wildcats have a variety of weapons at their disposal. It would be just as fitting to include Hill, the team's do-everything senior forward, or Johnson, one of the most improved and efficient shooting guards in the country this season. But Lyons is the team's point guard, leading the Wildcats in usage rate, and playing the most efficient, selfless basketball of his life to boot. (To wit: He's shooting 56.8 percent from inside the arc, 41.5 percent outside it, and 86.5 percent from the free throw line.) If Arizona has one piece more important than the rest, it's Lyons. And if he can keep up, look out.
Jamaal Franklin, forward, San Diego State
: Franklin's line to date this season: 18.6 points, 9.7 rebounds, 3.1 assists, 1.7 steals, 1.2 blocks. Not only is Franklin really good at a lot of things, he does a lot of things all the time: He uses fully 33.4 percent of San Diego State's offensive possessions, the third-highest mark of any player in the country. He's a beast. You probably knew that already. But there's your reminder.
Reggie Johnson, center, Miami
: When you first look at Johnson's shooting numbers, you might be a little nonplussed. The big fella shoots 45.5 percent from inside the arc? Huh? Johnson's finishing may never be Jared Sullinger-esque … but oh well. What Johnson does well, he does
very
well: He dominates the glass on both ends of the floor, blocks 7.5 percent of opponents' shots, draws 7.2 fouls per 40 minutes and gets to the free throw line all the time. Johnson needed some time to grow into his role on the basketball floor, but now that he has, there aren't too many (any?) forwards in the country who can keep him out of the lane.
Marshall Henderson, guard, Ole Miss
: The Ole Miss guard has always been talented. He hasn't always had it together. He started 30 of 31 games as a freshman at Utah and earned a reputation as both one of the Mountain West's best and most hated young players. He then transferred to Texas Tech, was arrested on a felony drug charge, had the charges dropped, then left Texas Tech for South Plains Junior College, where he went undefeated, scored 19.6 points per game, won the juco national POY award and a national title, and subsequently transferred to Ole Miss. He's off to an impact start thus far. Go figure.
Vander Joaquim, center, Hawaii
: Over the summer, an NBA scout emailed me to ask what I knew about Hawaii senior Vander Joaquim. The answer was "almost nothing," but my curiosity was piqued, and after a few hours of research, I came away really impressed. The dude is a long 6-foot-10 with real ball skills and back-to-the-basket moves. But this season he's taken a downturn in almost every statistical category -- points, rebounds, blocks, efficiency, you name it -- and it will be interesting to see whether the competition of the Diamond Head can jog loose some of his junior year form.
FIVE BIG QUESTIONS
Is this Ole Miss's coming-out party?
You may not realize it, but the Rebels are awfully good. They currently rank No. 21 in Ken Pomeroy's rankings, with a top-15 defense that forces turnovers, blocks shots and generally makes life miserable for opposing defenses. Problem is, the Rebels haven't beaten anyone good. Their best win is Rutgers; the rest are all total cupcakes. Facing the one good team on their nonconference schedule to date, Ole Miss fell at Middle Tennessee 65-62. There is no shame in that loss, and the Rebels appear to be legitimately good. But they'd do well to actually prove it this weekend.
Who's the best out west?
It appears to be Arizona, and it doesn't look too close right now. But don't say that to a San Diego State fan. The Show is very much convinced that no one can touch their Aztecs out west, and they have a point: For all of Arizona's talent, SDSU defends just as well, if not better, than do the Wildcats, and Franklin is the best player on either team. If both win out, they'll face off in the championship game. Yes please.
Is Miami good enough to contend in the ACC?
Duke is the ACC favorite, there's no doubt about that, but a confluence of factors (UNC's turnover, FSU's dropoff) have left the spots just below the Blue Devils wide open this season. Maryland may have something to say about that, but right now Miami -- with Johnson dominating the middle,
Kenny Kadji
spacing the floor and
Shane Larkin
having a quietly great season -- is looking like the second-best team in the ACC. We'll find out more this weekend.
Will anyone spring an upset?
This is a good bracket. Ole Miss, San Diego State, Arizona and Miami all have a great chance of winning, and if chalk wins out Saturday we'll have two really solid semifinals to take in. I expect this to be the outcome. It's hard not to. But one-game elimination tourneys are always vulnerable to upsets, and both Indiana State and San Francisco have a chance to shock the world. East Tennessee State and Hawaii? Not seeing it. But hey, you never know.
Will any team get into a massive, embarrassing brawl in the stands in the middle of another team's game?
Because that was hilarious. I just wanted to reiterate that.
THE PICKS
Opening games
: Ole Miss over Indiana State; SDSU over San Francisco; Arizona over East Tennessee State; Miami over Hawaii
Semifinal games
: Ole Miss over SDSU; Arizona over Miami
Championship game
: Arizona over Ole Miss
July, 26, 2012
7/26/12
12:00
PM ET
Tournament bracket
for the Diamond Head Classic
When and where:
Dec. 22-23, 25 at the Stan Sheriff Center in Honolulu, Hawaii
Initial thoughts:
San Diego State and Arizona are the main attractions, and rightfully so -- UA is a potential top-10 team, while SDSU has blossomed into a perennial NCAA tournament program in Steve Fisher's recent rebuild. That said, don't sleep on Miami. If they stay healthy, the Hurricanes have bodies big enough to trouble anyone. San Francisco lost nine -- yes,
nine
-- players this offseason, six of whom transferred out of the program in rather unexpected fashion. In other words, at least the Dons get to go to Hawaii this year. Silver linings and all that.
[+] Enlarge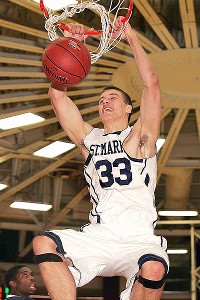 J.Anthony Roberts/ESPNHS.comKaleb Tarczewski is the top-ranked player in Arizona's highly-regarded incoming class.
Matchup I can't wait to see:
To be perfectly frank, I'm not sure I can get too worked up about any of those first-round matchups, although the hometown Warriors hosting an ACC school should make for a fun atmosphere. If the Hurricanes survive that, their matchup with Arizona would be a quality marker for both teams as they prepare for conference play.
Potential matchup I'd like to see:
San Diego State vs. Arizona. Two top programs in the West slugging it out on Christmas night? Yes please. The way-too-early edge probably goes to the Wildcats, given all the talent in Sean Miller's 2012 recruiting class, but an experienced, physical Aztecs team should be up to the challenge.
Five players to watch
Jamaal Franklin, San Diego State:
A multitalented swingman, Franklin had a very good sophomore season, but he still has plenty to improve, particularly his outside shooting. If he branches his game out further away from the rim, he could be a nigh-unstoppable force in the Mountain West this season.
Grant Jerrett, Arizona:
How good is Miller's 2012 class? Top-five prospect
Kaleb Tarczewski
is only barely its highest-ranked member. Jerrett comes in at No. 9 in the ESPN 100 (and fellow power forward
Brandon Ashley
ranks No. 16), and his scouting report says he's improving at "an alarming rate." By the time December rolls around, Arizona's young frontcourt might just be the best in the country.
Durand Scott, Miami:
Scott will be the lead guard for a Miami team with a very clear goal -- a trip to the NCAA tournament -- in Jim Larranaga's second season. With
Malcolm Grant
departed, Scott will need to do even more to lead a brutish frontcourt duo of
Kenny Kadji
and
Reggie Johnson
.
Chase Tapley, San Diego State:
The SDSU senior is one of the few remnants from 2011's dream 34-3 season, and he had a chance to step into a starring role last year. In addition to shooting 43 percent from 3, Tapley was also his team's best perimeter defender.
Kaleb Tarczewski, Arizona:
The No. 4-ranked player in the class of 2012 is the centerpiece -- literally and figuratively -- of Miller's very impressive recruiting work since his arrival in Tucson. Tarczewski could be this season's
Cody Zeller
, an intuitively talented big man who is far from the complete package, but is good enough to lead his vaunted program back to national relevance once again.
Title-game prediction
Arizona over San Diego State: If this game were earlier in the season, when Arizona's coterie of freshman were still finding their sea legs, I'd probably give the edge to SDSU. But come Christmastime Arizona will have had nearly two months to build around that star-studded freshman class, and their sheer talent wins out.
Who others are picking:
Andy Katz:
Arizona over San Diego State
Jason King:
Arizona over San Diego State
Myron Medcalf:
Arizona over San Diego State
Dana O'Neil:
Arizona over San Diego State