College Basketball Nation:

Digger Phelps
January, 19, 2014
Jan 19
8:00
AM ET
On Jan. 21, 2004, Notre Dame celebrated the 30th anniversary of its 1974 upset against UCLA with a halftime celebration. I know because I was there. Or was I?
Here's the story I remember: My high school friend John, a Notre Dame freshman, had extra tickets for that game versus Kentucky, so my roommate Jason and I made the trek to South Bend, Ind., to watch the Irish take on Gerald Fitch, Chuck Hayes and Kelenna Azubuike. I distinctly remember the halftime celebration, the dimming of the lights, the rapture in the audience as the final two minutes of that fabled upset played on the Joyce Center scoreboard, the thunderous applause for the players arranged side by side at midcourt. And I swear that a Wildcats fan near us made fun of all the hubbub -- something about the Irish getting more mileage out of one game than any program before or since. I remember laughing.
Here's the problem: John doesn't. Remember, that is. The best he could do to verify, he said in an email, was "50-50." And Jason?
Jason wasn't even on the trip
. That was a different trip, he explained. Facebook was no help either; I didn't create my profile until the fall of 2004. This game I'm so sure I attended was one of the last moments of my life that wasn't recorded for posterity on the Internet. But I remember it! It happened! Right?
That was just 10 years ago, three full decades after the legend of the Digger Phelps-engineered upset of No. 1 UCLA was born. Imagine what tricks memory can pull in 40 years, what details can be lost in translation, how much harder it gets with each passing annum to identify with the way things once were.
And yet "Notre Dame 71, UCLA 70" has stood firm against the sands of time. It is crystallized in the sport's collective memory, and not just because one team scored 12 unanswered points in the final two minutes or because the Irish had eerily bookended the 88-game winning streak that preceded it. Notre Dame 71, UCLA 70 will live forever precisely because it, more than any other game, connects us to an era in college basketball so utterly alien from our own.
No fact demonstrates this better than one that is often lost in casual remembrances: Notre Dame was ranked No. 2 in the country. In the matter of a decade, the thought of a No. 2-ranked team beating No. 1 on its home floor would sound like nothing more than an exciting, high-quality game of hoops, a sportwide shift that more or less exists intact to this day. In 1974, against John Wooden's UCLA, it was something like
history
.
[+] Enlarge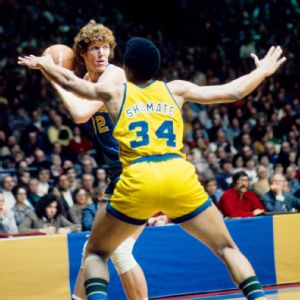 Malcolm Emmons/USA TODAY SportsBill Walton and John Shumate staged an epic battle in the Irish's upset of the Bruins in January 1974.
Such was UCLA's dominance. Between 1964 and 1975, the Bruins won 10 national championships. They won seven straight from 1967 to 1973; no other college coach in history has more than four. UCLA won 38 straight NCAA tournament games in that span, and Wooden posted four 30-0 seasons. Today, Bob Knight's undefeated 1975-76 Indiana team is still the last to finish without a loss.
These facts are well-known and oft-repeated, but they never lose their power. And the 1974 Bruins were the most powerful of them all. From Jan. 23, 1971, when ND's Austin Carr scored 46 points in an 89-81 win, until almost three years later to the day, UCLA won 88 straight college basketball contests. The Bruins' average margin was 23.5 points. Bill Walton, the indomitable force as those teams' literal and figurative center, had not lost a game since his prep career at Helix High in San Diego. "By various accounts,"
The New York Times recalled in 2010
, "his personal winning streak had reached 139 or 143 games, the victories rolling up like miles on an odometer." Wooden, with the
help of local businessman and devoted booster "Papa" Sam Gilbert
, concentrated more talent in Westwood than any program before or since. When Wooden combined that talent with the freedom and trust of his philosophy, an aura of enlightened invincibility was born.
Such was that aura that Notre Dame -- again, the No. 2 team in the country, playing on its own floor -- required intense psychological motivation to believe it could down the Bruins trailing by nine points with less than three minutes left. Before the game, Phelps forced his self-conscious kids to rehearse cutting down the nets. The final timeout speech Phelps delivered to his charges --
which the documentary "88 and 1" will detail Sunday night on ESPN2
-- practically force-fed the Irish's belief.
Phelps also had two unlikely advantages.
Walton arrived in South Bend, Ind., injured. Twelve days earlier, the center broke two bones in his back when, as
he later told the San Diego Union-Tribune
, he was undercut on a rebound. He played brilliantly against Notre Dame, making 12 of his first 13 shots while wearing a restrictive back brace. But the film betrays Walton's pain. When Irish center John Shumate stole UCLA's high inbounds pass -- just seconds after scoring on Walton in the post -- Walton winced at the jump, hesitating for a brief second, glancing at the ground, while Shumate cut the lead to seven.
The other advantage? Wooden's philosophy was so celebrated that it was already widely available in book form, where Phelps read that Wooden typically refused to call timeouts late in games. The serene Bruins legend preferred to let his players self-actualize their way through hiccups. He was adamant in his philosophy that coaching was for practice, that if players weren't prepared for anything by game time, he had failed. So when Phelps' team suddenly pressed and the turnovers piled up, UCLA never took a timeout to adjust. A miraculous 12-point comeback ensued.
To this day, UCLA players dispute that version of the facts. They insist that they, not their coach, lost the game. (Guard Pete Trgovich told the Times in 2010 that "Anybody who knows basketball can't put [Phelps and Wooden] in the same breath. It had nothing to do with Coach's decision not to call a timeout.") Forty years later, there is still bad blood, still some jockeying for control of the narrative, still some attempt to write the history of one of the most incredible upsets in college basketball history.
Still, 40 years later, the result itself remains unchanged, fully formed, an artifact of a bygone era. It is no longer possible for one program to be so dominant that a loss to No. 2 at home would immediately go down in history.
But it was possible then, and it is that context that makes Notre Dame 71, UCLA 70 so special. It is a basketball memory too strong to fade.
February, 18, 2013
2/18/13
11:00
AM ET
By
ESPN.com staff
| ESPN.com

ESPN college basketball analyst Digger Phelps discusses Duke's loss to Maryland on Saturday and looks at the team that is likely to take Duke's place as a No. 1 seed.
January, 21, 2012
1/21/12
10:42
PM ET
SOUTH BEND, Ind. — The montage had stopped playing Friday night in the hotel, but something was still gnawing at
Eric Atkins
.
Notre Dame coach Mike Brey showed his players a roughly five-minute video clip of the Irish's history against teams ranked No. 1 by The Associated Press: the infamous snapping of UCLA's 88-game winning streak from 1974, the more recent knocking off of North Carolina nearly 25 years ago — seven in all, and six in this building.
Nearly 24 hours later, after seemingly most of the 9,149 in attendance rushed the Joyce Center court to celebrate a game that was never really as close as its
67-58 final score
would indicate, Atkins and the Irish were able to boast about another milestone for Brey, this time because of a victory over top-ranked and previously unbeaten Syracuse in which they led from start to finish.
"I actually remember saying after the video that there were no Coach Brey teams in there," the point guard said, "but I feel great that we can add that to his résumé."
Told of the reaction, Brey cracked: "That's awesome."
Brey was able to circumvent the chaos, but his players soaked it all in.
Scott Martin
followed the biggest guy he could find for the safest route off the court.
Pat Connaughton
was hoisted up by one of his friends from the stands. Atkins somehow ended up in the middle of it all.
"I was making sure Syracuse got off," Brey said. "Our guys were in the middle of it, which was awesome."
The 12th-year Notre Dame coach found himself amid the smaller remaining crowd 12 minutes after the final horn, when he came out for his radio interview.
But by then, the noise had died down considerably from the 40 previous minutes of action on the floor, which began thus for the Irish offensively:
Connaughton hits an open 3 outside the elbow.

Atkins hits an open 3 in front of the Syracuse bench with the shot clock winding down.

Jack Cooley lays it in inside.

Connaughton hits another 3, prompting Syracuse coach Jim Boeheim to call a timeout 2 minutes, 40 seconds into the game.
The Irish, who entered the night 14th in the Big East in 3-point shooting, made their first three 3-pointers. The Orange, whose biggest deficit at any point this season had been eight at North Carolina State, trailed 11-2.
The shots kept dropping for Notre Dame, which made 8 of 16 from downtown, including 6 of 10 in the first half. They kept clanking for Syracuse, which made just 18 of 53 field goal attempts for the night, starting with an awful 8-of-28 performance in a first half that saw the Irish lead by as many as 18.
[+] Enlarge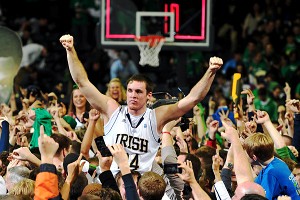 Matt Cashore/US PresswirePat Connaughton (7 points, 7 rebounds) gets a lift from the crowd after Notre Dame's upset.
"I wasn't surprised at how we started the game," Atkins said. "We were either gonna start really hot or really cold. We started hot — good.
"When we were up 18, that's when you would look up, and we're like, 'Oh wow, that is surprising.' "
Many of those 3-pointers came with less than 10 seconds on the shot clock, a product of the burn offense Brey often runs, an offense that kept his players in a rhythm while nursing a big lead.
"You know what's helpful? Because we play a slower tempo on offense, I've never felt that those guys feel kind of we're holding the ball," Brey said. "It's part of our arsenal to be very patient. We burn the clock and then score. If you never did it before, and then you're sitting on it, I think it can take away some confidence and you're looking over your shoulder. But it's something we've done for a while, so I think they feel that this is how we play."
Even more helpful — especially with Orange 7-footer
Fab Melo
not making the trip for undisclosed reasons — was the inside presence of the 6-9, 248-pound Cooley, who made Irish offensive possessions feel like an eternity by creating second chances and pounding the overmatched
C.J. Fair
(6-8, 212) inside.
Cooley finished with game highs of 17 points and 10 rebounds, six of those boards offensive. The Irish outrebounded the Orange 38-25.
"Cooley was able to get the ball inside and score," Boeheim said. "We just could not make shots to get back in the game. I have to give Notre Dame a lot of credit for that."
The Irish actually endured a 7-minute, 18-second stretch in the second half without scoring, during which Syracuse mounted a 9-0 run.
But Cooley's monster jam on a fast break with 5:17 left put the lead back to double digits at 52-42, re-energizing the building and helping to set up the eventual court-storming.
Cooley burst from the sea of revelers and barreled his way up the tunnel toward his locker room eight minutes after the victory, screaming "Here we go!" to anyone and everyone in sight.
His coach, the one who can now join Digger Phelps in claiming to have knocked off a No. 1 team in this building, hopes it's only a sign of things to come.
"To be part of that history of beating No. 1s, I'm very proud of that," Brey said. "But I'm more proud for our guys. This is a great memory for them. Now, winning 10 league games and getting an NCAA bid — that's a better memory, so we're gonna keep pushing buttons on that."
January, 29, 2011
1/29/11
2:34
PM ET
By
ESPN.com staff
| ESPN.com

Digger Phelps dances in front of the Kansas crowd and gets judged by an expert panel including Bill Self, Erin Andrews, the Jayhawks mascot and a vomiting Jay Bilas.
November, 24, 2010
11/24/10
9:37
AM ET
By
Diamond Leung
| ESPN.com
Skidmore defeating Southern Vermont
128-123 in a seven-overtime thriller
on Tuesday marked the longest game in Division III history and tied for the longest in NCAA men's basketball history.
The game -- which was tied at 59 at the end of regulation -- also offered some crazy stats.
How's this one? The official attendance of the game was 142. The combined number of field goal attempts
missed
was 145.
Want another? Southern Vermont senior guard Lance Spratling played in all 75 minutes of the game and racked up 31 points and 18 rebounds. He also missed all 13 attempts from beyond the arc and finished 10-of-40 from the field.
But really, it's the emotion of the game that tells the story.
It can be seen in the press releases, with Skidmore reporting that there were "SEVEN" overtime periods and Southern Vermont after a loss noting the game "was the longest game in history!"
How does it feel to lose a game like that? Try Southern Vermont coach Michael McDonough, who has seen plenty of historic games given that he served as a student manager at Notre Dame under Digger Phelps and Ara Parseghian.
"It's difficult to reconcile your emotions when you have just participated in such an epic event and lost," McDonough said in a statement. "But to a man, both teams will take a way something from tonight that they will never forget."
Skidmore coach Joe Burke, a former assistant at Navy and Cornell, was amazed as well.
"I kept telling the guys as each overtime passed to really enjoy the moment," he said in a statement. "They will never be involved in anything like that in their lives again. I kept telling them, 'This is fun isn't it?' But by the sixth overtime, I think that wore out."
In case you're wondering, the only other two NCAA basketball games to have ever reached a seventh overtime are: Black Hills beating Yankton 80-79 in 1956 and Cincinnati defeating Bradley 75-73 in 1981.
July, 7, 2010
7/07/10
2:32
PM ET
By
Diamond Leung
| ESPN.com
Isiah Thomas and Steve Alford, now college coaches after enduring plenty of tongue-lashings from Bob Knight during their playing careers at Indiana, have likely been waiting for this moment for a long, long time.
On Sept. 18 in Hammond, Ind., Thomas and Alford are among those expected to let loose on the former coach at the
Coach Knight All Star Celebrity Roast and Toast
to benefit Thomas' old high school.
Tickets go on sale later this week at $50-$500 for the right to watch Knight squirm as college basketball figures take their best verbal jabs.
Coaching rivals Jud Heathcote, Johnny Orr and Digger Phelps will be there. Also roasting Knight on behalf of their professions will be referee Dan Chrisman and sports writer Bob Hammel.
Insults will be flying, but for decorum's sake, hopefully not the chairs.
January, 24, 2010
1/24/10
7:59
AM ET
By
Diamond Leung
| ESPN.com
Partnering with a
member of Clemson's Rally Cats dance team
, our Digger Phelps put on quite a show for "College GameDay."
The video
of their dance to Kelly Clarkson's "Walk Away" is getting clicks just like his other performances, and Clemson coach Oliver Purnell was even asked about it by
The State
:
"I didn't see it," Purnell said, grinning, "but I heard the reviews. [Jay] Bilas' exact word, I think, was 'creepy.'"
But then, beauty is in the eye of the beholder, or sometimes the artist. Phelps and his dance partner, Clemson "Rally Cats" member Mallory Mitchell, warmed up for an hour prior to unveiling their duet, which was accompanied by Kelly Clarkson's "Walk Away."
"I wasn't nervous until my friends talked about being on TV and YouTube," the Greenville senior said. "But Digger likes to cut a rug; he busted out some spontaneous moves. You couldn't help but laugh."