College Basketball Nation:

Doc Rivers
February, 9, 2012
2/09/12
3:12
AM ET
CHAPEL HILL, N.C. --
Six … Five …
The seconds melted away.
Austin Rivers
kept dribbling.
Mason Plumlee
was under the rim, another among the nearly 22,000 people crammed inside the Dean E. Smith Center, as helpless as each and every one. Later, he'd admit it: He was a little worried. He trusted Austin. It's just, well, those seconds were vanishing, and there Rivers was, dribbling them away. What if he missed? Would Plumlee have a chance to get a rebound?
"What is he doing?" Plumlee thought. "Is he going to shoot it?"
Four …
Seth Curry
wasn't going to stand by and wait. He screamed at Rivers: "Shoot it! Shoot it!" It was futile. The crowd was too loud. No way Rivers could hear him. Would he get it off in time?
Three … Two …
That's when Doc Rivers knew. He'd seen it before. His son had set things up this way: He had forced UNC center
Tyler Zeller
into an uncomfortable switch, and now he had the big man right where he wanted. Doc's son was hesitating on purpose, waiting for the seven-foot Zeller to back up -- just enough to see the rim, just enough to give it a chance.
One ...
For Eamonn Brennan's full column, click
here
.
December, 22, 2011
12/22/11
12:36
PM ET
During the past week, the reality has hit: The NBA is back.
I don't know about you, but I'm thrilled. Longtime readers will know this, but I
love
the NBA. I don't get into the whole college hoops vs. NBA thing; they're different entities entirely, and college hoops' unique makeup will always thrill me. But at the end of the day, they're both basketball. I love basketball. Ergo, I love them both.
[+] Enlarge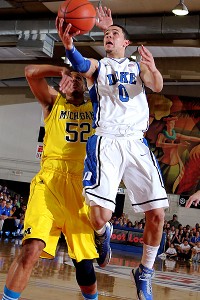 Brian Spurlock/US PRESSWIREBecause of the NBA lockout, Duke's Austin Rivers was able to shine with his father, Celtics coach Doc Rivers, in attendance.
In other words, the end of the interminable NBA lockout is undeniably a good thing. My fantasy team is drafted. The Christmas day games are going to be righteous. The Bulls are back for another title chase. I have no complaints. I'm stoked.
Austin Rivers
may not share my excitement. Thanks to the lockout, the Duke star got to experience something he'd grown used to doing without -- the presence of his father in the stands at his games. Doc Rivers' life as an NBA player and coach has long prevented him from attending all of his children's games, but because the lockout kept Rivers away from his team for the first few months of the college hoops season, the Celtics coach was able to see his talented freshman son play at Madison Square Garden, at the Maui Invitational, at Cameron Indoor Stadium and at Value City Arena (where Rivers and Duke were torched by Ohio State; maybe that one isn't such a fond memory).
In any case, the NBA is back. That means Doc Rivers is back, too, back to preparing his aging Celtics team for what might be their last run at an NBA title. The days of Doc Rivers' easy access to college hoops games are, for the moment, over. But the two enjoyed it while it lasted,
as they told the Durham Herald-Sun
:
"It's been amazing," Austin Rivers said. "It's something that's never actually happened in my life. So this is new to me as a 19-year-old (because) it's never happened. He's always been able to come to maybe one to three games, and it's not because he doesn't want to, it's because he can't."

[...] "It's been awesome," Doc Rivers said. "Obviously you don't wish a lockout but it's really paid off and worked out well for me to be able to watch him begin his career at Duke. I could never imagine that I would be able to go to this many games in a row. It's been good."

Austin Rivers said seeing his dad at every game was unusual. "For him to be in the stands and actually be able to talk to me after games is a little weird," Austin Rivers said. "I've never actually dealt with that very much. It was nice to have my dad there."
It's an interesting little window into an unusual family dynamic. You can see that Doc's frequent presence has meant a lot to both father and son. Of course, the father's visits won't end entirely; he and his wife have often absorbed the cost of chartered jets in order to get to one of their children's games ever since the eldest Rivers, Callie, began her volleyball career at Florida. (Austin's older brother Jeremiah played college hoops at Georgetown and Indiana.)
The good news: If Austin Rivers continues to progress in his development, there's a good chance he'll be joining his dad in the NBA sometime soon. That may make for a few awkward scouting sessions, but at least the schedules won't be quite so difficult to manage.
July, 28, 2010
7/28/10
10:23
AM ET
[+] Enlarge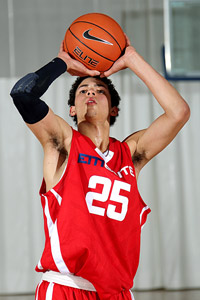 Kelly KlineAustin Rivers is the No. 2-ranked prospect in the class of 2011 according to Scouts Inc.
Tuesday, one
Mr. Andy Katz spoke with Doc Rivers for ESPNBoston.com
. That discussion focused largely on Doc's career -- his decision to come back to the Celtics this year, and so on -- but there is one nugget of college hoops relevance hidden in there. Naturally, it has to do with Rivers progeny and No. 2 overall recruit in the class of 2011, Austin:
"At this point, Austin pretty much doesn't know where he's going," Rivers said. "There are three or four schools he likes but he wants to see how they play. He's gone the other way and wants to slow it down and wait. That's the new trend and I think it's pretty smart."

Rivers said Austin may wait until the spring signing period before making a decision. But there is a chance he could make a swift change and commit in the fall. Rivers said they will take official visits in the fall.
There's a chance he could "make a swift change," so I guess you never know, but it sounds like Rivers is going to slow the entire process down and figure out where he truly wants to be before he makes a decision. So don't hold your breath. And don't get too worked up about any suggestive garments you see Rivers wearing,
because clearly those aren't much help
.
July, 13, 2010
7/13/10
3:40
PM ET
A week ago,
Luke Winn met up with Austin Rivers
-- the No. 2 player in the class of 2011 -- at the FIBA Americas U18 Championship. Rivers excelled alongside 2010 Duke point guard recruit Kyrie Irving in Team USA's gold-medal performance, and when Rivers left the locker room with his medal around his neck,
he was wearing what seemed to be a particularly telling outfit
: a Duke 2009-10 national champions T-shirt and a pair of official Duke shorts. At the risk of reading too much into sartorial flair, it certainly looked like Rivers was leaning toward Duke. It would be difficult to assume otherwise.
But according to Rivers' father, Boston Celtics coach Doc Rivers, the attire doesn't say anything. That's just Austin being Austin.
From Adam Zagoria
:
Asked if that meant it was a done deal for Austin to Duke, Doc said, "It really doesn't. He wears stuff all the time. He had a UCF shirt on yesterday so you just never know. They [Duke] are in it, there's no doubt about it. And so is Florida though and probably a couple other schools. I just don't think he knows right now.

"I thought there was a time when he was sure and now he's not. Hell, I even ask him and he literally says, 'I have no idea right now' and that's good."
Important perspective. The only problem? Doc might not realize it, but he just inadvertently made Central Florida fans collectively experience a massive freak-out.
So you're telling me there's a chance? Woo!
Maybe it's just best to wait until Rivers tells everyone where he's going. T-shirt analysis seems far less reliable.