College Basketball Nation:

Dominic Cheek
April, 30, 2012
4/30/12
12:31
PM ET
Editor's note: It's the offseason edition of The Watercooler. Eamonn Brennan and Myron Medcalf talk NBA draft decisions, the preseason's No. 1 team, UCLA's upside and more.
Myron Medcalf:
What's up, Eamonn? Feels like we left New Orleans months ago. Not sure how I'm going to handle the upcoming months without games. Withdrawal is setting in. But, it's already time to look forward to next season. How about Indiana? Three Big Ten wins two seasons ago. The Hoosiers will enter next season as a top-three team for sure.
Cody Zeller
is coming back. Wow, huh?
[+] Enlarge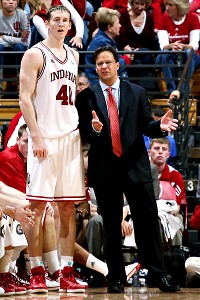 Brian Spurlock/US PresswireCody Zeller and coach Tom Crean have helped revive the Hoosiers.
Eamonn Brennan:
My buddy's little brother attends Indiana, and his mom brought back a shirt they're selling on campus that simply says "We're Back." Needless to say, IU fans would be loving this renaissance if they merely had a top-20 team. To go from where they were two and three years ago -- I mean, they were 12-20 in 2010-11; that literally just happened! -- to No. 1 in our very early preseason poll … well, it's remarkable, when you think about it. Such a dramatic turnaround.
MM:
Very remarkable. And Zeller is back. I know I mentioned that earlier. But he's a lottery pick if he leaves. I know the NBA draft entry deadline was Sunday, and many storylines were connected to it. But Zeller's decision to stay away from the draft is bigger than any of them in my opinion.
EB:
My reaction to Zeller coming back trends far more toward the "meh" side of things. It's not because he's not a great player, an immediate POY candidate and hugely important to the Hoosiers' chances, because obviously he is all those things. But I never thought there was any real threat Zeller would leave for the draft. Even as he jumped up to potential top-10 pick status, the way he's openly enjoyed his first season on campus, the patience his brother displayed at UNC, and the fact that Tyler will be a pro -- there's no rush, in other words -- made it clear that Zeller would be back as a sophomore. Some IU fans are hoping he'll stay all four years. That might be asking too much, but he's back for his sophomore season, and he has an awfully talented team around him.
Let's talk draft. Any decisions that really surprised you?
MM:
A few.
Maalik Wayns
… OK. He's a junior who carried the load for a bad Villanova squad. But he's a projected late second-rounder, and will possibly be undrafted. His teammate,
Dominic Cheek
, drank the Kool-Aid, too. The whole 'If I jumped off a bridge, would you do it?' is sometimes true. But the biggest surprise is
Quincy Miller
. He made the right decision to return a few weeks ago. Then he changed his mind. He should be a first-rounder. But with another year, he could be top 10. He's a great example of a young player who would gain a lot by coming back for his sophomore season.
Who surprised you?
EB:
Yeah, I thought Miller made the right call initially, because (a) without
Perry Jones III
there, he would have been the featured scorer on a good Baylor team, (b) he could take on college competition (and not fully grown men) while beefing up that lanky frame in the weight room, and (c) this draft already has how many talented tweener forwards set to go in the first round? Twenty? Thirty?
But when you're projected as a first-round pick, particularly when you're closer to the lottery end of things than the fringe, it never feels like a particularly bad decision to go.
That's kind of the deal with
Moe Harkless
. I thought Harkless could probably use another year in school for a St. John's team that really had time to congeal, but he looks like he could go in the first round. So you can't fault him for leaving now.
I thought
Khris Middleton
was one of the real surprises. He could have been a first-rounder last year but stayed. Then he got hurt all season and A&M struggled in its first year under Billy Kennedy. Now Middleton is in the draft, but isn't a likely first-round choice anymore. It will be interesting to see how he tests out and what scouts think if he can get healthy in pre-draft camps, because he's an awfully polished and athletic forward when he's at full speed. He could be a steal. (Which probably means the Spurs will draft him in the second round. Figures.)
MM:
True. The Spurs would nurse Middleton back to 100 percent, then use him to fuel some epic playoff run next season. You have to look at the powerhouses, too. Kentucky lost everyone. And yet, Calipari inks a top-two class again. And
Anthony Bennett
is still available. North Carolina is in a different boat. Still a very talented team, but a major shift from the veteran core the Tar Heels employed last season. On Kentucky … and I know this is a tough thing to assess right now … but should the Wildcats be preseason No. 1 with the talented freshmen who are headed to Lexington next season?
Also, what's the over/under on me adopting the
Nerlens Noel
box cut?
EB:
Oh, you should totally do it. I would put the odds at just slightly more favorable than a UK national title.
I am torn on the Indiana-Kentucky preseason No. 1 thing, because it's easy to forget the talent Indiana has arriving in
Yogi Ferrell
(a true athletic point guard who is exactly what they need) and even
Hanner Perea
, who comes with ready-made NBA athleticism (another thing the Hoosiers really need) at the 4 spot.
But Kentucky is reloading, no question, and if there's one thing we know about John Calipari, it's that he's the best in the country at getting new, young teams to come together as actual teams very early in the process. But this is not the 2012 Wildcats. Nerlens Noel is going to be a beast, but he's not
Anthony Davis
.
Michael Kidd-Gilchrist
, the heart and soul of that national title team, is nowhere to be found next season. I will be fascinated to see what this team looks like in November and December.
I have Louisville at No. 3 -- I think
Chane Behanan
is going to have a star-making breakout sophomore season.
My biggest preseason-ranking question revolves around the
UCLA Bruins
. Assuming Kyle Anderson's hand
ligament injury is long since healed
by the time the season starts, is that a top-five team?
MM:
Oh man … I mean, I'm trying to erase memories of last season. That "talent." That preseason ranking … That collapse. But if we're going to give Kentucky No. 1 status (potential) based solely on the status of its recruiting class, I think you have to give UCLA the same consideration.
Tony Parker
helped the Bruins grab a No. 1 class ranking on ESPN.com. We know talented freshmen
can
win national titles.
So I say they're top 10. Can't go top five yet because the returning guys were so inconsistent. Since we're talking about teams that are hard to assess … Thoughts on Ohio State? Is that a top-five squad with
Deshaun Thomas
leading the way now?
EB:
It's hard to know what to do with UCLA, because unlike Kentucky, we've yet to see Ben Howland take a star-studded recruiting class and turn it into a contender. In fact, last time he had a great class, things pretty much fell apart.
And yeah, I like Thomas as the star scorer. I think that's his perfect role. The question is whether he can be a leader on both ends of the floor, whether he'll devote himself to a total game, rather than being happy scoring a ton of points every night. Because he will shoot -- and score -- a lot.
[+] Enlarge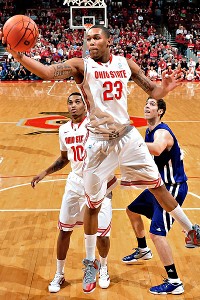 Jamie Sabau/Getty ImagesThe Buckeyes need a big season from Amir Williams.
The biggest question re: OSU is
Amir Williams
. I thought he was going to get a lot more run as a freshman, so
Jared Sullinger
could do his whole "hey, I'm a versatile, skinny power forward now, check out this 15-foot jumper!" routine in 2012. Instead, Sullinger gained all that weight back by the end of the season; he was basically playing the exact same position he played as a freshman, and Williams spent most of his time on the bench.
He has to take over in the middle right away, and
Shannon Scott
needs to have a big sophomore season as a combo 2-guard alongside
Aaron Craft
. If Craft and Scott can figure it out, I think that's OSU's most talented and dynamic lineup, and an awfully good one.
MM:
The bottom line is that we have a lot to look forward to next season. Many question marks remain, but I like the intrigue. Plus, some talented players are back.
C.J. Leslie
could make NC State a top-10 team.
Jeff Withey
was the most dominant interior defender in the NCAA tourney. He's back. The Big Ten is stacked. The Pac-12 might matter again.
I know it's early, but I'm pumped about the 2012-13 campaign. Not sure how I'll last until November without it. Maybe I'll watch this LeBron guy in the NBA playoffs.
EB:
My two-point is as follows:
1. Watch as much of the NBA playoffs as humanly possible (I love the NBA playoffs).
2. Watch the new Rihanna video as much as possible. No, RiRi, where have
you
been all my life?
MM:
Rihanna and the NBA playoffs … the perfect elixir. Good times as always, Eamonn. Until next time … or the next big development.
EB:
We'll talk that talk. Until then, Myron.
January, 28, 2012
1/28/12
4:59
PM ET
PHILADELPHIA -- The game lasted 2 hours and 30 minutes.
Jay Wright was hit with a technical before halftime. Buzz Williams earned one, he says, for not saying a word. "I never got a 'T' for not saying anything. I guess you can get T's now for body language.''
Maalik Wayns
screeched a playground curse word that wouldn't earn a pre-teen a date with a bar of soap, racking up technical No. 3 of the day.
And not even Twitter can claim as many tweets per hour as Pat Driscoll, James Breeding and Tim Clougherty made on their whistles -- 45 in all.
After surviving all of that, not to mention a game that offered a rhythm only Elaine Benes could dance to,
Junior Cadougan
emerged from his locker room thoroughly nonplussed.
"Ah, this is nothing,'' the Marquette guard said. "You should see our practices.''
This was a game that only the winner could love, a Bataan Death March up and down the court to the free throw line 57 times.
Make no mistake. Marquette did indeed love it, loved it a bunch. The Golden Eagles claimed their sixth win in a row the hardest way possible, surviving not only the aforementioned but also a one-time 18-point deficit for the
82-78
win against Villanova.
The difference between spots No. 2 and No. 16 in the Big East (and perhaps even spot No. 1 if
Fab Melo
isn't cleared soon) is about as thin as a supermodel. Too many inexperienced teams, too few superstars have collided to make this one of the most unpredictable league seasons in recent memory.
The most talented team may not win the whole thing. The toughest very well could.
[+] Enlarge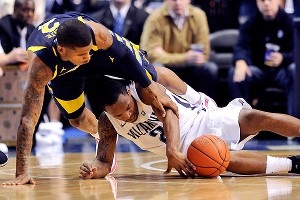 AP Photo/Michael PerezVander Blue and Marquette made things tough on Villanova's Maalik Wayns, the Big East's No. 2 scorer.
Right now Marquette, holding steady in second place, is making a bid to be that team. Buoyed by practices that Cadougan said almost always include scuffles, the Golden Eagles make up in attitude what they may sometimes lack in size.
"It's how we work. It's what we believe in,'' Williams said. "I don't say that to be arrogant, but you can't go on the road, playing against any team in this league and go through what we did and have a chance to win unless you're extremely tough. But you can't just be tough on game day. You have to be tough all the time.''
This one required every ounce of tough for Marquette, especially after a Villanova team that is fighting to avoid its worst season under Wright since 2003-04 streaked to a surprising 28-10 lead.
Fortunately for Williams, he has toughness personified in the form of
Darius Johnson-Odom
. The senior, who doesn't crack so much as the hint of a smile during a game, scored 10 of MU's next 12 points, singlehandedly bringing down the deficit from insurmountable to manageable, 33-21.
Johnson-Odom is more lunch pail than flashy, the sort of player who quietly dominates a game, dominates the statistics but doesn't draw a lot of attention in the process.
He's also the guy, Williams said, who dominates a huddle. More vocal than his head coach, DJO kept his team organized in the first half, not with firebrand and preaching but with a casual calm that delivered just as much of an impact.
"I think we were a little too confident early, not because we'd beaten them before or anything but because we'd won five straight,'' said Johnson-Odom, who finished with a season-high 26 points. "We had a little too much swagger. That was out of character for us in the first half.''
Marquette's true character returned in the second half, that endless scrappiness that frustrates opponents. Cadougan draped himself all over Wayns, the league's second-leading scorer. Wayns, who dropped 39 on Cincinnati two weeks ago, finished with 12 points, hitting only 3-of-10 from the floor. Cadougan also pressured him into six turnovers.
Cadougan and Wayns have been going at it for years, back when both were starring on the high school and summer-league circuit.
"I tried to contain him, keep him out of the paint and just make him feel uncomfortable,'' Cadougan said. ""He's tough, one of the best guards in the Big East. They win games when he gets hot.''
Wayns never did, but Villanova, a young team struggling to find itself this season, hung around anyway. The Cats, in fact, led by four with just a little more than six minutes to play when Wayns was whistled for the technical.
Wayns screamed his frustration at Breeding after the official called a touch out of bounds play out on Nova. He cursed but most would agree it was a mild-mannered expletive on the scale of one to offensive.
Wayns may have been the victim of bad timing. Or cursing. The call came in the wake of a strong-worded edict from NCAA national coordinator of officials
John Adams
.
"You should have a very low tolerance for players who use profanity towards officials or who 'wave you off' after a call, etc.,'' Adams wrote. "These type of actions call for Technical fouls. Call them!''
Johnson-Odom made the two free throws and
Jae Crowder
scored on the ensuing possession, putting in a reverse layup to tie it.
The Wildcats, already down two big men in
Mouphtaou Yarou
and
Markus Kennedy
, never recovered.
If there is solace for Villanova it is that the Cats are clearly taking baby steps toward improvement. It's likely too late to resurrect this season. This team seems predestined for a date with the NIT, missing out on an NCAA invite for the first time in eight years.
But in recent weeks the Wildcats are showing more life and, more critically, showing that folks other than Wayns can score.
Maurice Sutton
, pressed into action, had the best game of his career with 11 points, 10 rebounds, three steals and two blocks.
Dominic Cheek
, the potential second scorer Nova needs desperately, had 16 and
JayVaughn Pinkston
17.
And Villanova is playing harder, diving for loose balls against Marquette and forcing 16 turnovers.
Marquette, however, played tougher.
And in the Big East, especially this season, toughness wins the day.
January, 28, 2012
1/28/12
2:57
PM ET
PHILADELPHIA -- A quick look at
Marquette's 82-78 win
over Villanova:
What it means:
Marquette has won six in a row and stands in second place in the Big East. This isn't a finesse team, but a scrappy one -- think Pitt of old. The scrappiness serves the Golden Eagles well. Villanova, meantime, is showing life, but it's a little too late to resurrect what likely will go down as the worst season under Jay Wright since 2003-04.
Why it happened:
This wasn't pretty. The foul-plagued game took two-and-a-half hours to complete, with officials serving three technical fouls and so many personal fouls it was impossible to get into a rhythm. But if they weren't beautiful, the Golden Eagles were wily. Marquette slowly and methodically chipped away at Villanova's lead, which was 18 at one point in the first half. The Golden Eagles upped the ante on the defensive end.
Junior Cadougan
virtually took
Maalik Wayns
out of the game, pressuring the junior guard so much he could barely get the ball on an inbounds play. And then
Darius Johnson-Odom
did the rest.


Star of the game:
Johnson-Odom scored a career-high 26, hitting one dagger after another for the Golden Eagles. Teammate
Jae Crowder
struggled with his shot, but still finished with 20 points and 12 boards.
Maurice Sutton
deserves a mention despite the loss. The little-used junior, pressed into service thanks to foul trouble for
Mouphtaou Yarou
and
Markus Kennedy
, was everywhere for the Wildcats, diving on loose balls and tipping inbounds passes. He scored 11 and added nine rebounds.
For starters:
Maybe the best news of the first half for Villanova was that the Wildcats led by 10 and Wayns wasn't the leading scorer. Villanova's guard has had to do almost everything for the Cats this year, but
James Bell
and
Dominic Cheek
took charge against Marquette. Each had 11 to lead Villanova to a 46-36 edge. It would have been worse without Johnson-Odom. The guard scored 10 points in a row and swished a shake-and-bake 3 to end the half, giving him 13 and keeping the Golden Eagles in it. The game might force Big East officials to reconsider using six fouls for its games. The two teams were whistled for 25 fouls and each coach got hit with a technical.
What's next:
Marquette hosts Seton Hall on Tuesday, while Villanova gets a week off before traveling to Pittsburgh for a game on Super Bowl Sunday.
February, 13, 2011
2/13/11
2:20
AM ET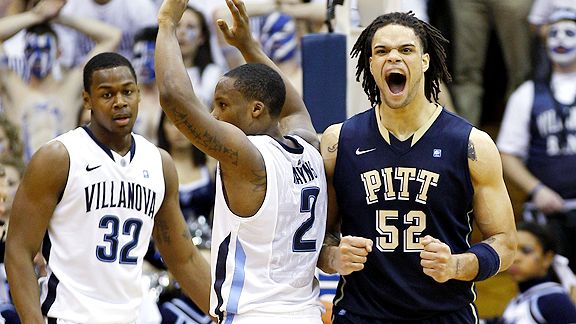 AP Photo/Matt SlocumGary McGhee and the Panthers won a hard-fought match against the Wildcats.
VILLANOVA, Pa. -- At first it looked harmless, like
Isaiah Armwood
actually was trying to pull
Mouphtaou Yarou
away from a potential fracas.
On replay, however, it was viewed otherwise. As Armwood, the Villanova sophomore, wrapped his arm around Yarou, he hit
Nasir Robinson
in the left eye.
"A cheap shot,'' Robinson called it.
A technical Jim Burr ruled it.
Another day at the office, Pittsburgh declared.
Pitt always has been the sort of team that prides itself on taking an opponent's best punch and responding. The Panthers typically mean that in the figurative sense.
Apparently they can take the literal body blows, too.
"He reached around Yarou and extended his arm,'' Robinson said. "It was definitely intentional, a cheap shot. But that sort of stuff happens every day in practice. We get bloody noses, black eyes, you name it. It doesn't matter. We just let the refs call it and keep playing.''
Handling friendly fire is one thing. Walking onto a campus 14 hours into its fevered pitch and handling a punch to the face in a heated game that featured three technicals, 43 fouls, and so many floor burns and loose-ball dives that you were waiting for the coaches to call for their cut men, is another.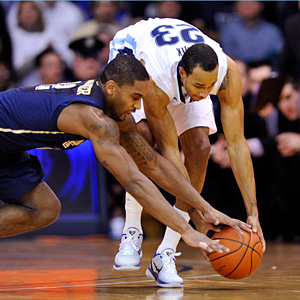 Brad Wanamaker (left) and James Bell combined for 8 personal fouls. Brad Wanamaker (left) and James Bell combined for a total of 8 personal fouls.
Yet Pitt absorbed the hits and kept on coming, not only keeping its composure but running on a post-punch 15-4 streak that ultimately proved the difference in a
57-54
victory against Villanova.
The Panthers, who halted the Wildcats' 46-game win streak at the on-campus Pavilion, now stand atop the sequoia of conference perches, 11-1 in the Big East.
Which will mean what, exactly, on Monday?
Not likely a spot atop the rankings.
When the conversation tracks to who ranks among the nation's best -- a conversation sure to take on a rowdier tenor after Ohio State's loss at Wisconsin -- it rarely loops around to the Panthers.
Most everyone agrees that the Big East is the best conference in the country and no one will argue that the Panthers aren't the best in the Big East.
But in 14 weeks of poll voting, the best team from the best league has yet to receive a single vote.
"I think it's time for us to be in the conversation among the elite,''
Brad Wanamaker
said. "But really, we want to be in the conversation among the elite at the end of the season, not now. When they start talking about the national championship, that's when we want to be talked about.''
Ah, but therein lies the chronic rub with the Panthers, the dirty little secret that maybe has kept voters from casting their ballots in Pitt's favor.
The Panthers have won at least 10 conference games in each of the past 10 seasons and have won 211 games since Jamie Dixon took over as head coach for the 2003-2004 season -- the fifth-most among Division I teams.
For all of that success, Pitt has no Final Fours appearances during that time. The Panthers were tantalizingly close two seasons ago, making it to the Elite Eight before Nova's Scottie Reynolds quashed the Panthers' dream in one coast-to-coast dash.
Other than that, it has been during the Sweet 16 or earlier rounds that Pitt leaves the party.
And so fairly or not, the Panthers have been labeled a team built to withstand the rigors of the Big East but not necessarily built to win it all.
This team, though, might be different.
"This is as tough and as good a team as they've had,'' Villanova coach Jay Wright said.
Pitt seems to have a knack for losing key players at critical times. Mike Cook, Levance Fields, Jermaine Dixon are among the who's who to have missed stretches during their careers.
Now the Panthers can add
Ashton Gibbs
to the list. The junior, and most improved Big East player a year ago, is sidelined with an MCL injury in his left knee. He sat nattily dressed in a suit on the bench while his teammates played a game that was more akin to a brawl.
In the past, the Panthers sort of looked to survive without their star, finding a way to piecemeal their way to enough success while their injured player mended.
This time Dixon sent a much simpler message: relax.
"We've emphasized that since day one, that there's no need to do anything differently,'' Dixon said. "We've practiced without him, played without him. We don't have to make it more than it is.''
Echoed Wanamaker, "We were confident. We knew without Ashton somebody would have to step up but that didn't meant someone had to fill Ashton's shoes. We just had to go play our game.''
And in arguably two of the toughest environments they'll face this year -- at backyard brawl rival West Virginia and at "College GameDay" juiced Villanova -- the Panthers did exactly that.
This game was ugly, brutal and mean, just the way Pitt likes it. At times, the fans were crazy that the officials were blowing the whistle too much and others, angry that they were letting too much go.
When Robinson all but tackled
Corey Fisher
on a fast break, the play itself resulted merely in a foul call. It was the jawing after that earned the pair a double technical.
That's sort of how it went all night, with bodies flying and shots not falling, a thing of beauty to those who prefer their basketball served with a side of hand-to-hand combat.
Not until the final minutes did there seem to be any fluidity, and naturally when it arrived, it came from the most nonsensical of sources.
In a game where the two teams would combine to shoot 4-of-25 from beyond the arc, a guy who took five 3-pointers all season drained one like it was nothing.
Antonio Pena
's 3 with under a minute got the Wildcats within three and after Pena stripped Wanamaker, Villanova -- burned by Rutgers on a 4-point play at the buzzer a game ago -- had a chance to at least force overtime.
Dominic Cheek
missed a 3 from the baseline but
Maurice Sutton
corralled the rebound and passed it out to
Maalik Wayns
. Falling and eventually landing on his backside, Wayns drained the 3.
But it came a split second after Jim Burr already ruled the shot was after the buzzer. The game was over.
"We made too many mistakes in the second half,'' Wright said. "I just think they were just physically older and tougher than us. It seemed like every time there was a loose ball in this game, we'd both get a hand on it but in the end, they'd end up ripping it out of ours.''
Not just absorbing the punch, but delivering the knockout.
January, 17, 2011
1/17/11
8:43
PM ET
By
Andy Katz, ESPN.com
| ESPN.com
STORRS, Conn. --
Kemba Walker
is performing for Connecticut as if he is an NBA All-Star. He's well-aware that he will take the last shot, and he won't have any doubt about making it.
He won't always make it -- plenty of NBA stars don't. But the Huskies believe their best chance to win is with Walker taking the shot, no matter the moment's conditions.
Don't mistake Walker with an actual NBA All-Star -- he's not. But he's carrying the burden more than any other player on a top-25 team.
Ealier this month at Texas everyone knew that Walker had to take the winning shot, no matter what. He took it, and he made it with five seconds left.
Game over.
There was no doubt who was going to take the last shot for Connecticut against Villanova on Monday with the game tied at 59.
"No matter what I was going to give the ball to Kemba,'' said Connecticut freshman guard
Shabazz Napier
, who handed the ball to Walker on the far side of the 3-point line. "If I was pressured too much, I would have called timeout. We all know who to give the ball to when time is running out.''
[+] Enlarge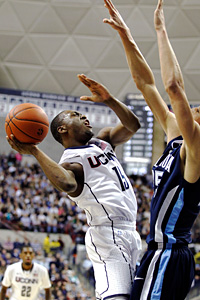 David Butler II/US PresswireKemba Walker scored 24 points against Villanova, including the game winner with 2.5 seconds left.
Napier drew the analogy that Walker is like a reliever, ready to close the game like the Yankees' Mariano Rivera.
There aren't many in college basketball who are doing that this season. As sensational as Ohio State's
Jared Sullinger
, Duke's
Nolan Smith
and BYU's
Jimmer Fredette
have been this season, Walker has got them beat on game-winning shots. You can make arguments for any of them for player of the year, but none of their teams have as little experienced help as the Huskies, which likely makes Walker the current favorite.
So how do you defend Walker once he got the handoff from Napier?
"There's nothing you can do,'' said Villanova's
Corey Fisher
, who went back and forth scoring with Walker. In the closing minutes, Fisher matched Walker's 3-pointer and free throws, enough to prompt Villanova coach Jay Wright to say that Fisher is as good as Walker but that Walker had the last possession.
"We wanted to trap him but he's so fast and he got it and we couldn't catch him,'' Wright said of Walker, who zipped into the lane and converted a floater with 2.5 seconds remaining for the
61-59 victory
. All Fisher could do was heave a desperate shot at the buzzer that was wide left.
"When he handed it off, we couldn't catch him and he went full speed,'' Wright said. "He's got another speed. He goes so fast and stops on a dime. As soon as he created separation he hit a floater. He's better at going to the middle of the lane than to the rim.''
"Of course the ball was going to be in my hands,'' Walker said. "Being the leader of this team, I wanted it to be in my hands. I was able to get a nice little shot off. I knew the other guy was going to come. I just tried to go before he came. I was able to go by my man and get a shot off.''
Walker is not without his imperfections.
He played his typical game. He dominated the ball when he had to, taking a high volume of shots (18), making a low percentage (six) and getting to the free throw line (9-of-12).
Walker hit a key bucket -- a step-back 3-pointer over
Corey Stokes
-- to give Connecticut a 57-54 lead with 1:03 left. That was after Fisher scored a few baskets in a row to bring Villanova back to a tie.
Walker made two free throws to give the Huskies a five-point lead before Fisher buried a 3-pointer to bring the Wildcats to within two.
Walker had a chance to stretch the lead but missed two free throws, giving Nova a chance. Walker then put Fisher at the line with 22 seconds left, ensuring that UConn would have the last shot.
Connecticut coach Jim Calhoun said Walker didn't foul Fisher on purpose. He said he was so frustrated about missing the free throws that he gambled on the steal.
Fisher made both free throws to tie the game and set up Walker for his personal time -- ending the game on his terms.
"We've got a lot of confidence at the end of the game that they were going to double and we actually thought someone else might get it this time, but Kemba is so clutch and he was able to knock it down,'' said UConn freshman wing
Jeremy Lamb
.
If the Huskies are to be more than the Walker show, Lamb will have to become the necessary complementary player. Calhoun said Lamb is ready to assume that role and the Georgia native scored 14 points Monday. Someone has to take on that responsibility.
"I think it can be true,'' Lamb said. "I just have to be more consistent. I was able to knock down shots and be more aggressive.''
Calhoun is well-aware of the importance of Monday's win. The Huskies have to protect homecourt in the Big East if they're going to be a competitor for a top-three finish. They have tremendous nonconference wins like Michigan State, Kentucky and at Texas and could get another one Saturday against Tennessee.
"The early season wins in Maui look terrific, but you have to come up with a good Big East record, and if you start looking ahead we still have to go to Marquette and play Louisville and Syracuse," Calhoun said. "We've got a lot of work to do.''
There has been so much attention on Walker -- and rightfully so -- but what is getting lost is the coaching job done by Calhoun. The season started with him missing the first practice to be in front of the NCAA committee on infractions for recruiting violations involving Nate Miles and answering to the charge of failing to create an atmosphere of compliance. The COI's report hasn't been sent to UConn yet or been made public.
In the meantime, Calhoun has coached Walker and a cast of freshmen to a top-10 ranking, a 15-2 overall record and a 4-2 record in the Big East. He is the early favorite for Big East coach of the year.
"I thought they'd be at this point now, but never thought they'd play well this long,'' Villanova coach Jay Wright said. "It started in Hawaii with a lot of young guys and they've been playing well the whole season. It's amazing what they've done.''
For Villanova this would have been a steal, picking up a road win where most won't get one, if any, this season. The Cats suffered their first Big East loss, and Syracuse is up next on Saturday at the Carrier Dome. Villanova might get reserve guard
Dominic Cheek
back for that game after Wright said Cheek's MRI didn't indicate a tear of his meniscus. Swelling in his knee, which started during the Maryland win Saturday, caused him to sit against the Huskies.
"We're going to be better and learn from this,'' Fisher said. "We played a good team on the road. We've got another one in their house in Syracuse. This was fun but we lost.''
Walker had the ball one more time than Fisher did to win the game. This is no longer a fluke, but rather a trend and one that is carrying the Huskies toward an NCAA tournament berth.
January, 25, 2010
1/25/10
1:20
PM ET
It's Monday, the Cats are the new No. 1 team in the country, and we're all just living in their shadow. Don't try to fight it. Do, however, send me links and posts via Twitter. Now, on with the links: