College Basketball Nation:

Donald Sloan
March, 21, 2010
3/21/10
9:25
AM ET
SPOKANE, Wash. -- A look at Sunday's second-round games in Spokane.
SOUTH Regional
No. 5 Texas A&M (24-9) vs. No. 4 Purdue (28-5)


Storyline:
Both teams shot well and played tough defense in their first-round game. Neither got -- nor needed -- a big performance from their leading scorer. Might Texas A&M's
Donald Sloan
and Purdue's
E'Twaun Moore
make their presences felt in round two?
What to watch Boilermakers:
Moore scored 12 points in the 72-64 win over Siena. He averages 16.4 points per game.
JaJuan Johnson
played the lead in the first round, scoring 23 points and pulling down 15 rebounds. A problem: Siena outrebounded Purdue 45-38. Texas A&M is a good rebounding team, so the Boilermakers need to step up on the glass. Purdue has won 22 straight when scoring more than 70 points. The Aggies hold foes to 64.5 ppg.
What to watch Aggies:
Sloan, who leads the Aggies with 18 points per game, scored just 10 in Texas A&M's 69-53 win over Utah State, which ranked fourth on the team. Freshman
Khris Middleton
has become a key scoring option on the perimeter. He led the Aggies with 19 points and made 5-of-6 from 3-point range. Over the last four games, he's averaged 16.3 points and made 11-of-19 from 3-point range.
They said it:
"When [Texas A&M is] shooting the ball well, they're a very, very tough team to beat because of what they do defensively," Purdue coach Matt Painter said. "They have size, they have athleticism, they have guys who can break you down. It's going to be important for us with their size and our lack of size that we stay out of foul trouble."
MIDWEST
No. 5 Michigan State (25-8) vs. No. 4 Maryland (24-8)


Storyline:
This looks like a classic matchup of a high-powered offense vs. a rugged defense. In the past eight games, Michigan State has held foes to 39 percent shooting and 60.2 ppg. Maryland averages 79 ppg and shoots 47 percent from the field. It also will be interesting to see if Spartans guards
Kalin Lucas
and
Chris Allen
, who are nursing ankle and foot injuries, can play and play effectively.
What to watch Terrapins:
Freshman
Jordan Williams
posted twin career-highs with 21 points and 17 rebounds in the 89-77 win over Houston, while
Landon Milbourne
chipped in 19 points and seven rebounds. Those contributions allowed ACC player of the year
Greivis Vasquez
to take a secondary role. The Terps dominated the boards against Houston with a 50-29 advantage but they are not typically a great rebounding team. Vasquez needs five points to eclipse Len Bias and move into second place behind Juan Dixon on Maryland's career scoring list.
What to watch Spartans:
Lucas scored a career-high 25 points in the 70-67 win over New Mexico State. The Spartans have outrebounded foes in 25 of 33 games (three ties). Over the past six games,
Raymar Morgan
is averaging 16.2 points and 8.8 rebounds per game, both team highs. Spartans coach Tom Izzo is 14-3 in second-round games and all three losses came to No. 1 seeds.
The said it:
"I think we're pretty much past that point where [Coach Izzo is] frustrated," said Michigan State forward
Draymond Green
when asked why the Spartans have so frustrated Izzo this season. "It's one and done time. We have pretty much wiped our slate clean of everything that went on in the regular season. We're all working together as a team now."
March, 19, 2010
3/19/10
8:16
PM ET
SPOKANE, Wash. --
Khris Middleton
has chosen a good time to blossom.
The Texas A&M freshman scored a career-high 19 points in the
Aggies 69-53 win over Utah State
in the first round of the South Regional, hitting 5-of-6 from 3-point range.
[+] Enlarge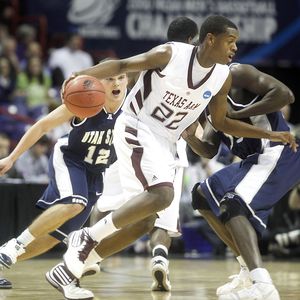 AP Photo/Rajah BoseTexas A&M's Khris Middleton scored a career-high 19 points against Utah State.
But Texas A&M coach Mark Turgeon wasn't terribly surprised. Middleton has seemed to find himself ever since the calendar turned into March.
"Khris got hot," Turgeon said. "Khris is very capable."
In the four games before the tournament, Middleton made 8 of 15 3-point attempts. In the final three games before the tournament, he averaged 15.3 points.
So the seven points per game he averaged this season, or the 29 percent 3-point percentage that sits beside his name, may not be terribly relevant for a player who suddenly offers an offensively challenged team another potent option other than
Donald Sloan
.
Middleton said that, despite appearances, he was nervous before the game.
"Once we started to play, I started to relax," he said. "I think that helped me knock down the threes."
Middleton, who moved into the starting lineup when
Derrick Roland
broke his leg against Washington in late December, also showed poise when he seemed to exit the zone. He nailed his first five 3-pointers, but fired an air ball on No. 6. That might have caused some freshmen to lose their focus, but Middleton opted to go into the paint on the Aggies next possession and sink a short, smooth jumper.
It's not just Middleton, however, who is coming around. A&M's MO entering the tournament was a good defensive team that couldn't consistently make shots. However, the Aggies shot 48 percent from the field in their last four games before the tournament. They shot 49 percent from the field vs. Utah State.
That's almost an unbeatable number.
Unbeatable?
They are 30-0 under Turgeon when they shoot at least 50 percent from the field.
March, 19, 2010
3/19/10
9:35
AM ET
SPOKANE -- Does Michigan State have another run in it? Can Purdue go far without
Robbie Hummel
? Does the nation's leading scorer, Houston's
Aubrey Coleman
, have enough points in him to shock Maryland and ACC Player of the Year
Greivis Vasquez
? Will Texas A&M slip because of poor free-throw shooting? Does Siena have another Cinderella win in it? Or is Utah State going to break through?
Those are a few of the many questions that will be settled in Spokane on Friday and Sunday.
SOUTH REGIONAL
No. 4 Purdue (27-5) vs. No. 13 Siena (27-6), 2:30 p.m.


Storyline:
Purdue looked like a title contender at one point, but the loss of star Robbie Hummel to a torn ACL has most thinking the Boilermakers won't go far. Siena is dangerous because it's done this before: It's posted first-round upsets the past two tournaments.
What to watch Boilermakers:
Will
E'Twaun Moore
and
JaJuan Johnson
, who combine for 31 points per game, give Purdue enough scoring, or will someone else step up? The other three starters combine for just over 14 points per game. Watch out of senior
Keaton Grant
, who scored in double figures in four of the past eight games.
What to watch Saints:
Four players average between 13.6 and 16.3 points per game, topped by
Alex Franklin
.
Ryan Rossiter
is the force inside (11.1 rebounds per game), while
Ronald Moore
is the distributor (7.8 assists per game, which leads the nation). On the downside: They don't consistently hit from 3-point range.
They said it:
"The only thing we can do to prove anybody wrong is to win basketball games," Purdue guard
Chris Kramer
said. "There's a quote that says losers make excuses and winners make it happen. So we just got to go out there and make it happen."
No. 5 Texas A&M (23-9) vs. No. 12 Utah State (27-7), 5 p.m.


Storyline:
Texas A&M can't shoot the 3 and struggles at the line, which are both Utah State strengths. Both teams play deliberately, which could mean a low-scoring game. Texas A&M might have noticed that a lot of folks are pegging it for an upset. One thing we know: The Aggies are going to win.
What to watch Texas A&M Aggies:
Donald Sloan
, a first-team All-Big 12 pick, averages 18.2 points per game. No other player averages in double figures, though though three average nine-plus points. The defense led the Big 12 in scoring (65.8 ppg). The Aggies have shot .475 from the field in their past four games. They are 30-0 under coach Mark Turgeon when they shoot at least 50 percent from the field.
What to watch Utah State Aggies:
Point guard
Jared Quayle
is where Utah State's precise offense starts. He averages 12.5 points, 4.2 assists and 6.3 rebounds per game.
Nate Bendall
and
Tai Wesley
are smart, capable post presences.
Brian Green
is the best 3-point shooter on a very good 3-point shooting team (42 percent).
The said it:
"They run a ton of sets, obviously, and run them very well," Turgeon said of Utah State's offense."They have counters to counters to counters. And you've got to pick and choose what you show and how much you show. I have a couple of my seniors and I say, 'Is this a lot?' and they say, 'Yeah, this is a lot, coach'."
MIDWEST REGIONAL
No. 5 Michigan State (24-8) vs. No. 12 New Mexico State (22-11), 7:20 p.m.


Storyline:
Did New Mexico State's leading scorer
Jahmar Young
tweak Michigan State's two-time first-team All-Big Ten point guard
Kalin Lucas
this week by replying, "Who?" when asked about Lucas. Absolutely. But Young clearly was making a statement that he -- and, by extension, his teammates -- aren't afraid of the Spartans.
What to watch for the Spartans:
Lucas leads four players who average in double figures.
Chris Allen
, suspended for the Big Ten tournament, is the Spartans best threat from 3-point range. The Spartans aren't big but
Raymar Morgan
,
Delvon Roe
sixth man
Draymond Green
are particularly good at grabbing offensive rebounds.
What to watch for the Aggies:
Young and fellow guard
Jonathan Gibson
combine for 38 points a game, but
Wendell McKines
,
Hamidu Rahman
and
Troy Gillenwater
are physical players who each averages in double-figures. The Aggies like to run-and-gun and try to force turnovers. They are 19-0 this season when they outshoot their opponents.
They said it:
"I watched him. He can play. Everyone can play. What am I supposed to do, bow down because of what they say? That's not going to happen, but it's no disrespect to him at all," said Young when told that Lucas has been offended by his comments.
No. 4 Maryland (23-8) vs. No. 13 Houston (19-15), 9:50 p.m.


Storyline:
It's ACC Player of the Year Greivis Vasquez (19.5 ppg) vs. the nation's leading scorer, Aubrey Coleman (26.0 ppg). Both teams are hot. The Cougars won four games in four days to win the Conference USA Title. Maryland won nine of 10 to finish the regular season.
What to watch for the Terrapins:
The Terrapins averaged 79 points per game, so it's obviously not just Vasquez, but the senior will have the ball in his hands if things are tight late. It's likely Maryland is eager to face a defense that allows foes to hit 46 percent of their shots.
What to watch for the Cougars:
The 6-4 Coleman will get his points, but the Cougars upset chances probably require more than a one-man show. Guard
Kelvin Lewis
, the conference tournament MVP, averages 15.3 points per game and he likely will spend plenty of time guarding Vasquez. He also shoots nearly 40 percent from 3-point range.
They said it:
"I'm not going to get caught up in trying to go back and forth with him. He's a great player in the ACC. And we know everybody is going against us because we are Conference USA," Coleman said of his matchup with Vasquez. "We don't have nothing to lose."
March, 16, 2010
3/16/10
8:56
AM ET
Yesterday we covered the love/hate inherent in this year's NCAA tournament bracket. Let's do something different today. Let's make five bold predictions -- predictions so bold your face will melt, probably, which is itself a bold prediction -- about what we can expect these next three weeks. Disclaimer: Bold predictions made with every intention of sincerity. There's nothing worse than people who make crazy predictions simply for the sake of making crazy predictions, am I right? (In other words, I'm going out on a limb here, but I do actually think this stuff can happen.)
With that, let's get right to it. In the year 2010 ...
1. Kansas will lose to Lehigh.
Ha! Got you guys! Just kidding. Deep breaths, Kansas fans. I'm not
that
bold. The real No. 1 is:
1. Texas A&M will make the Elite Eight. (Or: Duke won't make the Final Four.)
Don't get me wrong. Duke has the easiest path to the Final Four of any of the No. 1 seeds. The Blue Devils are a very impressive team on the court and on paper -- they're Ken Pomeroy's top adjusted efficiency team in the country for a reason. Duke
should
make the Final Four. But if there is an upset candidate before No. 3-seed Baylor in the South region, it's Texas A&M. The Aggies are a strong defensive team, ranked No. 23 in adjusted efficiency. Mark Turgeon has a pair of experienced tournament players in
Donald Sloan
and
Bryan Davis
, both of whom have been to four NCAA tournaments. And the Aggies have the benefit of not relying on jump shooting to get themselves points. Rather, the Aggies rely on their ability to get to the free throw line, which they do at the sixth-highest rate in the country. This is the sort of offensive game plan that should serve them well against anybody, even Duke.
2. Temple will beat Cornell. Yes, counts as "bold."
Since the East's No. 5/No. 12 matchup was announced, Cornell looked like the most likely candidate for the ever-popular (and logistically sound) 12-over-5 upset, one of which you should be picking in your bracket every season. In fact, this meme has crossed over into consensus. But guess what? Temple is no slouch. In fact, the Owls are pretty blatantly underseeded as a No. 5. Temple has flown as far under the radar as any team from a multi-bid league that won its own conference AND conference tournament possibly could. The Owls are No. 18 overall in Pomeroy's adjusted efficiency rankings, a mark that exists primarily thanks to their third-ranked overall defense, a unit that allows fewer points per possession than any team in the tournament not named Florida State. Temple is the best team in the country at containing shooters; Cornell just so happens to be the best three-point shooting team in the country and the third best in team effective field goal percentage.
All of which means one simple thing: Cornell got jobbed. Everyone loves the Big Red, for good reason. A No. 12 seed is remarkably low for the best Ivy League team we've seen in years. But thanks to their matchup, Cornell's stay in this NCAA tournament should prove awfully short. That this might be considered a piece of unconventional wisdom -- "bold," as it were -- is a signal of just how high most people rate the Big Red.
3. BYU will edge Kansas State.
OK, so this part of the limb might be a little further out than I wanted to tread, but the more I think about it, the more I think it's entirely possible the Cougars can top Kansas State in the second round in Oklahoma City. This BYU team is much better than their No. 7 seed. For starters the Cougars are a potent offensive team with a bonafide star in
Jimmer Fredette
and an experienced sidekick in
Jonathan Tavernari
. To be sure, Kansas State will be something of a shock to the Cougars' system -- BYU hasn't played a team that defends quite as thoroughly as the Wildcats. Nor do most teams attempt to run with BYU's uptempo offense. The Wildcats, who average 71.1 possessions per game, will be more than happy to go up and down with BYU for 40 minutes. In an up-and-down game like that, either of these teams can get especially hot and pull away before the other has a chance to regroup. Why can't that team be the Cougars?
4. UTEP will play Syracuse in the Sweet 16.
And just how will they do that? By beating Butler in the first round and the winner of Vanderbilt-Murray State in the second. UTEP, like its first-round counterparts, are probably a bit better than their resume, and their resume is good. What's more, they're a tough matchup for Butler, whose lack of front-court depth could really struggle with the likes of
Derrick Caracter
and center
Arnett Moultrie
. After that small matter of business is concluded, the Miners will face a relatively forgiving No. 4 seed in Vanderbilt, a team that actually ranks behind the Miners in adjusted efficiency. It's one of the easier roads for any No. 12 seed into the Sweet Sixteen, and I think UTEP forges it.
5. Baylor will make the Final Four.
At this point, so many people are picking Baylor to go deep into this tournament that this prediction hardly seems bold. Oh, but it is: The Bears are not a great defensive team, and they'll have to get through Villanova and Duke (or Texas A&M!) to make this prediction worthwhile. This is not un-bold, no matter how many people claim otherwise.
Still, though, I think the Bears have just as good a chance as any team in the South to emerge and play in Indianapolis on the first weekend of April.
LaceDarius Dunn
remains one of the country's most underrated players.
Ekpe Udoh
's overwhelming physicality will present issues for any team the Bears face. Most importantly, the Bears have an easy route to the Elite Eight -- their toughest test would ostensibly come from Villanova, a team equally indifferent on the defensive side of the ball and a team that lacks the size to match up with Udoh in the post. The South could get crazy. I think it does. And I think the Bears emerge unscathed.
March, 11, 2010
3/11/10
10:50
AM ET
KANSAS CITY, Mo. – A few quick hitters before the quarterfinals Thursday:


Texas Tech vs. Kansas, 12:30 p.m. (ET):
The Red Raiders had lost seven in a row before beating Colorado in the first round. Colorado had just put 101 points on the Red Raiders last Saturday in a win at Boulder. So clearly Pat Knight's defensive message got through as the Red Raiders held the Buffaloes to 67 points. But can the Red Raiders pull off the upset of the week by beating top-ranked Kansas? Well, the last time they met, KU stomped on Tech by 26 points. This will be an interesting test for the Jayhawks. This is a game they should win by double figures. If the focus is there, KU should walk to the semifinals. I'd like to see how
Sherron Collins
steps up his leadership role with the postseason now at hand. I don't see how the Red Raiders can keep the KU bigs, notably
Cole Aldrich
off the backboard.


Nebraska vs. Texas A&M, 3 p.m.:
The Huskers pulled the stunner of the first day with a crushing win over Missouri. The Huskers ran with Missouri and sprinted past the Tigers. But will Nebraska be able to get out against Texas A&M? Would they want to do such a thing? The Aggies probably were prepping to face Mizzou in a high-octane affair. That won't be the case now in what could be a grinder of a game. I'm not sure the Aggies would allow Nebraska to shoot over 50 percent the way it did against Missouri. I'm looking forward to seeing how
Brandon Richardson
and
Ryan Anderson
, who went off for the Huskers against Missouri get free against the Aggies.
Donald Sloan
and
B.J. Holmes
for the Aggies are two of the better guards in the conference and
Bryan Davis
' ability to board will prove vital.


Oklahoma State vs. Kansas State, 7 p.m.:
The Cowboys were able to easily beat Oklahoma with a mortal 11 points from
James Anderson
. OSU got quality production out of
Keiton Page
, who went for 24 points and
Obi Muonelo
's 15. The Cowboys also made 11 3s. Oklahoma State was one of three teams to win at Kansas State during the season. So the Cowboys go into this game with a lot of confidence. The more intriguing storyline will be how K-State handles its role as a favored player in the field.
Jacob Pullen
and
Denis Clemente
are coming off a disappointing home loss to Iowa State. There has to be some pride in play to get going on a high note heading into next week.


Texas vs. Baylor, 9:30 p.m.:
This may be the best game of the quarterfinals. It pits two teams that when they play to their potential could be playing in the championship game Saturday night, or, at the very least, the second weekend in the NCAA tournament.
Damion James
went back to being an all-American in the win over Iowa State in the first round with a 28-point, 16-rebound performance. The Longhorns got key play from
Gary Johnson
,
Avery Bradley
and
Jai Lucas
.
J'Covan Brown
only played three minutes as
Justin Mason
got the start at the point. The best news for Texas was the high percentage of shooting from
Dexter Pittman,
finishing 7-of-9 with five boards. Baylor crushed Texas last Saturday 92-77. The key will be whether
LaceDarius Dunn
and
Tweety Carter
can get free against the Longhorns, and who wins the tussles inside between Baylor's
Ekpe Udoh
and
Quincy Acy
and Texas' Pittman and Johnson. This should be an up-and-down affair at the Sprint Center.
February, 17, 2010
2/17/10
1:49
PM ET
February, 16, 2010
2/16/10
9:31
AM ET
The Morning After is our semi-daily recap of last night's best hoops action. Try not to make it awkward.
[+] Enlarge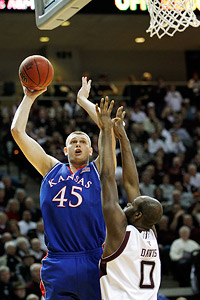 Aaron M. Sprecher/Getty ImagesCole Aldrich had at least 10 points, 10 rebounds and five blocked shots for the sixth time this season.
No. 1 Kansas 59, No. 23 Texas A&M 54
: There's a common belief that if teams want to win NCAA titles, they have to learn how to win ugly in the tournament. This is not always true: 2008-09's champs, the
North Carolina Tar Heels
, were never forced to win ugly in March or April; Tyler Hansbrough & Co. rolled through their six tourney games like they were playing in the Maui Invitational rather than the NCAA tourney. Wouldn't you rather dominate? It keeps things simple. Still, though, it can't hurt a dominant team to get punched in the mouth from time to time, to face a rowdy away crowd on a night when the shots aren't falling and to come away with a victory in a hard-fought, low-scoring slugfest. That's what the Jayhawks did last night.
On a night when
Sherron Collins
scored a mere seven points and committed five turnovers -- and a night when Kansas hit only one 3-pointer in 10 attempts --
Cole Aldrich
was the key. Big surprise, right? Aldrich had 12 points, 10 rebounds, five blocks, and countless other altered shots in the interior. The Aggies, meanwhile, completely shut down in the last few minutes of the game --
Donald Sloan
disappeared, as did the Aggies' offensive rebounds and free throws, while Kansas was able to get to the line at a high (56.5 percent FTR) rate.
After the game, Bill Self said his team won "muddy," and that's about as good an adjective as you can use for what we saw from both teams last night. It
was
muddy. Self wouldn't want them to wallow in it, but maybe it's good for the Jayhawks to get a little mud on their shoes from time to time.
Connecticut 84, No. 3 Villanova 75
: Can someone please explain the
Connecticut Huskies
? (Wait, that's kind of my job? Oh, right.) Actually,
Andy's explanation last night is as good as any
: The Huskies pretty clearly have talent, they've just not always played up to it. This team has
Kemba Walker
,
Stanley Robinson
and
Jerome Dyson
in its backcourt, a hyperathletic threesome that should compete with anybody in the country. It also helps that UConn played much the same Monday night as they played in a close loss at Syracuse last week: Walker and Dyson used their strength to get in the lane, refusing to force outside jumpers. The Huskies flew around on their own defensive end, using their one main advantage -- a proficiency at blocking shots -- frequently. And UConn got to the line. They got to the line
a lot
. Jim Calhoun's team shot 44 free throws to Villanova's 20, a product mostly of athleticism and Villanova's inability to stop anyone on defense.
Oh, and make no mistake: Villanova can't stop anyone on defense. The Wildcats are one of the country's best offenses, but their defensive efficiency numbers aren't pretty: Nova doesn't turn opponents over and doesn't force them into particularly bad shots, which is why they have the
No. 66-ranked defense in the country and aren't in Pomeroy's top 10
despite the high level of respect afforded to them nationally. Nova is a good team with flaws, and a suddenly organized and viable UConn team exposed nearly every one of them.
February, 4, 2010
2/04/10
10:32
AM ET
By
ESPN.com staff
| ESPN.com
Andy Katz talks

to Arizona coach Sean Miller about leading the Pac-10, Texas A&M guard
Donald Sloan
about
Derrick Roland
's injury and Charlotte coach Bobby Lutz about his team's improvement.
December, 23, 2009
12/23/09
10:33
PM ET
By
Diamond Leung
| ESPN.com
At last count, nearly 900 Facebook users have joined the group,
"We Love
Derrick Roland
#3," which was created by a Texas A&M student.
It's definitely not only the Aggie community that is offering its support for Roland, who
underwent surgery earlier this morning
after suffering a gruesome, Joe Theismannesque compound fracture of his right leg in Tuesday night's loss at Washington.
Dallas Mavericks owner Mark Cuban even offered to pay for a private plane to fly Roland's aunt to Seattle, according to team spokesman Colin Killian.
"He wanted his staff to find out out how much it would cost,"
Killian said.
Roland's aunt had already arranged for transportation, but that people from all over the basketball community reached out to the senior guard has not gone unnoticed by Texas A&M.
Aggies assistant coach Scott Spinelli told reporters that the team's trainer "
almost passed out looking at the injury
." But Huskies trainers were there to provide assistance along with team doctors that came out of the stands at Bank of American Arena.
Harborview Medical Center, where Roland could be released from before Saturday, offers a way on its Web site to e-mail patients, and received upwards of 700 of them from fans.
"They finally had to tell people to keep from flooding their system," said Killian, who noted fans are now turning to Roland's Twitter account.
The Washington athletic department also blogged the address where Huskies fans can send well wishes.

And as it turns out, Roland might have even had a Washington-area fan in the operating room with him. According to Killian, one of the doctors prior to performing the surgery had something to tell Roland.
Yep, the doctor was an Aggie.
"(Roland's) face lit up," Killian said. "It put him at ease."
Texas A&M coach Mark Turgeon stayed with Roland the whole way through, and Washington coach Lorenzo Romar, whose players tweeted their prayers to Roland last night, also took time this afternoon to visit with the player.
"I think it's fantastic that our fans can separate the competition side from the humanity side," Romar said in a statement. "This game is very small when you look at it from the perspective of what happened last night and the overwhelming support and well-wishes from our supporters is amazing.
"I got a chance to meet with Derrick Roland and his buddy from all the way back in the eighth grade
Donald Sloan
. He is an outstanding young man and is doing about as well as can be expected. Those are two quality guys and it sounds like Derrick will be able to play again.
"I know I will always be pulling for him and rooting for him in whatever he does in the future and am sure Husky fans feel the same way."