College Basketball Nation:

Donte Poole
March, 17, 2012
3/17/12
7:32
PM ET
LOUISVILLE, Ky. -- Here's a quick look at No. 3 seed Marquette's
62-53 victory
over No. 6 seed Murray State at the KFC Yum! Center.


Overview:
The storyline going into this game was that these teams were mirror images of each other. That proved true and led to a highly entertaining game played at an express-lane pace, if a little ragged at times.
It was possible to cramp up just watching Marquette and Murray State trade possessions in transition over and over. Ultimately, Marquette pulled away late with excellent defense and a lack of marksmanship from the Racers, who made just 31.3 percent of their shots and went only 4-of-21 on 3-point tries.
But this was a street fight for 40 minutes, and Murray State vindicated its 31-2 season with two top-flight tournament performances, even if the Racers failed to make their first Sweet 16. Marquette, meanwhile, now has an advantageous path to the West Region final and is looking like a serious Final Four threat.
Turning point:
Neither team could get much distance from the other most of the way, but Murray State looked like it had all the momentum when it used a 7-0 run to take a 46-41 lead, its biggest of the game, with less than eight minutes to play in the second half. The pro-Murray crowd, bolstered by Kentucky fans who were rooting for their fellow state school, was going nuts. After a pair of timeouts, though, Marquette regrouped and charged back with a 14-2 run of its own, which included a couple of big baskets inside by reserve big man
Davante Gardner
and lots of defensive stops. The run was aided by missed shots from Murray State star
Isaiah Canaan
, who suffered through a brutal 4-for-17 night.
Key player:
Marquette's
Jae Crowder
had another huge night after putting up 25 points and 16 rebounds Thursday against BYU. Crowder struggled with his shot early but played great defense in the second half, and finished with 17 points and 13 rebounds.
Key stat:
Canaan and
Donte Poole
, Murray State's top two scorers, were a combined 7-for-30 from the field.
Miscellany:
Marquette advanced to the Sweet 16 for the second consecutive year. ... The Golden Eagles made a big play just before the half, as
Darius Johnson-Odom
picked up a loose ball in a crowd and laid it in just before the horn after a Murray State turnover. That cut the halftime deficit to 28-25. ... The Racers'
Ed Daniel
was all over the place and finished with 14 rebounds, but he was quiet late. ... Murray State players said they did extra work on free throws Friday in practice after bricking 13 of 26 attempts from the foul line in their victory over Colorado State. The practice paid off, as the Racers went 9-for-10 on free throws.
What's next:
Marquette advances to play the winner of Sunday's game between Norfolk State and Florida. The Golden Eagles should be a heavy favorite over either one of those teams in that game, scheduled for Thursday in Phoenix.
March, 17, 2012
3/17/12
12:25
AM ET
LOUISVILLE, Ky. -- Thursday's slate of second-round games at the KFC Yum! Center didn't offer a lot of intrigue. All four higher seeds won by an average of 16 points.
Maybe they were just setting the stage for a dramatic doubleheader Saturday. On paper, at least, we have the possibility of two great games. The opener features teams with similar, fast-paced styles, while the nightcap pits the tournament's No. 1 overall seed against an upstart that might have the right ingredients for an upset.
Here's a closer look at Saturday's two third-round games in Louisville:


No. 3 seed Marquette (26-7) vs. No. 6 Murray State (31-1), 5:15 p.m. ET

What to watch:
Each team must feel like it's looking into a mirror when scouting the other. Both like to crowd passing lanes and push the pace, and though neither is particularly big, their frontcourt players are active around the rim. So the question is, which one does it better? Marquette has more ability to switch up styles and pound the ball inside, especially when 6-foot-8, 290-pound forward
Davante Gardner
comes off the bench. He is averaging 17 points and six rebounds in three games since returning from a knee injury. But Murray State should have a significant crowd advantage from its fans who made the short trip here, and from Kentucky backers who likely will pick up their fellow state school's cause.
Who to watch:
Both teams have terrific lead guards who could match up against one another. Murray State will almost assuredly need a big game from star
Isaiah Canaan
to have a chance to advance. The Racers' backcourt will have to slow down
Darius Johnson-Odom
, who can fill it up from outside or stutter-step and drive the lane. But the Golden Eagles'
Jae Crowder
presents the toughest matchup problem with his versatility. The 6-6 slasher had 25 points and 16 rebounds in the win against BYU. It's not height but bulk that might bother Murray State, as players like Johnson-Odom and Crowder look like they've spent as much time on their bench press as their jump shot. "They look like they should all be in spring practice at Alabama and LSU playing defensive back and linebacker," Racers coach Steve Prohm said.
Why to watch:
This has all the makings of an entertaining, up-and-down game that shouldn't tax the shot clock operator. Canaan and Crowder are among the best players in the country. The winner of this game has a very real chance at making it to the West Region final and beyond.
What they're saying:
"For people to look at us as a Cinderella story, it's an honor. But we try to stay level and remember the things that got us to this point, and try to remember to do those things. Because we know if we do that, everything else will take care of itself." -- Murray State guard Isaiah Canaan.
"You just visualize what the moment will be like when you see your 14 guys celebrating going to the Sweet 16. And that's how you're preparing right now, so those guys can have that moment." -- Murray State coach Steve Prohm.
"It's like watching Syracuse. You watch six or seven games, and by the time you're watching the eighth game, you're like, 'Yeah, they just do the same stuff over and over and over. Not to be over-simplistic, but maybe that's why they win." -- Marquette coach Buzz Williams, on scouting Murray State.
"They've got good guards, their bigs run in transition. We've got to get back in transition and keep the ball out of the paint. They look like they come to play and fight every night, and that's how we play." -- Marquette guard
Junior Cadougan
.
Of note:
Donte Poole
took an elbow to the nose on Thursday against Colorado State. The Murray State guard said his nose was sore and congested, but he plans on playing Saturday without a protective face mask. ... Marquette is looking to make its second straight Sweet 16 appearance and 15th overall. Murray State has never advanced that far. ... This is just the second meeting between the schools. The first came in the 1969 NCAA tournament, with Marquette winning 82-62.


No. 1 seed Kentucky (33-2) vs. No. 8 Iowa State (23-10), approximately 7:45 p.m. ET

What to watch:
Kentucky should get its first real challenge of the tournament against an Iowa State team that took out defending champion Connecticut with ease Thursday night. The Cyclones can bury you from 3-point land by putting four shooters outside the arc on most possessions, but they also can get physical inside, as they showed against UConn. Of course, Kentucky still has
Anthony Davis
,
Terrence Jones
and all that other NBA talent, and it will be playing in the friendliest Big Blue confines outside of Rupp Arena. So Iowa State will be a heavy underdog, but that's a role this team has wholeheartedly embraced.
Who to watch:
Iowa State's
Royce White
nearly transferred to Kentucky from Minnesota two years ago. John Calipari visited him in Minneapolis and said "it
was done." But when it came time for White to enroll in summer school, he balked. White, who has an anxiety disorder, said he felt uncomfortable getting on a plane, and the mother of his first son had just found out she was pregnant again. Could White come back to haunt the Wildcats? He's one of the most unorthodox players in the country, a 6-8, 270-pounder who serves as the team's primary ball-handler and distributor. If he can throw his weight around inside and find open shooters, look out. But Kentucky also has big men who can play on the perimeter. "He's not LeBron James,"
Michael Kidd-Gilchrist
said. "Can we pressure him? Yeah. He's not special."
Why to watch:
The tournament favorite against a very game underdog? That's appointment television.
What they're saying:
"We've got to do a great job of trying to keep their guards in front
of us and try to make them shoot contested jump shots over us. Because if you do give up guard penetration to the middle, they have incredible athleticism and length, and they can just kind of flip it up there on the rim." -- Iowa State guard
Scott Christopherson
.
"I think I read somewhere that we were only picked in 32 percent of the brackets on the ESPN challenge. We have played that underdog role, and we have played it well. Our guys have gone out there and taken it personally. And hopefully, we'll do that again [Saturday] night." -- Iowa State coach Fred Hoiberg.
"It's not nerves that I'm worried about. Iowa State is a really good team. I watched some tapes where I had to stop watching because I started getting worried that we can't beat this team. So I'm trying to watch a tape or two where they've lost. ... This is going to be one of the toughest games we've played in a while." -- Kentucky coach John Calipari.
Of note:
Hoiberg played against Kentucky in the second round of the 1992 NCAA tournament when he was a Cyclones freshman. Hoiberg scored two points and fouled out of a 106-98 loss. "It was the only game in my college career that I fouled out," Hoiberg said. ... Looking ahead? Kentucky guard
Marquis Teague
said he hopes to see No. 4 seed Indiana -- which handed the Wildcats their only regular-season loss -- in next week's Sweet 16. "We want to play them because of the way they beat us," he said. "We're upset about that." ... White is Iowa State's only starter taller than 6-6, but the Cyclones have outrebounded their past 10 opponents. ... Kentucky's Jones is on a roll in March, averaging 20.8 points and 11 rebounds in his past four games.
March, 15, 2012
3/15/12
4:24
PM ET
LOUISVILLE, Ky. -- At halftime, with his team leading Murray State 24-23, Colorado State coach and prolific Twitter user Tim Miles tweeted the following: "Win the half, we'll win the game."
Miles and the rest of America might have been thinking the same thing at that point: 30-1 or not, these Racers are nothing special. After 20 minutes against a No. 11 seed, they sure didn't look much like a top 10 team or even a No. 6 seed.
But then Murray State won the half. Convincingly. And it might have won over some skeptics with its
58-41 victory
in the West Region second round at the KFC Yum! Center.
Nearly lulled to sleep early on by the Rams' sagging defense and slow tempo, the Racers ripped off an 18-2 run in the first nine minutes of the second half. They got back to their trademark up-tempo style, using pressure defense to create what guard
Donte Poole
called a "kamikaze" effect. Colorado State kept coughing up the ball, and Poole and his teammates went the other way for easy scores.
"We were really passive in the first half," Poole said. "We were tired of playing slow and doing things we usually don't do. We had to extend our defense, get some more steals and get out in transition."
[+] Enlarge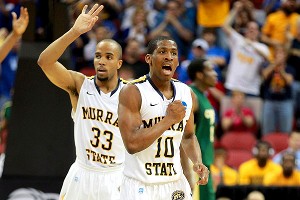 Andy Lyons/Getty ImagesMurray State went on an 18-2 run to begin the second half that effectively put the game away.
It wasn't always a pretty performance. Leading scorer
Isaiah Canaan
missed nine of his 13 shots and even airballed a wide open 3-pointer off a fast break. Murray State bricked half its 26 free throws and shot less than 40 percent from the field. Poole's aggressive defense on Colorado State guard
Wes Eikmeier
earned him an inadvertent elbow to the nose; he said he could hear a crack when trainers adjusted his nose back into place on the bench, and after the game a piece of gauze dangled from his right nostril.
Still, Murray State fought through it all to record its largest margin of victory ever in an NCAA tournament game. Curious fans wanting to know what this team was all about got to see that it's a deep, athletic bunch that is dangerous in the open floor.
"Every time we play, we know there's probably 1,000 or 2,000 or a number of fans who haven't seen us before," Poole said. "So we always want to play hard so people will remember us and say, 'Wow, that Murray State team is good.'"
Of course, beating a Mountain West also-ran won't completely validate that glittering regular-season record. But doing something this program has never done -- reaching the Sweet 16 -- would show that these Racers are indeed something special.
"We're still trying to build that wall," forward
Ed Daniel
said. "We're trying to get to that new place we've been trying to get to since day one."
March, 15, 2012
3/15/12
2:24
PM ET
LOUISVILLE, Ky. -- Quick thoughts from No. 6 seed
Murray State's 58-41 win
over No. 11 Colorado State in the second round of the West Regional.
Overview:
Murray State's special season just got a little sweeter. The Racers improved to 31-1 on the year and notched the third NCAA tournament victory in school history.


A sluggish start led to a 24-23 deficit, as Colorado State got the tempo it wanted early. But in the second half, Murray State used its superior quickness to force the issue on both ends. That led to several steals and easy buckets, while the Rams struggled to find open looks. The final score would have been more lopsided if the Racers hadn't gone 13-of-26 from the free throw line.
Turning point:
Murray State looked a little awestruck and out of sorts at the beginning of the game. But it opened up the second half with far more energy, reeling off an 18-2 run in the first nine minutes of the half to build a 41-26 lead. After scoring no fast-break points the entire first half, a quick steal and dunk by star
Isaiah Canaan
early in the second half helped ignite the back-breaking run.
Key player:
Canaan (4-of-13) suffered through an off shooting day and even air-balled a wide-open 3-pointer. But he still led the team in scoring with 15 points while adding seven rebounds and two assists. The Rams sagged off him defensively early on with some success; Canaan got going when he started moving without the ball and being more aggressive on drives into the paint.
Key stat:
Colorado State committed 21 turnovers, which Murray State converted into 20 points. Most of those came in the second half. The Rams missed all seven of their 3-point tries in the second half and went nearly seven minutes without scoring at one point.
Miscellaneous:
The KFC Yum! Center was heavily pro-Racers, whose campus is just a few hours southwest of Louisville. Murray State fans filled much of the lower bowl of the arena, while the Kentucky fans on hand lent their support as well. ... Murray State guard
Donte Poole
got a bloody nose when he took an inadvertent elbow from Colorado State's
Wes Eikmeier
early in the second half. He was attended to by the training staff for several minutes but would return. ... This is the third straight year an Ohio Valley Conference team has won a game in the NCAA tournament. ... Colorado State's
Pierce Hornung
had 12 points and 17 rebounds before fouling out.
What's next:
Murray State advances to play the winner of Marquette vs. BYU on Saturday in the West Region third round.
March, 14, 2012
3/14/12
11:31
PM ET
LOUISVILLE, Ky. -- The NCAA tournament has arrived at the KFC Yum! Center, and this pod definitely comes Kentucky-fried for your enjoyment.
Murray State begins the day by playing within its state's borders, and No. 1 seed Kentucky and No. 16 seed Western Kentucky will renew their intermittent rivalry in the evening. But some outsiders will seek to crash this Commonwealth celebration.
Let's take a look at the afternoon games on tap here Thursday:
No. 6 seed Murray State (30-1) vs. No. 11 seed Colorado State (19-13), 12:15 p.m. ET
What to watch:
Is Murray State for real? That has been a season-long question, as the Racers won their first 23 games and broke into the top 10 for the first time in school history. They ended the season ranked ninth in the coaches' poll but received a No. 6 seed because of a soft schedule. But they drew a favorable opening matchup in Colorado State, a guard-oriented team that doesn't have a player over 6-foot-6. The Rams love any open shot and rank sixth nationally in 3-point field goal percentage.


Who to watch:
Murray State guard
Isaiah Canaan
is one of the top players in the country, averaging 19.2 points and shooting 47 percent from 3-point range.
Colorado State coach Tim Miles admiringly described Canaan as a "pain in the butt" and went so far as to compare him to Jimmer Fredette. If the Racers make a run in this tournament, Canaan could be one of the breakout stars of March.
Why to watch:
Any team that goes 30-1 must be doing something right, and Murray State can cause enough matchup problems to make a run to the Sweet 16. The Ohio Valley Conference champ has won a game in each of the last two NCAA tournaments. Colorado State is looking for its first NCAA win since 1989, and the highly entertaining Miles will churn out some memorable sound bites if it happens.
What they're saying:
"I think we're kind of used to this situation. We've kind of been looked at as an underdog all year long. I know that gym's probably not going to be in our favor [Thursday]. Our conference tournament kind of prepared us for that a little bit. So we're used to this kind of atmosphere. We're going to try not to let that stuff get to us and just concentrate on our game plan and the way we've got to play to win." -- Colorado State guard
Wes Eikmeier
.
"I think Murray's always been on the map. They have a great winning tradition. But I just think with this year that it just opened up some more eyes. More people kind of went out of their way to see where Murray State was, who these guys were, what are they doing, how do they represent themselves. So I think it was just a matter of us doing a little bit extra for the program." -- Murray State guard
Donte Poole
.
Of note:
Poole signed with Colorado State out of high school and even attended summer school there in 2007. ... The Racers are one of just five teams to enter the NCAA tournament with only one loss but not earn a No. 1 seed. The best showing by any of those previous teams was Texas Tech's Sweet 16 run in 1996. ... Miles has often worn a Smarty Jones hat in honor of the 2004 Kentucky Derby winner to remind his teams of their underdog possibilities. "And just by chance, we end up in Louisville," he said. "I thought that was pretty cool karma."
No. 3 seed Marquette (25-7) vs. No. 14 seed BYU (26-8), approximately 2:45 p.m. ET
What to watch:
Marquette crashed the Sweet 16 as a No. 11 seed a year ago and now looms as a potential Final Four threat in the West Region. The Golden Eagles love to get out in transition, and BYU just beat one of the fastest teams in the country while completing a stunning comeback against Iona in Dayton. Can BYU follow VCU's unconventional path from a year ago?


Who to watch:
Marquette's 1-2 punch of
Darius Johnson-Odom
and
Jae Crowder
. Johnson-Odom can beat you from 3-point range or off the bounce, while Big East player of the year Crowder is a 6-6 matchup nightmare who can do a little of everything. Both are seniors who won't be easily rattled.
Why to watch:
BYU has already turned in possibly one of the most entertaining games of this year's tournament, and the Cougars have the fascinating redemption saga of forward
Brandon Davies
. Marquette matches the high energy of its coach, Buzz Williams, and is almost never boring.
What they're saying:
"When I first got in here, I smelled the chicken being cooked. So that reminded me of the last time we were here." -- Marquette's Crowder, recalling his team's last appearance at the KFC Yum! Center, when the Golden Eagles blew an 18-point lead in the final six minutes during a loss last year to Louisville.
"A lot of confidence comes from coming from behind and winning, especially in the NCAA tournament. There's a lot of new emotions and adrenaline that comes into play when you're in this tournament. It gives us a lot of confidence to know that we can play and battle back from a pretty big deficit." -- BYU forward
Brock Zylstra
.
Of note:
Marquette typically wins the fast-break battle, but it gave up a season-high 35 transition points in its loss to Louisville in the Big East tournament last week. ... The last time the Golden Eagles were a No. 3 seed, they made the Final Four in 2003 behind Dwyane Wade. ... With Tuesday's victory, BYU has won NCAA tournament games in three straight years for the first time in school history. ... The Cougars spent Tuesday night in Dayton and made the short bus ride to Louisville on Wednesday, arriving about 2:30 p.m. ... BYU coach Dave Rose said forward
Noah Hartsock
, who has been battling knee and ankle problems, was "pretty sore" after the Iona game, but he expected Hartsock to be ready to play Thursday.
February, 17, 2012
2/17/12
9:00
AM ET
When and where:
Saturday (ESPN, 6 p.m. ET), CFSB Center (Murray, Ky.)


Saint Mary's breakdown:
The Gaels are coming off their first home loss of the season, to Loyola Marymount, perhaps the most athletic team in the West Coast Conference and finally healthy. Randy Bennett's team has had a terrific season, but has lost two of its past three games (at Gonzaga and at home to LMU).
Saint Mary's is a very skilled team that lacks size but has players who can spread the floor and a "big guy" in
Rob Jones
who plays inside and out, and plays much bigger than he is listed. Bennett has several very efficient players, including Jones,
Matthew Dellavedova
and the ultra-efficient
Clint Steindl
. But this team will definitely miss defensive ace
Stephen Holt
, who was injured against LMU and did not make the trip to Kentucky after a partial tear to his MCL. Holt is one of the most complete players in the WCC and the West Coast, and is a terrific player. That's a big loss.
But Dellavedova is dynamic off the bounce and in transition and is in attack mode all the time. Steindl is an excellent perimeter shooter who does not make mistakes. The Gaels play a bend-but-don't-break style of defense, and do not force a lot of turnovers.
[+] Enlarge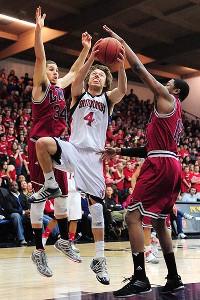 Kyle Terada/US PresswireMatthew Dellavedova scores 15.5 points per game for a 23-4 Saint Mary's team that has lost two of its past three games.
But they do not give up extra possessions via turnovers or offensive rebounds, either. It is unusual to play ahead of the Saint Mary's defense. This is not a super-athletic team or a big team, and it is not a team that shoots a ton of 3s. But it is a team that moves the ball, cuts hard, drives it, and plays with tremendous heart and a great understanding of how to play. I love watching Saint Mary's play, and it would be a great bunch of guys to play ball with.
Murray State breakdown:
The Racers are very well-coached, and have really good guards and solid interior players who play really hard and well together. Murray State ripped off 23 straight wins, and although this team did not play a Big Ten schedule, it did not have a letdown or slip and fall, either. Wins against Southern Miss, Dayton and Memphis prove this team is legit and should be taken seriously.
The backcourt with
Isaiah Canaan
and
Donte Poole
can compete with any backcourt in the country. Both can give you 30 points in a game, and both are hard to contain in transition and off ball screens.
Canaan is the best player, but Poole (a product of Las Vegas) often steps forward and has big games when Canaan is not dominating. Inside,
Ed Daniel
and
Ivan Aska
do a good job, and
Jewuan Long
is the heart and soul of the team.
Murray State has a lot of positives, but the weaknesses are pretty glaring at times. The Racers can be, and often are, loose with the ball. They cough it up far too often. Murray State turns the ball over almost 21 percent of the time, and that is in the bottom half of Division I.
In addition, Murray State has solid "first-shot defense," but allows far too many second shots, and those high-percentage second opportunities put the Racers at a disadvantage.
Gaels' game-breakers:
Dellavedova and Jones. Dellavedova does not look like a point guard, but he knows how to play, and plays like a man. He averages 15.5 points and 6.4 assists, and with his attack mentality, leads the team in free throw attempts.
Once he gets to the line, Dellavedova is automatic. He will be a tough matchup because he is strong and knows how to use his body. Jones started his career at San Diego in the West Coast Conference, and is one of the most versatile big men in the country. Jones has hit 31 3-point field goals, and is an outstanding rebounder.
He averages 15 points and more than 10 rebounds per game, including more than three offensive rebounds per game. Jones will be a difficult cover for Murray State.
[+] Enlarge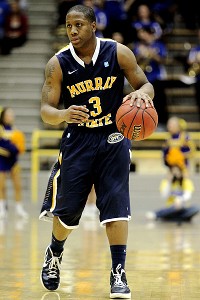 Andy Lyons/Getty ImagesMurray State's Isaiah Canaan averages 19.2 point per game and has four games of 30 or more points this season.
Racers' game-breakers:
Canaan and Poole. Canaan is dynamic enough to take over a game, and has scored more than 25 points in a half. He can hit from deep, use ball screens and can pull up and hit from mid-range as well.
Canaan has hit 79 3-point shots, but has also shot 152 free throws, which makes him very dangerous and hard to guard. He averages 19 points and almost 4 assists per game, leading the team in both categories. Poole is also an excellent 3-point shooter, hitting 53 of 135, while also getting to the free throw line 119 times.
Poole leads the Racers in steals with just more than two per game. To beat Murray State, Saint Mary's has to keep Canaan and Poole from going off.
Gaels' X factor:
Steindl. The long-armed shooter has hit 45 3-point field goals, which accounts for more than 85 percent of his field goals. Murray State cannot leave Steindl, and must find him in transition and force him to put the ball on the deck. If Steindl is allowed to shoot from the same spot where he catches it, he will knock down shots left and right.
Racers' X factor:
Aska. He has all the skills to be a major factor, including the ability to score around the rim. Most importantly, Aska is tough. He averages 12 points and 6 rebounds per game, and he makes his free throws.
Key stat:
Rebounding and turnovers. Murray State is turnover-prone and Saint Mary's does a really good job of taking care of the ball. The Racers surrender too many offensive rebounds and Jones is an outstanding offensive rebounder. Murray State has to take good care of the ball and must finish defensive possessions with big defensive rebounds.
Did you know?
Mark Gottfried and Mick Cronin both coached at Murray State. And Saint Mary's played in the 1939 Cotton Bowl, beating Texas Tech. I'll take obscure BracketBusters trivia for $200, Alex.
Can't account for this:
It may seem odd to name a broadcaster as a "key to the game," but Dick Vitale is doing this game. Murray State is already publicizing Vitale's appearance as an event, and the atmosphere will be different than any Murray State has ever had. Add in that it is Senior Day and you could have an emotional overload. Will the hoopla and distractions work in Murray State's favor? Or will they wear out the Racers, who are not used to having this kind of circus in town? No matter what, it will be fun and memorable for everyone involved. But it is always more fun when you play well and win.
Who wins:
I think Murray State will pull this one out at home 72-70. And it will seal the deal for an at-large bid.
November, 26, 2010
11/26/10
9:10
PM ET
By
Diamond Leung
| ESPN.com
ANAHEIM, Calif. -- UNLV guard
Tre'Von Willis
is only 50 points shy of 1,000 for his career, so it's conceivable he could receive enough playing time to reach the mark by the end of the tournament. His minutes have increased after coming off a four-game-suspension, and it will be interesting to see if he returns to the starting lineup at some point.
Murray State guard Donte Poole went to Mojave High School in North Las Vegas with UNLV guard Anthony Marshall, and the matchup holds meaning for the two, according to the Las Vegas Sun. "He was kind of my big brother my freshman year up until he left," Marshall told the paper. "We've played a lot against each other in the summer in pick-up games, but never in a real game."
Stanford guard Jeremy Green was held scoreless until the final minute in yesterday's game against Murray State, and there might have been some reason for his struggles. According to ESPN broadcasters, Green was ill. The Cardinal did get a good game out of freshman Dwight Powell, and he'll be one to watch this evening against Tulsa.
March, 20, 2010
3/20/10
4:21
PM ET
By
Diamond Leung
| ESPN.com
SAN JOSE, Calif. -- Quick thoughts on the game from HP Pavilion.
Murray State's Isaiah Canaan has a game-high eight points and keyed a 9-0 run for the Racers going into halftime. He sank a 3-pointer and then on the other end of the floor stole the ball with under a minute left. The fast break layup attempt missed, but Edwards Daniel was there for the put-back. Donte Poole hit a 3-pointer at the buzzer.
The Racers didn't exactly race off to a good start, as they didn't hit their second field goal until the 12:32 mark, letting Butler go on a 12-0 run. But their defense picked up, and Butler went into the half shooting 28.6 percent from the field.
Butler's Gordon Hayward, the Horizon League's player of the year, has been held to three points on 1-for-6 shooting. He does have five rebounds.
Butler was going good until that late run, forcing eight Murray State turnovers. But the Bulldogs are getting pounded on the boards by a 21-14 margin. Tony Easley has seven rebounds for Murray State.
Ronald Nored leads Butler with seven points and three assists.