College Basketball Nation:

Dorian Finney-Smith
March, 29, 2014
3/29/14
8:28
PM ET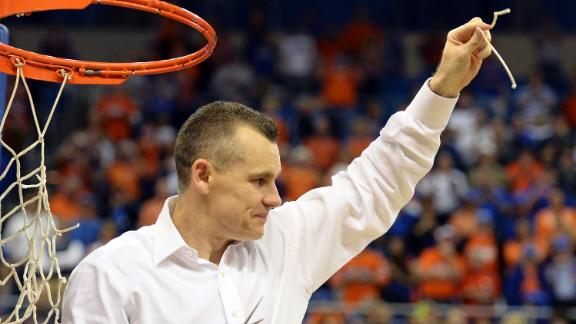 MEMPHIS -- The feel-good story of the 2014 NCAA tournament ended as so many feel-good underdog stories do: at the hands of a top-seeded favorite. Last season, Florida clinically ended Florida Gulf Coast's dunk-filled Cinderella run. On Saturday, the Gators sent Dayton home 62-52, and this time their reward is a long-awaited trip to the Final Four.


The Flyers didn't fade away. With 12 minutes left in the second half, Florida led 51-36 and looked set to cruise. But Dayton, led by the determined work of guard Dyshawn Pierre, kept incrementally pushing back in the second half. With 2:37 to play, the Flyers trailed by just eight. It was an off night in a handful of ways, but Pierre & Co. kept things interesting for longer than anyone could have expected midway through the second half.
Florida's size won the game. The Gators had their fair share of ugly possessions in the last 10 minutes of the second half, which usually went like this: Shoot the ball, scrap for a rebound, shoot the ball, scrap for a rebound, rinse, repeat. But even when Florida came away from those trips empty-handed, the rebounds spoke to the dominance the Gators wielded over Dayton around the rim. Patric Young was a force on both ends of the floor, finishing with 4 blocks, 6 rebounds and 12 points -- most of which were scored after he sealed a Dayton defender into oblivion under the rim.
Also: The rebounding battle wasn't close. Dayton likewise faced a much taller Stanford team in its first game in Memphis (which was true of its wins over New Mexico and Syracuse, too), but the Flyers were able to play the Cardinal to a draw on the glass by being quicker and craftier in the gaps of the Stanford zone. There were no such openings Saturday night. Florida rebounded more than 80 percent of Dayton's misses. Good first-shot defense helped the Gators as usual, but Dayton made a few shots, too (it finished 8-of-18 from 3). Most important was Florida's comprehensive rebounding effort.
Scottie Wilbekin was good when he needed to be. For the second time in as many games, the SEC Player of the Year didn't have a good shooting night -- he finished 6-of-14 from the field. But he went 3-of-5 from 3, including a re-tee attempt late in the second half after Dorian Finney-Smith corralled one of UF's dozen offensive rebounds. It was the shot of the game, providing the buffer a cold Gators team needed to hold off Dayton's last-ditch push down the stretch.
Dayton's fans were great. Coaches and players talk all the time about how the exposure of the NCAA tournament reveals to the world things locals take for granted. Rarely was that maxim more true than with Dayton. The city and university have long shared a special relationship with the basketball team through thick and thin. If nothing else, this team's run -- marked by thousands of students celebrating in the streets, and the thousands of Dayton fans who giddily flooded into Memphis this week -- showed off that relationship to the world.
March, 15, 2014
3/15/14
9:29
PM ET
ATLANTA -- It's the matchup that both sides wanted. It's what fans lurking inside and outside of the Georgia Dome wanted.
And it's what anyone with any interest in seeing the SEC tournament final wanted.
Florida and Kentucky.
It's the nation's No. 1 team against the preseason favorite to win it all. It's the talk of "40-0" versus the whispers of Florida possibly making another Elite Eight run.
Kentucky, with all those fancy freshmen, was supposed to waltz through this season on the way to its ninth national championship in school history.
Florida's road was built with so many unknowns that many still aren't sure how the Gators got into the position of being the country's top-ranked team and staring at the No. 1 overall seed, regardless of what happens Sunday.
With the Gators' feisty 56-49 win over Tennessee and Kentucky's 70-58 victory against Georgia on Saturday, the stage is set to showcase the SEC's best teams and the league's only assured NCAA tournament locks on Sunday.
[+] Enlarge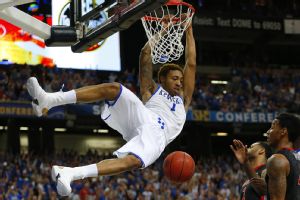 Paul Abell/USA TODAY SportsJames Young and Kentucky are excited to get one more shot at Florida this season. After losing twice to the Gators, "We want this game bad," Young said.
"I've had enough of Florida," Kentucky coach John Calipari said jokingly Saturday. "For four years I've seen the same guys. Some of them I think five years. I think they got a special program down there where they keep guys for six years.
"But what a great team. What a great story. What a great coaching job. You're talking about a team that it's almost an honor to play a team like that.
"My players can all say what they want. I'm not looking forward to playing Florida again."
Calipari laughed when he said that, but no one would be shocked if that statement carried more truth than anything. The Gators swept Kentucky during the regular season for just the fifth time in school history. The first game was a rugged 69-59 win in Lexington, Ky., while the second was an 84-65 shellacking in Gainesville, Fla., during the Gators' senior night.
It was a game that stamped a 1-seed on Florida's Gator head logo and left many wondering if Kentucky could even make any sort of postseason run.
"We played as a bunch of individuals on their senior day," Kentucky forward
Willie Cauley-Stein
said. "Now, we're sharing the ball, and that's been our turnaround.
"It's going to be a different feel, like it's not even the same team."
After two impressive
team
wins by the Wildcats and two slow first halves by Florida, Kentucky appears to be a more formidable opponent for the nation's No. 1 team.
"We want this game bad," said Kentucky guard
James Young
, who has averaged 17.5 points in two SEC tournament games. "We're just going to treat it like every other game and just come out and fight.
"We're going to come out with a little bit more energy in this game than what we had in the last two games."
Florida got here with minimal flash and a bevy of teamwork, while the Wildcats took a bumpier, more frustrating path that seems to have smoothed a bit in Atlanta. The Gators have been a cohesive unit for most of the season, leading them to a school-record 25 straight wins and an unblemished conference record for the first time ever. Florida also became the first SEC team to go undefeated during an 18-game SEC schedule.
The question now is if Florida has hit a bit of a wall. The wins continue, but back-to-back shaky first halves have shown holes in the Gators' armor. A loss Sunday wouldn't jeopardize Florida's seeding, but players say they've come too far and want the streak to continue into April with a trip to the Final Four and national championship.
"That's the plan, but we have to do a better job of coming out ready to play because the deeper we get into the season -- the deeper we get into the tournament -- the teams are going to get better," Florida guard
Michael Frazier II
said. "So we have to do a better job of being ready to play from the start."
The thing about these two teams is that they operate in completely different ways. Until recently, the Wildcats have had too much individual play, while Florida has always focused on the unit. Kentucky has a core of high school All-Americans, while the Gators have greatly improved veterans.
Kentucky basketball is exciting and high-flying when it's clicking. Florida ball is all about fundamentals, defense and control.
Think Miami Heat versus the San Antonio Spurs.
After two days, Kentucky has a little hotter hand, but Florida's blue-collar approach hasn't failed the Gators yet.
"We keep pounding the brick, keep pounding the brick," Florida forward
Dorian Finney-Smith
said. "Eventually, we're going to break through the wall."
December, 18, 2013
12/18/13
2:17
AM ET
NEW YORK -- Suspensions and injuries, so forth and so on.
The song of this Florida basketball team has been played on the strings of a tiny violin. Not that the Gators were courting sympathy they wouldn't get, anyway.
This season thus far has been about what the Gators didn't have because of injuries, both real and self-inflicted.
Let's, however, talk about what Florida has -- perhaps the most complete team since Billy Donovan won back-to-back championships.
Solid big man?
Patric Young
. Check.
Inside presence?
Will Yeguete
. Check.
Shooter?
Michael Frazier II
. Check.
Wing player who can go inside or stretch you outside?
Dorian Finney-Smith
. Check.
[+] Enlarge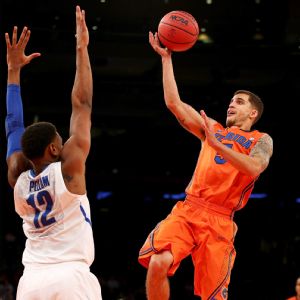 Elsa/Getty ImagesScottie Wilbekin's heady play at point guard adds to a Florida team that seems to have all the necessary components.
Savvy point guard?
Scottie Wilbekin
. Check.
Gifted, impossible-to-stop athlete and potential wild card?
Casey Prather
. Check.
Defense? Check.
Great coach? Check.
Potential wunderkind freshman-in-waiting?
Chris Walker
. Check.
Florida has been to three consecutive Elite Eight games, but in each of those runs, something was missing.
What's missing now?
Nothing.
"Florida is an elite team," Memphis coach Josh Pastner said after his team lost to the Gators 77-75 in the Jimmy V Classic on Tuesday. "We've played two elite teams -- Oklahoma State and Florida."
What makes Florida all the more intriguing, though, is that which you can't quantify.
The Gators have scars, which Donovan talked about after the Gators' win Tuesday night.
He didn't speak as if his team is hung up on what it hasn't accomplished, but it knows what it means to have scars.
Nobody has those anymore. Teams don't cart painful memories around because players don't last long enough to build up memories together. What you did lately has the shelf life of maybe six months. It's all about muscle memory, not collective memories.
But the Gators have four seniors, which essentially qualifies them for AARP benefits. These are guys who remember the successes of three consecutive Elite Eight runs but also the flip side of three could-be Final Fours that ended short of the doorway.
"They've got a lot of scars on them; they've been through a lot," Donovan said. "And maybe it's because they've been scarred enough and wounded enough, they understand that this is a journey."
The journey, however, could be another awfully good one for Donovan.
What he's done at Florida is nothing short of exceptional. Pastner said after the game that the Hall of Fame should just bypass whatever grace period it has and induct Donovan immediately.
He was being flip, but the reality will be there someday.
This is a man who came into a football school, won two titles and watched that entire roster leave, only to rebuild the team into an elite winner again.
Yet because those successes ended in regional final berths and not the last weekend, Florida gets pushed back into the pack of good teams, not great ones.
That could change this season. Kentucky waltzed into the season as the prohibitive favorite in the SEC, but compare the Wildcats to the Gators right now. Each has been through its own share of hard luck and trials, yet Florida has emerged much more cleanly.
Why? Scars and experience. Losing a player to an injury and waiting for your point guard to serve multiple suspensions is nothing when you've been through things together. You get by.
"We're just focused on right now," Prather said. "That's all we think about is right now."
That doesn't mean the Gators will march to the title. If this early season has proven to be anything, it is wildly unpredictable. Asked if he could exhale after coming through a run of four ranked opponents with a 3-1 record, Donovan said with utmost seriousness that he already was worried about Fresno State.
Nothing is in the bag. Florida isn't so good that it can just kick back and wait for March to roll around.
Joakim Noah isn't walking through that door, and so forth.
But this Florida team has the blocks upon which a champion can be built, the core fundamentals that we see more often than not (Kentucky and Anthony Davis being the anomaly).
Florida lost two games -- one by six at Wisconsin and one on a buzzerbeater at Connecticut. Neither time did they have their full roster.
And now they do.
"This is our team now; this is our core," Donovan said.
The rest of the world might be breathlessly awaiting the NCAA to allow Walker to make his debut because, after all, what are you these days without a stud freshman? Everyone has one!
But Donovan isn't waiting on Walker, who enrolled in school this week. He watched him get eaten alive by Young in practice because he's a wide-eyed teenager going up against a man.
Walker is not the savior. And more importantly, he doesn't need to be.
Florida has plenty just the way it is.
December, 11, 2013
12/11/13
1:00
AM ET
GAINESVILLE, Fla. -- The thing about assessing college basketball teams in November and December is that it's much easier to get it wrong than to get it right.
A team's full story is usually more layered than one outcome, one matchup or one streak can accurately illustrate in the first few weeks and months of any season.
Sometimes key players are injured. Sometimes key players are suspended. Sometimes key players are just green.
In No. 19 Florida's case, all three have been factors.
The Gators have had enough drama to warrant an E! reality TV show.
They entered Tuesday's 67-61 win over No. 13 Kansas at the O'Connell Center approaching 100 percent. In its most high-profile matchup of the year to date, Florida was almost fully staffed. The result was one of the most dominant performances -- in the first half, at least -- any team has ever played against Kansas and a reminder of what's possible when a team can finally use most of the players on its roster.
It was also a warning against premature analysis of a team in flux.
There were 16 -- yes, 16 -- Kansas turnovers in the first half thanks to Florida's frustrating 1-3-1 zone. Per ESPN Stats & Information, Kansas committed turnovers on nine of its 18 possessions and went 4-for-15 from the field against the 1-3-1.
[+] Enlarge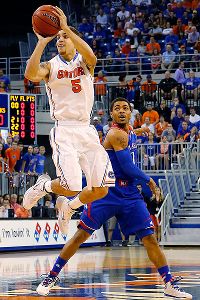 Sam Greenwood/Getty ImagesScottie Wilbekin's 18 points, six assists and four steals gave Gators fans a glimpse of what he can provide when he's in the flow of things.
The Jayhawks played like a team trapped in a fire pit.
There was a 21-0 Florida run that followed a 10-3 start by Kansas, changing the atmosphere in Florida's home venue. After missing six of their first seven shots in the first half, the Gators went 7-for-12 during that rally. Kansas failed to score for 8:43.
If the Gators were spontaneously lucky, then the Jayhawks were suddenly cursed. Blowouts can begin with such a sweeping shift that even the players involved can't describe it.
"I don't know what happened," Kansas star
Andrew Wiggins
said. "They just went on a run."
The Gators resisted a furious second-half Kansas rally that arose when Wiggins decided to cook up his best college game to date (first career double-double with 26 points, 11 rebounds, two blocks and four turnovers), showing NBA scouts that he's still worthy of being the No. 1 pick in next year's draft.
But
Patric Young
& Co. stayed strong and avoided panic.
"It just shows that when this team is healthy and has everybody out there, or even when we don't, we're going to put five guys out there that are going to play hard and run our offense and play our style of play," said Young, who finished with 12 points, six rebounds and three solid shoulders (minimum) into Kansas freshman
Joel Embiid
's sternum. "Our style of play was overwhelming for them. We need to bring that every single day."
Freshman
Kasey Hill
played 20 minutes after nursing an ankle injury and missing the previous four games.
Scottie Wilbekin
, who served a suspension at the beginning of the season, suffered an ankle injury during Florida's last-second loss at UConn last week. But he started against the Jayhawks.
Even with Wilbekin and Hill available, the Gators aren't 100 percent.
Billy Donovan's roster was missing five players due to suspension, illness or injury (excluding top-10 recruit
Chris Walker
, who was academically ineligible for the first semester) as the program prepared for its season opener against North Florida.
South Carolina transfer
Damontre Harris
will reportedly leave the team.
Eli Carter
, who averaged 14.9 PPG for Rutgers in 2012-13, will reportedly redshirt after suffering a broken leg last season. And Walker's status is still undetermined, though he could be eligible in a few days.
What do you get when you add a 6-foot-10 potential lottery pick to a nationally ranked program that's playing some of the best defense in America?
"I really don't know. I know he's a very good athlete," Donovan said. "My biggest thing with him is going to be how quickly can he pick things up. And I've got to do a good job of keeping things simple for him. ... I hope it will work out."
The (moving toward) full-strength Gators are quite talented -- Final Four talented.
That Kansas offense that crumbled under the pressure of a stiff zone in the first half is encumbered by problems such as inexperience, imbalance, inconsistency and shaky guard play.
But Bill Self's boys lost to an elite Florida squad. Tuesday night was just its first chance to prove it. Florida doesn't have one player who has averaged more than 20-plus minutes per game and played in all nine contests this season.
Florida didn't have
Dorian Finney-Smith
or Wilbekin in its loss to Wisconsin. Finney-Smith scored 15 points Tuesday and triggered that first-half rally by going 4-for-6 from the 3-point line. Wilbekin recorded a team-high 18 points, six assists and four steals in 36 dazzling minutes.
"Once you get them back, it is a good feeling to have everybody out there playing together," Wilbekin said. "You can see it. More rest. More versatile with what we can do on offense. And I think this is the first time you've seen us with everybody."
The Gators are growing as they solidify their roster. That constrictive defensive display against a program that might boast three first-round draft picks was impressive because of its effectiveness and suddenness.
Florida, if healthy, suspension-free and eligible, could be the SEC's best team and a national title contender in March.
But the Gators need more time together.
"I'm hopeful now, as we try to get a little bit healthier in this next week, it'd be good for us to get some of that continuity and cohesiveness on the court because there are times I see it and other times [not]," Donovan said. "I think guys need reps."
Florida wasn't pleased with the second-half sloppiness that could have turned a great win into a heartbreaking loss, though.
Once Florida began to play man-to-man defense in the second half, Wiggins grabbed his cape. He penetrated. He hit jump shots. He drew fouls. He was almost a hero.
Kansas had a final shot to change the outcome when it was down just 61-55 in the final minute. Florida unraveled at the free throw line (15-for-23 after halftime) and couldn't stick Wiggins. But the turnover ghost continued to haunt the Jayhawks.
Brannen Greene
lost control and fumbled the ball out of bounds with 45 seconds to play and a chance to cut Florida's lead to two or three, dooming the Jayhawks to their third loss in the past four games.
"We're just not a real skilled team," Self said, "yet."
October, 5, 2012
10/05/12
1:18
PM ET
Someday James Johnson will sit back and enjoy the moment he's waited on for 19 years. He'll savor the fact that, finally, after a career of climbing and trying, he's a head coach at a Division I institution.
He's just not sure when someday will come.
Since his whirlwind hire at Virginia Tech -- less than two weeks after he was named an assistant coach at Clemson – Johnson has had little time to stop, let alone stop and smell the roses.
[+] Enlarge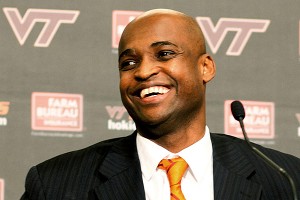 Kyle LaFerriere/US PresswireIt's been a whirlwind summer for Virginia Tech James Johnson as he tries prepare for the upcoming season.
"I really haven't had time to enjoy it yet," Johnson said. "The way it happened, the timing, I really had to hit the ground running and I haven't had a chance to take that deep breath and say, 'Wow, you're the head coach at Virginia Tech.' I'm hoping to get to that point."
Johnson was hired after a surprising, and somewhat tumultuous end to Seth Greenberg's career. Virginia Tech made the announcement that came not only late in the coaching carousel cycle but was scheduled without Greenberg even knowing it was coming.
Johnson walked into the middle of that bungled mess. He had who spent five years in Blacksburg, Va. on Greenberg's staff. The hope was his presence and continuity would help make the transition go more smoothly for the players.
Except that didn't pan out entirely.
Dorian Finney-Smith
, the team's leading rebounder, transferred to Florida and
Montrezl Harrell
, the Hokies' big recruit, opted for Louisville.
"That was tough, tough for the players who were coming back, especially when you lose a guy who was in the program who was talented but also well liked,'' Johnson said. "When they first heard, they took it hard but since then, they've taken ownership that this is our team. This is who we are this year.''
Who they are is young and thin. Johnson didn't sign anyone this summer, opting to go with what he had instead of making emergency pitches to players who might only be temporary Band Aids.
That decision leaves Johnson with a young roster of eight scholarship players in the ACC -- a conference that is reasserting itself as the best in the country if not this season then certainly the next when Syracuse and Pittsburgh join the ranks.
There is a good and a bad to such a youth movement. The good is Johnson has a clean slate to work with, guys who will grow up in his system.
The bad? Well, that's obvious.
"We've got to play in a very tough conference with some very good coaches,'' he said. "That makes getting through that lack of depth and youth hard.''
But Johnson is no stranger to doing the impossible. He served as an assistant when George Mason did just that. It's been a pioneer in what's become a steady pilgrimage of mid-majors to the Final Four.
It's about talent, of course, but Johnson said it's also about belief.
"A lot has to go right for you because every team out there is working hard with a lot of talent,'' he said. "But the most important thing, you have to believe you can do it. If you do that, I think the sky is the limit.''
Of course folks in Blacksburg are willing to start with baby steps. Fairly or unfairly, Virginia Tech has become the poster bubble program, a team that always has an argument to be put in the NCAA tournament field and an argument to be held out.
Lately the Hokies have been on the losing end of the debate, absent of the tourney since 2007.
If Johnson just can erase the uncertainty, he'll be wildly popular.
"The number one thing, of course, is winning. Win games and you take that out of the equation,'' he said. "But it's also about scheduling. That was done for this year when I got here, but we need to sit down and look at that a little bit.''
Another item on the endless to-do list for Johnson, another reason he'll have to keep bypassing those roses without taking a sniff.
June, 13, 2012
6/13/12
5:00
AM ET
1. Memphis has a chance to start the Big East with two of the highest-profile transfers remaining on the circuit. Or they could easily get shut out. That could be the difference between Memphis making a major splash in Year 1 or simply being one of the upper half teams during the 2013-14 season. The Tigers hosted Virginia Tech's
Dorian Finney-Smith
Tuesday and already had Mississippi State's
Rodney Hood
in for a visit. Finney-Smith is also looking at Florida, Louisville and Iowa State so Memphis has work to do. Hood is looking strongly at Duke and Ohio State. Its tantalizing what the Tigers could be with an inside-out combo of Finney-Smith and Hood.
2. UNLV, the new favorite in the Mountain West and a likely top 15-20 team, will get a jump on the season with an August trip to Canada. UNLV coach Dave Rice planned the trip perfectly with five newcomers, notably Anthony Bennett, Khem Birch and Katin Reinhardt, joining returnees
Anthony Marshall
,
Mike Moser
and
Justin Hawkins
. The Runnin' Rebels will get 10 days of practice in advance of the trip.
3. Kentucky's
Anthony Davis
Jr., who will be the top pick by the New Orleans Hornets on June 28, is finally close to signing with an agent, according to his father, Anthony Sr. Davis has taken an unorthodox approach to the draft process, going without an agent during the month of May and through the Chicago pre-draft camp. Davis Sr. said they are choosing between the Wasserman Group (Arn Tellem) and CAA (Leon Rose). His father said a decision could be made by Friday. Davis is likely the last of any potential first-round players to sign with an agent.
May, 14, 2012
5/14/12
11:49
AM ET
Editor's note: It's the offseason edition of The Watercooler. Eamonn Brennan and Myron Medcalf discuss "The Avengers," UNLV's loaded frontcourt, Larry Brown, Arizona buzz and more.
Eamonn Brennan
: Good morning, Myron. Two weeks after our last Watercooler and I'm finding a dearth of topics for us to discuss. Instead, I'm pining for the season, when we had no shortage of fun topics. This offseason is killing me. Thank goodness for the NBA playoffs and "The Avengers," which I found to be almost exactly what I expected when I went and saw it Sunday night. How are you holding up?
Myron Medcalf
: I'm surviving, Eamonn. I'm with you. I'm searching for ways to get through it. The NBA playoffs have been interesting, but they're not enough. C'mon, Indiana and Kentucky, stage an offseason exhibition since we'll never see the real thing. Just saw "The Avengers" too. First, it's as good as advertised. "Dark Knight Rises" should watch its back. Great movie. Although that part at the end … I won't spoil it. Since we're talking superhero movies, which players would earn a spot on your "Avengers" squad for the 2012-13 season? I'll go with
Nerlens Noel
,
Cody Zeller
,
Doug McDermott
,
Peyton Siva
and
Trey Burke
. You?
[+] Enlarge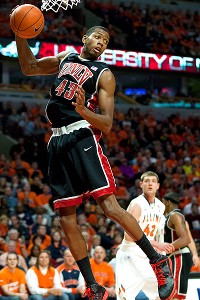 Damen Jackson/Icon SMIUNLV's Mike Moser is part of what should be one of the country's best frontcourts next season.
EB
: It's awfully hard to argue with that list. Fearsome stuff. Here's my pivoting question: Does UNLV have the best frontcourt in the country?
Anthony Bennett
's commitment over the weekend puts him alongside
Mike Moser
to start the season, and former Pitt transfer (and 2011 No. 1-ranked center)
Khem Birch
will be eligible in December.
MM
: Yes. Simple answer. That frontcourt had firepower without Bennett. Adding a phenomenal athlete such as the Canadian standout enhances that potency. Moser should be a Wooden Award candidate. Birch and Bennett too. Wow. … Hold on a minute, Eamonn, while I check this report. … Virginia Tech loses
another
player? Kind of shatters the whole continuity mission, right?
EB
: Yeah. With the exception of continued expansion around the smaller leagues, I thought that was the story of last week. The
Dorian Finney-Smith
transfer was reportedly in the works for months, but the
Montrezl Harrell
NLI release was bad news too. New coach James Johnson will have eight scholarship players for next season, and you have to wonder whether Tech wouldn't have been better off taking another crack at this thing with Seth Greenberg in charge. It's a bit of a mess.
MM
: Hard to feel sorry for Va. Tech. When you fire an established coach, albeit one who couldn't quite crack the success bubble, in late April, you
must
have a plan. It was just a sloppy process. You get a Greenberg staffer, you keep the recruits and returning players, right? Wrong. Johnson is going into a tough first season. Larry Brown, however, is grabbing transfers like … can't think of a good metaphor, but he's signed
Josiah Turner
and
Crandall Head
. Can Brown win at SMU?
EB
: I'm assuming SMU is willing to take this coming season with a grain of salt, choosing to wait for the transfers to come online in Year 2 of the Larry Brown project. I think Turner will turn it around there. I'm not sure how good Head is in the first place. I (sort of) wrote this last week: I really don't know how the Brown thing is going to go. How long will he stick around, anyway? If they aren't winning by the end of his second season, is he gone? How much talent can his name brand (plus his good assistant corps) land him in that time? SMU woke up one day and realized it should care about basketball, and this is the result. I have no idea if it works or not.
MM
: I agree. He definitely has a talented staff, but it's hard to know how long it will take SMU to make a dent in the Big East. It might never happen. … Arizona has made some offseason moves that will position Sean Miller to win now.
Mark Lyons
and that top-three recruiting class. Nice. I think Arizona deserves more offseason buzz.
EB
: I have my lingering doubts about Lyons as a teammate -- he comes with a lot of baggage from his days under Chris Mack at Xavier. But maybe a fresh start is just what he needs? Arizona's recruiting class has it back on the map, and UCLA has made itself a likely top-five team heading into the season. The rest of the conference might still be stuck in 2011-12 mode, but at least the two dominant Pac-12 programs will be back on the map in 2012-13. I don't recall a head-to-head matchup in the league this good in quite some time. Desperately needed.
MM
: You're right about Lyons. Definitely a wait-and-see situation in Tucson. But this is his last shot. Maybe he needs a change of scenery, but his attitude will influence those youngsters. So Miller needs Lyons to get his mind right. Arizona could reach the Final Four or it could implode again if the chemistry is jacked up. I think the Wildcats will find success next season. And yes, the Pac-12 needs UCLA-Arizona. We need it. … My parting shot for this edition of our Watercooler chat is that Kenneth Faried's success at the next level should change the way college coaches view "undersized" forwards.
EB
: Energy and effort go a long way. It helps to be freakishly athletic too. He is going to be a solid pro for a lot of years. One example of why staying in college for four years, or even three, can be a massive benefit to certain guys. Faried is one of them.
Anyway, we'll be keeping an eye on the various college hoops stories bound to bubble up these next two weeks. Until the next alternate Monday, Myron?
MM
: Yep. Until next time. … On a side note, chances are that "Avengers" references will seep into our future Watercooler posts. Our readers should definitely see the film. Now.
EB
: You've been warned, people. No excuses.
May, 11, 2012
5/11/12
1:59
PM ET
That was the hope for new coach James Johnson, one Virginia Tech athletic director Jim Weaver cited as a main reason for lifting the longtime assistant to the first head coaching position of his career: continuity.
Less than two weeks since Johnson took the job, the results are decidedly mixed.
[+] Enlarge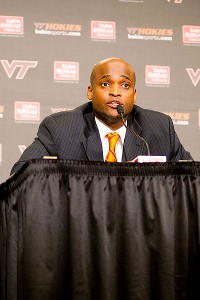 Kyle LaFerriere/US PresswireIn his early days on the job, new Virginia Tech coach James Johnson has had two promising young players opt to play elsewhere.
This week, the most promising Virginia Tech youngster in a generation -- freshman
Dorian Finney-Smith
, a top 20-ranked recruit in the class of 2011 (the No. 4-ranked small forward, behind only
Michael Kidd-Gilchrist
,
Adonis Thomas
and
LeBryan Nash
) and an ACC All-Freshman Team member in his first season with the school --
asked for a release from his scholarship
. On Friday,
per the Washington Post's Mark Giannotto
, Tech's top incoming recruit in the class of 2012 -- power forward
Montrezl Harrell
-- has asked for a release from his national letter-of-intent.
He will get that release, Johnson told the Post, because he wants players "that want to be here and are happy and excited about Virginia Tech."
As of now, you could forgive most Virginia Tech fans for falling short of that standard. One of the main reasons for hiring Johnson was, of course, the hope that Harrell and fellow incoming freshman
Marshall Wood
would decide to stand by their commitments. The good news? Last week, Wood confirmed as much. The bad news? Harrell is seen as a much more promising prospect. Without him and Finney-Smith, the Hokies lose a major portion of the frontcourt Johnson planned to develop in 2012-13. Instead, the Hokies will be rebuilding, playing with just eight scholarship players, and hoping for the best.
Of course, it wouldn't be fair to appraise Johnson's job performance yet. That sort of judgement takes years to render; it is far more complicated than the retention of two key players in the midst of a coaching transition. (And Johnson does deserve some credit for granting Harrell a smooth release and allowing Finney-Smith to transfer to any school "not in direct competition with the Hokies," i.e. anywhere that isn't an ACC school. To paraphrase "Inside the NBA's" Kenny Smith, that's a little like praising parents for taking their kids to school; you're
supposed
to take your kids to school, and coaches
should
grant players their releases. But even so, it's good to see.)
Still, the early returns on the Virginia Tech continuity project are in, and they aren't looking great. Finney-Smith and Harrell were the most important recruiting efforts Johnson could wage this early in his tenure, and neither ended up remaining with the team.
That might or might not be Johnson's fault -- reportedly, Finney-Smith was never comfortable at Tech, and had been mulling a transfer for months, and if two players don't want to be Hokies, well, what are you going to do? But however you look at it, the early results are inauspicious. Virginia Tech fans have reason to be discouraged.
And somewhere, former coach Seth Greenberg, who was so casually fired after a long and relatively successful tenure at the school, is probably wondering what all the fuss was about in the first place. It's been a tough few weeks in Blacksburg, Va.
April, 24, 2012
4/24/12
5:00
AM ET
1. Former Virginia Tech coach Seth Greenberg was convinced he had a much-improved team next season.
Erick Green
would likely be an all-ACC guard.
Dorian Finney-Smith
is a possible star in the league. Last season's team had only three seniors. That's why this reeks of a classic athletic-director move of firing a head coach to set up a winning roster so the new coach has success in year one before a rebuild begins. The timing, with two-plus weeks left in the spring signing period, and the spring semester ending soon, might make it harder for anyone to leave.
2. UCLA has a chance for a special season with the top-rated recruiting class led by
Shabazz Muhammad
,
Kyle Anderson
,
Jordan Adams
and now
Tony Parker
, too. This is a Calipari-Kentucky-like class, oozing with one-and-done NBA potential. But for the Bruins to have a unique season like Kentucky just had, they must get veteran leadership, too. UK always had at least two selfless contributors who were upperclassmen. That puts the burden on
Josh Smith
,
David
and
Travis Wear
, Larry Drew II and
Tyler Lamb
to show significant improvement in leadership as well as their production.
3. Schools looking at
Mark Lyons
should pause after reading Xavier coach Chris Mack's statement. If Lyons was against the constructive criticism about what he needs to improve upon, then why toss a potential disruptive force into a locker room for only one season? Lyons has to share some of the blame for Xavier's mid-season collapse before the Musketeers rebounded to reach the Sweet 16. But something is clearly wrong if he can't finish his final year at Xavier.
February, 13, 2012
2/13/12
8:00
AM ET
Remember earlier this season, when it looked as though the ACC might not get more than three NCAA tournament bids? As many as six are making cases now. My attempt at this week's power rankings:

1. Duke:
The Blue Devils beat Maryland over the weekend, but it will be their come-from-behind victory at UNC on Wednesday -- rallying from 10 points down in the final 2:38 -- that will linger in the annals of the rivalry. Freshman
Austin Rivers
, who scored 29 points (including the winning 3-pointer) in the victory, averaged 20 points, three rebounds and three assists for the week -- and shot his team back to the top of these ratings.
2. North Carolina:
The Tar Heels -- led by forward
Tyler Zeller
-- bounced back from the Duke loss with a double-digit win over Virginia. But they've hit only 2 of their past 16 3-pointers and will be thin on the bench until freshman
P.J. Hairston
(who missed Saturday's win with a sore foot) returns.
3. Florida State:
Forward
Bernard James
scored 15 of his 18 points in the second half to help beat Miami, but the loss at Boston College has to burn. Guard
Michael Snaer
, who had been shooting better than 57 percent from 3-point range during his team's seven-game winning streak, managed only one 3 against the Eagles, proving again how key he is to this team's success.
4. Virginia:
Coach Tony Bennett was able to rest star forward
Mike Scott
for a long second-half stretch in a blowout victory versus Wake Forest. But Bennett would have liked to have used him more at UNC, where the senior was in foul trouble early and his team lost by double figures. The Cavs have lost two of their past three games, both to Top 25 foes.
5. NC State:
Junior
Scott Wood
finally missed a free throw, ending his ACC-record streak at 66. But the Wolfpack won their only game last week, at Georgia Tech, avenging their loss to the Yellow Jackets last month. They have won three in a row.
6. Miami:
Reggie Johnson
was held to four points as FSU halted the Hurricanes' winning streak at five. Next up: a home rematch with UNC.
7. Maryland:
With players moving in and out of the lineup early on, first-year coach Mark Turgeon said it felt as though he had coached several different seasons in one. Add another. Starting point guard
Pe'Shon Howard
, who missed the first nine games with a stress fracture in his foot, is out for the rest of the season with a torn ACL in his knee. The Terps lost their first game without him (again), at Duke.
8. Clemson:
After losing three straight games by four points or fewer, the Tigers got a 20-point blowout win at Wake Forest. Forward
Milton Jennings
, back from his second suspension of the season, scored 15 points.
9. Virginia Tech:
The Hokies followed a sloppy 16-point loss at Miami with a one-point win over Boston College on Sunday when
Dorian Finney-Smith
hit a tip-in with 1.8 seconds left.
10. Boston College
: Eagles coach Steve Donahue said he doesn't put great emphasis on wins and losses, considering the youth of his team. But he had to be thrilled with the Eagles' upset win over Florida State, its third ACC victory of the season. They followed that with a one-point loss to Virginia Tech.
11. Georgia Tech:
Tech made only 1 of 17 3-point attempts against NC State and has lost seven of its past eight games.
12. Wake Forest:
The Deacons' 20-point loss to Clemson marked their sixth straight defeat. "Obviously we are embarrassed," coach Jeff Bzdelik said, according to the Winston-Salem Journal. "Obviously we have some limitations on this team. ... What we have to do is be stronger and tougher to stay the course with great energy in those areas we can control -- like defending and rebounding and running the court."
Follow Robbi Pickeral on Twitter at @bylinerp.
December, 2, 2011
12/02/11
4:32
PM ET
Playing without two starters in its lineup, Minnesota still managed to secure a 58-55 victory over Virginia Tech Wednesday in Minneapolis, part of the ACC/Big Ten Challenge.
But according to the Big Ten, an official's crucial backcourt violation call in the closing seconds was the wrong ruling and the referee who made the call will be disciplined because
Robert Brown
, who tried to catch the inbounds pass, never established possession.
"The Big Ten Conference announced (Friday) that it has disciplined a men's basketball official for misapplying a rule in the final seconds of the Virginia Tech-Minnesota game played on Wednesday evening," the statement read. "The misapplication of Rule 4 Section 3, back court/front court, occurred with 9.9 seconds remaining in regulation."
Down 56-55 with 9.9 seconds on the clock, Virginia Tech's
Dorian Finney-Smith
tossed the ball to Brown on the inbounds. Brown bobbled the pass and the ball crossed halfcourt. An official blew the whistle, signaling a backcourt violation.
But Rule 4, Section 3, Article 6 of the NCAA rulebook says, "After the throw-in ends, an inbounds player in the front court, who is not in control of the ball, may cause the ball to go into the back court."
The Gophers regained possession after that call and
Julian Welch
knocked down a pair of free throws to seal the victory.
It was a crucial game for the Hokies, who've fallen into the "snubbed" category for the NCAA tournament multiple times in recent years. A road loss to a Minnesota squad that played without starters
Ralph Sampson III
and
Trevor Mbakwe
could hurt their resume in March.
So the frustration that the call spurred among Hokies fans is certainly understandable.
November, 23, 2011
11/23/11
1:00
PM ET
NEW YORK -- The NIT Season Tip-Off had a rather pedestrian look to it when the four host schools were announced last year.
Syracuse was the class of the event, while the other three hosts were hardly locks to even reach New York. Seeing Virginia Tech upset by George Mason, Stanford by Colorado State and Oklahoma State by Texas-San Antonio wouldn't have been far-fetched possibilities.
Tech never faced Mason as Florida International took down the Patriots before falling to the injury-riddled Hokies. The Cardinal got past the Rams and is one of the few Pac-12 teams feeling quite good about itself two weeks into the season. And the Cowboys made a remarkable comeback against UTSA (down 11 late) at home, winning in overtime to reach New York.
The difference with the NIT Season Tip-Off and the rest of these early-season tournaments is that the four hosts are not guaranteed a spot in the semifinals.
"You have to earn your way here,'' said Stanford coach Johnny Dawkins.
Two schools will be playing in the backdrop of difficult news stories. Oklahoma State's men's team, especially head coach Travis Ford, is coaching and playing against Stanford with a heavy heart after the tragic plane crash claimed four lives, including head women's basketball coach Kurt Budke and assistant Miranda Serna. The team and staff feel a bit awkward not being in Stillwater helping the women's team through their grief. Instead, they will face Stanford Wednesday night (ESPN2, 7 ET).
Syracuse's players may not be distracted or affected, but the coaching staff has been slammed by the news that Bernie Fine is on administrative leave for allegations that he molested two ball boys two decades ago while on the staff. That move prompted Syracuse coach Jim Boeheim to move favored alumnus Gerry McNamara to a coaching/recruiting role on the bench where he'll be for Wednesday night's matchup against the Hokies (ESPNU, 9:30 ET).
On the court, here are the questions heading into Wednesday's games:
How good is Syracuse?

Boeheim said the Orange hasn't been seriously tested yet. Syracuse will be the home team in Madison Square Garden, but the bigger question is will it be pushed? The Orange big men are still a work in progress. But
C.J. Fair
,
Fab Melo
and
Rakeem Christmas
have been more than serviceable. They are rebounding well enough and can continue to show progress in this tournament. Virginia Tech is depleted inside so this is a chance for any of those three players to shine.
The Orange is playing essentially 11 players, but could easily trim that down to a more manageable seven in crunch time. The perimeter of
James Southerland
,
Dion Waiters
,
Kris Joseph
,
Brandon Triche
and
Scoop Jardine
are the core of this group and should continue to lead it throughout the season.
Melo is in much better condition, and that's helping his game. Waiters has excelled as a defensive player. But, as Boeheim said Tuesday, this team hasn't faced adversity yet so he's not sure what will occur.
"We haven't been tested at all yet,'' Boeheim said.
Syracuse may get pushed this week in New York. But if it doesn't happen here, it will happen against Florida on Dec. 2 in the SEC/Big East Challenge, possibly against Marshall at the Carrie Dome (Dec. 6) or on Dec. 17 at NC State.
How much will Oklahoma State's freshmen excel in this environment?

The Cowboys haven't received publicity yet. But they have two of the more intriguing freshmen in the country. Six-foot guard
Cezar Guerrero
is a mini version of Ford.
Guerrero has the green light to shoot 3-pointers, and was 8-of-17 from long range against UTSA. The Cowboys took 38 3-point shots against the Roadrunners, making 14 of them. Guerrero hit a combined 2-for-6 3s in the two previous games against Arkansas-Pine Bluff and Texas A&M-Corpus Christi. He finished with 29 points in the win over UTSA and is averaging 15 points a game. Guerrero may have to do even more with
Keiton Page
still nursing a turf toe on his right foot. Page was in a walking boot Tuesday but said he expects to play against Stanford.
The third-leading scorer is the freshmen with the hype:
Le'Bryan Nash
. Nash has been averaging 12 points and 6.3 rebounds per game, but has been a bit subdued. He is certainly capable of putting up even more impressive numbers.
Stanford will have its hands full trying to check both of these players. But this is also the first time the Cowboys have been on this stage. Oklahoma State scheduled well and will return to MSG to play Pitt on Dec. 10.
How much momentum does Stanford have?

Plenty. The Cardinal took a major hit when Jeremy Green decided to stay in the NBA draft, despite not being drafted. But the team hasn't made any excuses. Sophomore
Aaron Bright
has led this squad with important contributions from senior
Josh Owens
and freshman
Chasson Randle
.
The Cardinal beat rebuilding Fresno State and gritty Colorado State to get to New York. Dawkins said he's looking to change the expectation of winning at Stanford. The program had a rich history under Mike Montgomery, and Trent Johnson was able to continue it with the Lopez twins. But Stanford went through a major rebuilding stretch, which meant it has missed the NCAA tournament during Dawkins' tenure.
Dawkins is from Duke, so he's obviously set a high bar.
"We want to have a standard of excellence,'' Dawkins said. "I want to have the vision that we had at Duke.''
If there ever was a year to move up in the Pac-12, it might be this one. So far this season, the most consistent teams in the league have been Arizona, Oregon State and, until the Golden Bears' blowout loss Tuesday night to Mizzou, Cal. Stanford can join that company with a strong showing in New York.
Will Virginia Tech emerge as a legitimate candidate and compete for a top-four finish in the ACC?

That spot is open behind North Carolina, Duke and Florida State. Virginia had the inside track -- and may still be the one -- but it struggled a bit in the Paradise Jam in the Virgin Islands. NC State has the talent to be the fourth-best team. The Wolfpack nearly beat Vanderbilt before an impressive 18-point comeback win over Texas in the Legends Classic consolation game. Miami is depleted inside. Clemson had the look of a top-four team, but then lost to Coastal Carolina at home.
Now it's Virginia Tech's turn to see what it can do in late November.
The Hokies are playing without big man
J.T. Thompson
, who tore his ACL for the second-straight season. But that injury has opened up more time for freshman big man
Dorian Finney-Smith
, who is averaging a team-high 11 boards and dishing out a team-best 4.3 assists a game.
But it doesn't help that junior guard
Erick Green
is nursing a strained Achilles. He didn't play in the opener against East Tennessee State, but did see action against Monmouth and Florida International, scoring in double figures in both games. While Green heals, the Hokies are leaning even more on
Dorenzo Hudson
to score. Hudson, who was limited to only nine games last season due to injury, is the go-to player without Malcolm Delaney. He was a perfect 12-for-12 from the line and scored 31 points in the win over FIU.
"We've got young guys up front and experienced guards,'' said Va. Tech coach Seth Greenberg. "We're understanding who we are.''
And that's a defensive-minded team. The Hokies have limited their opponents to 7 of 50 shooting so far. That's just 14 percent.
"This is a very unselfish team that shares the ball,'' Greenberg said.
Expectation:
Syracuse has the most talent and is the only ranked team. The Orange should win both games. But whoever gets out of here with a split will have strong momentum going into December. And all three -- Oklahoma State, Stanford and Virginia Tech -- have higher ceilings this season than originally projected.
November, 14, 2011
11/14/11
4:25
PM ET
A look at some of the notable performances and the numbers you need to know from the weekend in college hoops.
Familiar Faces

•
South Dakota State's
Nate Wolters
went off for 32 points and 11 assists on Saturday vs Western Michigan. Last season, only five players put up 30-point, 10-assist games. Wolters is the first to do it in November since 2008 when both Stephen Curry and David Holston pulled it off.

•
North Carolina
point guard
Kendall Marshall
dished out 15 assists while committing only one turnover in the Tar Heels win over
UNC Asheville
on Sunday. The assist total fell one shy of his career-high from last season. The last ACC player with 15 more assists and one turnover or fewer?
Maryland's
Terrell Stokes in November 1998.

• Starting for the first time since his freshman season,
J'Covan Brown
matched a career-high with 28 points and set a new one with eight assists as
Texas
topped
Boston University
on Sunday. He's the first Longhorns player with at least 28 points and eight assists in a game since D.J. Augustin in 2007.
Old Names, New Playing Time

•
UNLV's
Mike Moser
went off for 16 points and 20 rebounds on Friday vs Grand Canyon in his first game with the Runnin' Rebels. As a freshman at
UCLA
in 2009-10, Moser finished the season with nine points and seven rebounds.

• Last season,
Jamal Wilson
scored 38 points in Friday's season opener for URI. That's the most by a
Rhode Island
player since Zach Marbury, Stephon's younger brother, scored 38 against
La Salle
in January 2001. Last season, he scored 87 points in 17 games, and didn't score his 38th point until his 10th game.

•
San Diego State
lost its top four scorers from a year ago. So who will fill that void? Sophomore
Jamaal Franklin
made a statement on Sunday with 31 points against
UC-Davis
. Franklin scored only 64 points all last season, and already had a career high at halftime in this one.

•
Tennessee
sophomore
Trae Golden
scored 29 points in the season opener against
UNC-Greensboro
. He managed just 93 points all last season, and never scored in double figures. He was 5-for-9 from three-point range, after hitting just six all last season.
Nice First Impressions

•
Virginia Tech
freshman
Dorian Finney-Smith
put up 10 points, 16 rebounds, five assists and four blocks in his first career game against
Monmouth
. He was the first Hokies player with a double-double in his debut since Jeff Allen in 2009. Over the past 15 seasons, no ACC freshman had at least 15 rebounds and five assists in a game.

•
Anthony Davis
scored 23 points and added 10 rebounds, as
Kentucky
beat
Marist
108-58 on Friday. Davis became just the third Kentucky freshman with 20 points and 10 rebounds in his debut. He joins current teammate
Terrence Jones
and Sam Bowie.

•
Iowa
freshman
Aaron White
needed only 18 minutes of action to pick up a double-double in his first career game. White finished with 19 points and 10 rebounds in Friday's 96-53 win over
Chicago State
. The 19 points are believed to be the most by an Iowa freshman in a season opener. He's the first Hawkeye freshman with 10 points and 10 rebounds in his debut since Jess Settles in 1993.