College Basketball Nation:

Doug Collins
November, 10, 2010
11/10/10
12:12
PM ET
If anyone knows how to work with
Evan Turner
, it's Thad Matta. It took a couple of years for Evan Turner to figure things out. His first year at Ohio State wasn't bad, but it was marred by the occasional rumbling that Turner wasn't exactly the easiest player to coach. Then, as a sophomore and junior, under Matta's tutelage (and brilliant decision to make Turner, a 6-foot-7 wing, his point guard last season) The Villian became, well, The Villian.
[+] Enlarge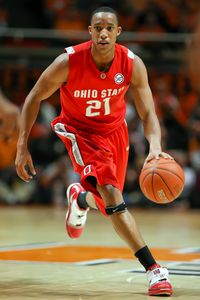 Robin Alam/Icon SMIThad Matta helped Evan Turner's career at Ohio State.
The beginning of his rookie season was marred by similar issues as his freshman year at OSU. Reports surfaced that Turner wasn't getting along with his coaching staff and teammates. Things appear to be looking up -- Turner played very well in his first start on Sunday -- and, interestingly enough, Matta's ongoing experience with Turner might be part of the reason why.
From PhillyBurbs.com
:
Collins, the Sixers' coach, said he told the Ohio State coach how proud Matta must be of the way former Buckeye Evan Turner played in Turner's first NBA start. [...] Matta texted back to "just keep showing him the 'how' and the 'why' because the kid wants to win," according to Collins. [...]

"I'm kind of always trying to understand why we're doing what we're trying to do and why things occur," Turner said.
You can see where that desire to know "why" might get Turner in trouble with coaches. Coaches don't expect players to ask for underlying reasons for every command. They expect their players to do what they say. (If your mom tells you to clean your room, you do it, even if you disagree with the practice in theory.) But Turner's time at Ohio State proves he's been here before and, given the pressures of the NBA, you could argue that Turner's rookie season is already going better than his freshman year. If Sixers fans suddenly see a potential rookie of the year candidate at the small forward spot, they might just have Matta to thank.
July, 1, 2010
7/01/10
4:35
PM ET
Unless you're, like, in high school -- in which case, never leave; stay here as long as you can! -- anyone reading this blog almost surely remembers former Missouri coach Quin Snyder. Snyder was a one-time golden boy, a former Duke assistant with a law degree, whose tenure at Missouri ended in relative disgrace. Snyder took over Missouri from longtime head coach Norm Stewart in 1999 and won immediately. In 2004, though,
Snyder was linked to 17 different NCAA allegations
, including providing meals and gifts of clothing to his own players. He resigned after a six-game losing streak in the 2005-06 season.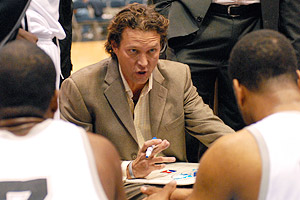 John Rivera/Icon SMIAfter leaving Missouri, Quin Snyder coached for three seasons in the NBA D-League.
Also, one time he sang "Eye of the Tiger" in the locker room at halftime. Yeah,
that happened
.
After his resignation,
Snyder divorced, fell into a depression and then went off the grid
-- living with Doug Collins, visiting Costa Rica, taking the kind of mental exile usually reserved for artistically bereft bohemians -- before taking a job in the NBA D-League coaching the Austin Toros. Snyder won plenty of games in his three years with the Toros. He sent more players to the NBA than any other D-League coach during that time.
Now, he's been rewarded with redemption: A spot on Collins' staff
as an assistant for the Philadelphia 76ers
.
Seattle Times columnist Steve Kelley
talked to Snyder about his extreme career arc
, and the coach seems fairly chastised by the whole thing, even if he has an annoying tendency of talking like he's a major celebrity merely seeking refuge from the vicious media circus:
"I realize that I've led a very public life," Snyder, who has become a member of new Philadelphia 76ers coach Doug Collins' staff, said this week as he prepared to coach the Sixers in the Orlando Summer League. "But it's not something that I've ever really wanted. I realize it's part of the profession, but it's not something that's to my liking. There's no question that I didn't want to put my life on display."

[...] But, as he planned his future, Snyder kept coming back to basketball. He didn't miss the attention, but he still wanted the gym, still loved the culture of coaching.

"I decided, you know what, I like my horse. I don't want to get a different horse. I've got a good horse," he said. "But there was no question I didn't want to put my life on public display again."
That desire, Snyder said, led to his decision to take a job in the NBDL. Which makes sense. The NBDL is pretty much a pure coaching gig; there's little media interest and no recruiting to worry about, so you can pretty much just focus on teaching the game and winning in the process.
Still, the "public display" stuff is grating. Snyder was the focal point of a Missouri basketball program that generates plenty of local interest, and he was a rising coach in the national ranks when he took the job, but it's not like he's Tom Cruise. He lived in Columbia, Mo. He coached college basketball. He wasn't attending movie premieres in Cannes with Katie Holmes and jumping up and down on Oprah's couch. Paparazzi weren't stalking him on his front lawn. And when you throw in the allegations of violations that eventually caused Snyder's flame-out in the first place, the whole line of thinking is more than a bit baffling.
Still, hey, good for him. Everybody deserves a second chance. Maybe, one day, Snyder will decide the "public display" stuff is worth it, and maybe he'll get another chance at coaching college basketball -- this time with the knowledge that if you skirt the lines of impropriety, it can come crashing down in a heartbeat. That's the Snyder I want to see. Despite it all, the man can coach.
And also, another inspirational halftime rendition of a cheesy 1980s ballad wouldn't hurt anybody. "Don't Stop Believing," perhaps?