College Basketball Nation:

Drew Barham
February, 13, 2013
2/13/13
4:20
PM ET
As last week's weekly debate ensued -- "Who's No. 1?" -- a multitude of squads were mentioned. Duke, Indiana, Michigan and Miami were all possibilities. And the conversation continues this week with Michigan State's convincing 75-52 win over rival Michigan Tuesday night and the return of
James Southerland
at Syracuse adding both programs to the ongoing discussion.
But Gonzaga, even though the program received two first-place votes in the Associated Press poll, has rarely been touted as a true candidate for No. 1 status.
The Bulldogs may climb, especially with what would be an impressive win at Saint Mary's Thursday night, but there's a greater chance that someone in the Big Ten, Big East or ACC will leapfrog them even if the top 5 stumbles again in the coming weeks.
On paper, it doesn't make much sense.
[+] Enlarge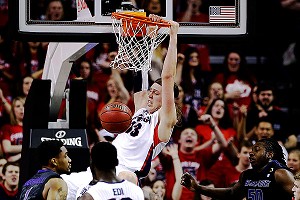 AP Photo/Elaine ThompsonBig man Kelly Olynyk is helping Gonzaga make a case for the nation's No. 1 ranking.
If you were to put center
Kelly Olynyk
in a UCLA or North Carolina or Duke or Michigan uniform, he'd warrant more buzz in the Wooden Award dialogue. Olynyk is ranked first in Ken Pomeroy's offensive ratings (128.8, No. 1 among players who've used at least 28 percent of their respective teams' possessions).
Gonzaga is seventh in the current BPI. The Zags own a plus-17.6 scoring margin against West Coast Conference schools. They're shooting 49.4 percent from the field and committing just 10.7 turnovers per game in conference play, too.
And, they're one of the deepest squads in the country.
From Jim Meehan of the Spokesman-Review
:
It's been a month since Gonzaga held off visiting Saint Mary's 83-78 and here's how things can change in that period of time:

Two Bulldogs who didn't see the court in the first game figure to play a larger role when the WCC men's basketball rivals collide Thursday in Moraga, Calif. Drew Barham and Kyle Dranginis have seen a steady bump in their playing time the last few weeks at the "3" position.

"I think they'll both definitely play," coach Mark Few said. "Saint Mary's likes to play off David (Stockton), Mike (Hart) and Guy (Landry Edi). We'll see if they choose to play off those guys."

The Bulldogs have used a variety of options at the "3." Edi started 13 games, but his playing time has dwindled since the Oklahoma State game. Hart has made 10 starts and been a solid rebounder and defender. He's committed just four turnovers in 380 minutes.

Barham and Dranginis both have started one game. They've provided an offensive boost of late.

"I've been in here working, getting shots up and staying prepared so when people go zone or they help off the "3" or double our bigs, I'll be able to come in and give the team a boost," said Barham, who has hit 9 of 14 3-pointers in Gonzaga's last five games.

Few went with Barham as the starter for Pepperdine because the Waves tend to play zone and sag off the "3." Few started Hart against Loyola Marymount because he anticipated a physical contest that was "going to be about rebounding and getting in the gaps and playing defense."

Dranginis has played double-figure minutes in four of the last five games. He's averaging 5.6 points during that stretch.

"We find out (who is starting) usually the day of the game or the day before," said Hart, who had six rebounds against LMU. "It doesn't matter to any of us. We're all happy contributing any way we can."
How many teams can match that versatility?
Yet, the Zags have a perception problem.
Even though they have wins over Kansas State, Baylor, Oklahoma State and a bizarre loss at Butler, they're not engaged in the week-to-week in-conference wars that most of the top-10 endures.
Saint Mary's is the
only other WCC squad in the BPI's top 50
. Five schools are ranked 140
th
or lower.
No matter how well they play, the Zags just don't have many opportunities to prove to the college basketball world that they're worthy of a No. 1 slot.
I can see the Zags emerging as a true No. 1 contender in the eyes of the public/voters without a lot of chaos at the top. But last week was one of the most tumultuous weeks of the year, and the Zags ended up with a No. 5 ranking in the Associated Press
rankings
.
And I can't say I disagree with that.
Perhaps they're better. Maybe we'll realize that we've made a mistake by failing to grant the Zags more street credit as one of the country's top two or three squads come March.
Right now, however, it's difficult to reward a program that is rumbling through a league with so little competition.
It's a tough situation for the Zags.
They're doing what they're supposed to do. They're doing it well. They're just not doing it against teams that can put up much of a fight.
October, 11, 2011
10/11/11
12:51
PM ET
By
Diamond Leung
| ESPN.com
Mysterious Memphis trainer Frank Matrisciano continues to be the secret weapon for a Tigers team that already features energetic coach Josh Pastner, former McDonald's All-Americans on the roster, and even a celebrity assistant coach in Luke Walton.
Matrisciano
hasn't done interviews or shown his face to the media
while at Memphis, but the talk from the players is that already the trainer to the stars has changed the team's identity with his methods.
"With Frank, it's definitely a mental toughness," junior
Drew Barham
told
The Commerical Appeal
. "I think when the game gets tougher we'll definitely be more mentally prepared to get through it [whereas] times last year we kind of collapsed."
If there was offseason buzz about Matrisciano's hiring and preseason talk of his influence on Memphis, expect the intrigue to grow if the Tigers follow through with a deep NCAA tournament run.
Stories continue to come out about Matrisciano as his role has emerged from
the shadows of training pros in San Francisco
to now being a part of a high-profile program.
Former Stanford guard
Dan Grunfeld profiled the Memphis trainer on SB Nation
Tuesday, writing about how as a family friend who has trained as a college and pro player with him, Matriciano is a one-of-a-kind character who turned him into one of college basketball's most improved players.
Frank is a character, perhaps even a cartoon character, and he's a funny story waiting to happen. He's the guy who once met me in Las Vegas, and showed up in the lobby of our hotel an hour after he landed, carrying only a backpack, his face red and his clothes sweaty. He decided to squeeze in a workout by running from the airport to our hotel on The Strip instead of taking a cab. Jogging for miles along the highway in Vegas in the million-degree heat is very clearly not a normal thing to do, but that's just Frank.

He's a nut, but if you buy into what he does, he will almost certainly transform your body and mind. He's been doing the type of things now seen in popular programs like P90X for close to 30 years. He's ahead of his time, and while he'll bust your butt to get you in shape, he'll also change your nutrition and teach you important mental discipline. He's someone who once finished the majority of a 10-mile sand run with a stone in his boot, digging into his foot with every step, while wearing an 84-pound weight vest, just to prove that he could do it. He knows a little something about mental toughness, and despite all that I've said about him thus far, he's really not as crazy as the persona suggests. He can definitely be terrifying to those who don't know him, and his intensity has been known to overwhelm, but ultimately, there's a big heart hidden underneath that army vest.
Matrisciano's face has often been hidden as well, but now a fuller picture of what he brings to the table at Memphis is being revealed. And from what the players are saying thus far, if the Tigers have big-time success this season, it shouldn't be a mystery that it will be because of the training they're doing right now.