College Basketball Nation:

Drew Neitzel
June, 22, 2012
6/22/12
11:57
AM ET
Wisconsin's
Jordan Taylor
was one of the most important players in college basketball the past two seasons.
If Taylor isn't on the Badgers, they're not in the NCAA tournament the past two seasons. They don't make their mark with a win against top-ranked Ohio State in 2011. They don't make another run to the Sweet 16 and come close to knocking off top-seed Syracuse in the regional semifinal.
But Taylor was a late add to the Chicago pre-draft combine this week. He will have to work harder than ever to make it in the NBA, and is hardly a lock to be drafted at all on Thursday.
For years, there have been several players that fit into the same category: great college players who simply didn't make it the NBA for whatever reason. As my colleague Dana O'Neil wrote in
today's feature story
, many of these players feel shame and embarrassment despite any success they might have overseas.
It got me to thinking of all of the guys in my dozen years as a national reporter at ESPN who were essential to college basketball, but whose skill levels simply didn't translate to the NBA. This is by no means a comprehensive list, but here are 10 that immediately came to mind:

Dee Brown, Illinois (2003-2006):
Brown was as integral to the Illini's run to the 2005 national title game as the now more-heralded
Deron Williams
. He had the flare, but also the on-ball defense and ability to change the way Illinois played. He was highly decorated as a college player with the Bob Cousy Award, a finalist for the Wooden award, and a 2005 first-team all-American. He did get drafted in the second round in 2006, but didn't stick after playing for three teams over a three-year period. He's still playing overseas and earning a well-deserved paycheck playing.

Tom Coverdale, Indiana (2000-2003):
The revival of Indiana basketball last season almost masks the one glorious run the Hoosiers had a decade earlier in 2002. Indiana, led by Coverdale's gritty play, went on a surprising run under Mike Davis, reaching the NCAA title game before losing to Maryland. Those Hoosiers stunned defending champ Duke on the way to the biggest stage. Sure they had
Jared Jeffries
, but Coverdale was essential to IU's success. He was a stable player for team that had gone through a tumultuous time. He's now coaching and passing on his knowledge of how to play through adversity.

Jason Gardner, Arizona (1999-2003):
Gardner was one of the toughest players I've ever covered. He was a winner, and didn't back down from any challenge. He was on a star-studded Arizona team, but the only one of the five starters who wasn't going to be drafted. He went to the Chicago pre-draft camp, was told he wasn't essentially as good as the rest, and had to go back to school. But he made a career overseas before retiring, and now is an assistant coach at Loyola (Ill.). He had a stellar career with the Wildcats, leading Arizona to the 2001 national title game before losing to Duke. He was an all-American, but not an NBA player. And that's fine.

Mike Kelley, Wisconsin (1997-2001):
Kelley might have been one of the best on-the-ball defenders that I have seen in covering the sport the past 22 years. The Badgers had no shot at the 2000 Final Four if not for Kelley. He knew his role and played it perfectly. He was a tremendous spokesperson for the school and the game. Kelley averaged only 4.7 points and shot 27.9 percent on 3s, but his defense and leadership was as important as any other aspect to a player's game that season. He's now an analyst for ESPN.

Derrick Low, Washington State (2004-2008):
Low was part of a revival at Washington State as the Cougars were relevant under Tony Bennett (after Dick Bennett). Low was a steady hand for the Cougars in all facets of the game. He had his moments where he looked too slow to excel, but had a craftiness about him. He was a classic case of a player under-recruited who worked his way toward an all-league and national-honor level. He led Wazzu to its only Sweet 16 of the modern era, and joined teammate
Kyle Weaver
as the only two Cougars ever at the time to make a U.S. Pan Am team.

Drew Neitzel, Michigan State (2005-2008):
Neitzel was one of the gutsiest players to grace a Michigan State uniform for Tom Izzo. He had no problem using his body to ensure the Spartans were involved in a play. Neitzel made big shots for MSU throughout his career, and was on one of the most surprising Final Four teams under Izzo in 2005. He went undrafted in 2008, and has had his stints overseas and in the D-League. But Neitzel never shirked away from a challenge, and is still trying to
find his way to the league
.

Kevin Pittsnogle, West Virginia (2003-2006):
Pittsnogle was one of the most entertaining players to cover. His gangly, awkward style made him a bit of an odd watch. But he could shoot, stretch the defense and change the flow of a game for John Beilein's Mountaineers. Pittsnogle was one of a kind, and helped lead WVU to an Elite Eight in 2005 and a Sweet 16 in 2006. He played in the CBA and the D-League, and is now back teaching in West Virginia. He had a stellar career in the sport and left his mark on the program, but his talent simply didn't translate to the NBA.

Hollis Price, Oklahoma (2000-2003):
Price led the Sooners to the 2002 Final Four. He was a headline player, but had to earn every bit of it. Price did a little bit of everything. He seemed to always be around the 50-50 balls, and simply made the plays that mattered most. He had a terrific attitude, and always seemed to play through any situation as he continued to put his body on the line for the play. He was never going to be an NBA, player but did eventually make his way overseas.

Matt Santangelo, Gonzaga (1997-2000):
Santangelo was the leader of the first Gonzaga team to blow up your bracket, leading the Bulldogs to the 1999 Elite Eight before falling to UConn just one step short of the Final Four. Santangelo was the ultimate Zag. He was such a gritty performer who helped bridge the gap from
John Stockton
to what has become Guard U under Dan Monson and now Mark Few. Santangelo could score by driving the ball and making 3s. He was a distributor and a leader. He went on to have a solid career overseas.

Kennedy Winston, Alabama (2003-2005):
Winston is a sad case of a player who received bad advice. He was a heralded recruit for Cal, but then needed to be closer to home so he transferred to Alabama. Winston was a prolific scorer for the Tide for two seasons, and led the SEC in scoring in 2005 with 17.9 points a game. He was a two-time all-SEC player in 2004 and '05, and led the Tide to the NCAA tournament both seasons, including the Elite Eight in '04. He left school early, but wasn't drafted. He's still playing in Europe, but probably would have been an NBA player, or at least had a chance to be drafted, had he stayed one more season.
December, 23, 2009
12/23/09
10:10
AM ET
Tell me if you've heard this one before: A good, early-season Michigan State team is improving, making itself solid in just about every facet of the game, except one glaring weakness. It turns the ball over far too frequently. Sound familiar? Because it's pretty much every Michigan State team ever.
[+] Enlarge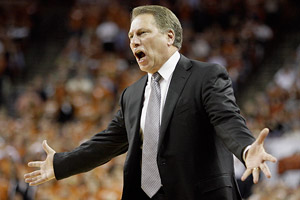 AP Photo/Harry CabluckTom Izzo's Spartans turned the ball over 22 times against Texas.
This was the case in 2007-08, when the Spartans were led by sturdy point guard Drew Neitzel. Didn't matter. The rest of the team
still committed turnovers at a freaky rate
, and it kept that MSU squad from winning several very winnable games early in the Big Ten schedule.
The problem was less glaring in 2008, as the Spartans posted a decent turnover rate overall (though they didn't force many turnovers on defense, Tom Izzo would probably gladly take that trade-off). And Michigan State went to the NCAA tournament final. This is not a coincidence.
The Spartans are almost as talented this year, but they've posted a
plus-25 percent turnover rate
in each of their three losses, including Tuesday night's defeat to Texas. Texas' defense is
statistically the best in the nation
, but one thing the Longhorns don't do is turn opponents over all that often. Which means Michigan State has itself to blame. Texas is the better team, but the Longhorns missed nine free throws and scored 79 points on 74 possessions -- good, but not Texas-good. Michigan State had a shot. The box score says as much. So did your eyes while you watched. But for the third time this year, and many more than that in the past few, turnovers killed Sparty's chances. Leonidas would not be pleased.