College Basketball Nation:

Drexel
February, 16, 2010
2/16/10
4:02
PM ET
Saddle Up is our nightly look at the hoops your TV wants you to watch. Here's Tuesday night's rundown.


No. 2 Kentucky at Mississippi State, 9 p.m. ET, ESPN
: Unstoppable force, immovable object.
DeMarcus Cousins
,
Jarvis Varnado
. Even if Kentucky rolls over Mississippi State in Starkville tonight -- certainly no guarantee, despite Kentucky's vastly superior backcourt talent -- this matchup alone is worth your undivided attention. Cousins is a dominant freshman with a burgeoning skill set and one of the
best interior offensive stat lines in the country
. (Cousins gets a ton of offensive rebounds, takes a ton of shots, and makes most of them.) Varnado, meanwhile, is the best shot blocker in the country, and maybe of the past decade -- averaging five blocks a game this season, he's well on his way to setting the NCAA career record for blocked shots. He also leads the Bulldogs in rebounds, many of which come on the defensive end; he's one of the best in the country at that, too.
Unfortunately for Mississippi State, Varnado can shut down Cousins and the Cats can still roll. (Kentucky still has this dude named
John Wall
. I suppose he's pretty good.) Regardless of the outcome, though, Cousins-Varnado might be the year's best big man matchup, at least until we can get these two to play
Cole Aldrich
in a game of 21. You should probably watch.


No. 25 Wake Forest at Virginia Tech, 7 p.m. ET, ESPN2
: While Indiana is taking its probable beating from Michigan State on ESPN at 7 p.m., you might also flip over to ESPN2, a game with actual tournament implications. (Though I suppose Michigan State could lose to Indiana, and that would have tournament implications ... but whatever, you see what I mean.) See, Virginia Tech is 20-4. That's a gaudy record. It was also amassed against one of the worst schedules in the history of college basketball, and I'm barely exaggerating: The Hokies are ranked No. 344 -- No 344! -- in nonconference strength of schedule this season. They have one win over a team in the RPI's top 50 (Clemson). Their best wins are over Seton Hall, Miami, North Carolina, Georgia, and Virginia (twice). Sorry, but this is not the résumé of an NCAA tournament team -- at least not yet. Tonight, Va. Tech gets its chance to prove the haters wrong, notch another RPI top-50 win and build momentum for its backloaded ACC slate, which includes games at Duke, vs. Maryland and at Georgia Tech. Contender or pretender? Tonight, the Hokies have a chance to answer.
Everywhere else
: The first game of
Jordan Eglseder
's controversially short suspension is tonight,
when UNI plays Creighton in Cedar Falls
. ... As mentioned above,
Indiana will try to recover from its ugly Big Ten losing streak as MSU attempts to stave off a letdown
. ... Texas Tech, still trying to play its way into the tournament,
will go to Baylor
, which already has. ...
Dominique Jones
and
Lance Stephenson
do anything for you?
Cincinnati-South Florida sounds entertaining, at least
. ... Less entertaining:
Rutgers at DePaul
. ... North Carolina will look to build on last week's near-miss against rival Duke
with a trip to Georgia Tech
. ...
Drexel will play VCU in a matchup of putative CAA contenders
.
January, 28, 2010
1/28/10
12:45
AM ET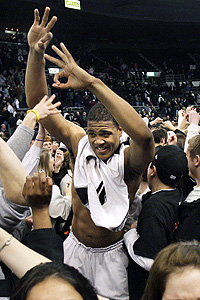 AP Photo/Elise AmendolaBilal Dixon and Providence had reason to celebrate after an 81-66 win against UConn.
Something I didn't think I would see:
Providence ahead of Connecticut
in the Big East standings. PC is 4-4, UConn is 3-4.
How about this quote from PC coach Keno Davis: "We can beat anybody in the country. We have enough talent, but we have to play extremely hard.'' I'm not sure I'm buying that proclamation, but it's good to know Davis has that much confidence in his crew.
UConn's win over Texas was as impressive a W as we've seen this season. But I knew if Connecticut was an elite team the Huskies had to win a game on the road that they're supposed to -- and they didn't. It's odd looking at the Big East standings and seeing UConn ranked No. 19 yet in 11th place in the league.
Not sure there was as impressive a road performance in the SEC (save Kentucky winning at Florida) as Vanderbilt's win at Tennessee. The Commodores got spirited production out of Jermaine Beal (25 points) and held the Vols to 6-of-20 on 3s. Vandy goes into Kentucky on Saturday with a chance to actually build a two-game lead on the Cats. Huh?
No one should fault BYU for losing at New Mexico, 76-72. The Pit is and will be one of the toughest places in the country to play, and I can tell you from years covering the Lobos that there is no opponent that gets the place as amped as the Cougars. BYU remains the MWC favorite even with the loss to the Lobos. But UNM desperately needed the win to stay in the race.
Memphis coach Josh Pastner picked up a quality road W by winning at Marshall to keep the Tigers in the C-USA league race.
Villanova's 18-1 record and 8-0 mark in the Big East after beating Notre Dame is as impressive as any in the country. But the Wildcats' schedule is back-loaded with road games at Syracuse, Georgetown and West Virginia that will be tough to tackle.
Duke won again at Cameron. I just don't see the Blue Devils losing at home. So that's eight ACC wins right there. The Devils have already won at Clemson. So that's nine. Pick up at least two road wins out of BC, Miami or Virginia (don't see UNC or Maryland) and the Blue Devils will likely win the league with 11 wins. That's unless Maryland decides to string together a bunch of road wins.
Florida is winning the games it should at home now with a 79-63 win over Georgia to move to 4-2 and move closer to an NCAA berth after two NIT years.
Drexel snuffed out Northeastern's win streak at 11 (which was the third-longest in the country) with an impressive 61-48 win on the road.
Hard to generate buzz for William & Mary now after the Tribe lost to James Madison by a deuce to fall to 6-4 in the CAA.
Hard not to cheer for Oklahoma State to beat Texas A&M on Wednesday, the ninth anniversary of the tragic plane crash that killed 10 people associated with the program. OSU beat the Aggies to move ahead of them in the standings at 4-2 (A&M is 3-3).
What has happened to LSU's offense? The Tigers led Alabama at the break, but scored just 13 points in the second half. Tasmin Mitchell and Bo Spencer were a combined 4-of-18 in the 57-38 loss at Alabama. The defending SEC champs are now 0-6 in league play.
Believe it or not, Hofstra's Charles Jenkins had an eight-point play in the Pride's 93-54 win over UNC Wilmington. He scored on a layup and was fouled. But it was ruled an intentional foul and then Wilmington's Benny Moss got a technical for arguing. Jenkins hit all four free throws (two for the intentional and two for the technical) and then Hofstra got the ball because of the intentional foul and Jenkins scored off the inbound pass with a floater. In five seconds, the score went from 26-9 to 34-9. Wow.