College Basketball Nation:

Duke-UNC 020812
February, 8, 2012
2/08/12
5:00
PM ET
By
John Parolin, ESPN Stats & Info
| ESPN.com

One of the most storied rivalries in college basketball resumes Wednesday night when
Duke
travels to the Dean Smith Center to take on
North Carolina
. In recent years Duke has dominated, winning four of the past five meetings.
Coach Mike Krzyzewski is 36-36 all time against the Tar Heels, and Duke is one of only two ACC schools with a winning record against UNC since coach Roy Williams took over (Georgia Tech is the other). Duke may have the recent history over the Heels, but the Blue Devils will need to step up their defensive game to continue their success.
Duke has an uncharacteristically poor defense this season. The Blue Devils are allowing 99.6 points per 100 possessions, which puts them in the bottom half of all Division I schools. Duke is on track to finish outside the top 50 in that category for the first time since rankings were available in 2000, and it's a bad time for the Blue Devils to be facing the nation's highest-scoring offense (84.1 ppg).
Duke's problems on defense are most apparent in the paint. The Blue Devils have allowed 31.5 points in the paint per game this season -- fifth-worst among power six conference schools -- and that will play right into a major North Carolina strength.
The Tar Heels average more than 40 points per game in the paint, the most of any power six conference school. They've grabbed 41 percent of their missed shots and average 16.4 second-chance points per game, both ACC-best numbers.

Carolina not only beats up opponents around the basket but also runs in the open floor both often and well. More than 21 percent of the Tar Heels' offensive plays are in transition, fifth-most in Division I, while their 21.3 points per game in transition is second in the country.
Even with their up-tempo style, the Tar Heels have been excellent at limiting mistakes. North Carolina has turned the ball over on 17 percent of its possessions this season, lowest in the ACC and 10th-best among power six conference schools.
While Carolina has reason for confidence, one of Duke's most highly touted players has been excellent of late. Guard
Austin Rivers
is averaging a team-high 14.5 ppg and is looking to become the first Blue Devils freshman to lead the team in scoring since Johnny Dawkins averaged 18.1 ppg in 1982-83.
February, 8, 2012
2/08/12
3:01
PM ET
Judging by the buzz, the Hype Machine assumed Selection Sunday was just days away, not four weeks from Sunday. The hype has reached stunning levels, and we still have an entire month to go.
One program wonders what it's going to do if its star's slump continues. Make a midseason trade, maybe?
A storied rivalry that draws die-hard and casual fans alike just doesn't have the same prestige it's enjoyed in past years. Blame the preseason expectations. Or the teams' failure to meet them.
And finally, a national-player-of-the-year contender should put an ad in his local classifieds: "Need more scorers. Now."
Click here
for the rest of Myron Medcalf's column.
February, 8, 2012
2/08/12
2:25
PM ET
North Carolina will be
wearing the new Air Jordan 2012s
. ESPN.com's Eamonn Brennan has already analyzed
whether Duke can defend
.


We know that, at least judging by the past eight seasons, home court
will hold little advantage
.
And that Duke's
matchup
with 6-foot-8
Harrison Barnes
will be key.
And that the
freshmen on both teams could be a factor
.
But here are a few other things worth watching in the 233rd meeting of the two rivals, tonight at the Smith Center:
BARNES' HEALTH
To non-UNC fans, the constant updates on the status of the sophomore's sprained left ankle are probably getting ridiculous -- especially considering he's played quite well on the injury for the past two games.
But here's the latest: He lacked his normal explosiveness during Monday's practice. He won't be 100 percent, but he'll play.
"I was slow-moving [during practice],'' he said Tuesday. "It's a matter of it being sore, but hopefully with adrenaline I'll be all right."
UNC'S D
The Tar Heels lead the league in field goal percentage defense in ACC play, and they've gotten better since
Dexter Strickland
, their best perimeter defender, was sidelined for the season by a knee injury.
According to Greg Barnes at
InsideCarolina
:
Prior to Strickland's injury at the 16:44 mark of the second half against Virginia Tech, UNC's league opposition was shooting 43.5 percent (93-of-214) from the floor and 37.5 percent (33-of-88) from 3-point territory. Since the junior guard was helped off the court in Blacksburg, North Carolina has allowed conference opponents to shoot 38.1 percent (102-of-268) from the floor and 31.8 percent (28-of-88) from long range.
Keep an eye on UNC sophomore
Reggie Bullock
, who has defended the opposition's top scorer since he entered the starting lineup four games ago. He may do so again tonight.
DUKE'S STARTING LINEUP
Forward
Mason Plumlee
is the only Blue Devil who has started all eight conference games, as Duke coach Mike Krzyzewski has pulled players in and out of the lineup to try to find the right combinations -- and light a fire.
Who will get the nod tonight?
Follow Robbi Pickeral on Twitter at @bylinerp.
February, 8, 2012
2/08/12
12:45
PM ET
Former North Carolina forward Dieter Krause got so excited when Sunday's Miami-Duke game went to overtime that he couldn't watch the extra period. When he found out the Hurricanes had won, he said he was elated -- and rewound the game to watch the final five minutes.
"I was glad Duke got beat, because that put Carolina in the higher standings of the ACC conference,'' said Krause, 71, who now lives in Virginia. "I still keep up with that stuff, and sure, I would probably root for any team that's playing Duke."
Old rivalries die hard --
especially when you, unknowingly, helped fuel it
.
[+] Enlarge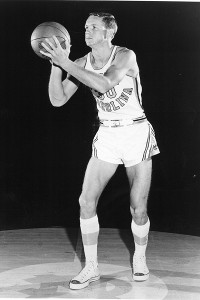 UNC Athletics Media RelationsDieter Krause was involved in a fight during a freshman game in 1960 that many believe fanned the flames of the UNC-Duke rivalry.
From 1960-63, the 6-foot-5 Krause played in 32 games for UNC, averaging 1.8 points and 1.5 rebounds, according to
scacchoops.com
. But the Vietnam veteran and grandfather of five is perhaps better known in Tar Heels annals for what happened before he played varsity.
In 1960, during a freshman game in Siler City, N.C., Kraus got into a fight with Duke rookie Art Heyman -- the top recruit in the nation who had originally committed to UNC, earning coach Frank McGuire's ire when he changed his mind.
The common story goes that Krause threw the first punch.
But Krause said he was only playing tight defense and defending himself.
"My memory of it -- and I don't think my memory has faded in any regard to that particular incident -- is this:
"If you can imagine yourself with the basketball backboard toward your back, and you're up past the foul line, sort of where the semicircle comes down, we were the 2 o'clock position, sort of toward the top of the key,'' Krause said. "This was the second half, and I was playing defense on who I subsequently found out was Art Heyman -- I really didn't know who he was going into the game. I was playing him pretty tightly, after having been chastised at halftime for not playing defense aggressively enough. And I assume [the coach] meant that for all of the players, not playing tight defense.
"... And I remember a fist coming at me, and I instinctively ducked. He missed in his effort to hit me with his right hand -- and I instinctively counterpunched, and I connected with a punch to his face. ... And then total mayhem broke out.
"The benches cleared. I remember being on the floor somewhere between midcourt and the top of the key, sort of being in the embryonic position trying to protect my head because the Duke players, of course, were irate, and trying to kick me in the head and stomach or wherever."
Krause was ejected from the game, while Heyman (who scored 35 points) ended up going to the hospital for stitches.
The next day, Krause met with McGuire; Krause said the legendary UNC coach is the only one who has ever asked for Krause's side of what happened, until now.
"I told him essentially what I told you -- I was playing tight defense, he swung, missed, and I counterpunched,'' Krause said. "And he was very calm about the whole conversation ... and I continued my basketball career at Carolina.
He added: "It wasn't a big deal in my mind ... I think more was made of it because Art Heyman went on to become a great basketball player at Duke."
And, perhaps, because the freshman fray became the undercard for the following season's brawl at Cameron -- the one that saw Heyman, and UNC's Larry Brown and Donnie Walsh, suspended for the rest of the ACC season after the melee.
Those two incidents, former Duke coach Bucky Waters said, helped fan the flames of the Duke-Carolina basketball rivalry.
Although Krause takes no credit.
"I really didn't know who [Heyman] was when we got into our little fisticuffs, and I can't say, in my mind, that that started any kind of rivalry," Krause said in an interview earlier this week. "It was just a tough basketball game between freshman teams."
After graduating in 1963, Krause, who immigrated from Germany when he was 8 years old, spent 28 years in the Army, serving two tours in Vietnam. He now lives in Virginia with his wife, and usually tries to get to a UNC game, in person, at least once a season. He credits his time with the Tar Heels for helping to build the leadership qualities that helped him in the military.
And, yes, he's looking forward to the UNC-Duke game on Wednesday night.
"I certainly don't remember it [the rivalry] being like it is today, at least during my freshman season,'' Krause said. "But it did heat up during my junior, senior and sophomore years."
Follow Robbi Pickeral on Twitter at @bylinerp.
February, 8, 2012
2/08/12
12:35
PM ET
CHAPEL HILL, N.C. -- "Welcome, sir. We hope you have a lovely stay. Are you here for the game?"
"Game? What game?"
This was a joke, or my bad idea of one. On minimal sleep, after a day spent talking about (and driving toward) this game, these are the things I find funny. Note: I am not funny. The hotel receptionist agreed.
"Duke and North Carolina play [Wednesday] night," she said, matter of factly. "They are huge rivals in this area."
[+] Enlarge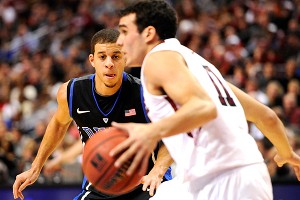 Howard Smith/US PresswirePerimeter defense from Seth Curry and the Blue Devils will be key Wednesday against North Carolina.
"Oh, I know," I said. "That's why I'm here. I was just kidding."
"Oh! Good. Do you have a favorite team? I do not. It's better that way -- you don't have to get so worked up. You can just sit back and take it all in."
Through the rest of the hotel lobby, middle-aged men -- hair: white; sweater vest: Carolina blue -- milled about. They would have disagreed. I didn't. My friendly receptionist had just captured one of the underrated beauties of doing this for a living: the freedom from fandom.
It's easy to allow actual basketball -- well-executed curl screens, convincing shot fakes, perfectly spaced secondary breaks -- to be obscured by the noisy insanity that envelops this contest. Don't get me wrong: That insanity is lots of fun, too. It's what makes this rivalry a canonical part of the American sports tradition; as a first-timer, I fully plan to soak it all in. It's just that, well, there
is
a game to be played Wednesday night, too, and sometimes with Duke-UNC -- as with any major sporting event in our day and age -- the nuts and bolts of the matchup get lost in the overwrought language of heroes and villains and implications and antiquity.
Before we get swept up in all the fun -- before we take it all in -- let's examine said matchups, where one question looms large:
Can Duke defend?
Duke Blue Devils
Pomeroy Rank
: No. 15
Adj. offensive efficiency rank
: No. 5
Adj. defensive efficiency rank
: No. 91
If this game is going to become part of the Duke-UNC lore -- as opposed to a handy UNC blowout -- it will require the Blue Devils (19-4, 6-2 ACC) to do something they haven't frequently done all season: defend.

It's almost as simple as that. The biggest outlier among the numbers you see above -- which are season totals thus far -- is Duke's defense. For a variety of reasons, the 2011-12 Blue Devils are playing far worse defense than this program is accustomed to. It's hardly a mystery: Tuesday, on ESPNU's "The Experts," Duke associate head coach Chris Collins identified the problem almost immediately. As you no doubt know, the Blue Devils have lost two of their last three home games, primarily thanks to the 1.13 points per trip they allowed to Florida State and the 1.08 they allowed to Miami. Coach Mike Krzyzewski's team is allowing opponents to score more points per possession than at any time since Pomeroy began tracking these things back in 2003; Duke's defense has rarely ranked outside the top 10 nationally, and its worst season other than this one (2008-09), it ranked No. 20.
The question is: Why? A couple of reasons: The Blue Devils' young guards (
Seth Curry
,
Austin Rivers
et al) don't guard particularly well on the perimeter: Opponents have posted an effective field goal percentage of 47.8 while turning the ball over on just 19.7 percent of their possessions. In the latter category, Duke ranks No. 221 in the country. Meanwhile, once the ball is in the air, Duke is allowing its opponents to chase down 32.8 percent of available offensive rebounds.
Nor have these numbers improved in ACC play, where we're used to see Duke dominate. On the contrary: Duke ranks No. 9 in the ACC in defensive efficiency, no higher than No. 8 in any of the four factors, and No. 11 in opponents' offensive rebounding rate.
In less number-laden terms: Duke doesn't defend the first shot particularly well, and it doesn't prevent second and third opportunities, either. Instead, Curry, Rivers & Co. have frequently had to resort to outscoring opponents. Their offense is frequently good enough to do so. But Wednesday night will be a different story.
North Carolina Tar Heels
Pomeroy rank
: No. 8
Adj. offensive efficiency rank
: No. 17
Adj. defensive efficiency rank
: No. 14

North Carolina (20-3, 7-1 ACC) has given us the occasional reason to doubt its national championship viability -- not least of which came on Jan. 14, when the Heels were run out of the gym at Florida State, 90-57. For a team with title-or-bust expectations entering the season, that loss was disconcerting. It's not as though UNC has been bad. But rather than the once-in-a-generation team many expected, the Tar Heels' efficiency fundamentals for much of the season would more accurately peg them as "really good, but not quite great."
But while Duke has struggled in its past five games, the Tar Heels have just as suddenly turned it on.
John Gasaway noted as much in his Tuesday Truths column yesterday
:
Since their disastrous 90-57 loss to Florida State in Tallahassee on January 14, the Heels have been looking a lot more like the Heels: five wins, zero losses, and a per-possession scoring margin of +0.20. That run's been built on total domination on the boards at both ends of the floor. Rebounding plus zero turnovers has given UNC what they need even though they still don't set the world on fire in terms of shooting from the floor.
Indeed, UNC ranks No. 7 in the nation in offensive rebounding rate; the Tar Heels are pulling down 40.7 percent of their own misses. When you have the size and rebounding acumen of players like
Tyler Zeller
and
John Henson
, you don't have to set the world on fire from the field. You can get your points in simple ways.
For all the talk of
Harrison Barnes
's unique skill set and Duke's inability to match up with it, this is the real matchup issue: The Blue Devils simply don't rebound the ball well on their defensive end.
Mason Plumlee
and
Miles Plumlee
do their fair share, but that hasn't stopped the Blue Devils from being the second-worst team in ACC play in this category. On Wednesday night, they're facing the league's -- and one of the nation's -- best.
In a world in which Duke was a good rebounding team, the strategy to stop Carolina on its home floor would almost certainly be sloth. The Tar Heels are the seventh-fastest team in the country, according to adjusted tempo. The Blue Devils are by no means slow (they average 68.8 possessions per game to UNC's 74.5), but in the hostile Dean Dome environment, it doesn't seem like a great idea to let UNC do what it likes to do: rebound the ball on defense, get it to
Kendall Marshall
on the fast break or second break, and run at the rim or find open shooters on the wing. In a normal season, Duke might seek to slow the tempo and force Marshall and Barnes to find their offense in the half court. At the very least, it would make UNC a bit uncomfortable.
But if Duke does that, the Tar Heels still have the upper hand: rebounds. UNC doesn't have to feel comfortable on offense. Marshall doesn't have to lace brilliant 50-foot passes up the floor; Barnes doesn't have to have a great scoring night. The Tar Heels can struggle from the field and still put up points, because they'll have a ton of second-chance opportunities.
Of course, one game is a small sample size. Anything can happen. Duke may have its best rebounding performance of the season; UNC could rebound well and miss a bunch of putbacks and things could be close all evening. You never know. But if the 23 games each team has played to date are any indication -- and of course they are -- this is the toughest matchup of Duke's season.
This team can score. That much we know. How these young, struggling Blue Devils respond on the defensive end -- particularly on the defensive glass, against the longest frontcourt in the country -- is an open question. Their answer, or lack thereof, will determine the story we tell about this illustrious rivalry's latest chapter.
February, 8, 2012
2/08/12
12:20
PM ET
DURHAM, N.C. -- Freshman
Austin Rivers
has never been to a Duke-North Carolina game in person -- and thus, has never experienced the pregame hysteria, the midgame intensity, the postgame ear-ringing.
But after years of watching the rivalry on television, of rewinding replays on YouTube, of seeing the highlights on "SportsCenter," the Blue Devils guard knows exactly what he has to do.
"I'm going to go out there and be aggressive, on both ends of the floor, especially defense, defensive rebounding," he said. "I'll be looking for my teammates, and looking to attack.
"I'm going to have an impact."
Bold prediction for a rookie? Perhaps. But in Wednesday's game at the Dean E. Smith Center (ESPN, 9 p.m. ET), the rookies who make an impact could make the difference, just as they have so many times in the past.
Rivers is the leading scorer on a ninth-ranked team that's still trying to find consistent defense, leadership and an identity after losing at home to Miami on Sunday. His classmate,
Quinn Cook
, is one of three point guards who have started for the Blue Devils this season.
No freshmen start for fifth-ranked UNC, but guard
P.J. Hairston
and classmate
James Michael McAdoo
are the first players off the bench -- a bench that has struggled to score since sophomore reserve
Reggie Bullock
moved into the starting lineup.
A bench that wants to change that trend, particularly against the rival Devils.
"Of course, this is a game when you want to make a difference," McAdoo said. "That's got to be the case for any player, any [freshman], who's ever played in it."
Actually, freshmen weren't allowed to play in this showdown -- or any varsity NCAA basketball game -- until 1972.
But some credit a freshman -- and a freshman game -- for sparking arguably the best rivalry in college basketball.
Click here to
read the rest of the story
.
February, 8, 2012
2/08/12
10:21
AM ET
By
ESPN.com staff
| ESPN.com
On Wednesday night, six of the nation's top 11 teams face off in three games on the ESPN family of networks: No. 11 Georgetown at No. 2 Syracuse (ESPN, 7 ET), No. 10 Kansas at No. 6 Baylor (ESPN2, 7 ET) and No. 9 Duke at No. 5 North Carolina (ESPN, 9 ET). It's one of the best nights of the regular season and we want to experience it with you, our readers.

So from 7 p.m. ET until the end of Duke-UNC, join us for Midweek Madness Live as our writers -- some reporting on site, some watching at home like you -- answer your questions and field your comments as we discuss college basketball and the action-packed slate of games.



February, 7, 2012
2/07/12
4:27
PM ET
CHAPEL HILL, N.C. -- Ninth-ranked Duke has tried multiple starting lineups this season.
None of them, on paper, at least, look as if they match up particularly well with No. 5 North Carolina -- particularly at one position.
"Offensively, I like the odds of someone 6-4 going against me,'' 6-foot-8 UNC small forward
Harrison Barnes
said Tuesday.
[+] Enlarge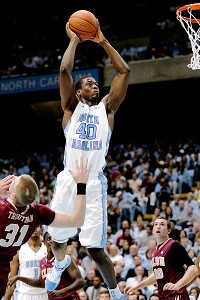 Mark Dolejs/US PRESSWIREThe Tar Heels will look to exploit Harrison Barnes' height advantage over the Blue Devils.
He was referring to
Austin Rivers
and
Andre Dawkins
, two of the Duke guards who could end up defending the taller Barnes when the teams meet at the Smith Center on Wednesday night. Unlike last season, when Duke's 6-foot-8 Kyle Singler could chase and challenge Barnes all over the court, Duke doesn't have as many options.
Not when UNC starts a lineup that measures in at 6-4, 6-7, 6-8, 6-11 and 7-0.
Not when the Blue Devils aren't as flexible, lineup-wise, as in seasons past, no matter who they start.
"That's been a problem for us all year; we have a small perimeter," Duke coach Mike Krzyzewski said Monday. "We don't have the versatility. We either have big guys or perimeter guys. Kyle [Singler], Lance [Thomas], [Luol] Deng, they were able to play 3, 4, 5, 2. It gave us a lot of versatility defensively. So much of what we do is based on matchups that, defensively, those guys were great to have.
"Barnes for them, with [Tyler] Zeller and [John] Henson, they are the best front line in college basketball. They are all big and all talented. That's just something they have over everybody, I think, anybody in the country."
UNC coach Roy Williams, though, downplayed the notion that any individual matchup would decide the game -- pointing out that Duke's big guys are wider than UNC's, and that the Blue Devils' smaller guys could be a problem for the Tar Heels, too.
"If you're smaller than the guy, you want to make the quickness a more important factor, so you do more things out on the floor,'' he said. "If you're bigger, you want to make your size more of a factor, so you try to play closer to the basket. Those guys, they can play."
Indeed, Barnes said that defensively, it could be tough keeping up with a smaller foe, especially considering his left ankle, which he sprained last Tuesday, is not yet 100 percent.
Rivers, who figures he'll be matched up on Barnes quite a bit, is counting on it.
"He might not be fun to match up with, but it's not fun to match up with me, either,'' the freshman said. "He's going to have to guard me, too."
Follow Robbi Pickeral on Twitter at @bylinerp.