College Basketball Nation:

Durand Johnson
July, 10, 2014
Jul 10
10:00
AM ET
There is no one correct way to put points on the board. Basketball, and specifically college basketball offense, comes in many flavors, which is a big part of why it's so interesting in the first place.
If you have a big, physical, bruising team, one that dominates the offensive glass and gets easy putbacks around the rim, you don't necessarily need 2005-era Steve Nash running the show. Likewise, for a team full of athletic, penetration-prone wings, spacing is arguably more important than passing. If your players can get to the rim by themselves, why complicate things?
If you're neither of those things -- if your players, and thus your system, aren't the isolate-and-go types -- then you'd better make the most of Dr. Naismith's original ball-advancement mandate. You'd better be able to pass.
Below are three teams likely to be among the best passing outfits in the country in 2014-15 -- and a couple that could rank among the worst. The question is: Can they score anyway?
Teams to watch
Wisconsin
: On one level, the Badgers aren't the most obvious passing exhibition in the country. In 2013-14, for example, they recorded an assist on 50.5 percent of their made field goals. That number ranked 197th in the country. Plenty of much worse overall offenses recorded higher A/FGM stats.
In reality, that has less to do with Wisconsin than it does the way official scorekeepers keep scores. In reality, the entire core of Wisconsin's top-five efficiency offense -- and the swing-motion system Bo Ryan has perfected in more than a decade in Madison -- is defined by passing. If Wisconsin's offense was a book, passing would be its spine.
For example: Last season, 27 percent of the Badgers' possessions ended in what Synergy's scouting data defines as spot-ups. That's an overwhelming number within Wisconsin's offense -- the other leaders in the clubhouse are "isolations" (15 percent), post-ups (11.3 percent), pick-and-rolls (8.3 percent) and transition baskets (8.1 percent). Simply put, you don't create that many spot-ups, and convert them at better than a point per possession, without first creating them with pinpoint movement and timely passing. The swing offense is designed such that, even when an assist
isn't
recorded (as can often be the case on post-ups and isolations), two or three passes probably led to the opportunity in the first place.
Last season, even as Wisconsin increased its tempo, it still turned the ball over on just 12.7 percent of its possessions -- second fewest in the country. This has always been the case under Ryan at Wisconsin; the Badgers simply do not turn the ball over. The 2014-15 version of the Badgers, the one returning almost everyone (including versatile big men
Frank Kaminsky
,
Nigel Hayes
and
Sam Dekker
) from a Final Four run, will have all these characteristics and then some. It might be Ryan's best team yet.
Villanova
: To refresh oneself on the 2013-14
Villanova Wildcats
' offensive statistics is to kick yourself for missing out. For most of the season, defense was the most eye-catching part of Villanova's makeup. Save two demolitions by Creighton's Doug McDermott, the Wildcats were among the best defensive teams in the country. Less heralded was Jay Wright's offense. For whatever reason, it just didn't jump out -- even as it was playing an almost idealistically unselfish, and downright fun, brand of basketball.
Last season, the Wildcats had assists on 60.4 percent of their made field goals. They also shot a ton of 3s -- 44.8 percent of their overall field goals, in fact. This was perfect for Wright's personnel, which was short on true big men. Just one rotation player, center
Daniel Ochefu
, was listed as taller than 6-foot-7. Everyone else in the ostensible frontcourt -- especially
James Bell
,
Darrun Hilliard
and
Josh Hart
-- was carved from the "tweener swingman" mold. These guys guarded and rebounded, sure, but they were also comfortable with the ball in their hands on the perimeter. And so point guard
Ryan Arcidiacono
, the team's leading assist man, found them. The ball was always moving, the shots were always flying.
If you missed it the first time around, don't feel bad: I watched Villanova a lot last season, and I totally missed it, too. The good news is Bell is the only piece departing from a roster that should be just as good on the wing as it was a season ago -- a roster that has long since left the selfish, ugly offense of the 13-19 2011-12 season behind it.
Pittsburgh
: The Panthers are the most intriguing, and maybe the most unlikely, team of the bunch.
For starters, they're losing their best player from a season ago. Lamar Patterson wasn't just one of the nation's best and most versatile scoring threats. He was also a genuinely gifted passer. Patterson found an assist on 30 percent of his possessions, which is great in and of itself. When you consider that he also took nearly 30 percent of his team's shots, it looks genuinely crazy. Unfortunately, he couldn't pass the ball to himself.
Still, though, Jamie Dixon's team has the look.
James Robinson
,
Josh Newkirk
,
Cameron Wright
and even
Durand Johnson
all posted plus-15 percent assist rates (with Robinson at nearly 25 percent and Newkirk at 19), and Pittsburgh might have to be even more pass-reliant after losing offensive rebounding force
Talib Zanna
along the front line. Last season, Pitt ranked seventh in the nation in A/FGM at 62.9 percent. With Patterson gone, a repeat performance is almost a requirement.
Teams that could struggle
Syracuse
: In the past five seasons, the Orange's assists-to-field goals ratio has intermittently declined. In 2009-10, Syracuse baskets were the result of an assist nearly 65 percent of the time, one of the top figures in the country. A year later, that number was 60.5 percent. From there, it went to 56.1 (in 2011-12) to 55.8 (in 2012-13) to 49.1 (in 2013-14). Now the Orange are losing Tyler Ennis, the freshman point guard who accounted for a huge portion of their assists last season. It stands to reason that in 2014-15, Syracuse won't be a particularly productive passing team.
Again, the question is this: Does it matter?
The answer is some version of "probably not." After all, despite a disappointing finish to the season, Syracuse was still a very good team in 2013-14. The Dion Waiters 2011-12 team wasn't a scion of precise passing, but it won 34 games. Two seasons ago, Michael Carter-Williams was arguably the best passer in the country, but the Orange didn't really uncork their potential until they ratcheted up the pressure in their 2-3 zone and crushed otherwise stellar offensive teams.
The makeup of the 2014-15 squad, which will be without workhorse
C.J. Fair
as well as Ennis, is uncertain. But Jim Boeheim's teams are always at their best when turning defensive excellence into easy points on the offensive end, getting a handful of 3s from a lights-out shooter (in this case,
Trevor Cooney
) and pounding the ball to the rim offensively. There's no reason to expect that Syracuse can't do that in 2014-15. This could be a truly bad passing team that is nonetheless quite good at winning basketball games.
San Diego State
: The same goes for San Diego State, albeit in far more extreme fashion.
Last October, the Aztecs looked like the classic off-year reload group; they were seen as a fringe NCAA tournament team at best. Instead, they played stingy, top-10 defense while senior point Xavier Thames had a massive, sustained campaign as the lone offensive centerpiece. The combination was good enough to beat Kansas at Kansas, win 31 games and a Mountain West title and take Arizona to the wire in the NCAA tournament.
Still, what made Thames' season so impressive wasn't just his much-needed scoring. He was also the Aztecs' primary distributor. He also never turned it over; with a usage rate of nearly 29 percent, Thames assisted on 25 percent of his possessions and coughed it up on just 10 percent. (Reminder: He was
really
good.) And even then, the Aztecs got just 39 percent of their field goals via assists. They ranked 350th in Division I.
If there's one thing we learned last season, it's to never undersell a San Diego State team. It might be ugly. But if Steve Fisher's group maintains its defense, it won't have to pass the ball all that well. There's more than one way to put wins on the board.
March, 21, 2014
Mar 21
5:34
PM ET
ORLANDO -- Florida hardly looked like the No. 1 overall seed Thursday night in its opening-round game of the
NCAA tournament
.
And Louisville didn't look much better in its first NCAA tournament game in defense of its national championship.
Both will be looking for redemption when they play round-of-32 games Saturday, with another trip to the Sweet 16 on the line:
South Region: No. 1 seed Florida (33-2) vs. No. 9 seed Pittsburgh (26-9), 12:15 p.m. ET Saturday
[+] Enlarge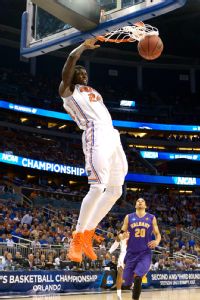 AP Photo/Phelan M. EbenhackCasey Prather and No. 1 seed Florida must play better in order to beat No. 9-seeded Pittsburgh.
Florida, which has won a school-record 27 games in a row and hasn't lost since Dec. 2, had to work much harder than expected in a
67-55 win over No. 16 seed Albany
in a second-round game of the South Region.
The surging Panthers
walloped No. 8 seed Colorado 77-48
Thursday.
"It was good enough to win, but is it good enough to play against a team like Pittsburgh? Probably not," Gators coach Billy Donovan said. "But I'm proud of our guys because they found a way to win when they didn't play their best. And you know what? They've always been really good at being able to learn valuable lessons in a lot of ways. So hopefully they'll be able to come back and correct that and do a little bit better."
The Gators will probably have to be much better against Pittsburgh, which is a lot bigger and more physical than the Great Danes. Albany, which had to win a first-round game against Mount St. Mary's on Tuesday night to earn the trip to Orlando, trailed UF by only six points at the half and tied the score at 39 with about 14 minutes to play. The Gators finally pulled away with a 9-0 run in the final 10 minutes.
"I think in this tournament you have to be aware that every team is fighting for their life, and the goal is just to survive," Gators center
Patric Young
said. "Moving forward, we have to make sure we do whatever it takes just to survive and every team is going to be trying to keep that same mindset of just moving on to the next round. Hopefully, we can keep it going, as well."
Pittsburgh, which led Colorado by 28 points at the half and committed only three turnovers in the game, seems to be hitting its stride. The Panthers won 16 of their first 17 games this season, then dropped six of 10 after losing sixth man
Durand Johnson
to a season-ending knee injury.
Pittsburgh has played better lately, though, winning four of five, including an 80-75 victory over North Carolina in the ACC tournament.
Pitt was 1-7 against ranked opponents this season and is 2-15 all time against the country's top-ranked team.
"I think we feel like we're playing really good basketball," Pitt coach Jamie Dixon said. "We think we're playing our best. We played well in the ACC tournament. We didn't win it, but we thought we were playing better and we played good the other day. I think all that matters is not so much the seed but how you feel like you're playing and how you are playing."
Midwest Region: No. 4 seed Louisville (30-5) vs. No. 5 seed Saint Louis (27-6), 2:45 p.m. ET Saturday
Louisville and Saint Louis were in even more trouble than Florida on Thursday night.
[+] Enlarge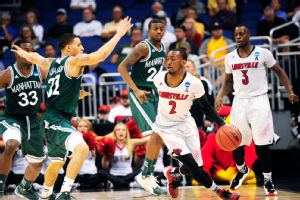 David Manning-USA TODAY SportsRuss Smith and fourth-seeded Louisville struggled against No. 13 seed Manhattan. The Cardinals face No. 5 seed Saint Louis on Saturday.
The Cardinals trailed No. 13 seed Manhattan 58-55 with less than 3½ minutes to go. But then Louisville stars
Russ Smith
and
Luke Hancock
bailed out their team by scoring 14 of their final 16 points, leading the Cardinals to a
71-64 victory over the upstart Jaspers
.
The Billikens trailed No. 12 seed NC State by 14 points with 5 minutes to go, and eight points with 90 seconds to go, but somehow won the game
83-80 in overtime
.
Louisville and Saint Louis will meet on Saturday, with the winner advancing to next week's Midwest Region semifinals in Indianapolis.
"We won the game, but any team in this tournament [can win]," Louisville coach Rick Pitino said. "Albany played Florida to the mat. Because of everybody leaving so early, that's what makes March Madness so much fun. I think we're a very good basketball team. I thought Manhattan was the better team [Thursday night] until 4 minutes to go in the game, and then we were the better team."
Manhattan's familiarity with Louisville -- Jaspers coach Steve Masiello played for Pitino at Kentucky and coached under him at Louisville -- made things more difficult for the Cardinals. Louisville missed 13 of its first 17 shots in the second half.
But Saint Louis and Louisville also are very similar. The Billikens have started five seniors in all but three games this season, and they're built on defense. Saint Louis ranks eighth nationally in adjusted defensive efficiency, allowing 91.4 points per 100 possessions. Louisville, which starts three seniors, ranks sixth in adjusted defensive efficiency (90.6 points).
"It's like watching one of [SMU] coach Larry Brown's teams," Pitino said. "You weren't quite sure whether his team executed better on offense or defense, and that's indicative of Saint Louis and Jim [Crews]' teams. They execute at both ends of the floor in a terrific fashion. Obviously they've got seniors, and seniors execute very well, and they're very impressive."
One group of seniors will be together on the court for another chance Saturday.
"We've been the underdog pretty much my entire time at Saint Louis, so it's nothing new," Saint Louis forward
Dwayne Evans
said. "But to be the best, you've got to beat the best, and obviously Louisville won it last year. I think we have the team to do it."
January, 13, 2014
Jan 13
9:00
AM ET
Game Plan is our Monday morning primer designed to give you everything you need to know about games that were and the games that will be in college hoops this week. Send us feedback and submissions via email and Twitter.
When
Grant Gibbs
lost four to six weeks of his final season at Creighton
, it wasn't just bad news for the Bluejays, or a sad break for a 24-year-old senior who is a senior precisely because he has so frequently been injured. It was also -- or at least it appeared to be -- very bad news for senior
Doug McDermott
.
After
Sunday's 35-point, 7-rebound, 5-assist, 13-of-24-from-the-field clinic
in Creighton's win over Xavier, let's just go ahead and issue a correction:
[+] Enlarge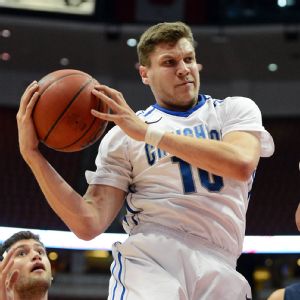 Jayne Kamin-Oncea/USA TODAY SportsIt seemed as if the injury to Creighton's Grant Gibbs would complicate teammate Doug McDermott's player of the year candidacy. But the Bluejays adjusted well against Xavier.
Never mind.
Not that the concern wasn't well-founded. The two-time All-American has always drawn the lion's share of the Bluejays' headlines, and rightfully so: He is one of the best and most thrilling offensive players in recent decades. The last time any college basketball player scored like this -- this often, and this efficiently -- his name was Kevin Durant.
But few realize just how important Gibbs has been to that three-year run of success.
As Gibbs himself pointed out to SI.com's Luke Winn in November
, McDermott maintains his crazy combination of efficiency and usage in large part because he "often scores while holding the ball for less than a second." Since McDermott's breakout sophomore season, the majority of his possessions have taken place on the low block. This season, per Synergy data, nearly 28 percent of his trips end in post-ups. And when McDermott posts up, he doesn't back dudes down for six seconds like, say, Anthony Mason. ("Compare Doug McDermott to Anthony Mason" achievement unlocked.) He pivots and seals and works over either shoulder, depending on where the defender has left himself exposed, often before that defender even knows what's happening. It is immediate and intuitive.
If McDermott is defended well, he'll fade off his back foot, or he'll kick and repost or slide to the wing. But most of the time, he's posting up, and for the past two seasons no player has been better at slinging low pinpoint bounce passes to exactly the place McDermott needs them than has Gibbs.
It was fair to ask whether Gibbs' sudden absence -- to say nothing of the sprained shoulder McDermott suffered in the same game -- would lessen the ease with which the forward racked up his patented buckets. Creighton's sublime offense hinges on McDermott's ability to score frequently and efficiently at the same time, and Creighton's overall chances hinge on its offense. For McDermott, the individual stakes were clear. What if Gibbs' absence diminished his status as the front-runner for national player of the year? What if it cost him his chance to score 3,000 points -- a historic feat only a handful of college basketball players have ever achieved?
Never mind all that. Sunday's by-the-book outburst against a good Xavier group is a one-game sample, sure, but it was also a pretty clear statement: Both the Bluejays and their generational star are versatile enough on the offensive end to thrive without Gibbs, at least for the time being. In the process, McDermott leapt from 36th to 28th on the all-time scoring list, passing Jimmer Fredette, Joe Dumars, Don MacLean, Mark Macon and Calbert Cheaney.
The Bluejays will be fine. McDermott will be fine. So get your Google Alerts aligned, and get your Twitter saved searches on point. The chase for 3,000 is officially on.
ICYMI: TOP STORIES
Iowa 84, Ohio State 74: The Hawkeyes finally finish.
"Last season's Iowa squad would not have won Sunday's game at Ohio State because it would not have finished. The 2012-13 Hawkeyes were a frustrating bunch. Although clearly boasting a strong roster, they didn't know how to win big games, how to finish them. The latter is all that matters in college basketball. … That's why No. 20 Iowa's 84-74 win at No. 3 Ohio State was such a meaningful victory for the program. Sure, it's the team's first true signature win of the season. And even though it's early in the conference season, the win puts the Hawkeyes in solid position for Big Ten contention. Beyond that, however, Iowa proved it could finish a marquee game on the road. That's the most significant lesson of this moment for Iowa basketball." —
Myron Medcalf, ESPN.com
Knee injuries sideline Colorado's Spencer Dinwiddie, Pitt's Durand Johnson.
In the big scheme of things, a road loss to a rebuilding Washington team in Pac-12 play is no big deal. Far more important to Colorado is whether guard Dinwiddie,
who had to be carried off the court in the first half after a gruesome-looking knee injury Sunday
, will be able to return this season. "My gut says it's not good," Colorado coach Tad Boyle said. "But we'll see." The loss would for Colorado would be immense; no player has been more important to the Buffaloes' rebirth under Boyle. Meanwhile, Pittsburgh already knows the sad truth about emerging sixth man Johnson:
He's out for the season with a torn ACL
.
Oregon just keeps losing.
During its 13-0 start, the inverse of that headline -- "Oregon just keeps winning" -- appeared in this exact location. Heady days, those. In a matter of two weeks, the Ducks have dropped three straight games, the latest of which (Thursday's 96-83 loss to Cal and
Sunday's 82-80 loss to Stanford
) both came on their home floor. The Ducks are still among the nation's best offenses, but they allow more than 1.03 points per possession, and it's killing them. (Oh, and don't look now, but Stanford has recent wins at UConn and Oregon, and is looking more like a tournament team by the day.)
STAT OF THE WEEK
: What happens when bad North Carolina offense meets ruthless Syracuse defense? A 57-45 loss that yielded two remarkable statistics: (1) The Orange won despite shooting just 35 percent. (2) The Tar Heels scored fewer points than any UNC team since 1997. The last time a North Carolina team scored fewer than 45 points in a game was a 1985 -- 1985! -- NCAA tournament loss to Villanova. In the words of noted North Carolinian Marty Huggins:
It's a mess
.
THE GAMES YOU NEED TO SEE
(An all-Saturday slate follows here, but check back Monday morning for separate previews of two of this week's big early games.)
Saturday


Pittsburgh at Syracuse, 4 p.m. ET, ESPN:
Here are a few things you can expect from Pittsburgh-Syracuse: A physical rebounding battle on both ends of the floor (Pittsburgh rebounds 39.1 percent of its misses; Syracuse grabs 40.2). A lot of prodding, probing offense by the Panthers, who record an assist on nearly 64 percent of their possessions and rarely give opposing teams steals -- and are sure to lose if Syracuse can force them. And a lot of "Get ready for a Big East conference matchup oh wait" jokes on Twitter.


Michigan at Wisconsin, 4 p.m. ET, ESPN:
Whether Wisconsin will still have its status as one of the nation's four remaining unbeatens come Saturday is to be determined; the Badgers visit Indiana Tuesday night. But either way, Iowa's win at Ohio State Sunday makes Wisconsin's tight victory over the Hawkeyes last week even more impressive in retrospect, and further establishes the Badgers as a neck-and-neck Big Ten favorite alongside Michigan State.


Michigan State at Illinois, 8 p.m. ET, BTN:
Speaking of Wisconsin, Illinois' 95-70 loss to the Badgers in Madison Wednesday wasn't nearly their worst result of the week. That came Sunday, when John Groce's team scored 43 points in 58 possessions at -- wait for it -- Northwestern. Yeah. That sound you just heard is every Illini fan smashing their head against their desk. But hey, what better way to recuperate than a chance to upset Michigan State in Champaign, Ill.?


Oklahoma State at Kansas, 4 p.m. ET, CBS:
Last February, Oklahoma State did something no Oklahoma State team had done since 1989: win in Allen Fieldhouse. They have the chance to do it again this weekend, only this time, the win won't break an extended Kansas home winning streak, and it wouldn't come as much of a shock -- just another sign that this is the year the Big 12 may finally shake loose of the Jayhawks' iron grip for the first time in a decade.


Louisville at Connecticut, 9 p.m. ET, ESPN:
It's hard to decide which team needs this game more: The Connecticut team that opened American play by dropping back-to-back road games at Houston and SMU, and that plays at Memphis on Thursday night? Or the Louisville group that just fell to Memphis in its own building, and is desperately searching for some frontcourt balance to match its backcourt in the wake of Chane Behanan's dismissal? Let's call it a draw.
PHOTO OF THE WEEK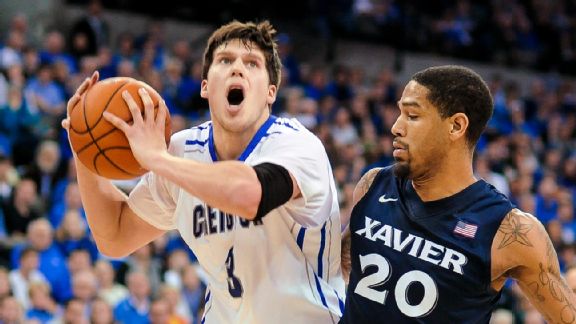 Eric Francis/Getty ImagesCreighton forward Doug McDermott draws a foul, and screams, against Xavier's Justin Martin in Sunday's 95-89 win over the Musketeers. Note to prospective McDermott defenders: If you find yourself in this position, you've already lost.