College Basketball Nation:

Dustin Hogue
March, 27, 2014
Mar 27
6:55
PM ET
NEW YORK -- They call the
NCAA tournament
the Big Dance, and the
Connecticut Huskies
danced their way onto the Madison Square Garden floor Thursday.
It was a brand-new floor -- the NCAA installs its own court at each tournament site -- but everything else looked familiar to the Huskies, who played here twice earlier this season and 13 times in the past four years.
No wonder No. 7 seed UConn looked so comfortable as it prepared for its noon 50-minute open practice, with several players shimmying on the sidelines before the team was introduced.
[+] Enlarge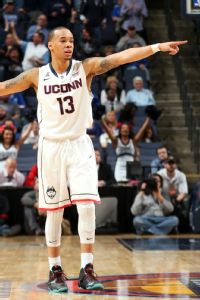 Joe Murphy/Getty ImagesShabazz Napier and the Huskies believe they will have a home-court advantage Friday versus Iowa State.
"I told the guys, this came full circle," Connecticut coach Kevin Ollie said. "I know we came down here and played in the 2K Classic and won that Classic. But to come down here this time, and our guys not able to play in the last Big East tournament that was here last year, it's all full circle."
It's UConn's 17th trip to the Sweet 16, but this one is extra special. The Huskies were
banned from the NCAA tournament
last season because of poor academic performance and ruled ineligible for the Big East tournament as well.
It's also extra special because these will be the first NCAA tournament games at Madison Square Garden since 1961.
Star guard
Shabazz Napier
, one of several Huskies who elected to stay at UConn despite the postseason ban, admitted Thursday he couldn't bring himself to watch a single game of the 2013 tourney.
A huge fishing fan, Napier consoled himself by watching shows such as "River Monsters" on Animal Planet instead. "I didn't want to watch [the tournament] because I felt like if I did, I would be aggravated or annoyed," he said.
Napier has been one of the best shows in college basketball this season. A likely first-team All-American, the 6-foot-1 senior leads Connecticut in scoring (17.8 PPG), rebounding (5.9 RPG), assists (4.9 APG) and steals (1.8 SPG), and he has a penchant for making plays when it counts.
He hit a game-winning buzzer-beater against Florida in early December, scored nine of his 24 points in overtime in UConn's win over No. 10 seed St. Joseph's to open this tournament, and followed that up with 25 points in a victory over second-seeded Villanova two days later.
Napier also scored 20 and 27 points in the Huskies' 2K Classic wins over Boston College and Indiana here back in November, and he believes his team has a definite advantage Friday night against No. 3 seed
Iowa State
, despite being the lower seed.
"The thing that would help us is our great fan base coming down and supporting us, like they always do," Napier said. "When we are down and when we're up, they are still cheering. They give us the support, they give us that sixth man that we need to push us forward."
Teammate
Ryan Boatright
believes UConn's familiarity with the Garden will be a big plus, too.
"It just feels like a second home to us," Boatright said. "If you've never played here before, it's definitely a different feeling -- the background, the rims ... the whole crowd is dark, just the court is lit up. Everything is different than playing in a regular college stadium."
It is expected to be a heavily pro-Huskies crowd, with the Connecticut campus just 135 miles away. UConn has always drawn well at the Garden, making this historic ticket even hotter than it already would have been.
The Metro-North commuter railroad is adding an extra express train from New Haven, Conn., to Grand Central Terminal on Friday afternoon, and extra cars to other trains departing New Haven for New York as well (and vice versa at the end of the night).
As of late Thursday afternoon, the cheapest single ticket available on StubHub for Friday's regional semifinal doubleheader (also featuring Virginia versus Michigan State) was $594.05 -- for a bar-stool seat no less.
Ollie and Iowa State coach Fred Hoiberg, good friends and former teammates with the Chicago Bulls, have both played at the Garden many times.
"It's special. I can't say it's not," said Ollie, who later called it "the greatest arena alive for basketball."
The Garden was the first thing Hoiberg brought up in his pregame news conference.
"I'll start out just by saying how excited our team is to be out here in New York City," he said. "Our guys get the opportunity to play at Madison Square Garden. I'll never forget my first time here when the announcer comes on and says, 'Welcome to Madison Square Garden, the world's most famous arena.'"
Iowa State is used to playing in front of large crowds -- the Cyclones were ranked No. 22 in Division I home attendance this season, averaging 13,393 fans per game. But Ames, Iowa, is more than 1,000 miles away, and the Cyclones have played at the Garden only three times in school history, the last being an 84-81 loss to Rutgers in the semifinals of the 2004 NIT.
Heck, Iowa State forward
Dustin Hogue
, a native of nearby Yonkers, N.Y., had never even set foot in the Garden before Thursday's open practice.
Hoiberg admitted some concern. "To come out and experience this is just awesome for our guys," he said. "[But] you try to get the 'wow' factor out of the way as quickly as possible, so they can focus on the task at hand."
The Cyclones did look a little more like tourists than the Huskies did when they walked on the floor two hours later. Hogue asked someone to take a picture of him at center court. Reserve forward
Daniel Edozie
pointed up at the giant overhead scoreboard in apparent glee.
But Hoiberg sounded confident that come Friday night, his team will be good to go.
"That's been my message to them -- enjoy this day, in a very casual setting to go out there and get used to the shooting background and the rims," he said. "Then tomorrow it's all about business.
"Once that thing goes up tomorrow at 7:27, our guys will be ready to play."
March, 14, 2014
Mar 14
11:49
PM ET
KANSAS CITY -- As
Melvin Ejim
,
DeAndre Kane
and a bandaged
Georges Niang
-- he took an elbow to the right eye -- walked off the podium, each player gave Fred Hoiberg a fist bump minutes after they'd punched Kansas in the mouth.
On Friday night, the Good
Iowa State Cyclones
showed up. That's the group that might deserve a space in the Final Four of your office pool bracket. That's the team that can turn the basketball court into a canvas with strokes of beautiful basketball that paint the picture of a program with a ceiling that keeps getting higher.
That's also the squad that's not always fortunate enough to see its three best players excel and avoid foul trouble on the same night. That's when the Unpredictable Iowa State Cyclones arrive. That's the team that lost four of five in January.
In the Sprint Center, however,
Iowa State outplayed Kansas during a 94-83 win
in the Big 12 tournament semifinals Friday to set up the program's second conference tournament title game appearance, and first since the Cyclones won the championship in 2000.
[+] Enlarge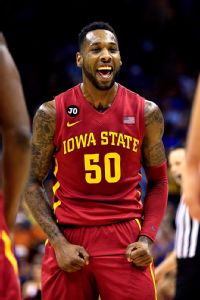 Jamie Squire/Getty ImagesDeAndre Kane and Iowa State had plenty to smile about after knocking off KU to advance to the Big 12 championship game.
At the final buzzer, the Cyclones weren't sure whom they'd face, but they knew how they'd reached Saturday's finale. This vital trio of talent -- Kane, Ejim and Niang -- had pushed the program into the title game.
"I think every day we play, we bring it," Ejim said. "The chance of us three playing well is increasing and when guys that come off the bench, like
Dustin [Hogue]
, are playing well,
Monte [Morris]
is playing,
Daniel [Edozie]
comes off and gives us some vital minutes, it shows how versatile this team is, how many weapons we have and how hard we are to beat when we're all clicking. We're doing a real good job and we're really rolling right now, and I think that it's just going to continue to go in that direction."
With simple layups, Niang (game-high 25 points) hammered a Kansas interior defense that needs injured center
Joel Embiid
to return soon. Kane (20 points, six rebounds, six assists, two steals, 5-for-6 from the 3-point line) allowed the shots to come while the Jayhawks were conflicted by matchups against players who can all shoot and slash. Ejim, the Big 12 player of the year, had a quiet 19 points, five rebounds and two steals.
"We like the run and gun," Kane said. "We like to get up and down the court. Anybody can bring it up."
In all, the threesome collected 64 points. And they were also responsible for a defensive effort that limited
Andrew Wiggins
to a 7-for-21 outing and contained the Jayhawks to a 4-for-15 effort from the 3-point line.
It wasn't just Ejim, Niang and Kane, though. It rarely is.
Morris and Hogue finished with double figures. And it's always easier to win when you hit 11 3-pointers. The Cyclones scored 1.25 points per possession against the Jayhawks and they outscored them 41-18 outside the paint, according to ESPN Stats & Info.
Ejim, Niang and Kane, however, were the conductors of the ensemble.
When that happens, Hilton Magic happens. Even in Kansas City.
"Well obviously, we play through those guys," Hoiberg said. "They're all guys that are capable of handling the load on the offensive end. All of them can create a mismatch out there. And I'll tell you the thing I've been most impressed with is that they recognize mismatches out there on the floor."
But talk to any Iowa State fan and they'll tell you about their fears and nightmares. They'll tell you what they've seen. They'll talk about the times this season that the trio became a duo or an individual to the detriment of the program.
During that Jan. 13 loss to Kansas, Niang (4-for-20) went missing. Five days later, Kane went 3-for-12 in a loss to Texas. Ejim went 3-for-14 in a loss to Baylor in early March.
And those are just examples from some of the losses. There's a distinct difference in Iowa State's performances when only one of those leaders struggles.
And there's an elevation that's displayed when they're all flowing.
"I think we're very good going forward when all three of us make great contributions," said Niang, who sported a Band-Aid over his right eye after Kansas guard
Brannen Greene
accidentally elbowed him in the second half.
That was clear Friday. On that day, the Jayhawks couldn't touch them.
And the truth is that few teams will Saturday or beyond if this continues.
It's the "if" part, however, that worries the Cyclones faithful.
February, 17, 2014
Feb 17
11:00
AM ET
Here are a few facts about the
Iowa State Cyclones
:
• They rank sixth in the Big 12 in points per possession (1.075).
• Through Sunday night, Texas Tech and West Virginia both ranked higher than the Cyclones in per-possession offense in conference play.
• They rank sixth in the Big 12 in points allowed per possession (1.068).

Now, to some extent, those numbers are disproportionately affected by the 102-77, 75-possession wallop West Virginia delivered to the Cyclones last week. That kind of demolition will mess with your statistics, you know? And the Big 12 is good -- probably the best league in the country now that Texas Tech is playing everybody tough.
But even so, Iowa State, sixth on offense
and
sixth on defense? Really? What happened here?
The Cyclones are a prime example of why tempo-free stuff helps us make more sense of the basketball world. Because they play fast, the Cyclones' offense always numerically looks like one of the best in the country -- and at various points in the season, it was. But it's not right now, and the sneaky-good defense that helped anchor ISU's early run has mostly gone missing. Meanwhile, the Cyclones are getting great frontcourt stuff out of of
Dustin Hogue
. Fred Hoiberg just added freshman
Monte Morris
, who almost never turns the ball over, to the starting lineup in a two-point configuration with
DeAndre Kane
. Everything our eyes tell us that the Cyclones, save that whole West Virginia fiasco, are one of the best 10 teams in the country. Right now, their actual performance tells us otherwise.
Might Texas' visit to Hilton on Tuesday night expose the gulf between the two?
Forget all the perception stuff: Texas is a tough matchup for anyone. The Longhorns don't shoot the ball particularly well -- though they too rank above Iowa State in offensive efficiency in Big 12 play -- but they make up for it with their size and athleticism in the lane. The Longhorns rebound more of their own misses (40 percent) than any team in the Big 12, and more than 70 percent of their opponents'. They block 16.4 percent of opponents' field goal attempts, sixth-most in the country. When they beat Kansas in Austin, they outpowered one of the most athletic and physical frontcourts in the country a few nights after it handled the Cyclones.
Melvin Ejim
,
Georges Niang
, and Hogue have a tough task ahead of them. They also have the advantage of spacing, and of the offensive strengths of their coach's innovative and versatile offense. But the fact is, Iowa State hasn't been playing that great lately. Where it goes from here will say a lot about whether this is the product of a slight mid-season slump, or something more disconcerting.
January, 24, 2014
Jan 24
9:30
AM ET
Life was good in Ames, Iowa, through the first 15 games of the season. Fred Hoiberg had his most intriguing squad of his tenure.

His point guard, Marshall transfer
DeAndre Kane
, had snuck into the Wooden Award conversation. The players around him formed a unit that seemed poised to contend for the Big 12 crown. It wasn't crazy at that time to think the Cyclones were the best team in the league, as they'd just crushed Baylor at Hilton Coliseum by 15 points.
They were a top-10 team on the rise with wins over Michigan, Iowa and Baylor.
They're still a nationally ranked team, but they're falling as they prepare for a critical home game against No. 22 Kansas State on Saturday.
What's wrong with the Cyclones?
Iowa State, ranked No. 16, has a variety of challenges. The Cyclones are not strong on the offensive glass (297
th
in offensive rebounding rate per Ken Pomeroy). They've also been a middle of the pack free-throw shooting team (70.8 percent) in Big 12 play.
But their most important struggle is centered on the 3-point line.
As opposing coaches prep for Hoiberg's squad, they emphasize the quandary presented by the program's lengthy list of 3-point shooters. And they're not all guards.
Georges Niang
,
Dustin Hogue
and
Melvin Ejim
can all step beyond the arc and hit shots.
Iowa State typically forces opponents to guard every player on the court in space because they're all so versatile.
But the 3-pointer has not been as meaningful for Iowa State in Big 12 play as it was during the nonconference part of the schedule. Through five league games, 40 percent of the team's field-goal attempts have come from beyond the arc. But they're shooting only 28.3 percent on 3-pointers in Big 12 play, ninth in the league. Only 28 percent of their offensive output thus far is credited to 3s, which in large part explains their 2-3 start in conference play.
So much of Iowa State's identity is based on its offensive diversity, as seven players have made at least 34 3-pointers this season.
So its recent problems from deep have been pivotal in its current three-game losing streak. Iowa State's upcoming four-game stretch will be a gantlet with home games against Kansas State and Oklahoma and a pair of road matchups against Kansas and Oklahoma State.
It's an opportunity for Iowa State to get back into a healthy rhythm. But it could also extend the fall.
Iowa State's success at the 3-point line, or lack thereof, could be the element that dictates the path it will take.
January, 14, 2014
Jan 14
1:45
AM ET
During Kansas' preseason practices last October, the eyes of the spectators were locked onto a lanky new arrival.
By then, everyone had heard of
Andrew Wiggins
. But
Joel Embiid
was still somewhat of a mystery. Even then, however, the vast potential of the young man from Cameroon who picked up the game a few years ago was evident.
He had moves. He could spin off the baseline and score with either hand. He could swat shots with a rare ease. He could run the floor and finish like a pro.
And throughout this season, he's gradually morphed into a force that's an obvious problem for every team outside Lawrence, Kan. He's second in the nation in block percentage, according to Ken Pomeroy. He has an array of potent post moves now.
Every night, it seems, Embiid does something that makes grown men gush.
His effort in
No. 15 Kansas' 77-70 win over No. 8 Iowa State
on Monday night in Ames established a new truth about a Jayhawks program that's made its case as the best team in the Big 12 and one of the top teams in the country in recent weeks.
Embiid is the most important player on the Kansas roster.
He wasn't the only star against the Cyclones. Wiggins collected 17 points and 19 rebounds.
Naadir Tharpe
had 23 points.
[+] Enlarge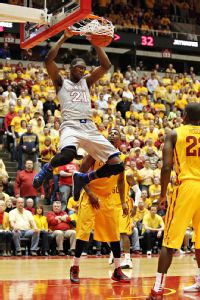 Reese Strickland/USA TODAY SportsJoel Embiid finishes off a dunk for Kansas on Monday.
Embiid finished with 16 points, nine rebounds, five blocks and two steals (seven turnovers, too) in 28 minutes.
But his time on the floor was limited by foul trouble, including a silly flagrant 1 in the first half. He fouled out in the final minute of the game.
By then, however, he'd already proven to the multitude of NBA scouts in Ames for the game that he deserves serious consideration as a No. 1 pick in next summer's draft.
Before that payday, Embiid can lead Kansas to the Big 12 title and more. His presence on both ends of the floor has added a new dimension to Kansas basketball.
In KU's past seven games (6-1), Embiid has averaged 13.4 PPG, 8.5 RPG and 3.0 BPG.
There is no ceiling for Embiid, who has as much upside as any college basketball player in the country. And against Iowa State on Monday, he seemed to realize it in the second half.
He didn't just block
Dustin Hogue
, he robbed him in midair. He passed out of double teams. He dribbled on the baseline and scored.
He affected every possession when he was available.
But he wasn't always available (Embiid averages 3.6 fouls per game).
He picked up his second flagrant foul in as many games. He was ejected from Saturday's win over Kansas State after he threw an elbow that hit
Nino Williams
.
In Ames, he tussled with
DeAndre Kane
early in the first half and went to the bench, where he was scolded by Bill Self for disrupting his team's momentum.
With 15:13 remaining in the first half, the Jayhawks led 15-4. Iowa State, a team that finished 4-for-25 from the 3-point line, managed to tie the game by halftime, 36-36, after Embiid missed a crucial stretch.
Then, the light came on. And Embiid began to compete like a young man who suddenly realized the court was his canvas and he was free to do what he wanted with it (he scored 12 of his 16 points in the second half).
The rest of us could only watch and wonder.
Wonder if this path leads to Olajuwon.
After the game, Iowa State's Fred Hoiberg told reporters that Embiid is the best player in America.
He's not there yet. But he can get there.
If he avoids the nonsense.
Monday's flagrant foul did not cost the Jayhawks a victory. But it could have.
And that's what Embiid has to recognize. He's too important to interrupt his team's progress with avoidable errors.
He still has a lot to learn. Clearly. He's still working on passes out of the paint when he's trapped. He's still testing his range. He's still figuring out the difference between establishing position in the post legally and illegally.
But every game, he takes another step, steps that could lead to the late stages of the NCAA tournament if Kansas keeps growing.
The Jayhawks can ride Embiid to the top of the league and beyond.
Based on Monday's game and the matchups that preceded it, Embiid is beginning to understand that. But that possibility won't materialize unless he stays on the floor.
January, 8, 2014
Jan 8
12:16
AM ET
AMES, Iowa -- He did not fear the 7-foot-1 defender in front of him. He baited him.
In the first half of a performance that should multiply the All-American chatter about the transfer from Marshall,
DeAndre Kane
drove left and stared at
Isaiah Austin
.
He maintained his dribble and gave Austin a moment to think about his next move.
Although it was still early in No. 9 Iowa State's 87-72 whipping of No. 7 Baylor on Tuesday night at Hilton Coliseum, the Bears had already tried everything to contain Kane. They used a zone. They put
Gary Franklin
on him. They trapped him. They even chased him down the floor and tackled him in their effort to beat Iowa State on the road for the time in school history.
On that drive before halftime, they threw their biggest man at him. That's all Baylor had left. But Kane's floater sailed above Austin's broomsticks and found the hoop.
[+] Enlarge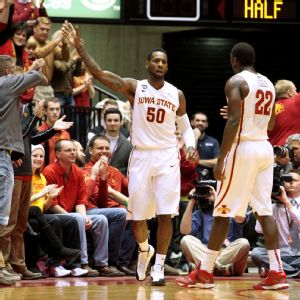 Reese Strickland/USA TODAY SportsDeAndre Kane has made an immediate impact at Iowa State, delivering a virtuoso performance Tuesday to help keep the No. 9 Cyclones unbeaten.
"Coming in, I heard he was good, but I think he's far surpassed what people might have thought about the impact he would have on his team," Baylor coach Scott Drew said.
In that moment, it was clear that Baylor hadn't brought an answer for the senior point guard on its trip from Waco.
It was also obvious that Kane is the engine of an unblemished Cyclones team that might be the best squad in school history -- if the program-record 14-game winning streak is any indication -- and arguably the best team in the Big 12. But the latter might be decided on Monday when Iowa State hosts Kansas.
Kane scored 30 points, grabbed eight rebounds, recorded nine assists and collected five steals. He's the fourth Division I player since 1997 to produce those numbers, according to ESPN Stats & Info.
"I think the stats speak for themselves,"
Melvin Ejim
said. "He went off."
In the beginning, there was
Andrew Wiggins
and
Marcus Smart
.
The Big 12 orbited around the talented underclassmen from Kansas and Oklahoma State, respectively, during the months leading up to the season.
But Kane was relatively unknown, even though he'd starred in Conference USA for three seasons at Marshall.
He was productive, but few knew it because he'd never reached the NCAA tournament.
"I just wanted to be a part of something special," Kane said about his decision to choose Iowa State.
Kane left the Thundering Herd on uncertain terms. On the surface, it appeared that he and Marshall had parted ways on a good note. It also appeared that Marshall coach Tom Herrion had given the senior his blessing. Kane had even penned an endearing letter about the Huntington, W.V., community that was published in the local paper.
However, rumblings of trouble and hints throughout the college basketball community that Kane might come with red flags started to circulate.
That's nothing new for Fred Hoiberg, the maestro of young men seeking second chances and fresh starts. He's relied on Royce White, Chris Allen and other transfers throughout his time with the Cyclones.
All arrived with question marks, and all succeeded.
"If [people] thought I was a risk, they see now I'm pretty helpful to the team," Kane said.
Signing transfers and junior college players is not a new tactic in college basketball. But Hoiberg's gift is that he blends it all together in a short amount of time. And that's what stood out against Baylor.
Dustin Hogue
(10 rebounds) is a junior college transfer.
Monte Morris
(13 points, 3-for-4 from the 3-point line) is a freshman.
Georges Niang
(9 points, 5 assists) is a sophomore. Ejim (18 points) is a senior.
A few months ago, Hoiberg handed Kane the ball and told him to organize the pieces and create harmony despite being new.
New faces, new egos, new pressure. It's a recipe for chaos.
But it's the consistent template for perennial symphonies in Ames.
How does it all work and so quickly?
"I don't know," Hoiberg said. "I give our guys a lot of credit."
After Tuesday's game, Kane didn't talk about his teammates. He talked about his brothers.
They play together.
It takes a unified team to trick a lengthy Baylor team into playing small ball. Although the combined size of Austin,
Rico Gathers
and
Cory Jefferson
presented problems for Iowa State, the Cyclones never let those big men get free. They harassed them and forced them to make shaky passes that contributed to Baylor's 19 turnovers.
They also convinced Baylor that the 3-pointer was its only weapon. So a Bears team that entered the game ranked 293rd nationally with just 207 3-pointers attempted in its first 13 games equaled Iowa State's 25 3-point attempts Tuesday evening. The Bears were actually better than the Cyclones from beyond the arc (44 percent to 40 percent).
But they abandoned their greatest advantage -- their size inside -- so they were outscored 47-26 in the paint.
This Iowa State team's game-by-game strategy is anchored by a senior point guard who wanted to help, not disrupt, when he arrived.
He's the catalyst that allows good teams to exploit the gaps in their opponent's game plan.
Kane found the gaps against Baylor. He usually does. That's why he embarrassed a top-10 team on national television. And that's why he has All-American stats and a chance to guide a team into the NCAA tournament for the first time.
Yet he's still waiting on All-America recognition.
Kane wants a slice of the spotlight. Not because he's selfish and self-absorbed, but because he's worked so hard and executed in anonymity for so many years.
"I just gotta give it everything I got," Kane said. "I've gotta show people around the word that I can play with the elite players. I deserve to be talked about a little bit more. And I will. As long as we win, that's all that matters to me. I came here to win. I didn't come here for the player of the week or the newcomer of the week."
But that praise will come if he continues to excel.
Kane is too good to stay hidden. He's too talented to be suppressed.
"He's a matchup nightmare out there," Hoiberg said.
In Ames, however, he's finally part of the dream.
December, 14, 2013
12/14/13
2:14
AM ET
Iowa State's 85-82 victory over Iowa on Friday night was many things.
It was a seminal moment, a truly great game, and a line of demarcation for two basketball programs that haven't had a truly marquee rivalry game since 1987, in a state that really does love basketball -- if you give it a little nudge.
Iowa State 85, Iowa 82 was also a thrilling, high-speed affair. It was 40 minutes of sheer, evenly matched entertainment. It was a clear indication that, in their twin streaks to national prominence, both the Cyclones and the Hawkeyes have not only become good but somehow become have done so at exactly the same time. It was a gigantic vibrating cardinal-and-gold love-in, or a high-decibel world-record attempt, or both.
It was, more than anything, a great win for Iowa State and coach Fred Hoiberg, which is starting to become a habit.
And it was a brutal, heartbreaking, kick-in-the-teeth kind of loss for Iowa -- a glaring, gobstopping missed opportunity for a team that was sure it kicked that tic in 2012-13.
Perhaps the most frustrating part for Iowa fans is the inability to direct frustration. Viewed from a more remote, detached perspective, Friday night's loss was less a breakdown than a very good 40-minute effort in a difficult road environment that came down to 13 seconds and two statistically advantageous circumstances, all of which went Iowa State's way.
[+] Enlarge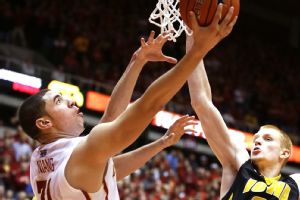 AP Photo/Charlie NeibergallGeorges Niang scored 24 points as Iowa State pulled out a tense 85-82 win over in-state rival Iowa on Friday.
The first, with 13 seconds left, is sure to live in Cy-Hawk lore for years to come. After Iowa State's
Georges Niang
made a baseline reverse layup (one of his apparently endless supply of post moves) to put the Cyclones up a point, Iowa point guard
Mike Gesell
pushed the right side of Iowa State's defense and got a shockingly quick foul call to put him on the line. It was a heady play, and a mental error by the Cyclones; it put an 80 percent free throw shooter on the line with a chance to reclaim the lead.
Instead, Gesell -- facing a storm of noise at Hilton Coliseum; "You could feel the vibrations in the building again," Hoiberg said -- missed the first. He rimmed out the second.
Iowa still had a chance. After the Cyclones' Dustin Hogue made two foul shots to put the Cyclones up by three, Gesell advanced again. The Hawkeyes ran a pretty simple wing-screen set and got a shockingly open look for guard Zach McCabe. Down three, with overtime on the line, it was the kind of look college basketball teams never, ever get. Iowa got it, and got it for one of the best shooters in the country to date this season -- a 48.5 percent 3-point shooter. McCabe was lined up. He was square. His shot rimmed out, too.
How do you even get mad about that? Where do you direct your anger? The gulf between process and outcome can be vast. Even with Iowa's issues down the stretch in the second half, it got the shots it needed to get to win the game. They didn't go in. What are you going to do?
All of which takes nothing away from Iowa State. The Cyclones trailed for longer during the game than Iowa did, but not by much; in any case, you knew the run would come. That is the chief strength of Hoiberg's program: The Cyclones have become so skilled and versatile on the offensive end that no gap seems too large for them to close before the end of regulation. The ensemble setup also allows them to cover for sudden productivity dips.
Friday was a perfect example. Guard DeAndre Kane, Iowa State's best player to date, shot just 1-of-6 (albeit with nine assists). But Niang and Melvin Ejim combined for 46 points, 7 assists and 9 rebounds. No worries, right? Meanwhile, Hogue -- a junior college transfer grabbing 26.4 percent of available defensive rebounds, and shooting 67 percent inside the arc -- added 16 boards and 12 points. And while all of the Cylcones have slightly different strengths, they are thrillingly non-traditional: Kane is a big, versatile ballhandler who can hold his own in the lane; Ejim is an undersized forward who uses his quickness to his advantage; Hogue might be one of the best rebounders in the country at 6-foot-6; and Niang is one of the quirkiest and most unclassifiable stretch-point-forward players in recent college hoops memory.
The combination works. With a road win at BYU and a home win over Michigan under its belt, Iowa State's win over the Hawkeyes was its third genuinely impressive victory of the season.
Iowa, despite all available evidence of its quality, can not say the same.
Friday night's three-point loss is unlikely to hurt this Iowa team the same way last season's series of close losses did down the stretch. The Hawkeyes were much younger and on the bubble then, fighting a desperate uphill battle against their own soft RPI. This year's team is older, deeper, stronger, and more balanced, especially with the addition of Wisconsin transfer Jarrod Uthoff. Iowa should be fine.
Even so: Iowa's two best chances for nonconference plaudits this season were an overtime loss to Villanova, 88-83, in the Bahamas, and Friday night. The Hawkeyes played good basketball; they are good. But they still missed on both.
So you can excuse Iowa fans if they don't quite feel up to the spirit of the occasion. Iowa State 85, Iowa 82 was a lot of things Friday night, from the basketball to the atmosphere to the symbolism of both programs' recent history. But for Iowa fans, it was another missed opportunity -- another instance of a bad habit everyone involved would be more than happy to correct.