College Basketball Nation:

Dwayne Evans
March, 21, 2013
Mar 21
4:19
PM ET
SAN JOSE, Calif. -- No. 4 Saint Louis took care of No. 13 New Mexico State
64-44
. Here are our thoughts:


Overview
: The Billikens were in control throughout, going bell to bell with the lead for the ninth time this season. After a woeful first half, New Mexico State made a mini-run in the second frame, cutting the deficit to six points twice, but Saint Louis stayed its methodical self and coasted home.
Turning point
: It seemed over at halftime, when the Aggies had just 16 points and nine turnovers. They at least made things interesting with better and more spirited play early in the second half. But
Cory Remekun
answered for the Billikens with two free throws, a dunk and a steal, and
Cody Ellis
added a 3-pointer and a jumper, pushing the lead back to 15 with 9:36 remaining.
Key player:
Saint Louis forward
Dwayne Evans
led all scorers with 24 points on 11-for-16 shooting. He also had six rebounds, an assist and a block. It was a quietly effective show of will on a big day for the program, which notched its 28th victory, most in school history.
Key stat:
It's rare that a team has a 21-10 advantage on the offensive glass and loses, but New Mexico State struggled against the rugged Saint Louis defense. The Aggies shot just 28 percent from the field -- 17-for-61 -- and had 15 turnovers. The Billikens had 10 turnovers and shot 46.3 percent from the field.
Next game
: Saint Louis advances in the Midwest Regional and will play the winner of Thursday afternoon's game between No. 5 Oklahoma State and No. 12 Oregon on Saturday.
March, 16, 2013
Mar 16
9:43
PM ET
NEW YORK -- For years, the debate has raged over whether or not conference tournaments are really a good idea. And, sure, if you have a league that plays a home-and-away round robin -- like the Big 12, Missouri Valley or West Coast -- you'd think that your regular season has already supplied some really good information. A conference like that doesn't want to see its regular-season last-place team waltz into the conference tourney and steal the automatic bid. (Certainly bubble teams from other leagues don't want to see that happen.) I get that.
But what if your conference has 16 members, and each team plays just 16 league games? Such was the case with the Atlantic 10 this season, and I'll be honest. Based on that small smattering of regular-season basketball, I wasn't sure what to expect when I arrived at the Barclays Center to watch the A-10 semifinals.
So this particular conference tournament was absolutely a good idea. I know much more about the two winners, Virginia Commonwealth and Saint Louis, than I did before. Nothing like March basketball on a neutral floor to add some clarity. Here's what I learned. (I mean besides the fact that the VCU band is really, really good.)
Havoc happens
If Rams coach Shaka Smart were a brand manager for a Fortune 500 company, he'd deserve a big promotion. The fact that you already know all about the brand of basketball played by a mid-major that until this season was a member of the Colonial Athletic Association is something of a tribute to Smart and the success he's enjoyed in Richmond.
That style is branded as "Havoc," of course, and its purpose is to get the other team to commit turnovers. This season in A-10 play, VCU's opponents gave the ball away on 27 percent of their possessions, easily the highest such number in the league. I knew all about the style, naturally, and all about that remarkable number before I saw Smart's team beat Massachusetts
71-62
in the second semifinal Saturday afternoon.
But until you've seen it in person, it's hard to appreciate Havoc's ability to make the other team's game plan and preparation more or less useless. UMass actually took good care of the ball for the game's first eight minutes or so -- Smart would say afterward he thought his team was "sluggish" early -- but that soon changed dramatically. By the time the dust had settled and the Rams had emerged with their nine-point win, the Minutemen had given the ball away 24 times in a 75-possession game. In light of the fact that Derek Kellogg's team committed a turnover on fully 32 percent of its possessions, it's fairly amazing UMass kept the game as close as it was.
[+] Enlarge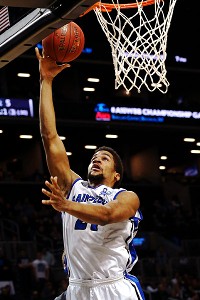 Anthony Gruppuso/USA TODAY SportsDwayne Evans goes up for two of his 24 points in Saint Louis' semifinal win over Butler.
Speaking of amazing, if you're a VCU opponent, the truly insidious thing about Havoc is what it does to you even on possessions where you
don't
give the ball away. Take Kellogg's team. In theory, UMass should like a fast tempo. This was, after all, the fastest-paced team in A-10 play this season (69 possessions per 40 minutes). But in practice, going fast against the Rams did not work well at all. For long stretches of the second half, the Minutemen were sped up to the point where they would take the first shot they got -- very often a bad shot -- simply to get an attempt off before the next (inevitable) turnover.
This offense needs a cool name, too
For all the acclaim that Havoc has won, the truth that is VCU's offense is better than its defense. Much better. During A-10 play, Smart's team scored 1.13 points per possession, while no other team topped 1.08. Granted, that kind of excellence wasn't evident against UMass, but you can bet Saint Louis head coach Jim Crews knows what's Smart's offense can do, and is preparing accordingly ahead of Sunday's tournament final.
Treveon Graham
has put together an excellent season, but on a day when he went 1-of-12 from the floor, it was
Troy Daniels
who got the Rams over the hump. The 6-foot-4 senior hit 6 of 9 3s on his way to 20 points. Yet even in a game when Daniels' teammates were off with their shooting, VCU's biggest advantage was that it committed just eight turnovers. The Rams are almost as good at avoiding turnovers on offense as they are at forcing them on defense, and the truly enormous turnover margin that results has fueled much of this team's success.
Now the scary part: Saint Louis may be even better than VCU
In the other semifinal at Barclays, the Billikens beat Butler
67-56
. If you read Dana O'Neil's
piece on the Billikens
, you know that no less an observer than Butler coach Brad Stevens was very impressed by SLU. "They're a legitimate contender to win the whole thing," Stevens said after the game. "I believe that wholeheartedly."
What I saw Saturday certainly backs up that assessment. Crews' team boasts the best defense in the A-10, and proved it against the Bulldogs, holding Stevens' squad to 56 points in a 70-possession game. "They are men," BU's coach marveled afterward.
One of those "men" is
Dwayne Evans
, he of the 24-point, 11-rebound double-double against the Bulldogs. Start saying Evans' name now, and chances are you will look very smart in a couple weeks. The 6-5 junior plays in a balanced offense for an A-10 team, so his isn't what you'd call a household name. All Evans has is the ability to go off against a higher-seeded major-conference opponent in the very near future. You heard it here first.
In the first meeting between Saint Louis and VCU, the Billikens played on their home court and refused to be drawn into any kind of Havoc, committing just eight turnovers in a 56-possession game. SLU won that game easily 76-62. After the semifinal at Barclays, I asked Smart about that earlier game and what his team needs to do to beat the Billikens. "Play better," he told me.
What his answer might have lacked in length, it more than made up for in accuracy. Smart's exactly right. VCU's "normal" game won't be enough against Saint Louis in the A-10 finals. And most teams' "normal" games likely won't be enough against either the Rams or the Billikens in the NCAA tournament. Field of 66 other teams, you've been warned. The A-10's big two are very good at what they do.
March, 16, 2013
Mar 16
5:40
PM ET
NEW YORK -- If you're looking for a sleeper pick for your NCAA tournament pool (for fun purposes only, of course), I have a guy who has a team for you.
His name is Brad Stevens, and he's got some good insider knowledge on this sort of thing.
I mean, if you think back-to-back Final Fours out of Butler give you any insight.
[+] Enlarge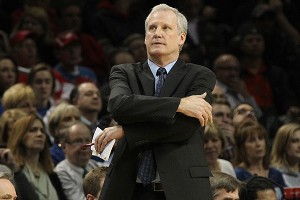 AP Photo/Mary AltafferSaint Louis and coach Jim Crews beat Butler in the Atlantic 10 semifinals 67-56.
"I've said all year to anyone who would listen to me, and even people who wouldn't, how good Saint Louis is," the Butler coach said. "They're a legitimate contender to win the whole thing. I believe that wholeheartedly."
Here on Selection Sunday Eve, plenty of teams are still sweating out their spot and fretting the bubble.
By Sunday night, some poor sap will be sweating his first game against the Billikens, and some potential Round of 32 foe will suddenly find himself a big fan of the poor sap.
Because Stevens is right.
Saint Louis is that good. The Billikens beat Butler in the Atlantic 10 semifinals
67-56
, advancing to their first A-10 tourney final and what ought to be a pretty good seed in the NCAA tournament.
Whatever they get, wherever they go, the Billikens will carry with them the story that has trailed them all season -- one that pulls on your heartstrings, unless you're the Tin Man.
In December, the Billikens served as pallbearers at the funeral of their former coach, Rick Majerus.
A week later, they resumed the business of basketball.
But this feel-good story is more than a good story, and this is not a warm and fuzzy basketball team. The Billikens beat Butler, for the third time this season, in a way that was clinically and physically cruel.
They outmuscled and overpowered the Bulldogs in a way that doesn't necessarily show up on the stat sheet but was plenty evident for anyone watching.
Afterward, Butler's
Roosevelt Jones
marveled at
Dwayne Evans
. Evans doesn't look like much when he's standing in front of you, but Jones, no slouch in the tough-guy department, nonetheless labeled Evans "the most physical guy I've played in my life."
Jones' coach stretched that compliment to the entire Saint Louis team, calling Billikens the most physical team Butler has faced all season.
This from a guy whose nonconference schedule included Indiana and Gonzaga, two teams that could end up as No. 1 seeds on Sunday night.
"On pure strength, there's no one better than these guys," Stevens said. "I know everyone is going to be chasing Indiana in the tournament, but Saint Louis is old. They've been through it, they've done it, and they are men. They are men."
But Saint Louis is hardly a team of hockey goons that simply beats up anyone who gets in its way. The Billikens are smart, efficient and experienced, a combination that is lethal and increasingly rare in this era of one-and-done turnstile basketball.
The roster includes eight juniors and seniors, guys who not only know one another but genuinely like one another. They have been through an emotional roller coaster that no one else can appreciate, and while it sounds incredibly trite, it has brought them closer together.
"We're not a big stat team," Billikens interim coach Jim Crews said. "These guys have tremendous wisdom, and that doesn't show up in the stats. We like that."
There will be plenty of folks who like Saint Louis starting next week, I'm guessing. That's always dangerous -- to be anointed the hot team by the masses.
But the Billikens aren't exactly the type to have their heads turned. They've been through too much and are far too smart to get caught up in their own wonderfulness.
If by some slim chance they do, Crews will be there to knock them down to reality.
He was hilariously disinterested in biting on what to make of his program and what Saint Louis might do in the NCAA tournament.
Asked if his team was a mid-major, Crews said he wasn't going to worry about "what some guy in Idaho said" about the Billikens.
Pushed to explain how tough it would be to prepare for his team on a short turnaround, he shrugged and offered insight Yogi Berra would envy.
"Sometimes if you don't know what you're doing, you don't turn it over and you don't take bad shots, they don't know what you're doing either," Crews said.
Nice try, Coach.
The secret is out on Saint Louis.
A certain insider has let the cat out of the bag.
November, 21, 2012
11/21/12
2:27
AM ET
KANSAS CITY, Mo. -- Win or lose, Kansas' Bill Self is almost always good for a postgame wisecrack -- even if it comes at the expense of one of his own players.
So it was easy to sense that a punchline was on the way when someone mentioned that KU center
Jeff Withey
appeared to be "muscling up" in the paint during Tuesday's
73-59 thumping
of Saint Louis at the Sprint Center.
Self smirked.
"That's the first time I've ever heard the word 'muscle' used when speaking about Jeff," Self said. Everyone in the room snickered.
All joshing aside, the observation was an accurate one.
A 7-foot-1 senior, Withey entered the season with a reputation as one of the country's top shot-blockers. But after Tuesday, it's clear he has been working on his offensive game, too.
The soft-spoken Withey tied a career high with 25 points in a victory that clinched the first-place trophy for the 12th-ranked Jayhawks in the CBE Classic. After the game Withey drew praise for the way he fought for position deep in the paint, which made it easier for him to finish plays.
Withey also blocked seven shots for the 4-1 Jayhawks, but the strides he made on offense are what impressed his coach the most.
"We've been on Jeff about not scoring the ball," Self said, "and tonight we played through him. He's so unselfish and he's such a good passer. He just needs to get touches."
Especially if the Jayhawks have ambitions of reaching the Final Four for the second consecutive season.
The early departure of Thomas Robinson to the NBA left a scoring void for Kansas in the paint. Withey averaged an admirable nine points a game playing alongside Robinson last season, but most of his buckets came on put-backs or easy baskets after Robinson had drawn a double-team.
To maintain Kansas' elite status, Self said, Withey would have to develop an arsenal of post moves to complement his defensive game. Self said Withey's offense would be particularly important during the first few months of the season as freshman forward
Perry Ellis
adapts to playing at the college level.
[+] Enlarge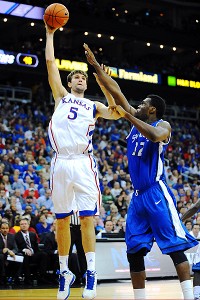 Denny Medley/US PresswireKansas wanted more offense from center Jeff Withey, and he responded with a career-high 25.
Self couldn't have been more encouraged by what he saw from Withey on Tuesday.
"He worked himself in there pretty [deep] and caught the ball with both feet in the paint a couple of times," Self said. "Really, he made some good post moves. He caught the ball on the perimeter one time and put it down and up-and-undered a guy."
Withey also showed that he can score over his left shoulder, the importance of which his coach stressed during the offseason. Fifteen of Withey's points came during the second half as the Jayhawks staved off Saint Louis' rally attempt. For the game, Withey connected on 7 of his 12 field goal attempts and was 11-of-14 from the foul stripe.
Withey said KU's performance from the 3-point line -- the Jayhawks connected on 7 of their 13 attempts -- help open up things for him down low.
"[Saint Louis] was so worried about our guards because they were shooting 3s and knocking down shots," Withey said. "It made it easy for me in the second half to go one-on-one.
"They were throwing the ball [to me] perfect. All I had to do was catch it and go up."
A 21-6 scoring run early in the first half gave the Jayhawks a 28-10 lead. The Billikens never threatened again.
"We came out flat," SLU forward
Cody Ellis
said. "Against a good team like Kansas, you can't do that. They're going to step on your throat."
Kansas City native
Travis Releford
, who played high-school ball just a few miles down the road from the Sprint Center, was named the tournament's most outstanding player.
Releford scored 21 of his 23 points in the decisive first half -- mainly because Saint Louis backed off of him and dared him to shoot. Releford had missed all 11 of his 3-point attempts before the CBE Classic. He went 4-of-7 from beyond the arc Tuesday.
"Of course," said Releford, when asked if he was offended by the cushion the Billikens gave him on the perimeter. "Any player who is defended that way should feel disrespected. They played off of me, and my coaches and teammates told me to continue to shoot it."
Impressed as he was with Releford, it was obvious after the game that Saint Louis coach Jim Crews thought the MVP trophy should've gone to Withey.
"We were trying to get help from different positions, but they've got good players all over the place," said Crews, whose team fell to 2-2. "When you plug [one] hole, another one opens up."
Withey's intimidating presence in the paint was one of the main reasons SLU shot just 34.6 percent from the field. The Billikens missed 11 of their first 13 attempts from 2-point range.
Forward
Dwayne Evans
entered the game averaging a team-high 17 points, but he managed just five field-goal attempts against Kansas -- and he wasn't even the player Withey was guarding.
"Some shot-blockers are good on the ball, some are better off the ball," Crews said. "[Withey] seems to have a knack for doing both and staying out of foul trouble. I certainly salute him on that."
November, 20, 2012
11/20/12
11:43
PM ET
KANSAS CITY, Mo. -- A quick look at Kansas'
73-59 victory
over Saint Louis in the championship game of the CBE Classic at the Sprint Center.


Overview:
Five games into the season, it's still tough to get a read on the Kansas basketball team. It's certainly not the Jayhawks' fault. They played admirably in a 67-64 loss to Michigan State, but other than that, Bill Self's squad hasn't exactly faced top-notch competition.
That was certainly the case Tuesday at the Sprint Center. One night after beating Pac-12 bottom-feeder Washington State by 37 points, 12th-ranked Kansas cruised to an easy victory against an overmatched Saint Louis squad that's trying to adapt to life without its coach (Rick Majerus) and top player (injured guard
Kwamain Mitchell
).
Turning point:
Kansas used a 21-6 scoring run early in the first half to blow the game open.
Travis Releford
scored 17 points during the march, which gave the Jayhawks a 28-10 lead and momentum they would never relinquish.
Key player:
Releford earned tournament MVP honors. The Kansas City native finished with a game-high 23 points on 7-of-13 shooting. Twenty-one of Releford's points came in the decisive first half. Releford also performed well against Washington State on Monday, when he led KU with 17 points.
Key stat:
Kansas center
Jeff Withey
is picking up where he left off last season in terms of blocked shots. Withey is averaging 6.0 blocks in his past three games. He swatted seven shots Tuesday. Withey likely would've been named tournament MVP if the ballots weren't picked up with 10 minutes remaining, as Withey closed the game in dominating fashion.
Miscellaneous:
Kansas point guard
Elijah Johnson
continues to struggle. Johnson had only eight points against Washington State and finished with just five on Tuesday. There is obviously a tremendous amount of pressure on Johnson, who moved from shooting guard to point guard to replace graduated senior Tyshawn Taylor. …
Cody Ellis
had 19 points for Saint Louis but missed 14 of his 20 field-goal attempts. … Along with Most Outstanding Performer Releford, these players were named to the CBE Classic all-tournament team: Withey, KU's
Ben McLemore
, Saint Louis'
Dwayne Evans
and Texas A&M's
Elston Turner
, who hit a 3-pointer with 2 seconds remaining to give the Aggies a
55-54 victory
over Washington State in the third-place game.
Up next:
Saint Louis hosts Southern Illinois on Saturday. Kansas hosts San Jose State on Monday.
November, 5, 2012
11/05/12
2:00
PM ET
The Saint Louis team I saw in Columbus, Ohio, eight months ago looked like a contender for the Atlantic 10 title and a squad that was capable of making a run in this season's NCAA tournament. I had no doubts about the Billikens' top-25 status entering 2012-13, after they reversed Memphis' late-game lead to advance to the third round of the NCAA tournament and then, pushed top-seeded Michigan State to the brink in a tough loss two days later.

That was then. Clearly, things have changed.
The program missed the top-25 but received 46 votes in the
Associated Press preseason poll
, a demotion connected to its insertion of former Evansville coach Jim Crews as interim head coach and announcement that Rick Majerus would take a leave of absence due to a health issue.
Saint Louis' challenges didn't end there. Last month,
Kwamain Mitchell
-- who scored 35 points in the team's two NCAA tourney games in March -- fractured his foot in practice. The injury could sideline the Billikens star for two more months.
From Tom Timmermann of the St. Louis Post-Dispatch
:
"Being forced to watch practice kills me," [Mitchell] said. "I'm taking it one day at a time but every practice, it hurts me inside. But I don't tell the coaches and teammates that because we've still got one thing we're searching for, that's a conference championship. … I'll be on the sideline, chatting and cheering like I wasn't injured. I've got to keep their spirits up and my spirits up."

Guard Mike McCall will run the team in Mitchell's absence.

"It hurts any player to be out," McCall said. "Kwamain hurts to be out because he loves to be on court, but he tries not to show it because he doesn't want to bring the team down. He wants us to go out and play hard and get better."

In a season of high expectations for SLU, Mitchell's injury is the big question mark, probably bigger than how the team will perform without coach Rick Majerus, who's on season-long medical leave.
Those unexpected and crippling developments turned the external expectations for the program.
Projections had to be adjusted without Majerus. Another tweak was necessary when Mitchell suffered his foot injury.
But Saint Louis is not a team to ignore.
Crews will maintain Majerus' emphasis on its superb defense (10
th
in defensive efficiency last season). Veterans McCall,
Dwayne Evans
,
Cody Ellis
and
Jordair Jett
can lead the Billikens through a manageable nonconference schedule.
And if Mitchell's foot heals on time, then the talented player could return prior to the start of Atlantic 10 play.
Majerus can't be replaced. But Crews has the personnel to contend in conference play and beyond. The Billikens succeeded last year because they were disciplined and scrappy, a common trait for Majerus' teams. They should play with the same grit in 2012-13.
It's not possible to assess Saint Louis according to the program's achievements in March. It will play without Majerus. It won't have Mitchell for a few months. And last year's leader, Brian Conklin, is gone, too.
But this is still a program that shouldn't be dismissed. Not in the Atlantic 10 or nationally.
August, 24, 2012
8/24/12
8:05
PM ET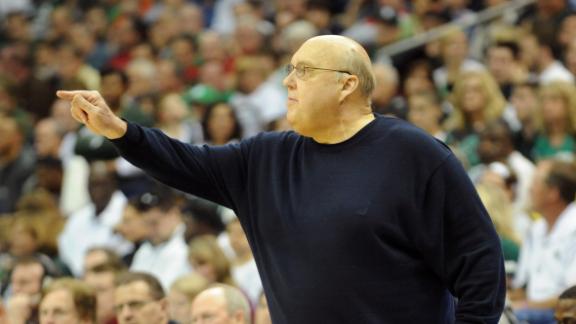 It is, you could say with a heap of irony, heartbreaking.
Rick Majerus has spent the past five years building Saint Louis from also-ran to Atlantic 10 front-runner, crafting the Billikens with the same mold he used to build Utah.
Playing SLU now is about as fun as going to the dentist for a root canal sans Novocain while having a professional wrestler simultaneously knot your arms behind your back.
Just the way Majerus likes it.
After a breakthrough season a year ago, this was to be the year that it all came together for the Billikens.
It still might. But the master craftsman won't be there.
Saint Louis
announced on Friday that Majerus was taking the 2012-13 season off
to deal with a health issue. The university didn't disclose the extent of Majerus' problems, but the school did say via a press release that the coach is in a California hospital undergoing "evaluation and treatment for an ongoing heart condition."
That's serious business for anyone. For someone like Majerus, who has had seven heart bypasses in his lifetime and who just last summer had a stent put in, it is sit-up-and-take-notice serious.
[+] Enlarge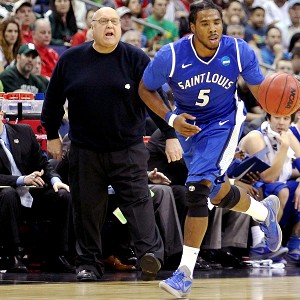 Greg Bartram/US PRESSWIRE Rick Majerus will not be on the Saint Louis sideline this upcoming season.
And to his credit, the coach has sat up and taken notice, recognizing that the game is not worth the literal heartache.
Few people have been put through the physical ringer more than Majerus. He has missed games throughout his career to deal with his own health, even leaving Utah eventually because of it.
Two years ago, just when he seemed to have found a little slice of heaven in St. Louis, it all unraveled in a mess. Two of his best players were suspended; his beloved mother Alyce, died from cancer, and he was sidelined by a freakish injury, developing an infection after banging his toe on the scorer's table.
In the middle of it all, the Billikens spiraled to 12-19.
That year, just as he has throughout his career, Majerus managed to plug along.
So the fact that in August, a good seven weeks before the season begins, he has shelved himself for the entire year ought to underscore the gravity of this situation.
Sitting the year out is without question the right decision.
Seeing tomorrow is abundantly more important than seeing the fruits of Majerus' labor.
The good news for both Majerus and SLU, the Billikens' loaded roster will be placed in the more-than-able hands of Jim Crews. Named an assistant last season, Crews, who was named the interim head coach, has two-plus decades of head-coaching experience and is cut of the same old-school cloth as Majerus.
Majerus might not be there to guide Saint Louis, but you can bet the Billikens will play as if he is still pulling the puppet strings.
And the players already appear ready to go with a Gipper theme.
"As if we needed motivation,'' tweeted junior
Dwayne Evans
shortly after the news was announced.
"Band of brother gotta stick together. #TeamTogether. #RiseOfTheBillikens,'' added senior
Cody Ellis
.
Of course, there is nothing quite like being there, and watching from afar won't be easy for someone like Majerus. He is maybe the ultimate basketball lifer. Never married, has called various hotels home throughout his career and defines contentment as most of us might, just with a slight twist -- a good meal with good friends … and a serving of hoops on the side.
So the fact that this year, of all years, he has to step aside even temporarily is truly heartbreaking.
But a broken heart needs time to heal.