College Basketball Nation:

Dwight Hardy
March, 18, 2011
3/18/11
2:27
AM ET
By
Diamond Leung
| ESPN.com
DENVER -- Steve Lavin momentarily put on his analyst's cap and gave a glowing review of Gonzaga's chances in the NCAA tournament after the Zags dominated his St. John's team throughout an
86-71
second-round win.
"They're definitely a Final Four-capable team, national championship-potential team," Lavin said.
Those were the words the former ESPN analyst used to describe a No. 11 seed, one that began the season 4-5 and slogged through the tough part of its difficult nonconference schedule. Gonzaga was even three games out of first place in the WCC at one point.
But expectations are high again now for the Zags, who have won 10 games in a row and are feeling good enough about themselves to say that in their minds, taking down the 6th-seeded Red Storm wasn't much of an upset.
"If you look at the bracket, yes," forward
Elias Harris
said. "If you know us, this was a fair fight. For them, it was not cool to play us."
[+] Enlarge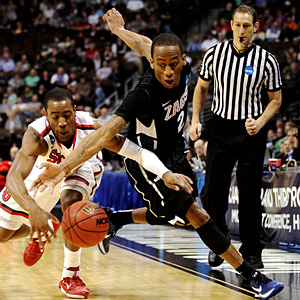 Justin Edmonds/Getty ImagesGonzaga's Marquise Carter had an impressive performance in his NCAA tournament debut, scoring 24 points.
Said center
Robert Sacre
: "I don't see why it was an upset. I don't think we get enough credit."
Yes, the Zags have heard all the talk about them not having played anyone in the one-bid WCC. They simply don't believe it and try to make their case on the court.
So rather than look at St. John's as a favorite that needed to be slayed, Gonzaga just went out and thrashed its Big East opponent. With leading rebounder
D.J. Kennedy
lost for the season, the Red Storm saw the Zags out-rebound them 43-20. In fact, after going up by 11 with 18:59 left, Gonzaga never saw its lead slip under double-digits again.
Marquise Carter
was fantastic in his first NCAA tournament game, as the junior college transfer had 24 points, six rebounds and six assists.
Point guard
Demetri Goodson
played what coach Mark Few called his best game, handling St. John's press, traps and zone defense.
Steven Gray
scored 16 points, and Harris added 15.
"I'm tickled pink for these guys," Few said. "They took the game plan and executed it. "
The Zags might consider itself a young team, but Gray, Harris and Sacre make up a big lineup that is battle-tested from its previous tournament experience, and Few said it helped the Bulldogs against a senior-laden St. John's team dancing for the first time in nine years.
Dwight Hardy
scored 26 points, and
Justin Brownlee
had 14 for St. John's, but Gonzaga's rebounding edge was difficult to overcome. The Zags also shot 9-for-15 from beyond the arc, with Gray and Carter doing the most damage. For the game, they shot 53.8 percent from the field.
So while Harris has heard the criticism that the Zags don't play anyone in the WCC, he said that the team doesn't really listen to it. Playing with blinders is how Sacre described it.
The Bulldogs have fingers in their ears while the rest of the nation either continues to doubt them or adores their underdog status.
After convincingly beating St. John's, does the slipper actually still fit for Gonzaga?
March, 14, 2011
3/14/11
6:14
PM ET
Yes, the 2011 John R. Wooden Award finalists are here. The award is organized by the Los Angeles Athletic Club and voted on by "nearly 1,000 members of the media that cover college basketball," and if you're surprised at the idea that there are 1,000 college hoops writers in the world, well, you're not the only one. (Lots of those ballots go to columnists and generalists who don't specifically cover the sport year-round ... but that's a topic for another blog post on another day.)
Who made the cut? The list is below, and it includes pretty much everyone you'd expect from a list of college hoops' best and brighest individual stars.
The rundown
:
Well, done, Los Angeles Athletic Club. That is a borderline peerless list.
But it isn't perfect. The most notable omission (perhaps the only notable omission) is Kentucky forward
Terrence Jones
, who has been one of the best players in the country throughout the season.
Ken Pomeroy's latest player of the year award list
ranks Jones as the eighth-most productive player in the country this season, and while Pomeroy's POY metric doesn't account entirely for the defensive side of the ball, player of the year awards are never all that concerned with the defensive end -- Brooks and Burks probably wouldn't be on the list above if they were -- so Pomeroy's list is as good a statistical look as we have. And, well, yeah: Jones should be among the Wooden candidates. There's really no getting around it.
That said, his omission isn't criminal. Jones deserves some POY consideration, but let's be real: He's not winning the award. Nor are 19 of the players listed above.
Unless something radical changes
, Fredette is going to win the Wooden and Naismith player of the year awards. If the voting does change anytime soon, the award is likely to go to Walker, Smith, or Sullinger.
In other words, this list has all the usual suspects. We'll see if any of the candidates has time to unseat the Jimmer in the weeks to come. It's unlikely ... but, hey, you never know.
March, 2, 2011
3/02/11
12:39
PM ET
A quick look at the player and coach of the year races in the Big East:
Player of the Year
[+] Enlarge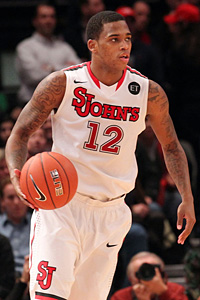 Anthony Gruppuso/US PresswireSt. John's guard Dwight Hardy is averaging 17.9 points per game.
Of course there is no runaway favorite for Big East Player of the Year honors. This topsy-turvy, brutal league has been too wildly entertaining for that. I'd argue there are three front-runners and two darkhorses who are likely to split up the votes.
For much of the season, Connecticut's
Kemba Walker
was (and perhaps still is) on everyone's short list for
national
player of the year. While he might have been Jimmered from that trophy, he remains very much in play for Big East honors. In conference games, he's second in the league at 20.9 ppg (22.8 overall), and perhaps more impressive in the brutal league, he's slogging 38.8 minutes per game and has carried a team with zero expectations into a near-season-long spot in the rankings.
Once Tyler's little brother,
Ben Hansbrough
has morphed into his own phenomenon. In the past 11 games, of which the Irish have won 10, Psycho B is averaging 22.5 points per game, including a 30-point, 10-assist show against Villanova. I like Hansbrough for his intangibles as much as his scoring. He's brought a snarly edge to the Irish.
And then there is the Johnny-come-lately,
Dwight Hardy
of St. John's. During the Red Storm's surge to the top 15 and into the national conscience for the first time in more than a decade, Hardy has been unstoppable. Since the Duke game, the line of demarcation for the Storm, Hardy is averaging 25.1 points per game. He dropped 33 on Connecticut, and 34 on Villanova.
Two others who could get consideration: Scoring machine
Marshon Brooks
of Providence, who averaged 30.9 points in February and is at 26.8 in Big East play. Oh, and the nation's second-leading scorer also set a conference record with 52 points against Notre Dame. And don't forget about preseason POY
Austin Freeman
, who has been a savvy leader for a thriving Georgetown team. His scoring, rebounding and assist numbers are all higher than last season.
I won't be upset if any of the guys listed here take the honor, but my pick is Hardy, who has resurrected a dormant program and turned it into a force to be reckoned with.
Coach of the Year
The Big East has brought us four of the biggest surprise teams nationally, and those four coaches -- Rick Pitino, Steve Lavin, Jim Calhoun and Mike Brey -- headline the candidates for coach of the year.
When Louisville trounced Butler to open the season, most everyone interpreted it as a fluke, a feed off the frenzy of the brand new arena, a one-time rush. Well, we're still waiting for the Cards to crash. Louisville is 22-7, 11-5 in the Big East. Pitino's lone returning starter,
Jared Swopshire
, hasn't played a game because of a groin injury, and nine others have missed at least one game with an injury. Yet the coach has pushed all of the right buttons to keep the Cardinals, picked eighth in the preseason, in the top 25 and among the league's top four.
Lavin had a nice roster to work with -- nine seniors returned to the Red Storm -- but that roster was more or less the same roster that barely scratched .500 last season. Now the Johnnies are ranked 15th in the country and have a mind-boggling six wins against top-15 teams. With a much-heralded recruiting class coming, next season was supposed to be the start of something big for St. John's. Lavin instead fast-tracked the plan.
The sight of Connecticut sitting at the No. 10 spot in the Big East preseason poll, barely ahead of Seton Hall, was pretty stunning. But where else to put a team that had lost three of its top four scorers and would rely heavily on its freshmen to win? How about among the most surprising teams of the season? Certainly Walker has a lot to do with the Huskies' success, but it is Calhoun who has guided UConn's young roster to success. Three of the Huskies' top five scorers are rookies, yet Connecticut has 21 wins and is ranked No. 16 in the country.
Brey has done the impossible, making his team better after losing a three-time All-Big East player and one-time player of the year in Luke Harangody. The Fighting Irish are 13-4 in the Big East (compared to 10-8 last season), and the team that could never win a road game won the ultimate road game, at Pittsburgh. Notre Dame is No. 7 (and rising) in the country? No one saw that coming.
My vote? I'd go with Pitino. Nobody has started with less and done as much.
Click here
to find out who our panel of 15 experts picked in each of the nation's 10 best conferences.
February, 26, 2011
2/26/11
6:54
PM ET
The weather folks, the ones who call sunny with a chance of clouds an actual prediction, like to debate whether the month of March will come in like a lamb or a lion.
The theory being that the month that starts cold and nasty will right itself and finish nicely.
OK, so weather logic doesn't work in basketball.
In 1993, Rider played Kentucky in the first round of the NCAA tournament. The Broncs were the 16-seed, Kentucky the No. 1 seed. Rider star Darrick Suber was writing a diary for the local paper I worked for at the time and wrote that as he walked onto the court at Vanderbilt University, a Cat fan in her Southern drawl called down, "Here come the lambs."
And that's the thing about being a basketball lamb in the month of March. Rarely do you find your roar. Instead you usually head to the slaughter (Rider lost 96-52).
But with just three days left in February, there are more than a few teams that are limping their way into March. And more than a few who are finding their voice.
THE LAMBS

Villanova Wildcats
: With the 81-68 home loss to St. John's, the Wildcats are now 21-8 overall and 9-7 in the Big East. The same team that started the season 17-1 and climbed to No. 7 in the polls has now slunk down the rankings and is 5-7 in its past 12 games. Worse, with road games at Notre Dame and Pittsburgh, odds favor the Wildcats finishing with two more losses and a pedestrian 9-9 record in the conference.
That has more than a handful of folks in Philadelphia sensing some uncomfortable déjà vu. Last season, the Wildcats started with a 20-1 record and climbed all the way to No. 2 in the country. They ended up losing four of their last six in the regular season. They lost their first game of the Big East tournament, nearly lost in the first round of the NCAA tournament to Robert Morris and were then booted by Saint Mary's in the second round.
Most concerning, somewhere along the way
Corey Fisher
has lost his shot and his confidence. He is 4-of-26 in his past two games, both losses.

Texas Longhorns
: All things relative here following the free-for-all slide that characterized the Longhorns a season ago. Certainly two bad losses does not a disastrous season make, but Texas, once a solid No. 1 seed, certainly has knocked itself off of that line for now after sandwiching losses to Nebraska and Colorado around a pedestrian win against lowly Iowa State.
Worst of all is how the Longhorns -- a team praised for its defense -- lost to the Buffs by blowing a 22-point lead. Texas surrendered 58 second-half points to a team that had lost seven of its previous 10 games.

Arizona Wildcats
: Like the Longhorns, the Wildcats aren't bandaged and damaged heading into March, but this certainly was a lost weekend in SoCal.
The loss to USC was bad; the 71-49 mauling from UCLA was atrocious. Once in position to win the Pac-10 title outright, instead Arizona already has ceded at least a share to the Bruins.
On lamb alert: Connecticut Huskies:
There were enough excuses to explain away their most recent loss -- NCAA punishments meted out, no head coach -- but the loss to Marquette on Thursday was merely the latest stumble for the once red-hot Huskies. Connecticut has dropped five of its past eight and on Sunday takes on the newest hot team in the Big East, Cincinnati.
With games at West Virginia and home against Notre Dame to finish, the once lionish Huskies could be baa-baaing into March.
THE LIONS

St. John's Red Storm
: Steve Lavin might want to have his white sneakers bronzed. The coach insists he's wearing the casual shoes for comfort not superstition, but the Red Storm, who beat Villanova on Saturday, are 8-1 since Lavin and his staff donned the sneakers as part of Coaches vs. Cancer awareness.
The well-coiffed Lavin doesn't strike as the type to wear his Easy Spirits, so we're going with superstition.
You'd be hard-pressed to find a team more impressive than the Red Storm in the past month. Of those eight wins, four have come against top-25 opponents and three were on the road.
In a season of 'first since,' the Red Storm racked up two more when they upended struggling Villanova. It was the Storm's first win against a top-15 team on the road since they beat Duke in 2000. The six victories against ranked opponents is the school's most since the 1999-2000 season.
With winnable games at Seton Hall and home against South Florida, the Red Storm could literally storm into Madison Square Garden on an eight-game tear when the Big East tournament begins.
Dwight Hardy
: When Lavin told me last week that he thought Hardy ought to win Big East Player of the Year, I admit I thought he was insane.
So now either I'm equally insane or he was right.
As Connecticut and
Kemba Walker
fade down the stretch, Hardy keeps coming. On the heels of his buzzer-beating, circus-shot winner against Pittsburgh, Hardy dumped 34 points on Villanova. Since the signature win against Duke, as St. John's has mounted its charge and built its case for a high seed, Hardy is averaging 25 points per game.
Without him, St. John's is the same old St. John's. An OK team in the middle of the Big East pack. With him, the Red Storm are looking to lock up a double-bye and surge into the tourney where they will have a decided home-court advantage.
That's what players of the year do.


Kansas State Wildcats and Syracuse Orange
: Two teams some had written off as dead are beginning to find their footing at the right time (Michigan State, with a win against Purdue on Sunday, can be tossed into this group, too).
The Wildcats, with an impressive win against Missouri on Saturday, have now won four games in a row. The same dysfunctional team that looked awful in January -- 3-5 for the month -- has become a bunch of scrappers. With
Jacob Pullen
benched by foul trouble, K-State, which would have fallen apart a month ago, instead put together a decisive 10-point win.
Meanwhile, the same discombobulated Orange that lost four in a row in January now have strung together four consecutive victories after topping undermanned Georgetown on Saturday. That streak includes wins against two ranked teams and against a scrapping West Virginia team.

UCLA Bruins
: Big boy
Joshua Smith
-- averaging 12.5 in the past 10 games -- is finding his footing as a college player and the Bruins are finding their footing again among the teams that matter.
Quietly, UCLA has won 12 of its past 14 and is in position to win the Pac-10 title.
Some other random observations from a busy Saturday afternoon on the sofa:
For anyone who thinks BYU is Jimmer Fredette and a bag of donuts, I give you this box score: four players in double-figures, 18 assists on 27 made baskets. Jimmer is the main attraction, but the Cougars' supporting cast is pretty good, too.
Even in defeat, I was impressed with Georgetown. The Hoyas went toe-to-toe with Syracuse without point guard Chris Wright. That said, the box score tells you just how critical Wright is: Georgetown, a team that often has an assist on nearly every made basket, instead had 16 turnovers and just 10 assists.
Wondering if we could get a neutral-court game between Kentucky and Missouri. Both could be paralyzed into inaction for a good 10 minutes. Undefeated at Rupp Arena after a discarding of SEC-leading Florida, the Wildcats are 1-6 in SEC road games. Not to be outdone, the Tigers lost at Kansas State to match Kentucky's road woes at 1-6 in Big 12 road games. Each has a home and away game remaining on its schedule.
February, 26, 2011
2/26/11
5:59
PM ET
By
ESPN.com staff
| ESPN.com
Dwight Hardy
scored 34, leading the No. 25 Red Storm to an 81-68 win at Villanova.
February, 20, 2011
2/20/11
1:22
AM ET
The NCAA tournament bubble is a function of time and desperation. As the teams that make up this soft bubble inch toward Selection Sunday, every game is both a threat and and an opportunity. A win might seal your bid. A loss might put you away. That's true throughout the year, of course -- people who say college basketball's regular season doesn't matter have apparently never tracked their team's bubble odds -- but November and December are always full of promise. February and March are all about cold, hard reality.
It's Feb. 19. Crunch time is officially here. Who made the most of their opportunities Saturday? Who missed out? Here's a look at the day's winners and losers, bubble-bound and otherwise:
WINNERS
St. John's Red Storm:
Steve Lavin's team just keeps knocking off top-ranked foes at home. Pittsburgh was the latest victim of the resurgent Red Storm in a resurgent Madison Square Garden -- St. John's and the Knicks are both doing their part to revive the nation's most famous arena --
in Saturday afternoon's nail-biting 60-59 loss
. The Panthers were arguably the victim of some poor officiating;
Dwight Hardy
's last-second, game-winning layup might not have counted had the baseline official been watching Hardy's feet, both of which appeared to be out of bounds. But no matter. A win is a win is a win. And when it comes to big wins, there aren't many teams in the nation with a more impressive tally than St. John's. (Hardy & Co. now have six top-50 RPI wins, including five -- five! -- against the RPI top 12: Georgetown, Notre Dame, Duke, UConn, Pittsburgh.) As a result, the Johnnies are off the bubble, out of the Big East cellar, and -- for the moment, at least -- nationally relevant once again.
[+] Enlarge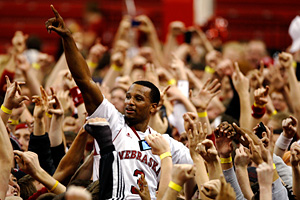 Bruce Thorson/US PresswireNebraska's win over Texas puts the Cornhuskers back into the Bubble Watch conversation.
Nebraska Cornhuskers:
I left Nebraska for dead in the Bubble Watch in recent weeks, but we wrote Friday that if any of the lower-tier Big 12 teams (Colorado, Oklahoma State and the aforementioned Huskers) vying for a bubble spot could win this weekend, they'd be back in the picture for good.
The Cornhuskers came through
. Not only did Saturday's impressive defensive effort earn Doc Sadler's team its sixth conference win, it sank a Texas team that had yet to be challenged in Big 12 play,
created yet more uncertainty at the top of the polls
, and gave the Huskers a legitimate chance of sneaking into the tournament. Wins don't get much bigger than this.
Arizona forward Derrick Williams:
Sure,
Arizona won and Washington lost
, but there were no real losers in Tucson on Saturday. The Wildcats effectively sealed their Pac-10 title hopes. The Huskies proved their offense is back on track with a gutty performance against a good team in a tough road environment. And both teams got some much-needed national exposure, a resource in short supply during the Pac-10's two-year swoon. But the real winner here was Arizona forward Williams, who made the most of a rare nationally televised, prime time appearance with a monstrous performance. (
Lorenzo Romar's words, not mine.
) Williams was his typically brilliant self (26 points, 11 rebounds), but he saved the best -- a ferocious last-second walk-off block -- for last. If he wasn't already, Williams became a very rich man Saturday. One lucky NBA general manager will soon see to that.
Utah State Aggies:
The Aggies finally got that top-100 RPI win, and
they got it in rather impressive fashion, too
. Even after last week's ugly loss to Idaho, the Aggies were (perhaps miraculously, given their notable lack of quality victories) still on the right side of the bubble this week, but they needed at least one win to have something -- anything -- to point to as proof they could compete with quality teams outside their own building. Beating a good, if struggling, Saint Mary's team in Moraga is exactly that.
Michigan State Spartans:
Big win for Tom Izzo's team
. Not only does it buttress the Spartans' bubble bonafides, it caps a lightning-fast late-season turnaround that has seen Michigan State go from being blown out at Iowa to nearly toppling Ohio State before finishing the job against Illinois Saturday. Two weeks ago, this looked like an NIT team. Not any more.
UNLV Runnin' Rebels:
The Rebels' tourney chances could probably have survived a loss at Colorado State on Saturday, but why risk it? Instead, UNLV recovered from an ugly first half,
hung 46 on the Rams in the second half
, pulled within a half-game of CSU in the MWC standings, and -- along with their more impressive nonconference performance -- ensured the Mountain West's third bid goes to Vegas instead of Fort Collins.
West Virginia Mountaineers:
If the Mountaineers were in real danger of missing the NCAA tournament -- and with that insane computer profile, I'm not sure they were -- that danger is over now.
West Virginia's convincing home win over Notre Dame
all but ensures this team will make the tournament. Considering the 'Eers backloaded schedule (their last four games are at Pittsburgh, at Rutgers, versus Connecticut and versus Louisville), and their one-step-forward two-steps-back performances in recent weeks, this win couldn't have come at a better time.
The MAAC in general:
Wait, the MAAC? What gives? I'll tell you what: The
Metro Atlantic Athletic Conference went 9-1 in the BracketBusters Saturday
. Even lowly Marist, with its 3-13 MAAC record, managed to hold on for a nice home win over New Hampshire. None of these teams are on the bubble, none of these wins really means all that much in any national context, but who cares? That's an awesome day for the Metro Atlantic Athletic Conference.
Blake Griffin:
Yes, the car dunk was a little overhyped, but whatever. Dude is crazy.
We knew him when
!
LOSERS
The Missouri Valley Conference in general:
It was not a good weekend for the MVC. Before the BracketBusters, both Missouri State and Wichita State had hopes -- however faded they may have been -- of landing at-large bids to the 2011 NCAA tournament. After Saturday, it's clear this is a one-bid league.
The Valley went 3-7 in BracketBusters this weekend
thanks in large part to losses by its top
six
teams. Creighton lost at Akron. George Mason beat Northern Iowa in Cedar Falls. Valparaiso rocked Missouri State.
Throw in Wichita State's crushing one-point loss to VCU Friday night
, and well, yeah. As much as it pains us to toss this proud mid-major league to the bubble dustbin, we really don't have a choice.
Teams with long win streaks:
Entering Saturday, four teams in the country held winning streaks of 10 games or more. Exiting Saturday, only one remains. George Mason extended its nation-best streak to 13, but Texas lost at Nebraska, Vermont was
crushed at Charleston
and Princeton suffered its first Ivy defeat in a
stunning 75-65 loss
to 9-14 Brown.
Memphis Tigers:
Every time you think this Memphis team is starting to figure things out, it goes and does something
like this
... and totally crushes its at-large profile yet again. Yes, the Tigers lost at Rice. Yes, Rice's record is 12-14 overall and 4-8 in conference play, and yes, Rice's RPI is 170. And no, I can't possibly word this better than The Associated Press headline
here
: The Owls "took a shovel" to Memphis' NCAA tournament chances. Yep. Pretty much.
Virginia Tech Hokies:
The Hokies had been playing their best basketball of the season lately; they appeared to be creating separation between themselves and the rest of the ACC's muddled, sub-bubble middle. And then ...
this happened
. Yes, Virginia Tech lost to Virginia for the second time this season, thanks in large part to the sort of ugly shooting (40.4 percent from the field, 31.8 percent from 3-point range) that dogged Tech in its handful of disappointing nonconference losses. The Hokies picked a bad time to rediscover their previous shooting woes, as this loss puts them right back in the thick of the bubble mess. Ouch.
[+] Enlarge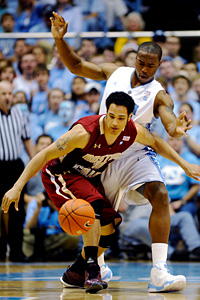 AP Photo/Sara D. DavisDallas Elmore and the Eagles wasted a good opportunity to improve their tournament résumé.
Boston College Eagles:
When you sit squarely on the bubble, and you catch North Carolina on what has to be its worst offensive day of the season (and certainly of the past month), and you have a legitimate chance to get a huge road win against a team with a sexy RPI, you
have
to find a way to get that victory. BC didn't. Instead,
UNC scored its fewest points ever at the Smith Center and yet held on for a shockingly ugly 48-46 win
. It's not that Boston College held the ball too long on its final possession, though that was a killer. It's that the Eagles --
one of the best offenses in the country this season
-- couldn't muster more than .79 points per trip. If BC plays even average offense -- which, for them, would still have been well below average -- it gets this win and suddenly look like a very strong at-large candidate. Instead, the Eagles come away with nothing. Let's hope this one doesn't come back to haunt them.
Washington State Cougars:
Washington State has hung around on the bubble for much longer than it's probably deserved; such is the nature of this season's extra-squishy at-large landscape. No more. You can't lose four of your past six -- including losses to Oregon, Stanford and
at Arizona State
(combined Pac-10 wins: 12) -- and expect to get the benefit of the doubt in March. Unless this
disjointed, uneven
team somehow wins at Washington next Saturday, they'll have to win the Pac-10 tournament to get in. Ick.
Oregon State Beavers:
Then again, for as bad as it gets in Pullman, at least the Cougars can rest easy knowing they're not the biggest disaster in the Pac-10. No, that honor goes to the Oregon State Beavers,
who moved to 9-16 overall and 4-10 in league play with Saturday's 82-63 loss to Oregon
. It's hard to argue Oregon is more talented than Oregon State. It's easy to argue -- especially after Sports Illustrated writer and "Play Their Hearts Out" author
George Dohrmann's blog post on the subject this week
-- that Oregon State is less a team than a group of confusingly coached, selfish individualists. OSU coach Craig Robinson continues to urge patience. If this keeps up, that argument will be tough to make, too.
Duquesne Dukes:
It's not that Duquesne should have been expected to win at Dayton. Dayton is reasonably tough, especially in its own building, and Duquesne was probably due for a correction after its startling 8-0 start to A-10 play. But the
one-point loss to the Flyers was a huge missed opportunity
for a team that desperately needed to avoid losses to stay in the bubble picture down the stretch. Duquesne led 58-52 with less than five minutes remaining Saturday, but Dayton answered with 10 straight points, capped off by a crucial
Juwan Staten
free throw with 28 seconds left on the clock. A win would have kept the Dukes' fading at-large chances alive. The loss might've squashed those chances for good.
Serge Ibaka:
Come on, judges! Serge was all the way behind the free throw line! He grabbed a teddy bear in his mouth!
What more do you need?
February, 19, 2011
2/19/11
4:23
PM ET
NEW YORK -- Not long ago, when Frank Sinatra started crooning "New York, New York", the last call at Madison Square Garden, it was hard not to note the irony.
[+] Enlarge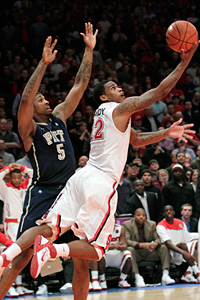 AP Photo/Mary AltafferDwight Hardy of St. John's scores the winning basket as Pittsburgh's Gilbert Brown defends.
As the scattering of St. John's fans would make their way toward the exits, melancholy and shuffling after another tepid performance, Ol' Blue Eyes would insist, 'Start spreading the news,' but really what news was there to spread?
That the Red Storm again was average?
That New York City basketball served as a pipeline everywhere around the Big East but its own back yard?
Which was why the plea from the public address announcer following a 60-59 St. John's win against No. 4 Pittsburgh said as much about the importance of the victory as anything.
Long after the game was over, no one had moved. The crowd of 14,514 still stood in the stands or in the aisles, not anxious to leave but desperate to soak up the moment, until finally the PA man implored, "Please clear the building at this time.''
And so they left, hooting and hollering and high-fiving the entire time.
There is much to celebrate, of course.
The win against the Panthers was the fifth against a top-15 opponent for the Red Storm this season. That's exactly one more win against a top-15 team than the program has produced over the past 10 years.
And it turns the key on the NCAA tournament lock for St. John's, meaning for the first time since 2002, Selection Sunday will not be spent waiting on a call from the undercard tourneys.
No wonder no one wanted to leave.
"It's what you dream about,'' said
Dwight Hardy
, a Bronx kid who was raised to believe that Madison Square Garden hung the basketball moon. "It was, I don't know, it was just amazing. Incredible.''
The atmosphere, so long absent here, was only the second-most amazing and incredible thing at the Garden on Saturday afternoon.
The first was Hardy.
The senior put the exclamation point on his team's arrival back to relevance with a last-second winner that ranked among the most ridiculous of any recorded this season.
With only 11.3 seconds left after Trevon Woodall's 3-pointer seemingly put yet another road victory to bed for Pittsburgh, Hardy wound up with the ball in what looked like a sea of Pittsburgh jerseys along the baseline.
And then out of the forest came Hardy, spinning to put in a reverse layup with 1.2 seconds left.
"Yeah you dream about that as a kid,'' said Hardy, who, as is his norm, led the Red Storm in scoring. He finished with 19. "But when you dream about it, the shot is a lot easier.''
His coach likened it aptly to Mikhail Baryshnikov and Fred Astaire, a move so sickeningly sweet it certainly ranked among the hoofer legends' best.
"I put three guys on one side of the court and two -- Hardy and
Justin Brownlee
on the other -- and that's about all I can take credit for,'' Steve Lavin said. "There is no better feeling than to have a player of that caliber in a situation like that. Packed house, against the No. 4 team in college basketball, and I've got the guy who has the Emerald City of green lights.''
Afterward Lavin immediately began campaigning for his guy to earn Big East player of the year honors, a notion that plenty would find laughable, what with that Kemba Walker guy a few hours north, and
Ashton Gibbs
, who scored 26 of Pitt's points against St. John's, to the west.
It's not likely, but it's not altogether insane. Hardy is every bit as critical to St. John's as Walker is to UConn, and it certainly isn't hard to argue that the Red Storm achieving such success is a lot harder than the Huskies merely rediscovering it after a one-year hiatus.
Hardy has been consistent all season, but especially big in the most critical of games. He had 26 against Duke, 33 against UConn, 18 in a road win at Cincinnati, and 28 in a come-from-behind road win at Marquette.
"Look at what he's done for our program,'' Lavin said. "His numbers are outstanding, especially against our best competition.''
And this time his numbers outshone the other POY candidate on the floor. Gibbs, out the past three games with a knee injury, nearly single-handedly beat St. John's. If he is still recovering, plenty of coaches would welcome similarly gimpy players.
But this time neither Gibbs nor the Panthers' steely composure could make the difference.
As much as this win does for St. John's, the loss doesn't do the same to Pitt.
It is the first road loss for the Panthers, a remarkable feat in any league. An impossible one in the Big East.
The Panthers are hardly reeling, and there should be no harm in losing to a good team in a tough environment in a league that is about as hard to scale as Mt. Everest in a bikini.
It's a little different for the Red Storm.
The Duke win, of course, is the one that most will circle as the aha moment for St. John's, but in some regards, this one means more.
It was, exactly as Pittsburgh wanted it, a dogfight. Three technicals awarded, countless hard rebounds and scraps for the ball. The score was tied nine times, the lead changed 11. Pitt led by six with less than eight minutes to play, by five with less than four minutes left, and by one after Woodall's 3 that certainly looked like the winner.
This game was not for the feint of heart, not for a Johnny-come-lately who doesn't really know how to win.
"We've learned how to counter punch,'' Lavin said. "Before in these situations, we would have been a little deflated at times, but this time we weren't a jumper-cable team. We were focused.''
The Big East long has been held as the best league in the country, but it has moved along quite nicely without the team in its epicenter (league office address of Providence be damned) factoring in much.
Pittsburgh has taken up residence with a decade-long run of gold standard excellence, with the Red Storm's one-time running mates of Syracuse, Connecticut, Georgetown and Villanova joining the Panthers in the upper echelon.
Now you have to wonder. In three weeks, the 16-team beast will convene at Madison Square Garden for the bloodbath that is the Big East tournament.
New Yorkers always fill the place, mixing in with the college kids and the faithful fans, but they typically go to appreciate good hoops. There hasn't been much to root for.
Now? Now they have a team that already has won nine league games and, with a favorable slate of remaining games (DePaul, at Villanova, at Seton Hall and South Florida), could very well find its way among the top four seeds come Big East tournament time.
"This win means a lot, maybe more than all of the others because of who we beat and how we did it,'' Hardy said. "Pitt kept coming but we came back harder. That's what we want to be known as -- a tough out, a team you can't beat easily -- and that's what I think people realize now. We're not going anywhere.''
And that, certainly, is news worth spreading.
February, 19, 2011
2/19/11
3:32
PM ET
By
ESPN.com staff
| ESPN.com
Dwight Hardy
's reverse layup with 1.2 seconds to play gives the Red Storm a 60-59 win against the Panthers.
February, 5, 2011
2/05/11
6:05
PM ET
By
Dana O'Neil, ESPN.com
| ESPN.com
LOS ANGELES -- Steve Lavin returned to UCLA on Saturday and was met with what can best be described as casual indifference.
No boos, no signs, no catcalls.
"Just another day at Pauley,'' as Lavin aptly described it.
But the team that Lavin brought with him -- a team from the beastly Big East -- with all the muscle and might that being a Big East member implies?
That mattered to some folks, some very important folks.
"Any time an East Coast team comes to the West Coast, they try to bully you around,'' UCLA forward
Reeves Nelson
said. "We don't have any little sissies on this team. The term we used was they were going to try to punk us and we weren't having that a little bit.''
No, the Bruins took St. John's first punch and then proceeded to return with some body blows of their own, gutting out the
66-59
victory at Pauley Pavilion.
[+] Enlarge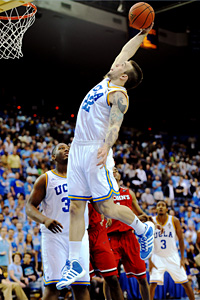 Chris Williams/Icon SMIReeves Nelson had 17 rebounds and a clutch 3-pointer in UCLA's victory over St. John's.
The loss ruined Lavin's coming home party and more, put a dent into the Red Storm's run. Lavin and his staff sported sneakers with their suits for the game, even though the Coaches vs. Cancer awareness push was over. The reason? They were 2-0 with sneakers on, with the signature win against Duke and a hard-earned win against Rutgers.
Now the sneakers will come off and so will the gloves. St. John's is rewarded for its country-crisscrossing sojourn with a home game against Connecticut on Thursday (ESPN, 7 p.m. ET).
This game won't kill the Red Storm in the selection committee's eyes. How many teams are willing to hopscotch the country in the middle of the arduous conference season? Not many. But a win would have been a huge boost to the St. John dossier.
"We thought this was a great chance to get a quality win against a good opponent,'' said guard
Dwight Hardy
, who practically carried the Red Storm on his shoulders with 32 points. "But I don't think many people play the sort of schedule that we played. It's a shame we couldn't get the win.''
It wasn't for lack of opportunity. This game was something of an aesthetic mess, featuring 38 fouls and 32 turnovers. UCLA attempted 41 free throws (33 in the second half) and St. John's countered with just seven. The Red Storm once led by as many as nine and the Bruins by as many as 10, but with all the sloppy play and stops, no one could find an offensive groove.
So naturally the game ended on an impossibly difficult offensive play.
With just three seconds on the shot clock and 6.7 on the game clock, Nelson took the inbounds pass and somehow swished an in-the-corner, off-balance 3-pointer with a hand in his face.
Prior to that, the Bruins had made only two of their first 11 3s.
"The play was for
Malcolm [Lee]
or
Josh [Smith]
," said Nelson. "But I told
Jerime [Anderson]
that if they weren't open, I'd pop out and get a shot.''
He did and the Bruins scored a critical non-conference victory. UCLA is 16-7 but its résumé is pretty thin.
There was a big win against BYU early and not much else to hang your hat on out of conference. More problematic is the watered down Pac-10 won't do much to bolster the Bruins' middling RPI of 47.
"This was like an NCAA Tournament game,'' UCLA coach Ben Howland said. "They allowed us to play. It was very physical, the kind of game where you're not going to get any calls. But it's big for us because of where we are. It's February 5.''
And the fact is, the product that is UCLA basketball on Feb. 5 is a heckuva lot better than the product that was UCLA basketball back on Dec. 5.
That was the day that the Bruins lost to Montana, the spoiled cherry on top of a four-game skid that had everyone wondering if Howland had jumped the shark at Westwood.
Since then the Bruins have won 13 of 16, 7 of their past 8, three in a row and it's not out of the question that UCLA could sneak up and win the Pac-10.
"That was always one of our goals,'' Smith said.
In a city where the spotlights shine the brightest, UCLA has managed to do the impossible: get better right underneath everyone's nose. This was always going to take time. The Bruins don't have a senior on their roster. But patience is a lost virtue in sports. With each passing season, the glimmer of those three consecutive Final Four appearances has faded.
Now it seems that patience is being rewarded.
They are not yet playing the sort of stingy defense that Howland is known for, but the Bruins are getting better. In those 13 victories, they've held six opponents under 60 points and eight under 70.
Smith, a freshman, has learned to assert his big body in the low post. Where once he would have settled for layups, he is now throwing down dunks with authority. The undersized Red Storm could do nothing to contain his girth or his strength as he finished with 19 points and eight boards.
The naysayers will say that the Bruins merely beat a middle-of-the-pack Big East team on their homecourt.
Those whose opinions matter, however, the ones that put on the uniforms see it a little differently.
The East Coast bully wound up getting pushed around.
March, 10, 2010
3/10/10
11:30
AM ET
NEW YORK -- Rise and shine, hoops heads. Time for the official tip of college basketball. The mid-majors are fun and the Tuesday warm-up at the Garden is a good appetizer but today it's officially on as the Big East revs up with its four-game platter of hoops.
At least three teams are playing for their NCAA Tournament lives today, two more are working to remove any gray area from their own status and one is trying to secure its head coach's future.
Game 1: South Florida vs. Georgetown
What's at stake:
The Bulls are in the conversation but a long way from in the tourney. A win here won't put them in but will put them in the conversation.
What has to happen:
Dominique Jones
dropped 29 on the Hoyas in a February upset. He'll need to do the same for the Bulls to have a chance plus negate Georgetown's guard tandem of
Austin Freeman
and
Chris Wright
.
Something else to watch for:
The play of Austin Freeman. Diagnosed last week with diabetes, the guard didn't seem fazed in his first game back. He had 24 points in 30 minutes of an emotional senior night.
Game 2: St. John's vs. Marquette
What's at stake:
For the Red Storm, it could be Norm Roberts' job. The coach said he's not concerned and the university hasn't offered any indication but certainly after another disappointing season in the Big Apple, he's at least on the hot seat. For the Golden Eagles, their NCAA spot would appear secure thanks to nine wins in their last 11 games.
What has to happen:
Another breakout game for
Sean Evans
would be helpful. The junior had 19 points and 10 rebounds against Connecticut in the opening round, giving the Red Storm a needed and somewhat unexpected injection of offense.
Something else to watch for:
The Red Storm again will be without
Dwight Hardy
. The junior has a sprained left knee. That's 10 points that St. John's needs to make up.
Game 3: Seton Hall vs. Notre Dame
What's at stake:
The Pirates are on the very soft bubble but not in the tournament. A win against the surprise Irish could be enough to push them among the last four in. Notre Dame's stunning Harangody-less rally has put them in the bracket but another win would only make their spot more secure.
What has to happen:
The Pirates need
Jeremy Hazell
to play within the context of the game and not take foolish shots.
Something else to watch for:
Points and lots of 'em. Both teams like to score and neither is a fan of defense. The Pirates average 81 points per game, the Irish 77.9.
Game 4: Cincinnati vs. Louisville
What's at stake:
Interstate bragging rights for starters. The two schools are only separated by 90 minutes of highway. Cincinnati is a long way from in the NCAA field, but after a dismal finish to the regular season (losing five of their final six) a strong finish would be good. Louisville secured its spot with a victory over Syracuse to close out Freedom Hall. Wouldn't be a bad idea for the roller-coaster Cards to get some momentum going.
What has to happen:
Edgar Sosa
has to play smart. The point guard can giveth and taketh away. Sometimes he's brilliant. Sometimes he's awful. The Cards need his A game to stave off an upset.
Something else to watch for:
Lance Stephenson
's return to the Big Apple. The Big East's rookie of the year didn't fare so well in his first visit, with just seven points against the Red Storm.
December, 9, 2009
12/09/09
6:55
PM ET
NEW YORK -- Regular starters
D.J. Kennedy
,
Paris Horne
and
Sean Evans
will not be on the floor when St. John's tips off against Georgia here shortly. The trio was a few minutes late for the team bus as it departed the St. John's campus for Madison Square Garden.
All three are expected to play but coach Norm Roberts wanted to stress team rules are for everyone and for everything, regardless of how minor the transgression is.
In the trio's place,
Dwight Hardy
,
Omari Lawrence
and
Justin Brownlee
will each make their first career starts.