College Basketball Nation:

Dwight Lewis
June, 10, 2010
6/10/10
6:37
PM ET
USC was finally healthy, had
Mike Gerrity
eligible to play the point and appeared to be a real contender for the Pac-10 title after beating Tennessee and sweeping its way to the Diamond Head Classic title with wins over Saint Mary's and UNLV in late December.
[+] Enlarge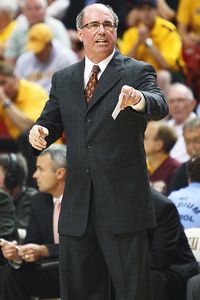 Doug James/Icon SMIKevin O'Neill is relieved the NCAA didn't impose any more sanctions on his program.
But information started to seep out to the USC administration about the pending February hearing in front of the committee on infractions. The school had to act to avoid future penalty and opted for a postseason ban, an immediate one for the ensuing March.
The decision crushed seniors like Gerrity and
Dwight Lewis
, but new coach Kevin O'Neill knew it was the right move.
"I thought it was the right timing, I really did," said O'Neill on Thursday, following the NCAA's committee on infractions' announcement of the penalties against USC's men's basketball, football and women's tennis.
"I thought [USC athletic director] Mike Garrett did the right thing. I thought we did the right thing and then I thought the hearing went well."
In rebuilding a program, O'Neill couldn't exactly recruit easily with the possibility of a postseason ban in 2011 and beyond. He still feared another hit, one more year of a postseason ban.
"I know this, had we been hit with another year of postseason ban, our program would have been in shambles," O'Neill said. "I definitely was concerned that we might get another year, especially as long as it went [from Feb. 18 to June 10, long past the six-to-eight week timetable given normally by the COI]. That was my concern -- the time."
In the end, the COI upheld the self-imposed sanctions on the men's basketball team of the postseason ban and the reduction of a scholarship in each of the past two seasons (from the maximum 13 to 12). Imposing sanctions is the reason basketball was spared and why football was hit. It is a lesson that Connecticut, next up on the COI docket in October for men's basketball, may need to heed.
The one additional thing that the COI hit USC on -- and it shouldn't be hard to enforce -- was to limit locker room access to those employed by USC. Former O.J. Mayo handler Rodney Guillory had access to the locker room.
When reached Thursday, O'Neill was adamant that he wouldn't recruit any player that had "handlers," where the possibility of illicit behavior is always present. The COI report details how the previous men's basketball staff was warned about the situation, including that the "travel team coach" of the former student-athlete [Mayo] wanted a "future payday."
"I couldn't put myself in that situation since I wasn't there. I wouldn't know how to react to that," O'Neill said. "I wouldn't put myself in that position. I know all of us [in college coaching] have felt those positions, but for me in this instance it's hard to comment."
Despite the uncertainty, the Trojans have kept pace on the recruiting trail. USC picked up two significant transfers in Fordham's
Jio Fontan
, who will almost certainly start when he becomes eligible in mid-December, and former Iowa starter
Aaron Fuller
, who will sit out next season.
O'Neill's staff also secured impact freshman guards Maurice Jones and Bryce Jones, as well as center DeWayne Dedmon, a JC center who might redshirt once he comes in at mid-year to preserve more eligibility. Forwards
Curtis Washington
and Garrett Jackson will also help.
For the class of 2011, the Trojans picked up verbal commitments from ESPNU100 players Byron Wesley out of Etiwanda High (Calif.) and Gelaun Wheelwright of Centennial High (Calif.).
But more important was the ability to keep returning players
Alex Stepheson
,
Nikola Vucevic
and
Marcus Simmons
when they could have left without knowing the sanctions.
"We did lose a recruiting class," O'Neill said of last year's touted class dispersing after the resignation of Tim Floyd. (Many of them ended up at rival Arizona while another went to Clemson.)
"We had to be creative in our recruiting with someone sitting out at mid-year and another coming in mid-year to get us moving forward," he added. "Hopefully this will all balance out. What it does show is the power of USC as an institution and for me that was refreshing to see."
So what of Floyd? Paul Dee, the chair of the COI, was clear on the conference call that Floyd was not found to violate any rule. As for the charge that Floyd paid Guillory $1,000 in Los Angeles in the year prior to Mayo's arrival, Dee said the COI "didn't make a finding on that issue."
In a press release early Thursday evening, Floyd's attorney, Jim Darnell, made note of the cover letter sent to Floyd by the NCAA that read, "The committee did not name you in any findings of violations or impose a penalty upon you."
"As Coach has wanted to say publicly for a long time: It didn't happen," Darnell said through the release. "We are pleased at this outcome, but certainly not surprised. The Committee did its work and reached the right conclusion."
UTEP had to know that Floyd would not be found to have a show-cause penalty when it hired him to replace Tony Barbee, nearly a year after Floyd abruptly resigned from USC after what he said was a lack of support from Garrett, not an admission of guilt.
O'Neill said he talked to Floyd, whom he considers a friend, when he took the job and now was looking forward to opening up the lines of communication again.
"I'm happy things worked out for him," O'Neill said. "It's great for him. It has all worked out the right way for us here."
January, 3, 2010
1/03/10
3:23
PM ET
By
Diamond Leung
| ESPN.com
USC has
announced self-imposed sanctions
that include banning its current 10-4 team from postseason play due to NCAA rules violations the program committed involving one-and-done guard O.J. Mayo.
The timing of the announcement is devastating to a team that has established itself as a legitimate contender for the Pac-10 regular-season title. The Trojans, using a stifling defense and a new point guard, have won eight in a row and could receive national poll recognition on Monday after beating Arizona State last night, 47-37, to complete a home sweep of the Arizona schools.
Coach Kevin O'Neill told ESPN's Kelly Naqi that athletic director Mike Garrett told him of the sanctions after last night's game when the Sun Devils were held to a low of 37 points in a single game for the second time since the 1949-50 season.
O'Neill told Naqi he met with the players this morning who were "stunned, shocked, disappointed."
USC not only is out of the Big Dance, but also won't even get to play in the Pac-10 tournament. It's an especially cruel blow to seniors like
Mike Gerrity
,
Marcus Johnson
and
Dwight Lewis
.
The Trojans will vacate all 21 wins during the 2007-08 season under coach Tim Floyd when Mayo played while ineligible. Also, there will be a reduction of one scholarship for the 2009-10 and 2010-11 academic years as well as limitations in recruiting activities.
"I think the University did the right thing in self-imposing sanctions," O'Neill said in a statement. "I respect and understand the action that was taken. Our players have risen to many challenges already this season and I am proud of what they have accomplished. I am confident that they will rise to this latest challenge.
"As their coach, I will do everything in my power to make our program better on and off the court every day. Our job as a team now is to move forward in a positive manner. We have 16 games left to play this season. I have no doubt that our players will prepare and play well in those games. While it is unfortunate that our players won't have the chance to compete in the postseason, that just makes every game for us now a postseason game."
According to USC, Mayo became ineligible because of
his involvement with Rodney Guillory
, who under NCAA rules became a USC booster due to his role in Mayo's recruitment.
Floyd, who was not mentioned in the release, had also been
accused of giving money to Guillory
in 2007. Floyd resigned in the offseason, and O'Neill has said that an ongoing investigation "
has basically taken over our team
, since we lost so many players," with recruits backing out of their commitments.
But O'Neill is surprising people with his current team, which dominates on defense. Gerrity has been a revelation since becoming eligible and taking over at point guard.
Leonard Washington
became academically eligible, and along with transfer
Alex Stepheson
, the two have been tough in the paint. Also playing inspired basketball are Johnson and
Nikola Vucevic
.
Like it or not, their season ends March 6.
"When we've done something wrong, we have an obligation to do something about it and that is exactly what we are doing here," Garrett said in a statement.