College Basketball Nation:

Dwyane Wade
March, 28, 2013
3/28/13
9:27
PM ET
WASHINGTON -- A few thoughts from Marquette's
71-61 victory
over Miami in an East Regional semifinal Thursday:


Overview:
Marquette had played on the edge for two rounds of the NCAA tournament, fortunate to win against Davidson and Butler.
The Golden Eagles were due to bust out with a comfortable victory. But who knew it would come against the ACC regular-season and tournament champs?
Miami had been in a few grinder games earlier this season, against Michigan State and Virginia. But the Hurricanes were not prepared for Marquette's toughness, aggressive behavior on the backboards and overall punishing ability to make shots, grab rebounds and convert.
This was over early, as No. 2-seeded Miami scored just 16 points in the first half and never seriously threatened in the second.
Third-seeded Marquette moves on to the Elite Eight for the first time since Dwyane Wade led the Tom Crean-coached Golden Eagles to the Final Four in 2003.
Miami finishes its best season ever at 29-7 -- but two games short of the ultimate goal. The Hurricanes tried to dismiss the importance of losing
Reggie Johnson
to a knee injury after Sunday's win over Illinois. Yet they could have used Johnson to help keep Marquette off the backboard, or at least contribute his five fouls.
Nevertheless, the Golden Eagles (26-8) were clearly no fluke in tying Georgetown and Louisville for the Big East regular-season crown. This team might not have had the early-season hype or star power, but once again it has shined with developed headliners like
Vander Blue
and
Jamil Wilson
and plenty of tremendous role play from
Trent Lockett
,
Chris Otule
and
Junior Cadougan
.
Turning point:
I'm going early here.
Davante Gardner
spun and converted to put the Eagles up 10-4; Blue then pushed the lead to 12-4 nearly eight minutes into the first half. Miami was having a hard time getting more than one shot per possession. Blue then buried a step-back 3-pointer at the first-half buzzer for a 29-16 lead. The Canes were thoroughly clueless offensively, going 1-of-11 on 3s and 6-of-29 from the field before intermission.
Star of the game:
It's a bit of a draw between Blue and Wilson. Blue made big shots and finished with 14 points on 7-of-12 shooting, but Wilson was also a difference-maker for Marquette as he led all scorers with 16, along with eight boards. Wilson converted timely 3s and found the seams in the defense to convert around the basket. He also had three blocks late into the second half -- one of them an emphatic, message-sending delivery. Miami had the style and the flash with the neon sneakers. But substance won over any kind of fashion statement on this night. This was a good evening to be a member of the new Big East.
What's next:
Marquette can stay in D.C. for the Easter weekend, can go watch the school's men's lacrosse team take on Georgetown on Friday, and enjoy what has been a wonderful ride for the unheralded but well-respected Golden Eagles. Fourth-seeded Syracuse will await Saturday.
August, 20, 2012
8/20/12
1:00
PM ET
Forget NCAA academic reform. If we've done one thing this offseason, it's been to chronicle the sudden explosion in popularity among college basketball coaches of rap artists. Kentucky sent Drake a national championship ring,
which he promptly posted on his "Champagnepapi" Instagram feed
. South Carolina coach
Frank Martin effusively praised Pitbull
. Notre Dame coach Mike Brey -- who one imagines has never actually said the word "dawg" colloquially before in his life --
snapped a pic with his "dawg" 2 Chainz
.
Indiana coach Tom Crean is not one to sit idly by and miss a trend. Or perhaps it was just happy chance that Crean found himself spending time at his former player's house -- that of NBA superstar Dwyane Wade -- when rap star/Trap Star Young Jeezy hopped in the frame for a quick photo. Whatever fortuitous circumstance led to the the meeting, Crean was sure to get a photo, and sure to get that photo up on his social media account as soon as possible.
This was the final result:
Hanging with two legends; Dwyane and Young Jeezy pic.twitter.com/7sTIY9iR

— Tom Crean (@TomCrean) August 18, 2012
In my opinion, the title of most entertaining of the bunch still goes to Brey, because Brey throwing up a peace sign while standing next to a sunglasses and Beatz-clad 2 Chainz is ... well, it's just inherently hilarious. Mike Brey is awesome.
Still, this entire mini-trend, if it can be referred to as such, is all about recruiting, and give Crean plenty of points for savvy. He's been sure to make mention of his relationship with Wade a time or two before, and for good reason: It's never a bad idea to remind elite high school players with designs on the NBA how close you are to one of its marquee players. (I would very much like if Crean would tell Wade to stop headfaking and flailing around every time he experiences the slightest brush of contact, but I digress.) Being able to plug your relationship with Wade and Young Jeezy, all in one fell Twitpic swoop? That's just a bonus. Meanwhile, Jeezy gets major points for wearing a Bulls fitted in the presence of one of Bulls' fans least-liked players. The whole photo is fantastic.
Anyway: Your move,
Bilas
.
May, 25, 2012
5/25/12
10:25
AM ET
Partially inspired by
TrueHoop's excellent HoopIdea series
, College Basketball Nation humbly presents Change the Game, a weekly discussion on the game we love and the ways it could be made better. And nothing is off the table.
Last week, we took a look at the always-controversial block/charge call. This week, Myron Medcalf examines the aspects of the NBA game that have negatively influenced college basketball. On the flip side, Fran Fraschilla takes a look at the good things college basketball coaches and players have picked up from the pro game.
Midway through the third quarter of the Miami Heat's 105-93 victory over the
Indiana Pacers
Thursday night, ESPN analyst Jeff Van Gundy proclaimed that the Pacers had been "iso'd to death by
LeBron James
and
Dwyane Wade
."
Somewhere in America, a college player recognized the individual maneuvering of the NBA all-stars as confirmation of his own offseason growth as a one-on-one threat.
That's just one way that the next level has had an adverse impact on the collegiate level. Too many college squads have abandoned the offensive sets that separate Division I basketball from the NBA and structure the game so that it's executable for amateurs still absorbing the fundamentals. Organized offenses have been replaced by an influx of isolation plays, a direct influence from the next level.
[+] Enlarge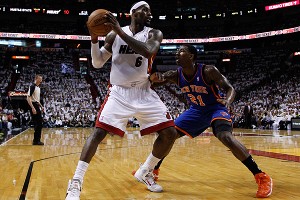 AP Photo/Lynne SladkyIsolation plays like this one for LeBron James of the Miami Heat are the norm in the NBA, but often are ineffective at the college level.
There is only one LeBron James, but that doesn't stop Division I players with a fraction of his ability from attempting to emulate him and other NBA standouts.
Isolation reigns. And that's a problem.
It's an issue because it strips Division I offenses of their fluidity.
The NBA's stars can freestyle because they're elite athletes who don't necessarily need a motion offense to get to the rim. Yes, the NBA offensive sequences occasionally commence with a designed play. But when the ball goes to James, Wade, Kobe, you know what's coming.
Those guys can score against any individual defenders in the world without much assistance from teammates.
Similar attempts at the Division I level, however, tend to involve poor shot selection. Too many plays end with a quick shot, an off-balanced drive or a tough jump shot – plays that only work for a few, special athletes. I don't think that's the goal for most college programs.
But that doesn't stop players from pursuing the one-on-one plays that are the result of next-level thinking. It's a troubling trend.
One coach told me that players accept contested shots as just a natural part of the game. And I think that's attached to the isolation dilemma. There's a sense of drama that comes with luring a defender and driving past him or shooting over him. But it's not always necessary. Open looks come from the offensive sets that are properly executed. Too many college players, however, favor one-on-one scenarios based on what they've watched on TV the previous night.
But that's not the only challenging byproduct of the NBA's influence on the collegiate level.
There is also the issue with versatility. Players rarely sign off on the positions that are listed on their official bios.
Are you a shooting guard?
"Nope, I'm a combo. I can play both guard spots."
Really?
Are you a true center?
"Nah, I can play a little wing, too. I don't like to limit myself."
I understand the mission. More versatility increases NBA potential. But again, most players won't get to that level and they're wasting their time trying to play four positions when they can barely manage one.
There is one Dirk. One
Kevin Garnett
.
But at the college level, a 6-7 center that commits to the position can succeed. The gritty rebounder has a place. The pure point guard is necessary. The sharpshooter off the bench can help his squad win a title.
There is certainly a give-and-take when you have guys who want to make money in the future and coaches who know most of their players need extensive work on the basics before they're ready to earn that paycheck.
But there's nothing wrong with trying to master one role. It always makes sense to add more wrinkles such as expanded shooting range. But the coaches I talk to want their players to focus on the tasks that helped them earn their scholarships.
The NBA has fueled this emphasis on offensive players at the collegiate level. And I think NBA officiating has affected the quick whistles against helpless NCAA defenders trying to stop them.
Breathing on James might prompt a foul call in the NBA's upcoming Eastern Conference Finals. There's this unwritten rule about protecting offensive players. It's really hurt the game.
And that's trickled down to the collegiate level, too.
Defenders don't have many options when refs blow the whistle on the inadvertent contact that's the natural result of two players vying for position in a live game.
I know the rules on fouls.
Per the NCAA rulebook: "A player shall not hold, push, charge, trip or impede the progress of an opponent by extending arm(s), shoulder(s), hip(s) or knee(s) or by bending his or her own body into other than a normal position or by using any unreasonably rough tactics."
But I think NCAA officials should take a hard look at the limitations placed upon collegiate defenders due to foul calls that penalize them for competing.
No, I don't believe a guy has the right to go
Dexter Pittman
on an offensive player and get away with it.
I do, however, believe in fair, physical play that offers offensive and defensive players a true opportunity to engage in competition.
The NBA has lost that. It's a very soft game now.
And the college game has followed its lead with rulings that favor offensive players.
I think the college game has benefited from the pros in a multitude of ways, too. But they're two different platforms. And they should remain separate.
But let's get rid of the derivatives from the NBA that don't help the college game.
May, 21, 2012
5/21/12
1:20
PM ET
Dwyane Wade
's relationship with IU coach Tom Crean is well-established. Crean coached Wade during his breakout seasons at Marquette from 2001 to 2003, the latter of which included a run to the Final Four and a junior season that established Wade as a top-five pick in 2003's legendarily loaded NBA draft. (The top five picks that year went like this:
LeBron James
,
Darko Milicic
,
Carmelo Anthony
,
Chris Bosh
and Wade.
Chris Kaman
was drafted No. 6. Oh, Darko. Poor, poor Darko.) The two have remained close since, but both have busy schedules, and not much occasion to spend quality time.
Wade found such an occasion this weekend. On Thursday,
in a 95-74 loss to the
Indiana Pacers
, Wade became the first player since
Eric Snow
in 2001 to record five or more turnovers and five or or fewer points, rebounds and assists (min. 35 minutes),
according to ESPN Stats and Information
. Wade was stymied in ways we rarely see, ways that I have to admit (as both a Bulls fan and someone who kind of hates the way Wade plays, all pump-fakes and sprawling appeals for fouls and half-limping walks to the free throw line) were thoroughly satisfying to watch.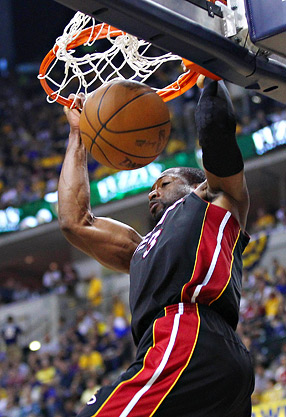 Michael Hickey/US PresswireDwyane Wade dunks home two of his 30 points Sunday against the Pacers.
But they didn't last for long. Wade
submitted an excellent performance in Sunday's crucial 101-93 win at Indiana
, with 30 points, nine rebounds and six assists. (James, meanwhile, went for 40 points, 18 rebounds and nine dimes, one of the most incredible playoff performances you will ever see.) What changed?
Wade had fluid drained from his knee
, so that surely helped. But he also made a stop in Bloomington, Ind. to talk shop with Crean,
which he discussed in his postgame news conference Sunday
:
"I really spent time with a mentor of mine, a father figure and had a long day and long hours of just conversation, just talking about a lot of things," Wade said. "So it was great for me to just get away and kind of get that energy that I needed from him."
Naturally, at least one photo of
Wade and his former coach on the floor at Assembly Hall has surfaced
. The association is a positive one for Indiana, obviously; as John Calipari at Kentucky has shown, few things are more attractive to young recruits than a relationship with established NBA stars like Wade and James. Even better, Crean had film footage of Wade's made and missed shots, so the visit was a tangibly productive one, too.
In any case, the most surprising thing about all of this is what Wade wore to Bloomington. As you can see in the linked photo, Wade is wearing a Heat windbreaker with khaki pants. There is nary a pastel suit or fuschia pocket square to be seen.
Given the man's sartorial track record
, I have to say I'm pretty disappointed.
(Hat tip: Inside the Hall)
November, 30, 2011
11/30/11
2:45
AM ET
COLUMBUS, Ohio -- As
Deshaun Thomas
exited the postgame press conference that followed No. 2 Ohio State's
85-63 victory
over Duke on Tuesday night, NBA stars LeBron James and Dwyane Wade escaped Value City Arena through a nearby loading dock.
The duo watched Thomas and Co. destroy the fourth-ranked Blue Devils in the most marquee matchup of this year's Big Ten/ACC Challenge. When James and Wade arrived, photographers scurried like paparazzi on a red carpet.
"I saw them," said Thomas, who scored 18 points. "It was great motivation to show off for them because they show off for us all the time on TV."
But LeBron and D-Wade weren't the headliners on this night.
Under the brightest lights of the young season, Ohio State embraced the moment and destroyed a team that just won the prestigious Maui Invitational, handing Duke its most lopsided nonconference loss in the regular season since 1995.
[+] Enlarge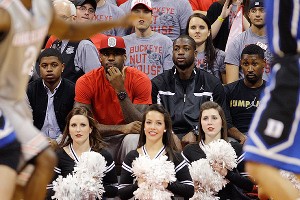 AP Photo/Jay LaPreteThe stars were out in force in Columbus on Tuesday, including LeBron James and Dwyane Wade.
The Buckeyes weren't distracted by the frenzy that preceded the game -- fans had camped outside the venue for days and there was legitimate buzz in a city and on a campus dominated by football and the arrival of new coach Urban Meyer.
Competing while two NBA All-Stars sat courtside obviously didn't rattle them, either. And more importantly, Duke's threats of 3-balls and aggressive interior defense never moved beyond the planning phase due to Ohio State's execution.
The Buckeyes put together the most defining performance of the 2011-12 season and legitimized all the "Ohio State is the best team in America right now" kudos that will follow.
OSU nailed a ridiculous 59 percent of its shots -- a mere 57 percent from beyond the arc. Beyond the box score, however, the Bucks had the backbone to crush a vulnerable opponent when the opportunity arose.
That's
the DNA of a champion.
They turned a 26-17 edge with eight minutes to play in the first half into a 19-point halftime lead.
"This basketball team is tough," said
Jared Sullinger
, who scored a team-high 21 points. "That's pretty much our motto: mental toughness and physical toughness, and we showed that today."
Against Ohio State's defense, Duke played like a claustrophobe stuck in a trunk.
Freshman
Austin Rivers
scored 22 points, but threw away about a half-dozen opportunities because OSU wouldn't let him finish at the rim.
Seth Curry
called a timeout on his team's first possession with Ohio State's
Lenzelle Smith Jr.
swarming him. It was a sign of things to come.
A Blue Devils team with a 46 percent success rate from long range before Tuesday's game hit just 3 of 15 on this night.
A Blue Devils defense that gave up just 61 points in its Maui final victory over Kansas gave up 47 to Ohio State -- in the first half.
Duke coach Mike Krzyzewski said the fatigue from last week's trip to Hawaii played a role in the Blue Devils' struggles.
"I thought Ohio State played a great game against us. They were a fresher team," he said. "I thought our team played tired."
But getting whipped for 40 minutes will wear down any team.
Despite losing 3-point ace Jon Diebler, versatile performer David Lighty and shot-blocker Dallas Lauderdale to graduation, these Buckeyes might have more potential than last season's squad, which won 34 games but was knocked out as a 1-seed in the Sweet 16.
They're more athletic, and with the evolution of Thomas and sophomore point guard
Aaron Craft
, they're more versatile on both ends of the floor.
Craft alone held Duke's guards to four points on 2-of-8 shooting and four turnovers. Thomas entered the game shooting 28 percent from beyond the arc, but connected on 2 of 4 treys Tuesday.
[+] Enlarge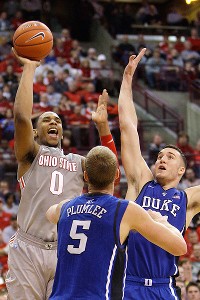 AP Photo/Jay LaPreteJared Sullinger contributed 21 points and eight boards against the Duke frontline.
In the first half, former Ohio State stars Greg Oden, Mike Conley Jr., Daequan Cook, Evan Turner and Michael Redd were introduced at midcourt. Oden, Cook and Conley formed the nucleus of Ohio State's 2006-07 team, which lost in the national title game to back-to-back champion Florida.
Sullinger said he's learned from predecessors who fell short of their national championship dreams.
"You just gotta keep your composure," he said when asked what it will take for this year's team to fulfill its potential.
Ohio State is as balanced as any team in the country. And with a stud point guard, a consistent wing (
William Buford
scored 20 points) and a big man like Sullinger, the Buckeyes appear to be as well-equipped for March Madness as any squad in the country.
But coach Thad Matta would like to erase the preceding sentences. The hoopla is premature, he said during his postgame delivery.
He said he's paranoid about praising his team too early because that's what happened just before Turner broke his back during the 2009-10 season.
Plus, the program suffered a backlash last season, when Matta's team won its first 24 games but ultimately ended in disappointment in the NCAA regional semifinal against Kentucky.
Perhaps that's why he dismissed any comparisons to the 2006-07 team.
"No. Honestly, I don't. You had some veteran players, you had some seniors," Matta said when he was asked if he saw any similarities between this season's team and Oden's squad.
That team, however, was led by freshmen. This season's Buckeyes are guided by three outstanding sophomores.
"That team would do things in practice that I had never seen before," Matta added later.
Well, how many times has a top-five Duke team taken that kind of a beating? Duke's 63 points and three 3-pointers were both season lows.
"I still think this team has so far to go," Matta concluded.
The latter is understandable for a coach who doesn't want young players to get overconfident. And based on the multiple years he's had where in-season success failed to match postseason projections, Matta's refusal to get too excited about the victory makes sense.
But Matta can't completely disregard what happened here at Value City Arena. His young roster dominated a previously unbeaten Duke team in every area of the game.
That doesn't guarantee any success in the future. But as of now, it's undeniable proof that the Buckeyes are as good as, and probably better than, any team in the country.
"What can I say -- this basketball team is something special," Sullinger said.
He probably shouldn't convey that thought to his coach.
But most who watched Tuesday's game would agree.