College Basketball Nation:

Eamonn Brennan in KC
November, 24, 2010
11/24/10
8:26
AM ET
KANSAS CITY, Mo. -- The college hoops season is long enough that one game -- and yes, this is a veiled shot at the BCS, because whatever, the BCS deserves it -- doesn't have to matter all that much.
One game doesn't define you. One game doesn't decide your season. One game, even a really big game, might end up meaning nothing at all.
When that game comes in late November, it might mean even less. Or, then again, it doesn't have to. It's all about perspective.
Fortunately for Kansas State, which took a proverbial punch in the face from a scary-good Duke team Tuesday night, it seems to have plenty of perspective to go around.
"We're going to continue to grow and get better," K-State coach Frank Martin said after the game. "That's why you play games like these. You come up and play a team like Duke -- if you've got any pride about yourself, you're a better team the next day for it."
There wasn't much for KSU to feel encouraged about in the short term. The Wildcats turned the ball over 21 times, missed 12 of their 23 free throw attempts and saw star guard
Jacob Pullen
held to four points (and forced into four turnovers) on 1-for-12 shooting from the field.
For a team with realistic Final Four aspirations, it was not a rah-rah evening. But Pullen & Co. didn't seem as dejected as so many of their fans -- many of which made that long, depressing walk up the Sprint Center exits with more than three minutes remaining in the game-- did Tuesday night.
"We're going to be fine, believe me," Pullen said. "As long as Frank Martin's on that sideline and we have the locker room we have, we're going to be fine.
"It was an early test," Pullen continued. "We played a good, solid, poised team. I feel like we lost the battle, but it's a war. Hopefully we see them again in the NCAA tournament, a Final Four game, national championship, whatever it is. But we'll see them again, and we'll be better prepared for them."
There were some good signs for the Cats despite the comprehensive nature of Duke's win. Forward
Curtis Kelly
's offense was a bright spot; Kelly scored 19 points on an efficient 8-for-11 shooting night, adding six rebounds and looking like K-State's best chance of adding a truly dominant, athletic big man to its attack.
Kelly was far from perfect, of course -- he also had seven turnovers (a true feat for a forward) and missed four of his seven free throw attempts -- but in his second game back after an attitude-related benching by Martin, Kelly's active night was a good start.
But wait, there's more: Pullen has been here before. Last season, he recorded back-to-back 2-for-15 shooting nights against Texas and Oklahoma State on Jan. 18 and Jan. 23. His next two games, Pullen went 7-for-11 for 25 points in a win at Baylor and 8-for-18 for 22 points in a two-point loss to Kansas.
It's perfectly reasonable to expect a similar bounceback in the coming weeks, especially because Kansas State's schedule gets noticeably less daunting now that Virginia Tech, Gonzaga and Duke are out of the way. The Wildcats return to Bramlage Coliseum for games against Texas Southern and Emporia State on Friday and Monday, followed by a trip to Washington State on Dec. 3. The toughest two nonconference games remaining on the Wildcats' schedule are Dec. 18 against Florida in Sunrise, Fla., and Dec. 21 versus UNLV here in Kansas City.
So where does Kansas State go from here? According to forward
Jamar Samuels
, there's only one place to go.
"Forward," he said emphatically. "We can't dwell on this."
That drive, plus a healthy dash of their head coach's almost wide-eyed (no pun intended) perspective, should help keep the Wildcats from feeling too down despite the disappointment.
"It was a whole lot of fun," Martin said. "I mean, you line up against the No. 1 team in the country in front of 19,000 people ... Our kids have done some things right that so many people pay to come to see them play."
November, 24, 2010
11/24/10
3:20
AM ET
KANSAS CITY, Mo. -- Kansas State fans came for a classic.
What they got was classic Duke.
Tuesday night's CBE final promised big things: The fourth-ranked
Kansas State Wildcats
-- a team that had just routed a solid Gonzaga squad -- would get a shot at the top-ranked
Duke Blue Devils
, college hoops' defending national champions. They would do so in front of a packed, purple-clad Kansas City crowd.
OK, so maybe Kansas State wouldn't
win
, but how could this be anything but a great game?
Forty minutes and a 14-point margin of victory later, here's how: Duke is the best team in the country.
Actually, let's be more specific: Duke is the best team in the country by
a lot
.
Asked if he agreed, Kansas State coach Frank Martin didn't hesitate.
"They knocked the living piss out of us," Martin said. "If there's a team better than they are, I don't want to play them."
Fortunately for Martin, and unfortunately for that segment of the college hoops world that just can't help but hate the Dukies, there isn't a team better than Duke in college hoops this season. Not now. Not in April. And not anytime in between.
It's only a matter of time until someone makes the bold leap and predicts Duke to have an undefeated season. I won't go that far; college hoops is too upset-oriented, with road wins too hard to come by, to be sure the Blue Devils will make it to April without losing a single game. Eventually, they'll lose. It's bound to happen. (Lest we forget, Marquette wasn't far off.)
But after Tuesday's performance -- which basically amounts to a nonconference road win over the No. 4 team in the nation, Duke's biggest challenge of the nonconference schedule by far -- well, let's just say you can't confidently predict a Duke
loss
happening anytime soon.
There are plenty of reasons. For one, the Devils' next big test, a home date with No. 2 Michigan State next Wednesday, got a little less intriguing after the Spartans' disappointing performance in the Maui Invitational. MSU limped to an uninspired win over Division II Chaminade on Monday and then lost at the hands of a good-but-not-great Connecticut team Tuesday. By the time Tom Izzo's team arrives in Durham, it won't be ranked No. 2 in the nation anymore. And while Michigan State will no doubt improve over the course of the season, it certainly doesn't look capable of challenging the Blue Devils at Cameron Indoor.
[+] Enlarge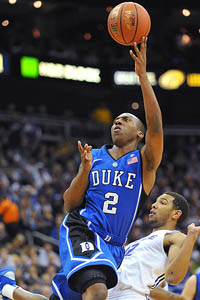 Denny Medley/US PresswireSenior Nolan Smith contributed 35 points and 14 rebounds in the two victories in Kansas City.
Still, most of the reasons for predicting Duke dominance lie within Duke itself. The Blue Devils entered the season with tons of hype, but they've managed to exceed it by their fifth game. Freshman point guard
Kyrie Irving
might be the nation's best pure point guard, and he happens to be playing alongside another guard who can play a little, team leading scorer
Nolan Smith
.
Kyle Singler
is still a player-of-the-year-level talent, the most technically refined player in college hoops.
Andre Dawkins
and
Seth Curry
are knockdown shooters, perfect for Duke's spacing-oriented style. Even the team's bigs have looked impressive thus far, especially potential lottery pick
Mason Plumlee
, who followed up a dominating effort against Marquette with a quality game (10 points, five rebounds, one block) against one of the deepest frontcourts in the country.
"You have to pick your poison," Kansas State guard
Jacob Pullen
said. "You can't help. No matter where you help on them, they're going to pick you apart."
This season, that picking-apart process starts with Irving, who was named the CBE Classic tournament MVP after his 17-point, five-assist, five-rebound, three-steal title game. Irving is as fast as any guard in the country -- he beat Pullen, no slouch himself, off the dribble repeatedly in the title game -- and his ability to beat the defense down the floor and finish at the rim with either hand is uncanny.
Irving is also an intuitive passer, and he has plenty of eager finishers around him.
"We have so many weapons on this team," Irving said. "It's a lot easier to become confident."
And then, of course, there's Coach K. It's practically pointless to list Mike Krzyzewski's accomplishments, because there's nothing about the coach's success in college basketball that you haven't already heard a thousand times. But Tuesday night was special in its own right for Coach K: The win was his 800th as head coach at Duke.
For all of the institutional advantages now available to him at that school -- among them, as Krzyzewski mentioned, the ability to recruit on a national level -- you don't get to 800 wins at a single school without a truckload of pure coaching know-how, and that was on display as vividly as ever at the Sprint Center.
"Mike did a lot more to get his players ready to guard Jacob than I did to get our players ready to guard Kyrie," Martin said. "That's why he's won 800 games at Duke and a gazillion national championships. Because he's good. He took me to school today."
"Coach K has this down to a science, people," Pullen said. "And it's a great science, man."
Science or not, Duke is almost certain to stumble at some point along the way. All great teams do. Over the long haul, there may be teams you'd pick to challenge Duke in the postseason -- Kansas with an eligible
Josh Selby
, Ohio State with a dominant
Jared Sullinger
-- and, hey, you never know what can happen in March, right?
But what Duke has, as of Nov. 24, 2010, is this: a team led by a legendary coach coming off a national title (not to mention a FIBA World Championship), buoyed by two All-American candidates, captained by a brilliant freshman point guard, and filled out with deadly accurate shooters and athletic big men that just ran the No. 4 team in the country off the floor in a home-court setting.
And if
that
doesn't scare the rest of the country, remember this:
It's only Nov. 24.
The Duke Blue Devils could still get better.
Undefeated? Settle down. Rarely tested? Entirely possible. Classic Duke?
All signs point to yes.
November, 24, 2010
11/24/10
12:46
AM ET
KANSAS CITY, Mo. -- So much for the coronation.
On a night that felt custom-tailored to officially, and finally, announce Kansas State's presence among college basketball's elite programs, bonafide members of that elite group -- the
Duke Blue Devils
; maybe you've heard of them -- were too talented, too composed and too
... Duke
to lose. It was a thoroughly impressive performance in difficult conditions, and before the postgame press conference fun begins, here's a few quick thoughts from Duke's
82-68
win.
Duke led throughout, but one key run -- an 18-6 stretch that put Duke up 64-49 at the 11:41 mark -- truly sealed the game. Before that run, Kansas State had closed the lead to five at 48-43, and it looked as though the game might tighten up in the second half. But a series of turnovers, including two by Curtis Kelly and two by freshman point guard Will Spradling, led to a handful of Duke transition buckets. By the time a timeout came and you took a deep breath long enough to look up at the score, Duke had blown the game wide open. Kansas State would never threaten again.
It's hard to overplay how impressive Kyrie Irving was. The stats -- 17 points, six assists, five rebounds, three steals -- tell some of the story, but the ease with which Irving commanded the game was the most superb part of his night. The highly touted freshman guard got to the rim against Jacob Pullen, Will Spradling, Martavious Irving, and the rest of K-State's guards with ease. He finished at the rim with strength and gusto. The moment he saw an opening on the break, Irving sprinted up the floor, frequently beating Kansas State -- a team rather fond of fast-break basketball itself -- to the rim. And when Duke got into secondary break opportunities, Irving was composed and intelligent, letting Duke's spacing work before finding open shooters in stride. It was as good as freshman point guard performances get.
As good as Irving was, Pullen was that bad. Every star is allowed off-games, and Pullen will no doubt rebound in the coming weeks. But against good teams -- not to mention great teams with great backcourts, which is exactly what Duke is -- Pullen can't disappear for as many long stretches of the game as he did Tuesday night. It wasn't just that Pullen was missing shots; it's that he wasn't finding them. In the second half, Pullen got a few more looks, but too many of them were inadvisable, flat-footed, challenged, and doomed to fail. For far too much of this game, Pullen just wasn't there.
Duke was uncannily balanced: Five players (Irving, Nolan Smith, Kyle Singler, Andre Dawkins, Mason Plumlee) scored more than 10 points.
Needless to say, when Kansas State shoots 3-for-17 from the 3-point line, it's not going to win too many games. Forget beating Duke. That sort of shooting performance won't beat Colorado. (And credit Duke for forcing so many bad shots, and closing out well on the ones that seemed, if only for a moment, to be open.)
Irving was the tournament's MVP. It's probably safe to bet that won't be the last hardware Mr. Irving takes home.
And, of course, Tuesday night was Coach K's 800th win. It was a classic performance from another of his seemingly inexhaustible supply of great teams. As Frank Martin said Monday night, it's hard enough to be good for one year. Duke has been good for two decades. An amazing run by one of the best coaches in any sport, anywhere. As if I needed to remind you.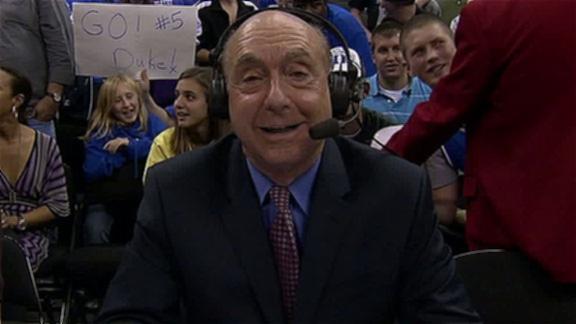 November, 23, 2010
11/23/10
11:34
PM ET
KANSAS CITY, Mo. -- A few quickly scribbled, semi-cogent thoughts from what has been an entertaining and
well-played first half
of basketball at the Sprint Center thus far:
Curtis Kelly didn't take long to show why his talents are so highly regarded. In the first 10 minutes, Kelly had a pair of good turnaround jumpers following solid post moves, a pretty 15-footer and a presence on nearly every potential offensive rebound for Kansas State. He also showed why, despite all that talent, Frank Martin gets so frustrated with him. After making that 15-footer in front of Duke's bench, Kelly turned to the bench and nodded in a "Yeah, stop me," sort of motion. It's relatively innocuous stuff, but it's that kind of immaturity that's gotten Kelly in trouble with his head coach so frequently. (For the record, Martin made his thoughts on the half-taunt clear for Kelly in an ensuing timeout. Kelly quieted down after that.) Kelly finished the half with 11 points and four rebounds.
Kyrie Irving has been awfully great, too. The Duke guard has led a handful of lightning-quick breaks for easy Duke buckets, and in the half-court, Kansas State has struggled to stay in front of him on dribble penetration. Even Pullen -- as quick a guard as there is in college hoops -- wasn't up to the task.
Speaking of Pullen, this was not a half for his senior scrapbook. Unlike the Virginia Tech game, he's avoided foul trouble (though he did pick up a charge call on a fast-break pass nearly identical to the one that drew him his third foul against the Hokies). But in addition to his defensive struggles on Irving and company, he was held scoreless all the way until the 2:46 mark, when he finally got on the board with a corner 3. Pullen also had three turnovers, a couple of which were self-inflicted.
If you're looking for the difference between each team's offensive output, you won't find it in the rebounding category, where Kansas State has been good on both ends of the floor. Nor will you find it in shooting line; both teams made 15 buckets (and three 3-pointers each) and Duke only attempted two more field goals than K-State. No, the key has been turnovers. Duke isn't making them, and Kansas State is. The Wildcats committed 12 turnovers in the first half; the Blue Devils committed three. Combine that number with all of Duke's open looks and easy drives to the lane -- we've mentioned Irving already, but Nolan Smith has had plenty of open paths to the bucket, too -- and you've got a recipe for disaster. There's a reason Duke's on pace to score 94 points Tuesday night. They're shooting well, sure, but more importantly, they're not wasting any of their possessions.
This is crucial for Kansas State's offense, too. Without turnovers, and with Duke taking so many good shots -- layups, open jumpers, and so on -- it's very difficult for Pullen to get the ball and get into Duke's defense as quickly as the Wildcats would like. They've been forced into way too much half-court offense in the first half. They can still get points there, but Duke's defense is much, much better when they're able to help with double-teams, hedge ball screens for Pullen and rotate to shooters like Rodney McGruder and Martavious Irving in a controlled setting. K-State needs to introduce a little chaos into this game, and the best way to do that would be to start forcing Duke into some giveaways.
You have to hand it to the Sprint Center technical staff: They pulled out all the stops for this one. And by "all the stops," I mean they turned the lights off and splashed a few spotlights around during pregame introductions. Maybe everyone was way too jacked up for this game to realize whether this was actually that cool -- it was basically an NBA introduction -- but it certainly felt cool at the time.
November, 23, 2010
11/23/10
10:05
PM ET
KANSAS CITY, Mo. -- There's no question why most people are here tonight. With the exception of Marquette's smallish fan section and a smattering of early K-State fans, it took almost the entire first half for something resembling a full crowd to arrive at the Sprint Center for Tuesday night's third-place game between Marquette and Gonzaga.
The late arrivals didn't exactly miss a classic, but Gonzaga's
66-63
in over Marquette did have some nuggets worth chewing on. A quick rundown:
Gonzaga forward Elias Harris finally got it going. This was especially true in the first half, when Harris scored 15 points in 18 minutes on 6-of-9 shooting from the field. Harris has had a sluggish start to the season, including two stinkers in Gonzaga's two losses (five points in the loss to San Diego State, four in Monday night's loss to Kansas State). Steven Gray has taken over much of the Zags' scoring load, but with Harris doing the things that made him such a dangerous player last year -- grabbing offensive boards, stretching opponents' frontcourts by hitting outside shots -- Gonzaga is a much more dynamic offensive team. When Harris is off (as he was in the second half Tuesday night; he went 2-for-10 from the field) the Zags look downright plodding.
If Buzz Williams is concerned with his team finding an identity -- and most coaches seem to obsess over the i-word -- then Marquette already has a head start. The Golden Eagles are, quite frankly, resilient. They refused to back down to a far superior Duke team on Monday night, and when it looked like Gonzaga was primed to coast during the second half of Tuesday night's win, the Eagles again fought back. They cut the lead to three with 1:13 remaining (and got a great look at a three after Williams called timeout), and then cut it to two with 47 seconds left thanks to a quickfire Jimmy Butler three. With 2.5 seconds left, the Golden Eagles still had a chance to win the game, and with a better inbound play -- instead of the handoff pass back to Butler, the inbounder, that resulted in a 30-foot heave -- Marquette could very well have sent the game into overtime.
Butler is one of the more underrated players in the country. The versatile guard-forward combo presents matchup problems for almost any team that tries to guard him; no team has really held him in check yet this season. He's too quick to be guarded by a big, and too big and athletic for a guard to affect his shot. He contributes on the glass -- which Marquette, with its dearth of interior depth, desperately needs -- and even though he isn't a three-point threat, Butler still manages to find his shot with intelligent mid-range play. Just a really impressive player, and one to pay attention to as Marquette moves forward this winter.
Marquette is short in the frontcourt already, but it would be much worse off were it not for junior college transfer Jae Crowder. Crowder isn't going to tear up the Big East this season -- at 6-foot-6, he's pretty undersized for a Big East center -- but he has contributed solid rebounding and the occasional interior bucket thus far. It's something, at least. A team this small will take it.
It wasn't the prettiest win of Mark Few's career, nor was it the most exciting, but it was thoroughly necessary. Back-to-back losses to San Diego State and Kansas State (in a very non-neutral environment, no less) can be written off as early speed bumps, products of a tough non-conference schedule. Losing to Marquette in a deathly quiet gym would have been far more disconcerting. The Zags desperately needed a win to keep from being written off as overrated, and sure, it wasn't the prettiest win ever, but it counts. It came at a good time, too. Gonzaga gets a brief rest from truly brutal non-conference dates -- their next game is a Nov. 30 home date with Eastern Washington -- before resuming the murderer's row with a Dec. 4 game against Illinois, followed by trips to Washington State (Dec. 8) and Notre Dame (Dec. 11). A neutral-court loss to Marquette is the last thing the Zags needed at this point.
November, 23, 2010
11/23/10
7:33
PM ET
KANSAS CITY, Mo. -- How infectious is the local atmosphere ahead of tonight's game between No. 1 Duke and No. 4 Kansas State? Even Kansas fans are getting in on the fun.

Kevin Graham, a Hutchinson, Kan. native, came to downtown Kansas City Tuesday night wearing what will no doubt be an unpopular choice in personal attire: a blue and red Kansas windbreaker with a blue Jayhawks hat to match. If you think Duke's royal blue will stick out in the purple-packed Sprint Center, imagine being the guy with the KU hat on. Bold choice, sir.

Once Graham clarified the reasoning behind the wardrobe, though, you had to admire his sense of camaraderie.

"I'm rooting for them," Graham said of K-State, which is not something you'll hear from Kansas fans too often. "I can't wear that purple. Not going to wear the purple. But I put on the KU colors, and I'll be rooting for them."

A Kansas fan? Wearing Kansas gear? As a sign of support for ... Kansas State?

"A sign of respect," Graham said. "Absolutely."

If the comments section of this very website is any indication, Kansas and Kansas State fans aren't exactly going to start buying each other Cokes and singing "Godspell" numbers anytime soon.

So it's fair to say Graham and his Wildcat-loving friend, Darin Ackley, who also made the drive in from Hutchinson Tuesday afternoon, might not be the most representative sample when it comes to hoops loyalties. (The duo was on the way to grab drinks in Kansas City's prefab KC Live bar area with their two friends -- a married Duke couple -- thus forming tonight's version of a college hoops rainbow coalition. I vote we send Ackley and Graham to negotiate an Israel-Palestine accord. They seem to have the secret.)

But it was striking to see a KU fan joining in with the thousands of Kansas State fans that had already descended on downtown KC for tonight's big game. It was also, perhaps, telling: If a Kansas fan can respect the Wildcats, the suddenly high-profile program has to be doing something right.

Ackley said tonight's game was "the biggest for K-State hoops in quite some time," which might be an understatement. Kansas State hoops has a unique and potentially seminal opportunity Tuesday night. It can, in one fell swoop, beat the defending national champion and No. 1 team in the country; put itself on the top of the polls for the first time in the modern era; energize a fan base with the power to say "I was at the Sprint Center for that game"; and announce itself to a national audience -- not just among college hoops die-hards, but among casual fans, too -- as a hoops power in 2010 in beyond.

For a program and fan base that has long lived -- at least where it concerns basketball -- in the shadow of the Jayhawks, that's a very big night indeed.

"We've always had good fans," Ackley said. "When we were consistently winning conference titles in football, Kansas State fans would travel anywhere."

"They won't hesitate to drive clear across the state," Graham said.

"But I think there hasn't been as much attention paid to the college basketball side until recently," Ackley said. "The potential was always there. We win this game, and there's no question other people start to realize what we've got here. We'll get more respect."

Of course, Kansas State has to win first. But even before the game, the atmosphere had a distinctive feel, as though people were preparing for a coronation. (In sports, you prepare for coronations by leaving work at noon and getting drunk all day. That's why sports are awesome.) Finally, perhaps, the lowly Wildcats were going to unbridle that ageless us-vs.-them tension. Finally, they would get some respect.

On my way into the arena, I ran into another group of fans. They were entering the Sprint Center the way everyone does: by emptying their pockets and stepping through a metal detector. As the last of the group went through, he turned to the elderly usher manning the metal detector and made a quick assurance.

"I'm a KU fan," he said. "So I don't have a big belt buckle on."

Ah, well. You can't change the world overnight.
November, 23, 2010
11/23/10
2:13
PM ET
KANSAS CITY, Mo. -- Sometimes, everything goes according to plan.
Sure, Gonzaga and Marquette fans -- who watched their teams lose to Kansas State and Duke, respectively, Monday night -- might not be feeling the pre-ordained big-game love. (Gonzaga fans in particular are likely feeling a dearth of enthusiasm at this point. Tough start for the Zags, huh?) But pretty much everyone else will, because the Wildcats' and Blue Devils' wins in the CBE Classic semifinals set up the best early-season tournament matchup in recent memory.
When you looked at the holiday tournament schedules -- and if you're like us, you scoured those things like a "Lost" fan hunting for dead-end clues to whatever silly plot twist that show threw at you next -- it was the prospective matchup that stuck out most, and now it's here: Tuesday night, we get to watch No. 1 Duke and No. 4 Kansas State, two of college hoops' most serious national title contenders, play in front of a raucous Kansas State crowd in a gleaming new arena in downtown Kansas City. Short of March Madness, college hoops doesn't get much better than this.
You know what that means. Preview time! Let's go to the tape:
[+] Enlarge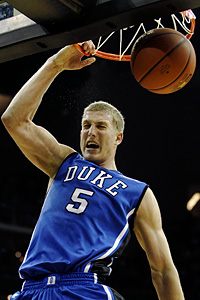 AP Photo/Charlie RiedelMarquette didn't have an answer for Mason Plumlee Monday night.
CBE Championship: No. 1 Duke vs. No. 4 Kansas State, 10 p.m. ET
Pullen no stranger to Blue Devils, Coach K
Monday night, Kansas State coach Frank Martin said he'd always admired Duke's program from afar, but that he didn't know Coach K as well as some of his contemporaries. (Like, for example, former Kansas State coach Bob Huggins, who Martin almost always refers to as merely "Huggs.")
That's not the case for
Jacob Pullen
. For a Big 12 player who's never faced a Duke team in his career, the Kansas State guard is plenty familiar with these
Duke Blue Devils
. That's because he played alongside two of them --
Nolan Smith
and
Kyle Singler
-- when the USA Select Team, a batch of the best college players in the nation, visited Las Vegas to help prepare the Mike Krzyzewski-coached USA Basketball program for the FIBA World Championships this summer.
After the Duke coach found out that Pullen also hailed from Chicago -- Coach K is nothing if not proud of his hometown -- Pullen struck up an unlikely relationship with Krzyzewski.
"After that, he was always keeping an eye on me," Pullen said. "Even though he was busy coaching the NBA players, he was always talking to me, Kyle, and Nolan. I kind of felt like a Dukie at one point.
"I just hope he doesn't have Nolan guard me," Pullen said, laughing. "I'm tired of guarding Nolan, and I'm sure he's tired of guarding me."
Good luck with that, Jake. Whether he likes the idea or not, Smith is likely to guard Pullen for much of the game Tuesday night, which is just one of the many intriguing matchups on hand in the CBE final.
What to watch for: Backcourt freshmen, frontcourt depth
By this point, you know what you're going to get from Pullen and Smith. Less obvious are the contributions each team's freshmen -- Duke's highly touted
Kyrie Irving
, KSU's pleasantly surprising
Will Spradling
-- will bring at the point guard spot. Irving is a difficult matchup for anyone, but Spradling has earned big minutes early in his career with heady offensive play and solid defense, and he'll need to play a major role if Kansas State's plan to rush Irving into bad decisions is going to work out.
[+] Enlarge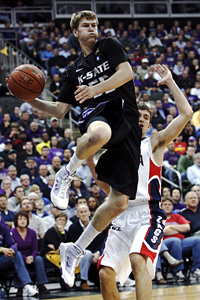 Jeff Moffett/Icon SMIThe play of freshman Will Spradling has been a pleasant surprise for Kansas State.
These teams' backcourts get the majority of the attention -- and for good reason, because they're two of the best in the country -- but if there's one key to Tuesday night's title game, it's likely to come in the frontcourt.
Mason Plumlee
was monstrous for Duke Monday night -- 25 points, 12 rebounds (including six offensive boards) and five blocks; that kind of monstrous -- flashing signs of the potential he showed as a highly touted recruit and future NBA lottery pick. Plumlee also answered, at least for one night, the biggest question about this Duke team: Without Brian Zoubek, could it grab enough of its own misses to mask mediocre shooting efforts? That's what won Duke its title last March; no stat was more important to Coach K's fourth NCAA title team.
But Plumlee's breakout game came against an overmatched Marquette interior that doesn't have the personnel to keep up with athletic big men in the post. That's not the case with Kansas State. Martin has a bevy of post players -- five of whom saw significant time in Monday night's win -- and none of them represents much of a drop-off in skill or athleticism. All of them can defend, all of them can rebound and all of them are efficient scorers around the basket when Pullen and company create easy looks in their uptempo transition offense.
Here again, then, is another test for Duke's frontcourt. Can Mason (and Miles) Plumlee,
Ryan Kelly
and Singler do enough against such a deep and talented front line? Or does Kansas State simply have too much? Conversely, can Kansas State get stops against Singler, the best off-ball shot-creator in the college game? Or is the loss of defensive stopper
Dominique Sutton
in the offseason still a glaring weakness for an otherwise loaded Wildcats team?
At this point in the season, everyone loves to say they're "learning about their team." Rarely are those lessons so applicable to the national title picture. Rarely do two teams this good, with hopes this high, get to test themselves so early in the season. Rarely do those tests come in front of an insanely partisan "neutral" crowd, a crowd that will empty the Kansas City bars and descend on the Sprint Center in manic droves Tuesday night.
In other words, it's going to be a good one. Best of all -- and true to clichéd form -- we're going to learn a lot.
November, 23, 2010
11/23/10
2:10
PM ET
CBE Classic Consolation Game: No. 18 Gonzaga vs. Marquette, 7:45 p.m. ET
No moral victories for Butler, Marquette
College basketball players hate to talk about moral victories, and Marquette forward
Jimmy Butler
wasn't any different after his team's scrappy and impressive loss to Duke Monday night.
"You can lose by 30 or you can lose by one and it's still a loss in that column," Butler said. "But we proved that we can play with the best of them. We wanted to show the world that you can't sleep on the
Marquette Golden Eagles
."
Consider that point proven. Given the loss of star forward Lazar Hayward this offseason, Marquette entered the season looking like a fringe bubble team. But the Golden Eagles might be much better than that. Butler & Co. played Duke to a tie with 11 minutes remaining in the second half Monday night, and they refused to wilt despite unrelenting pressure from a team with superior talent and size. Contrasted with Gonzaga -- a team ranked in the Top 25 that got blown off the floor in a nightcap loss to K-State -- the Golden Eagles looked ready for anything.
What to watch for: Size vs. speed
Marquette's biggest weakness -- size -- might also be its biggest strength. Buzz Williams' team is a versatile bunch with a bevy of guard-wing combos at its disposal, but its interior presence is limited to junior college transfer
Jae Crowder
and raw freshman talent
Davante Gardner
. Neither player could stop
Mason Plumlee
from dominating inside Monday night. Still, Marquette's offensive versatility -- especially in the form of Butler, who is too quick for big men and too big for guards -- was enough to keep it in the game.
How will that play out against the Zags? It's another tough matchup. With
Elias Harris
and
Robert Sacre
in the frontcourt, Gonzaga is by far the taller, stronger team, and Marquette could again struggle to keep a bigger opponent off the glass. But the Eagles' quickness could give a plodding Gonzaga team all sorts of matchup issues on the offensive end. How that dynamic plays out -- strength vs. speed, size vs. versatility -- will determine whether Gonzaga rebounds from its second straight loss or suffers another disappointing defeat at the hands of an apparently ascendant team.
November, 23, 2010
11/23/10
3:26
AM ET
By
ESPN.com staff
| ESPN.com
KANSAS CITY, Mo. -- Eamonn Brennan takes a look at the first top-five matchup of the young season, Tuesday night's CBE finals duel between No. 1 Duke and No. 4 Kansas State:


November, 23, 2010
11/23/10
2:21
AM ET
KANSAS CITY, Mo. -- Is Duke the best team in the country? Well, is it?
After one night at the CBE Classic -- a night that included a Duke win, remember -- Kansas State made questioning Duke's celebrated status seem, well, reasonable. Just after the nation's No. 1 team struggled to fend off an undersized and overwhelmed Marquette bunch, the fourth-ranked Wildcats thoroughly destroyed an 18th-ranked Gonzaga team some experts picked to make the Final Four before the season started.
It was hard not to watch KSU's comprehensive attack as it so thoroughly dismantled a quality opponent and wonder:
Doesn't this team look better than the one I just saw?
The good news? We won't have to wonder for long.
Kansas State's
81-64 win
in the second CBE Classic semifinal here Monday night means the Wildcats get a chance to settle the argument in a matchup with Duke in the Tuesday night final on ESPN2. It's a dream early-season matchup and a dream result for the thousands of Kansas State fans that flocked to the Sprint Center this week in the hopes of seeing K-State take on -- and take down -- the No. 1-ranked Blue Devils.
[+] Enlarge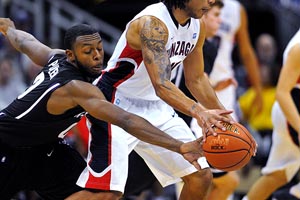 Denny Medley/US PresswireOn both ends of the floor, Jacob Pullen and K-State were simply too much for the Zags.
"It's a little tough when it's a neutral-court situation, and you walk out and the entire crowd is filled with purple," Gonzaga coach Mark Few said.
He wasn't exaggerating. Kansas State fans stuffed the arena with loud chants of "K-S-U" Monday night, and what they saw when they weren't screaming their heads off -- or, sometimes, when they were -- had to make the late-night drive home or to the hotel immensely pleasurable. The Wildcats were unstoppable on offense and tenacious on defense. They forced turnovers, made Gonzaga uncomfortable throughout, and capitalized on the other end with open shots and layups in the secondary break.
In other words, they played like Kansas State: uptempo, high-pressure, physical, and downright frightening.
"We live in transition," Pullen said. "We really don't want to have to set up an offense if we don't have to."
For much of the night, Kansas State didn't have to. That was primarily thanks to the Wildcats' hot hands. K-State shot 46.2 percent from beyond the arc, rebounded many of its misses (30.6 percent of their misses, to be exact) and ended up scoring around 1.56 points per trip. KSU had scored 49 points by the time the first half was over, and with the exception of a quick Gonzaga run at the beginning of the second half, the Wildcats never looked back.
Nearly as impressive as K-State's offensive ability was its depth. Frank Martin played nine players 14 or more minutes Monday night, subbing in big man after big man (including, but not limited to,
Freddy Asprilla
,
Wally Judge
,
Jamar Samuels
,
Curtis Kelly
,
Victor Ojeleye
) and guard after guard (
Jacob Pullen
,
Will Spradling
,
Martavious Irving
,
Rodney McGruder
,
Nick Russell
). The overall effect -- even for a schlub hovered over his laptop on press row -- was dizzying. Imagine how Gonzaga must have felt.
"They just keep coming at you in droves," Few said. "There is no drop-off when they sub."
That depth allows Kansas State to keep up its furious pace, and even when that doesn't translate into lots of possessions, it allows the Wildcats to furiously pressure the ball in the half-court and sprint into their offense when a steal or a long rebound presents the opportunity.
[+] Enlarge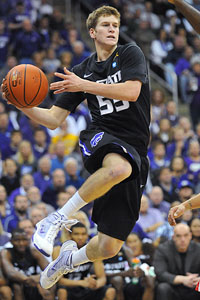 Denny Medley/US PresswireFreshman Will Spradling is a key component to K-State's title chances this season.
"We want to attack, we want to run, and we want you to get into your bench because we're comfortable with ours," Pullen said.
Part of that depth comes in the form of Spradling, the freshman guard who has managed to seamlessly take over much of the point guard duties that once belonged to the graduated Denis Clemente. Spradling isn't flashy and he isn't going to fill up the box score, but he's proved capable enough to allow Pullen to play off the ball when opponents force Kansas State to run a little half-court offense. Spradling added 13 points on 4-of-6 shooting against the Zags.
"He's a heady player," Pullen said. "I love Will because every day in practice I try to expose him. Every little drill, I try to embarrass him. And every day he steps up to the challenge. He continues to learn."
The Wildcats have plenty of time to accomplish their dreams of a national title this season. It is, after all, only Nov. 23. But this Nov. 23 is a bit bigger than most. On Tuesday night, Kansas State will take on the top team in the country, and you'd be hard-pressed to find anyone who watched both CBE Classic semifinals -- whether they're wearing purple or not -- who would say the Wildcats don't have what it takes to beat the Blue Devils.
Add in a raucous environment, and, well, maybe K-State's time has come. Maybe, just maybe, this is the best team in the country.
It certainly looked the part Monday night.
"This is a great measuring stick for us," Pullen said. "Duke is the defending national champs. They have a great team. ... It's a great opportunity for us."
That's one understatement. Here's another:
Tuesday night's game is going to be pretty fun, huh?
November, 22, 2010
11/22/10
11:55
PM ET
KANSAS CITY, Mo. --
Kyle Singler
and
Nolan Smith
are back.
Kyrie Irving
, perhaps the best point guard prospect in the country, has arrived. Your backcourt is loaded, your coach is a legend, your program is one of the best in college sports, and seven months ago, you won a national title.
What else do you need to know?
That kind of talent doesn't exactly lend itself to doubts. There's a reason, after all, the Blue Devils are the No. 1 team in the country, not to mention any rational observer's odds-on favorite to win the national title. They're really, really good. Breaking news, right?
Despite all that, the Dukies still came with qualifiers attached, the biggest of which was this: Which big man would step up? Could Duke replace the rebounding -- especially the ever-crucial offensive rebounding -- it lost when center Brian Zoubek and forward Lance Thomas graduated this spring? If so, who would it be? And if not, could the Blue Devils, even with all that perimeter talent, dominate as effortlessly as everyone expected?
[+] Enlarge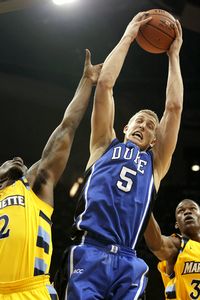 AP Photo/Charlie RiedelMason Plumlee seemingly did it all Monday: 25 points, 12 rebounds and five blocks against Marquette.
There's still plenty of season left, and plenty of time to test the theory, but for now, Duke looks like it found an answer. His name is
Mason Plumlee
.
"What he did tonight was huge," Singler said. "He was just huge for us when we needed it most."
Huge is one word for Plumlee's performance Monday night. Dominant is another. The sophomore scored 25 points on 12-of-15 from the field and added 12 rebounds and five blocks in a performance that powered Duke past a scrappy Marquette squad 82-77.
The Golden Eagles were even better than advertised, fighting off an early Duke run and pulling even at 53-53 with 11:21 left in the second half. That's when -- and if you thought I'd be writing these words in a Duke recap this early in the season, I would like to hire you as my personal financial adviser, because you can see into the future -- Mason Plumlee took over.
With just less than 11 minutes remaining, the 6-foot-10 forward grabbed an offensive rebound and finished for a three-point play. On the next possession, Plumlee grabbed another offensive board and -- in classic "get a rebound and find an open shooter immediately" Zoubekian fashion -- found Smith for an open look that the senior guard promptly drained. At the 9:24 mark, an Irving steal led to a thunderous breakaway Plumlee dunk. At 8:46, Plumlee worked his way inside for another bucket.
Three minutes after Marquette tied up the game, Plumlee had almost singlehandedly built Duke's sudden 66-57 lead. Marquette would never get so close again.
It was an impressive performance in its own right, but the larger implications are the real story. This season's Duke squad is a much different team than the last one -- more guard-oriented, more up-tempo, less methodical in the half-court offense -- but no matter how free-flowing a team's style, it's hard to be a national title favorite if you can't lock down the glass. That's why Plumlee's 12 rebounds, six of which came on the offensive end, mean so much to Duke.
They also mean a lot to Plumlee, a prospective lottery pick who arrived in Durham last summer with loads of hype attached but failed to contribute much once Mike Krzyzewski narrowed his rotation in the team's 2009-10 stretch run. If Plumlee couldn't, at the very least, cut into Zoubek's minutes, how good was he, really?
"I'm so proud of him and so happy for him," said
Miles Plumlee
, Mason's older brother, after the game. "I know what he's capable of, we see what he can do in practice, and it was great for him to show it in the game."
The Blue Devils didn't seem all that surprised by the younger Plumlee's performance, but that doesn't mean they weren't thrilled.
"Mason is a really talented basketball player," Singler said. "Late in the game, he just dominated on both ends of the floor. If he can do that, he can get some confidence, and he can keep that sort of thing going.
"We're still a work in progress," Singler said. "But I think we already have some good things happening, and now we just need to keep it up."
Translation: If Mason Plumlee is this good -- and there's still plenty of basketball to be played before we can definitively make that statement -- then Duke could be even better than we realized. That is a scary thought.
November, 22, 2010
11/22/10
7:26
PM ET
KANSAS CITY, Mo. -- This isn't exactly the surprise of the century. To predict it, all you needed was a casual understanding of sports fandom and/or a map. But that doesn't make it any less true: Kansas State fans are going to dominate the atmosphere at this year's O'Reilly Auto Parts CBE Classic.

The proximity of Manhattan, Kan. to Kansas City -- not to mention the sizable swath of K-State grads living in and around the metropolitan area -- makes this practically a home event for the Wildcats. Each of the four schools on hand here travel relatively well, but none of them come remotely close to the presence K-State fans have on the ground thus far.

Again, this isn't Dewey defeats Truman. It will not shock you to your core. But the breadth of the home-court advantage on hand here is worth mentioning.

It became clear almost as soon as I checked in to my hotel this afternoon. About 15 Kansas State fans were in the check-in line ahead of me, and maybe 40 or so more were milling about the hotel lobby, planning trips to local bars and pre-game meals at restaurants in the Power and Light District. The Wildcats don't tip off until 9:30 p.m. ET. I checked in at 4 p.m. As of this writing, the Sprint Center is about half-full in advance of the 7:30 ET Duke-Marquette tilt. Those seats won't last for long.

How that will affect Gonzaga's chances of taking down Frank Martin's team tonight -- or, conversely, how it will help boost K-State's hopes of taking down Duke (or, less likely, Marquette) on Tuesday night -- remains to be seen. It certainly can't hurt, but there is a difference between playing in the Octagon of Doom and playing at a neutral arena with segmented seating arrangements for various fanbases.

But with the way Kansas State fans have already come out -- and remember, their game doesn't start for another two hours -- you have to expect Jacob Pullen and company to feel right at home. The only thing missing is a giant K-State logo at midcourt.
November, 22, 2010
11/22/10
1:32
PM ET
By
ESPN.com staff
| ESPN.com

Before catching a flight to Kansas City, Eamonn Brennan takes a look at the tournament he'll be covering the next two days. In Monday night's CBE semifinals on ESPN2, Marquette will face No. 1 Duke, and No. 4 Kansas State will square off with No. 18 Gonzaga.