College Basketball Nation:

East Tennessee State Bucs
December, 20, 2012
12/20/12
3:00
PM ET
My favorite Diamond Head Classic of all time -- 2010 -- was a bit of a disaster. Last year's was OK: Xavier struggled in its post-brawl malaise, and Kansas State and Long Beach State emerged better for the trip. But 2010 had what might be the greatest moment in recent college hoops history: When Mississippi State's Renardo Sidney and Elgin Bailey were caught
slapping each other in the stands on live TV
while watching other teams play in the same tournament. It was hilarious. By the end of the 2010 title game, a not-very-good Butler team was standing with the trophy in their hands, almost like, "Um, I guess we'll take it? You guys are all insane! Can we go back to Indiana now?"
Let's break down this year's Diamond Head Classic.
The basics
: Dec. 22, 23 and 25, 2012, at Stan Sheriff Center, Honolulu, ESPNU/ESPN2/ESPN3
The set matchups
(all times ET): Dec. 22 -- Ole Miss vs. Indiana State, 4 p.m. ET; San Diego State vs. San Francisco, 6 p.m.; Arizona vs. East Tennessee State, 10:30 p.m.; Miami vs. Hawaii, 12:30 a.m.
(
For the full bracket, click here
.)
The favorite
: Arizona. This is pretty obvious: The Wildcats are the No. 4-ranked team in the country, and for good reason -- on Saturday, they beat a very good Florida team at home, thanks in large part to Sean Miller's infusion of veteran savvy (
Solomon Hill
), freshman talent (
Kaleb Tarczewski
,
Brandon Ashley
,
Grant Jerrett
) and great guard play (
Mark Lyons
,
Nick Johnson
). All the pieces are here.
FIVE PLAYERS TO WATCH
[+] Enlarge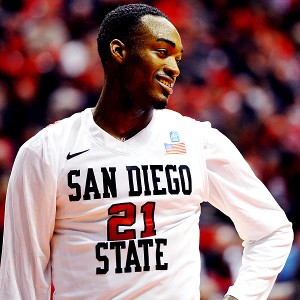 Christopher Hanewinckel/USA TODAY SportsSDSU's Jamaal Franklin is averaging 18.6 points, 9.7 rebounds, 3.1 assists, 1.7 steals and 1.2 blocks.
Mark Lyons, guard, Arizona
: As stated just above, it is a little bit difficult to narrow Arizona down to just one player to watch -- the Wildcats have a variety of weapons at their disposal. It would be just as fitting to include Hill, the team's do-everything senior forward, or Johnson, one of the most improved and efficient shooting guards in the country this season. But Lyons is the team's point guard, leading the Wildcats in usage rate, and playing the most efficient, selfless basketball of his life to boot. (To wit: He's shooting 56.8 percent from inside the arc, 41.5 percent outside it, and 86.5 percent from the free throw line.) If Arizona has one piece more important than the rest, it's Lyons. And if he can keep up, look out.
Jamaal Franklin, forward, San Diego State
: Franklin's line to date this season: 18.6 points, 9.7 rebounds, 3.1 assists, 1.7 steals, 1.2 blocks. Not only is Franklin really good at a lot of things, he does a lot of things all the time: He uses fully 33.4 percent of San Diego State's offensive possessions, the third-highest mark of any player in the country. He's a beast. You probably knew that already. But there's your reminder.
Reggie Johnson, center, Miami
: When you first look at Johnson's shooting numbers, you might be a little nonplussed. The big fella shoots 45.5 percent from inside the arc? Huh? Johnson's finishing may never be Jared Sullinger-esque … but oh well. What Johnson does well, he does
very
well: He dominates the glass on both ends of the floor, blocks 7.5 percent of opponents' shots, draws 7.2 fouls per 40 minutes and gets to the free throw line all the time. Johnson needed some time to grow into his role on the basketball floor, but now that he has, there aren't too many (any?) forwards in the country who can keep him out of the lane.
Marshall Henderson, guard, Ole Miss
: The Ole Miss guard has always been talented. He hasn't always had it together. He started 30 of 31 games as a freshman at Utah and earned a reputation as both one of the Mountain West's best and most hated young players. He then transferred to Texas Tech, was arrested on a felony drug charge, had the charges dropped, then left Texas Tech for South Plains Junior College, where he went undefeated, scored 19.6 points per game, won the juco national POY award and a national title, and subsequently transferred to Ole Miss. He's off to an impact start thus far. Go figure.
Vander Joaquim, center, Hawaii
: Over the summer, an NBA scout emailed me to ask what I knew about Hawaii senior Vander Joaquim. The answer was "almost nothing," but my curiosity was piqued, and after a few hours of research, I came away really impressed. The dude is a long 6-foot-10 with real ball skills and back-to-the-basket moves. But this season he's taken a downturn in almost every statistical category -- points, rebounds, blocks, efficiency, you name it -- and it will be interesting to see whether the competition of the Diamond Head can jog loose some of his junior year form.
FIVE BIG QUESTIONS
Is this Ole Miss's coming-out party?
You may not realize it, but the Rebels are awfully good. They currently rank No. 21 in Ken Pomeroy's rankings, with a top-15 defense that forces turnovers, blocks shots and generally makes life miserable for opposing defenses. Problem is, the Rebels haven't beaten anyone good. Their best win is Rutgers; the rest are all total cupcakes. Facing the one good team on their nonconference schedule to date, Ole Miss fell at Middle Tennessee 65-62. There is no shame in that loss, and the Rebels appear to be legitimately good. But they'd do well to actually prove it this weekend.
Who's the best out west?
It appears to be Arizona, and it doesn't look too close right now. But don't say that to a San Diego State fan. The Show is very much convinced that no one can touch their Aztecs out west, and they have a point: For all of Arizona's talent, SDSU defends just as well, if not better, than do the Wildcats, and Franklin is the best player on either team. If both win out, they'll face off in the championship game. Yes please.
Is Miami good enough to contend in the ACC?
Duke is the ACC favorite, there's no doubt about that, but a confluence of factors (UNC's turnover, FSU's dropoff) have left the spots just below the Blue Devils wide open this season. Maryland may have something to say about that, but right now Miami -- with Johnson dominating the middle,
Kenny Kadji
spacing the floor and
Shane Larkin
having a quietly great season -- is looking like the second-best team in the ACC. We'll find out more this weekend.
Will anyone spring an upset?
This is a good bracket. Ole Miss, San Diego State, Arizona and Miami all have a great chance of winning, and if chalk wins out Saturday we'll have two really solid semifinals to take in. I expect this to be the outcome. It's hard not to. But one-game elimination tourneys are always vulnerable to upsets, and both Indiana State and San Francisco have a chance to shock the world. East Tennessee State and Hawaii? Not seeing it. But hey, you never know.
Will any team get into a massive, embarrassing brawl in the stands in the middle of another team's game?
Because that was hilarious. I just wanted to reiterate that.
THE PICKS
Opening games
: Ole Miss over Indiana State; SDSU over San Francisco; Arizona over East Tennessee State; Miami over Hawaii
Semifinal games
: Ole Miss over SDSU; Arizona over Miami
Championship game
: Arizona over Ole Miss
July, 26, 2012
7/26/12
12:00
PM ET
Tournament bracket
for the Diamond Head Classic
When and where:
Dec. 22-23, 25 at the Stan Sheriff Center in Honolulu, Hawaii
Initial thoughts:
San Diego State and Arizona are the main attractions, and rightfully so -- UA is a potential top-10 team, while SDSU has blossomed into a perennial NCAA tournament program in Steve Fisher's recent rebuild. That said, don't sleep on Miami. If they stay healthy, the Hurricanes have bodies big enough to trouble anyone. San Francisco lost nine -- yes,
nine
-- players this offseason, six of whom transferred out of the program in rather unexpected fashion. In other words, at least the Dons get to go to Hawaii this year. Silver linings and all that.
[+] Enlarge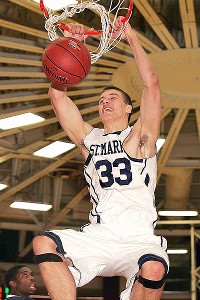 J.Anthony Roberts/ESPNHS.comKaleb Tarczewski is the top-ranked player in Arizona's highly-regarded incoming class.
Matchup I can't wait to see:
To be perfectly frank, I'm not sure I can get too worked up about any of those first-round matchups, although the hometown Warriors hosting an ACC school should make for a fun atmosphere. If the Hurricanes survive that, their matchup with Arizona would be a quality marker for both teams as they prepare for conference play.
Potential matchup I'd like to see:
San Diego State vs. Arizona. Two top programs in the West slugging it out on Christmas night? Yes please. The way-too-early edge probably goes to the Wildcats, given all the talent in Sean Miller's 2012 recruiting class, but an experienced, physical Aztecs team should be up to the challenge.
Five players to watch
Jamaal Franklin, San Diego State:
A multitalented swingman, Franklin had a very good sophomore season, but he still has plenty to improve, particularly his outside shooting. If he branches his game out further away from the rim, he could be a nigh-unstoppable force in the Mountain West this season.
Grant Jerrett, Arizona:
How good is Miller's 2012 class? Top-five prospect
Kaleb Tarczewski
is only barely its highest-ranked member. Jerrett comes in at No. 9 in the ESPN 100 (and fellow power forward
Brandon Ashley
ranks No. 16), and his scouting report says he's improving at "an alarming rate." By the time December rolls around, Arizona's young frontcourt might just be the best in the country.
Durand Scott, Miami:
Scott will be the lead guard for a Miami team with a very clear goal -- a trip to the NCAA tournament -- in Jim Larranaga's second season. With
Malcolm Grant
departed, Scott will need to do even more to lead a brutish frontcourt duo of
Kenny Kadji
and
Reggie Johnson
.
Chase Tapley, San Diego State:
The SDSU senior is one of the few remnants from 2011's dream 34-3 season, and he had a chance to step into a starring role last year. In addition to shooting 43 percent from 3, Tapley was also his team's best perimeter defender.
Kaleb Tarczewski, Arizona:
The No. 4-ranked player in the class of 2012 is the centerpiece -- literally and figuratively -- of Miller's very impressive recruiting work since his arrival in Tucson. Tarczewski could be this season's
Cody Zeller
, an intuitively talented big man who is far from the complete package, but is good enough to lead his vaunted program back to national relevance once again.
Title-game prediction
Arizona over San Diego State: If this game were earlier in the season, when Arizona's coterie of freshman were still finding their sea legs, I'd probably give the edge to SDSU. But come Christmastime Arizona will have had nearly two months to build around that star-studded freshman class, and their sheer talent wins out.
Who others are picking:
Andy Katz:
Arizona over San Diego State
Jason King:
Arizona over San Diego State
Myron Medcalf:
Arizona over San Diego State
Dana O'Neil:
Arizona over San Diego State
March, 18, 2010
3/18/10
11:39
AM ET
NEW ORLEANS -- Kentucky coach John Calipari won't be counting made jump shots this week in the Big Easy.
For that matter, he won't be counting jump shots at all. He'll gladly tell you that the Wildcats' ability (or inability) to knock down perimeter jumpers won't dictate how far this team goes in the NCAA tournament.
Say this for the Wildcats: They've made it this far, a No. 1 seed in the East Regional sporting a 32-2 record, and their 3-point shooting has been dreadful at times.
"If we're not hitting our 3s, we'll find other ways to score," Kentucky freshman point guard
John Wall
said. "That's what we do. That's what we've done all season. We'll score off our defense, go inside to our big guys, make tough 2s.
"We just look at the 3s as a bonus."
A very scary bonus if you're the other team lining up against the Wildcats and they happen to be hitting that day.
As Calipari said earlier this season, "If we're making shots, we bury people."
But the Wildcats have also had to grind out more than a few this season, and at some point in this tournament, grinding becomes a way of life.
Really, it becomes a necessity when you shoot 16 percent from 3-point range as Kentucky did during one stretch in February. And then in the SEC tournament, the Wildcats shot just 25.4 percent from behind the arc.
Will it catch up to them? We're going to find out.
Here's a preview of the first-round East Regional games in New Orleans on Thursday:


Game 1: (6) Notre Dame vs. (11) Old Dominion, 12:25 p.m. ET
How they got here:
The Irish (23-11) have won six of their last seven games, including three victories over nationally ranked teams. Their only loss in that stretch was a two-point decision to West Virginia in the Big East tournament semifinals. The Irish needed a big finish to ensure their sixth trip to the NCAA tournament in 10 seasons under coach Mike Brey. They had lost seven of 10 games from the middle of January to the middle of February prior to their hot close. The Monarchs (26-8) won the Colonial Athletic Association tournament championship to earn an automatic berth. They've won eight of their last nine games entering the tournament. Their best win was a 61-57 triumph over Georgetown in December.
Who to watch:
Notre Dame senior forward
Luke Harangody
is back and looking healthy after missing five games in late February and early March with a bruised right knee. Now coming off the bench, he said Wednesday it's the healthiest he's felt, which is good news for the Irish. He's averaging 22.4 points and 9.2 rebounds. The Irish tweaked their offense late in the season and are now playing more of a slow-down game.
What to watch:
The Monarchs are an excellent rebounding team and rank fifth nationally in rebounding margin at plus-8.8. Junior forward
Frank Hassell
leads the way with 6.6 rebounds per game. He's one of five players on the team averaging at least 4.2 rebounds per game. Old Dominion is 22-4 when it outrebounds its opponent.
They said it:
"You know, you just can't make that change [on offense[ unless you have guys that are really good with the ball. We've led the nation in assists to turnovers the whole season. If you're going to make more passes every possession and throughout 40 minutes, you've got to have guys that can do that and big guys that can do that." -- Notre Dame coach Mike Brey


Game 2: (3) Baylor vs. (14) Sam Houston State, 2:45 p.m. ET
How they got here:
The Bears (25-7) have won eight of their last 10 games, tying with Kansas State for a second-place finish in the Big 12 Conference. The No. 3 seed is their highest in program history. Baylor is the only NCAA Division I team this season with no loss of more than seven points. Its seven losses have come by an average margin of 5.6 points. The Bearkats (22-7) won the Southland Conference tournament championship to receive an automatic berth. They enter the NCAA tournament having won 17 of their last 19 games. They played Kentucky to a 102-92 loss back in November in Rupp Arena and drilled Auburn 107-89 on the road in December.
Who to watch:
Baylor 6-foot-10 junior forward
Ekpe Udoh
has been the perfect complement to all of those guards in the Bears' lineup after transferring over from Michigan. The Big 12 Conference's Newcomer of the Year, Udoh set a Big 12 single-season record with 124 blocked shots and is also averaging 9.8 rebounds per game.
What to watch:
The Bearkats love to run, love to force the tempo and aren't shy about shooting the 3-pointer. They're also an extremely unselfish team and lead all NCAA Division I teams with an average of 20.9 assists per game.
They said it:
"We didn't come up here to just win one game. We've come up here to win games, and that's what we've worked to do all season long. So we're going to continue to do that." -- Baylor senior guard
Tweety Carter


Game 3: (16) East Tennessee State vs. (1) Kentucky, 7:15 p.m. ET
How they got here:
The Wildcats (32-2) swept both the SEC regular-season and tournament championships. Their only losses were to South Carolina and Tennessee. They won their 26
th
SEC tournament title in overtime last week, a 75-74 victory over Mississippi State in Nashville. The Buccaneers (20-14) are back in the NCAA tournament for a ninth time and have been the essence of perseverance. They overcame the tragic death of sophomore Seth Coy in a car accident in July and then lost their top player, senior guard Mike Smith, to a season-ending knee injury prior to the season. Still, they played their best basketball down the stretch, winning their last six games, including the Atlantic Sun Conference tournament championship.
Who to watch:
The Wildcats have three sensational freshmen, all of whom will probably be playing in the NBA next season, but the guy who makes them go is Wall. Nobody in college basketball gets up the court as quickly as he does, and he's also one of the best finishers in the country when he gets into the lane. Wall has struggled with turnovers at times and isn't a great shooter, but go back and count how many clutch plays he's made for the Wildcats this season.
What to watch:
Calipari will try to join Rick Pitino as the only two coaches to take three different schools to the Final Four. Pitino took Providence, Kentucky and Louisville. Calipari has taken Massachusetts and Memphis. If Calipari does reach the Final Four with Kentucky, he would be the first coach to get to the Final Four in his first year at that school since 1998 (Bill Guthridge at North Carolina and Tubby Smith at Kentucky).
They said it:
"I think all brackets are hard. Some may be harder than others. This guy may say this bracket's hard. This guy may say that bracket is really easy. There is no easy road to Indianapolis. Don't let anybody tell you there is an easy road. There is none. They're all hard." -- Kentucky coach John Calipari


Game 4: (8) Texas vs. (9) Wake Forest, 9:35 p.m. ET
How they got here:
The Longhorns (24-9) limp into the NCAA tournament. They've lost nine of their last 16 games, a fade that's even more stunning when you consider they started the season 17-0 and were ranked No. 1 in the country for two weeks in January. It's not like the Longhorns have been going up against all powerhouses, either. Nine of their last 16 opponents finished with losing records. The Demon Deacons (19-10) have been a carbon copy of the Longhorns in a lot of ways. They've lost five of their last six games and were routed 83-62 by Miami their last time out in the ACC tournament. The Deacons do own six wins against RPI top 50 teams, but just about all of those came in the first half of the season.
Who to watch:
Texas senior forward
Damion James
thought about turning pro last season, but decided to come back. He's averaged a double-double for the Longhorns (17.7 points and 10.3 rebounds) and tried to be more of a leader, but he hasn't had a lot of help around him as Texas faded down the stretch. He admitted after a stinging 19-point loss to Baylor in the Big 12 tournament quarterfinals that the team had lost its focus and its passion. We'll see if the Longhorns can get it back.
What to watch:
The Longhorns and Deacons are both athletic, although neither team shoots it particularly well. Both will look to run and get out in transition. Teams forced Wake Forest to slow it down during its slide to end the regular season, but the Deacons shouldn't have to worry about that Thursday. The team that works the boards the best and gets the most second-chance points is probably going to win this game.
They said it:
"We're going out there with attitude. But people forget we were the best team in the country. We're still the same team. We just have to go out there with that swagger and that demeanor and go out there and go at it." -- Texas senior forward Damion James