College Basketball Nation:

Ed Daniel
November, 27, 2012
11/27/12
11:51
AM ET
By
Jeremy Lundblad, ESPN Stats & Info
| ESPN.com
Player of the Night – Jeff Withey
Withey recorded the second official triple-double in Kansas history with 16 points, 12 rebounds and a school-record 12 blocks in the Jayhawks' win against San Jose State.

It was the most blocks by a power six conference player in a triple-double since Stanford's Brook Lopez also had 12 in 2007. In the last 15 years, the only other player with a 16-12-12 game was Northwestern State's D'or Fischer in 2001 against Siena.

Scorer of the Night – Isaiah Canaan
Two nights after scoring 30 against Old Dominion, Canaan scored a season-high 32 points in Murray State's 88-79 win against Lipscomb. He's the only player with back-to-back 30-point games this season, and the first Murray State player to do so since Isaac Spencer in 1999.

Stat Sheet Stuffer – Ed Daniel
While Canaan took on the bulk of the scoring, Daniel did the dirty work for Murray State.

He recorded his fourth straight double-double, finishing with 20 points, 18 rebounds and five blocks. That included a double-double in the second half alone (11 points, 11 rebounds). Daniel joins James Singleton (2002) and Cuthbert Victor (2004) as the only Racers with a 20-15-5 game in the past 15 years.
Duo of the Night – Jerian Grant and Eric Atkins
Notre Dame had two players with double-digit points and assists in the Irish's 92-65 win against Chicago State.

Grant scored a career-high 22 points to go with 10 assists, and Atkins scored 13 points to go with a career-high 11 assists. In the last 15 years, only one other pair of teammates had points and assists double-doubles in the same game: Connecticut's Jerome Dyson and Kemba Walker in 2010 against Notre Dame.

Bench Star – Jaye Crockett
For the third straight game, Crockett came off the bench to lead Texas Tech in scoring. On Monday, he had 20 points and eight rebounds in just 23 minutes in a comeback win against Jackson State. Over the last three games, Crockett is averaging 19.7 points and 10.7 rebounds.
November, 16, 2012
11/16/12
9:22
PM ET
I just finished watching Murray State's
72-67 victory
over St. John's in a Charleston (S.C.) Classic semifinal on ESPN3. Great finish on a Friday night. Great finish on any night. The Racers' experience and maturity helped them maintain their poise and overcome St. John's double-digit advantage in the first half. But the Red Storm nearly held on for the win.
Here are 10 observations from this Charleston Classic semifinal, a game that set up a Murray State-Colorado matchup for the championship Sunday:
Murray State's backcourt is fierce: Isaiah Canaan missed eight of his first 10 shots. And the Murray State offense felt his absence from the stat sheet. The Racers were down 32-19 with 2 minutes, 53 seconds to go in the first half. But Canaan (15 points) and Stacy Wilson (23 points), both seniors, led an 11-3 run that cut St. John's lead to five at halftime. They were the difference-makers for a Murray State team that received a minimal contribution (six points) from its bench.

[+] Enlarge

Joshua S. Kelly/US PresswireStacy Wilson led Murray State with 23 points in its comeback victory over St. John's.

Depth could be a big problem for Murray State: Murray State's comeback was impressive. It closed strong on defense (St. John's was just 2-for-10 after Murray State tied the game 59-59 with 6:01 to play). But the Racers were fortunate that Ed Daniel (15 points, 11 rebounds) avoided foul trouble. He had to fend off a talented, athletic St. John's frontcourt. But how long can he operate alone inside? And will Wilson (4.3 points per game in 2011-12) bail Canaan out every time he gets off to a rocky start? I was impressed with Murray State's tenacity. But it was also clear that this program has limited depth, especially inside, with the departures of Ivan Aska, Donte Poole, Jewuan Long and Zay Jackson, who was suspended for the season.

Steve Lavin has the leader he needs: The St. John's coach has a very young team (every starter is an underclassmen). But D'Angelo Harrison is the leader within that group. He's just a sophomore. But he's averaging 23.3 ppg for a 2-1 St. John's squad. He took some tough shots down the stretch against Murray State but even as the Racers charged back, Harrison (game-high 27 points, 9 rebounds) maintained the aggression that made him an offensive catalyst in the first half. And even as he struggled late, he wanted the ball. That's a good sign for Lavin's squad.

St. John's needs more discipline: St. John's blew an eight-point lead in the second half against Detroit. And it squandered a 13-point advantage Friday against Murray State. In those moments, the Red Storm's youth was evident. Murray State hit shots from the outside when St. John's failed to get back in transition throughout the second half. Lavin's squad also committed 14 turnovers.

But the Red Storm could be a factor in the Big East: Again, it's early. And that's why I think there are more positives for this St. John's squad than negatives. Harrison leads a young nucleus that's both promising and inconsistent. And help is on the way with transfer Jamal Branch set to join the team in December. Junior-college transfer Orlando Sanchez will help, too, if he's cleared to play. It's a raw squad but it's one that could be dangerous in a few months, assuming it continues to develop and mature. But that's no guarantee within a program that depends on so many young athletes.

Coaching mattered: Lavin certainly won the coaching duel against Steve Prohm in the first half. St. John's pressured Canaan and disrupted Murray State's offense with a zone that relied on its athleticism, speed and length. But Prohm won the matchup in the second half. He exploited St. John's sloppy transition defense. And he eliminated the easy buckets that St. John's had feasted on prior to halftime by clogging the lane.

Jakarr Sampson: The St. John's freshman pulled off multiple impressive dunks. He's ferocious at the rim. Sampson (14 points, 7 rebounds, 4 turnovers) doesn't play like a freshman. A lot of potential.

The 3-ball is Murray State's neutralizer: Again, Murray State's depth could be a problem. But the Racers (10-for-30) shoot so well from the perimeter that they'll be a challenge for a lot of teams. Murray State, fifth in the nation last season with a 40.6 percent clip from beyond the arc, missed most of its attempts against St. John's. But the Racers hit them when they needed them in the second half.

Canaan's work ethic is the key to his success: The gamers shake things off. And Canaan had to do that after his rough start. The early shots didn't fall for the All-American. But it didn't impact his confidence. He hit a huge 3-pointer to put the Racers ahead 64-59 with 4:41 to go. That was a dagger.

Chris Obekpa's block tally: Through three games, the freshman has 15 blocks. He established a school record with eight blocks against Detroit. He had one against Charleston and six more against Murray State. It's early, so we can't get too excited … Forget that. This youngster is one of the nation's top shot-blockers. Impressive start for Obekpa.
July, 26, 2012
7/26/12
12:00
PM ET
Tournament bracket
for the 2012 Charleston Classic presented by Foster Grant
When and where:
Nov. 15-16, 18 at TD Arena in Charleston, S.C.
Initial thoughts:
This could turn out to be one of the better nonconference tournaments. ... Baylor advanced to the Elite Eight last season, Murray State went 31-2 and returns the bulk of its team and Colorado beat UNLV in the NCAA tourney and has plenty of momentum under Tad Boyle. ... Some of the country's top freshmen post players will be in action. Baylor's
Isaiah Austin
is projected as a top-five pick in next summer's NBA draft. His teammate,
Ricardo Gathers
, was a top-40 recruit along with Colorado's
Josh Scott
. ... It will be good to see St. John's coach Steve Lavin back on the sideline. Lavin missed almost all of last season while recovering from prostate cancer. ... Archie Miller won 20 games in his first season as Dayton's head coach in 2011-12. Will be interesting to see how the Flyers follow up. ... It also will be interesting to see what kind of improvements -- if any -- have been made at Auburn, which is regarded as one of the worst programs in the SEC but has recruited well lately. ... After the retirement of Bobby Cremins, College of Charleston has a new coach in Doug Wojcik, who spent the past seven seasons at Tulsa.
Matchup I can't wait to see:
Dayton vs. Colorado. Of the four first-round games, this is probably the only one where both teams have the potential to earn NCAA tournament at-large berths. Colorado touts a potential lottery pick in forward
Andre Roberson
, who ranked fourth in the country in rebounding last season with 11.1 boards per game. Dayton returns three of its top five scorers, including Josh Benson, who missed the second half of last season with a knee injury.
[+] Enlarge
Nelson Chenault/US PresswireBaylor's Pierre Jackson, one of the nation's quickest point guards, has some sizeable help down low.
Potential matchup I'd like to see:
Baylor vs. Murray State. Event organizers -- and college basketball fans -- would certainly be pleased with a championship game featuring two of the top five point guards in the nation.
Pierre Jackson
(Baylor) and
Isaiah Canaan
(Murray State), both Cousy Award finalists a year ago, would put on a hell of a show. The game, however, would likely be decided in the frontcourt. Murray's
Ed Daniel
is poised for a breakthrough season, but the Racers might have trouble matching Baylor's overall size and depth down low.
Five players to watch
Isaiah Austin, Baylor:
The 7-foot freshman has a unique skill set. On offense, Austin is hardly limited to the paint. He has a nice touch from mid-range and can also handle the ball on the perimeter and swish 3-pointers. Austin is also expected to be one of the nation's top shot-blockers.
Isaiah Canaan, Murray State:
There may not be a better all-around point guard in the nation. Canaan shoots from long range, slashes to the basket with ferocity and generally makes good decisions. He averaged 19.0 points last season for a squad that went 31-2.
D'Angelo Harrison, St. John's:
As painful as it was to lose Maurice Harkless to the NBA draft, the Red Storm couldn't be more excited about the return of Harrison, a shooting guard who averaged a team-high 16.8 points last season. Harrison, though, shot just 37 percent from the field, a number that will have to improve in 2012-13.
Pierre Jackson, Baylor:
The 5-foot-10 junior-college transfer changed the culture of Baylor's entire program last season by bringing swagger to a squad that was often criticized for being soft. Jackson averaged a team-high 13.8 points and 5.9 assists. There might not be a quicker point guard in America.
Andre Roberson, Colorado:
The 6-7 Roberson may be a bit undersized in the paint, but that hardly showed last season when he averaged 11.6 points, 11.1 rebounds and 1.9 blocks for a team that won the Pac-12 tournament before upsetting UNLV for its first NCAA victory in 15 years. Roberson will likely be a first-round pick in next summer's NBA draft.
Title-game prediction
Baylor over Murray State: Isaiah Austin, Ricardo Gathers,
Cory Jefferson
and J'Mison Morgan will be too much for the Racers down low.
Whom others are picking:
Eamonn Brennan:
Baylor over St. John's
Andy Katz:
Baylor over Murray State
Myron Medcalf:
Baylor over Murray State
Dana O'Neil:
Murray State over Colorado
July, 19, 2012
7/19/12
5:00
AM ET
1. New Mexico coach Steve Alford won gold at the 1984 Olympics, when he was a player at Indiana. That gold medal was eight years before the 1992 Dream Team. The debate about whether to send amateurs and professionals has arisen again, with NBA commissioner David Stern broaching the subject of a 23-and-under cutoff for the Olympics going forward. Alford isn't a fan. "That ship has sailed,'' said Alford. "We have to send our pros. Everyone else is doing it. The international game has grown and it has grown because we've helped it grow. We have sent players over there for decades, doing clinics and everything else. We've had as much to do with the international game growing by sending our best. We have to send our pros.''
2. Murray State's
Isaiah Canaan
has been all over the summer scene. Canaan was at the Chris Paul, Deron Williams and LeBron James camp. He has been in and out of Murray, Ky., taking classes, and according to coach Steve Prohm has taken another step up in being a leader. But the Racers can't equal last season's NCAA tournament run to the third round on Canaan alone. Prohm said
Ed Daniel
has been sensational in following a similar path to the Amare and LeBron camps. The key may be rising sophomore
Zay Jackson
, who has been a hit in workouts and can complement Canaan on the perimeter. Prohm is banking on Daniel's defense and rebounding as a staple, but he's learning to finish with more consistency. Daniel's scoring in the paint is a must in the absence of
Ivan Aska
.
3. Valparaiso should be picked over Detroit for the Horizon League title now that Butler is out. Valparaiso won the regular season a year ago but lost to Detroit at home by 20 in the conference tournament title game. Crusaders coach Bryce Drew is attempting to enhance the nonconference schedule in the oft-chance the Crusaders can't win the conference/tournament. Drew said he has scheduled games against Nebraska, New Mexico, Murray State, Kent State, Missouri State and Oakland. The games against Murray and UNM are quality RPI games and both will return in 2013. Drew is still trying to get Pitt to agree to a game. Drew would also like to get a home-and-home series with the return game being at the United Center in Chicago in his attempt to be creative for a strong series. Meanwhile, the Crusaders will be more formidable if Cal transfer 6-6
Alex Rossi
gets a waiver to play immediately. Rossi, who played sparingly at Cal in three games, came home for family reasons. The Crusaders are already adding 6-1 South Florida transfer LaVonte Dority at semester. Dority played in nine games last season, playing 15 minutes a game.
March, 17, 2012
3/17/12
7:32
PM ET
LOUISVILLE, Ky. -- Here's a quick look at No. 3 seed Marquette's
62-53 victory
over No. 6 seed Murray State at the KFC Yum! Center.


Overview:
The storyline going into this game was that these teams were mirror images of each other. That proved true and led to a highly entertaining game played at an express-lane pace, if a little ragged at times.
It was possible to cramp up just watching Marquette and Murray State trade possessions in transition over and over. Ultimately, Marquette pulled away late with excellent defense and a lack of marksmanship from the Racers, who made just 31.3 percent of their shots and went only 4-of-21 on 3-point tries.
But this was a street fight for 40 minutes, and Murray State vindicated its 31-2 season with two top-flight tournament performances, even if the Racers failed to make their first Sweet 16. Marquette, meanwhile, now has an advantageous path to the West Region final and is looking like a serious Final Four threat.
Turning point:
Neither team could get much distance from the other most of the way, but Murray State looked like it had all the momentum when it used a 7-0 run to take a 46-41 lead, its biggest of the game, with less than eight minutes to play in the second half. The pro-Murray crowd, bolstered by Kentucky fans who were rooting for their fellow state school, was going nuts. After a pair of timeouts, though, Marquette regrouped and charged back with a 14-2 run of its own, which included a couple of big baskets inside by reserve big man
Davante Gardner
and lots of defensive stops. The run was aided by missed shots from Murray State star
Isaiah Canaan
, who suffered through a brutal 4-for-17 night.
Key player:
Marquette's
Jae Crowder
had another huge night after putting up 25 points and 16 rebounds Thursday against BYU. Crowder struggled with his shot early but played great defense in the second half, and finished with 17 points and 13 rebounds.
Key stat:
Canaan and
Donte Poole
, Murray State's top two scorers, were a combined 7-for-30 from the field.
Miscellany:
Marquette advanced to the Sweet 16 for the second consecutive year. ... The Golden Eagles made a big play just before the half, as
Darius Johnson-Odom
picked up a loose ball in a crowd and laid it in just before the horn after a Murray State turnover. That cut the halftime deficit to 28-25. ... The Racers'
Ed Daniel
was all over the place and finished with 14 rebounds, but he was quiet late. ... Murray State players said they did extra work on free throws Friday in practice after bricking 13 of 26 attempts from the foul line in their victory over Colorado State. The practice paid off, as the Racers went 9-for-10 on free throws.
What's next:
Marquette advances to play the winner of Sunday's game between Norfolk State and Florida. The Golden Eagles should be a heavy favorite over either one of those teams in that game, scheduled for Thursday in Phoenix.
March, 15, 2012
3/15/12
4:24
PM ET
LOUISVILLE, Ky. -- At halftime, with his team leading Murray State 24-23, Colorado State coach and prolific Twitter user Tim Miles tweeted the following: "Win the half, we'll win the game."
Miles and the rest of America might have been thinking the same thing at that point: 30-1 or not, these Racers are nothing special. After 20 minutes against a No. 11 seed, they sure didn't look much like a top 10 team or even a No. 6 seed.
But then Murray State won the half. Convincingly. And it might have won over some skeptics with its
58-41 victory
in the West Region second round at the KFC Yum! Center.
Nearly lulled to sleep early on by the Rams' sagging defense and slow tempo, the Racers ripped off an 18-2 run in the first nine minutes of the second half. They got back to their trademark up-tempo style, using pressure defense to create what guard
Donte Poole
called a "kamikaze" effect. Colorado State kept coughing up the ball, and Poole and his teammates went the other way for easy scores.
"We were really passive in the first half," Poole said. "We were tired of playing slow and doing things we usually don't do. We had to extend our defense, get some more steals and get out in transition."
[+] Enlarge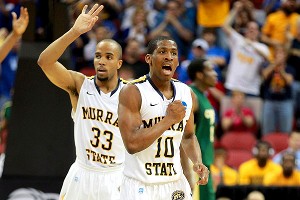 Andy Lyons/Getty ImagesMurray State went on an 18-2 run to begin the second half that effectively put the game away.
It wasn't always a pretty performance. Leading scorer
Isaiah Canaan
missed nine of his 13 shots and even airballed a wide open 3-pointer off a fast break. Murray State bricked half its 26 free throws and shot less than 40 percent from the field. Poole's aggressive defense on Colorado State guard
Wes Eikmeier
earned him an inadvertent elbow to the nose; he said he could hear a crack when trainers adjusted his nose back into place on the bench, and after the game a piece of gauze dangled from his right nostril.
Still, Murray State fought through it all to record its largest margin of victory ever in an NCAA tournament game. Curious fans wanting to know what this team was all about got to see that it's a deep, athletic bunch that is dangerous in the open floor.
"Every time we play, we know there's probably 1,000 or 2,000 or a number of fans who haven't seen us before," Poole said. "So we always want to play hard so people will remember us and say, 'Wow, that Murray State team is good.'"
Of course, beating a Mountain West also-ran won't completely validate that glittering regular-season record. But doing something this program has never done -- reaching the Sweet 16 -- would show that these Racers are indeed something special.
"We're still trying to build that wall," forward
Ed Daniel
said. "We're trying to get to that new place we've been trying to get to since day one."
February, 19, 2012
2/19/12
12:16
AM ET
MURRAY, Ky. -- Sweat beads still dotted
Isaiah Canaan
's forehead Saturday when someone asked the nation's best point guard a simple question: What message did Murray State send to the rest of the country by whipping 16th-ranked Saint Mary's on national television?
Canaan smirked.
Message? To him, the Racers'
65-51 victory
was more like a warning.
"Watch out," Canaan said. "Whether it's Duke or North Carolina or whoever, we're going to compete."
Not far away, in the CFSB Center stands, a gaggle of fans shouted for Canaan and began a "Final Four!" chant. No one rolled their eyes. Just three weeks before Selection Sunday, maybe it's time to begin thinking of the No. 14 Racers in that vein.
Murray State in New Orleans sounds cuckoo, right? Well, so did the thought of Butler and VCU in last year's Final Four, but both of those squads made it -- and neither had a player as good as Canaan, a first-team All-America candidate who entered Saturday's game averaging 19.2 points.
At 26-1, the Racers have the best record in the country. Everyone knows who to thank.
"Isaiah is a game-changer," Texas A&M coach Billy Kennedy said. "All of their players are good, but he's different. He gives them the chance to do something special."
Kennedy would know. Prior to taking over in College Station in May, Kennedy spent five seasons at Murray State and helped convince Canaan to become a Racer. Not that he had much competition.
A native of Biloxi, Miss., Canaan wasn't heavily recruited by the big programs in his home state. Ole Miss had Chris Warren,
Dee Bost
was beginning to blossom at Mississippi State and
Angelo Johnson
had just transferred from USC to Southern Miss.
"A lot of people slept on me," Canaan said. "That fueled my fire."
Of course, most schools might not have known about Canaan anyway, considering he played off the ball for his AAU team, which featured future Arkansas point guard
Julysses Nobles
. His chances to shine as a 17- and 18-year-old were few.
Still, when Kennedy saw Canaan play in a high school all-star game, he was sold.
"That's the guy we want," he said to assistant Steve Prohm, who is now Murray State's head coach. "That's the guy we need."
Canaan chose the Racers over Arkansas State and Tulane, but his rise to stardom didn't exactly occur at warp speed. He spent his first two seasons coming off the bench in place of starters B.J. Jenkins and Isaac Miles. Kennedy said it was clear that Canaan was the Racers' most talented player, but he wanted him to become their hardest worker, too.
[+] Enlarge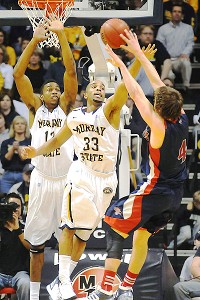 AP Photo/The Paducah Sun, John WrightMatthew Dellavedova's 17 points weren't enough against Jewuan Long and Murray State.
"A lot of guys at that level want [success] to happen right away," Kennedy said during a phone interview after Saturday's game. "People were in his ear saying, 'Why aren't you starting?' or 'Why don't you transfer?' But he chose to stick it out. He paid his dues.
"Everything that's happening for him now, he's earned it."
Most teams that catch fire in March do so because of a star, a player who can take over and win a game by himself when others begin to flounder. Connecticut rode Kemba Walker to 11 consecutive victories and an NCAA title last season. Butler's unlikely run to the 2010 national championship game happened largely because of eventual first-round draft pick Gordon Hayward.
Canaan has the potential to do the same kind of thing for Murray State. Saint Mary's learned that firsthand on Saturday, when Canaan blew open a semi-close game by scoring 17 of his 23 points in the second half. One minute he was swishing 3-pointers from 4 feet beyond the arc, the next he was throwing half-court alley-oop passes to a teammate for a dunk.
In a relatively weak year for point guards, Canaan has arguably been the nation's best at his position. The only question about his future as a pro is his height. Canaan is listed at 6-foot but is probably an inch or two shorter.
Not that it's mattered this season.
"He wanted to give me the ball one time," forward
Ed Daniel
said, "but I told him, 'No, you go ahead. You've been doing your thing. Keep going.'"
Indeed, the more confidence the Racers develop in Canaan, the more dangerous they become.
"They're a special team," Saint Mary's coach Randy Bennett said.
Murray State fans have known that all season. After Saturday's national broadcast -- Dick Vitale was on hand to call the game for ESPN -- the rest of the country does, too.
"We've got a lot of basketball still to play," said Prohm, clutching the microphone as he stood at midcourt and addressed the sellout crowd. "But I think we showed the national audience today how good we can be."
Moments later, to commemorate the Ohio Valley Conference title they won earlier in the week, each Racer climbed atop a ladder and took a celebratory snip of the CFSB net. No player received a louder ovation than Canaan.
"All the teams that slept on me, I'm sure they're regretting it," Canaan said. "But I've never regretted for a day coming here. They've accepted me like this was my home away from home. I'm trying to give back the best way I can."
Canaan approached a group of young kids who had been waiting patiently for his autograph. Before he began to sign, Canaan draped the net around his neck, clearly proud of his first championship of the season.
And maybe, just maybe, not his last.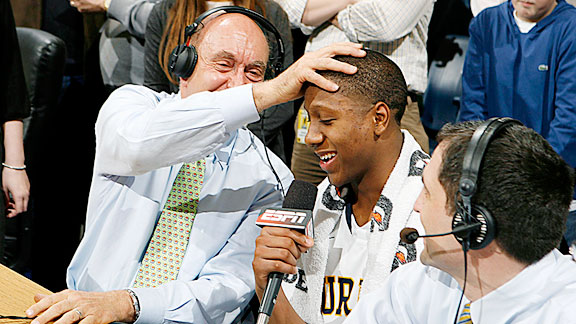 Brian Spurlock/US PresswireIsaiah Canaan gets some love from ESPN's Dick Vitale following Murray State's BracketBusters romp.
February, 17, 2012
2/17/12
9:00
AM ET
When and where:
Saturday (ESPN, 6 p.m. ET), CFSB Center (Murray, Ky.)


Saint Mary's breakdown:
The Gaels are coming off their first home loss of the season, to Loyola Marymount, perhaps the most athletic team in the West Coast Conference and finally healthy. Randy Bennett's team has had a terrific season, but has lost two of its past three games (at Gonzaga and at home to LMU).
Saint Mary's is a very skilled team that lacks size but has players who can spread the floor and a "big guy" in
Rob Jones
who plays inside and out, and plays much bigger than he is listed. Bennett has several very efficient players, including Jones,
Matthew Dellavedova
and the ultra-efficient
Clint Steindl
. But this team will definitely miss defensive ace
Stephen Holt
, who was injured against LMU and did not make the trip to Kentucky after a partial tear to his MCL. Holt is one of the most complete players in the WCC and the West Coast, and is a terrific player. That's a big loss.
But Dellavedova is dynamic off the bounce and in transition and is in attack mode all the time. Steindl is an excellent perimeter shooter who does not make mistakes. The Gaels play a bend-but-don't-break style of defense, and do not force a lot of turnovers.
[+] Enlarge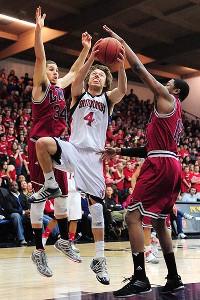 Kyle Terada/US PresswireMatthew Dellavedova scores 15.5 points per game for a 23-4 Saint Mary's team that has lost two of its past three games.
But they do not give up extra possessions via turnovers or offensive rebounds, either. It is unusual to play ahead of the Saint Mary's defense. This is not a super-athletic team or a big team, and it is not a team that shoots a ton of 3s. But it is a team that moves the ball, cuts hard, drives it, and plays with tremendous heart and a great understanding of how to play. I love watching Saint Mary's play, and it would be a great bunch of guys to play ball with.
Murray State breakdown:
The Racers are very well-coached, and have really good guards and solid interior players who play really hard and well together. Murray State ripped off 23 straight wins, and although this team did not play a Big Ten schedule, it did not have a letdown or slip and fall, either. Wins against Southern Miss, Dayton and Memphis prove this team is legit and should be taken seriously.
The backcourt with
Isaiah Canaan
and
Donte Poole
can compete with any backcourt in the country. Both can give you 30 points in a game, and both are hard to contain in transition and off ball screens.
Canaan is the best player, but Poole (a product of Las Vegas) often steps forward and has big games when Canaan is not dominating. Inside,
Ed Daniel
and
Ivan Aska
do a good job, and
Jewuan Long
is the heart and soul of the team.
Murray State has a lot of positives, but the weaknesses are pretty glaring at times. The Racers can be, and often are, loose with the ball. They cough it up far too often. Murray State turns the ball over almost 21 percent of the time, and that is in the bottom half of Division I.
In addition, Murray State has solid "first-shot defense," but allows far too many second shots, and those high-percentage second opportunities put the Racers at a disadvantage.
Gaels' game-breakers:
Dellavedova and Jones. Dellavedova does not look like a point guard, but he knows how to play, and plays like a man. He averages 15.5 points and 6.4 assists, and with his attack mentality, leads the team in free throw attempts.
Once he gets to the line, Dellavedova is automatic. He will be a tough matchup because he is strong and knows how to use his body. Jones started his career at San Diego in the West Coast Conference, and is one of the most versatile big men in the country. Jones has hit 31 3-point field goals, and is an outstanding rebounder.
He averages 15 points and more than 10 rebounds per game, including more than three offensive rebounds per game. Jones will be a difficult cover for Murray State.
[+] Enlarge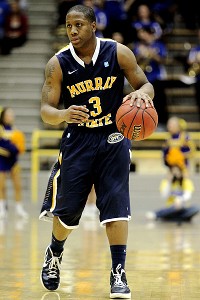 Andy Lyons/Getty ImagesMurray State's Isaiah Canaan averages 19.2 point per game and has four games of 30 or more points this season.
Racers' game-breakers:
Canaan and Poole. Canaan is dynamic enough to take over a game, and has scored more than 25 points in a half. He can hit from deep, use ball screens and can pull up and hit from mid-range as well.
Canaan has hit 79 3-point shots, but has also shot 152 free throws, which makes him very dangerous and hard to guard. He averages 19 points and almost 4 assists per game, leading the team in both categories. Poole is also an excellent 3-point shooter, hitting 53 of 135, while also getting to the free throw line 119 times.
Poole leads the Racers in steals with just more than two per game. To beat Murray State, Saint Mary's has to keep Canaan and Poole from going off.
Gaels' X factor:
Steindl. The long-armed shooter has hit 45 3-point field goals, which accounts for more than 85 percent of his field goals. Murray State cannot leave Steindl, and must find him in transition and force him to put the ball on the deck. If Steindl is allowed to shoot from the same spot where he catches it, he will knock down shots left and right.
Racers' X factor:
Aska. He has all the skills to be a major factor, including the ability to score around the rim. Most importantly, Aska is tough. He averages 12 points and 6 rebounds per game, and he makes his free throws.
Key stat:
Rebounding and turnovers. Murray State is turnover-prone and Saint Mary's does a really good job of taking care of the ball. The Racers surrender too many offensive rebounds and Jones is an outstanding offensive rebounder. Murray State has to take good care of the ball and must finish defensive possessions with big defensive rebounds.
Did you know?
Mark Gottfried and Mick Cronin both coached at Murray State. And Saint Mary's played in the 1939 Cotton Bowl, beating Texas Tech. I'll take obscure BracketBusters trivia for $200, Alex.
Can't account for this:
It may seem odd to name a broadcaster as a "key to the game," but Dick Vitale is doing this game. Murray State is already publicizing Vitale's appearance as an event, and the atmosphere will be different than any Murray State has ever had. Add in that it is Senior Day and you could have an emotional overload. Will the hoopla and distractions work in Murray State's favor? Or will they wear out the Racers, who are not used to having this kind of circus in town? No matter what, it will be fun and memorable for everyone involved. But it is always more fun when you play well and win.
Who wins:
I think Murray State will pull this one out at home 72-70. And it will seal the deal for an at-large bid.