College Basketball Nation:

Ed Nixon
June, 24, 2011
6/24/11
8:54
PM ET
By
Diamond Leung
| ESPN.com
Jimmer Fredette
and
Kemba Walker
will face off once again on the awards circuit, as the two were among the nominees for the ESPY for best male college athlete.
It was Fredette who swept the national player of the year awards after his senior season at BYU in which he led the nation in scoring. But Walker was the one who won a national championship with UConn. They'll be in competition with Auburn quarterback Cam Newton for the ESPY.
Walker's coach, Jim Calhoun, was also nominated for the ESPY going to the best coach/manager.
Butler's wild NCAA tournament win against top-seeded Pittsburgh was nominated for best game.
VCU's run to the Final Four was nominated for best upset after they defeated USC, Purdue, Georgetown, Florida State and Kansas. Rams coach Shaka Smart along with players
Joey Rodriguez
,
Jamie Skeen
,
Ed Nixon
and
Brandon Rozzell
are planning on attending the awards ceremony in Los Angeles in July.
"This is just a really cool opportunity for us and I'm blessed to be able enjoy it with some of my closest friends," Rodriguez
said in a statement. "To be invited to one of the biggest nights in sports and in the same crowd as these superstars is something we'll never forget."
March, 17, 2011
3/17/11
1:46
AM ET
DAYTON, Ohio -- As VCU coach Shaka Smart sat down for his team's news conference following a
59-46 win
over USC at the First Four, he posed a question of his own for the media.
"You guys think Jay Bilas watched that game?" he said.
The Rams heard the criticism from ESPN analysts and others ever since Sunday night. That, as a fourth-place team from the Colonial Athletic Association, they didn't deserve their at-large bid to the NCAA tournament. Good thing they didn't gather as a team to watch the selection show, because they found themselves cast in the role of villain.
"As soon as we got selected, we were getting smashed," senior
Ed Nixon
said. "I mean, sheesh, they were really throwing some blows right there."
[+] Enlarge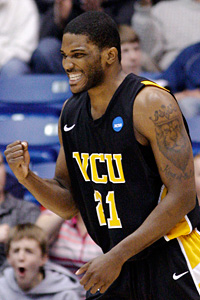 AP PhotoJamie Skeen had 16 points and 9 rebounds in VCU's win over USC.
UAB was the other team in this First Four that nobody thought belonged. The Blazers tried to ignore that talk, which coach Mike Davis called heartbreaking, before they flamed out in an 18-point loss against Clemson on Tuesday night.
VCU took the opposite approach. They laughed at it. Embraced it, even. Used it as motivation while reminding each other about it all week.
"Just fuel to the fire," guard
Rob Brandenberg
said. "We came here to Dayton with one thing on our mind: to prove everybody wrong."
You won't hear anybody bashing the Rams after Wednesday's performance. You might hear some people predicting them to beat No. 6 seed Georgetown on Friday in Chicago.
That's because they approached USC the way they did the controversy over their inclusion: They went on the attack. Even on a night when they struggled with shooting and several starters got in foul trouble, they played like a team ready to reward the selection committee's faith.
The Trojans, with their six-and-a-half-man rotation, didn't want any part of VCU's run-and-gun style. The Rams missed so many shots in the first half -- they connected on just 28 percent -- that they couldn't apply their press. USC coach Kevin O'Neill beamed at the halftime score of 22-all and called it a "perfect tempo."
But Smart told his team at intermission that it would shoot better in the second half. The Rams finally started hitting 3-pointers -- six of them in the second half, compared to just three in the first 20 minutes -- and USC made the mistake of trying to match plays in transition.
VCU forced 15 turnovers, cashed them in for 19 points, and fouled out three Trojans starters. Meanwhile, a team that ranked 297th nationally in rebounding margin beat the much bigger Trojans 40-31 on the backboard.
"They came out and performed like they wanted it more," USC guard
Jio Fontan
said. "They got a couple more loose balls than we did. The pace of the game was more in their favor than it was ours."
The pace still fell far short of what Smart wanted, and few would have believed the Rams could win this game while scoring fewer than 60 points. But VCU showed some versatility and toughness, switching to a 2-3 zone late to contain dribble penetration. USC, which somehow escaped media criticism despite finishing its season 19-15, simply looked worn out down the stretch.
"We like to be the aggressors," guard
Bradford Burgess
said. "We play a different style of basketball that select few teams in this tournament play. No team likes to be sped up and pressed. We like to get you out of your comfort zone."
Now comes another interesting test against Georgetown, another team that wants to control the tempo. The Hoyas expect to get injured point guard
Chris Wright
back, but if he's not 100 percent they could labor against the press.
Doubt VCU now at your own risk. Ironically, the Rams were the only NCAA tournament team that UAB beat this season. But they are no UAB this March.
"We already proved we belong in the field," Smart said. "We proved that all year. What this proves is that we deserve to advance."
March, 16, 2011
3/16/11
11:57
PM ET
DAYTON, Ohio -- VCU did what UAB couldn't at the First Four: justify its controversial at-large bid in the NCAA tournament.
The Rams bought major credibility for themselves and restored some for the selection committee by beating USC
59-46
on Wednesday night. It was a contrast in styles, and although the score might indicate that the game was played at the Trojans' pace, VCU's pressure and 3-point shooting flustered USC in the second half. Here's a quick recap:


Turning point:
Tied at halftime, VCU built a 10-point lead early in the second half by burying four of five 3-point
attempts. USC got back to within one at 44-43 just after the under-eight minute timeout. But then
Ed Nixon
hit a 3, and the Rams scored 15 of the game's final 18 points. With his team in foul trouble, coach Shaka Smart switched to a 2-3 zone in the final minutes that bothered USC. The Trojans also looked tired down the stretch, perhaps
suffering the consequences of a short rotation battling a steady full-court press. They had only two field goals in the final nine minutes.
Key stat:
VCU, one of the worst rebounding teams in the country statistically, beat the bigger Trojans on the glass 40-31. The Rams also hit nine 3-pointers, compared to just one for USC.
Star player:
Forward
Jamie Skeen
led all scorers with 16 points and added nine rebounds. He also contained USC big man
Nikola Vucevic
, who had only five field goal attempts before fouling out.
What's next:
VCU will go on to play Southwest Region No. 6 seed Georgetown on Friday in Chicago.
March, 8, 2011
3/08/11
1:12
PM ET
By
Diamond Leung
| ESPN.com
Baby powder and pie aren't substances normally found on the basketball court, but they somehow found their way there and even impacted the action in recent games.
In Monday's CAA tournament championship game at the Richmond Coliseum won by Old Dominion, VCU guard
Ed Nixon
slipped on the floor while going in for a breakaway layup and fell. According to the
Richmond Times-Dispatch
, it was due to
Old Dominion mascot Big Blue
using baby powder as part of his act before the game.
The officials allowed play to continue, and the Monarchs hit a 3-pointer on the other end, leaving Rams coach Shaka Smart incensed at what he called a "five-point swing."

Old Dominion's mascot had tossed the powder into the air before the game in an imitation of LeBron James. The cleaning crew made a hasty attempt to remove the powder before the game, but used a mop that didn't help the situation.

After a five-minute delay, the powder was gone and the game resumed.
In a game last week between Utah State and host New Mexico State, pie was the culprit for a player falling on the court, according to
The Herald Journal
. New Mexico's
Pajama Party
theme that night involved fans being allowed onto the court for a halftime pillow fight, and according to the paper, someone brought pie.
It's a small miracle [Utah State guard Tyler] Newbold didn't have a serious injury after going down twice when he ran into some pie that hadn't been cleaned up.

"I don't know what it was," Newbold said. "It didn't look wet, but there was a play where I slipped twice on the same possession. It hurt my elbow. It was really slick."