College Basketball Nation:

Eddie Jordan
September, 26, 2013
9/26/13
2:15
PM ET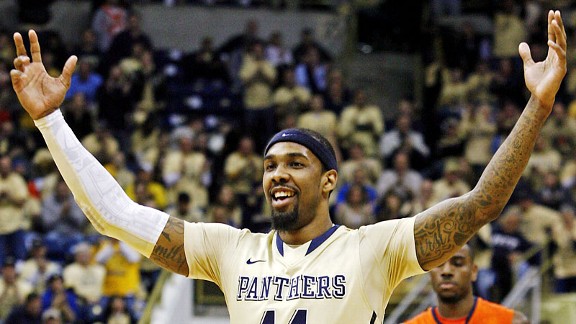 Charles LeClaire/USA TODAY SportsPittsburgh transfer J.J. Moore could help Rutgers return to respectability much more quickly than first thought.
When a coach loses his job the way Mike Rice lost his job at Rutgers last spring — when video of insane practice abuses becomes a mainstream living-room talking point that furrows brows on the "Today Show" and raises cackles on "Saturday Night Live" — you do not expect the recovery to be quick.
Usually, Rice-level disasters are attended by nuclear fallout. Players flee the scene. Recruiting connections dry up. It takes years to restore a program's good name, to prove to parents that their kids are in good hands.
Considering Rutgers is not exactly a paragon of historical basketball success — and considering the fact that Rice's motivational tactics had yet to yield their first .500 season at the school — well, the calculus should be simple. Rutgers should be awful in 2013-14, and not much better beyond it.
Not so much, actually. The Scarlet Knights might not contend for a national title in 2013-14, but they are looking shockingly competitive. And it's all thanks to transfers.
Yes, transfers, specifically the legislative relief waiver some transfers can receive after appealing the NCAA and proving their move was due to financial hardship or family illness. That's how
J.J. Moore
, a junior Pittsburgh wing who played good, efficient basketball in just under 20 minutes per game for Jamie Dixon last season, became eligible for the 2013-14 season, as Rutgers announced Monday. The Long Island native transferred to Rutgers to be closer to his family, specifically his daughter and his ailing grandfather, and will be allowed to play right away this season.
Just a few weeks ago, that same mechanism — the legislative relief waiver — appeared to be working against the Scarlet Knights in arguably unfair ways. Rutgers fans, and frankly the entire college hoops world, were puzzled (which is putting it politely): Just months after Rutgers' players began to stream out of the post-Rice morass, receiving waivers along the way, Iowa State transfer
Kerwin Okoro
, whose father and brother passed away in New York last winter, was denied his claim. The NCAA's famed inconsistency seemed to be at work. The system appeared to be broken.
That's what I was writing about
, anyway, but Rutgers had more immediate concerns.
And then, just like that,
the Okoro insanity quietly lifted
. Moore followed. Now Rutgers' lineup will feature
Myles Mack
and
Jerome Seagears
, products of Rice's touted 2011 recruiting class, in the backcourt, with Moore on the wing and senior
Wally Judge
and sophomore
Kadeem Jack
in the frontcourt.
That is
not
a bad lineup. Is it good enough to compete with Louisville for the inaugural American Conference crown? No. Is it good enough to make the NCAA tournament? Possibly, though I tend to doubt it. But it
is
good enough to avoid the archetypal post-scandal season — single-digit wins, depressed fans who resign themselves to cheering for floor burns, court-storms after otherwise mediocre conference wins. Nobody wants that, and Rutgers is likely to avoid it. Meanwhile, Jordan's hands aren't tied by sanctions or lost scholarships. The uniqueness of Rice's firing, as crazy as it was, doesn't come with the usual tangible downsides.
The lesson, as always: The legislative relief waiver giveth and the legislative relief waiver taketh away. Rutgers finally got on the right side of that equation this week.
August, 22, 2013
8/22/13
5:00
AM ET
1. The NCAA has lacked consistency on granting waivers, whether for an ill relative, in the wake of a coaching firing, following an NCAA violation or any other issue. But the national office cannot, rationally, be inconsistent on waivers when it deals with the same case. If a former Rutgers player is eligible immediately at a new school (
Mike Poole
at Iona and
Vincent Garrett
at Green Bay) because he fled the reign of former coach Mike Rice, then a new player (Kerwin Okoro or
J.J. Moore
) should be granted the same treatment and be allowed to play at Rutgers immediately. Okoro's case, involving the loss of his brother and father, has been well documented -- he clearly has a sympathetic reason to be granted a waiver. But there is a fairness issue for Rutgers that should come into play if departed players are getting a better deal. Two more --
Derrick Randall
at Pitt and
Eli Carter
at Florida -- may also get immediate eligibility. The only break the Scarlet Knights got was when
Jerome Seagears
was not penalized after he came back to Rutgers from Auburn two months after announcing he would transfer. New Rutgers coach Eddie Jordan said Wednesday there is another appeal coming for Okoro, with a different set of eyes and ears to evaluate the grievances. He said he's hopeful there will be a sensible conclusion.
2. Connecticut announced its schedule but not locations for all home games. That's because the Huskies still don't have a deal with their Hartford home, the XL Center. But, UConn athletic director Warde Manuel said, "because of timing of transition of management of XL, we are finalizing terms for this year and we will talk long-term arrangement in the near future. We will continue to play games at XL.'' The Huskies have a strong home schedule. UConn hosts headline teams Florida (Dec. 2), Stanford (Dec. 18), Harvard (Jan. 8), Louisville (Jan. 18), Temple (Jan. 21), Memphis (Feb. 15) and Cincinnati (March 1). The only home game on this list that has a designated home court is the Louisville game, at Gampel Pavilion in Storrs, because it has been tabbed for ESPN's "College GameDay" and the Saturday prime-time slot.
3. With teams returning from their foreign excursions, follow-up reports are trickling in. Vanderbilt, during its time in Greece and Italy, found out just how much it will rely on guard
Dai-Jon Parker
; the Commodores were also able to reinforce a pre-trip theory that Tulsa transfer Eric McClellan will be the primary point guard. The staff was also high on the impact of 6-foot-10 center
Damian Jones
and expects him to be one of the better first-year posts in the SEC (he'll need to be, with players like Kentucky's
Julius Randle
coming into the league). There is now a chance
James Siakam
can play power forward, allowing
Rod Odom
to play his more natural small forward. The hope is that Odom can take care of mismatches at power forward.; Siakam will need to be the glue guy, and can provide the necessary energy. The Commodores have only nine players on scholarship, so this trip was a must to create bonds and give them a head start on what could be a challenging season. Expectations are low, giving Vandy and coach Kevin Stallings plenty of head room to be a surprise in what is a wide-open SEC beyond Kentucky and Florida.
June, 17, 2013
6/17/13
7:33
AM ET
1.
Marcus Georges-Hunt
led Georgia Tech in scoring last season as the only player in double figures. The Yellow Jackets, on a long climb back to relevance, finished 6-12 in the ACC, 16-15 overall. But Georgia Tech, along with Arizona, had multiple players trying out for the U-19 USA team that will play for gold in the Czech Republic next week at the FIBA Championships. Georges-Hunt made the cut list of 16, down from 26 (Tech's
Robert Carter
didn't make the first trim). He's trying to stay on the roster before the team leaves when it is trimmed to 12. The significance for Tech to have the 6-foot-6 Georges-Hunt this far is not lost on the Yellow Jackets. "This is great for our rebuilding process that we had two freshmen from our first recruiting class invited," said Georgia Tech coach Brian Gregory. "If Marcus could make the team, I think it could act as a spring board to a tremendous sophomore year. He is a very unselfish and team-oriented player, which is great. But we need him to be more aggressive and more assertive. Making the team would give him the confidence to do that. Finally, it would be big in our recruiting. Marcus was not a top-25 recruit, so his development at Georgia Tech in one year would be a selling point in our recruiting."
2. Oregon guard
Damyean Dotson
also made the list of 16 (see here for the
roster information
). Dotson is one of the main reasons there is a slew of optimism with the Ducks heading into next season. "Dot is so talented, works hard and competes so our expectations are high," said Oregon coach Dana Altman. "He is coachable and it would be a great experience for him to make the team. Sure hope it works out for him." The team will practice this week in Colorado Springs before a weekend of playing in Washington, D.C., in advance of the departure for Prague.
3. A few quick things from the past couple of days: As soon as
Jerome Seagears
told Auburn he wasn't going to stay after transferring, the odds-on favorite destination was a return to Rutgers. Auburn coach Tony Barbee said Seagears told him he needed to be closer to home. Well, Seagears' return is yet another sign the healing has begun at Rutgers with alumnus Eddie Jordan. The Scarlet Knights had their share of defections. To bring back a player who originally left after the Mike Rice debacle is symbolic of the potential return to normalcy for the Scarlet Knights. ... Oregon State unveiled its men's and women's practice facility last week. The cost was $15 million (of which $11 million was fund-raised). These facilities are a must to advance at the high level of recruiting in basketball. The majority of schools already have a separate area to practice. Oregon State, which is clearly the understudy to Oregon in the Nike chain in the state, has had to scrap for everything. This is a significant move forward for the two Beavers' programs.
May, 10, 2013
5/10/13
8:45
PM ET
By
ESPN.com staff
| ESPN.com
April, 23, 2013
4/23/13
7:21
PM ET
Rutgers did not get its first choice.
Rutgers did, however, make the right choice.
That the school did not make the right choice before speaks only to the morass that currently exists at the State University of New Jersey, but that is a subject for another day.
This day is for Eddie Jordan, a man who ought to be greeted by trumpets, fireworks and a fist pump from Governor Chris Christie on his first official day on the job. It takes a special man to take over a program in ruins; it takes a saint to take over a program in ruin that counts a 2004 NIT runner-up finish as its most recent high bar of achievement.
But more than saint or savior, what Rutgers needed was someone who actually cared about Rutgers -- about the school, its reputation, its successes and its future. Jordan, an alum of the school and part of the Scarlet Knights' lone basketball run to glory, is exactly that.
This job is a sordid mess right now. Jordan's office sits in the Rutgers Athletic Center, or as it's come to be known, the scene of the crime. It is there that former coach Mike Rice hurled basketballs and homophobic slurs at his players, all of it videotaped as practices routinely are these days, turning Rice into the producer of his own Zapruder film.
There is no athletic director, no legal counsel. The president is about as popular as a broccoli-and-liver sandwich would be to a 6-year-old.
Recruits are backing out of commitments, players want to leave -- including leading scorer
Eli Carter
, who has asked for his release -- alums are angry and embarrassed, and the university is about to transition from the Big East, where it never had much success, to the Big Ten, where it makes about as much geographic sense as Houston in the Big East did.
Right now, this is a program only a graduate could love.
For Dana O'Neil's full column, click
here
.
April, 12, 2013
4/12/13
12:59
AM ET
By
ESPN.com staff
| ESPN.com
April, 8, 2013
4/08/13
5:00
AM ET
1. We all jump ahead on coaching searches as soon as someone is out and Rutgers is no exception. But this situation is unique. It's hard to project for certain if Rhode Island's Danny Hurley, Lakers assistant Eddie Jordan or anyone else is the favorite when the school has no athletic director. It would be tough for any coach to leave a good situation with so much uncertainty. Hurley, as reported by Sports Illustrated and SNY earlier in the week, has been negotiating a contract extension with the Rams. While nothing is ever certain, see Steve Alford, Hurley isn't sure he wants to move to a third job in three seasons. To assume he would automatically go home to New Jersey would be wrong. Leaving his players at URI, much like his decision to bolt at Wagner, would be a tough call for him. I wouldn't be surprised at all to see the Rutgers search drag on for a while as the whole situation remains fluid.
2. Wichita State athletic director Eric Sexton said Saturday night he is negotiating to continue the seven-year rollover contract with head coach Gregg Marshall. He also said he will likely stuff the contract with new incentives. Marshall has a great deal in Wichita and is essentially king of the mountain there. He now has the best job in the Missouri Valley Conference with the departure of Creighton to the new Big East. Marshall is no fool. He won't leave for a job that wouldn't put him in a winning situation and he doesn't need to go to a program that is rebuilding. I wouldn't be surprised to see Marshall stay at Wichita to make another run.
3. Washington's pickup of UNLV's
Mike Moser
won't be official until he finishes the spring semester and graduates. Moser technically has to apply to a graduate school at Washington, but if all goes according to plan, then the Huskies would get a much-needed rebounder. The problem is the Huskies will be young on the perimeter. Still, this will give Moser a chance to really shine on his own. If he has the potential to be a star then he will be given a chance in Seattle.
April, 3, 2013
4/03/13
5:00
AM ET
1. Rutgers athletic director Tim Pernetti's decision to keep Mike Rice even after the coach's suspension and $50,000 fine made no sense. The two years remaining on Rice's contract -- with one year in the soon-to-be-named conference before entering the Big Ten in 2014 -- was another sign. No one within the industry expected Rice to be coaching in the Big Ten. So the question that remains unanswered is why did Pernetti keep Rice on when the inevitable was going to happen in a year? The release of the tapes by ESPN's "Outside the Lines" showed that the decision to simply suspend and fine was a mistake. Now Rice has no shot to coach in the Big Ten, or to recruit for next season. Rutgers will have to cut him loose -- and can do so for cause. When this happens, because it's incredibly difficult to see this being an "if" scenario, Rutgers must look to someone who either has strong ties to the university (like Eddie Jordan), has a clean image and/or can coach at the highest level in the Big Ten (like Jay Wright or Al Skinner). There are others out there, but Rutgers will need to find someone who has high character and can regain the respect the program needs before it enters the Big Ten. One side note: I remember talking to Rice when he came back from the suspension and he said he was going to change the way he delivered his message -- though not the intensity of how he would express himself. But it was clearly too late, since these videos had already been recorded.

2. Former UCLA coach Ben Howland would seem to be another possible candidate for Rutgers. But it's unclear what Howland will do. He said Tuesday that he will sit the year out, attend practices, get healthier and then come back. Howland will be in demand. He went to three Final Fours. He coached the Bruins to the regular-season Pac-12 title. Tubby Smith was able to land at Texas Tech within 10 days of being fired at Minnesota.

3. New Mexico should be applauded for hiring Craig Neal to replace Steve Alford. This wasn't a rushed decision. AD Paul Krebs had plenty of time to evaluate Neal as he coached with Alford the past six seasons. Neal is ready for this challenge. The pool of coaches who would actually leave their current situations isn't strong right now. Neal has bought into the New Mexico program, and it was crucial to keep the momentum going from the past four seasons. The Lobos couldn't afford to find themselves in startup mode again.
April, 28, 2010
4/28/10
2:01
PM ET
Rutgers is moving ahead with its search to replace Fred Hill and has momentarily focused on current ESPN analyst and former St. John's, Manhattan and New Mexico coach Fran Fraschilla, former Boston College coach Al Skinner and Robert Morris coach Mike Rice, according to multiple sources.
All three are expected to talk to Rutgers athletic director Tim Pernetti this week.
On Tuesday, multiple media reports indicated former Philadelphia 76ers and Washington Wizards coach Eddie Jordan, a Rutgers alumnus, withdrew his name from consideration.
Other media reports indicated Temple's Fran Dunphy was also a serious candidate. It would be surprising to see Dunphy move to the cellar-dwelling Scarlet Knights since he hasn't left Philadelphia in his head coaching career and has revived the Temple Owls into an A-10 contender and NCAA tournament team.
Fraschilla is extremely well-connected in the New York area and would likely recruit well right away. Fraschilla had St. John's heading toward a high level before his abrupt departure.
Skinner would be a well-respected hire in the Big East, where he won coach of the year honors twice. He is BC's all-time winningest coach. UNC's Roy Williams and Duke's Mike Krzyzewski have called on his behalf.
Rice took Robert Morris to two straight NCAA tournaments after winning the NEC championship. RMU nearly knocked off Villanova in the first round of the NCAA tournament this season. Rice, 41, is the youngest of the three candidates.
Rutgers is facing a major rebuilding effort after Hill was fired and star
Mike Rosario
transferred to Florida.
Rutgers is also a potential candidate for possible Big Ten expansion in the coming years.