College Basketball Nation:

Eli Carter
December, 11, 2013
12/11/13
1:00
AM ET
GAINESVILLE, Fla. -- The thing about assessing college basketball teams in November and December is that it's much easier to get it wrong than to get it right.
A team's full story is usually more layered than one outcome, one matchup or one streak can accurately illustrate in the first few weeks and months of any season.
Sometimes key players are injured. Sometimes key players are suspended. Sometimes key players are just green.
In No. 19 Florida's case, all three have been factors.
The Gators have had enough drama to warrant an E! reality TV show.
They entered Tuesday's 67-61 win over No. 13 Kansas at the O'Connell Center approaching 100 percent. In its most high-profile matchup of the year to date, Florida was almost fully staffed. The result was one of the most dominant performances -- in the first half, at least -- any team has ever played against Kansas and a reminder of what's possible when a team can finally use most of the players on its roster.
It was also a warning against premature analysis of a team in flux.
There were 16 -- yes, 16 -- Kansas turnovers in the first half thanks to Florida's frustrating 1-3-1 zone. Per ESPN Stats & Information, Kansas committed turnovers on nine of its 18 possessions and went 4-for-15 from the field against the 1-3-1.
[+] Enlarge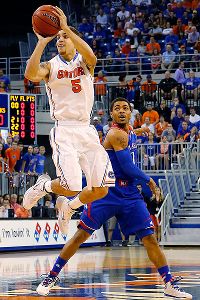 Sam Greenwood/Getty ImagesScottie Wilbekin's 18 points, six assists and four steals gave Gators fans a glimpse of what he can provide when he's in the flow of things.
The Jayhawks played like a team trapped in a fire pit.
There was a 21-0 Florida run that followed a 10-3 start by Kansas, changing the atmosphere in Florida's home venue. After missing six of their first seven shots in the first half, the Gators went 7-for-12 during that rally. Kansas failed to score for 8:43.
If the Gators were spontaneously lucky, then the Jayhawks were suddenly cursed. Blowouts can begin with such a sweeping shift that even the players involved can't describe it.
"I don't know what happened," Kansas star
Andrew Wiggins
said. "They just went on a run."
The Gators resisted a furious second-half Kansas rally that arose when Wiggins decided to cook up his best college game to date (first career double-double with 26 points, 11 rebounds, two blocks and four turnovers), showing NBA scouts that he's still worthy of being the No. 1 pick in next year's draft.
But
Patric Young
& Co. stayed strong and avoided panic.
"It just shows that when this team is healthy and has everybody out there, or even when we don't, we're going to put five guys out there that are going to play hard and run our offense and play our style of play," said Young, who finished with 12 points, six rebounds and three solid shoulders (minimum) into Kansas freshman
Joel Embiid
's sternum. "Our style of play was overwhelming for them. We need to bring that every single day."
Freshman
Kasey Hill
played 20 minutes after nursing an ankle injury and missing the previous four games.
Scottie Wilbekin
, who served a suspension at the beginning of the season, suffered an ankle injury during Florida's last-second loss at UConn last week. But he started against the Jayhawks.
Even with Wilbekin and Hill available, the Gators aren't 100 percent.
Billy Donovan's roster was missing five players due to suspension, illness or injury (excluding top-10 recruit
Chris Walker
, who was academically ineligible for the first semester) as the program prepared for its season opener against North Florida.
South Carolina transfer
Damontre Harris
will reportedly leave the team.
Eli Carter
, who averaged 14.9 PPG for Rutgers in 2012-13, will reportedly redshirt after suffering a broken leg last season. And Walker's status is still undetermined, though he could be eligible in a few days.
What do you get when you add a 6-foot-10 potential lottery pick to a nationally ranked program that's playing some of the best defense in America?
"I really don't know. I know he's a very good athlete," Donovan said. "My biggest thing with him is going to be how quickly can he pick things up. And I've got to do a good job of keeping things simple for him. ... I hope it will work out."
The (moving toward) full-strength Gators are quite talented -- Final Four talented.
That Kansas offense that crumbled under the pressure of a stiff zone in the first half is encumbered by problems such as inexperience, imbalance, inconsistency and shaky guard play.
But Bill Self's boys lost to an elite Florida squad. Tuesday night was just its first chance to prove it. Florida doesn't have one player who has averaged more than 20-plus minutes per game and played in all nine contests this season.
Florida didn't have
Dorian Finney-Smith
or Wilbekin in its loss to Wisconsin. Finney-Smith scored 15 points Tuesday and triggered that first-half rally by going 4-for-6 from the 3-point line. Wilbekin recorded a team-high 18 points, six assists and four steals in 36 dazzling minutes.
"Once you get them back, it is a good feeling to have everybody out there playing together," Wilbekin said. "You can see it. More rest. More versatile with what we can do on offense. And I think this is the first time you've seen us with everybody."
The Gators are growing as they solidify their roster. That constrictive defensive display against a program that might boast three first-round draft picks was impressive because of its effectiveness and suddenness.
Florida, if healthy, suspension-free and eligible, could be the SEC's best team and a national title contender in March.
But the Gators need more time together.
"I'm hopeful now, as we try to get a little bit healthier in this next week, it'd be good for us to get some of that continuity and cohesiveness on the court because there are times I see it and other times [not]," Donovan said. "I think guys need reps."
Florida wasn't pleased with the second-half sloppiness that could have turned a great win into a heartbreaking loss, though.
Once Florida began to play man-to-man defense in the second half, Wiggins grabbed his cape. He penetrated. He hit jump shots. He drew fouls. He was almost a hero.
Kansas had a final shot to change the outcome when it was down just 61-55 in the final minute. Florida unraveled at the free throw line (15-for-23 after halftime) and couldn't stick Wiggins. But the turnover ghost continued to haunt the Jayhawks.
Brannen Greene
lost control and fumbled the ball out of bounds with 45 seconds to play and a chance to cut Florida's lead to two or three, dooming the Jayhawks to their third loss in the past four games.
"We're just not a real skilled team," Self said, "yet."
October, 17, 2013
10/17/13
5:15
PM ET
BIRMINGHAM, Ala. --
I like my team.
That's the first line of any coach's typical media day script. On Thursday, Florida coach
Billy Donovan
tossed that script into the shredder.
It's not that Donovan went rogue. Nor was he particularly negative. On Day 2 of the SEC's media days, Donovan merely acknowledged reality: His 2013-14 Gators team, though undoubtedly talented, is so beset by injuries and personnel issues that there isn't much of a team for Donovan to like in the first place.
[+] Enlarge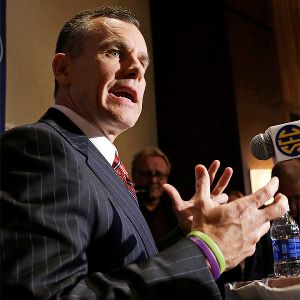 AP Photo/Dave MartinBetween injuries and off-court issues, Florida coach Billy Donovan has been running practices with only seven scholarship players.
To wit:
Eli Carter
and
Will Yeguete
are both recovering from injuries suffered in the spring.
Michael Frazier II
is being tested for mononucleosis. Point guard Scottie Wilbekin is still serving an indefinite suspension.
Damontre Harris
is working through a hamstring issue. And star freshman forward
Chris Walker
is still working to attain his academic eligibility and join the Gators in December.
As a result, Donovan -- a two-time national champion and perennially successful recruiter -- has found himself running practices with just seven scholarship players. He admits he has no idea what to expect.
"We have a lot of unknowns," Donovan said, "with our injuries, not having a full complement of players. ... I'd tell you today, if we had [all our players available] and we could start Oct. 11 fully healthy, then I'd tell you we have a chance to be really good. Hopefully we can get there as the season goes on. But we're not there right now."
That adversity has led Florida's players to adopt an incongruous new slogan for the 2013-14 season: "S.W.A.G." But it's not just about confidence or flash (or slightly outdated tween lingo).
"It means 'Strengthen When Adversity Grows,'" senior forward
Patric Young
said. "We need to strengthen as adversity gets more and more in our face. We need to stay together and be connected."
Donovan was willing to praise his team on that front. He said his players were forming a "different bond and different connected-ness."
For now, it seems, chemistry is the least of the Gators' numerous worries.
Other notes from SEC media days:
When coaches weren't being asked about Kentucky's loaded incoming class, they were answering questions about the SEC's overall strength (or lack thereof). Uncertainty reigns. Even Kentucky, the surest bargain in the bunch, has earned that status despite most of its players never having played a collegiate game. "As soon as they play a real top team," Young said, "they're going to see it's not just a walk in the park. One-and-done is not for everybody."
There was at least one thing every SEC coach could agree on: The NCAA's new rules, designed to eliminate handchecks, arm bars and shaky charge calls, are good for the game -- with one caveat. The referees must remain consistent.
Not all teams will be affected equally by the new contact rules. Teams that thrive on physical, lane-clogging defense or that lead with a press will have to adjust their style this season. Case in point: Last season, Arkansas forced opponents into turnovers at one of the highest rates in the country. It also ranked No. 316 in the country in opponent free throw rate. "I've got a task on my hands," Arkansas coach Mike Anderson said.
South Carolina coach Frank Martin would like to clarify one thing: He's not as scary as you think. "There might 30 10-second snippets of me in a foul mood," Martin said. "I can promise you, that's [the only] 300 seconds out of a whole year that I'm in a foul mood. I love people. I love to laugh. I love to make people laugh. And if you asked anyone who knows me, they'd say you can't find anyone in the world more loyal than I am. ... So I'm not the big grizzly bear I'm always made out to be." Martin did not disclose whether he does, or does not, dance like no one's watching.
August, 22, 2013
8/22/13
5:00
AM ET
1. The NCAA has lacked consistency on granting waivers, whether for an ill relative, in the wake of a coaching firing, following an NCAA violation or any other issue. But the national office cannot, rationally, be inconsistent on waivers when it deals with the same case. If a former Rutgers player is eligible immediately at a new school (
Mike Poole
at Iona and
Vincent Garrett
at Green Bay) because he fled the reign of former coach Mike Rice, then a new player (Kerwin Okoro or
J.J. Moore
) should be granted the same treatment and be allowed to play at Rutgers immediately. Okoro's case, involving the loss of his brother and father, has been well documented -- he clearly has a sympathetic reason to be granted a waiver. But there is a fairness issue for Rutgers that should come into play if departed players are getting a better deal. Two more --
Derrick Randall
at Pitt and
Eli Carter
at Florida -- may also get immediate eligibility. The only break the Scarlet Knights got was when
Jerome Seagears
was not penalized after he came back to Rutgers from Auburn two months after announcing he would transfer. New Rutgers coach Eddie Jordan said Wednesday there is another appeal coming for Okoro, with a different set of eyes and ears to evaluate the grievances. He said he's hopeful there will be a sensible conclusion.
2. Connecticut announced its schedule but not locations for all home games. That's because the Huskies still don't have a deal with their Hartford home, the XL Center. But, UConn athletic director Warde Manuel said, "because of timing of transition of management of XL, we are finalizing terms for this year and we will talk long-term arrangement in the near future. We will continue to play games at XL.'' The Huskies have a strong home schedule. UConn hosts headline teams Florida (Dec. 2), Stanford (Dec. 18), Harvard (Jan. 8), Louisville (Jan. 18), Temple (Jan. 21), Memphis (Feb. 15) and Cincinnati (March 1). The only home game on this list that has a designated home court is the Louisville game, at Gampel Pavilion in Storrs, because it has been tabbed for ESPN's "College GameDay" and the Saturday prime-time slot.
3. With teams returning from their foreign excursions, follow-up reports are trickling in. Vanderbilt, during its time in Greece and Italy, found out just how much it will rely on guard
Dai-Jon Parker
; the Commodores were also able to reinforce a pre-trip theory that Tulsa transfer Eric McClellan will be the primary point guard. The staff was also high on the impact of 6-foot-10 center
Damian Jones
and expects him to be one of the better first-year posts in the SEC (he'll need to be, with players like Kentucky's
Julius Randle
coming into the league). There is now a chance
James Siakam
can play power forward, allowing
Rod Odom
to play his more natural small forward. The hope is that Odom can take care of mismatches at power forward.; Siakam will need to be the glue guy, and can provide the necessary energy. The Commodores have only nine players on scholarship, so this trip was a must to create bonds and give them a head start on what could be a challenging season. Expectations are low, giving Vandy and coach Kevin Stallings plenty of head room to be a surprise in what is a wide-open SEC beyond Kentucky and Florida.
January, 18, 2013
1/18/13
8:30
AM ET
Coaches love to say that, on any given night, a team can lose. Apparently the Big East would like to make that its motto.
The league has become either strangely unpredictable or woefully unstable, depending on your point of view. What looked like established, solid, top-of-the-conference teams instead went out and lost games they frankly shouldn't have.
The two constants: Louisville and Syracuse. And they play each other this weekend.

1. Louisville.
It's time for the first Big East showdown of the year -- before the participants become ACC members, that is. The Cards host Syracuse on Saturday, having rolled through their first league games with relative ease.
2. Syracuse.
Time to see just how much the loss of
James Southerland
hurts the Orange. Syracuse got past Villanova without its most accurate outside threat, but it's a tougher road this week, first at Louisville and then home against Cincinnati.
3. Marquette.
The Golden Eagles' margin of error is miniscule, but they keep coming out on the right side of the edge. That's more than a lot of their conference brethren can say.
Davante Gardner
has been very solid for Marquette and should be key this week against Cincinnati.
4. Cincinnati.
The Bearcats righted the ship the easy way, beating up on Rutgers and DePaul. Whether or not Cincinnati is truly back on track, however, remains to be seen in the coming week, when it faces Marquette and Syracuse. The good news: UC should have
Cashmere Wright
, who sprained his knee against DePaul.
5. Georgetown.
The Hoyas could be the all-enigma team of the season. Unable to score one night, solid the next. The big question: What will Georgetown be without
Greg Whittington
, suspended from the team for academics? There's a good team here if it just develops consistency.
6. Connecticut.
There might have been a silver lining in the Huskies' loss to Louisville:
Omar Calhoun
finally returned. After three pedestrian games, the freshman had 20 points and four boards. UConn needs that from him to take the pressure off of
Shabazz Napier
and
Ryan Boatright
.
7. Notre Dame.
Feel free to argue that the Fighting Irish are slotted too low. Then go ahead and explain why a good, veteran team lost to Connecticut at home and then at St. John's. Notre Dame simply has not played well in the past week.
8. Pittsburgh.
Perhaps stubbornly, I still refuse to give up on the Panthers. Their defense is just too good. If only the offense could catch up. Pitt needs to beat Connecticut at home on Saturday to gain some more converts.
9. St. John's.
The Red Storm will rival Georgetown for unpredictability but at least they have a reason -- crazy youth. Steve Lavin has brash talent that isn't quite sure what to do with itself all the time. But as St. John's proved against Notre Dame, it will be a threat all season.
10. Rutgers.
The Scarlet Knights are making progress, albeit in baby steps.
Eli Carter
's shooting struggles doomed them in a could-have-won game against Cincinnati, but Rutgers at least took care of business against South Florida. Tricky week with Notre Dame and St. John's on the menu.
11. Villanova.
The Wildcats lost twice this week but, if it's possible, looked slightly better doing it. They put up a fight against Syracuse and matched Pitt's defensive intensity, good signs for a program that needs some positives. Beating Providence on Saturday would help. Facing Louisville on Tuesday won't.
12. Seton Hall.
It's almost unfair to judge the Pirates this week. Decimated by injuries, Kevin Willard had all of three subs to choose from in the loss to Marquette.
13. DePaul.
It's the same worn-out tune for the Blue Demons, who are limping through their Big East slate. DePaul has lost four of its past five, dating back to its final nonconference game against Loyola-Chicago.
14. Providence.
Bryce Cotton
has been terrific since returning from injury, averaging 20.8 points in the past five games. That's the good news. The bad: The Friars are just woefully inconsistent.
15. South Florida.
If the Bulls were playing golf, they'd be fantastic, what with their penchant for low scores. Sadly, this is basketball, and hovering in the 50-point range, as USF has done since league play began, isn't going to win you a lot of games.
December, 7, 2012
12/07/12
8:30
AM ET
The top of the league is rock-solid strong, with six nationally relevant programs in Syracuse, Louisville, Cincinnati, Georgetown, Notre Dame and, yes, I'm buying -- Pittsburgh.
After that, things already are muddy. Connecticut is better than anyone expected but irrelevant in the national picture, and Marquette remains a work in progress.

Everyone else has some major work to do.
1. Syracuse.
With
James Southerland
doing a good Dion Waiters impression, starring as the sixth man, the Orange keep steamrolling the competition, getting Jim Boeheim within single digits of his 900th win in the process. Arkansas is the only team that has gotten within single digits of Syracuse this season. And the Razorbacks lost by nine.
2. Louisville.
The Cards turned up their trademark withering defense against Charleston (the same team that beat Baylor, which beat Kentucky, if you're into transitive theory), holding the Cougars to 38 points and forcing 27 turnovers. The only caveat: Louisville still isn't great offensively. The Cards hit only four of 14 shots from behind the arc. Next up: UMKC.
3. Cincinnati.
The Bearcats are quietly sensational. With
Cashmere Wright
saving the day with a buzzer-beating jumper against Alabama, Cincinnati remains undefeated, relying on a three-guard lineup that is as potent as any in the country.
4. Georgetown.
Everyone wanted to talk about the Hoyas' awful offense in the 37-36 victory against Tennessee last week. Fair enough. It was brutal. But the defense was impressive, as it was Tuesday against Texas, limiting the Longhorns to only 41. Georgetown is already very good offensively. The D could make for a scary combo.
5. Notre Dame.
The scheduling gods were kind to the Irish -- offering them more than a week to savor the win against Kentucky. Notre Dame returns to action against Brown on Saturday.
6. Pittsburgh.
The Panthers keep rolling, and in the process, they are coming up with a pretty sweet inside-outside package in the form of
Tray Woodall
and
Talib Zanna
. The point guard and the forward have been solid all season for Pitt, which sits at 8-1.
7. Connecticut.
The Huskies' guards,
Shabazz Napier
and
Ryan Boatright
, are sensational. The question: Can they be enough for the long haul? That's the biggest issue for UConn and coach Kevin Ollie these days, evidenced in the loss to North Carolina State, in which the Huskies were simply outmuscled inside.
8. Marquette.
The Golden Eagles had the week off, welcome especially after the news that alum and former assistant Rick Majerus had died. Now Buzz Williams' team needs to regroup for Saturday's game against in-state rival Wisconsin. Marquette likes to score -- but can it against the Badgers?
9. Providence.
Freshman
Kris Dunn
is still out with a shoulder injury, but the Friars keep winning. With seven scholarship players -- including a hampered
Bryce Cotton
-- Providence beat Rhode Island easily Thursday. And every day is closer to Dunn returning.
10. DePaul.
The Blue Demons are on a three-game win streak, and while the quality of competition leaves much to be desired, building confidence is crucial right now if DePaul is going to make any strides come Big East time. The feasting should continue Sunday against two-win Milwaukee.
11. South Florida.
That the Bulls have no inside game isn't surprising -- Gus Gilchrist is gone -- but it's still an absolute killer for Stan Heath's squad. South Florida simply couldn't compete on the glass against Oklahoma State, and until USF can find at least some semblance of a paint presence, it will be tough sledding.
12. St. John's.
The Red Storm keep building themselves large holes to climb out of. The problem: Sometimes you can't finish that climb, especially if you're not that adept at scoring to begin with. That's why St. John's took a bad loss against San Francisco. The Red Storm can cure what ails them against one-win Fordham in the Holiday Festival on Saturday.
13. Seton Hall.
The Pirates needed a late 3-pointer to seal a victory Tuesday against New Jersey Institute of Technology. That's not going to instill fear in anyone.
Fuquan Edwin
can't do it alone, although he's trying.
14. Rutgers.
When
Eli Carter
can't score, the Scarlet Knights can't win. Plain and simple. Carter went 1-of-12, including 0-for-6 from 3-point range, and Rutgers lost Saturday at Ole Miss. That's too much pressure on Carter.
15. Villanova.
Things are not pretty on the Main Line, where the Wildcats are simply a mess. Yes, Villanova beat Vanderbilt, but that says as much about the Commodores' struggles as it does Villanova's strengths. This is a team without a rudder right now, ineffective defensively and confused offensively -- and rival Saint Joseph's is salivating at all of that ahead of their meeting Tuesday.
July, 23, 2012
7/23/12
11:00
AM ET
Editor's note: ESPN.com's Summer Shootaround series catches up on the offseason storylines for each conference. For more on the Big East, click here.
The most important player for each team in the conference ...
Cincinnati:
Titus Rubles
The juco transfer hasn't played a minute for Mick Cronin, but he could be the coach's most vital cog. A former guard who grew up and out since graduating high school, the 6-foot-8 Rubles has the heft and the ability to play a more power game as well. The Bearcats have plenty of experience in the backcourt but they need help replacing
Yancy Gates
. Rubles could offer it.
[+] Enlarge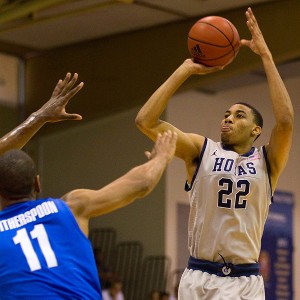 AP Photo/Eugene TannerOtto Porter will carry a heavy load this season as the Hoyas' leading scorer is gone and Porter's on deck.
Connecticut:
Ryan Boatright
The NCAA delayed Boatright's debut but when he finally played, he made the Huskies immediately better. He'll have to do the same this year, now that UConn is without
Jeremy Lamb
,
Alex Oriakhi
,
Andre Drummond
andRoscoe Smith. Much of the Huskies' success will depend on how Boatright and Shabazz Napierplay.
DePaul:
Cleveland Melvin
You have to feel for Melvin. He has been a terrific player for DePaul for two seasons with little in the way to show for it in terms of results. Melvin averaged 17.5 points a season ago, upping his numbers from 14.3 as a freshman … and still won just three Big East games. Eventually, someday, somehow the Blue Demons will turn it around. If it is anytime soon, Melvin will be the reason.
Georgetown:
Otto Porter
Much will be expected from the Hoyas' unexpected star of a year ago. The sophomore to be averaged 9.7 points and 6.8 rebounds for a Georgetown team that, like Porter, surprised more than a few. But leading scorer
Jason Clark
is gone from that crew, putting Porter squarely in the mix for a key role as both a leader and a scorer.
Louisville:
Russ Smith
This is
Peyton Siva
's team but there's no question that the Cardinals' sparkplug is the enigmatic, mercurial (insert quirky adjective here) Smith. Pitino loved his fearless guard, even though he didn't necessarily always love Smith's fearlessness. With a loaded lineup that should help Cardinals cure last season's offensive woes, Smith won't have to do quite so much this season but he will still be the catalyst for what could be another Final Four run.
Marquette:
Vander Blue
A team in the best sense of the word, Marquette won collectively instead of individually -- and that was with
Jae Crowder
edging out teammate
Darius Johnson-Odom
for conference player of the year honors. Amid the collection of unheralded superstars was Blue, a gifted player who has the ability to shine and now, with Crowder and Johnson-Odom gone, will have the opportunity, as well.
Notre Dame:
Jerian Grant
Sure,
Jack Cooley
will garner much of the attention for the Irish, but really Mike Brey's team will go as far as Grant takes it. He was terrific as a sophomore last season, turning heads with his 12.3 points and 5 assists per game and will have plenty to work with again this year. Notre Dame loses just Tim Abromaitis, who only played two games a year ago.
Pittsburgh:
Tray Woodall
The point guard missed 11 games last season with a groin/abdominal injury and while the Panthers were bad with him in the lineup, they were a bona-fide disaster without him. It was Woodall's return that sparked a brief bit of life in Pitt midseason and it is Woodall's presence that will make the Panthers go this season. There is plenty on Jamie Dixon's roster to make last season nothing but a bad memory, but to make things work, Dixon needs Woodall and his dribble penetration to get the offense working.
Providence:
Vincent Council
Despite all the hoopla (much deserved) surrounding Ed Cooley's incoming freshman class, the Friars remain very much Council's team. A terrific point guard, Council led his team in assists and scoring this season and with a better surrounding cast, could be due for a breakout season.
Rutgers:
Eli Carter
Carter was sensational in his freshman season, averaging 13.8 points per game for Mike Rice's squad. And while he and
Myles Mack
were arguably the Scarlet Knights' two most reliable players, losing
Gilvydas Biruta
(to Rhode Island) will put even more pressure on Carter's shoulders.
[+] Enlarge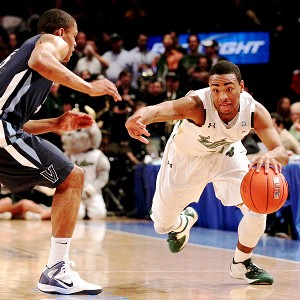 Anthony Gruppuso/US PresswireSouth Florida and guard Anthony Collins are primed to go far this upcoming season.
Seton Hall:
Fuquan Edwin
The best news for Kevin Willard: Edwin is already a terrific defensive player. Now if he continues to grow his offensive game (he averaged 12.5 points per game), the Big East can officially be put on notice. The big question for Edwin, though, is can he be The Guy?
Herb Pope
andJordan Theodore are gone, so the attention will be squarely on his broad shoulders.
South Florida:
Anthony Collins
The Bulls were one of the best defensive teams in the country and one of the worst offensively. Equaling out that ratio falls squarely in the lap of Collins, the point guard who was great defensively but made too many foolish mistakes on offense to get the Bulls in rhythm. He's a terrific talent and part of the reason that big things are once again expected for Stan Heath's team.
St. John's:
D'Angelo Harrison
Truth be told, the most important player might just be Steve Lavin, the head coach who missed last season while recovering from prostate cancer. But since Lavin is on the bench instead of on the court, we'll go with Harrison. The freshman averaged 16.8 points per game, and along with
Moe Harkless
, was one of the few steadying presences in a crazy season for the Red Storm. His return is huge for Lavin but Harrison will have to perform without his sidekick, Harkless, who left for the NBA.
Syracuse:
Michael Carter-Williams
The point guard who couldn't get through the backcourt logjam a season ago will be asked to carry the load for Syracuse this season. Highly touted out of high school, plenty who watched Carter-Williams practice thought he was more than ready for the spotlight. Now the chance has come.
Brandon Triche
will be there to lend an experienced hand, but how Carter-Williams plays will determine how Syracuse does.
Villanova:
Tony Chennault
The last time a displaced player landed on Jay Wright's doorstep, it turned out pretty well. Scottie Reynolds, orphaned by Kelvin Sampson at Oklahoma, led the Wildcats to the Final Four. Now it's Chennault, the Wake Forest transfer who was granted a hardship waiver to be near his family. The Philadelphia native, who averaged 9.0 points in his sophomore season at Wake, is a much-needed boost for a Villanova team that struggled mightily.
December, 29, 2011
12/29/11
11:42
PM ET
PISCATAWAY, N.J. -- Before his team faced No. 10 Florida, Rutgers coach Mike Rice sat the Scarlet Knights down for a home movie, hoping that celluloid evidence of what a team could accomplish with a little faith might somehow spawn some belief in their skeptical minds.
The video was less than 12 months old, made on Feb. 9 of this year, when Rutgers upset then-No. 10 Villanova.
It might as well have been the Zapruder film.
Films of victories over top-10 programs are rare, grainy artifacts in the Rutgers archive room. There were, in fact, just seven lonely -- and mostly dusty -- videos in the library.
Now there are eight.
The Scarlet Knights, a team parked in the outliers' version of relevant, upset the Gators on Thursday
in double overtime, 85-83
.
That the Knights, who previously this season hadn't beaten a team with a winning record or an RPI better than 224, were able to pull off the stunner was only slightly more stunning than how they did it.
Rutgers rode the backs of a trio of backcourt freshmen who managed to play with more skill and poise than Florida's dynamic duo of
Kenny Boynton
(a junior) and
Erving Walker
(a senior).
Eli Carter
, who exploded for a career-high 31 points,
Myles Mack
(14) and
Jerome Seagears
(13) did more than just outplay Boynton and Walker for the game; they skewered them in the extra periods. The freshman trio scored 17 of the Scarlet Knights' 19 overtime points to just five from Florida's pair.
"Our freshmen's faces lit up,'' Rice said of watching the Villanova video. "I just said, 'This is what happens when you believe. This is what happens when you don't think impossible is impossible. This is what happens when young men are determined to follow the formula and play for one another.' It's a process.''
That's the same term Billy Donovan used in discussing his team's loss, a process.
His "team didn't play the right way,'' the coach said, citing not just the Gators' 18 turnovers but foolish decisions in various offensive sets and an inability hold on to what looked like a reliable 9-point first-half lead.
But neither coach was willing to make wholesale trades on his team's fortunes based on this one game in December.
Nor, history says, should they.
A season ago, the Gators lost to Jacksonville at home. And went to the Elite Eight.
A season ago, Rutgers beat Villanova. And promptly lost its next four and six of its final eight.
The result, both coaches know well, doesn't matter nearly so much as what you do with it.
"What we need to do is see how self-reflective we're willing to be,'' Donovan said. "What do we need to do differently as coaches and as players? How you handle situations like this is a big part of any young player's development. It's a matter of what comes out of this. That's why I say it's bigger than this game.''
What comes next is truly the question.
This could be a huge first step for Rutgers, a program that has been locked in an abysmal purgatory for years.
In his second season at RU, Rice now has two wins against top-10 teams. Only the legendary Tom Young has more (four) in school history.
That tells you all you need to know about Rutgers' run of irrelevance. That and the 20-year chasm between NCAA tournament berths.
[+] Enlarge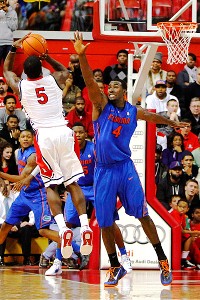 Jim O'Connor/US PresswireRutgers freshman Eli Carter pulls up for the jumper that sent the game into double overtime.
Rice, most would agree, has the Knights headed in the right direction. It's just taken them a little time this season to find the map. Rutgers beat up on an unappetizing menu of walkovers -- an RPI doesn't reflect everything, but when your team RPI is 256 and you have seven wins, it tells you plenty -- and lost to anyone with a pulse. That included Miami, Illinois State, Richmond, LSU and Princeton.
Rice knew things could get better because he had talent. A year ago he was getting by on smoke and mirrors, fully aware he didn't have the sort of transcendent player you need to survive in the Big East. He has that guy now in the form of Carter, but he needed Carter to recognize it, too.
Finally -- or suddenly -- this week, he got a glimmer of hope, sensing in practice that his team was finally buying into the lessons he was preaching, maybe even ready to take a big step.
And then there were the steps, in living color, on the court, against, of all teams, Florida.
Carter hit a dead-eye, fearless 3 to force the second overtime and swished a driving leaner to score the go-ahead bucket in that frame. Mack then sealed the deal with his own 3 with under a minute to play.
Those were just three of a highlight package of clutch shots those two and Seagears hit during the game.
"The guys really got after it this week in practice,'' said Carter, who logged 46 of the 50 minutes. "Not just the starting five, but everyone, down to the walk-ons. We knew we were better than we were playing. We never put our heads down.''
Now the Knights need to make sure their heads don't get in the clouds.
Florida, meantime, has nothing to be ashamed of. The Gators have lost three games this season -- at Syracuse and at Ohio State, the No. 1 and No. 2 teams in the nation -- and on the road here.
But how UF processes this one is what people will be looking at.
Brad Beal
finally looked like a freshman, with seven turnovers, and
Patric Young
disappeared until the overtime periods. Neither can afford too many repeat performances.
More crucially, Walker and Boynton need to be more dynamic and less enigmatic. They can be a duo you love for their fearlessness and detest for their carelessness, sometimes in the span of two possessions.
If Florida is to be as good as advertised, the Gators need to find a rhythm with one another and within the game.
"We didn't maximize each other,'' Donovan said. "There were too many guys standing around and watching, but I think this is something we have to go through, as much as you may not like it, to reach our full potential.''
December, 29, 2011
12/29/11
11:04
PM ET
By
ESPN.com staff
| ESPN.com
Bill Raftery talks with Rutgers head coach Mike Rice and freshman
Eli Carter
after Scarlet Knights'
double-OT upset
of No. 10 Florida.