College Basketball Nation:

Elisha Justice
December, 3, 2011
12/03/11
2:23
AM ET
LOUISVILLE --
Kyle Kuric
swished two huge shots to force overtime and
Peyton Siva
made the game-winning layup in Louisville's
62-60 victory
over Vanderbilt at the KFC Yum! Center on Friday.
But the real life-saver in the Cardinals' win never left the bench.
Rick Pitino has an NCAA title ring in his jewelry box and is the only coach to lead three different schools to the Final Four. Still, in a roundabout way, what Pitino has done at Louisville the past few seasons is as impressive as any feat on the future Hall of Famer's résumé.
[+] Enlarge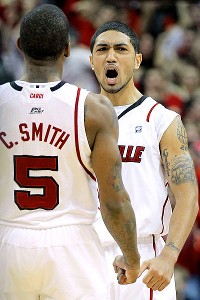 Andy Lyons/Getty ImagesPeyton Siva came through with the game winner as the seconds ticked away in overtime on Friday.
One year after leading a team with a glaring talent deficiency to a 25-win season and a third-place finish in the Big East, Pitino has the Cardinals off to a 7-0 start despite a list of injuries that would cause most programs to wilt.
McDonald's All-American
Wayne Blackshear
has yet to play because of a shoulder injury.
Mike Marra
is done for the season with a torn ACL.
Rakeem Buckles
is working his way back from knee surgery, while
Elisha Justice
(broken nose) and
Stephan Van Treese
(knee) are out indefinitely.
Yet here are the Cardinals, undefeated and ranked sixth in the country.
"Never have I had as much fun coaching as I have the last two years," Pitino said. "This team epitomizes everything you want in a team in terms of rooting for each other and not giving up."
The reason for Louisville's resolve is simple.
"We're a reflection of our coach," Siva said.
Indeed, it was a only a few years ago when some college basketball fans were calling for Pitino to resign following a messy off-court situation in which he was accused of impregnating a woman and then paying for her to have an abortion.
Still, rather than walking away from the game in shame, Pitino surged forward. Instead of floundering in the face of adversity, he flourished.
"We're never going to give up," Siva said. "Whether we're out there with broken legs or broken noses or hands or whatever, we're going to go out there and play for our coach. He puts so much hard work into practice and hard work into us. This is our time to show that we're going to battle for him."
The Cardinals' talent level hasn't been as high lately as it's been in the past. Terrence Williams and Earl Clark were both NBA draft lottery picks in 2009, but since that time Louisville hasn't had many NBA-caliber players on its roster.
While the situation might not speak all that well for Pitino's recent accomplishments on the recruiting trail, it's magnified his prowess on the sideline. No team in the country has made so much out of so little the past few seasons.
Louisville is counting on its fortunes changing as players such as Buckles and freshman Kevin Ware -- who becomes eligible Dec. 14 -- work their way into the rotation. Blackshear could be back by late January.
In the meantime, Louisville is achieving success thanks to a menacing defense and an aggressive mindset that allows it to fight back just as victories seem to be slipping away. Last season, the Cardinals won six games by five points or fewer. Three of its victories were in overtime.
[+] Enlarge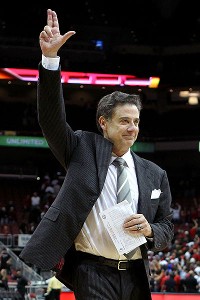 Andy Lyons/Getty ImagesUL keeps piling up injuries and just keeps winning under Rick Pitino.
"We've been winning close games the past two years," Pitino said. "So I don't think we have to learn, because we learned last year. It's a treat to coach this team because you see so many great comebacks. There are times when you think they are dead, and then you just look up and we win the game."
Friday was one of those occasions.
The Cardinals trailed by nine with less than eight minutes remaining and by six with less than four minutes remaining before battling back to force overtime against the 19th-ranked Commodores. Vanderbilt appeared to have the momentum after jumping out to a 55-50 lead early in the extra period, but Louisville fought right back and took a 58-57 lead on Kuric's 3-pointer from the left corner with one minute left.
A pair of free throws by Vanderbilt's
John Jenkins
made it 60-60 with 12 seconds left. That's when Siva took the inbounds pass, jogged up the court and blew by two defenders on his way to the game-winning layup with 1.2 seconds remaining on the clock.
"I just wanted to go jump in the crowd or something," Siva said. "I was saying, 'God, thank you for letting me make that shot -- but please don't let them hit a buzzer-beater from half court.' "
Instead, the Commodores never got off a shot, and a wild celebration ensued as the final horn sounded. Beaming from ear to ear near the sideline was Louisville's 59-year-old head coach.
More than 600 wins and three decades since beginning his career, Pitino has never looked better.
June, 7, 2011
6/07/11
6:52
PM ET
How do you measure dedication to a team? Time spent in the gym? Intensity during workouts? Leadership qualities? Resolve after losses?
Try this one on for size. What if you're a team's leading returning scorer, and you're asked to give up your scholarship so your team can add new players within the NCAA's limits? Where does that rank on the dedication scale?
Given all that a scholarship entails -- thousands upon thousands of dollars in free tuition, room and board, even training table meals -- I'm going to say that puts Louisville's
Kyle Kuric
somewhere between "extremely dedicated" and "would have a Louisville Cardinal-themed wedding."
According to Louisville Courier-Journal columnist Eric Crawford
, Louisville coach Rick Pitino informed Kuric, the team's leading returning scorer, that he would have to forfeit his scholarship in 2011-12.
What gives? A classic college hoops numbers crunch. Pitino is adding a stellar 2011 class to his team this fall, a five man class comprising two McDonald's All-Americans and four ESPNU Top 100 recruits. One of those top-100 players is Kevin Ware, the former Tennessee and UCF signee,
who signed a financial aid agreement with the school Tuesday
. Another is George Mason transfer
Luke Hancock
,
who could be a key player in 2012-13
after the customary one-year transfer period.
Kuric, a senior this fall, isn't the only Cardinal to lose his scholarship this season. Two more players -- fellow senior
Chris Smith
and sophomore
Elisha Justice
-- were also informed of the scholarship realities. Pitino discussed the situation with Crawford and gave his reasons for making the decisions:
"When Kyle first came here, he wasn't supposed to be on scholarship and he was put on scholarship. Bullet [Elisha Justice] was coming here he wasn't supposed to be on scholarship, he was put on scholarship. Chris Smith was not supposed to be on scholarship, he was put on scholarship. I told the Kuric family at some point in time throughout his career I might need it for a year and I've never had to do that until now. So we've been very up front with everybody. As a matter of fact, it's just the opposite. Those guys weren't supposed to be on scholarship but they were. And Kyle has more than not only exceeded but deserved the scholarship he's been on.

"You know, look. We would not even consider asking unless [Kuric's] family could afford it. His father's a brain surgeon. That wouldn't even be a factor. We wouldn't even consider it."
Justice likely expected to be a walk-on for most of his career anyway. Smith, for his part, receives assistance from his older brother, Denver Nuggets guard J.R. Smith,
who made $16.5 million over three years in his latest contract
. And Kuric, as Pitino writes, is the son of a brain surgeon. Apparently, financial factors are not involved.
Still, it's a big ask of all three, especially of Kuric, who vastly exceeded expectations in what could have been a serious down year for the Cardinals. Instead, it was a surprisingly successful one -- barring that first-round NCAA tournament upset to Morehead State, of course -- and Kuric was one of the major reasons why.
This move is far from unprecedented in college hoops. Two years ago, Mississippi State forward Jarvis Varnado -- the NCAA's all-time leading shot-blocker --
agreed to forfeit his scholarship and take a school loan
so Bulldogs coach Rick Stansbury could add the likes of
Renardo Sidney
.
But it's not all that common, either. When you consider how much money Kuric's dad will now be shelling out so his son can be one of the best shooters in the Big East, well, it's also downright admirable. It's easy to say you'll do whatever is best for your team. (Or, for that matter, your son's.) It's tougher when that "whatever" is "thousands and thousands of dollars."
March, 17, 2011
3/17/11
6:29
PM ET
By
Diamond Leung
| ESPN.com
DENVER -- Morehead State coach Donnie Tyndall was having trouble sleeping at 2:30 a.m. when he made the decision. If the Eagles had the ball on the final possession against Louisville, they were going to go for the win.
Faced with that scenario, the way
Demonte Harper
heard Tyndall telling that story in the huddle before the biggest shot of his life, there was no way he wasn't going to take the 3-pointer confidently.
Harper buried the shot at the top of the key with 4.2 seconds left and
Kenneth Faried
blocked
Mike Marra
's jump shot attempt on the other end at the buzzer to lift No. 13-seeded Morehead State to a
62-61 win
on Thursday in the second round of the NCAA tournament, easily the most significant victory in the program's history.
[+] Enlarge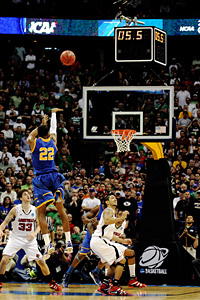 Justin Edmonds/Getty ImagesMorehead State's Demonte Harper watches his game-winning 3-pointer sail toward its target with seconds to play.
A senior who experienced a loss to in-state power Louisville two years ago when the Eagles were a No. 16 seed and the Cardinals had future NBA players all over the floor, Harper saw his shot to make his coach's vision come true.
"Coach said, 'I dreamed about this last night. I know exactly where I'm going to. I'm going to put it right in your hands, Demonte. I don't want you to drive it to the hole. I want you to pull up and win the game off a 3-pointer. I want you to pull up and win the game.'"
The Cardinals used a 9-0 run to take a four-point lead with 1:20 left and the hopes of an upset started to wane. But despite a tough day on offense for Faried (finished with 12 points on 4-of-17 shooting), Morehead State -- which trailed by eight at one point -- delivered the ball to its dreadlocked big man in the post, and he came through with two subsequent free throws to cut the lead.
With Louisville leading scorer
Preston Knowles
knocked out of the game in the second half with a sprained foot, it was left to
Elisha Justice
in crunch time. The freshman had hit a 3-pointer to give Louisville the lead with 2:13 left, but missed the front end of a one-and-one after Faried's free throws gave MSU the ball with 23.8 seconds left.
Harper unleashed his dagger, beating
Peyton Siva
with a crossover and burying the shot. Faried blocked Marra's attempt at the other end, and the school's cheerleaders rushed the court to celebrate. In Tyndall's new reality, he approached a cheering section and repeatedly pumped his fists as his face reddened.
"We played for 40 minutes, and that's what it takes to beat a team like Louisville," Tyndall said.
Morehead State surprised UL by racing off to a 7-0 lead, using a swarming defense to get the Cardinals out of sorts and force them into 10 of their 16 turnovers in the first half. The Eagles'
Terrance Hill
buried a 3-pointer at the halftime buzzer to leave the two teams tied at 33, and it was a sign of things to come.
Hill scored 13 second-half points, repeatedly hitting 3-pointers to bring the Eagles back and keep them within a reasonable distance.
Chris Smith
led Louisville with 17 points, but it wasn't nearly enough.
"I could live with losing last year. They were much better, Cal," Louisville coach Rick Pitino said, referring to last season's first-round loss to Pac-10 champion California. "This is a tough one to lose. This is a tough one."
Pitino's team surprisingly tied for a third-place finish in the Big East in the face of injuries and without returning a single starter. But with Faried gathering 17 rebounds, it was apparent the Cardinals missed leading rebounder
Rakeem Buckles
despite a solid game from
Terrence Jennings
, who blocked four shots and had eight rebounds.
"We are what we are," Pitino said. "We're just too small, and unfortunately it hurt us on the backboard."
And it was Faried, the nation's leading rebounder, who made his 6-foot-8 presence felt at the end of the game. Marra pulled up for a shot, and Faried threw his arms up and said he got all ball.
"This is a dream," Faried said. "Did we just beat Louisville?"
March, 17, 2011
3/17/11
4:23
PM ET
By
Diamond Leung
| ESPN.com
DENVER -- Morehead State pulled off the stunner against Louisville,
winning 62-61
in such an upset that the cheerleaders stormed the court and coach Donnie Tyndall pumped his fists at the crowd.
Demonte Harper
hit the game-winning 3-pointer with 4.2 seconds left, and
Kenneth Faried
blocked a potential
Mike Marra
game-winning attempt at the buzzer.
Terrance Hill
led Morehead State with 23 points, hitting five 3-pointers.


Turning point
: Louisville leading scorer
Preston Knowles
left the game for good with 8:51 left, apparently due to a sprained left ankle. He had his shoes off and left the court in crutches. The Cardinals missed him, especially since it was freshman
Elisha Justice
who was left on the court and missed on the front end of a one-and-one to give Harper the chance for the game winner.
Key player
: Hill was money from beyond the arc, tying his season high with five 3-pointers in six attempts. He also had eight rebounds and three steals, going 6-for-9 from the field overall.
Key stat
: Faried went 4-for-17 from the floor, but made his presence felt with 17 rebounds. The nation's leading rebounder used a couple of those boards to kick out for 3-pointers.
Miscellaneous
:
Terrence Jennings
did a fine job guarding Faried, holding him to four field goals. He also had two straight buckets down the stretch and gave the Cardinals a four-point lead with a dunk with just over a minute left.
Peyton Siva
played with such heart down the stretch, dishing the ball off to Jennings for easy baskets.
What's next
: Morehead State moves on for a chance to play in the winner of the Vanderbilt-Richmond game.
December, 30, 2010
12/30/10
7:34
PM ET
By
Diamond Leung
| ESPN.com
Louisville forward
Rakeem Buckles
suffered a spiral fracture in his finger this morning and is expected to miss "a couple weeks" after undergoing surgery,
coach Rick Pitino told reporters
.
Buckles, who was averaging 8.2 points and a team-leading 7.5 rebounds, will miss the rivalry game with Kentucky tomorrow at the KFC Yum! Center, where he was to be the guy to have defended Wildcats freshman sensation
Terrence Jones
.
"It affects [the rotation] signifcantly," Pitino said, adding that
Stephan Van Treese
would have to step up.
"It doesn't affect us mentally because we're used to all these injuries we've been having."
The Cardinals are also missing guard
Mike Marra
(ankle) and
Elisha Justice
(concussion), and Pitino said forward
Jared Swopshire
would "probably" miss the entire season with a groin injury.
Not that Kentucky will feel sorry for Louisville, but coach John Calipari feels his counterpart has been doing "a great job" with the personnel he has.
"Typically what (Coach Pitino) does is he gets his team, he figures them out, they play to their strengths, and that's what they are doing," he said. "They are playing to their strengths. They do it very well, and they are doing it as well as anybody in the country."