College Basketball Nation:

Enosch Wolf
February, 14, 2013
2/14/13
2:22
AM ET
HARTFORD, Conn. -- Kevin Ollie was determined to coach this season as if Connecticut had a chance for glory, never giving the postseason ban a second thought when he was given a seven-month contract to replace Jim Calhoun or when he received a multiyear deal in late December.
The only way Ollie knew how to coach the lame-duck Huskies was to ensure the team played as if the national title were still in sight.
The players never blinked. The ones who stayed remained committed and were determined not to play spoiler but to win the Big East regular-season title.
Now they still can.
And if the Huskies'
66-58 victory
over No. 6 Syracuse on Wednesday at the XL Center -- in the final matchup between these charter Big East members before the Orange go to the ACC -- is any indication, UConn isn't going to be just a spoiler.
The Huskies have larger aspirations. They want to win the title and stick it to the conference that wouldn't let them play in the league tournament after the NCAA ruled their academic progress rate was too low and banned them from the postseason.
Is it a reach? Possibly. But it's not out of the question for the Huskies, who have a game to go against Georgetown, two with Cincinnati and none remaining against Syracuse or Louisville.
The win put UConn at 7-4 in the Big East, just a game back of the first-place trio of Syracuse, Georgetown and Marquette.
What would it mean to the Huskies to pull off the improbable feat?
"It would mean everything, considering that they tried to take everything from us," said sophomore
Ryan Boatright
, who led the Huskies with 17 points Wednesday. "It's realistic because anybody can lose in the Big East. We feel like we're supposed to be here."
[+] Enlarge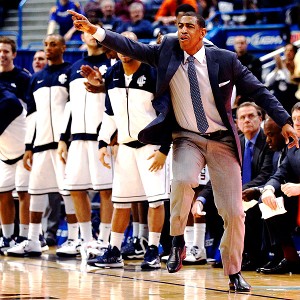 David Butler II/USA TODAY SportsKevin Ollie has his Huskies a game out of first in the chase for the Big East regular-season title.
Regardless of Boatright's confidence, the win is still one of the more surprising of the season. UConn was dealt another blow to its depth when
Enosch Wolf
, who had been a stable inside presence, was suspended indefinitely; he likely has played his last game. Wolf saw his domestic dispute case continued to March 20 after a Hartford court appearance earlier Wednesday. He was charged with third-degree burglary, criminal trespassing and disorderly conduct.
And it didn't matter one bit against Syracuse's length in the zone or on the boards. Boatright,
Shabazz Napier
and
Omar Calhoun
handily won the perimeter battle with
Michael Carter-Williams
and
Brandon Triche
.
Earlier in the day, Huskies assistant coach Karl Hobbs said UConn had to make seven 3s to beat Syracuse. The Huskies made eight, seven of those coming from the aforementioned trio, with one from
Niels Giffey
.
The Orange were just 4-of-23 from long range.
"They shot 8-of-14 from the 3, which is the best anybody's shot against us in a long time," Syracuse coach Jim Boeheim said. "Their guards played extremely well, but I thought all their guys played well."
Boatright didn't hold back with his postgame comments, saying the Huskies had sent Syracuse to the ACC "with a taste of UConn in their mouth." The same comment was uttered by Omar Calhoun after the game.
"It was definitely a big game," Calhoun said. "I know the tradition and the rivalry between these two teams. They got to leave with a taste of UConn in their mouth going to the ACC."
It's no secret the Huskies wanted to go to the ACC, which instead picked Louisville over them and Cincinnati. UConn is left with the Bearcats in the remaining Big East as Syracuse and Pitt head to the ACC next season.
Jim Calhoun, the Hall of Fame coach, was courtside for the game and said during the second half that he didn't want this rivalry to end.
Boeheim said after the game about the UConn series, "It's been a great series. Connecticut and Syracuse have had so many great games over the years. The league wasn't able to be kept together. I feel bad about the whole thing."
Syracuse has already signed up for a home-and-home series with St. John's. The other one that makes the most sense is with Georgetown since the Hoyas are in a recruiting area that is crucial to the Orange. And that series with the Hoyas might take on more importance now that Maryland is heading to the Big Ten.
Jim Calhoun said Georgetown was always Syracuse's biggest rival but the Orange were the top rivalry for the Huskies. Boeheim said after the game that he would be open to playing anybody.
"Your biggest rivalries are going to be the teams in your league," he said. "That's just the way it is. Even if you play somebody, it will never be the same. It will never be the same."
To Ollie, this was bittersweet, since he said one of the reasons he went to UConn was to play in the Big East against schools such as Syracuse.
"It's kind of hard with the rivalry being over with," he said. "Hopefully we'll be able to play somewhere, somehow."
If the Huskies can play with the same passion and purpose, flaws and all, the rest of the season as they did Wednesday, anything is possible in this league.
The role of spoiler fits Boatright.
"It feels great because they came in with their swag, their attitude, and they thought they were going to blow us out of the gym," he said. "We hit them first. In the second half, they thought they were going to make a run and we responded. It was a team effort. It was a great win."
And the credit goes to Ollie, who should be the front-runner for Big East coach of the year.
"We're just one of the purest teams playing right now," Ollie said. "We're not playing for the postseason. We're playing for the love of UConn. We're playing for the love of each other. We're playing for the pride of getting better. They can't ban us from that. They can ban us from the postseason, they can ban us from the Big East tournament, but they can't ban us from getting better and loving each other. They really love being around each other, and it shows."
December, 5, 2012
12/05/12
1:57
AM ET
NEW YORK --
Richard Howell
was dazed after
C.J. Leslie
inadvertently popped him with a flailing arm off a first-half rebound.
The senior forward came out of the game at the dead ball, staggered back to the bench, sat down and was given a full workup by the North Carolina State athletic training staff.
They tested his balance, eyesight and strength to see if he had suffered a concussion.
He didn't. Howell said he was scared for a moment, since he had suffered a concussion against Maryland as a sophomore.
The tingling and the numbing in his upper body had him nervous. But it started to subside and all he had was a stinger in his shoulder. He told Wolfpack coach Mark Gottfried that he could play in the second half.
[+] Enlarge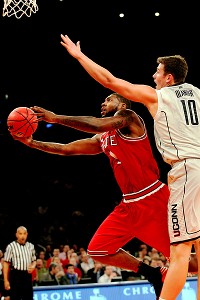 Brad Penner/USA TODAY SportsRichard Howell had 13 points and 10 rebounds against Connecticut, mainly in the second half.
Good decision.
If Howell continues to play the way he did in the second half against Connecticut on Tuesday night in the Jimmy V Classic, the Wolfpack have a shot to live up to their expectations.
Howell had a double-double -- in the second half -- with 11 of his 13 points and all of his 10 boards coming in the final 20 minutes of NC State's much-needed
69-65 victory
over the Huskies at Madison Square Garden.
"He's our blue-collar guy, our most consistent guy except for when he gets in foul trouble," said NC State assistant coach Bobby Lutz. "He gives us great energy. He's undersized, but he's relentless and has great enthusiasm and productivity."
Guard
Lorenzo Brown
, wing Leslie and sharpshooter
Scott Wood
were NC State's headline names heading into the season, along with freshman
Rodney Purvis
. Howell tended to be overlooked.
But if the Wolfpack are to be ACC champs as predicted, Howell must be the anchor of this team. NC State hadn't played well yet, losing badly to Oklahoma State in Puerto Rico, nearly dropping a game to UNC-Asheville and then losing respectably at Michigan last week.
The Huskies didn't defend the Wolfpack well but still knocked NC State back a number of times. That is, until Howell became a beast on the boards.
"He's a monster," said Wood. "What can I say? He's the best rebounder out there. He's a great player for us. He works so hard in practice, and if he keeps doing what he's been doing, we're going to be a dangerous team."
If Howell doesn't play in the second half, the Huskies might have won this game, with
Enosch Wolf
playing well enough inside to cause NC State fits. Had NC State lost this game, there would have been ample second-guessing about the true potential of this squad.
"Whatever coach wants me to do to be a difference-maker, I'll do it," said Howell. "This was huge for us. It's definitely a step closer to what we want to be. We lost to Oklahoma State, Michigan and didn't beat UNC-Asheville by what we should have. We learned from it and progressed."
Duke is the class of the ACC. North Carolina is young, inexperienced and a bit of an unknown right now. NC State is in line with Miami, Maryland and suddenly surging Virginia Tech in a wide-open ACC race come January.
NC State still has oodles of talent but will succeed only if Howell is a constant presence in the paint. The flash plays by Leslie and Purvis, the 3-pointers by Wood or the drives by Brown (although he still turns the ball over too much) are all necessary. But none of it is as important as Howell patrolling the paint.
Reaching the Sweet 16 last season was a surprise. But if the Wolfpack are going to replicate that run, they must defend the drive, shore up on 3s and control the backboard more effectively. Gottfried said before the game that he was still figuring this club out as the veterans adapt to the heralded newcomers. Howell showed his teammates his toughness Tuesday by playing through pain and discomfort. NC State is a work in progress, which puts even more emphasis on such a valued talent.
April, 5, 2012
4/05/12
6:43
PM ET
Hall of Fame and three-time national champion coach Jim Calhoun will face his toughest on-court challenge yet, trying to motivate UConn without the opportunity of playing in the postseason in 2013.
The NCAA officially informed the Huskies on Thursday that
the latest appeal to be eligible for the 2013 postseason was denied
based on a four-year period of Academic Progress Rate (APR) scores.
The Big East decided during the conference tournament to adopt a new policy that any school that isn't eligible for postseason cannot participate in a conference tournament, regardless of sport.
Calhoun issued a statement through the school Thursday, admitting that the university and coaching staff should have done a better job academically with the team, and that implemented changes have had an effect.
He added, "We will continue to strive to maintain that success as we move forward.''
Calhoun has two seasons remaining on his contract, and new athletic director Warde Manuel said Thursday during a conference call with the media that Calhoun has given him no indication he won't go forward as the coach.
"Jim is our coach,'' Manuel said. "Jim is committed to working to ensure the student-athletes do what they're doing now -- to focus on academically being successful, and being successful on the court.''
[+] Enlarge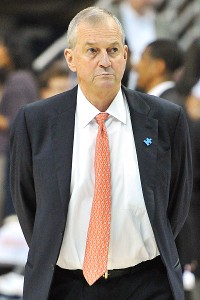 Cal Sport Media/AP ImagesNext season, UConn coach Jim Calhoun will have to motivate a team with no chance of reaching the postseason.
A number of sources close to Calhoun said he will not retire. Actually, this latest setback will likely embolden him even more to stay and get the Huskies through this hurdle, instead of him quitting on the program when it needs leadership most. Calhoun, who has survived two bouts of cancer, eight broken ribs and recent back surgery, is considered one of the toughest coaches in the country.
Calhoun returned from back surgery for the final regular-season game against Pitt on March 3 after missing eight games, then coached the Huskies in the Big East and NCAA tournament. Calhoun was suspended for three games to start Big East conference play as part of the penalties related to the recruitment of former student Nate Miles (not related to the APR issue).
The Huskies have already released junior forward
Alex Oriakhi
. He can play immediately somewhere else, because his former team is not allowed to play in the postseason in his final season of college. Kentucky, Duke, Florida, Missouri and North Carolina, among others, are interested in his services.
Manuel said no other player has asked for a release. Oriakhi is the only junior on the team.
The Huskies are awaiting NBA draft decisions from sophomore
Jeremy Lamb
and freshman
Andre Drummond
. Calhoun said two weeks ago that he would expect Lamb to leave if he were in the lottery, but wasn't convinced Drummond would bolt after initial conversations with his family.
The Huskies have one star recruit coming in the fall in Omar Calhoun. They also return rotation players
DeAndre Daniels
,
Enosch Wolf
,
Niels Giffey
,
Roscoe Smith
and
Michael Bradley
, as well as a potential all-Big East backcourt of
Shabazz Napier
and
Ryan Boatright
.
Preparing to play a season without the ability to reach the postseason isn't the norm, but it's not unique.
Two seasons ago, USC found out in January that it was banned from the postseason, including the Pac-10 tournament.
"It will be a challenge,'' said USC coach Kevin O'Neill of what Calhoun faces next season. "If anybody can do it, Jim can. He commands the respect to keep them up.''
O'Neill said he was helped by having senior transfers in Mike Gerrity (Pepperdine) and Marcus Johnson (UConn), who still wanted to play because they had nothing else left on their eligibility clock.
O'Neill said he focused the Trojans on trying to win the Pac-10 regular-season title. Calhoun will likely focus on the Big East regular-season title.
"Our guys continued to play hard, and we were in the hunt until the last two weeks,'' O'Neill said. "We were fortunate to have seniors. If it's a younger team, it's going to be really hard. [UConn] will have a whole year in advance, and you've got to motivate the guys to go to the weight room to work their a-- off every single day, and that will be difficult.''
Manuel isn't holding out hope for a change in the policy in time to save the 2013 ban.
The Huskies have argued that the NCAA should compute the APR based on the immediate four-year period. Instead, the NCAA started it in 2007-2011.
The men's team had an APR of 978 in 2010-11, and according to UConn had a perfect APR score in the fall of 2011.
Manuel said he views the Huskies as being penalized twice since it already lost a scholarship due to the poor APR, received a public reprimand and a reduction of practice hours. Manuel said the board of directors changed the level two penalty on Oct. 26, 2011 to go from the above mentioned to include a postseason ban.
"We knew the initial penalty when we submitted our information, we knew the punishment, there was no new data,'' Manuel told ESPN.com later Thursday of the expectation that the Huskies, in the fall, would receive the above mentioned penalties instead of a ban. "And then they changed the penalty.
"None of the freshmen on this team cost us a point,'' Manuel said. "The players on this team helped us stay perfect. These freshmen weren't on the team and their data won't be calculated.''
But Manuel said he has moved on and the Huskies must as well, to a season that will end with the last regular-season game.
The Huskies can still win a title in 2013. But just the Big East regular-season championship. That's it. As a result, this will be Calhoun's toughest task to date to ensure his depleted team is motivated enough to reach that goal.